Diving in Bonaire: It's In Our Nature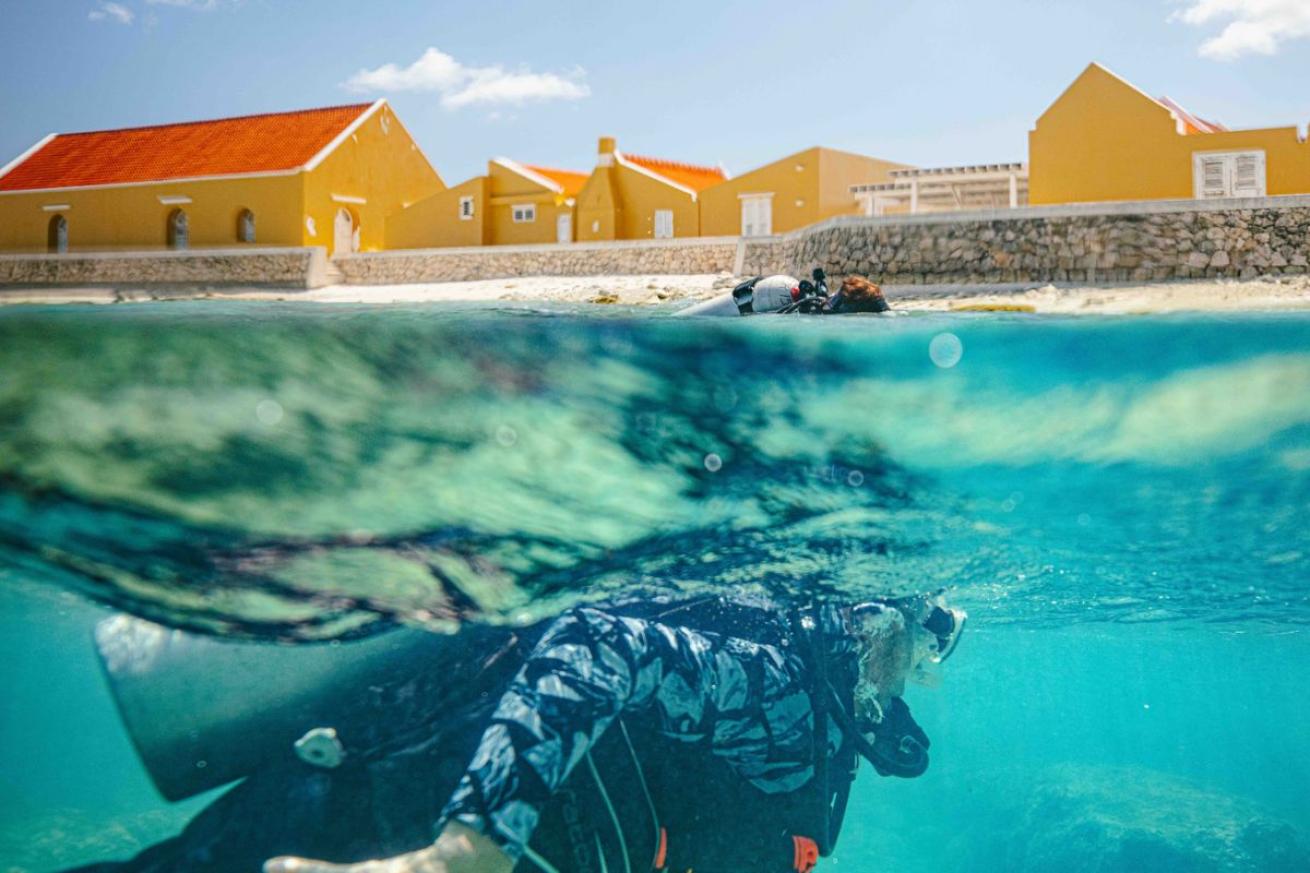 Bonaire offers untouched dive sites that are among the last truly unspoiled places on earth.

Courtesy of Tourism Corporation Bonaire
I have traveled to and dived on Bonaire more than any other island in the Caribbean, but my most vivid recollections are from my first visit to the island. I can flip through those memories today, as if I'm scrolling through photos stored on my phone: Seeing wild cactus and donkeys. Walking around Kralendijk's colorful waterfront. Seeing vibrantly pink flamingos. Learning Papiamentu phrases ("mi dushi" will always be my favorite). Kayaking amongst the mangroves of Lac Bay. Exploring rugged rocky coasts and sandy beaches. And diving on reefs so close you can reach them easily from shore — the sea is always there, always present, always magical.
"I believe the best way to begin reconnecting humanity's heart, mind and soul to nature is for us to share our individual stories," wrote J. Drew Lanham, an American author and wildlife biologist, in his memoir that discusses the intersection where human nature and Mother Nature meet.
A Nostalgic Look Back
In that spirit, let me begin with my individual story about my first visit, in June 2003 when I attended the Bonaire Dive Festival, which at the time was co-sponsored by Scuba Diving magazine. Ned DeLoach, co-author of the Reef Fish ID marine guides, gave the keynote address and led several dives. I joined local naturalists on both underwater and topside expeditions, including a memorable scrabble down into a partially submerged karst cave where we snorkeled into several "rooms" and learned about the resident bats. Representatives from Stichting Nationale Parken Bonaire (STINAPA Bonaire) presented slideshows and emphasized their commitment to responsible diving, highlighting how the funds generated by the marine park tags were allocated. I learned that STINAPA's efforts, both in the marine park and in Washington Slagbaai National Park, was responsible for the island's successful protection of its resources. Underwater, I explored resort house reefs, popular shore dives and sites off Klein Bonaire. I snorkeled and hiked in Washington Slagbaai, an ecological reserve on the island's northwestern corner where sea turtles nest, iguanas laze in the sun, and Caribbean flamingos forage in Gotomeer. Everywhere we went, the islanders were friendly, welcoming and knowledgeable. Like STINAPA, the locals were — and still are — fiercely protective of their island's many natural gifts.
I was completely smitten. My heart, mind and soul were captivated by the island, and I have returned several times in the following years. Some things have changed — more people have discovered the island, new resorts have popped up, cruise ships visit. But what hasn't changed are the blue skies, warm sun, cooling trade winds and pristine turquoise water.
The island's tourism office has adopted a tagline, "It's In Our Nature," which captures what STINAPA, local dive resorts and operators, and residents appreciate about their southern Caribbean home. It is a slogan that showcases all that the island and sea provide, the warmth of its people and the way a vacation here makes everything feel extraordinary.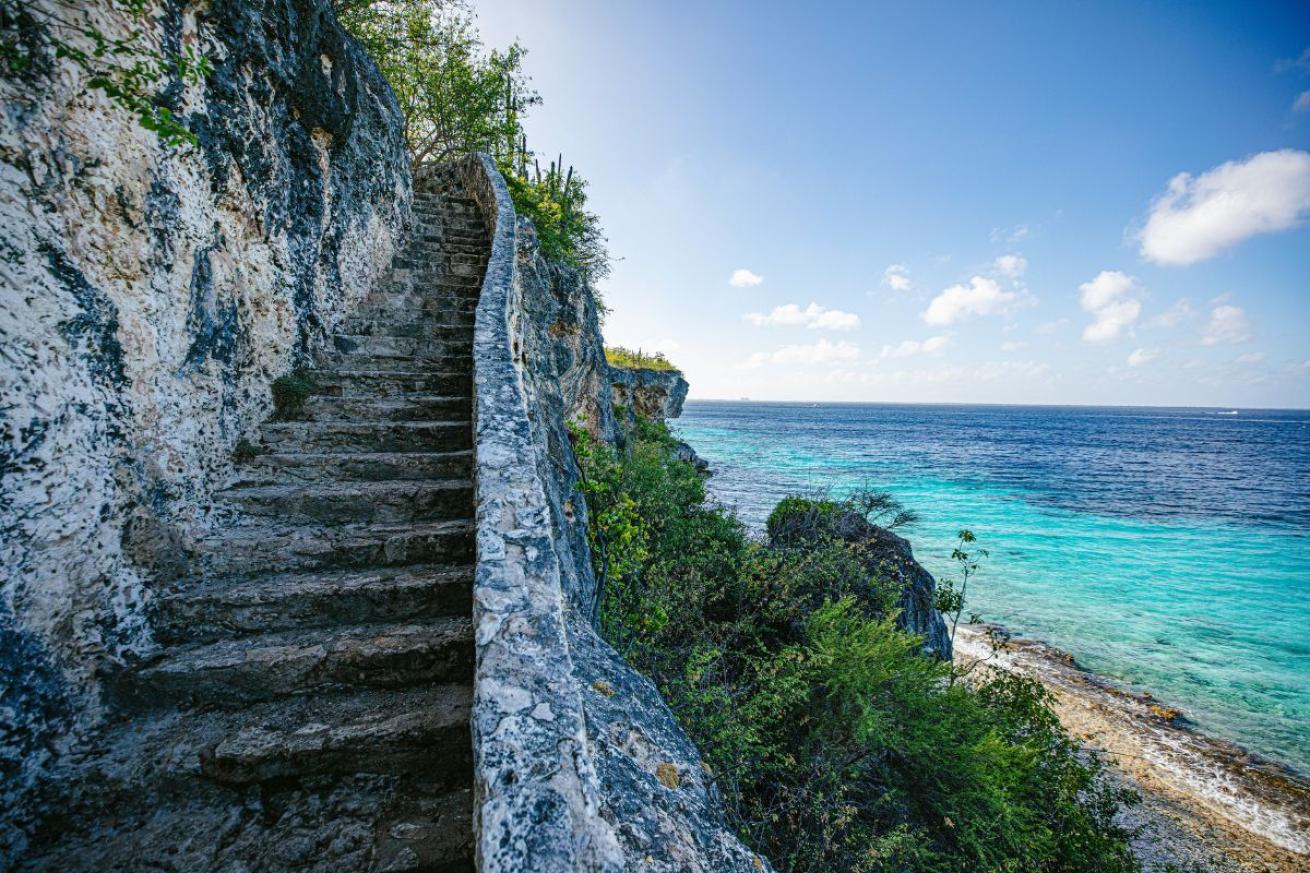 Bonaire is a small island with lots to see.

Courtesy of Tourism Corporation Bonaire
The Island Today
When I describe the island and its diving to divers who have never been, I tell them that it's helpful to think small. The island is roughly 111 square miles and is 24 miles long. But with more than 80 named dive sites — accessible by shore or by boat — tiny Bonaire is anything but small. As the tourism website notes, "less is more." There are more than 60 marked shore dives, stretching from Karpata in the north to Red Slave in the south, plus 20 or so additional sites off Klein Bonaire, a 2-square-mile island off Bonaire's leeward western shore. It's easy to find the entrances to the shore dives, even if you're a first-time visitor — each site along the island's coastal road is marked with a yellow-painted stone with the dive-site name printed in black. Many dive resorts and operators offer "drive and dive" packages that include a rental vehicle and access to tanks 24/7 so that you can dive on your schedule and choose the site. And perhaps best of all, the diving is appropriate for all skill levels, from divers who have just gotten their open water C-card to advanced divers with years of experience.
Bonaire's marine park is a model for the rest of the world, and it was a remarkable achievement when it was established in 1979. The first of its kind in the Caribbean, the Bonaire National Marine Park covers the entire coastline from the high-water mark to a depth of 200 feet and a large mangrove forest in Lac Bay — almost 7,000 acres. Named a "Blue Destination," the island is laser-focused on sustainability. A $40 per-person Stinapa Bonaire nature fee is mandatory for all users of the Bonaire National Marine Park and Washington Slagbaai National Park. This contribution is critical to Stinapa's efforts to maintain and protect the parks. Bonaire is now going even further in involving visiting divers in its conservation initiatives by asking them to sign a destination pledge, the "Bonaire Bond." The pledge asks visitors to help the island in its commitment to sustainable tourism. By signing the Bonaire Bond, visiting divers promise to help preserve and protect the island's natural and cultural resources for future generations.
This robust marine protection is why the island has won a number of Scuba Diving Readers' Choice awards, including 30 consecutive first-place honors for best shore diving in the region. For divers, it is an island that offers a sublime getaway from all the stresses of everyday life.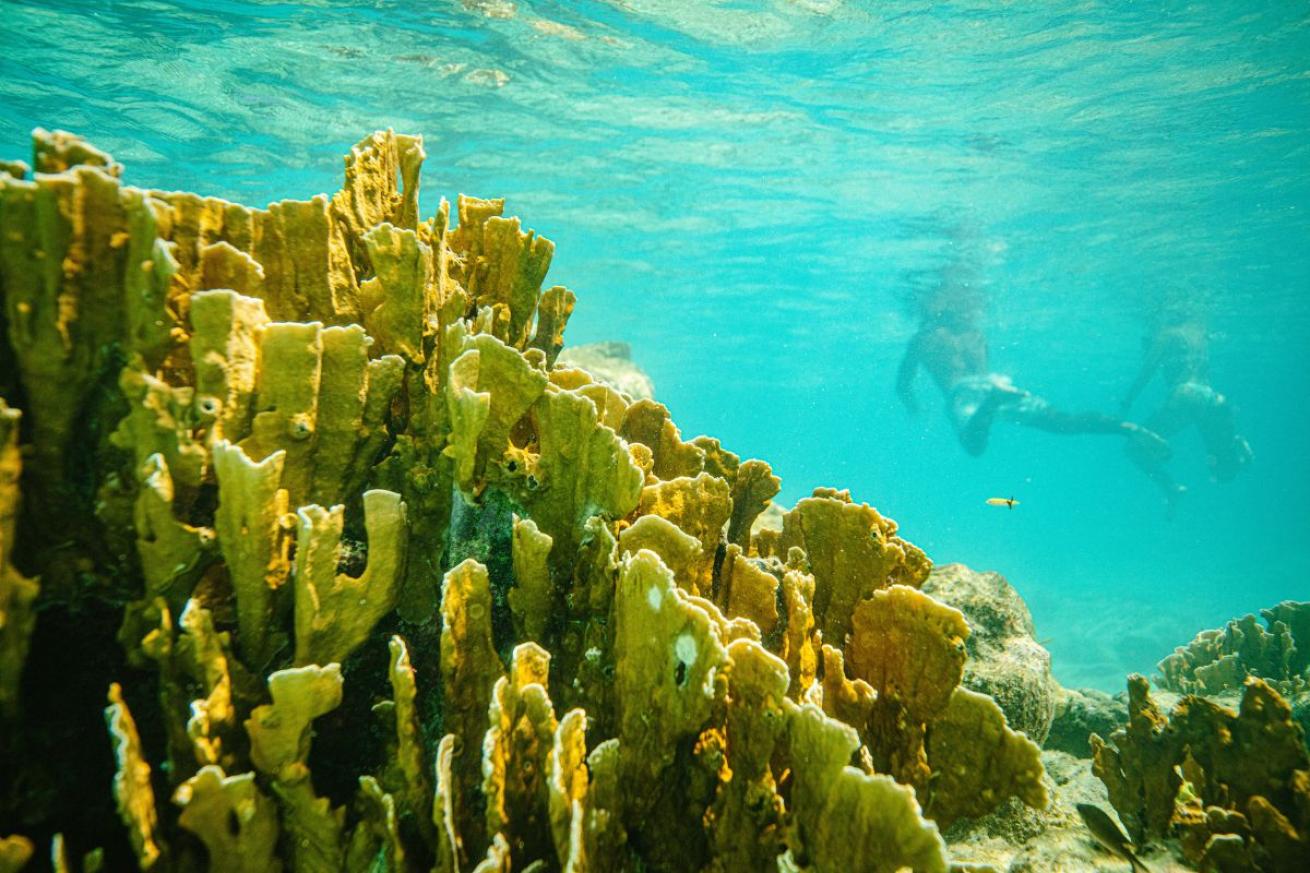 Bonaire reefs are teeming with more than 350 species of fish and 57 species of coral.

Courtesy of Tourism Corporation Bonaire
A Dive Site Sampler
The dive sites here are mostly appropriate for all skill levels, though if you're brand-new to shore diving, some entries and exits are a bit tricky. If you're staying at one of the island's dive resorts, the easiest diving will be just steps from your room, on the resort's house reef. One of the requirements on Bonaire is that all divers — regardless of experience level — must make a checkout dive on the house reef of wherever you're staying. Many divers will spend their vacation diving only on their resort's house reef because it's just so easy. However, boat diving will allow you to dive on reefs that are more challenging to reach from shore. The following is a sample of the sites you can explore.
Karpata: Photographs of the nearby site 1000 Steps has graced the pages of many dive magazines, but Karpata is an equally beautiful northern site with fewer steps (about 50), panoramic views of the Caribbean Sea, a pristine coral reef, and a rolling slope that is the closest thing to a wall dive that you'll find on the island. The coral formations are teeming with fish and the site is known for turtle encounters.
Hilma Hooker: While it's true that Bonaire isn't known for wreck diving, it does have one of the region's most famous ones, the Hilma Hooker. It's a bit of a swim from shore, so many people opt to make this a boat dive. If you do access it from shore, I recommend making it a surface swim to conserve air. You will never, ever be disappointed diving this entertaining wreck. If you're there at the right time, feisty male sergeant majors will make sure you come nowhere near the purplish smears of eggs they're guarding.
Angel City: House reefs are definitely fun, but don't miss out on making dives on the sites lining Bonaire's double-reef system that runs from Windsock to the Invisibles. Angel City is a classic example. Start by exploring the deeper outer reef and end it on the inshore reef in about 30 feet of water. The sand channel in between is a good spot for spotting stingrays.
Red Slave: Along with a chance to dive one of Bonaire's most southernmost sites, Red Slave offers the chance to learn about a part of Bonaire's history (as does the dive site White Slave). The rusty-red slave huts here served as housing facilities for slaves working in the salt ponds from the 1600s to 1800s. As a dive site, Red Slave is a relatively easy shore entry with a short swim along the sandy bottom to the drop-off. Because there's often some current here, you have the chance to see bigger fish like spotted eagle rays and barracuda.
La Dania's Leap: It's possible to make this a shore dive and make a 15-foot leap as your entry into the water, but why would you do that when you can access it from the back of a dive boat? As you follow the reef slope down to a mini wall, you'll find healthy stands of coral. It is one of Bonaire's prettiest locations.
Wayaka: This Washington-Slagbaai site is another one that can be dived from shore, but to access it, you need a 4-wheel drive vehicle. Sign up for a boat dive here and find a beautiful dive site with so many fish you'll think you've been dropped inside an aquarium.
Oil Slick Leap: It's well worth the visit to this site just to see the amazing coral structures. Tropical fish like angelfish, butterflyfish and parrotfish are found on massive coral mounds, stands of pillar corals and stacks of sheet corals.
Forest: Dive boats make the run out to Klein Bonaire and put divers on the amazing sites located on this uninhabited island. Forest is often offered as a drift dive. You start at the wall and then let the current take you west where the dive boat will pick you up. Along the way, you'll find giant elephant ear sponges, yellowtail snappers, bar jacks and hawksbill turtles.
Captain Don's Reef: This Klein Bonaire site pays homage to Capt. Don, who dedicated decades of his life to discovering and protecting the reefs of Bonaire. Start your dive by looking for the plaque honoring Capt. Don (it's located at the mooring) and then glide over sea fans, soft and hard corals, and clouds of reef fish.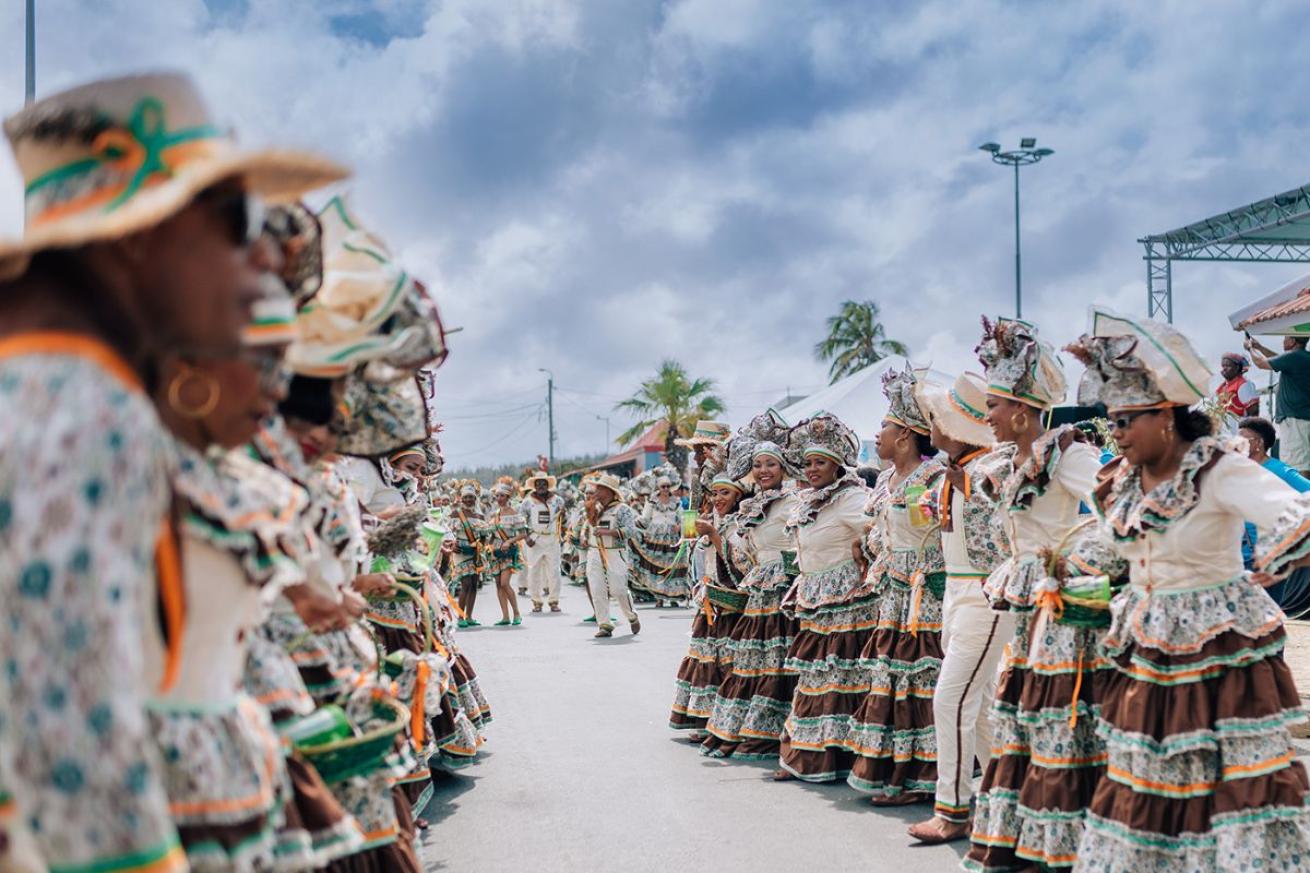 Dia di Rincon is a celebration that takes place on the island every year to honor the culture and traditions of Rincon, the island's oldest town.

Courtesy of Tourism Corporation Bonaire
PADI Club Dive Event
Along with Buddy Dive, PADI is hosting its first PADI Club trip: Dive Into Bonaire. This week-long Caribbean island vacation will give divers of all levels a chance to experience the natural beauty, clear water, incredible shore diving and diverse marine life Bonaire is so well known for.
As part of the trip, PADI Club will coordinate all events, dives and accommodations. All you need to do is take care of your flight and show up. You'll make memories of a lifetime, including guided dives on renowned sites with local experts, unforgettable night dives, post-dive social events and presentations from both PADI staff and external speakers, as well as other exciting island excursions such as hiking, bird-watching, and an opportunity to visit historical landmarks. The event is a great opportunity for divers of all experience levels.
Save the date (September 23-30, 2023) and reach out to PADI to book your spot. Packages start at $1,739 per diver, double occupancy. To sign up or register your interest, email [email protected].
Whether you come in September or choose another week, you'll soon discover what has inspired every diver who visits — Bonaire is a place where nature is cherished and protected.
For more information on Bonaire, the Bonaire Bond, island activities, accommodations, and more, visit the bonaireisland.com.