Best Dive Destinations for Witnessing Healthy Marine Life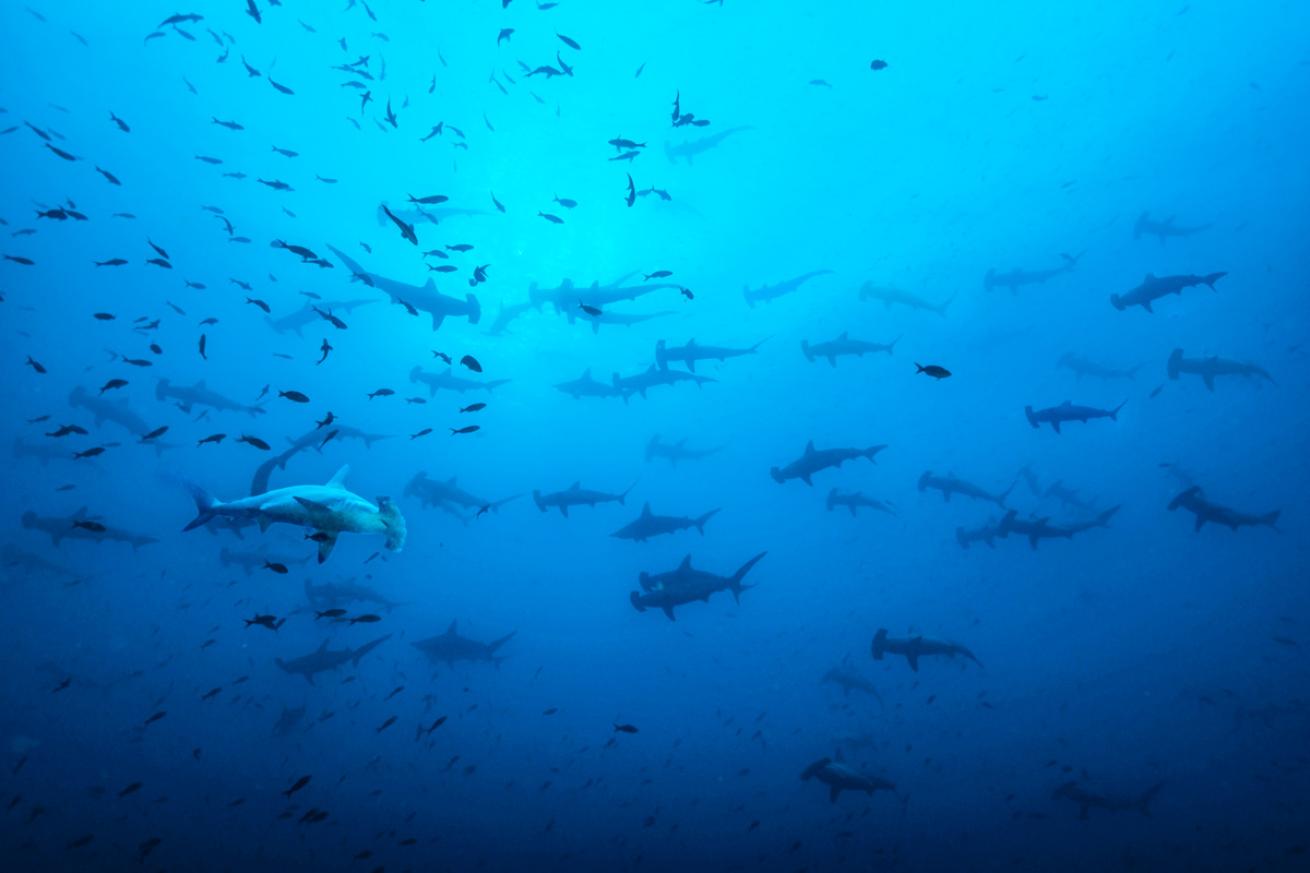 Scalloped hammerheads school by the dozen in the Galapagos.

GERALD NOWAK
1. Bonaire
The invasive lionfish can wreak havoc on juvenile populations of reef fish in the Caribbean. That's why Toucan Diving Bonaire has concentrated conservation efforts on eradicating the fish from Klein Bonaire, a satellite island accessible only by boat.
Hagen Wegerer, dive operations manager for the PADI Five Star Dive Center, which is located at Plaza Resort, estimates that a typical hunt three years ago would cull 100 lionfish. This past week, five teams of two divers working together brought in just 37. "From this point of view, the reef is healthy—it's under control," he says.
Even better news is that the marine life behavior patterns have shifted. "Years ago, we tried to coax eels to try and feed on lionfish and it never really worked," says Wegerer. "Now, we see that moray eels are very active and they flush lionfish from their hiding holes into the open ocean, and they attack them from the underside," he says. "We haven't seen that one time or two times—we have seen it often."
READERS PICKS
Resorts
Buddy Dive Resort, Bonaire

Plaza Beach & Dive Resort Bonaire
Operators
Buddy Dive, Bonaire

Toucan Diving at Plaza Resort, Bonaire
Related Reading: Florida Keys Lionfish Derby Winners Bring in Record-Breaking 426 Invasive Fish
2. Galapagos
If you want to experience the marine life density of the Galapagos Islands, all you have to do is enjoy your morning coffee.
Come morning, Galapagos sharks swim laps around the Galapagos Aggressor III liveaboard. "It's not a bad way to wake up," says Capt. Jeff McNutt.
And this is just one of the 30 shark species packing the waters here. Scalloped hammerheads school in the dozens, and whale sharks cruise by divers on most trips, especially June to November.
Then there are the mobula rays.
With the fi rst sighting on his last trip, McNutt hopped up to the boat railing to get a better view. "Two hours later, they are still jumping—there are literally thousands of mobula rays," says McNutt of the marine life, with numbers so dense that it's impossible to miss them even from the surface.
READERS PICKS
Liveaboards
Galapagos Shark Diving, Galapagos and Costa Rica

Humboldt Explorer, Galapagos
3. Texas
No one questions Texas as a destination for diving lakes and springs— a few Gulf Coast locales even serve up reefs, wrecks and oil rigs—but few divers equate the Lone Star State with a high chance of manta ray encounters.
Perhaps that's because the best coral reefs are far from the reach of dayboats. The Flower Garden Banks National Marine Sanctuary, a collection of underwater coral-covered pinnacles, lies 30 miles from land.
"Mantas are our big draw," says Capt. Dennis Gray Jr., of Texas Caribbean Charters, a liveaboard traveling to the sanctuary May through Thanksgiving. "If we go 10 times, we see them eight."
But people need to know where to look. "I've had guests tell me they weren't expecting to see mantas and weren't prepared," he says. "They're at 80 feet and forget to look up. They said that they wouldn't have seen the manta at all had it not been for the shadow that went overtop the reef."
Related Reading: Winged Wonders: Making the Most of Magical Manta Encounters
4. Maldives
More than half a million coral fragments have been outplanted around Four Seasons' two resort islands in the Maldives, making the coral restoration project one of the most extensive in the world.
"We have one of the most abundant house reefs in the country," says Ibrahim Nazeer, dive and recreation manager for the Four Seasons Resort Maldives at Kuda Huraa.
A typical dive there tends to include encounters with resident green sea turtles, blacktip reef sharks and octopuses. "Our guests frequently comment that they have never seen anything like it," says Nazeer.
And that's just the house reef. The resort's dive boat hops between 30 dive sites, including channel dives where it's possible to see spinner dolphins and mantas.
Related Reading: How to Take Underwater Photos in the Maldives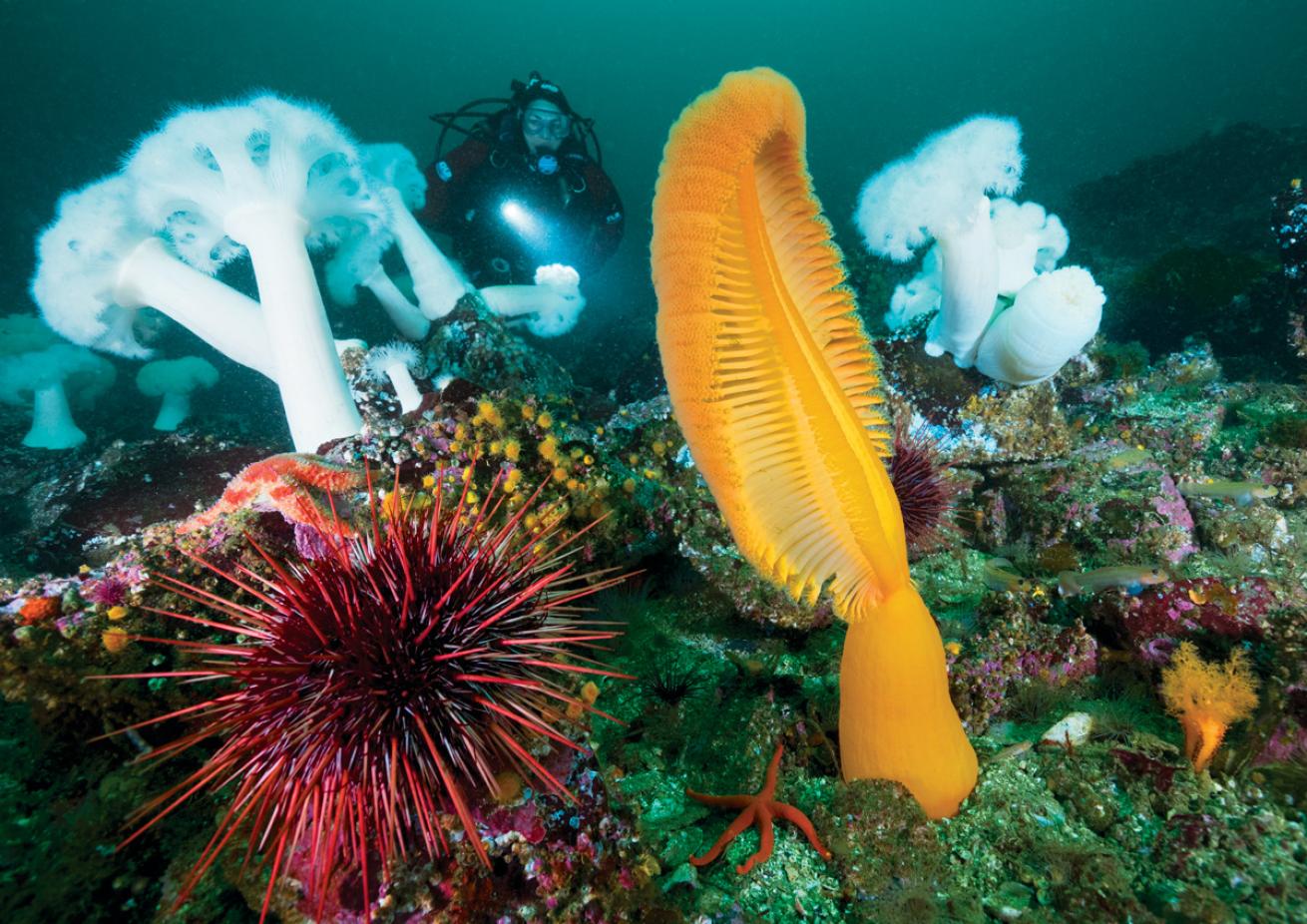 Colorful invertebrates pop out against a reef in the cold waters of British Columbia

BRANDON COLE
5. British Columbia
Diving in this Canadian province is known as much for its cold, fast-flowing water as for its abundance and diversity of marine life.
It's wild and elemental, especially in hidden, tucked-away spots, such as God's Pocket Resort, found on Hurst Island, 10 nautical miles from the town of Port Hardy, Vancouver Island.
"The water moves fast, so much so that sometimes you have a lengthy slack and sometimes you don't," says Claus Eckbo, owner of the resort. "We have sites that you can dive for just 20 minutes before the water change is too fast."
But navigating the tide charts is well worth it. Regular sightings include porpoises, sea otters, wolf eels and giant Pacific octopuses.
Take all the action, then add in a backdrop of invertebrate life in a rainbow of colors—think walls of giant white-plumed anemones, strawberry plumose anemones and much more. "The set of colors you see is astounding. You don't realize how diverse it is until you're there," says Eckbo.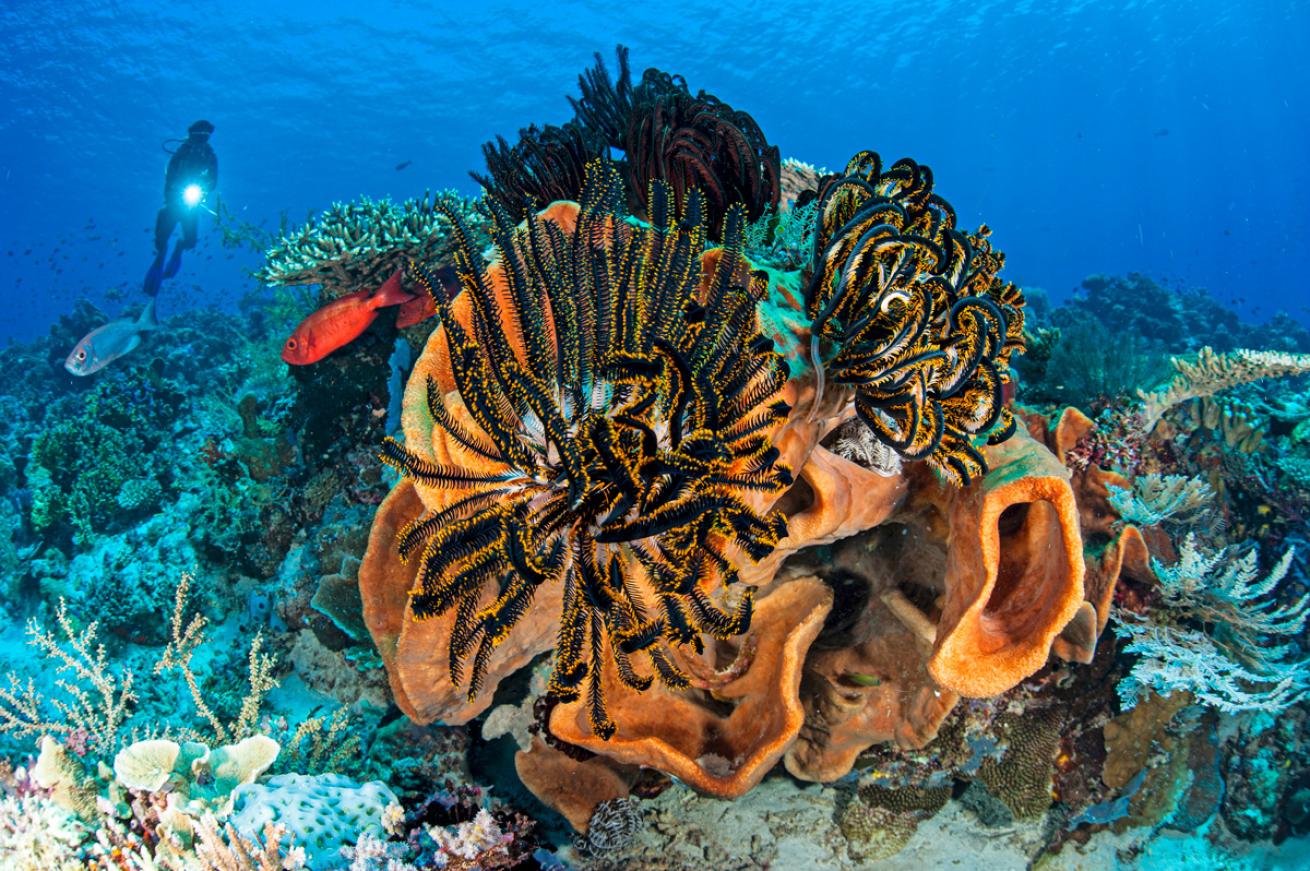 A diver inspects massive sponges and reef life at a site in Indonesia's Komodo National Park.

STEVE JONES
6. Indonesia
The sprawling islands of Indonesia cut between the Indian Ocean and seven major seas. The massive turnover of cool water and nutrients due to upwellings in this part of the world keeps the entire food chain enriched and accounts for the explosion of life in the waters of Indonesia, which continually ranks as one of the most biodiverse hotspots on the planet.
Komodo Island, found about 250 miles east of Bali, offers travelers the chance to dive two seas on one liveaboard trip.
"You have completely different corals in each sea," says Luigi Russo, owner of The Arenui liveaboard, which operates throughout Indonesia.
In central Komodo, the corals tend to be red or orange in color. Move south, toward the cooler Indian Ocean, and the reefs bloom in vibrant yellows and greens.
In Komodo and throughout Indonesia, a handful of areas offer muck diving, an environment that, though not as aesthetically pleasing as the rainbow of corals on the reefs, showcases the country's jaw-dropping species diversity. Areas such as Lembeh Strait, Bima Bay, Ambon Bay and the island of Alor are home to blue-ringed octopuses, frogfish and the bobtail squid—a gumball-size animal covered in iridescent spots.
Alor, which The Arenui includes on many sailings, is known for an abundance of Rhinopias, a flamboyant member of the scorpionfish family. Think of it as a mix of a lionfish and frogfish, found in very similar color variations as the common frogfish but with spiny, fanlike pectoral fins, dorsal fin and tail. "They love the volcanic soil and fresh water with minerality of Alor," says Russo.
READERS PICKS
Resorts
Wakatobi Dive Resort, South Sulawesi, Indonesia
Liveaboards
Related Reading: Tips for Taking Great Photos in Indonesia's Lembeh Strait
Caribbean And Atlantic
1. Bonaire
Curaçao

St. Lucia

Belize

Mexico

Cayman Islands

Bahamas

Bay Islands

Turks and Caicos

U.S. Virgin Islands

Aruba
Pacific And Indian
1. Galapagos
Indonesia

Philippines

Fiji

French Polynesia

Red Sea

Costa Rica

Maldives

Mexico

Thailand

Hawaii
U.S. And Canada
1. British Columbia, Canada
Texas

California

Washington

North Carolina

Florida Keys

Florida

Great Lakes
What Is Readers Choice?
More than 3,000 readers cast their vote in our 2023 survey to decide this year's Readers Choice awards. Here we feature some of the top destinations, listing in alphabetical order the winning resorts, operators and liveaboards serving those areas. More at scubadiving.com/readerschoice
---