Can Beachside Dive Site Signs Improve Reef Awareness?
Traditional guidebooks miss the major draw of tropical countries—like scuba diving and snorkeling—when their tips stop at the shore, says Ian Popple, a marine biologist and co-founder of the company Reef Smart.
Reef Smart has made it easier for divers to explore beyond the shore since 2016. Using 88 custom 3D maps of reefs and wrecks, Reef Smart produces waterproof site maps, physical and e-book guides and online maps that let divers get acquainted with sites before they ever kit up.
Now Reef Smart's maps are making their way directly to the beach. The company is producing new salt- and sun-resistant maps to be installed on shorelines and the walls of dive centers, resorts, tourism agencies and local government buildings. The signs highlight accessible dive and snorkel sites nearby, how to access them safely, what tourists might find on the reef, and how to get back to shore.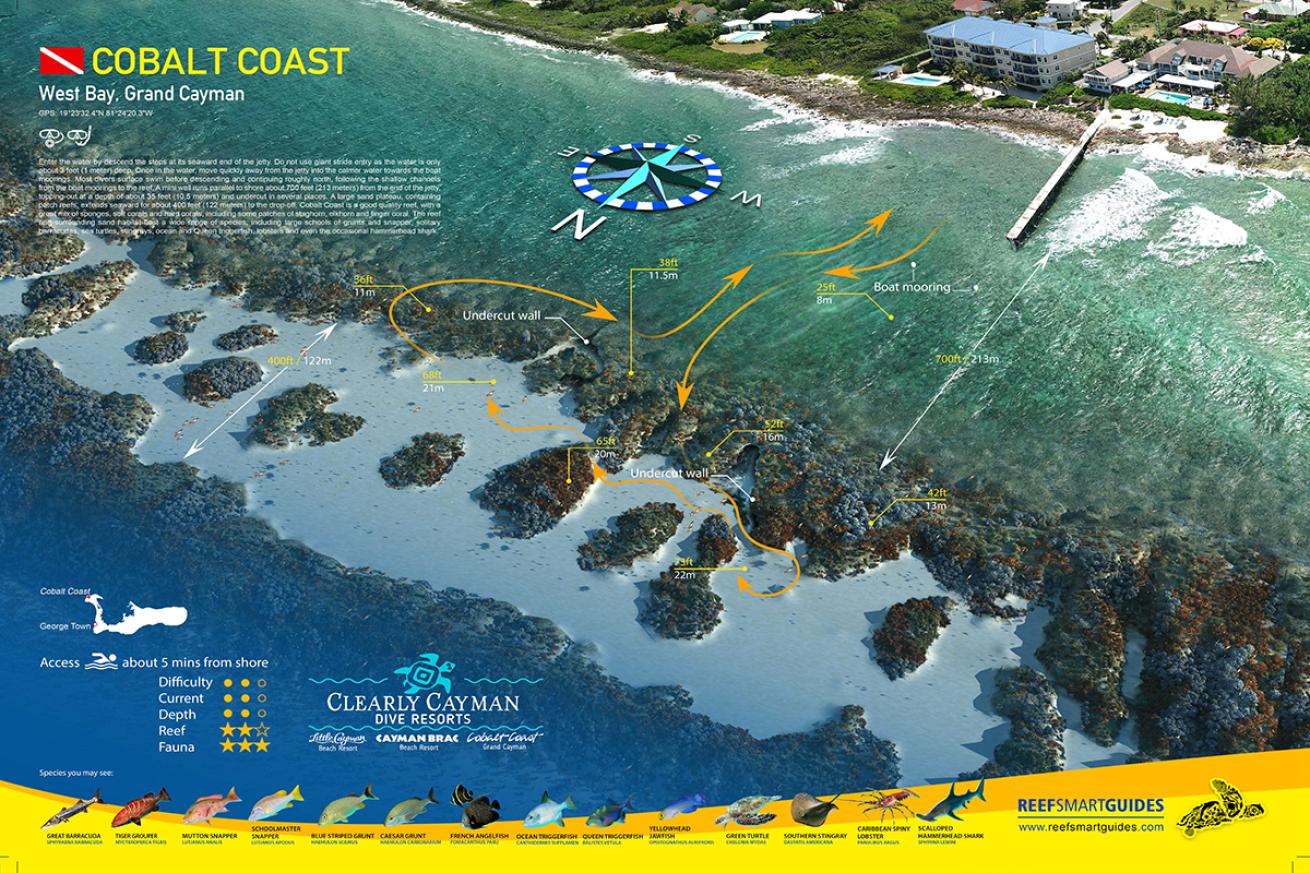 A Reef Smart map peels back the waves to show what reef formations and currents divers can anticipate in the Cobalt Coast on West Bay, Grand Cayman.

Courtesy Reef Smart
Popple says the on-site signs are useful for divers planning a shore dive or dive instructors giving a local briefing to visitors. They can also aid regions looking to raise their profile as a dive or snorkel destination.
The signs help people access the marine environment in ways other Reef Smart products cannot, he says. While the company's guidebooks and slate maps are useful for divers planning ahead, "people may be sitting on the beach and not realize there is a site that they could snorkel or place that they could dive from," Popple points out. A large sign on the beach boosts awareness of what's going on below the surface, he adds.
Reef Smart's signs are already in use at select sites in Bonaire, the Cayman Islands, Barbados and Florida.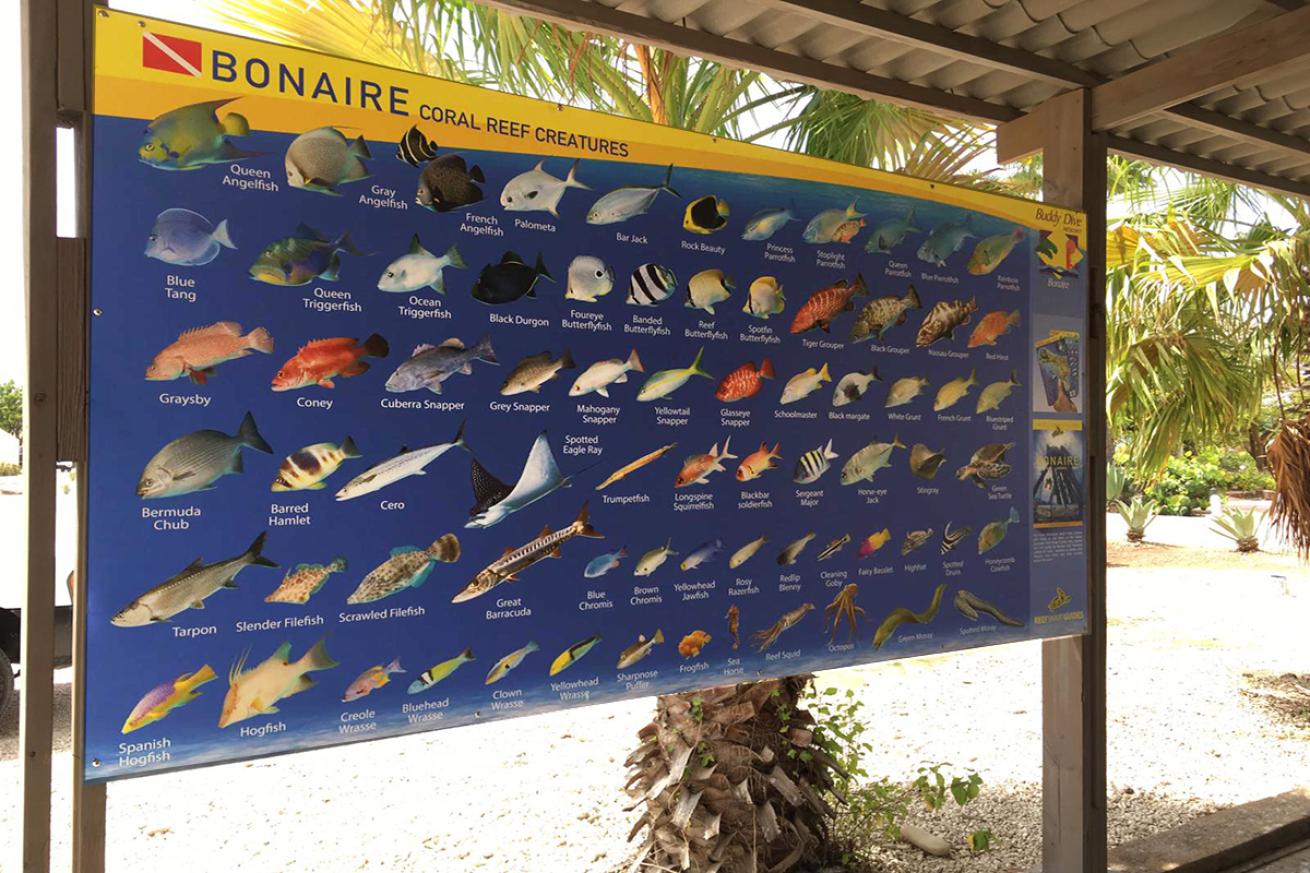 "It was Buddy that said 'I want [a species sign] at the tank station,'" Popple told Scuba Diving. "It was a genius concept because people are picking up their tanks and they are gathering around that sign to recall" what they saw during their last dive.

Courtesy Reef Smart
Along with teammates Peter McDougall and Otto Wagner, Popple started the underwater mapping venture four years ago in Bonaire, one of the world's shore dive capitals. Yellow-painted rocks denoting shore dive entrance points dot Bonaire shores so liberally they are synonymous with the island's dive scene. But a signal to "enter here" does not tell divers what to expect beneath the surface, and the island's easy shore dive access often means visitors choose to meander from site to site without a guide. Popple says Reef Smart's maps quickly gained popularity with shore divers visiting the region who wanted to know more about dive sites while retaining the flexibility afforded by diving without the fixed schedule of a charter.
Buddy Dive in Bonaire installed Reef Smart's first site sign in summer 2019, later adding a custom-designed species sign to the resort's drive-through tank fill station.
Augusto Montbrun, dive operations manager at Buddy Dive, says the sign is a "super nice tool that is used on a daily [basis] to orient divers about our house reef." It helps the staff give guests "a complete and very helpful idea of what they will be experiencing and encountering during their dive at our site," he says.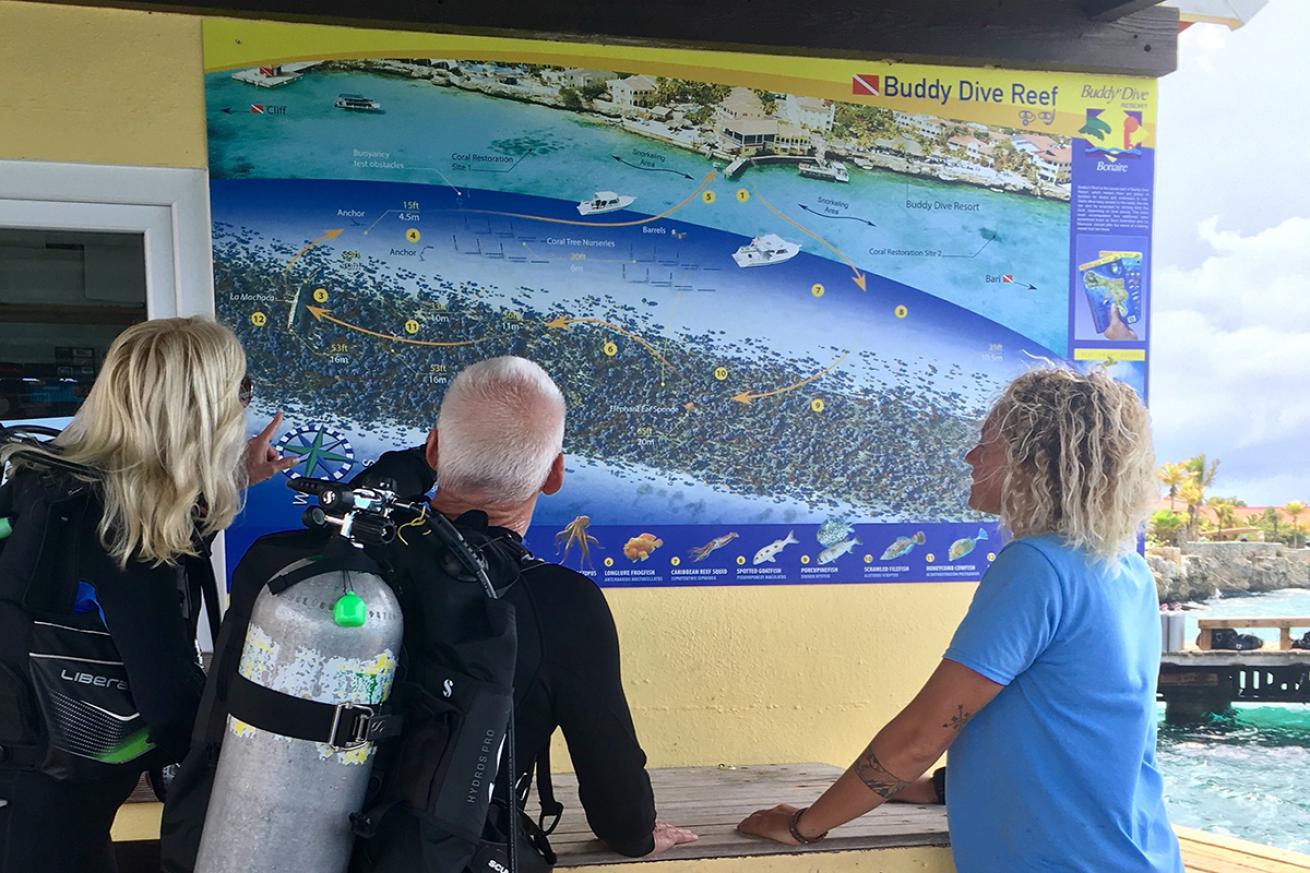 Divers at Buddy Dive in Bonaire inspect a 3D map of the house reef. Created by Reef Smart, this map was the first installation of their new signage project.

Courtesy Reef Smart
Popple hopes these signs and Reef Smart's other products ultimately help build support for marine conservation.
"For me, one of the most rewarding things about [launching and running Reef Smart] has been opening people's eyes to what exists beyond the shore, and giving them the tools to explore the marine environment," he says. "If you can encourage people to snorkel, then you can encourage more people to dive, you encourage more people to connect with the environment." And "connecting people to the environment is a very important thing because, at the end of the day, you protect what it is that you connect with."