Divers Find Rebounding Marine Life Around Reopened Phuket
Despite lukewarm reviews, Danny Boyle's 2000 film "The Beach" turned Thailand's Phuket Island into a tourism powerhouse. Thousands of travellers from around the world poured into destinations like Maya Bay to see the sandy bays of a hedonistic secret paradise lined by limestone cliffs and the warm, crystal-clear waters of the Andaman Sea.
Hundreds of speedboats began roaring through the water daily, degrading marine life and diving safety. Finally, in 2018, Maya Bay was closed to allow the area to regenerate. This, with combined the pandemic's enforced inactivity, has provided space for the marine life to rush back in—and new joys to be uncovered.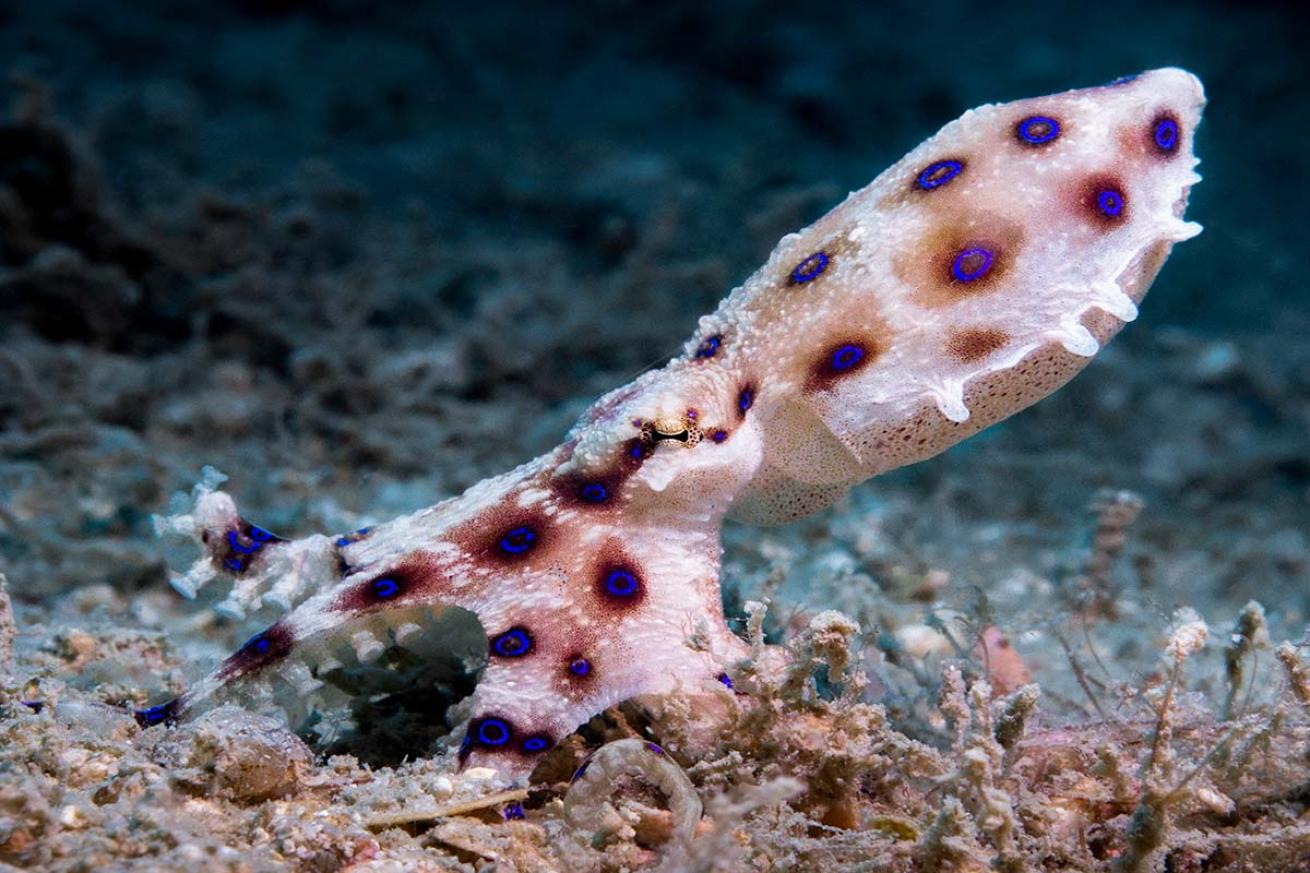 A blue ringed octopus in the silt of Koh Tao.

Elaine Brett
Dive companies like Sea Bees say that Phuket can now offer underwater experiences richer than ever before at some of the most sought-after diving spots, including Hin Deang and Hin Muang. Sharks have been returning to the area, with the Thai Department of National Parks reporting that there are now over 100 black tip reef sharks within Maya Bay, making it the largest shark population now the highest in Thai waters. All sizes of barracuda have increased in number throughout the region — divers have seen huge schools of Chevron Barracudas swirling over the peaks of Koh Tachai Pinnacle — while anemone fish can now be seen in many of the dive sites close to the Phi Phi Islands and around Anemone Reef.
"We are seeing an increase in certain species, there's more Anemone fish and Barracuda in the Andaman Sea than ever before," says Holger Schwab, managing director of Sea Bees, the longest-serving diving company in the area.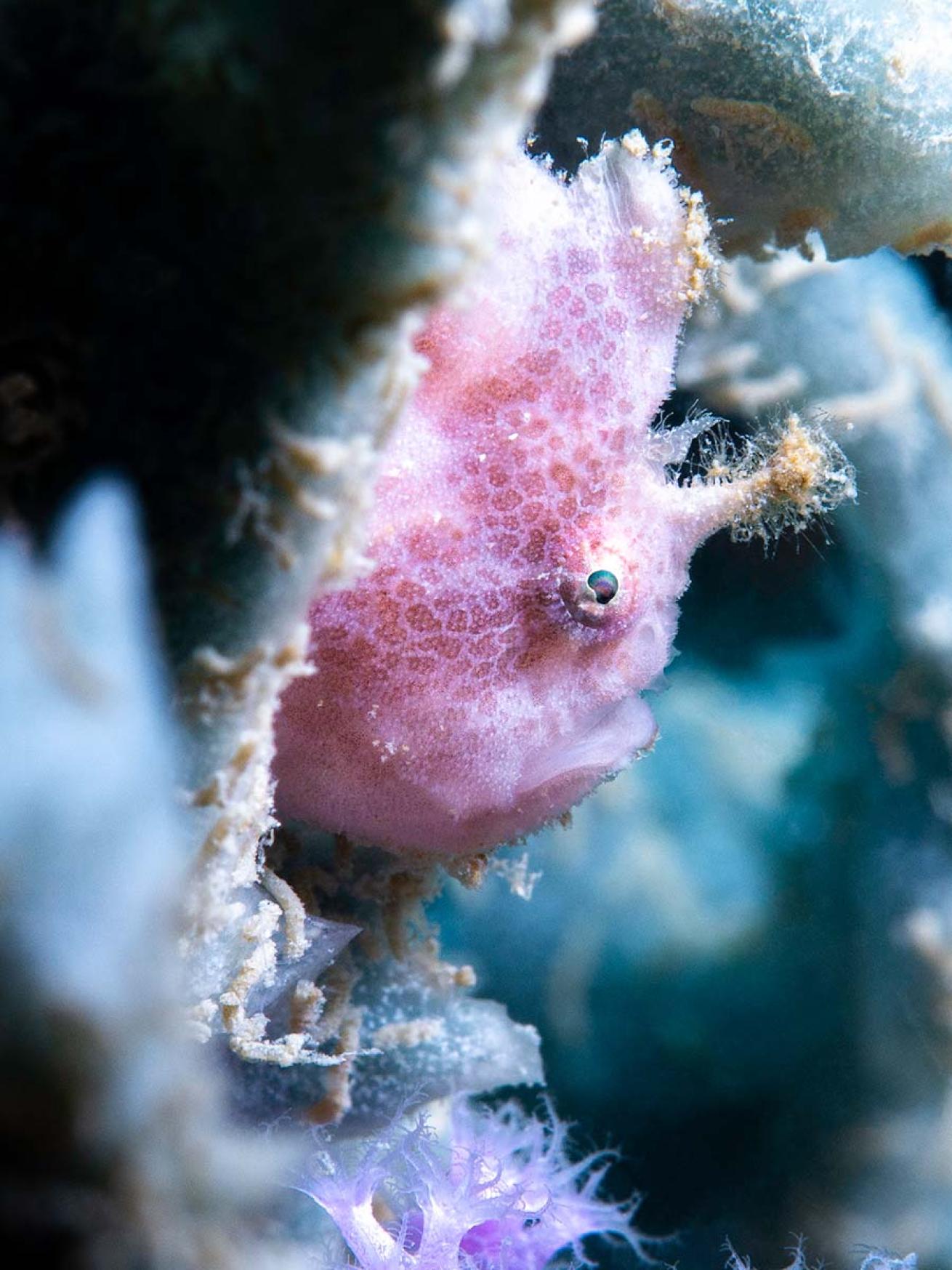 A spotted frogfish in Koh Tao.

Elaine Brett
Alongside the Koh Tachai Pinnacle barracuda, while rainbow runners and dogtooth tuna hunt around the boulders at high speed. Large marble groupers are found everywhere and lots of friendly batfish are seen.
Richelieu Rock, long one of the world's most famous dive sites, and is proving even better than before. Sometimes it can be teeming with hunting trevally, other times a group of giant barracuda hang out in the current as ghost pipefish swim past and an oceanic manta ray suddenly appears. It is proving to be a popular location for whale sharks, leopard sharks, and whitetip sharks. Moray eels, porcelain crabs, pharoh cuttlefish and harlequin shrimp are frequent visitors while orange and technicoloured walls full of nudibranches with other macro creatures flitting in and out.
Along the shore, the rare and endangered leatherback turtles have reclaimed the sandy beaches to lay their eggs. "This is the greatest number of leatherback sea turtle nests that Thailand's beaches have seen in 20 years," says Dr. Kongkiat Kittiwatanawong, the director of the Phuket Marine Biological Center.
Elaine Brett, owner of Master Divers, spent her lock down exploring the lesser-known muck diving opportunities around some of the smallest islands in the Gulf. Her time scouring the vast, sandy bottomed area around Koh Tao has revealed a totally new undersea world perfect for macro photographers.
Long, slow afternoons immersed in the seemingly vastness of nothing but sand have uncovered tiny sea horses, rare Blue Ringed Octopus, uncommon Spot Fin Frog fish and countless varieties of nudibranch. Patience is required, Elaine says, since diving in search of critters sometimes as small as a few specks of sand takes time, but the effort is well worth it.
The dive travel world would do well to model this measured approach, says Sea Bee's Holger Schwab. "Perhaps this means a different type of tourism in the future, slower and more considerate of the ecosystem we are working within. A more sustainable approach to both enjoying our underwater world and preserving it has been needed for a long time, and we hope that the effects of the pandemic prove to be positive in this regard for the marine parks in the Andaman region."
---