Diving Stingray City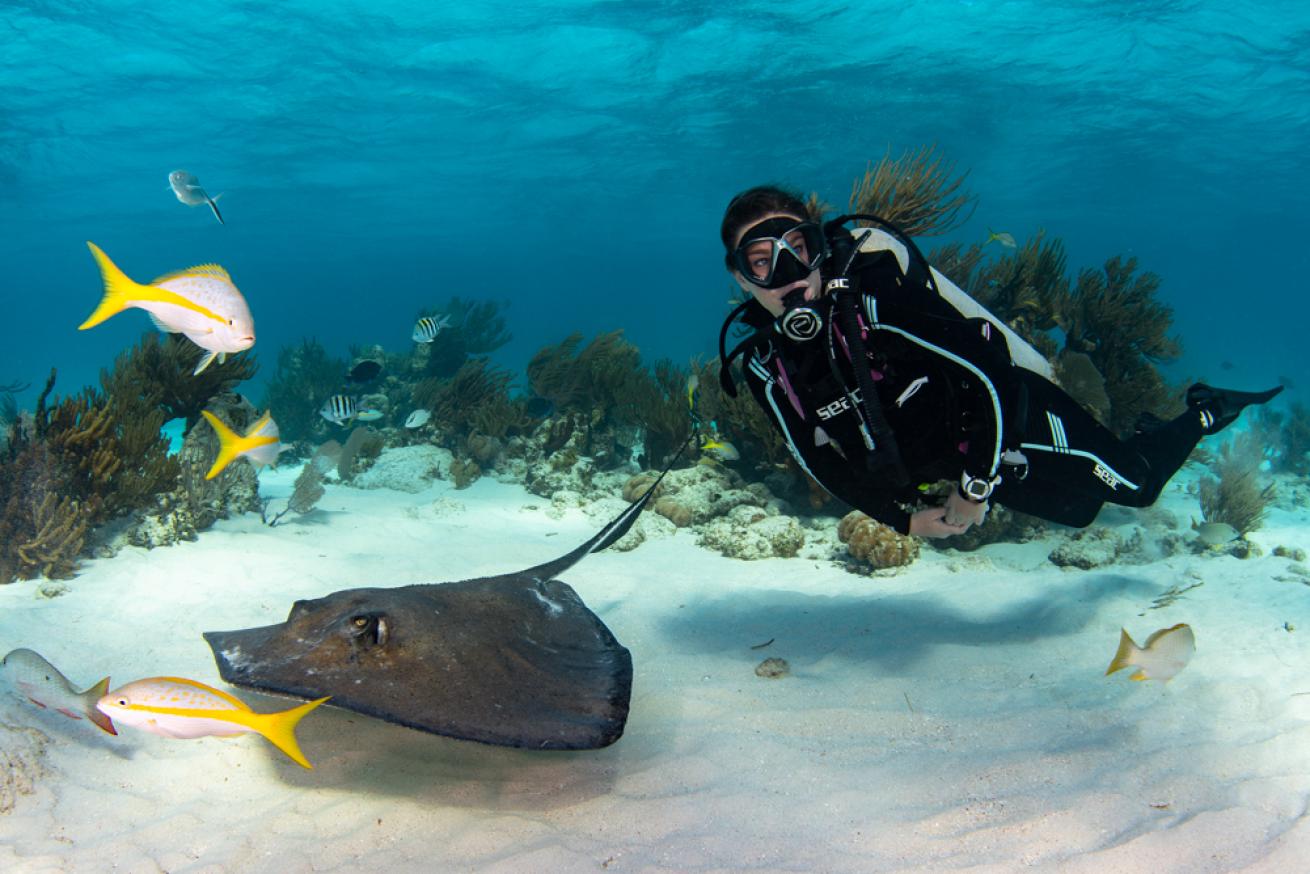 Interact with graceful stingrays at the unique 'Stingray City'

Tanya G Burnett
On almost any day of the week in Grand Cayman, dive boats ease off the boat docks on a typical cloudless day. Light breezes cool the tropical morning air. Chatter from excited divers rises from the boats in anticipation of the morning's activity. Some of the charters are likely heading out to dive the island's North Wall or the Kittiwake wreck, but one of the most highly coveted and anticipated dives is the shallow water of the Stingray City sand bank. This protected location in Grand Cayman's North Sound is tucked inside the reef break and almost always provides calm conditions. The waters of this bank and the stingrays themselves have been environmentally protected since 2013 as they are now considered a national treasure.
There are very few places in the world where divers can interact with large marine animals in the wild while being close enough to touch them, or even more rarely, to be touched by them. Grand Cayman's iconic Stingray City is one of the most famous and delightful of those opportunities. The setting beckons divers with aquamarine waters that glisten in the sun like a faceted gem, but the real jewels — southern Atlantic stingrays — reside below the surface.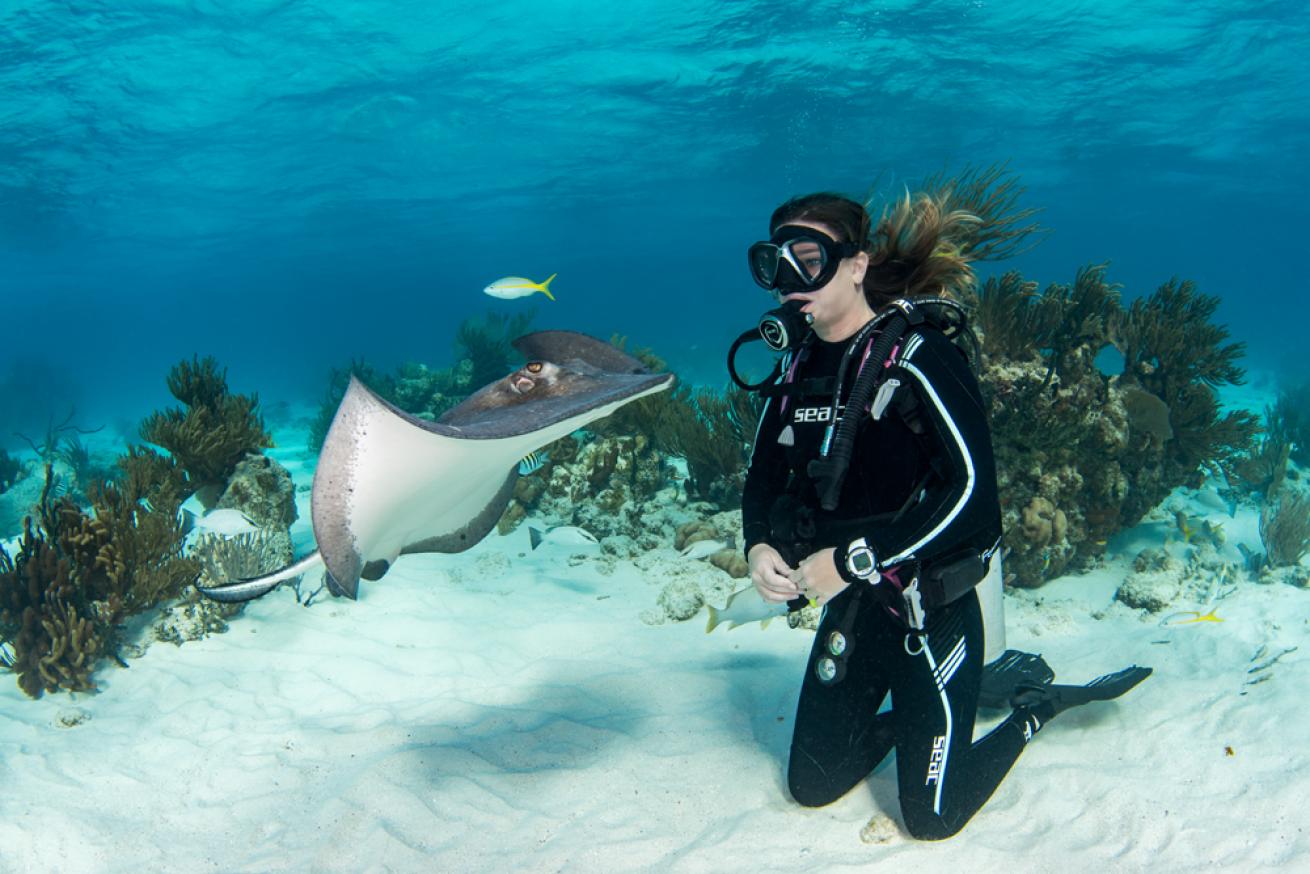 An experience of a lifetime and an enchanting dive that never gets old.

Tanya G Burnett
Once the boat is on location, dive guides ready guests with small, sealed containers of the stingrays' favorite food and a brief explanation of what is permitted and what is not. Do kneel on the bottom calmly; don't take out all your squid at once; let the rays come to you. Depending on where you are on the sandbar, the depth ranges between four and 12 feet. On most days, the diver's quick descent to the shallow sand is highlighted by countless dancing ribbons of refracted sunlight.
But within seconds, the guests of honor arrive to greet the terrestrial visitors who blow bubbles. Swooping and soaring around divers positioned on the bottom, the stingrays gently caress the hands and heads of divers, who may be surprised by the stingrays' supple skin. The rays gracefully glide in to hunt for the tidbits of squid that divers offer in exchange for an undersea balletic performance. The occasional explosion of bubbles from someone's regulator usually indicates unbridled laughter as a ray demonstrates some unexpected antics up close and personal. It is not uncommon to find a ray sucking on a BC pocket or blocking your vision completely as they loop inches from your mask. It is no wonder that so many award-winning photos have been taken in this very location. Even the most experienced underwater photographers are lured back time and again to capture these graceful denizens soaring in such a stunning environment.
For first-time visitors, it is usually an experience of a lifetime. For old salts who keep coming back, it is an enchanting dive that never gets old, regardless of your diving history.
What to Know
Language: English
Currency: Cayman Islands dollar
Signature Dish: Fish rundown, a stew made with coconut-milk-soaked fish.
Signature Topside Activity: Queen Elizabeth II Botanic Park, Grand Cayman; Owen Island, Little Cayman; Bat Cave, Cayman Brac.
Main Airport: Grand Cayman's Owen Roberts International Airport (GCM).
Water Temp/Visibility: High 70s to low 80s/80 to 100 feet.
Travel Tip: Carry both Cayman and U.S. dollars — resorts and hotels usually quote prices in U.S. dollars, while restaurants and shops ask for Cayman Islands dollars.
Click Here for More Information
---