Jim Ritterhoff Named 2019 Sea Hero of the Year
Turns out, it costs about $5,000 for Force Blue—a program that teams combat-trained divers with marine scientists in the battle to save Earth's coral reefs—to cover just the PTSD counseling required for each new Special Operations team member.
Serendipitous, then, that co-founder and executive director Jim Ritterhoff, Scuba Diving's June 2019 Sea Hero, has been selected by a panel of judges as Scuba Diving magazine's Sea Hero of the Year, earning Force Blue a $5,000 cash donation from Sea Hero sponsor Seiko Watch of America.
"It's certainly humbling, especially when you consider Force Blue has only been around for a little over two years," said Ritterhoff when we reached him with the news. "When I scan the list of this year's other Sea Heroes, these are folks I follow and have looked up to for a long, long time. To be counted among them is a tremendous honor."
That $5,000 is only the tip of the onboarding iceberg. The entire process costs considerably more—about $25,000 to recruit and train each Special Operations veteran who joins Force Blue.
Recruits are given instruction "by a cadre of the best minds in the fields of marine science and conservation," Ritterhoff explains. Vets are taught how to properly ID fish, marine reptiles and mammals; how best to combat invasive species; what is required to successfully grow and transplant different types of coral; the importance of preserving mangroves and sea grass; how to install protective mooring buoys and remove ghost gear and marine debris; as well as how to effectively survey shipwrecks and artificial reefs.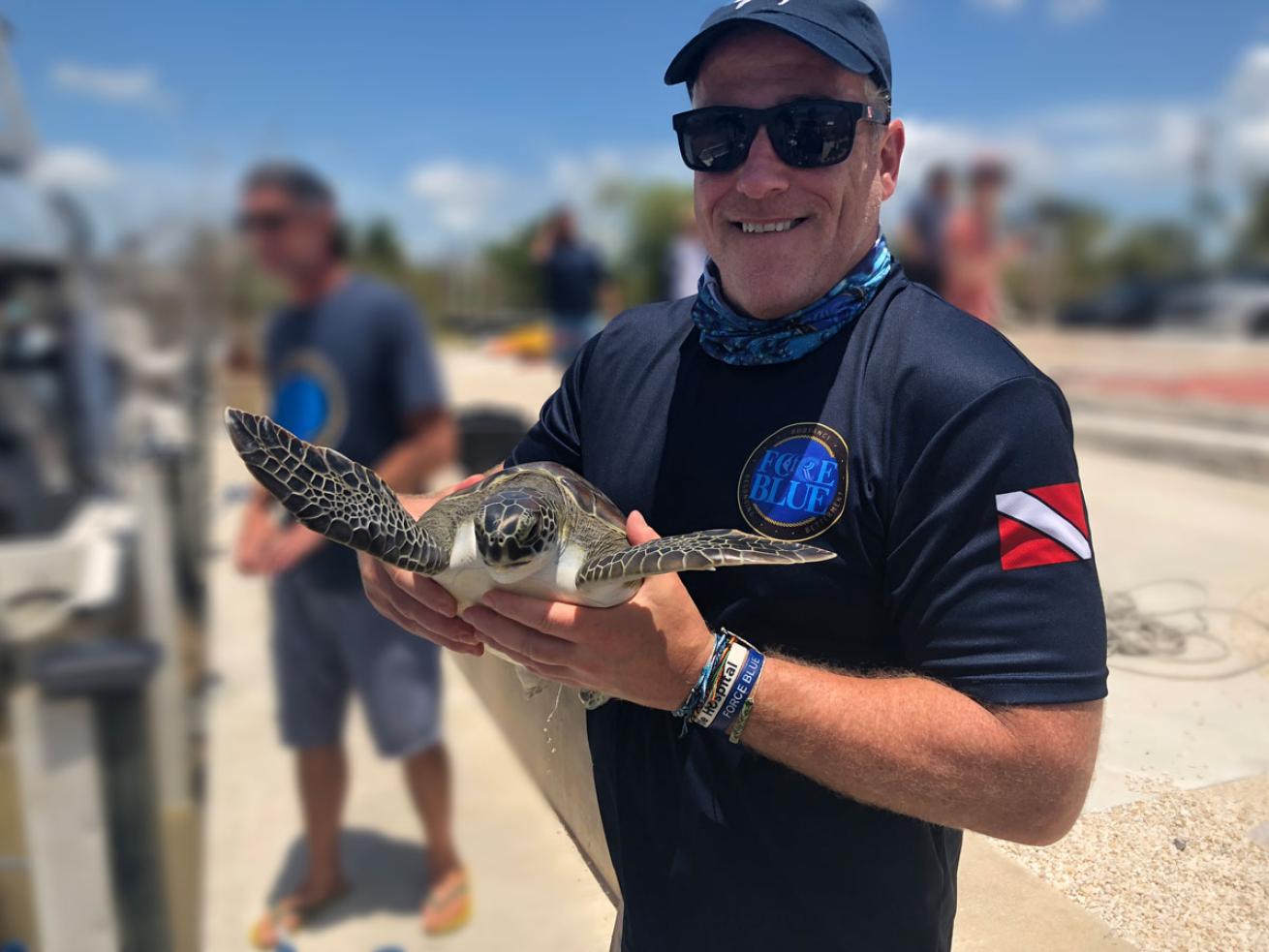 Ritterhoff on a turtle research mission in the lower Florida Keys this summer.

Courtesy Jim Ritterhoff
"The goal is to give these incredibly skilled operators a fresh take on the underwater world," Ritterhoff says. "To teach them how to think about the ocean, not as work or something to be overcome, but as an interdependent community of life, currently under threat, that needs their help to survive."
True to Force Blue's motto that there is no "I" in team, Ritterhoff counts his colleagues as his personal sea heroes: "My friend and co-founder Keith Sahm, who had a very successful career in the dive industry but was willing to take a chance on this. Angelo Fiore, a former Navy diver who runs Force Blue's dive ops and is doing this because he believes to his core that service doesn't stop. And our operations director Nicole Rosga, who continues to serve with the Florida Air National Guard, and who, despite having some serious health issues brought on by her service, continues to warrior on."
The emotional component of Force Blue is a big one—and not only for the vets. "We talk a lot about 'seeing the light come back on' and how emotional it is to see someone who has maybe lost touch with his or her reason for being suddenly discover it again," Ritterhoff says.
For at least one new team member, an important part of that support will come from Seiko. "Seiko is honored to be part of the Sea Heroes program, celebrating scuba divers who have devoted themselves to the conservation and exploration of the world's oceans, reefs and marine life," says Munehisa Shibasaki, president and CEO of Seiko Watch of America.
"Since 1965, our innovative Prospex dive watches have been inspired by the needs of brave and committed divers such as those in the Force Blue program. With its focus on the divers themselves and the healing they experience as they in turn protect our environment, Force Blue is particularly meaningful to us. We are proud to be able to support and bring attention to its extraordinary work."
---
Nominate a Sea Hero
Each Sea Hero featured in Scuba Diving receives a Seiko Prospex SRPA21 watch valued at $550. Judges annually select a Sea Hero of the Year, who receives a $5,000 cash award from Seiko to further his or her work. Nominate a sea hero at /seaheroes.