Leap into Lea Lea's Lookout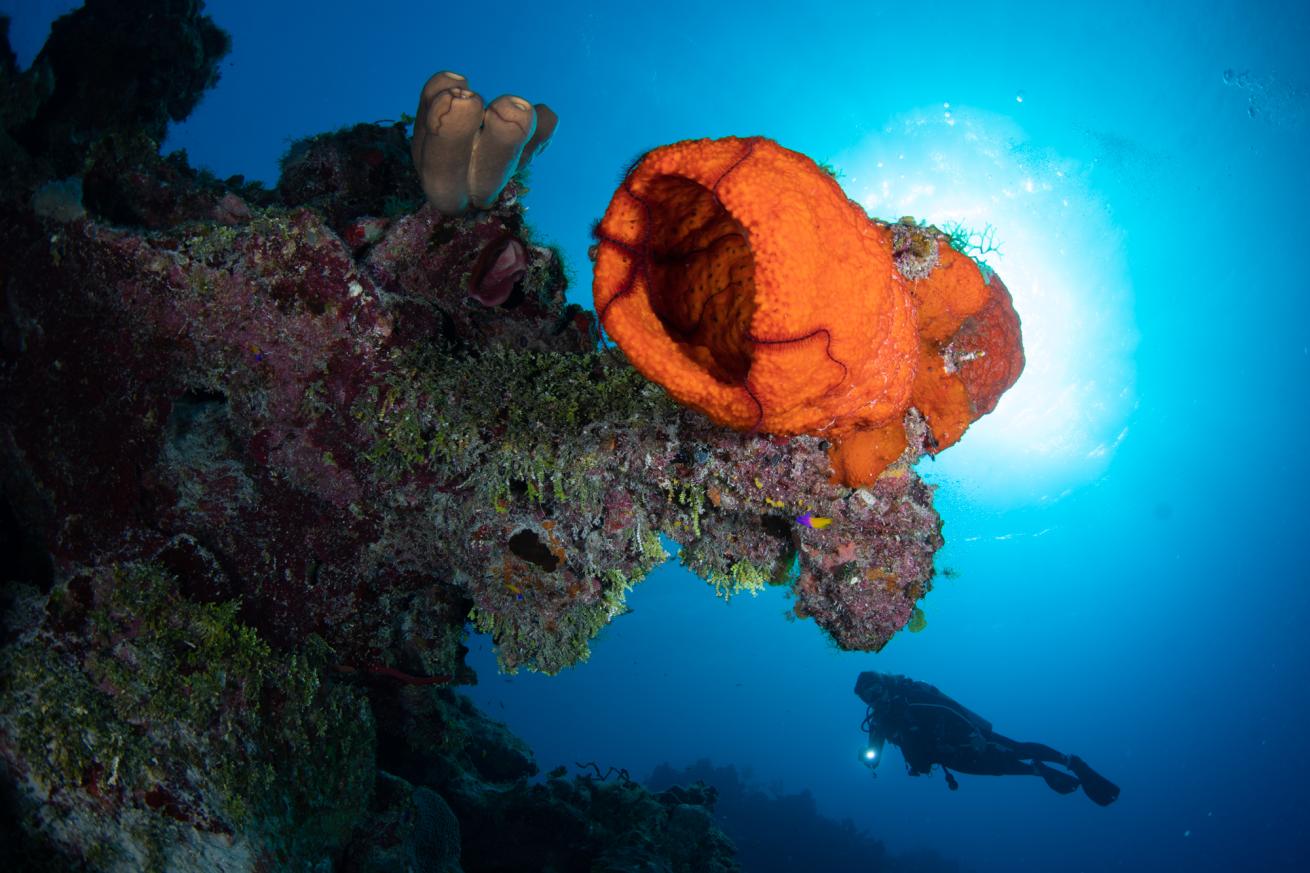 Bring a dive light to illuminate the color of sponges and corals found at Lea Lea's Lookout.

Tanya G. Burnett
Bloody Bay Wall in the waters of Little Cayman is so famous that it is on the "must-dive" list of most divers. Its fame accelerated in the 1970s when explorer Jacques Cousteau declared Blood Bay Wall to be one of "the best dive sites in the world." Today, these waters are protected by the Bloody Bay Marine Park that runs along the northwest shore of the island. The spectacular steep cliffs of Bloody Bay Wall boast over 20 dive sites that hold a rich treasure trove of marine-life species that will delight you. While all the dive sites in the marine park are notable, one of the favorites of both visitors and local divemasters alike is Lea Lea's Lookout.
Many divers who are new to Little Cayman wonder if they will be jumping in directly on a sheer wall that plummets 6,000 feet. But as the bubbles clear on that first giant-stride into Lea Lea's aquamarine seas, it becomes apparent that there is a complex reef structure providing a fascinating multilevel dive. Dropping down on the vertical face of the reef is just the icing on the cake. A sandy reefscape punctuated with soft coral and sponge outcroppings leads quickly to some dramatic deep cuts in the reef that beckon to be explored. As divers fin their way toward them, big southern stingrays will often take wing from the talcum-white sand bottom.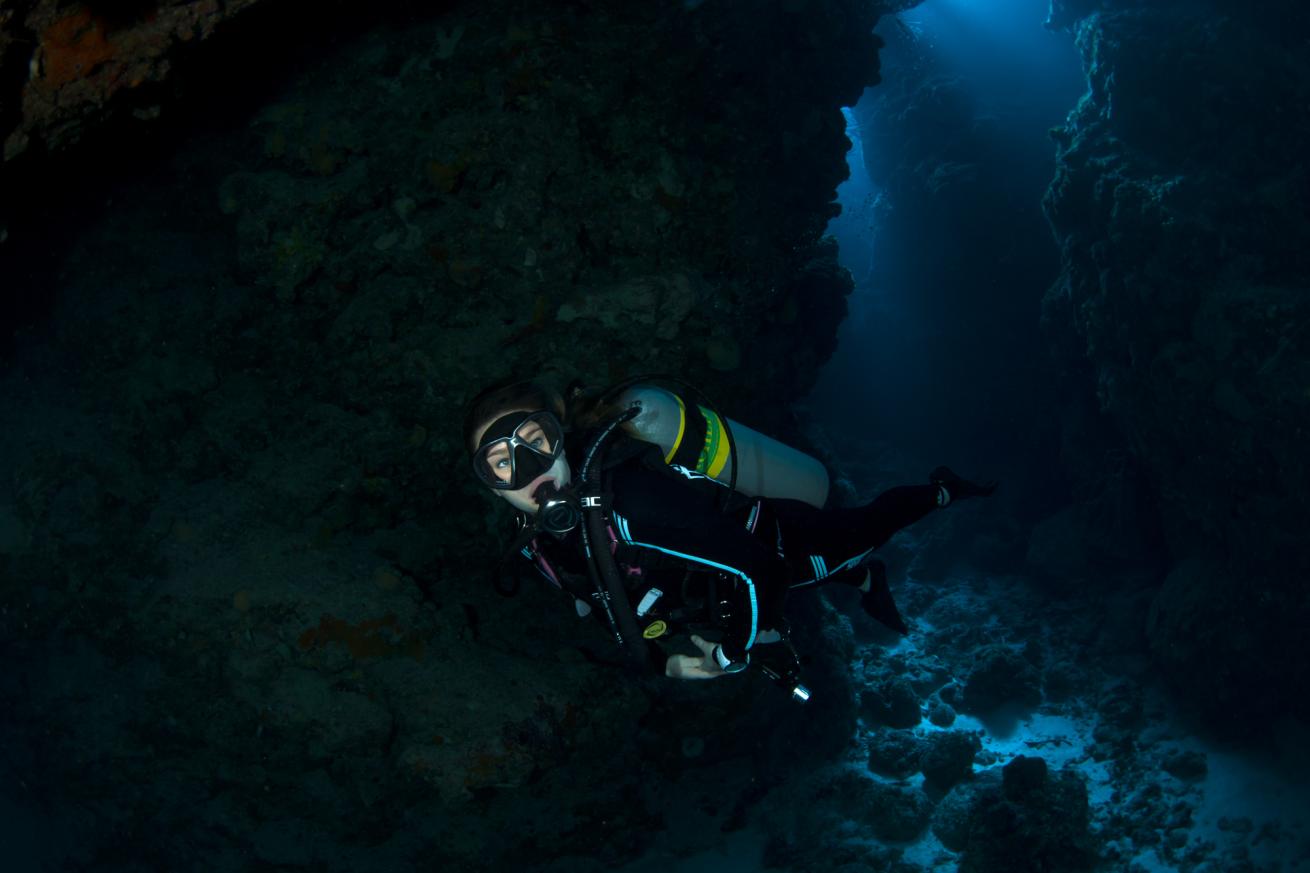 When divers do finally emerge through the wall at about 100 feet of depth, the bottomless view is awe-inspiring.

Tanya G. Burnett
With the lure of the deep, cobalt-blue waters ahead, it is tempting to make haste through one of the canyon-like passages, but the crags and nooks of the undulating reef cuts also sustain countless treasures. Among the larger discoveries that are almost guaranteed at Lea Lea's are free-swimming moray eels on the hunt and Nassau groupers getting cleaned by gobies. Nurse sharks are fond of resting underneath overhangs, while sea turtles occasionally careen down the swim-throughs on their mission to reach the deeper waters of the wall. But for divers who enjoy observing pint-sized critters and who possess a keen eye and/or macro lens, smaller reef denizens abound in these remarkable reef canyons. Some of the favorite sightings include numerous types of pipehorses, a variety of blennies and shrimp, and some stunningly handsome seahorses in an assortment of colors. The small stuff is not always obvious, but after a few sightings pointed out by a divemaster, spying these masters of camouflage on one's own gets easier.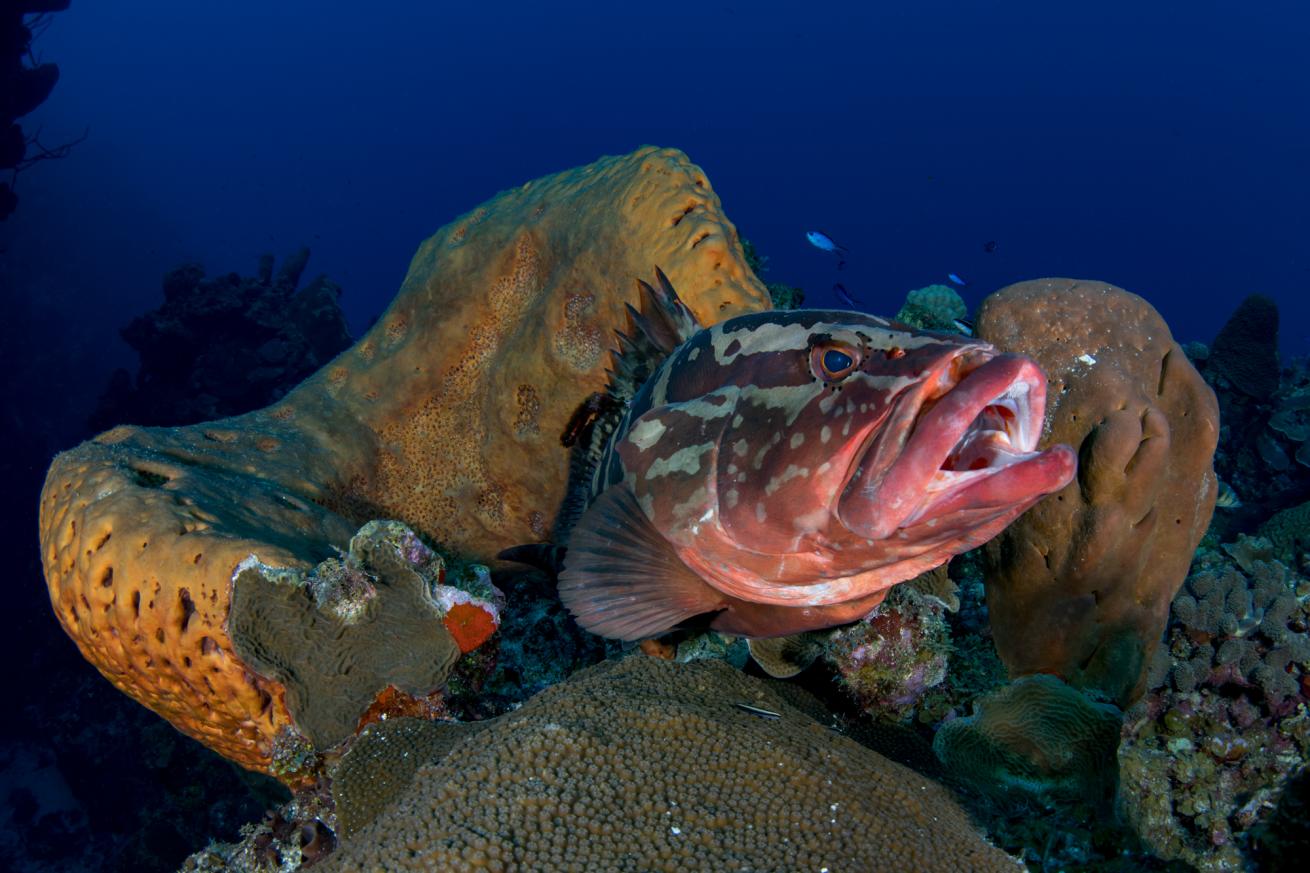 Look for Nassau grouper being attended to by cleaner gobies at Lea Lea's Lookout.

Tanya G. Burnett
When divers do finally emerge through the wall at about 100 feet of depth, the bottomless view is awe-inspiring. Here the vista is open to sightings of almost any blue-water visitor. Eagle rays may swoop past along the drop-off and sea turtles may be encountered as they paddle toward the surface for air. Reef sharks cruise the wall if divers remain stealthy so as to avoid spooking them. Schools of black durgons (triggerfish) are often spotted parading along the shallower sections of the wall. Reef growth all along the drop-off is prolific and harbors many tropical residents, including the radiant fuchsia and gold royal grammas that seem to hover everywhere.
Time is limited at depth, so most divers will venture up a canyon they did not explore on the way down to see what other surprises await. Fortunately, this is not a dive where you must do a safety stop hanging in the blue. There is plenty of shallow reef real estate to explore as you offgas. Aggregations of shimmery blue chromis dart in the brilliant tropical sunlight and juvenile French angelfish eye divers warily. These shallows are also a great place to spot small nudibranchs and gastropods, with lettuce sea slugs being particularly plentiful here.
All good dives eventually come to an end, but the memories of diving Lea Lea's Lookout and the Bloody Bay Wall — with all their treasures — will certainly not.
What to Know
Language: English
Currency: Cayman Islands dollar
Signature Dish: Fish rundown, a stew made with coconut-milk-soaked fish.
Signature Topside Activity: Queen Elizabeth II Botanic Park, Grand Cayman; Owen Island, Little Cayman; Bat Cave, Cayman Brac.
Main Airport: Grand Cayman's Owen Roberts International Airport (GCM).
Water Temp/Visibility: High 70s to low 80s/80 to 100 feet.
Travel Tip: Carry both Cayman and U.S. dollars — resorts and hotels usually quote prices in U.S. dollars, while restaurants and shops ask for Cayman Islands dollars.
Click Here for More Information
---