Rose Huizenga Named Sea Hero for Making Conservation Careers Accessible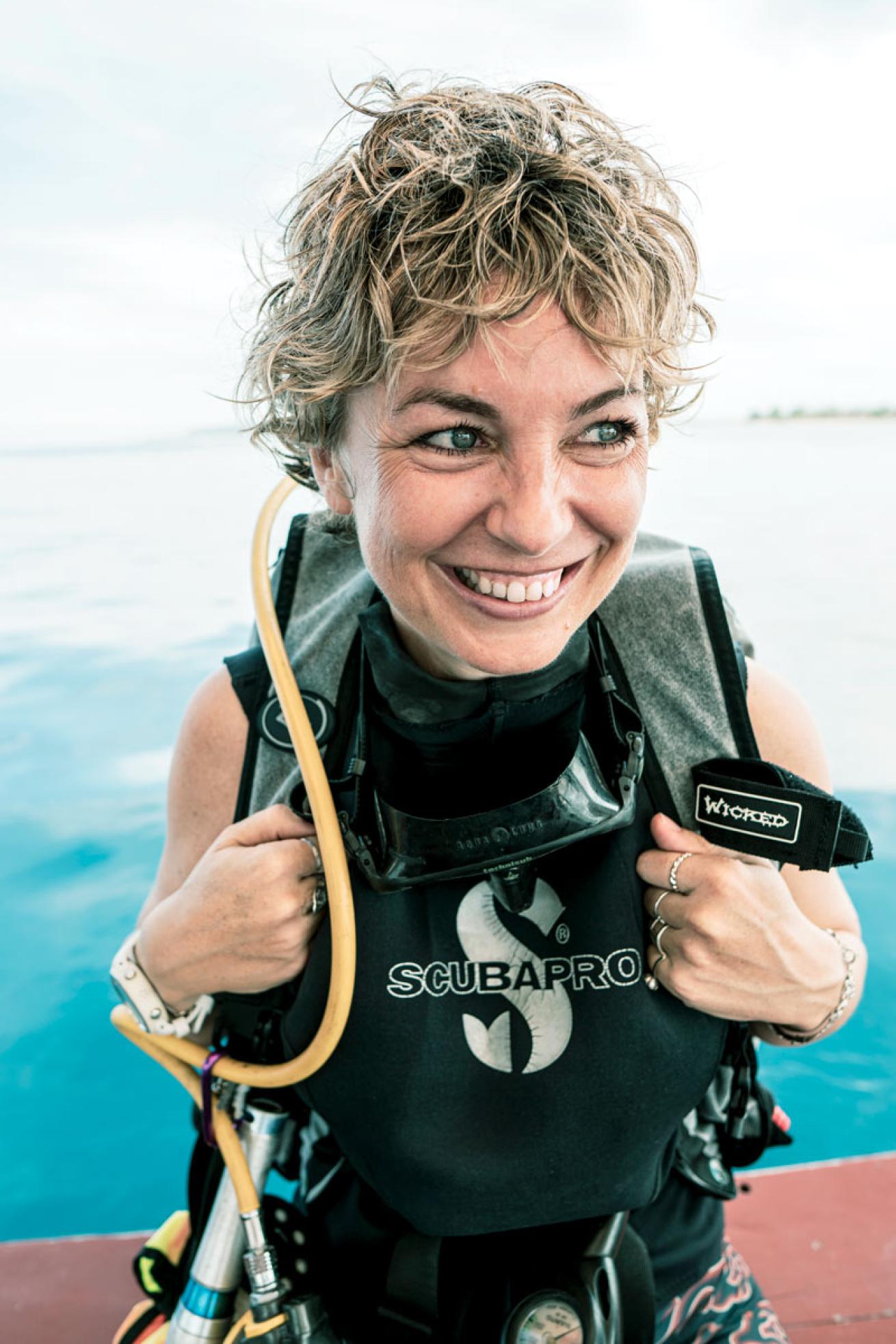 A portrait of Rose Huizenga.

Florian Allgauer
Year Dive Certified: 2012
Age When Certified: 27
Dive Certification Level: Instructor
Words To Live By: "Little by little, a little becomes a lot."
---
While on a three-month sabbatical in 2012, Rose Huizenga had grand plans to visit Indonesia, Sri Lanka and Nepal. En route to Lombok, curiosity struck. She decided to stop at Gili Air for two days and fell in love with the island.
Two days turned into two weeks, then two months, and, well, she never made it to Sri Lanka or Nepal. Instead, she made a life on Gili Air, fell in love, purchased a villa, worked as a dive instructor and started a family.
In 2015, Huizenga founded Gili Shark Conservation together with her husband and a friend after witnessing dramatic changes to the reefs. Their villa became a home for visitors and the headquarters for their conservation organization. Gili Shark Conservation has evolved since its founding, and Huizenga's most recent endeavor, Coral Catch, combines her passions of marine conservation and empowering women. For her ingenuity and perseverance, Rose Huizenga is our February 2023 Sea Hero.
Q: How has your work evolved from co-founding Gili Shark Conservation to your new Coral Catch initiative?
A: Due to COVID-19, Gili Shark Conservation was struggling financially, and I couldn't cover the costs of our research and coral restoration program. It wasn't the first time we had to stop our work: In 2018, a 7.0 magnitude earthquake severely damaged our house, our boutique hotel Villa Nangka and the headquarters of Gili Shark Conservation. Giving up is not in my dictionary. In one month, our research team was up and running again, and in one year, I rebuilt our little paradise and became a new mother. Becoming a mother had a big impact on my life and made my drive to protect the ocean even bigger.
In 2021, the United Nations offered a grant program for projects like ours. I knew I had to come up with something special to have a chance. While writing the application, I had this "aha moment": What if I combine my two passions—female empowerment and conservation—and set up the first local female coral-restoration team in Indonesia?
I shared my idea of offering local women a coral restoration scholarship on Facebook and Instagram, and more than 150 women from all over Indonesia applied. I was overwhelmed by the number of applicants, and it was incredibly inspiring to see that there were so many women in Indonesia who have the passion and drive to work in conservation.
I never got the grant from the United Nations, but I did launch a pilot to see if my goals were achievable. I offered eight Indonesian women a coral restoration scholarship and a nine-week training to set up and monitor a coral restoration project. It was a big success!
More than 4,000 square meters of reef were restored, and all eight Coral Catch Superwomen were able to make the next step in their marine conservation careers.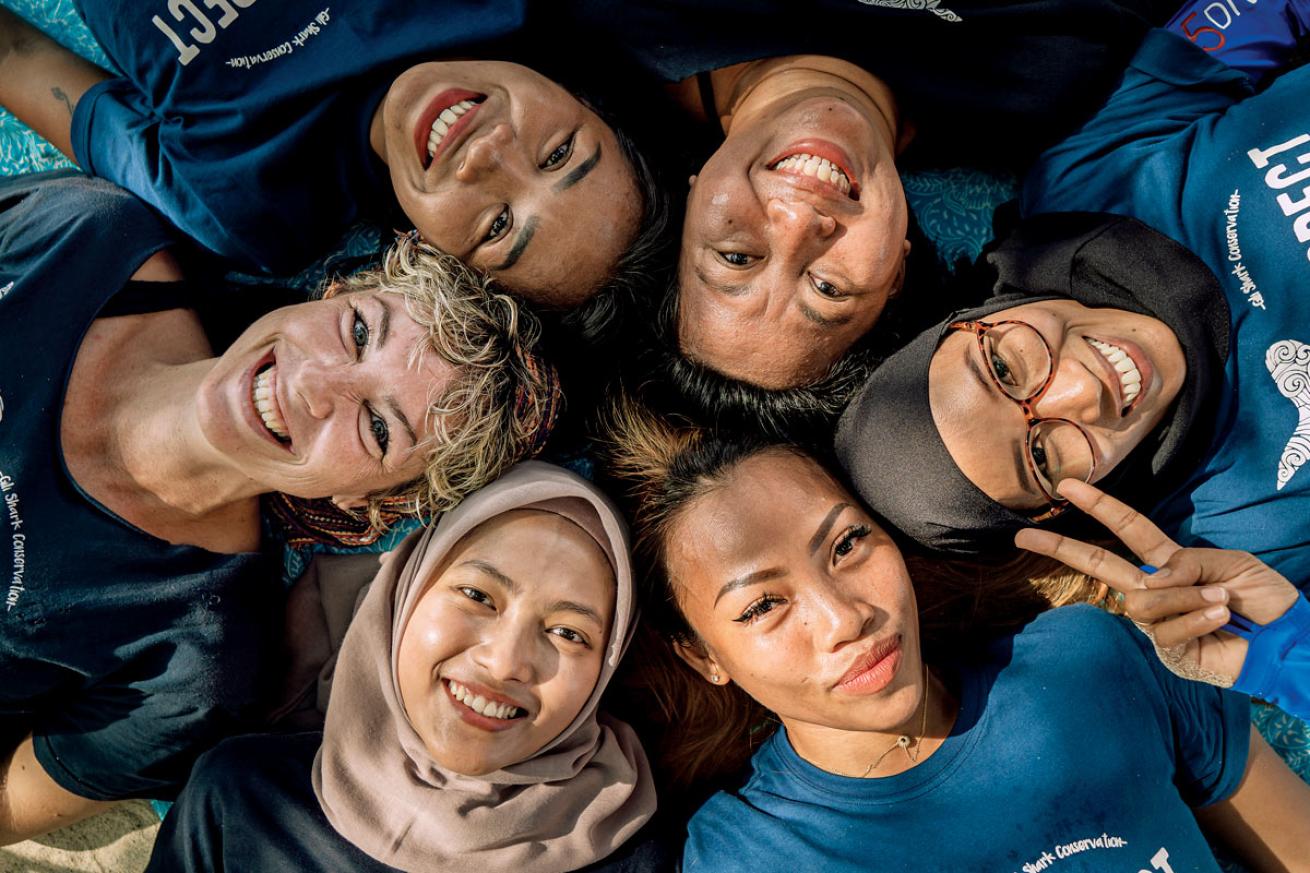 Huizenga with Coral Catch Superwomen. Her program empowers women in Indonesia to work in marine conservation.

Florian Allgauer
Q: What do you hope to accomplish through your Coral Catch initiative?
A: My ultimate mission is to create a network of local women who are working together to protect and restore the coral reefs of Indonesia.
Did you know that more than 35 percent of Indonesian people don't know how to swim, and that the percentage is even higher among women?
It's hard to love something that frightens you. Therefore, I decided to expand my mission and not only empower 100 local women to have a career in marine conservation but also teach 100 local women how to swim in the next five years so we can show them all the beautiful things that the ocean has to offer us and explain why it's essential to look after it.
It's heartwarming to see these women overcoming their fears and slowly starting to enjoy the fun of being in the water.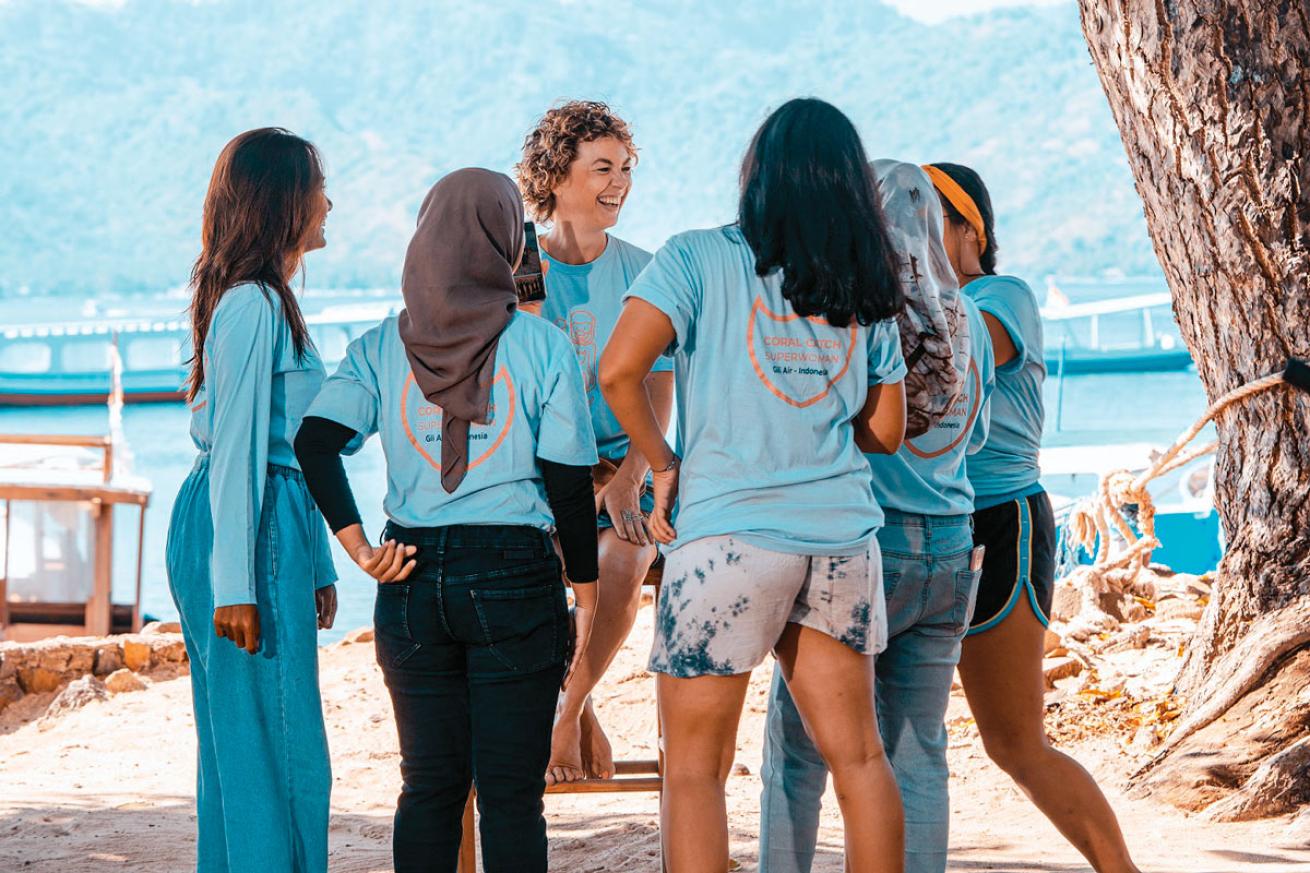 Rose talks with women from Coral Catch.

Florian Allgauer
Q: How do you fund the scholarships for Coral Catch?
A: We were able to fund the first 12 scholarships by a combination of a community grant from PADI AWARE, a donation from the International SeaKeepers Society and a private donation. Furthermore, we donated a part of our own profits toward Coral Catch. From 2023 onward, we are hoping that more companies are willing to help us grow the Coral Catch Sisterhood by (partly) sponsoring a scholarship. These donations will not only change a girl's life, but also the community and coral reefs around her.
Q: What are the benefits of training locals to be scientific divers and advocates for their home waters?
A: It's part of my mission to educate, train, and empower local talent to become leaders of the Gili Islands' growing tourism industry and guardians of its natural environment.
We have three local instructors in our research team who are excited to share their knowledge and experience with their community. Training local dive guides as scientific divers has several advantages:
They will be more aware of the important role they have in educating others about the importance of coral reefs and marine life.

It gives them the tools and the knowledge to include conservation in all their dive briefings.

When they are trained in the methodologies that we use, they can help us with collecting data, which means their dives will be more meaningful. The more data we can collect, the stronger case we can build to show the local government and stakeholders why protection and reinforcement of marine protected areas is important.
---
Each Sea Hero featured in Scuba Diving receives a Seiko SRPD43 watch valued at $525. For our January issue, judges select a Sea Hero of the Year, who receives a $5,000 cash award from Seiko to further their work. Nominate a sea hero at scubadiving.com/seaheroes.
---