These Private Island Dive Resorts Take Seclusion to the Next Level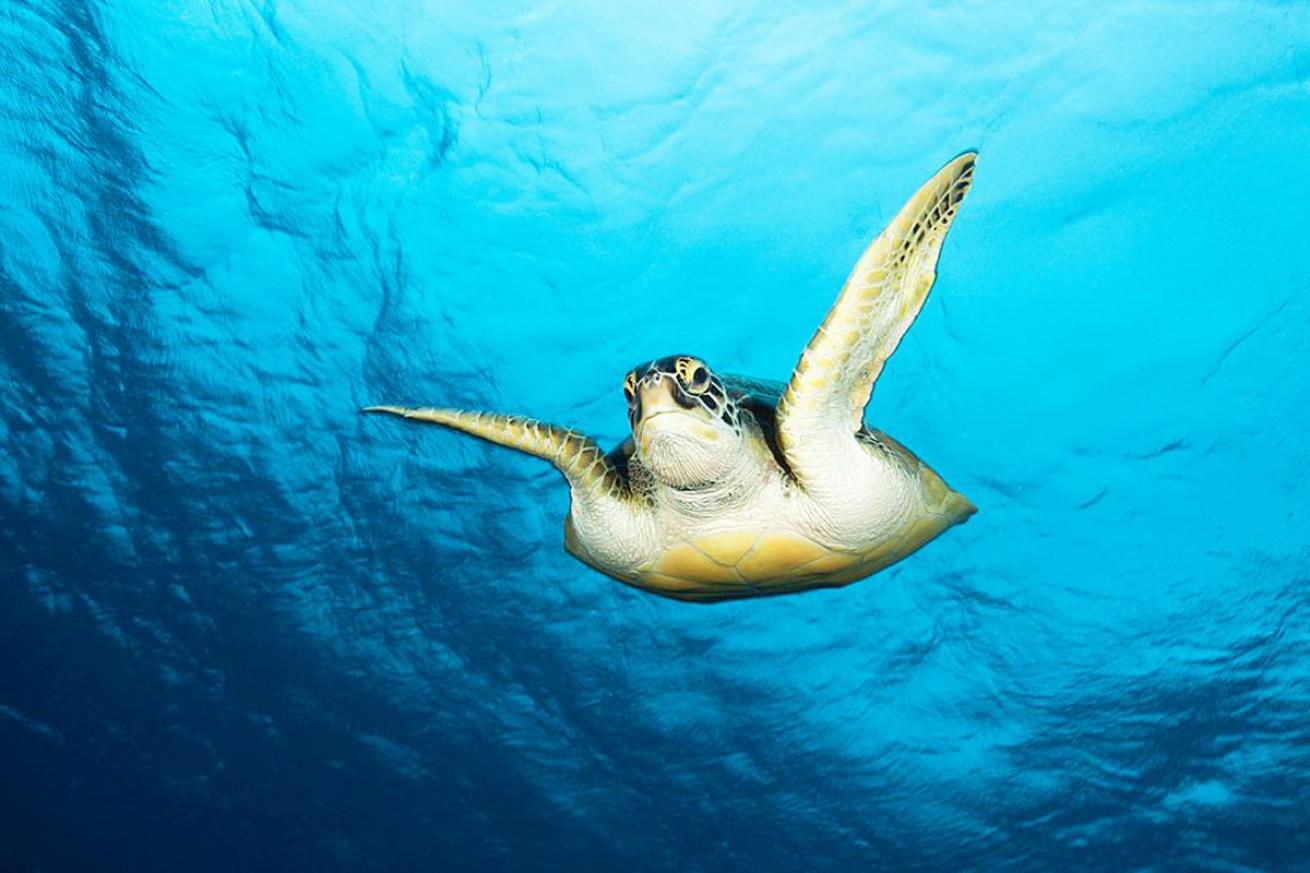 A sea turtle swims through clear water.

Olga Torrey
The case for a secluded dive vacation has never been stronger. In a world of ongoing travel uncertainty, it makes sense to get away to destinations shared by the smallest number of travelers possible. As the COVID era continues, it's becoming increasingly difficult to deny a need to get away for an adventure—and those who've been postponing a dive holiday might find themselves with the means and desire to splurge and go big. These private-island resorts check the box for safety and that feeling of sanctuary. Plus, they serve up some of the best diving and snorkeling, with one-of-a-kind experiences including biolume snorkels, beaches overrun by sea turtles and a private encounter with hammerheads at a pearl farm.
British Virgin Islands
Scrub Island Resort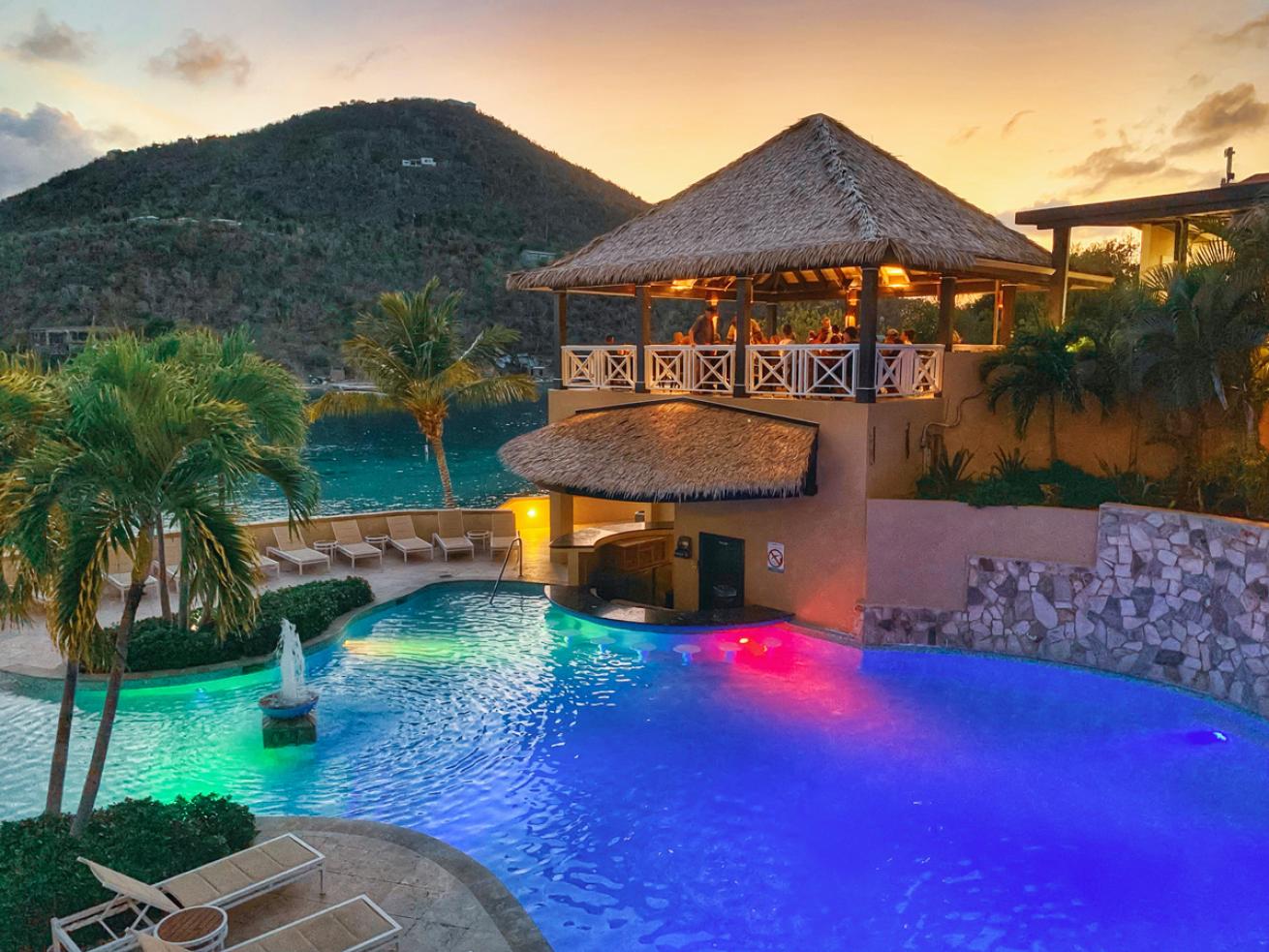 One of two pools on the grounds of Scrub Island Resort.

Alton Bertie
A Caribbean vacation destination for watersports of all kinds, the British Virgin Islands are a popular draw for generations of families and longtime friends who seek warm tropical waters. Scrub Island Resort, with dive center, boat dock, training pool and 61 high-end rooms, fixes the age-old dilemma that comes with group vacations: If you're traveling with anyone other than your fellow dive club die-hards, skill levels are likely to vary. In other words, vacation mates often don't get face time till dinner.
At Scrub, just east of the main island of Tortola, much of the action—the dive center, the marina, and two pools, including one where dive training takes place—is concentrated at the front of the resort. "If we walk out the door of the dive shop, we see many of the rooms," says Casey McNutt, manager of Dive BVI, the on-site scuba operator. "From the pool area, you can watch your loved ones take a class while you have a cocktail."
And many of the dive sites are shallow, often 30 feet or less. "Our boats are a mix of snorkelers, sun-worshipers and divers—we go to a lot of sites that are both great snorkel spots and great dive spots," McNutt says.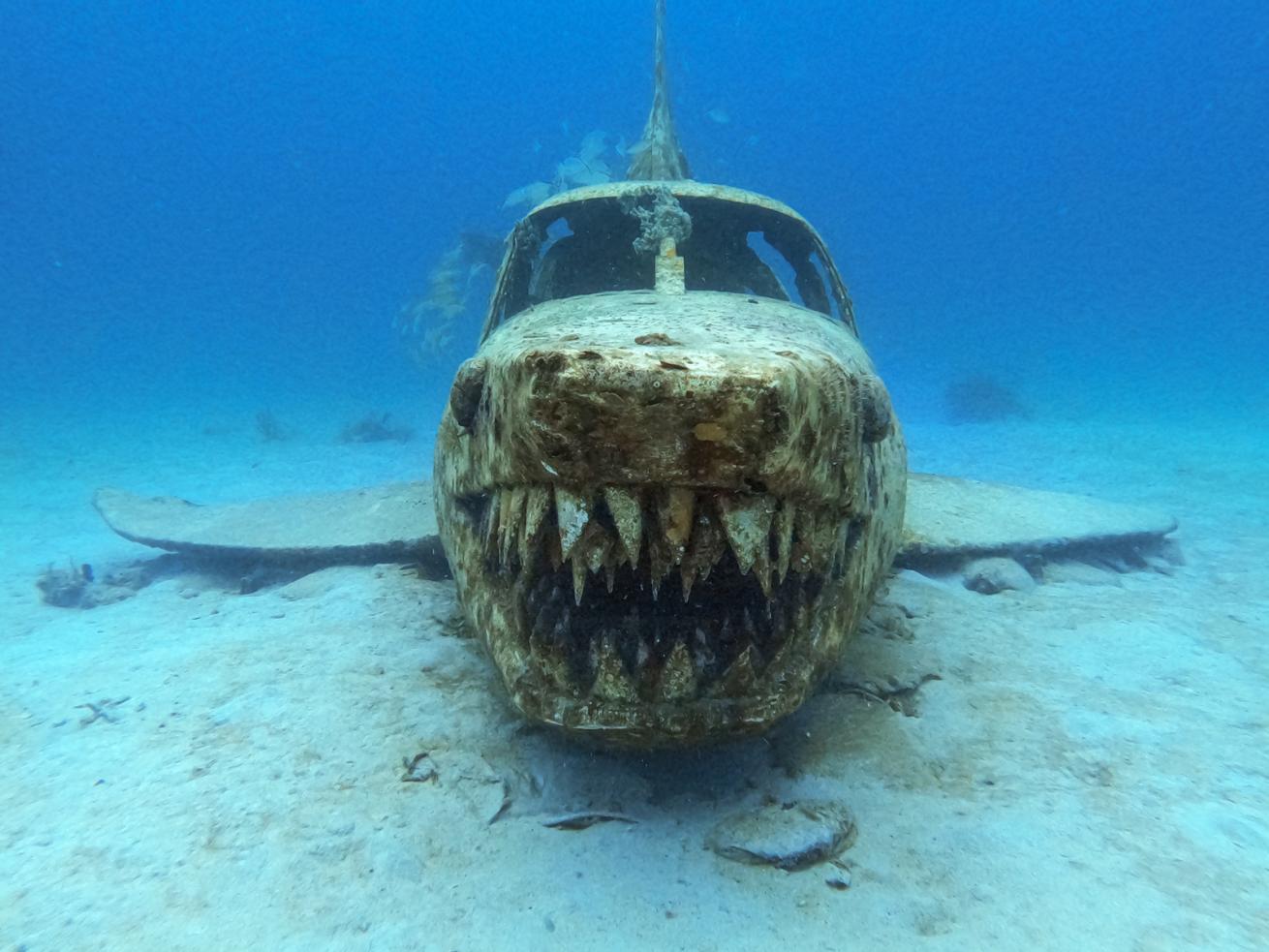 A sunken plane turned shark sculpture.

Alton Bertie
Underwater, these 60-some islands offer a grab bag of coves, rocky outcrops, patch reefs and varied, sometimes rugged shoreline. This sweeping mix of ecosystems draws in diversity: eels, tarpon, flounder, stingrays, turtles—the list goes on.
The islands aren't just home to "all the usual Caribbean suspects," as McNutt calls the marine life found here, but also a growing fleet of wrecks. At a site called SharkPlaneo, a trio of planes crafted into shark sculptures makes for a fun, quirky dive and photo op. Just next door is the Willy T, a former floating bar turned homage to debauchery, offering a Disney-like take on pirate life with skeleton scenes fixed throughout the ship. It's one to request as it'll certainly gain points all around, no matter the age of your travel companions.
When To Go Year-round. Keep in mind that much of BVI shutters up August to September; however, Scrub Island tends to stay open, offering lower off-season rates.
Water Temps Expect summer temperatures of 84 degrees, with winter waters cooling to 74.
Viz Winter winds bring currents carrying nutrients, which can lower viz from the typical 80 feet down to 50.
What To Wear Most divers won't want more than a 3 mm shorty.
Contact scrubisland.com; divebvi.com
St. Vincent and the Grenadines
Petit St. Vincent Resort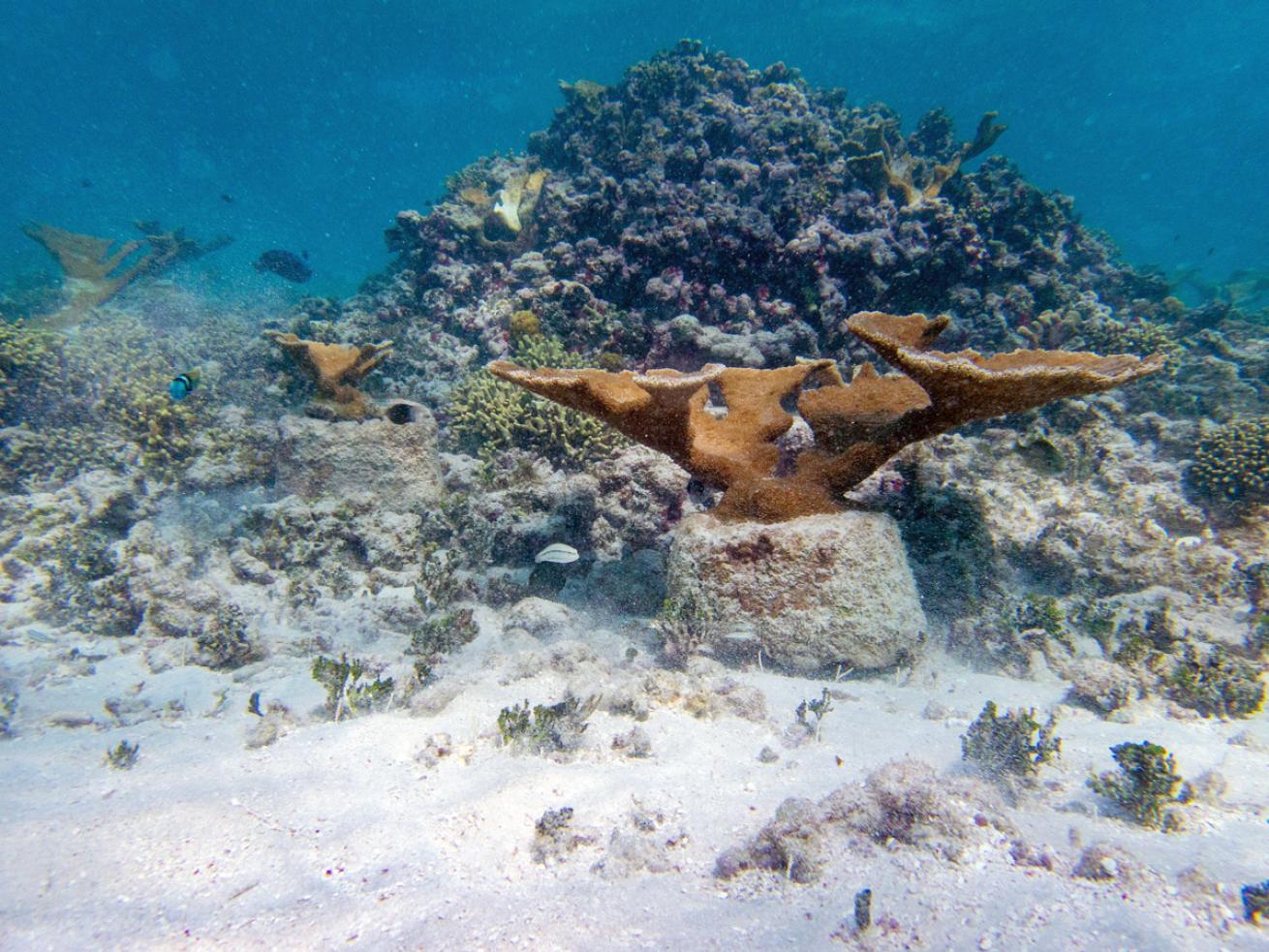 An elkhorn coral stands tall from the sea floor.

Petit St. Vincent
The diving just keeps getting better at the only private-island resort in the southern Caribbean nation of St. Vincent and the Grenadines, thanks to the resort's commitment to regrowing corals. To date, it's replanted 3,000 mature elkhorn and staghorn coral segments to create more life and habitat on both sides of the island.
It helps too that the reefs were so good to begin with that they drew the attention of Jean-Michel Cousteau, who partnered with the resort in 2014. "He said ours were literally some of the best he has seen in the Caribbean," says Mark Semark, general manager of the 115-acre resort.
Those reefs regularly see eagle rays and, come November, fevers of devil rays numbering in the dozens pass through. As resplendent as the reefs are, word has yet to get out. "In my 10 and a half years here diving, I've seen just two other boats here," he says.
As if nearly exclusive access to the country's best reefs isn't luxury enough, the comforts offered at the property are enough to satisfy even the most cultured palates. Each night, an entirely new menu is created—sometimes with sushi, sashimi and other Asian influences, or sometimes with dishes that reflect a more European or local influence.
No matter the main course, the resort has a wine to match thanks to a wine cellar with more than 5,000 bottles. "For a 22-cottage hotel, that is quite ridiculous, but I don't complain," says Semark.
When To Go Spring and summer offer the best sea conditions. Winter waters can bring more plankton and a bit of swell.
Water Temps This is warm-water diving indeed, with temperatures averaging between 82 and 86 degrees.
Viz A good day can be 100 to 120 feet of visibility, with a bad day offering 40.
What To Wear A 3 mm shorty works, although some sites may call for additional neoprene.
Contact petitstvincent.com
Canada
God's Pocket Resort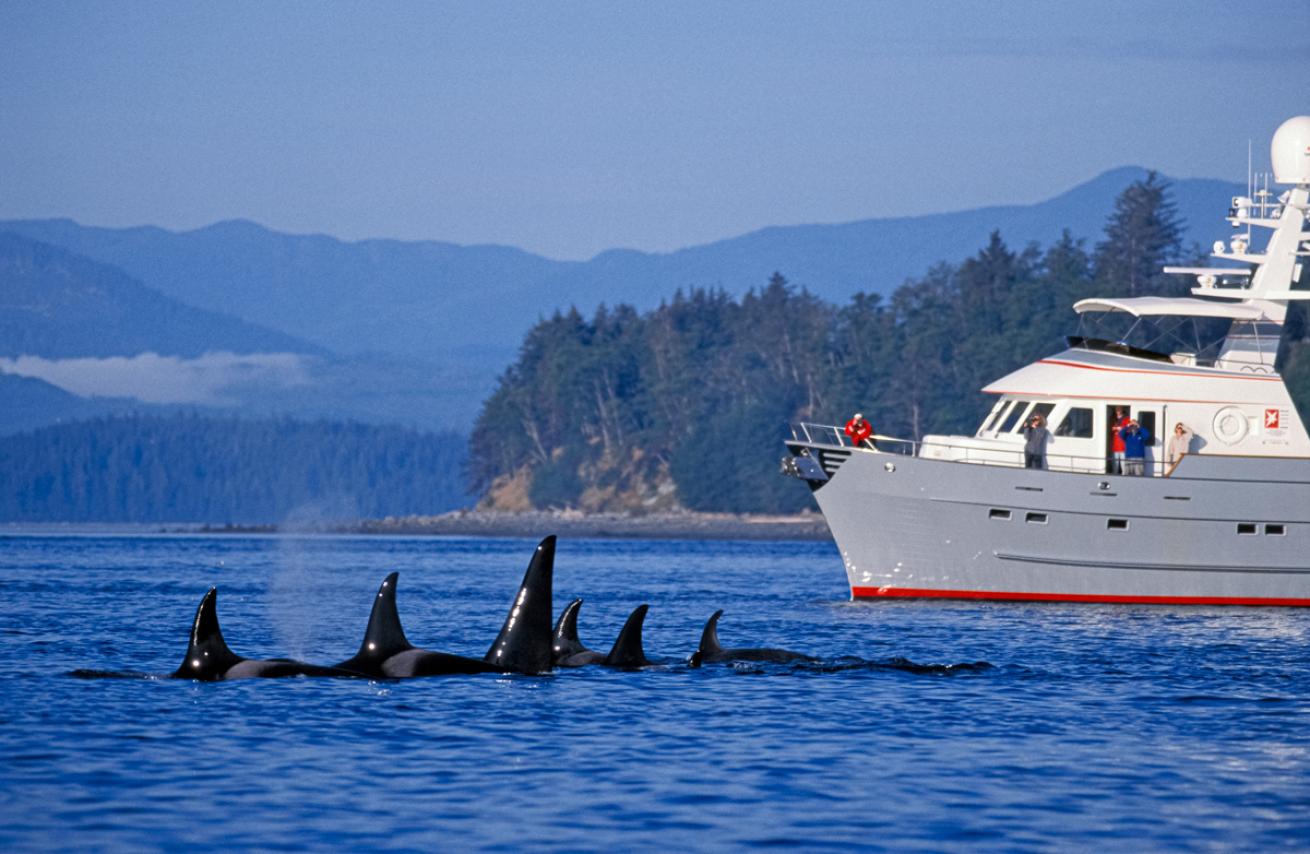 A pod of orcas near Hurst Island.

Brandon Cole
You'd think God's Pocket Marine Provincial Park, created in 1995 to protect the richness of Hurst Island, located just north of Vancouver Island in British Columbia, came first. But it was actually God's Pocket Resort that recognized the one-of-a-kindness of this marine-life-saturated hotspot. The rustic lodge took root near the protected bay in 1907, offering fishermen shelter from fast-moving water where tidal exchanges can be as great as 18 feet.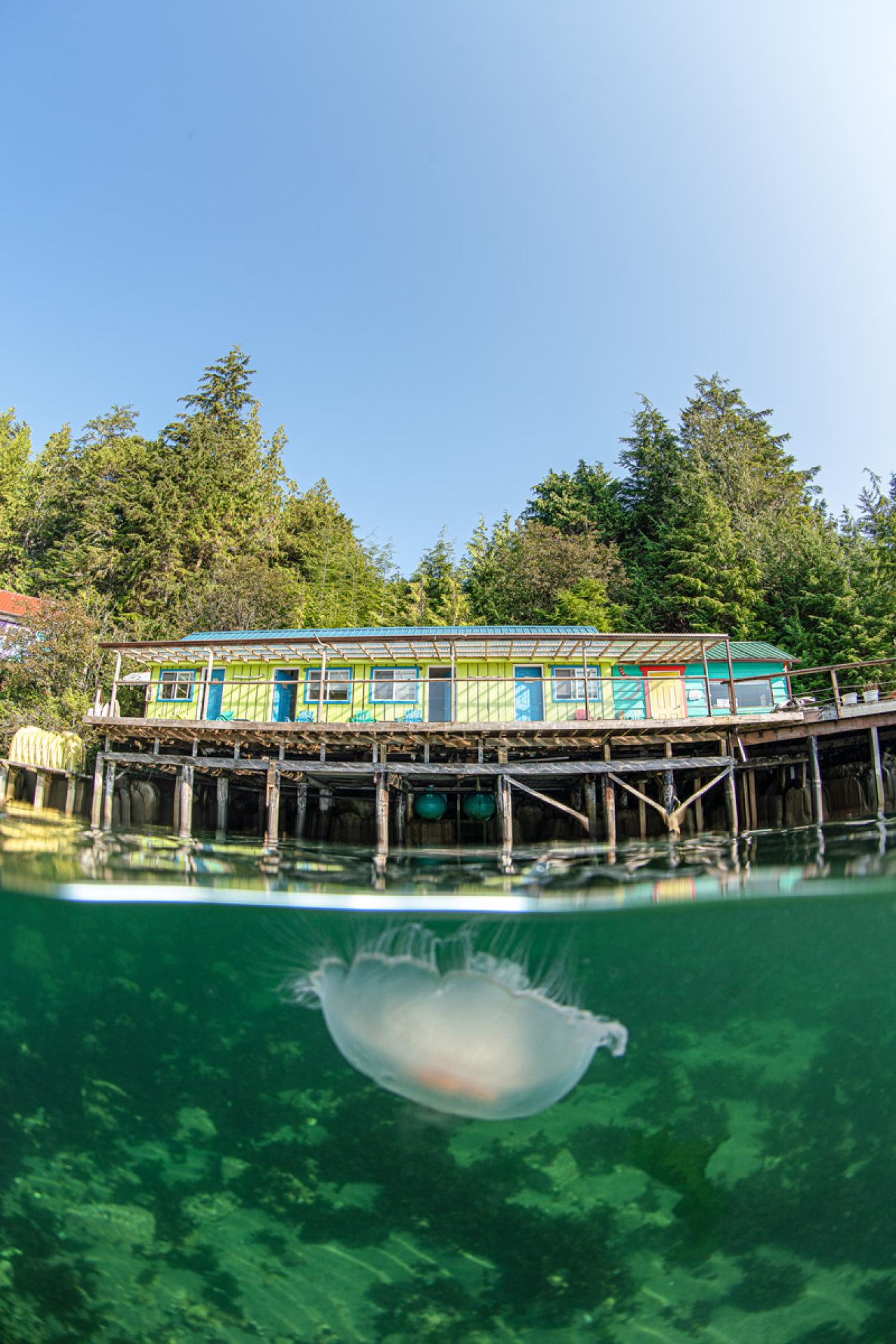 Rustic and secluded God's Pocket Resort.

Tiare Boyes
Today, the quirky, off-the-grid but updated private-island resort with a capacity of 14 guests caters to drysuit divers eager to see a wealth of Pacific Northwest macro and invertebrate life blooming among so much moving water: wolf eels, giant Pacific octopuses, the feathery spikes of the giant nudibranch, the red and navy plumage of the featherduster worm and so much more.

Perhaps one of the most unique offerings is the amount of big marine life that swims by at any of the resort's 28 dive sites—or right in front of you while you're having a cup of coffee or bowl of soup back at the lodge. "It's a daily occurrence that humpbacks swim by," says Claus Eckbo, co-owner of God's Pocket Resort.
Porpoises, sea otters and seals are also part of the regular scenery. And pods of orcas pass through every few weeks. "You're seeing it all from basically anywhere on property that there's a window," Eckbo says.
The nearest town, Port Hardy, is just 10 nautical miles away. And yet, it's hard to feel anything other than being in the middle of nowhere. "The nature here is just so rough and so raw—and you're right in the middle of it," says Eckbo.
When To Go God's Pocket offers two seasons for divers: mid-March to the end of May, and August to the end of October.
Training Divers must be drysuit certified, with at least 30 logged drysuit dives.
Water Temps Water temps are between 50 and 57 degrees.
Viz Typically 100-plus feet when the resort offers diving.
What To Wear Drysuits only.

Contact godspocket.com
Maldives
Four Seasons Kuda Huraa Resort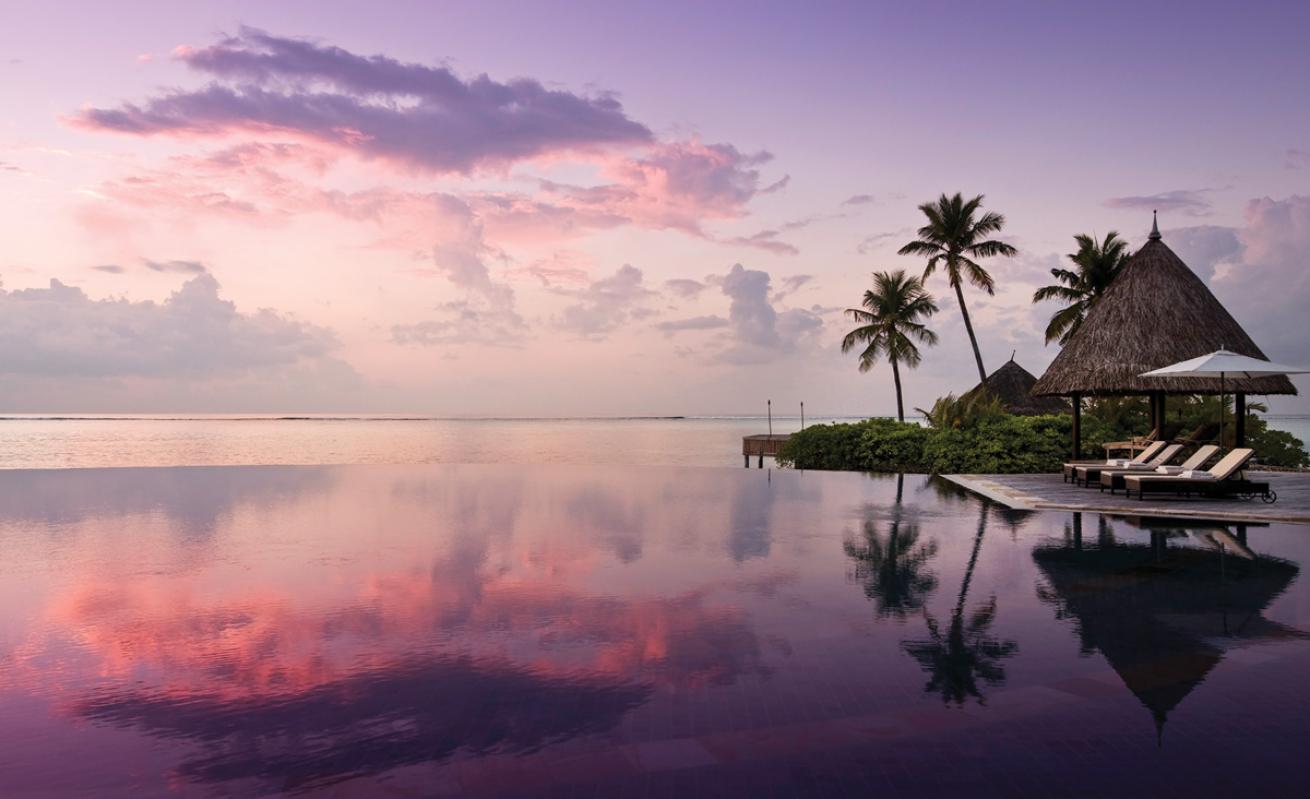 The Four Seasons Kuda Huraa, on the Maldives' North Malé Atoll.

Suzan Meldonian
At upscale getaways like the 96-room Four Seasons Kuda Huraa, on the Maldives' North Malé Atoll, if you're staying at an overwater villa, you're never not on the reef. From the private infinity pool, lounge deck, and even from bed, guests will likely see passing eagle rays, morays and schools of fish.
The island itself, Kuda Huraa, is just one pearl in the necklace-shaped atoll amid the Indian Ocean. In every direction, blue. As such, the islands interrupt the highway traveled by mantas, sharks and all manner of marine life.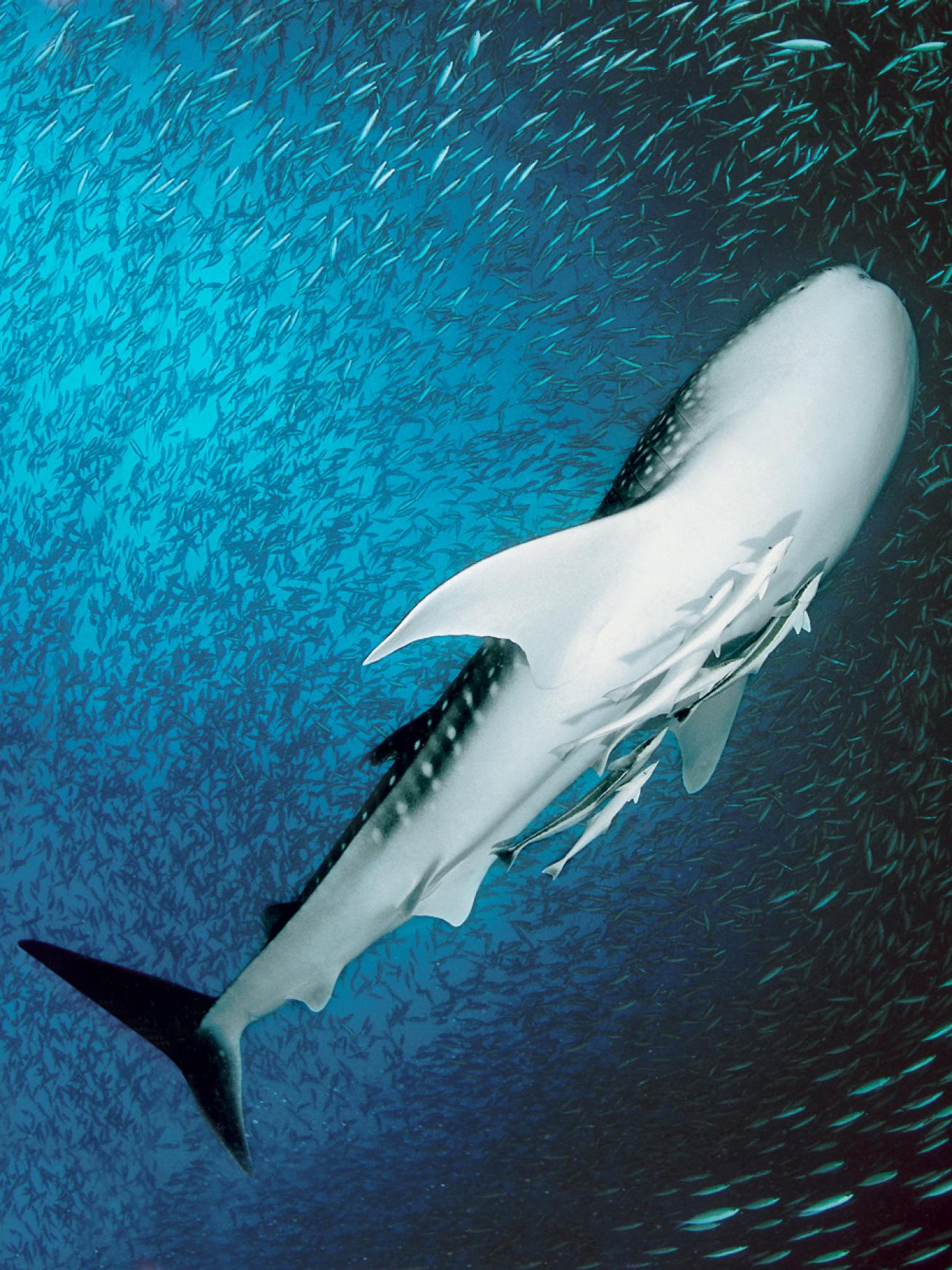 A whale shark swims through a school of fusiliers. Four Seasons Kuda Huraa puts divers right in the middle of the big-animal action.

Four Seasons Resorts
Ibrahim Nazeer, dive manager for the resort, has been finning around the atoll for 20 years, identifying a lineup of up to us, circled around and hovered in front of us," he says. "We knew that she was asking for help."
Fortunately, Nazeer was able to free the animal with his dive knife. Although the circumstances were sad, the encounter spoke to how comfortable mantas in this region can often be with divers.
It's not just mantas that show this behavior. Green turtles, dolphins and feathertail rays also tend to be curious. "Guests frequently comment that they have never experienced anything like it anywhere else," Nazeer says.
When To Go The Maldives has two seasons for divers. Dry season, December to April, offers clear water and strong currents. May to November is wet season, when plankton-rich waters draw whale sharks.
Water Temps The waters stay warm year-round, from 82 to 86 degrees.
Viz Rainy season averages 50 to 60 feet; dry season averages 120 feet.
What To Wear A rash guard suits those who stay warm easily.
Contact fourseasons.com/maldiveskh
Honduras
Cabanas On Clark's Cay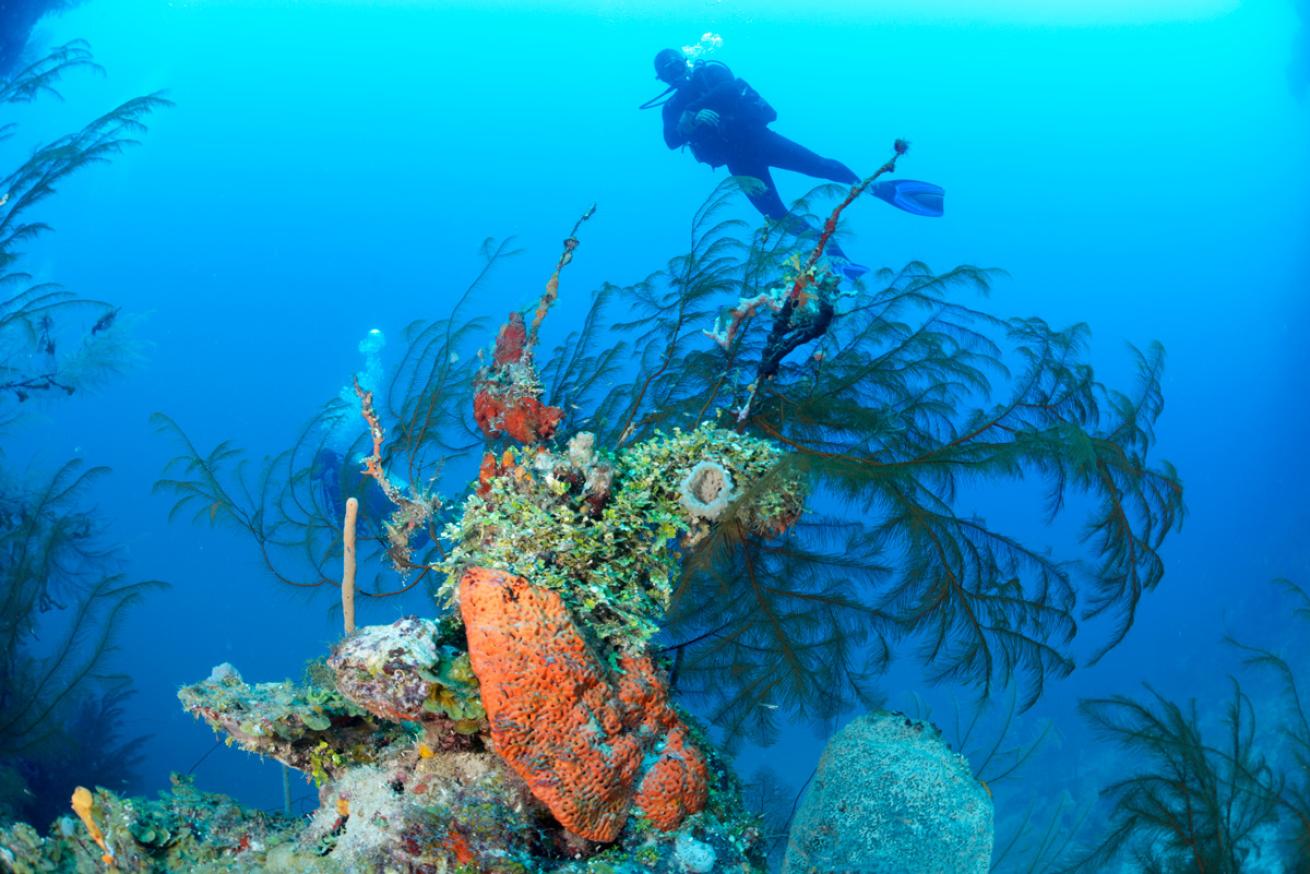 A diver swims above a coral reef.

Cabanas on Clarks
It'd be easy to assume that 1998's Hurricane Mitch significantly altered Honduras' outer reefs irrevocably—and you'd be right, only not in the way you might think.
The Category 5 storm shuttered many of the resorts on Guanaja, one of the Bay Islands. In doing so, human stress on the corals stopped nearly overnight.
It wasn't until 2017 that Cabañas on Clark's Cay, a rustic, family-friendly eco-outpost on a private 4-acre island, came back to the area. "Nobody had been diving there for 20-some odd years, so it's just pristine," says Mark Walker, operations manager for the resort.
Most important, when it comes to dive centers among the sprinkle of islands around Guanaja, Walker says: "We are it." Fish life has rebounded in the area, with populations of Nassau grouper and nurse sharks seeing the most dramatic rises. Large numbers of green turtles have also settled in. "We went from onesie, twosie fish on each dive to tons," says Walker. "It's also normal now to see 10 to 12 lobsters on a dive."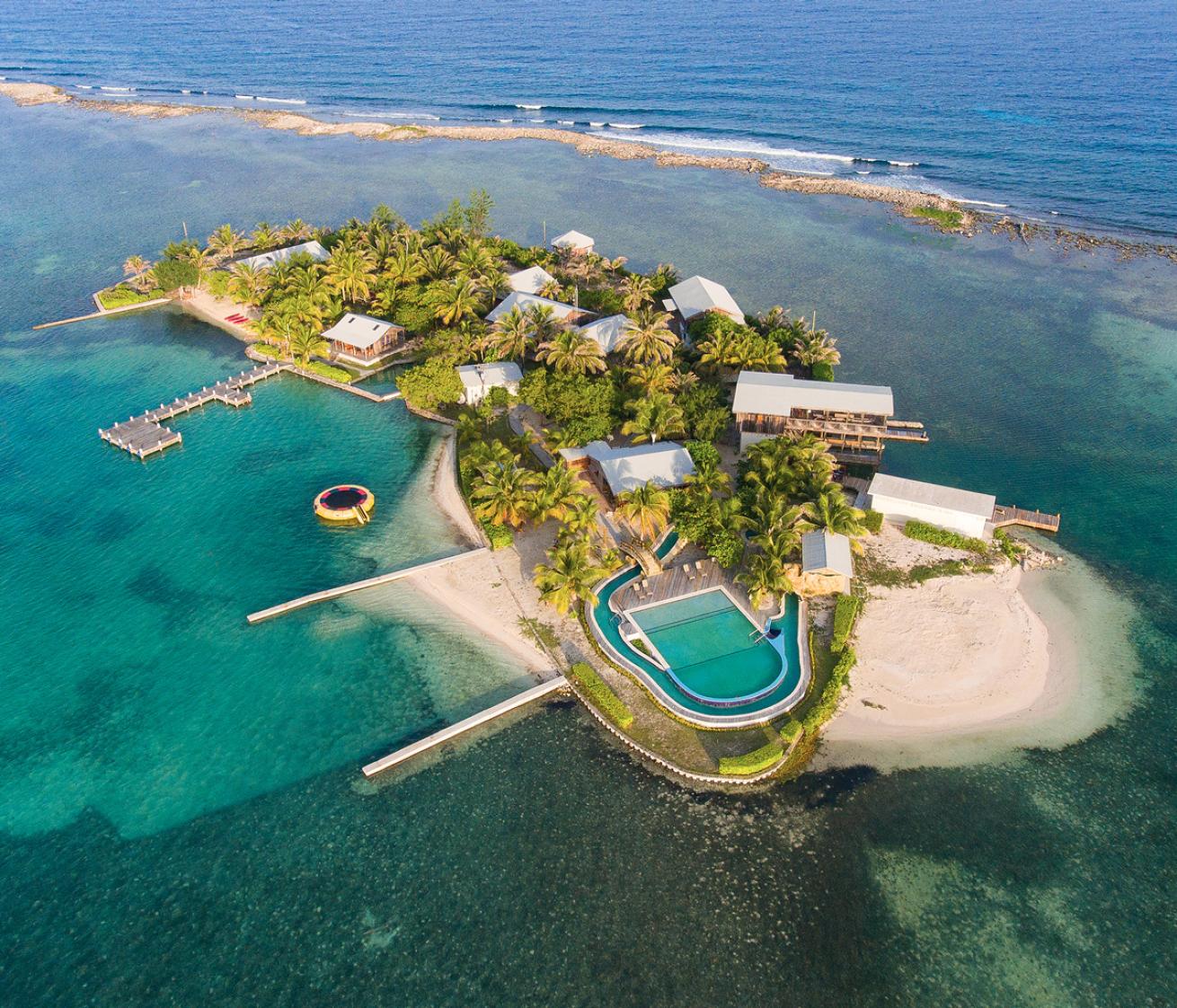 The private 4-acre island home to Cabañas at Clark's Cay is central to Guanaja's pristine reefs, where fish and macro life abound.

Cabañas at Clark's Cay
With the resort's 10 rooms and 20-guest maximum, one can assume it's going to stay that way.
A bonus for any guest is that even if the resort isn't at capacity, the dive center will always run at least one of its two boats, so it's possible to have an even more private private-island experience.
"Our goal is to say yes to anything you want," says Walker. "If you want to go snorkeling or do an island tour and see the waterfall, all you have to do is tell us and we take you—no extra charge."
Of course, to have a guaranteed experience of just you and yours on the dive boat, there's the option to go big and buy out the whole property. What that means is exclusive access to the whole property and beyond, from the pool and the lazy river to all the reefs around the island.
When To Go June to October, "the wind dies down and the ocean is swimming-pool smooth," says resort operations manager Mark Walker.
Water Temps Water temperatures stay between 78 and 82 degrees.
Viz Visibility averages 80 feet in the rainy season (November to February), and 120 feet and beyond the rest of the year.
What To Wear A 3 mm shorty should suffice.
Contact clarkscay.com
Fiji
Matangi Private Island Resort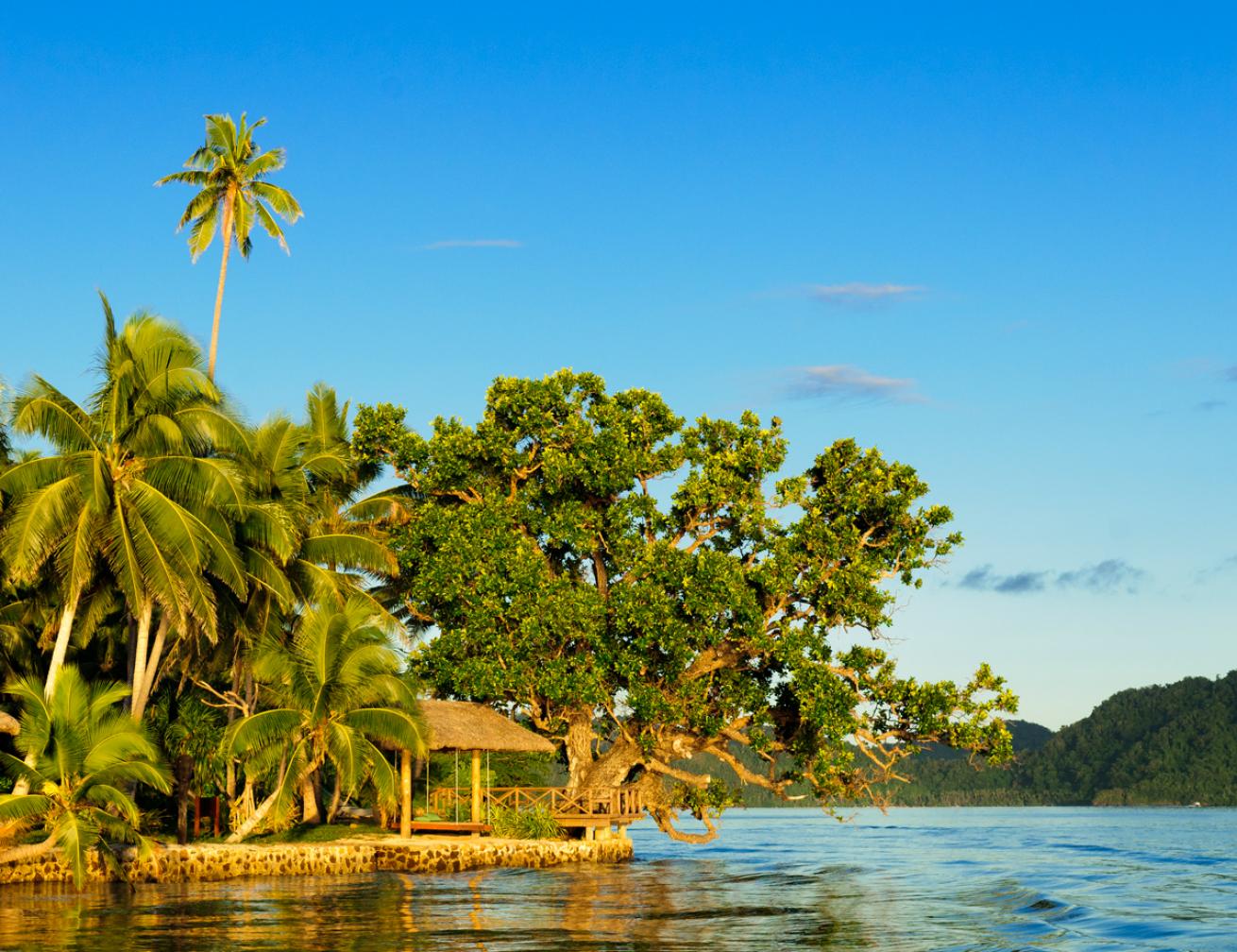 A quiet scene at Matangi Private Island Resort.

Greg Vaughn
Nearly every dive destination on the planet that experienced a COVID-related tourism closure found that a radical shift in the reefs soon followed. And Fiji's Matangi Private Island Resort, east of the main island of Vanua Levu, was no exception.
Technically, though, the magic happened at the Civa Pearl Farm on Taveuni, about 5 miles away. "The guy who owns the pearl farm was discovering these things lurking behind him, first two and three, then five and six," says Nigel Douglas, instructor and owner of the dive operation at the resort.
A group of 20 scalloped hammerheads is now resident, with most dives resulting in sightings of at least 12. It makes for an exciting day trip for Matangi's diving guests. Of course, the hammerheads are just a bonus. Most divers head to Fiji for the flowing forests of soft corals. "A lot of people who have never seen it before find the colors just incredible," says Douglas.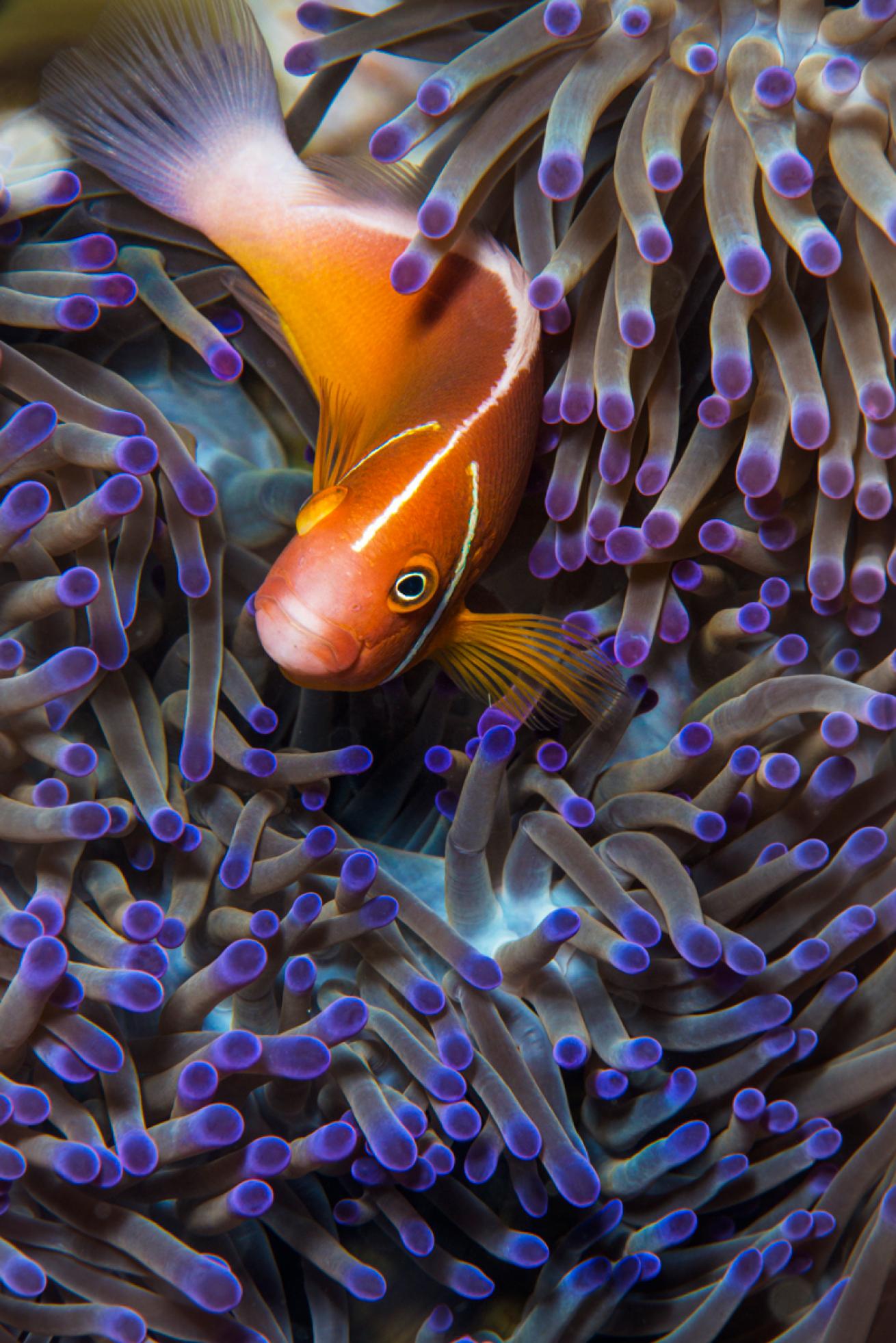 A clownfish burrows in an anemone.

Louise Murray
The beauty of diving from a private-island resort, especially one like Matangi that has a maximum of 24 guests, adults only, is flexibility. The week's divers, sometimes as few as four given that not all guests come to blow bubbles, choose the schedule, opting for a morning pearl farm visit, a trip to the closest reefs, or a day trip to the famed Somosomo Strait, home to a handful of the country's most legendary sites, such as the Great White Wall and Purple Wall, so named for their dominating colors. Factoring in guest experience level and interest, dive guides can suggest the best fit, which may be something mellow or something more charged up—such as the pearl farm dive with hammerheads, the current-charged shark dive at the Corner, or a drop in Noel's Wall, where if it's baitball season, it's likely to be going off with tuna running, gray reef sharks circling and a whole mass of life just champing at the bit.
When To Go Fiji's winter— June, July and August— brings the best visibility.
Water Temps Water temperatures stay in the low to mid-80s.
Viz Outside of the lagoons, visibility is 100-plus feet.
What To Wear A 3 mm shorty or full, depending on preference, is plenty.
Contact matangiisland.com
Belize
Thatch Caye Resort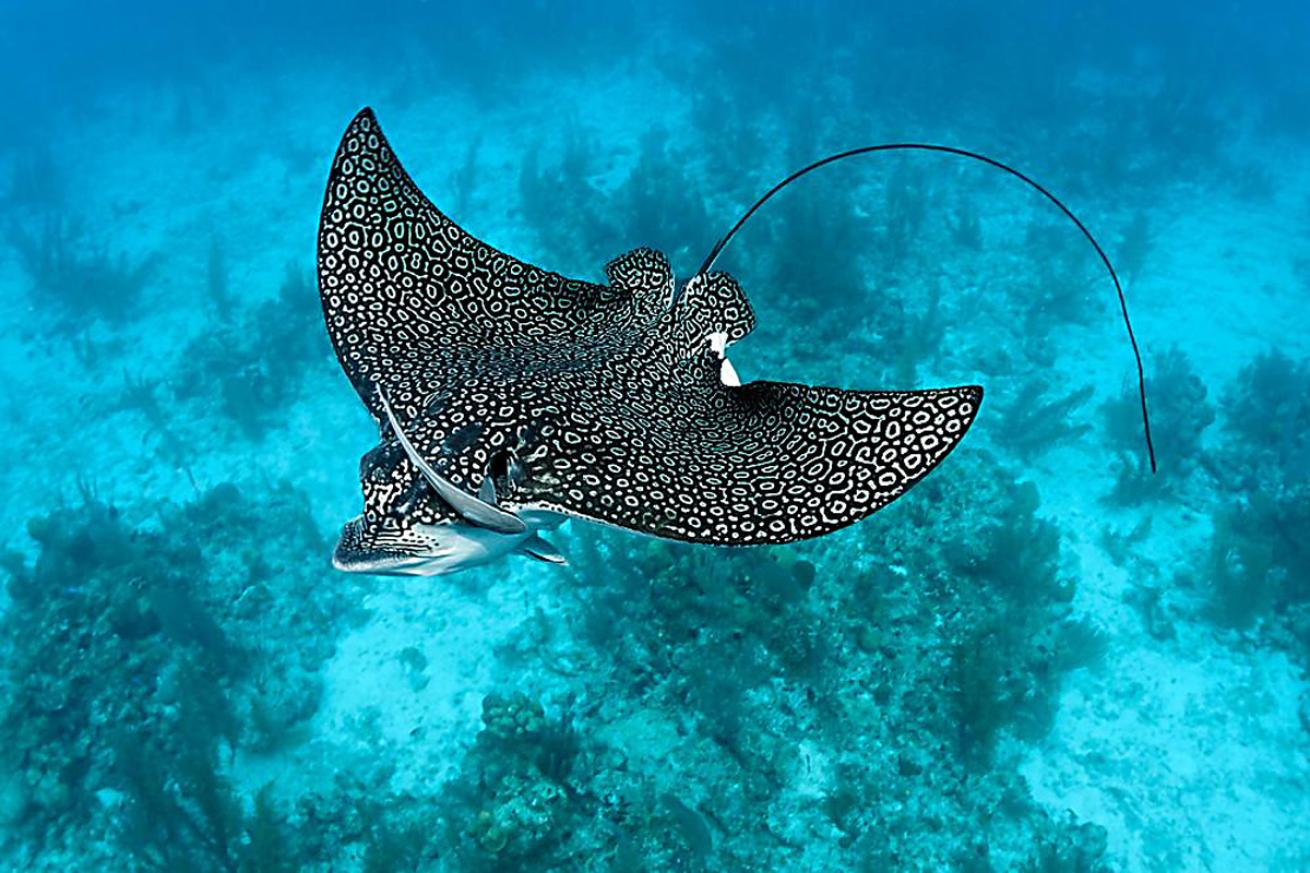 A spotted eagle ray swims by.

Norbert Probst
Most dive resorts proudly uphold the "eat, sleep, dive" motto—but not Thatch Caye, a private island limited to 30 guests and located 9 miles off central mainland Belize.
"Ours is a more barefoot, organic experience," says Brittany Haury, operations manager for Belize Underwater, which handles all scuba offerings for the Muy'Ono property.
Perhaps a strict schedule doesn't apply here because marine life is pretty much present all around the resort. Take, for instance, the overwater hammocks, below which nurse sharks carve paths in the water.
Granted, most divers do want in-water marine life meetups, so diving is offered on a by-request and scheduled basis.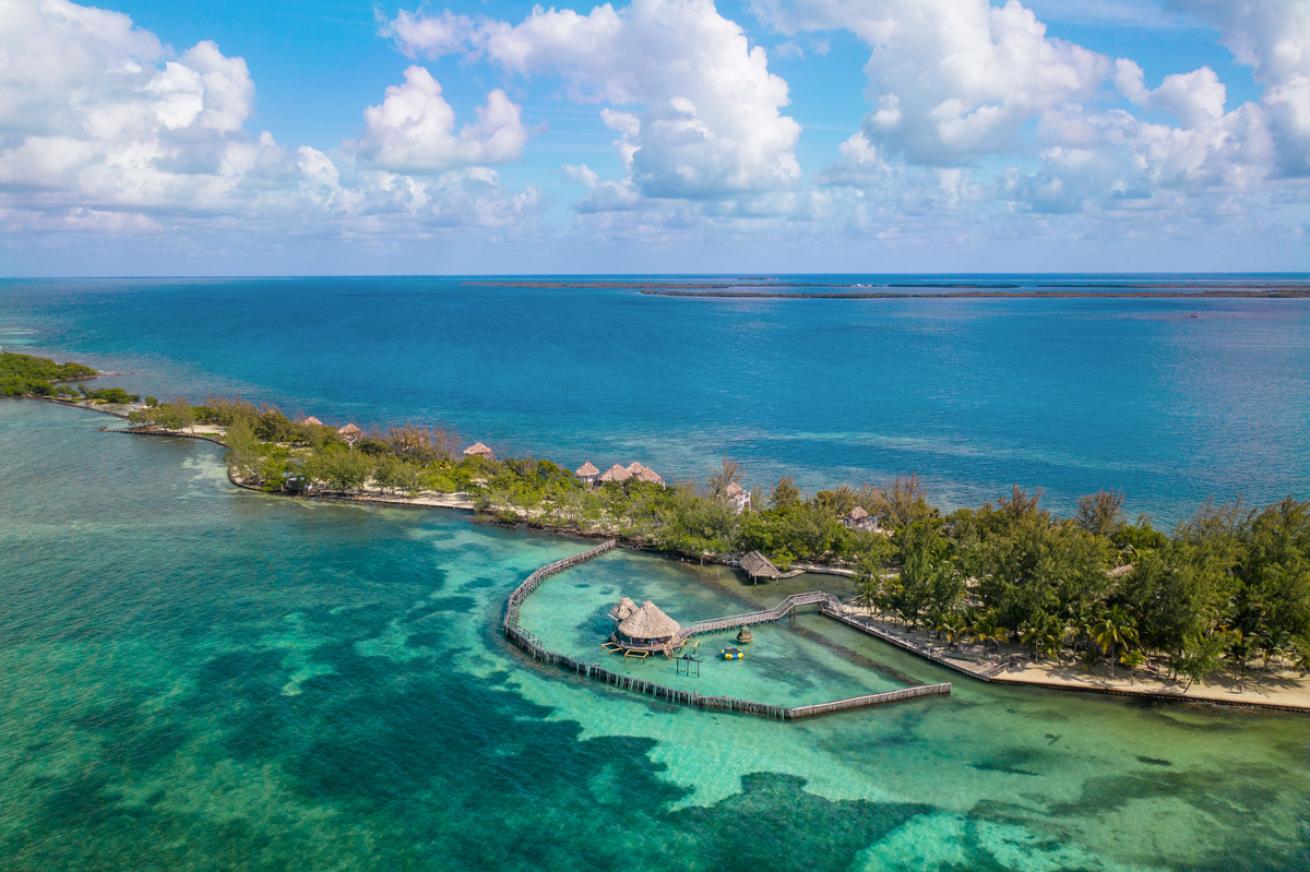 A birds-eye view of Thatch Caye Resort.

Thatch Caye Resort
Make it to the dive site and you'll notice something, well, fishy. "The marine life here hasn't been exposed to human activity, so you're going to see true marine creature behavior—and sometimes it gets weird," she says. On a recent dive, Haury watched two triggerfish fanning out their fins. As the display unfolded, she realized it was a mature triggerfish, normally a shy species, teaching a juvenile how to appear bigger, more threatening.
At Thatch, the show keeps going even as guests change locations. "One minute you are in the water with the rays and the resident green moray eel, and then 10 minutes later, you walk up the steps and you're watching the sunset with a cocktail, and then later you can go for a biolume snorkel," says Haury.
---