Underwater Cameraman Nuno Sá Wins October Sea Hero Honors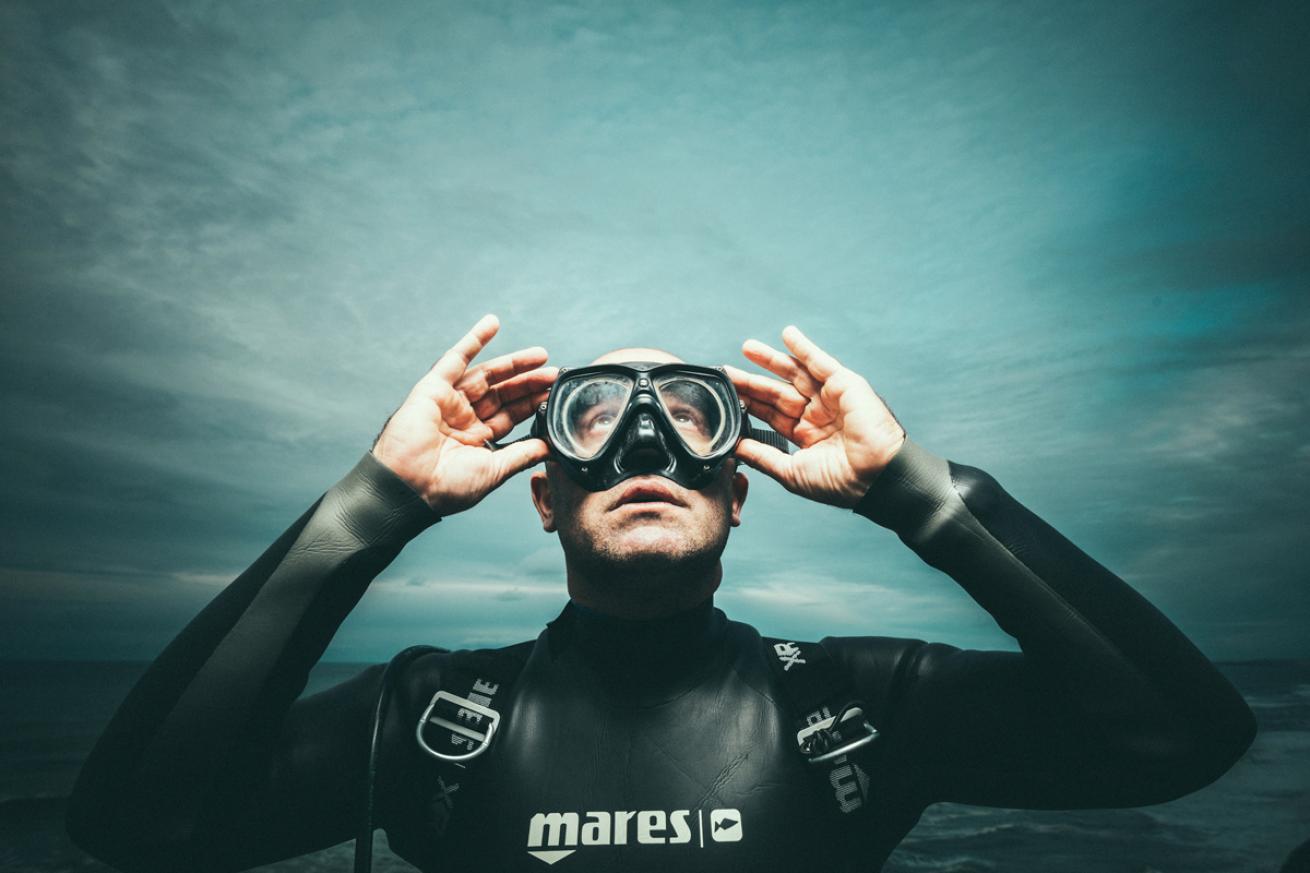 Arlindo Camacho
Year Dive Certified: 1998
Aage When Certified: 21
Dive Certification Level: Divemaster/CCR Extended Range Trimix
Words To Live By: "Individually, we are one drop. Together, we are an ocean." —Ryunosuke Satoro
Traveling the world as an underwater cameraman was a lifelong dream for Nuno Sá, but it didn't become his career until after completing a law degree, working on whale-watching boats and eventually returning to school to pursue marine biology for a few years. A self-taught photographer, Sá became a professional in the field with a focus on wildlife conservation in 2008. His work has been featured in Blue Planet II, for which he won a British Academy Film Award. Sá's production company, Atlantic Ridge Productions, seeks out natural-history-style projects. Sá seeks to highlight the effects of climate change through his work, but prioritizes giving back to NGOs and Portugal's own Kids Dive organization.
For his dedication to underwater film-making and conservation through imagery and for his commitment to giving back, Nuno Sá is our October Sea Hero.
Q: How did you get involved with the Kids Dive organization?

A: Most of my time is dedicated to my main activity as a dedicated underwater cameraman working on Blue Chip natural history productions. However, I feel like I have an obligation to use my profession as a means to promote marine awareness and marine conservation. That's why I created my own production company that produces documentaries about the sea life of Portugal but also helps many NGOs and foundations communicate through the power of marine imagery. Kids Dive is one of those projects, a great initiative that not only creates marine awareness and teaches school kids about the importance of our oceans but also gives them their first underwater scuba experience.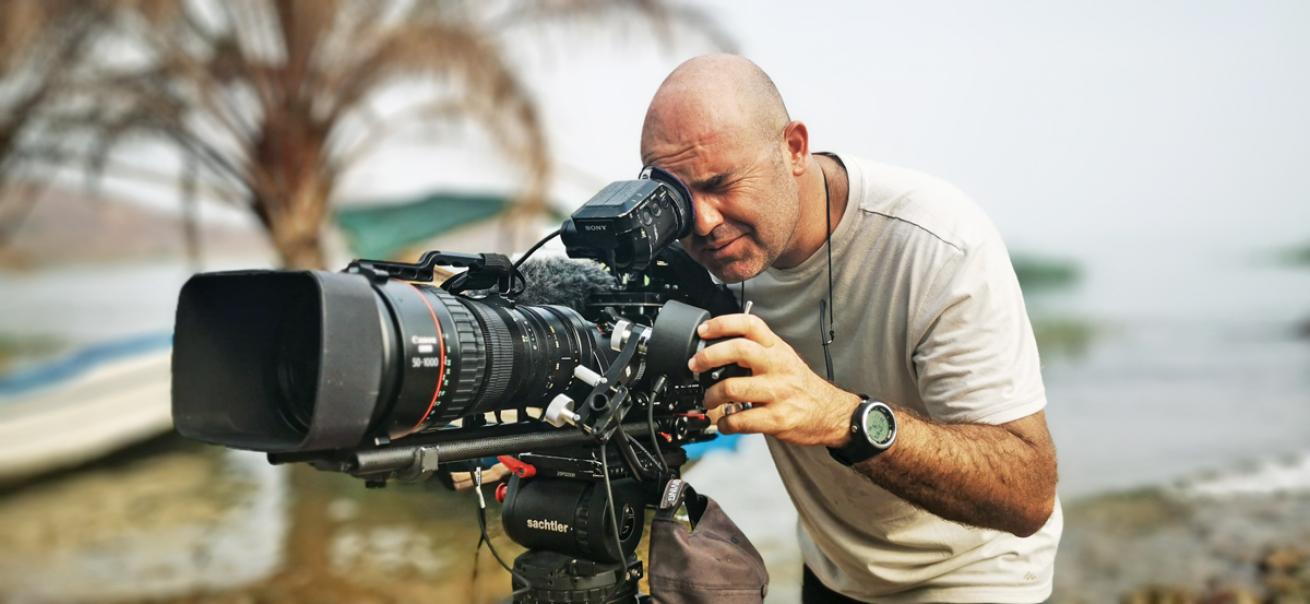 Sá pictured in 2021, shooting for a production about Lake Tanganyika in Zambia, titled Africa's Blue Heart.

Florian Lorenz
Q: What projects are you working on?
A: I am currently working on several Blue Chip landmark series for BBC, Disney and Netflix. Landmark series are my favorite kind of production! They give you time to explore natural history stories that take a lot of time, effort and logistics to be able to capture unique behaviors. I also just released a documentary for Portuguese TV channel RTP1 about an unknown population of whale sharks in the remote oceanic archipelago of the Azores.
Q: Why did you switch to video in 2012?
A: For me, the switch from stills to video came naturally when DSLRs became capable of capturing amazing quality video. I started out playing around with video while still doing stills, but soon decided that I needed a dedicated work frame in mind in each situation and started opting for video more and more. I finally made the decision to buy a dedicated video camera (a RED digital still and motion camera) and that was a game changer. Today, I would say mirrorless cameras are pushing the bar of image quality, and the barrier between professional and consumer equipment is pretty much disappearing.
Q: What did it mean to you to be part of the Blue Planet II production?

A: My life has never been lived in a straight line. I went from a law degree to a passionate diver, a crew-member on whale-watching boats, to a professional underwater photographer and finally an underwater cameraman. I have to say my life goal was to become an underwater cameraman, but it is still hard to understand how it eventually happened. I think above all, it is about having a positive attitude in life and taking the opportunities as they come. Having been invited to be part of the Blue Planet II team was the most important event in my career thus far and has opened many doors to other major productions about to be released.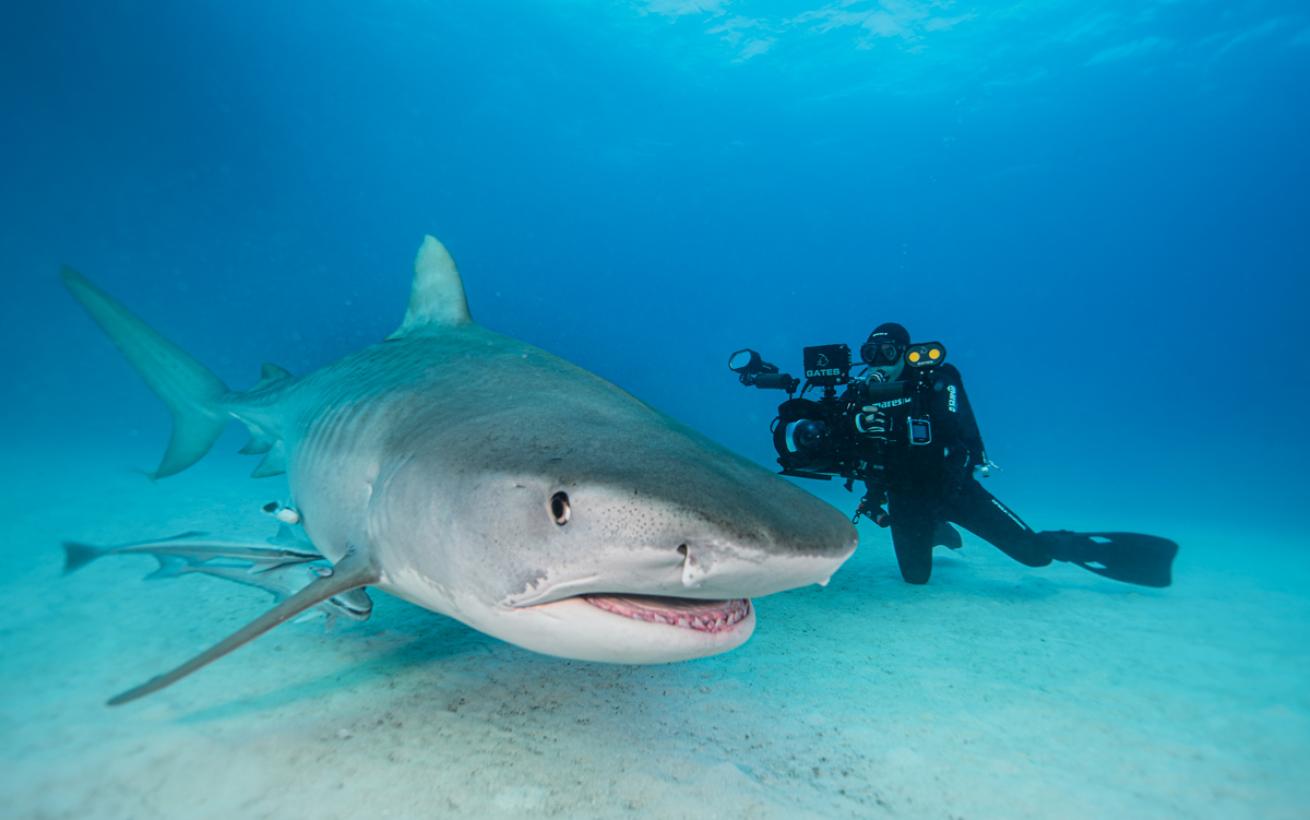 Sá gets up close and personal to capture this tiger shark at Tiger Beach, Bahamas.

Michael Winter
Q: What challenges do you face as an underwater filmmaker?

A: It's challenging to be adaptable to situations and ready for any kind of environment when trying to shoot a story. I started my career in the remote archipelago of the Azores, so I ended up specializing in pelagic species and high-seas stories. I encountered very dynamic situations that started with freediving or pony-tank diving. This allows speed and flexibility to jump in and out of a RIB but can many times evolve to an open-circuit dive or long CCR dive. The key is to be ready and reactive for any occurrence, especially when working with baitballs that have birds diving, and sharks, tuna, dolphins and whales feeding, many times all at the same time.
Q: Have climate change and marine-species loss affected your work?

A: A lot of the stories show how global warming, loss of habitat and excessive fishing are affecting the planet, ocean, habitats and specific species.
Q: What advice do you have for amateur underwater photographers and videographers looking to contribute to conservation efforts?
A: Explore your backyard. Amaze your friends, neighbors, county or the whole country with the wildlife that exists around you. If you can create an emotional connection between the public and nature through the power of your images, they will be interested in saving it and you can become a spokesperson for the natural life that surrounds you.
Q: What are the greatest challenges in marine conservation today, and how are they reflected in your work?

A: I think there is a big gap between knowledge and action. Unfortunately, more and more of our politicians make their decisions based on political agenda and less based on scientific knowledge. What we know, and what is scientifically proven, is that in the past couple of decades we have fished 90 percent of the large fish out of the ocean, half of our corals have died, and we take over 100 million sharks out of the ocean every year. We know we need to protect one-third of our oceans today to be able to stop habitat loss and ecosystem destruction, but these goals keep being pushed to a distant future. I think the hope is that the next generation of young conservation advocates will demand more from our politicians.
---
Each Sea Hero featured in Scuba Diving receives a Seiko SRPD43 watch valued at $525. For our December issue, judges select a Sea Hero of the Year, who receives a $5,000 cash award from Seiko to further their work. Nominate a sea hero at /seaheroes.
---