The Best Scuba Destinations for Diving Healthy Marine Environments
Divers looking to explore the world's most vibrant undersea environments will be spoiled at any of these destinations, selected at the healthiest marinescapes by nearly 6,000 Scuba Diving magazine readers.
1. Indonesia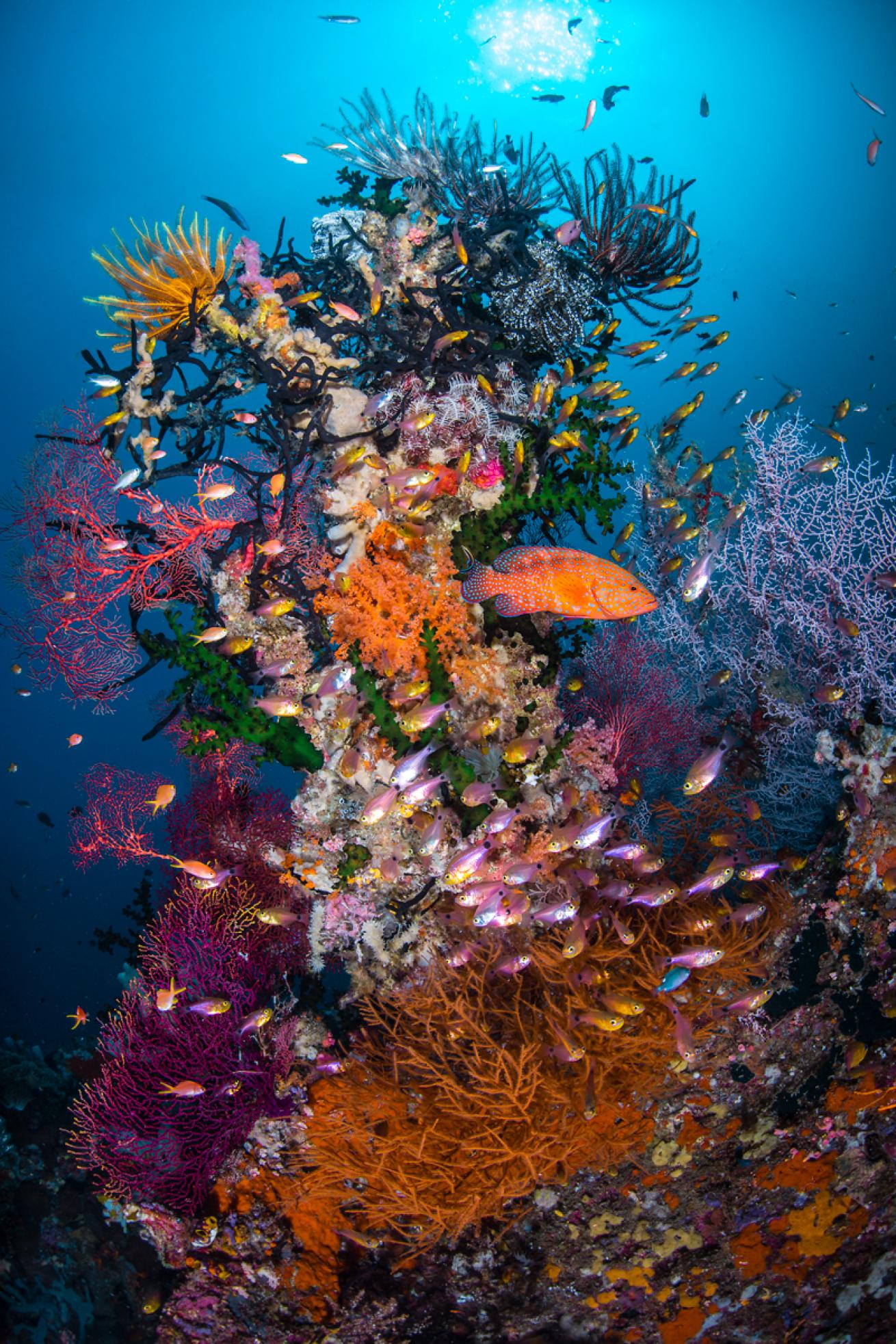 Fish swim along a healthy, colorful soft coral reef in Raja Ampat, Indonesia.

Renee Capozzola
Indonesia is home to some of the world's greatest marine biodiversity, and the Raja Ampat archipelago is right at the epicenter of it all. The waters of this Indo-Pacific country benefit from unparalleled support from the government, which actively protects reefs by limiting the number of dive boats and divers in certain areas, such as manta cleaning stations. Moreover, local communities are invested in their reefs, further enforcing rules such as no anchoring. A third level of support comes from local resorts, which regularly tackle problems, including the removal of crown-of-thorns starfish, known to eat coral polyps.
The reefs of Raja had been thriving thanks to all of this support—and then the pandemic happened, halting inter-national tourism from July 2020 until January 2022. In that time, the reefs have reached unparalleled levels of growth. "Where we once saw just one pygmy seahorse on a sea fan, we now see several," says Jo Esterhuizen, of Meridian Adventure Dive Resort.
The numbers of ornate ghost pipefish, nudibranchs and cuttlefish have risen significantly, as have schools of trevally, barracuda, sweetlips and fusiliers.
Readers Picks
Resorts
Wakatobi Dive Resort, South Sulawesi, Indonesia
Operators
Wakatobi Dive Resort Dive Center, Indonesia
Liveaboards
All Star Aurora, Indonesia
The Arenui, Indonesia

Dewi Nusantara, Indonesia
Pelagian Yacht, Sulawesi, Indonesia
2. French Polynesia
This year marks the 20th anniversary of French Polynesia establishing a marine mammal sanctuary in the Islands of Tahiti, safeguarding humpback whales, spinner dolphins, rough-toothed dolphins and, as of 2012, the 19 species of shark that can be found here.
But it's not just the big animals that wow divers here. "The first time I was diving in Fakarava, I didn't know what to expect," says Noel Morrison, part of the tourism board for the Islands of Tahiti. "To be surrounded by wild dolphins was exciting, but I had heard about it and was thinking this kind of encounter would likely be part of the trip. What I was not prepared for was how healthy and diverse the corals were going to be—it completely exceeded my expectations."
The destination has epic visibility, allowing ample sunlight to reach corals at many depths. Coral polyps rely on and exist in a symbiotic relationship with algae, which requires sunlight to survive. And the environment further benefits from the balance of species, including parrotfish and sea turtles, which graze on algae so that it doesn't grow to amounts that overwhelm the corals.
The result: reefs of blue, purple, green, yellow and pink hard corals, including a rare stretch of rose-shaped corals found in December 2021 off the island of Tahiti—the discovery of which surprised even coral researchers.
3. Philippines
The Philippines is quickly becoming a conservation role model thanks to the rate at which the country is creating marine protected areas. In the past 20 years, the Philippines has designated more than 600 marine protected areas, and shows no signs of stopping.

Further helping the cause are on-the-on-the-grounds spearheaded by local resorts, such as Amun Ini Beach Resort & Spa on the island of Bohol. "We have our protected area at our house reef and have planted—together with the local [Bohol Island State University] organization, government and our five in-house marine biologists—corals within a handful of different structures," says Bigs Eggert, director with the resort.
All guests have been allowed to participate in the Amun Ini Reef Relief project, with noticeable results. "Out of five of the country's MPA projects, ours has been the most successful, with growth of up to 86 percent," says Eggert.
Of course, divers aren't traveling just to see healthy corals. "Anda Bohol Reefs are most famous for the biodiversity of healthy soft and hard corals and the endless numbers of turtles that nest almost yearly on our beach—which is absolutely magical," he says.
Readers Picks
Resorts
Atlantis Dive Resorts, Puerto Galera and Dumaguete, Philippines
Atmosphere Resorts & Spa, Dumaguete, Philippines
Liveaboards
Philippine Siren, Philippines
4. Bonaire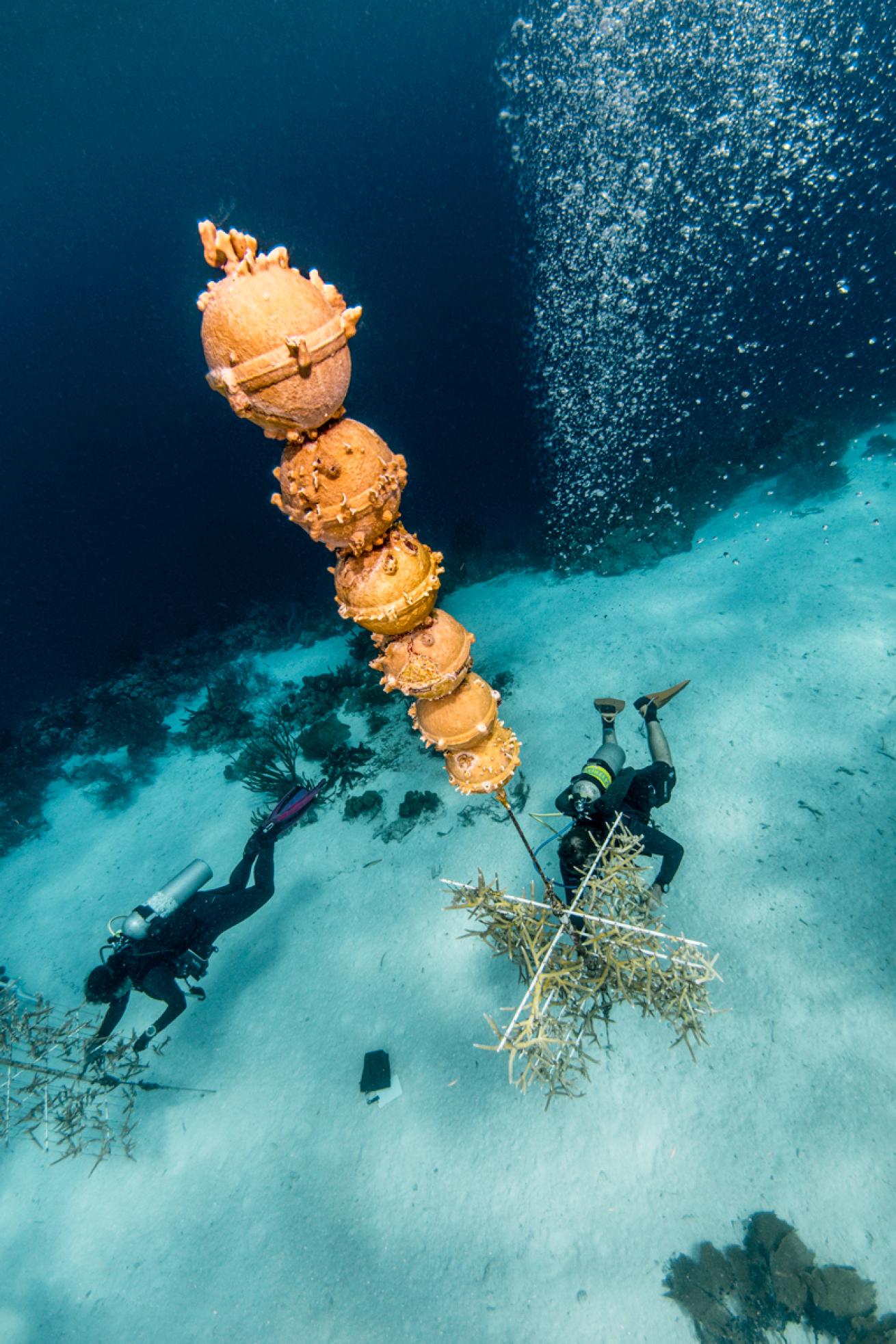 Divers work on a coral restoration project in Bonaire.

Lorenzo Mittiga
In this destination known for shore diving, macro critters and unlimited sunlit underwater photo opportunities, it may come as a surprise that Buddy Dive Resort's most popular specialty course is PADI Reef Renewal Diver.
This day-and-a-half-long course, overseen by the Reef Renewal Foundation, teaches divers proper techniques for maintaining an underwater coral nursery.
Once certified, a diver is trained to volunteer at every participating site, which, on Bonaire, includes coral reef nurseries run by Plaza Beach & Dive Resort and Toucan Diving, as well as on-island operator VIP Diving.
"You become a part of that reef," says Augusto Montbrun, dive operations manager of Buddy Dive. "You can come back a year or two years later and see that the corals you planted are so much bigger and doing so well—and that is very rewarding."
Readers Picks
Resorts
Buddy Dive Resort, Bonaire
Carib Inn, Bonaire
Eden Beach Resort, Bonaire
Operators
Buddy Dive, Bonaire

Carib Inn Dive Center, Bonaire
Divi Dive Bonaire

Toucan Divers at Plaza Resort, Bonaire

VIP Diving, Bonaire

Wannadive Bonaire at Eden Beach Resort, Bonaire
5. Bahamas
Not only do sharks dial up the adrenaline of any dive, they also serve as indicator species signifying a healthy reef. The Bahamas was an early adopter of protective legislation, prohibiting the sale, import or export of sharks as of 2011. The law protects the 40 species living in the Bahamas' waters, which, in turn, helps regulate populations of all marine species.
"The presence of the predator together with the prey is the only way to have balance," says Andrea Vitali, instructor with Stuart Cove's Dive Bahamas, located in Nassau. Sharks remove the weak and sick fish and marine species from the environment, and keep the balance with competitors to ensure species diversity.
"Besides all of that, they're exciting to see—sharks never fail to stun and amaze even the most seasoned divers," says Vitali.
Readers Picks
Liveaboards
Aqua Cat, Bahamas

Bahamas Aggressor Blackbeard's Cruises, Bahamas
Cat Ppalu, Bahamas
6. California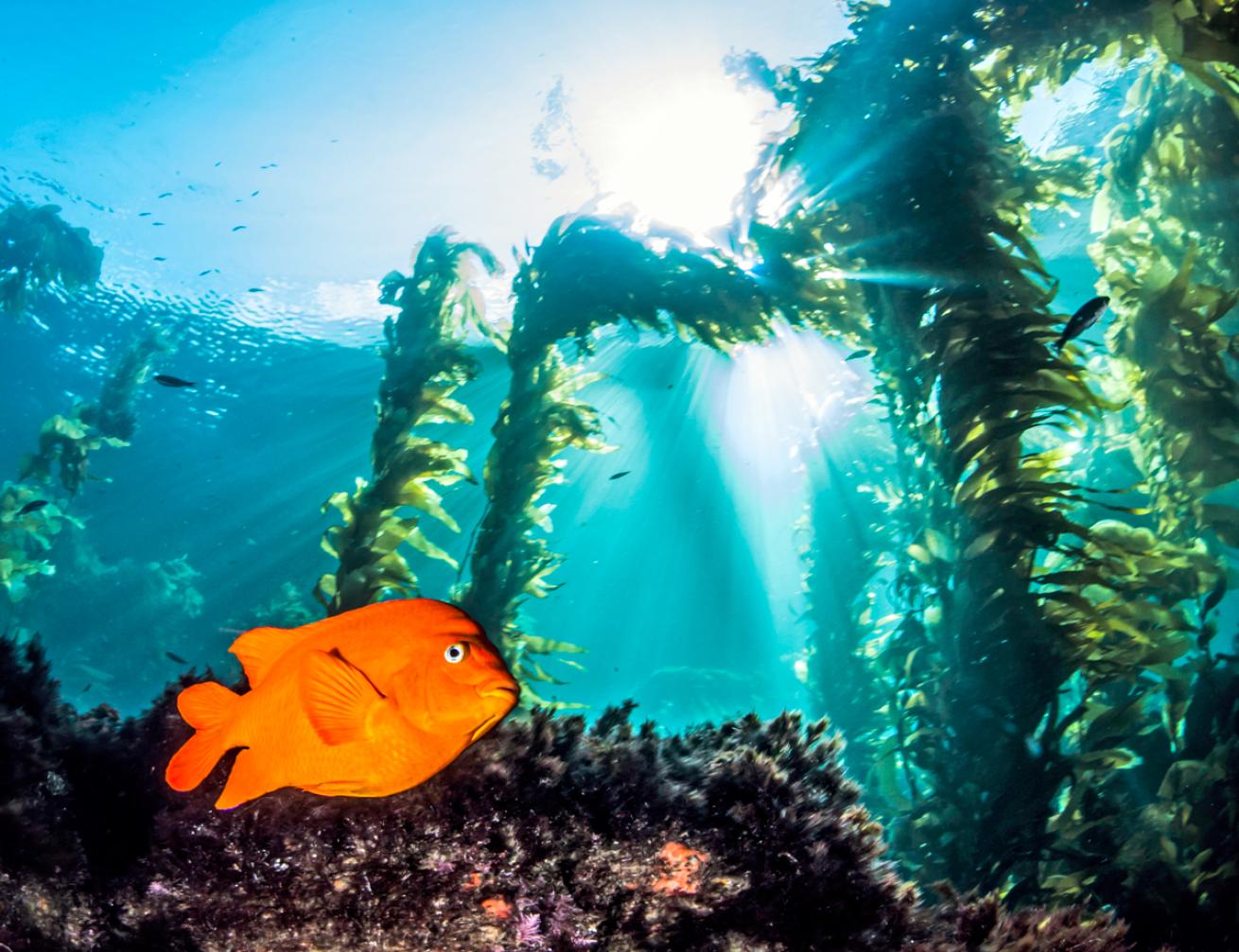 A bright-orange Garibaldi in a kelp forest off California's Catalina Island.

Michael Bogner/Shutterstock
California's progressive, sweeping marine protected area commitment serves as a prime example of how protecting even just a small area can have a huge impact. Statewide legislation in 1999 targeted areas of specific biological importance, including known breeding grounds of abalone—a gastropod that had been on the endangered list as of 1997 due to overfishing. The Blue Cavern Onshore "no-take" state marine conservation area off Catalina Island, for example, measures just 2.5 nautical miles and includes rocky shores, sea grass beds, sandy seafloor and caves, but combined, that protected area was enough to make an impact.
"Abalone were once almost completely gone from Santa Monica Bay and the surrounding areas," says Annelisa Moe, water quality specialist with Heal the Bay foundation, which focuses on protecting the coastal waters of greater Los Angeles. "Now I see abalone there all the time when I'm diving. That really just shows that you can take one tiny pocket of the ocean and leave it alone and it rebounds quickly."
---