Paradise Found Aboard the Pindito in Raja Ampat
Tropical fish pulse in in a choreographed frenzy of saturated hues, ignited by each strobe firing of my camera system as my buddy and I navigate down the ridge extending west from a small ­island off northwest Pele. The ridge itself is ablaze with soft coral growth and animated by marine denizens large and small. My progress is ridiculously slow as I pause to recompose new wonders in my frame every few feet. Currents run right into this ridge, attracting a show reel of surprises punctuated by a stampede of buffalo-like bumphead parrotfish.
As they pass, my buddy looks over at me with an intoxicated grin around his mouthpiece that says "It doesn't get any better than this!" The dive site, called Kaleidoscope, delivers on its name as we finally make our way back up through sparkling clouds of silversides to a safety stop. As we surface, I hear hoots and hollers coming from the group with Pindito's dive guide Arlie Haft.
She bellows, "Did you see all those mobulas?" Hmm—we missed it, but that's just part of diving in Raja. There's often activity in every direction—it's impossible to take it all in, but it's certainly fun to try.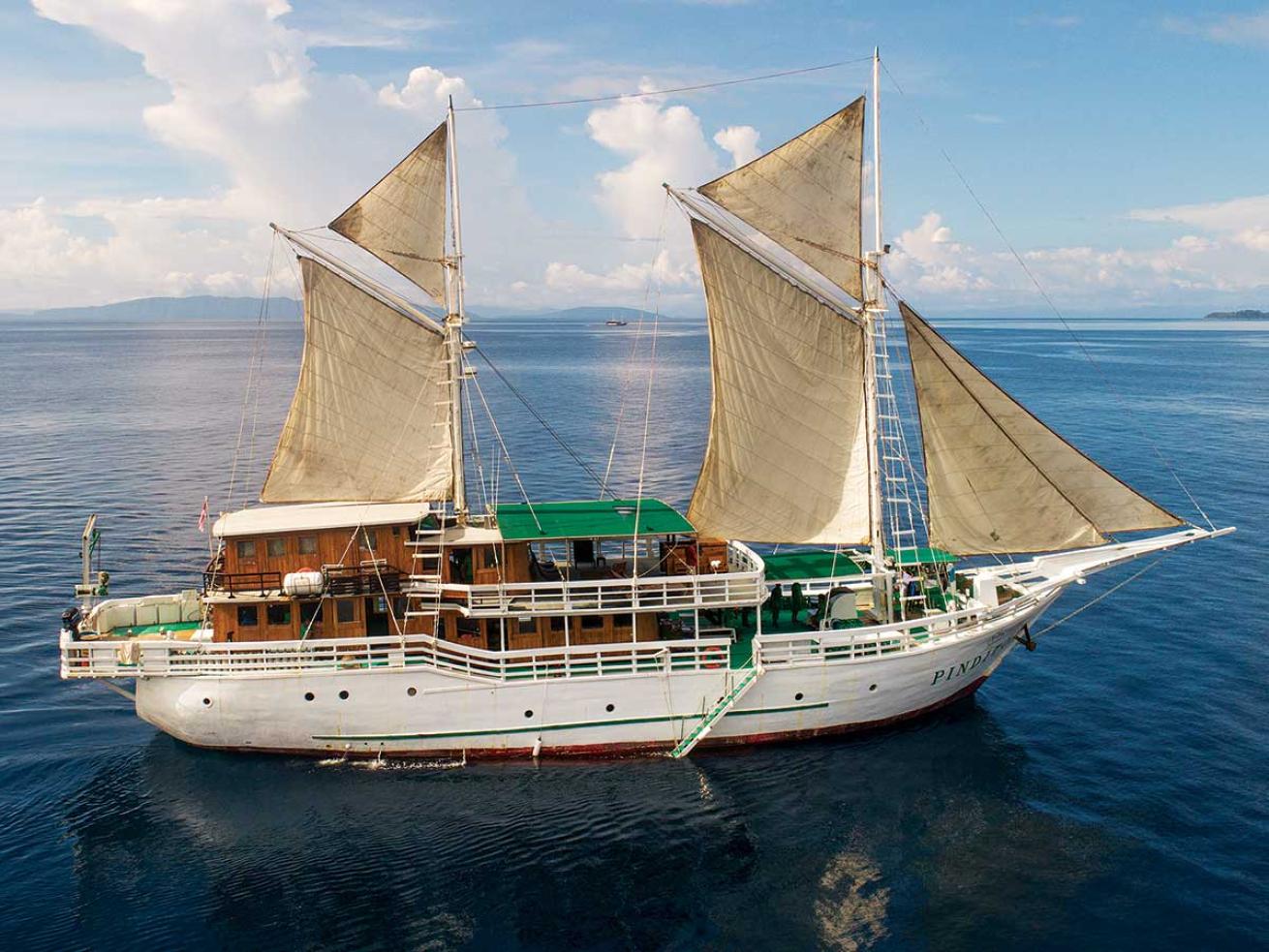 Pindito has traveled Raja since 1992.

Courtesy Pindito
The Total Package
Raja Ampat is an archipelago spanning 15,000 square miles, part of the larger collective area known as the Bird's Head Seascape of West Papua, Indonesia.
For more than 25 years, Edi Frommenwiler, a native of Switzerland, and his ­hand-built 142-foot traditional phinisi liveaboard vessel have been exploring and diving much of the Indonesian archipelago. He first dived the region of Raja Ampat in May 1992. Of course, then it was all exploratory diving. This tradition is alive and well, because Frommenwiler and his well-cared-for Pindito invite guests to join his unique itineraries in Raja that aim to provide a complete experience.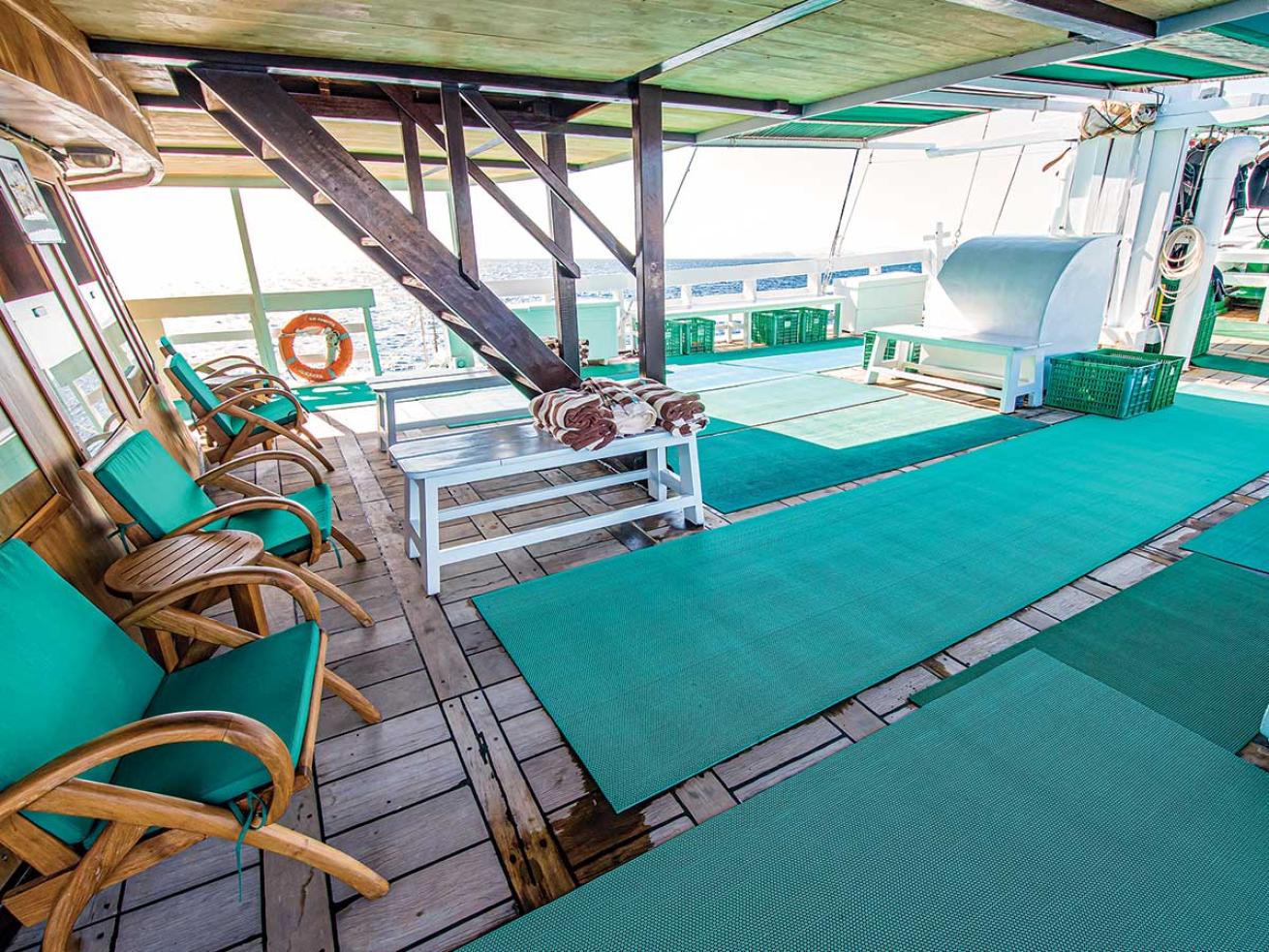 On the deck of the Pindito.

Courtesy Pindito
"Raja Ampat is not only the diving but the whole experience, with all these beautiful islands, lively boat rides between the rocks and reefs, the caves, the people," he says. "It's an experience that blends the best of what is below and above."
Most itineraries start in Sorong, West Papua, but from there trips can vary widely. There are more sites in Raja than can possibly be dived in a single trip, so every cruise takes into consideration the weather and reported conditions in the whole region to create the best possible experiences for guests.
During our 10-day cruise, our dive guides brief us on the itinerary updates and daily dive schedule, depending on the area. Our particular cruise dishes up everything from current-fed corners such as Cape Kri, Sardine Reef and Batu Lima to the awe-inspiring manta ray encounters of Manta Sandy, Magic Mountain and lesser known spots.
Easy drifts along ­ridges such as Pulau Yellit, Tank Rock, Nudi Rock and even a couple of muck dives such as Algae Patch 1 and 2 provide plenty of creatures for the macro-inclined.
As a special treat, we ­visit fish-packed dock dives around Sauwandarek and Arborek that defy imagination with their density of life. This range of marine environments provides habitat for one of the most biodiverse and rich tropical marine ecosystems on the planet. Current analysis suggests more than 1,800 tropical fish species and 600 coral species can be identified here—numbers that continue to rise with more research.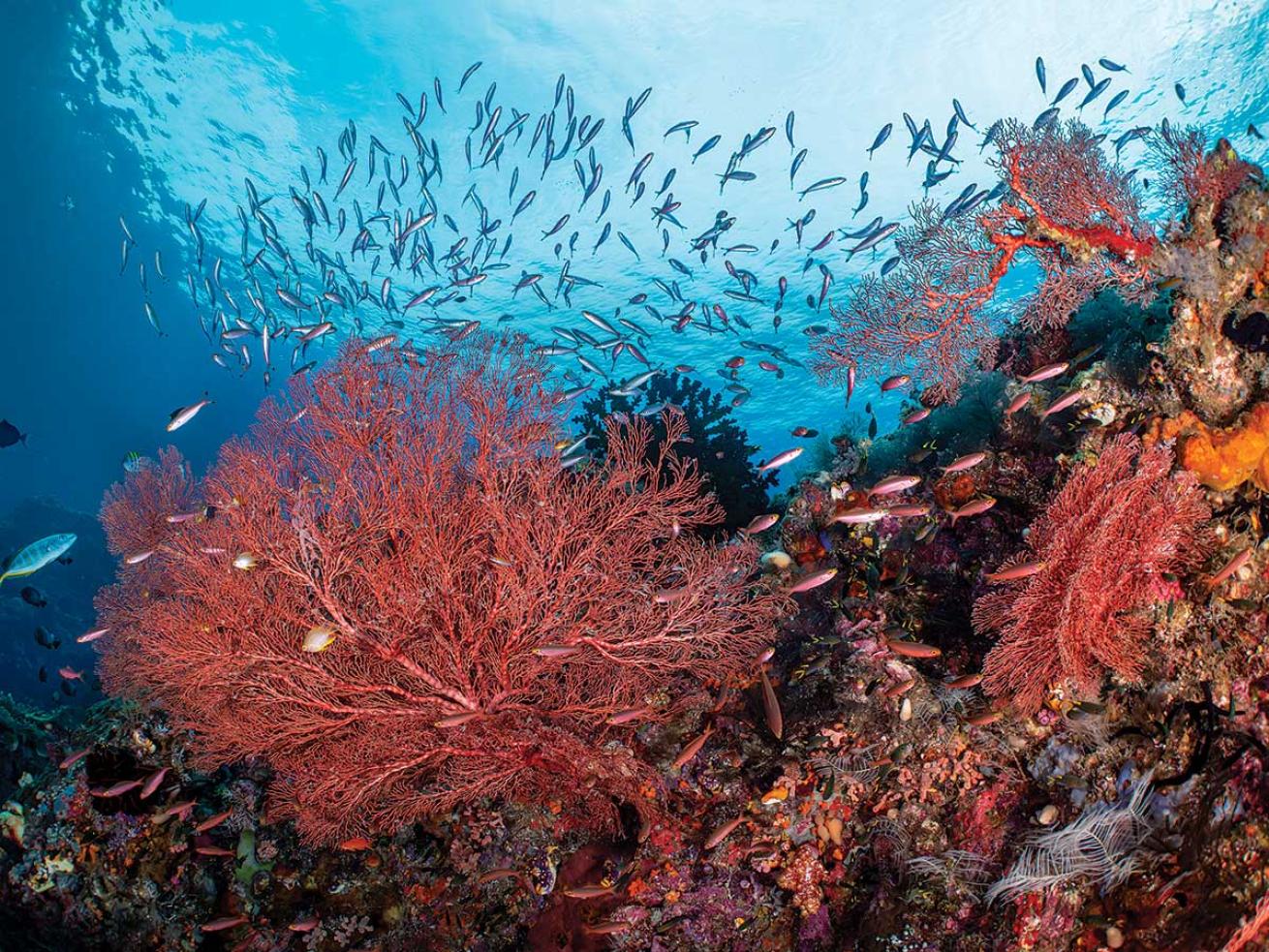 A reef explodes with life.

Tanya G. Burnett
Adventure Time
Our cruise of 16 divers was divided into three groups as Pindito offers three ­Zodiac boats to transfer guests comfortably from the vessel to the dive sites. This provides a much-­appreciated small-group experience on most sites. At dive times, crewmembers cheerfully help with gear setup, nitrox analyzation and any other special requests. Tender drivers are tasked with careful handling of valuable camera gear, securing everything to a custom camera rack on each tender.
Doing three to four long dives makes for a full day, but the dive schedule leaves ample room for three sumptuous international and Indonesian meals daily, post-dive snacks, some upper-deck snoozes in the shade and even a paddleboarding adventure if you just need to escape to that private beach right beyond the anchorage site.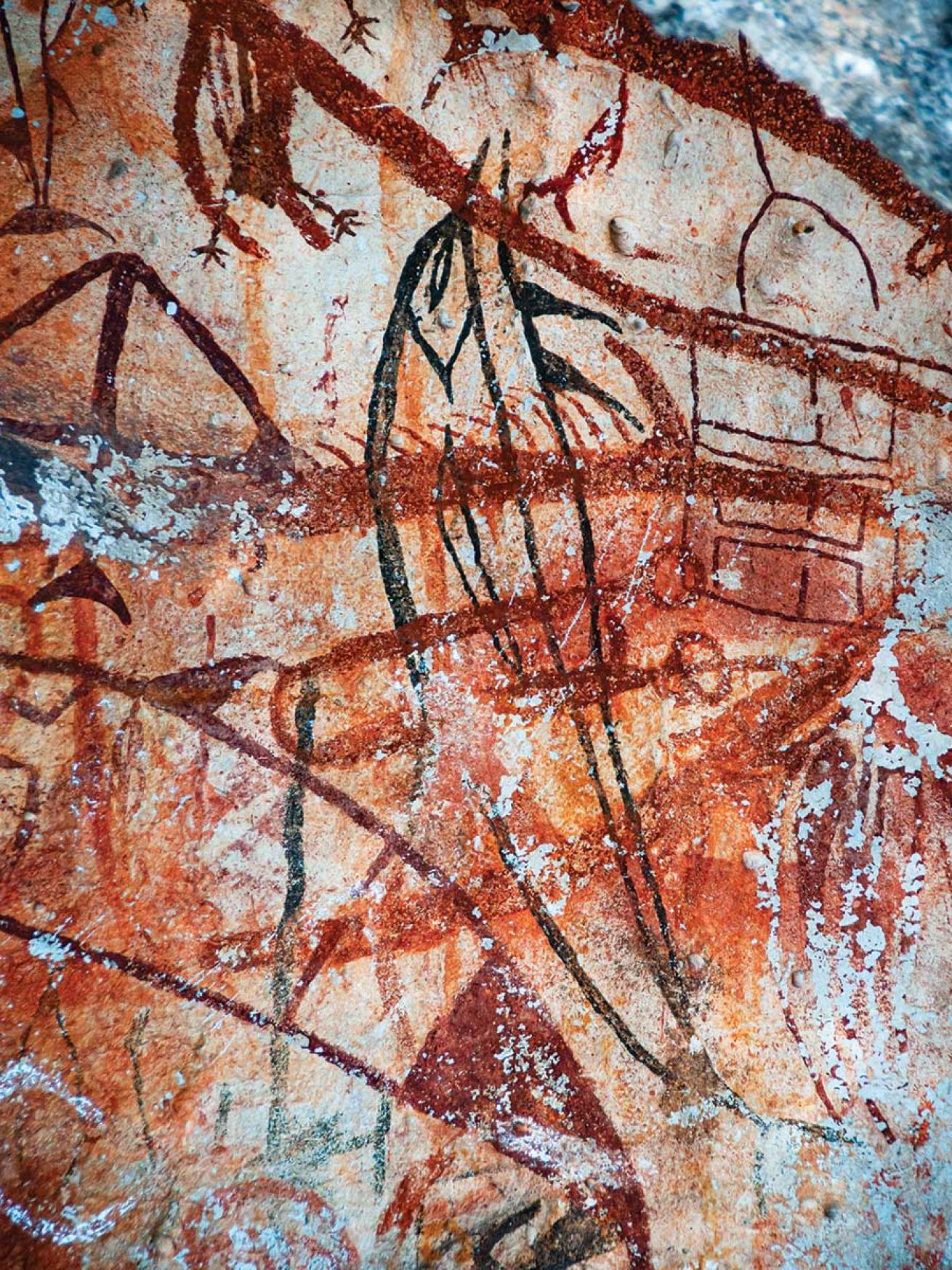 Ancient rock paintings near Misool.

Tanya G. Burnett
One of my favorite dives is a site called Boo Windows.
At this famous Misool site, the "windows" consist of a single large opening that allows divers—if swells permit—to swim from one side of the island to the other through the window. Bright- orange tubestria and rainbow-hued soft corals line the stone nearly to the surface.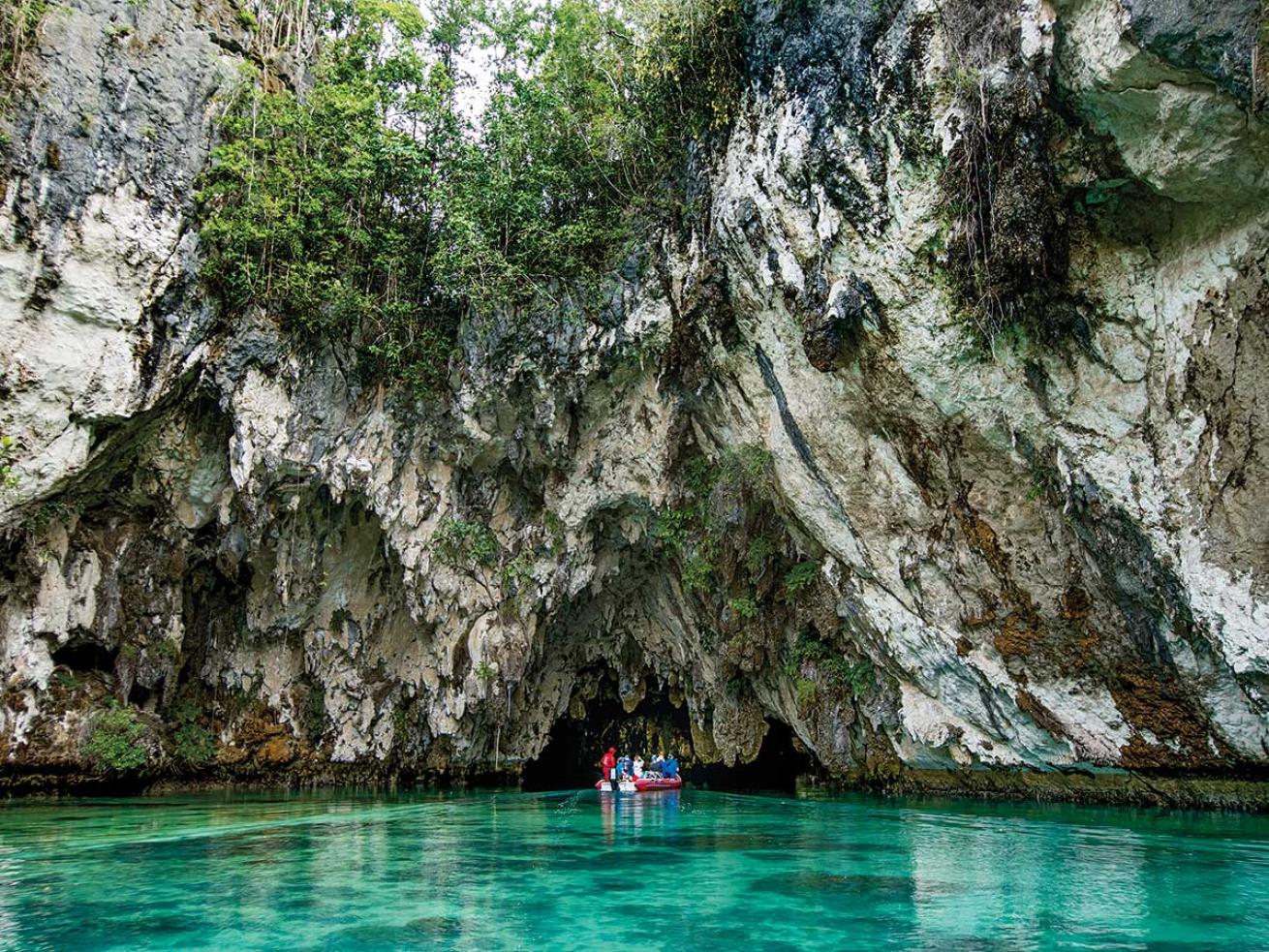 Tanya G. Burnett
I particularly enjoy the far south side as it runs down the colorful slope sporting large table corals sheltering all manner of sweetlips and cardinalfish. It terminates in a flamboyant pinnacle adorned in carnival colors waving in the current while schools of brilliant yellow snapper seek refuge. We spot a few gray reef sharks and a small school of barracuda hovering in the flow of water.
The north side provides a shallow but steep encrusted reef where bumphead parrotfish watch us warily in the gentle swell as they loudly crunch bits of coral.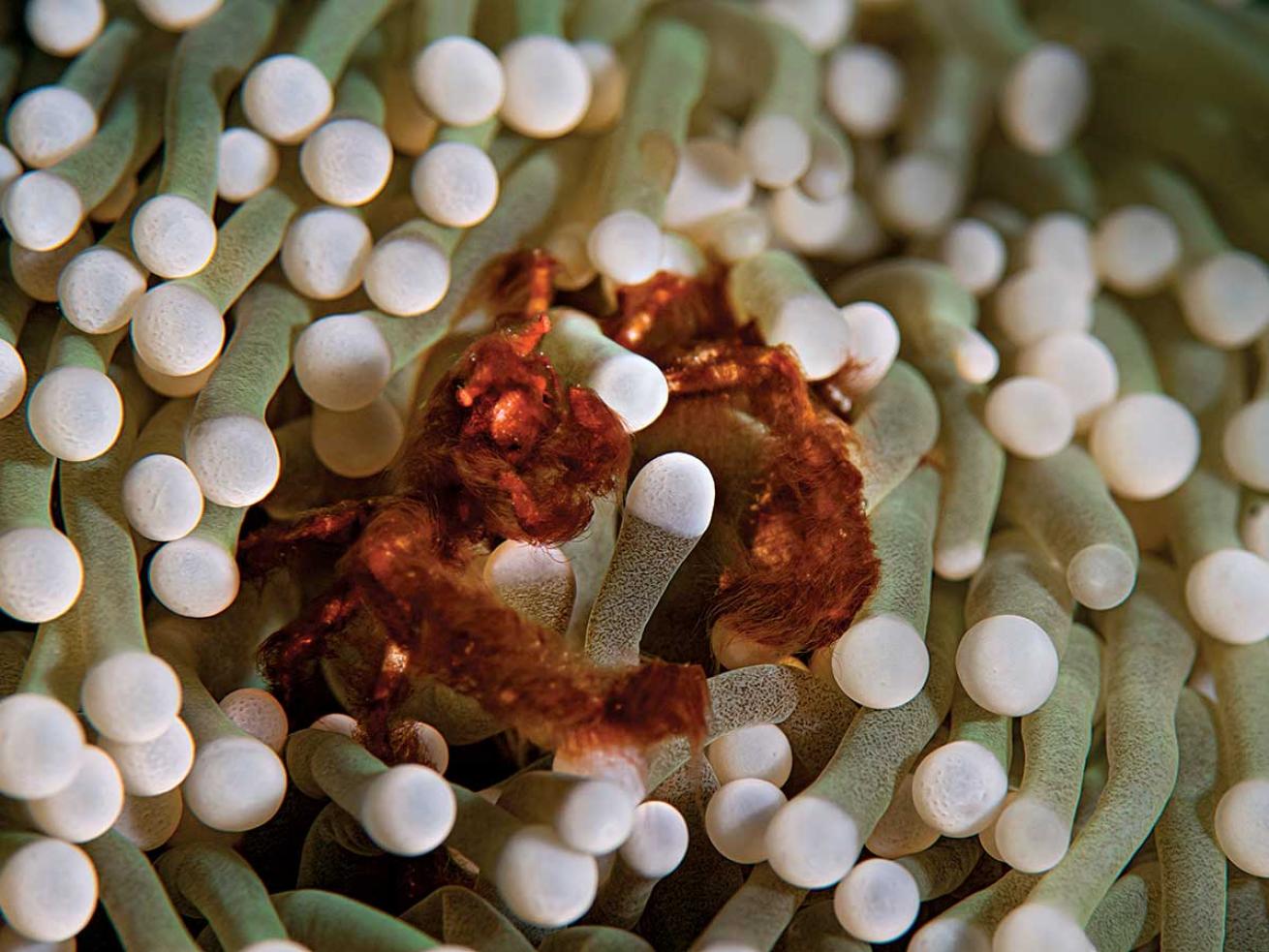 Tanya G. Burnett
While still in the Misool region, the Pindito crew takes us on an adventure to see spectacular cave ­formations. Our journey begins with a boat ride running serpentine through dramatic rock islands seemingly suspended in the shallow turquoise water. Fleeting views of exotic flora clinging to the sheer rocks fly by—a couple of detours provide a chance to view 5,000-year-old petroglyphs. A final slowdown to a putter signals we've reached the cave entrance, a partially submerged black hole just big enough for the tenders to enter. As our eyes adjust, we see the enormity of the cave and the not-too-distant opening on the other side. Our voices echo as the rock-cooled air hits our faces. Simply amazing—and this is just one of several caves in the area.
Once back on Pindito, we're met with refreshingly cool face towels and a freshly made fruit juice. Then the Swiss bell rings clear and sharp—time to dive again!
5 Reasons to Dive from Pindito
1. Practice Makes Perfect
Friendly, knowledgeable and experienced perfectly describe Pindito's crew. Owner and operator Edi Frommenwiler has been exploring and leading liveaboard dive trips around the hotspots of Indonesia for over 25 years. If he is not on board, he maintains contact with captain, cruise director and crew to ensure a successful journey.
2. All-Star Amenities
Pindito is comfortable, functional and well maintained. It has ample storage, cozy cabins, a nice lounge, shaded decks, safety equipment, satellite communication and an ample supply of Bintang beer.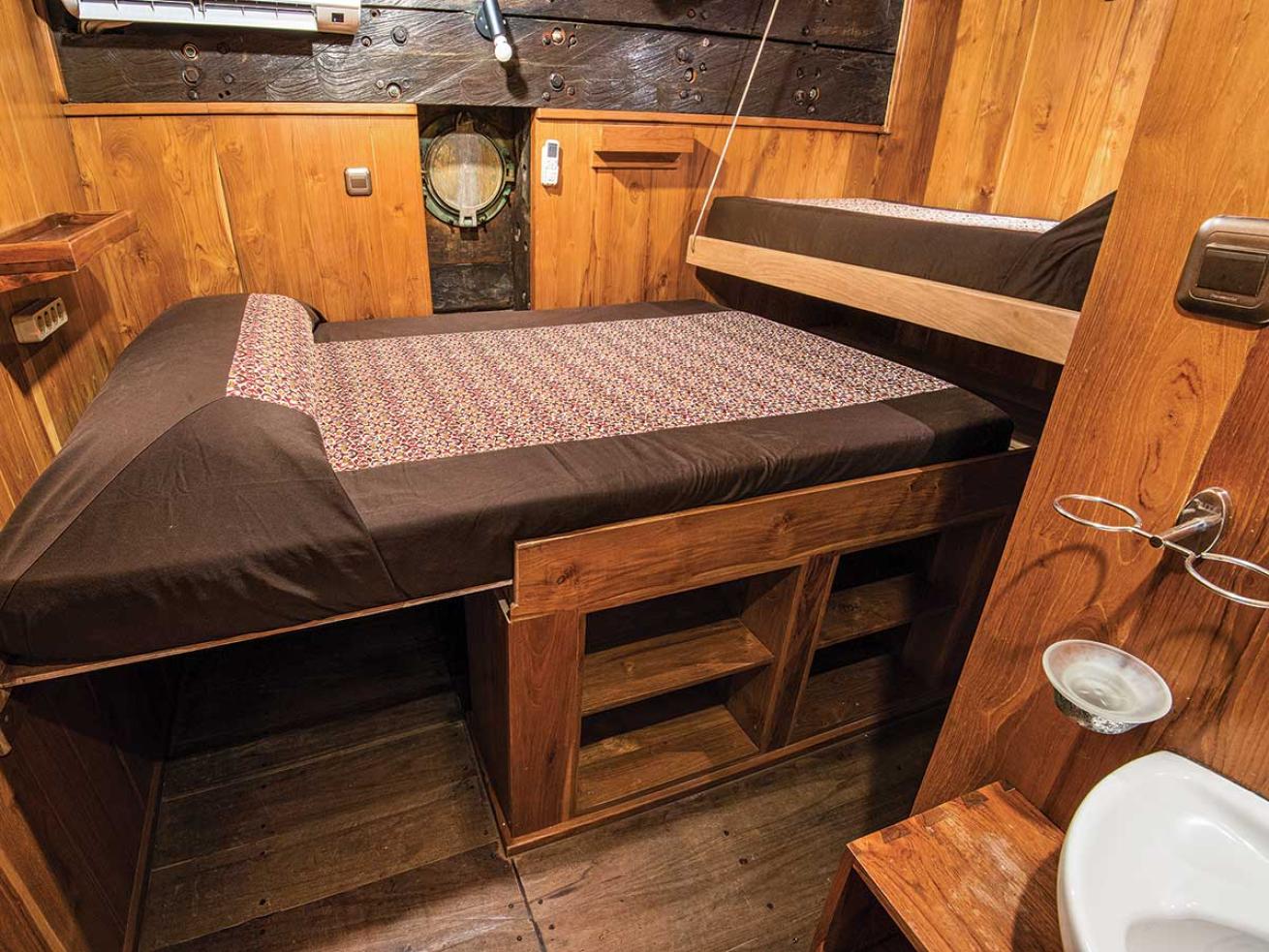 Courtesy Pindito
3. Smaller Is Better
Four Zodiac tenders (one on stand-by) and a guide are offered to break up a group of 16 passengers to ensure divers are getting the most of each dive site.
4. Photo Friendly
A dedicated camera/video room provides plenty of space for rigs, work room and charging.
5. Geared Up
The crew offers well-maintained rental gear, Nautilus LifeLines, specific rebreathers for those trained and free nitrox.
Need to Know
When to Go
Prime diving season is October to April, although visibility can be influenced by high plankton concentrations, which ensure more pelagic encounters. Visibility is best from May to August. The rainy season from June to September can bring high winds.
Travelers Tip
Popular hubs with direct flights to Sorong (SOQ) are in Jakarta, Java (CGK), and Manado, Sulawesi (MDO). There are numerous Indonesian carriers such as Garuda Indonesia, which in addition to checked bags allows you to bring up to 50 pounds of scuba gear without additional charge.
Dive Conditions
Water temperatures range from 82°F to 86°F but can dip to 79°F. Plan to dive in at least a 3 mm full suit, and bring a hood, hooded vest or other type of thermal layering for added warmth. It helps to have an advanced certification; if you don't have a nitrox certification, you can get it while on board Pindito.
The Raja Ampat Marine Park entry permit is 1 million IDR—about $70 to $100, depending on the exchange rate—and is good for one year. The Pindito crew will arrange this permit for you.
Operator
The M/V Pindito (pindito.com) launched in the Banda Sea and quickly expanded its routes to include Raja Ampat, Komodo, Ambon, Alor and many places in between.
It's a 142-foot wooden phinisi traditional motor sailor with a 29-foot beam. Six cabins with double beds and two cabins with twin beds accommodate a maximum of 16 guests. All guest cabins have a shower, sink, toilet, individually controlled air conditioning and lots of storage.
Price Tag
An 11-night charter starts at $5,090 per person/double occupancy. This includes: Sorong transfers; full board including all drinks except wine; three dives per diving day and one dawn or night dive; nitrox fills for the whole cruise; and land excursions.