How the Local Dive Community Protected Blue Heron Bridge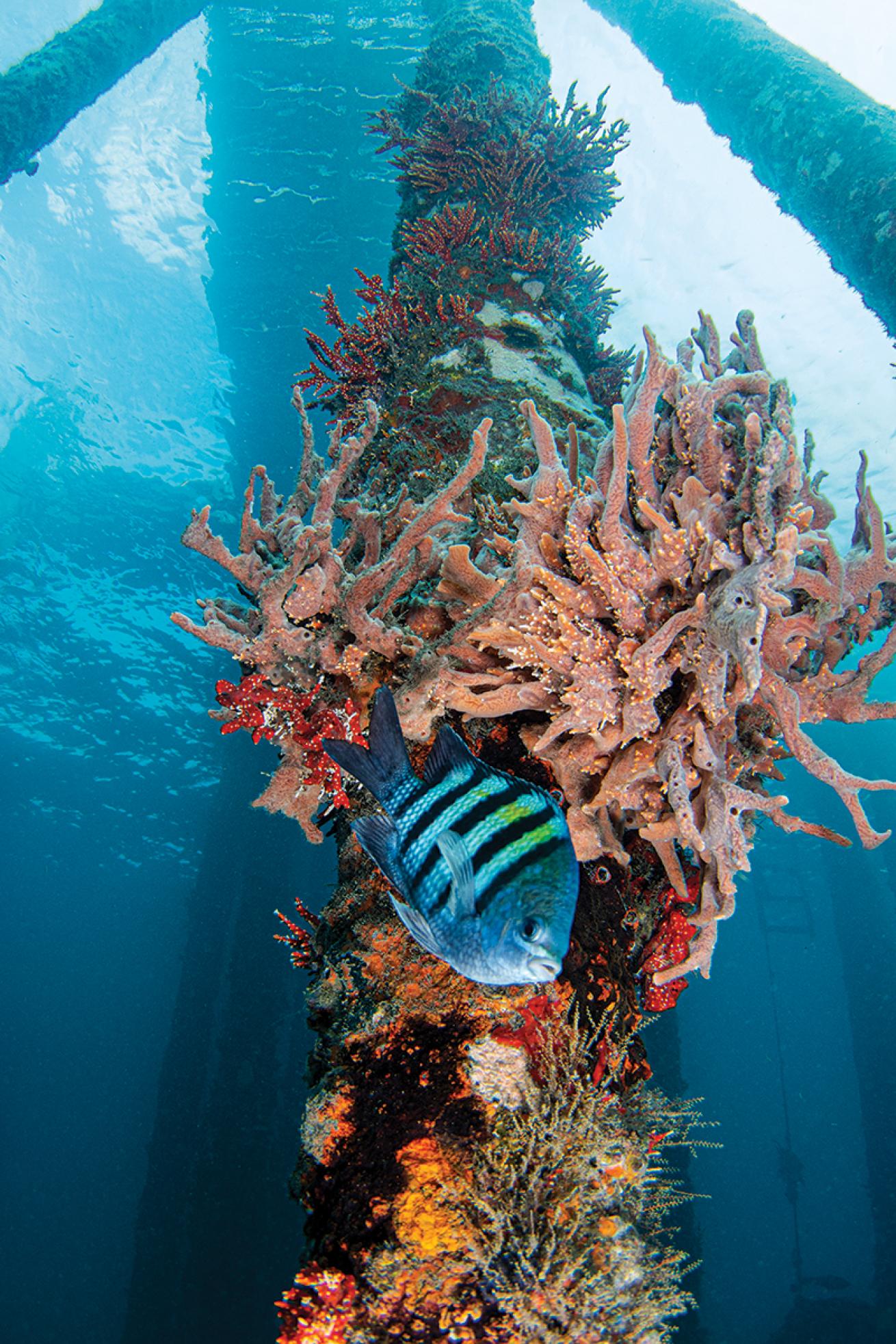 The structure of Blue Heron Bridge offers refuge for diverse species, including: octopuses, seahorses, cuttlefish, angelfish and more.

Suzan Meldonian
COVID-19 travel restrictions and border closings are constantly evolving. There is no guarantee that the dive sites mentioned within this article will be open at your time of travel.
---
Diving is all about discovery.
The lure of coming face to face with a polka-dot batfish, dueling Lancer dragonets, sea robins and seahorses, or brushing shoulders with a giant spotted eagle ray, or bumping into a lumbering manatee in less than 25 feet of water has enticed thousands of divers and underwater photographers from all over the world to an unlikely location that's one of the top shore dives in the United States.
---
Jump to the Blue Heron Bridge Dive Guide
---
One soon realizes that you never know what you'll see at Florida's Blue Heron Bridge, affectionately known as the BHB.
Nestled within Phil Foster Park in Riviera Beach, the BHB encompasses a whopping 33 acres, with a small beach, shaded area, kiddie park and boat ramp. With dives centered on a swim zone bounded by a boat channel, you can submerge on the bridge's east or west sides, under the bridge off the park or along a snorkel trail south of the beach.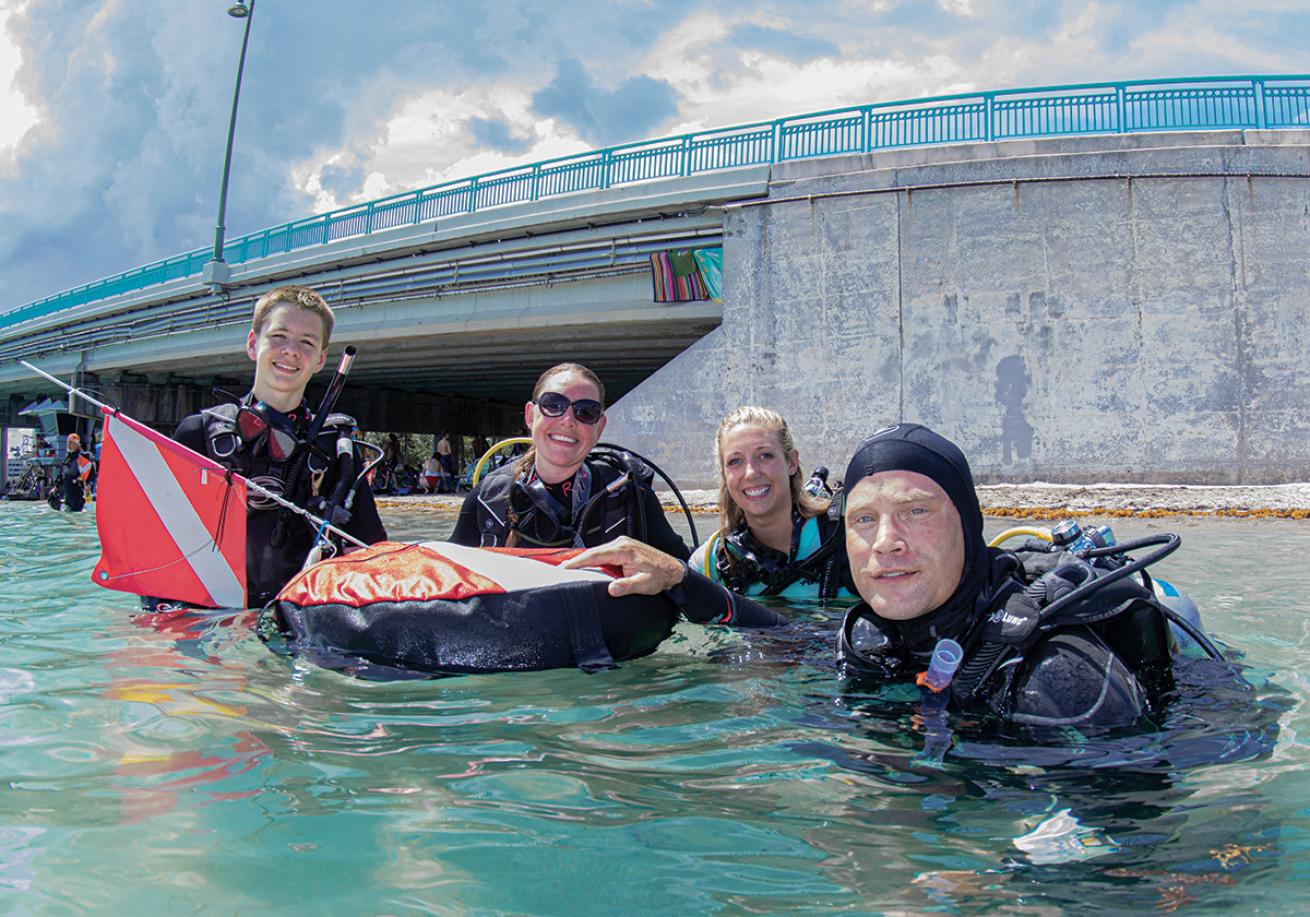 A group of divers at Blue Heron Bridge

Suzan Meldonian
One could dive for a lifetime without encountering half the wild critters you can see here, animals more commonly found in far-flung points abroad. Because of its proximity to the Gulf Stream, which runs up Florida's eastern coast, BHB can deliver visiting schools of cownose rays, spiraling masses of crevalle jacks and even a full-grown manta: It's a photographer's delight.
BHB is considered a muck dive—the shallow site typically yields two-hour, one-tank macro dives—but wide-angle opportunities beckon as well. The dive is tide-dependent, meaning you'll dive one hour before slack tide; night dives are offered by permit on full- and new-moon evenings by local dive shops.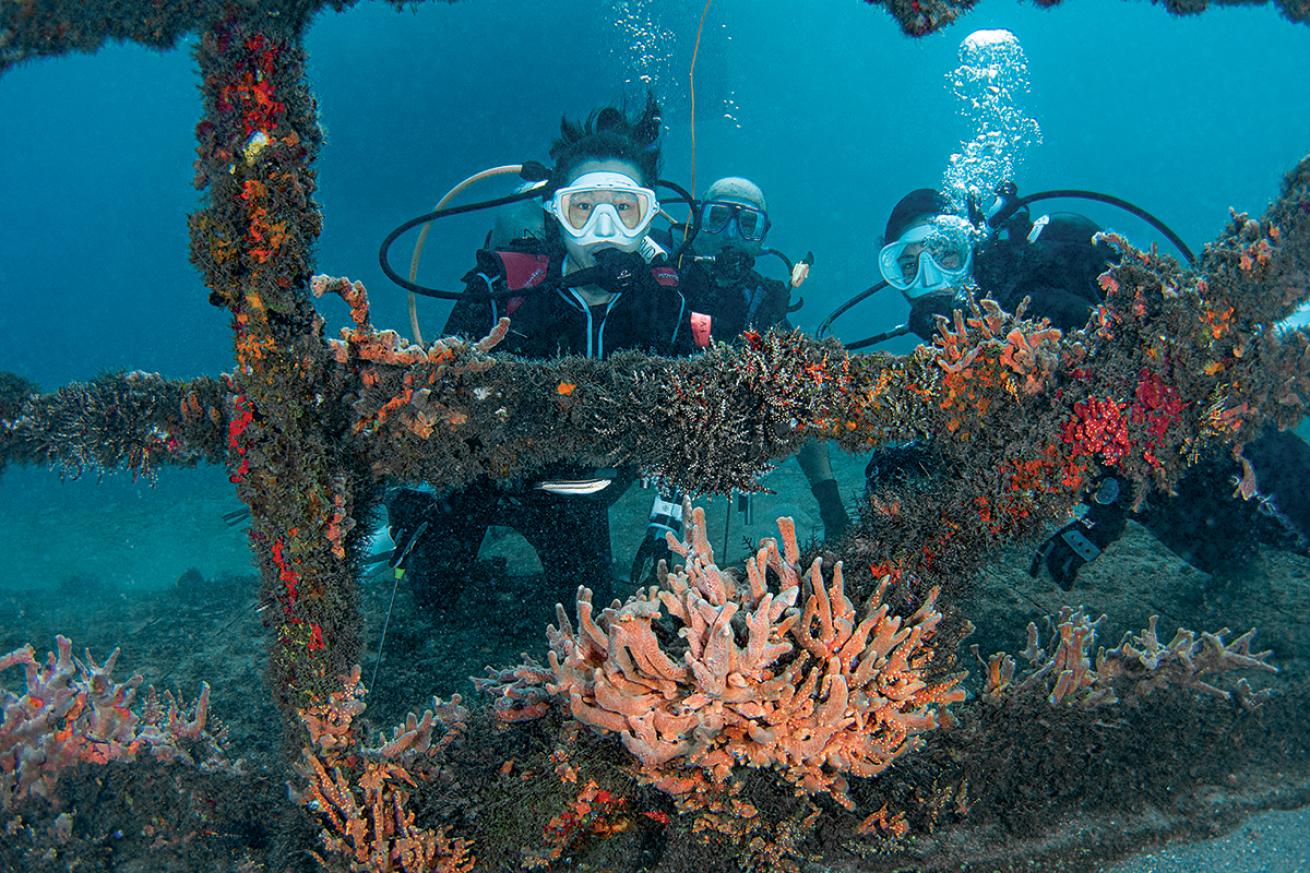 The shallow site hosts a wide variety of uncommon creatures.

Suzan Meldonian
As access to shore dives seemed to dwindle away in the U.S., divers looked for places to experience wildlife whether diving or snorkeling. By 1998, the BHB secret was out, in the form of an article in Southern Diver magazine. Realizing the rarity of the life found here, in 2008 a local attorney prepared a petition requesting that collecting of marine life be prohibited—it gained 800 signatures overnight.
The Palm Beach Diving Association joined forces with the county commissioner's office to explore what could be done to satisfy the boaters, sailing community, swimmers, divers and fishing folk who all used the park—BHB was fast becoming an important tourist destination for Palm Beach. In 2012, Florida, no stranger to the benefits of artificial reef systems, approved the committee's proposal to install an artificial-reef snorkel trail, which brought still more locals and tourists—and fish collectors.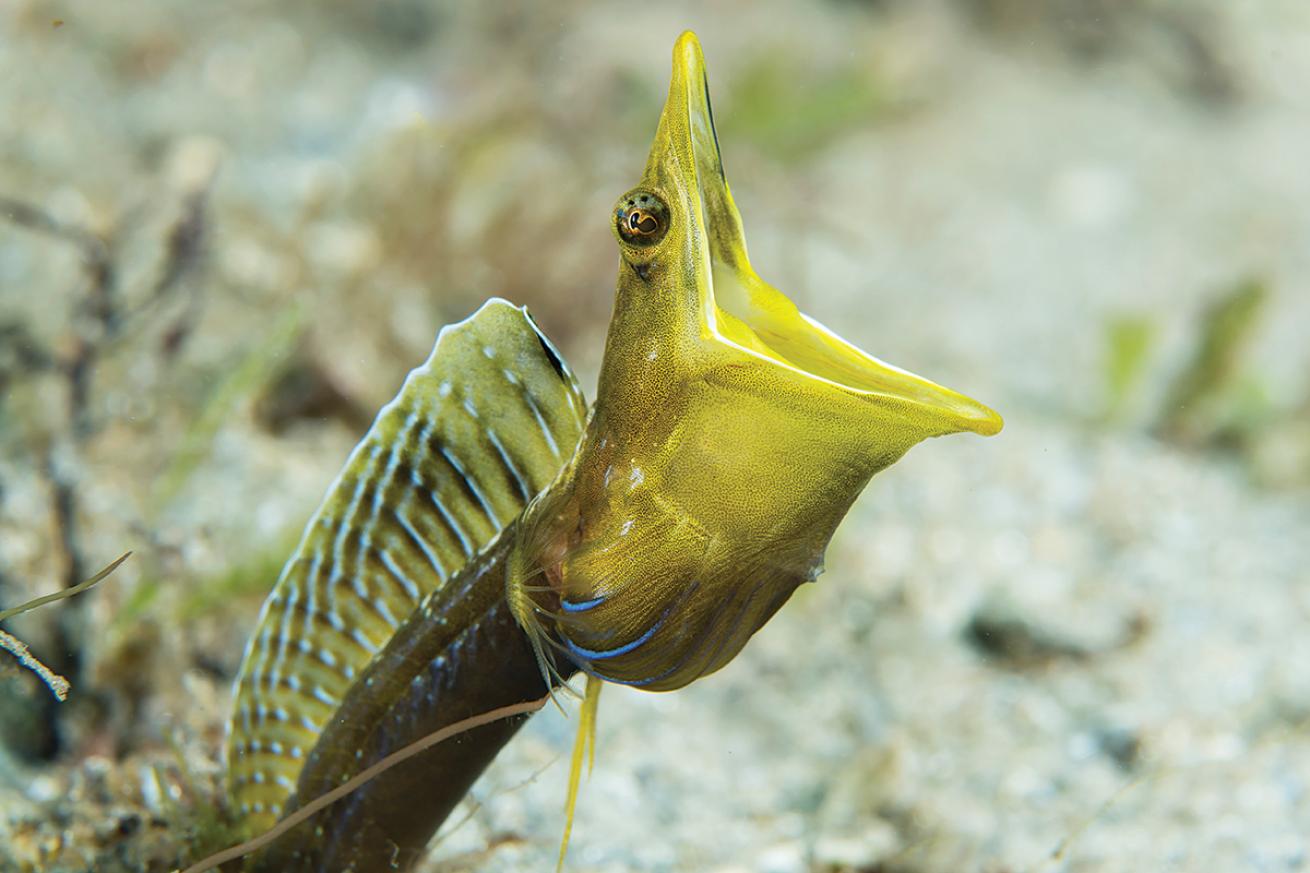 Suzan Meldonian
Sometimes, it takes a village. In 2018, a bizarre set of circumstances brought the community together in one focused effort that changed everything. While Florida waters were under assault by red tide, a Texas aquarium with permits issued by the Florida Fish and Wildlife Conservation Commission to collect species from four counties discovered BHB was still relatively unaffected by the algal blooms. Local divers quickly became alarmed by the presence of a large truck with huge collection bins.
The chatter went viral, with clicks and shares topping 100,000 hits by the time local advocates demanded the state permits be pulled. FWC retracted the permits, determining that an area this small—with a sensitive ecosystem—and already a major tourist attraction could not tolerate any sort of harvesting. The aquarium contends that it only collected within its permits. However, the public was so deeply moved that another highly charged committee was formed to request that the state recognize the importance of protecting the marine life here from all collection. Those efforts paid off April 1, when a law went into effect prohibiting harvest, collection and possession of tropical-aquarium species within the park and surrounding waters.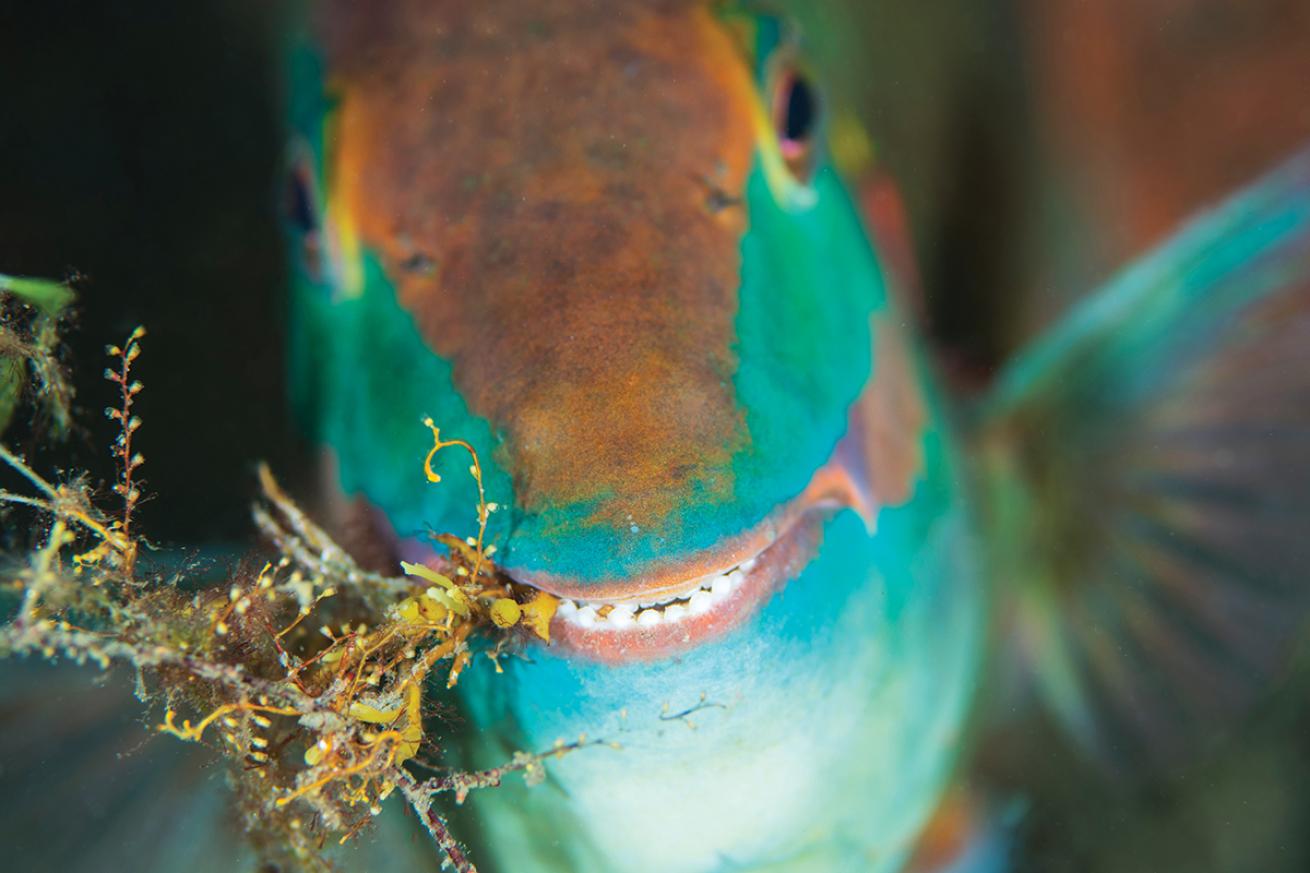 A rainbow parrotfish near Blue Heron Bridge

Suzan Meldonian
You might not have a BHB in your backyard, but there are many local nooks and crannies along all our coastlines just waiting to be explored by you and your camera. More beach and shore dives need to be approved, to relieve pressure on the few remaining. As we learn more about our oceans, we often must start with the small stuff, documenting the life around us and helping scientists and the public understand what divers see beneath the horizon.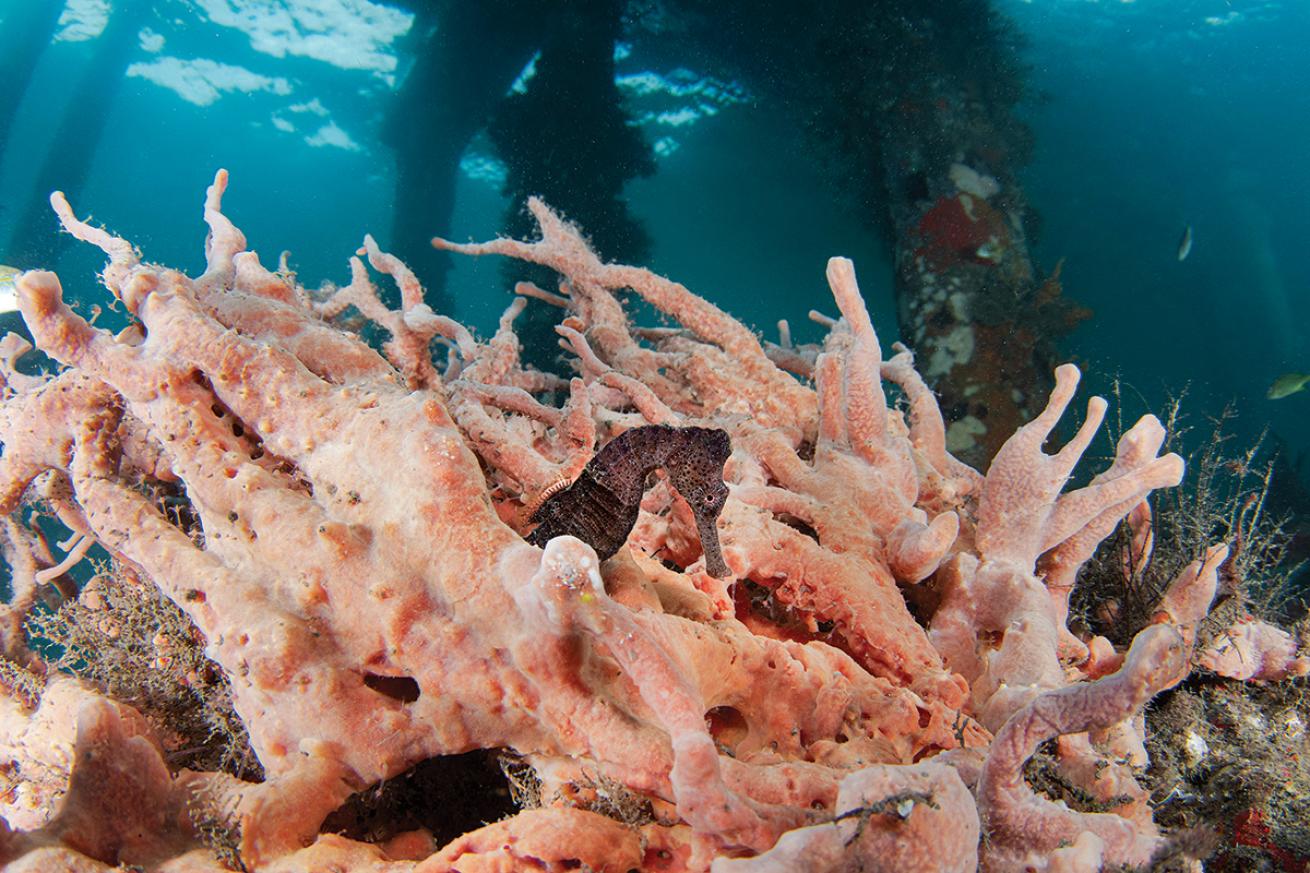 Seahorses that can be seen ­hiding in pink sponges

Suzan Meldonian
As a local diver and author of Under the Bridge and The BHB Companion, my heart swells when I hear children squeal with delight, "I think I saw a turtle!" or "Oh, I saw an octopus!"
Life at BHB has rebounded for us all.
---
A Guide to Diving Blue Heron Bridge
Where: Phil Foster Park is at 900 Blue Heron Blvd., Riviera Beach, Florida. Diving is permitted around the swim zone and north of the boat channel. There is no charge to dive here. The park is open dawn to dusk and until 10 p.m. (permit required) for night dives.
When to Go: Year-round, but the diving is best May through July. You should plan to enter the water one hour before high tide; diving is possible up to an hour after high tide; after that, tides can become swift and potentially dangerous. No spearfishing or collecting of tropical fish is allowed.
What It Takes: You'll need one dive flag for every four divers. There is no diving in the swim zone; you must kick out beyond it to submerge. There is no diving permitted in the boat channel. Plan to dive one section of BHB—east, west, snorkel trail, sandy areas—per dive. Head back to the beach area with extra reserve because currents can be strong when the tide turns.
Diving Conditions: Water temps range from 68° to 86°. Snorkeling is popular for nondivers.
Night Dives: Available only on full-moon and new-moon evenings, by permit only; permits are free and can be obtained from dive shops. All night divers must obtain permits and must leave the park by 10 p.m. sharp. The permit is placed on your dashboard to avoid being towed from the park. Night divers must have primary lights, tank lights and dive flags.
Travel Tips: Fly into WPB, 30 minutes from West Palm Beach, Florida. Parking at Phil Foster Park is hectic; arrive one to two hours before your dive time. Bring a waterproof container for your keys; do not leave valuables in sight in vehicles.
Operators: BHB diving maps and tide-table charts are available at Force E Scuba, Riviera Beach and Pura Vida Divers, Singer Island.
Updates: Visit Facebook pages for the Blue Heron Bridge Preservation Society and Blue Heron Bridge Dive Club.