Five Great Places to Dive with Large Schools of Fish and Bait Balls
Sometimes, out on a dive boat, a school of fish or bait ball can be so enormous you'll spot it from the surface.
It can appear like a giant, dark shadow creeping across the water. A big aggregation of fish can even cause the ocean to look like it's boiling up all around you, often attracting dive-bombing birds (not to mention other unseen underwater predators) for a massive moveable feast.
Other times, schooling fish or bait balls (the latter tend to take a spherical shape in the water column, hence their name) materialize out of the blue only once you're down on a dive—and sometimes, only momentarily.
Picture an underwater cloud of eyeballs and scales moving like one very large thing made up of many, that's there one moment and gone the next. If there's magic, I say, this is it.
I remember the first time I found myself finning into a cloud of hundreds of jacks off the USS Liberty Wreck, a fabulous shore dive off Tulamben, Bali.
I was an experienced diver by then, and stayed neutrally buoyant on my back about 30 feet down, finning my way up slowly under the school until I was completely surrounded. I floated there in awe, at the very center of a silvery tornado.
Since then, I've been hooked—and sought out schools of fish every place I dive.
Read on for a few famous and lesser-known spots to dive with large schools of fish and bait balls — and get set to get wowed.
Cabo Pulmo, Baja California Sur, Mexico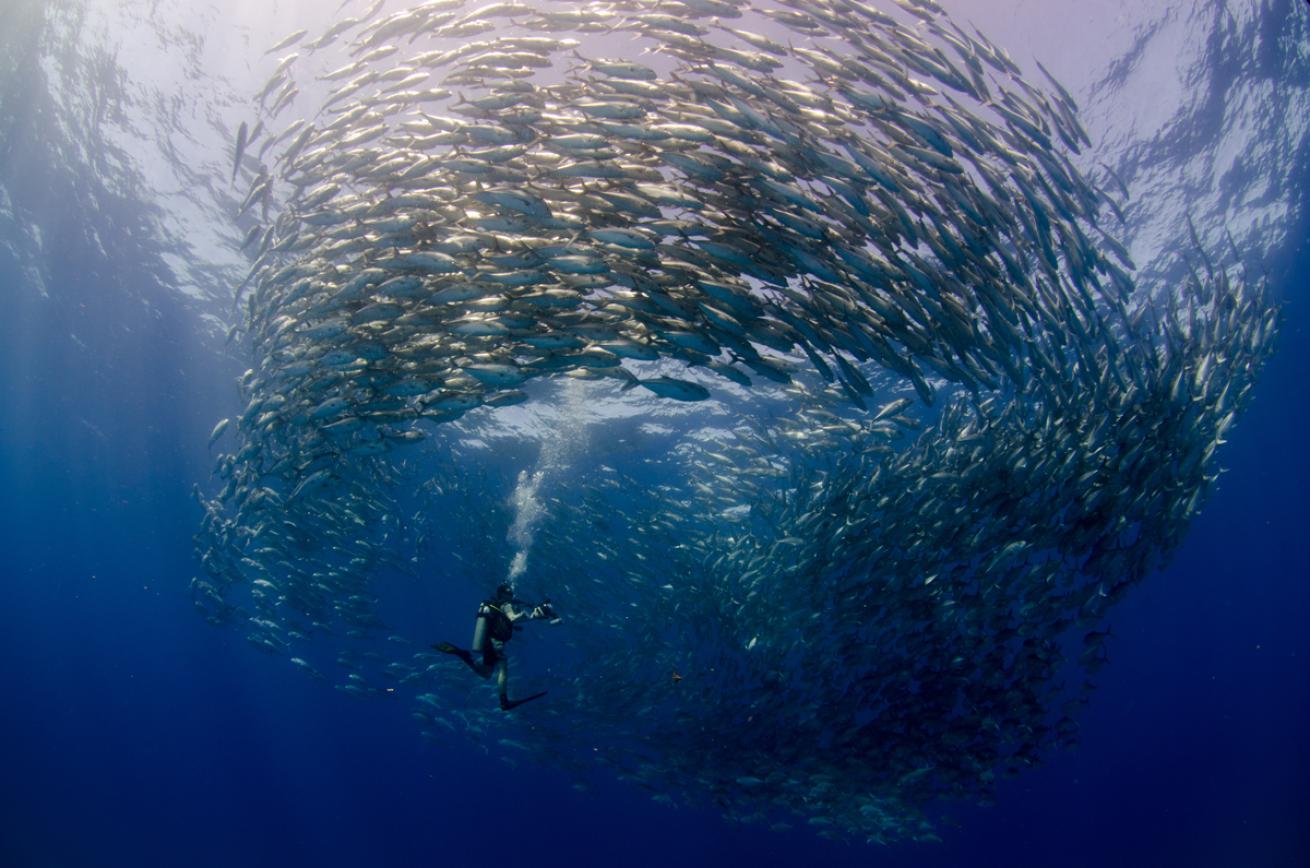 Big eye jacks forming a bait ball tornado with a diver in Cabo Pulmo National Park.

Shutterstock.com/Leonardo Gonzalez
For divers who venture to Baja California Sur and the waters Jacques Cousteau famously called the world's aquarium, diving among the schooling bigeye jacks that stay around Cabo Pulmo Marine Park is a major lure.
Head out from La Paz with The Cortez Club or with Dive Ninja Expeditions from Cabo San Lucas or set up base in the remote outpost of Cabo Pulmo itself at Cabo Pulmo Beach Resort. Time your visit for August to late-November for the best visibility. Once your dive guide spots the massive school, it's into the water for an incredible view of thousands of fish that often stretches from the surface right down to the seafloor. When they come into view, says James Curtiss of The Cortez Club, it's like having the lights turned off all around you and then turned back on again to silvery effect, so massive is the school.
Tubbataha Reefs Natural Park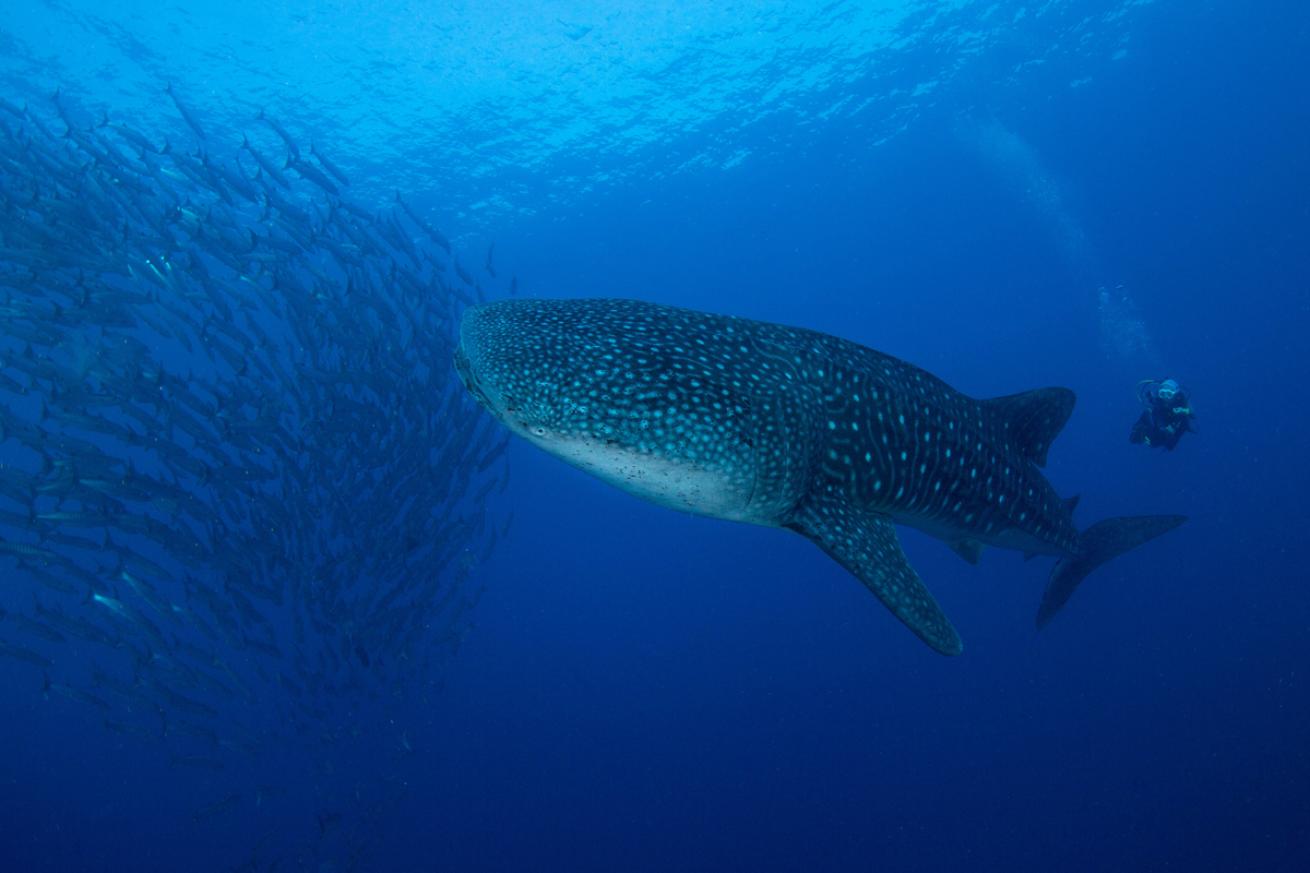 A whale and school of barracuda in Tubbataha, Philippines.

Shutterstock.com/AlexRoseShoots
Divers aboard the Philippines Aggressor count themselves lucky to be at the bullseye of the coral triangle in the Sulu Sea, during seven-day itineraries through this national park that's protected as a UNESCO World Heritage Site.
In addition to delivering hammerheads, mantas and nearly every manor of reef denizen, dives on Tubbataha's north and south atolls often come with large schools of barracuda and jacks, too. Look for them swirling like mercury-with-scales above the reefs and walls.
Graveyard of the Atlantic, North Carolina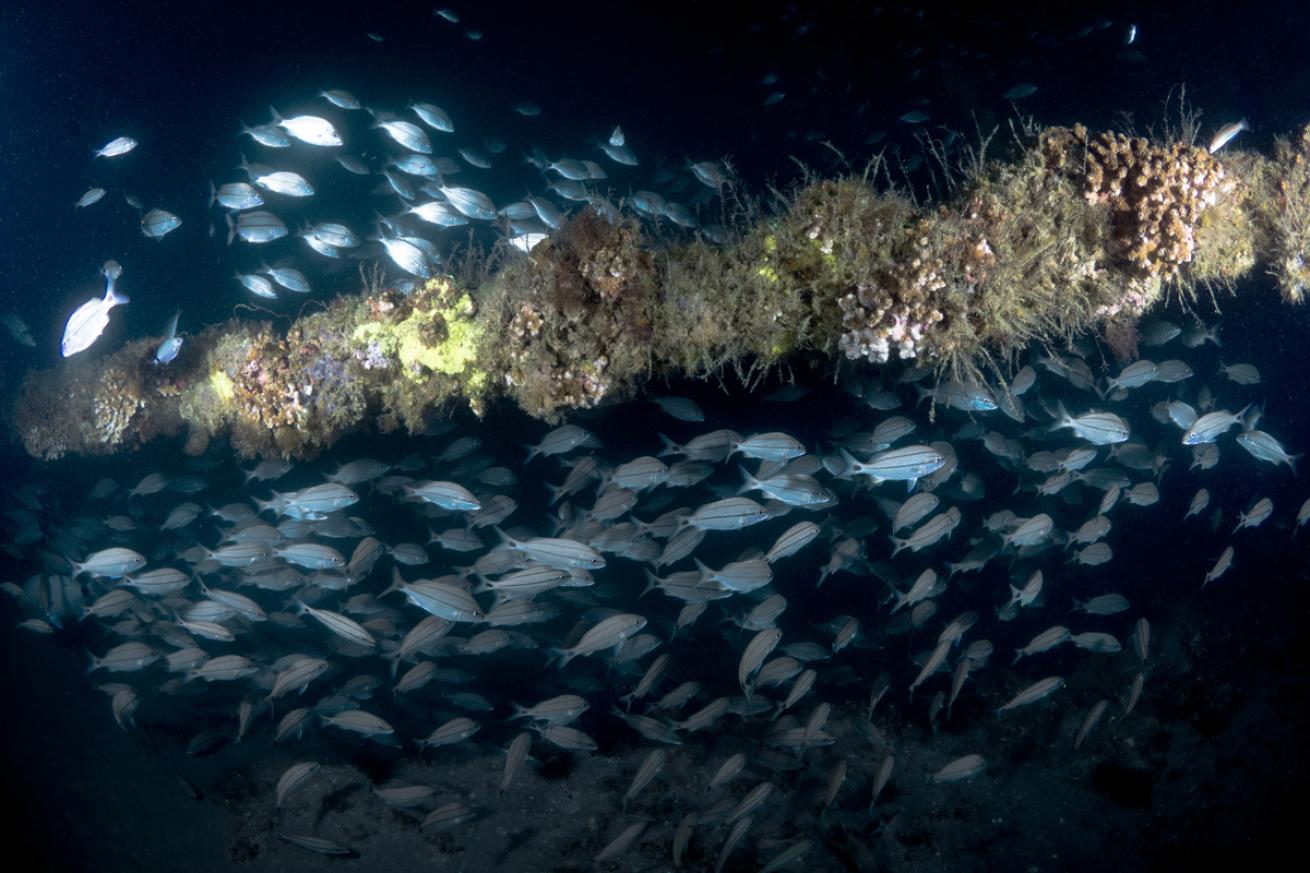 Schooling fish gather around a metal beam that is covered with growth just off of the wreck.

Shutterstock.com/Mike Workman
From Morehead City, North Carolina, count on a two-hour cruise 25 miles east to reach some of the most epic offshore wrecks in the Graveyard of the Atlantic, including the Aeolus, Schurz, Spar and Caribsea—all absolute fish magnets.
"We've actually had people complain that there were too many fish and they couldn't see the wrecks or the submarine," says Dottie Benjamin, general manager of Olympus Dive Center in Morehead City, referring to the German submarine wreck of the U-352, another of the region's epically fishy attractions
During the summer months—when the Gulf Stream swings in closer to shore and brings warmer water temps and the best visibility—schools of thousands of grunts, snapper and pinfish move like rivers over the wrecks. Be sure to turn your gaze up into the water column, too, where you might spot bait balls of anchovies and silversides being cut through by patrolling sand tiger sharks.
Barracuda Point, Sipadan, Malaysia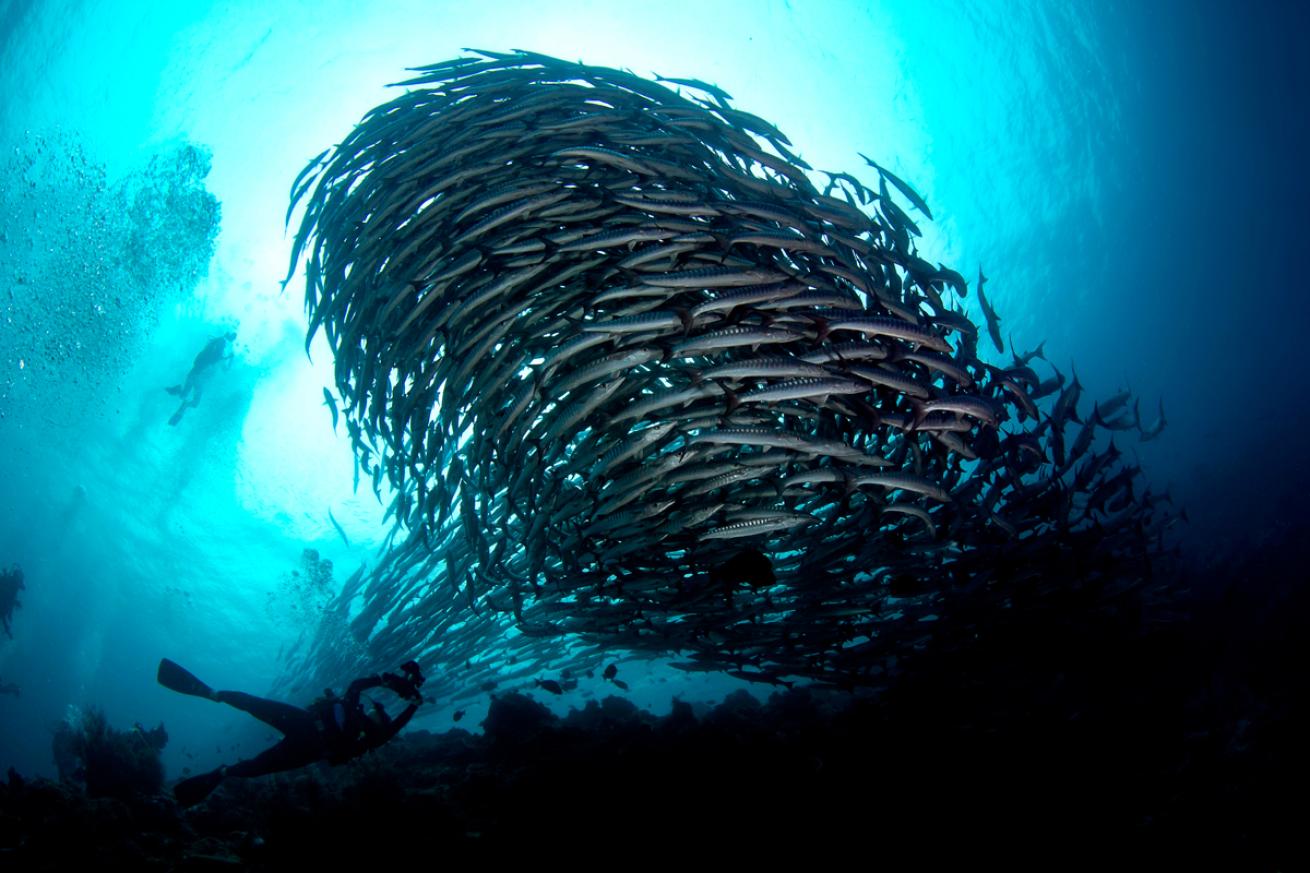 Shutterstock.com/UWBALK
Like torpedoes assembling for an underwater assault, all angled precisely the same direction, the schooling barracudas that amass by the hundreds off the northeast tip of Sipadan's fringing reef are often so tightly woven they block out the sun.
Photographers who descend armed for the challenge of shooting them can capture serious wide-angle wonders at Barracuda Point, while those of us without a rig in tow just relax and enjoy the show.
After you marvel at the sight of hundreds if not thousands of barracudas, the dive finishes on a mellower note atop the site called Coral Garden, where sea turtles and reef sharks can often be seen patrolling. If you're like me, however, your head might be back with the barracuda bomb, so splendid is the sight.
Kailua Pier, Kona, Hawaii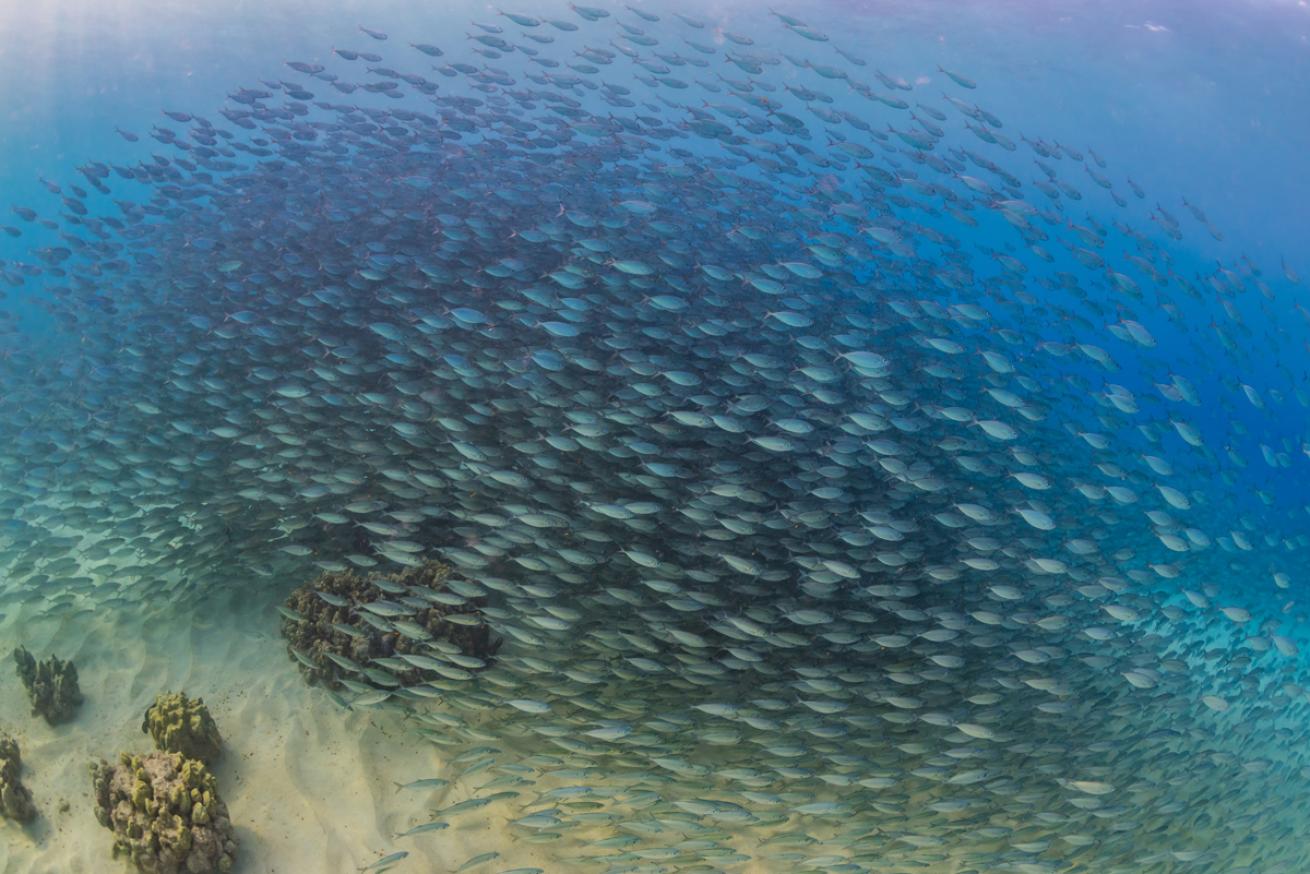 A school of scad in Hawaii.

Shutterstock.com/Melissa Burovac
Divers who head to the Big Island to dive with Jack's Diving Locker are justifiably keen to get out on a boat to explore underwater lava tubes and the like.
But be sure to ask the shop for its free shore diving map, too, and you might find yourself finning among the bait ball of bigeye scad (the Hawaiian name is akule) that tends to school in and around the Kailua Pier, right in downtown Kona.
You can dive the site on your own. But entering the water from the pier itself can be tricky, as you'll have to schlep your gear quite a distance from the parking area. Jack's Diving Locker offers guided pier dives during which you can park right on the pier, easing the process immensely. There are also busy boat channels nearby, so if you don't know the area, diving with a guide is best.