New Divers Find a Sweet Spot at Donut Hole in the Middle Keys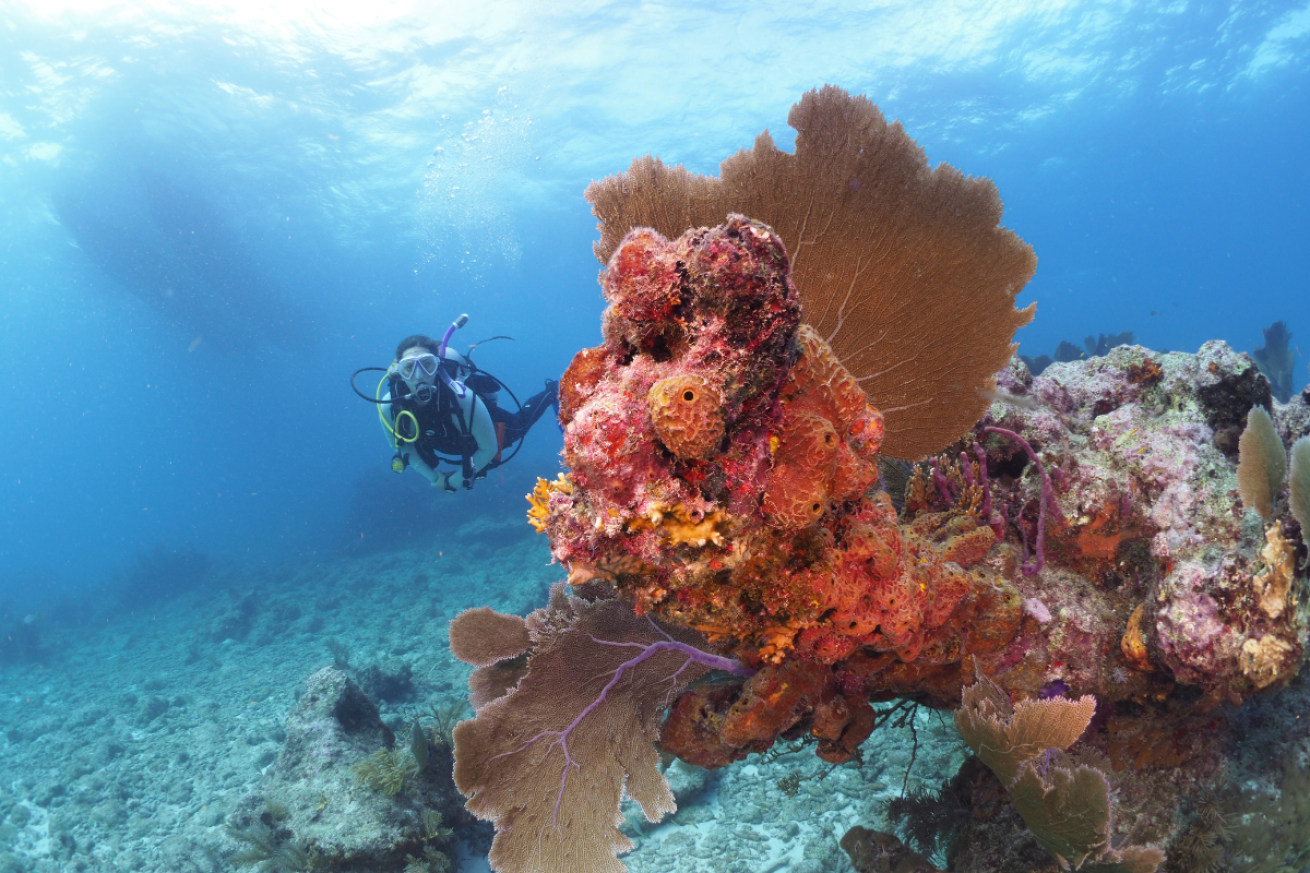 A prime location for novice divers.

David Benz
When your dive guide says you're headed to the site Donut Hole, you immediately conjure a reef that's a lovely confection of corals, fish and sun-dappled waters.
Donut Hole does not disappoint. Right off North Grassy Key, between Duck Key and Marathon in the Middle Keys, it is one of the best shallow dives in the Florida Keys. No wonder beginner divers love this easy and fishy reef.
While many of the reefs within the Florida Keys National Marine Sanctuary are a spur and groove configuration, Donut Hole is a patch reef. A sandy border encircles the reef's round (read: donut) shape, making it particularly easy to navigate without getting lost. Simply keep the reef to one side of your body while you fin along with your buddy or guide, and you'll eventually return to where you started your dive.
"It's exactly like you would imagine it from the name," says Wendy Hall of Tilden's Scuba Center in Marathon, which takes beginner divers to spots like Donut Hole and Sombrero Reef in the Middle Keys when easy and interesting diving is on the day's itinerary.
Patch reefs in the Keys are isolated tracts of circular-shaped reef usually found in near-shore shallows. Though small, these reefs shelter an incredibly rich marine ecosystem.
"Donut Hole is a round reef with higher relief in the middle and a little deeper water on the outside," Hall says. "It's perfect for beginners because it's one of those dive sites where it's pretty much impossible to get lost."
With maximum depths of about 22 feet, the waters stay sunlit and bright at Donut Hole, making conditions ideal for spotting classic Florida Keys marine life such as nurse sharks and stingrays.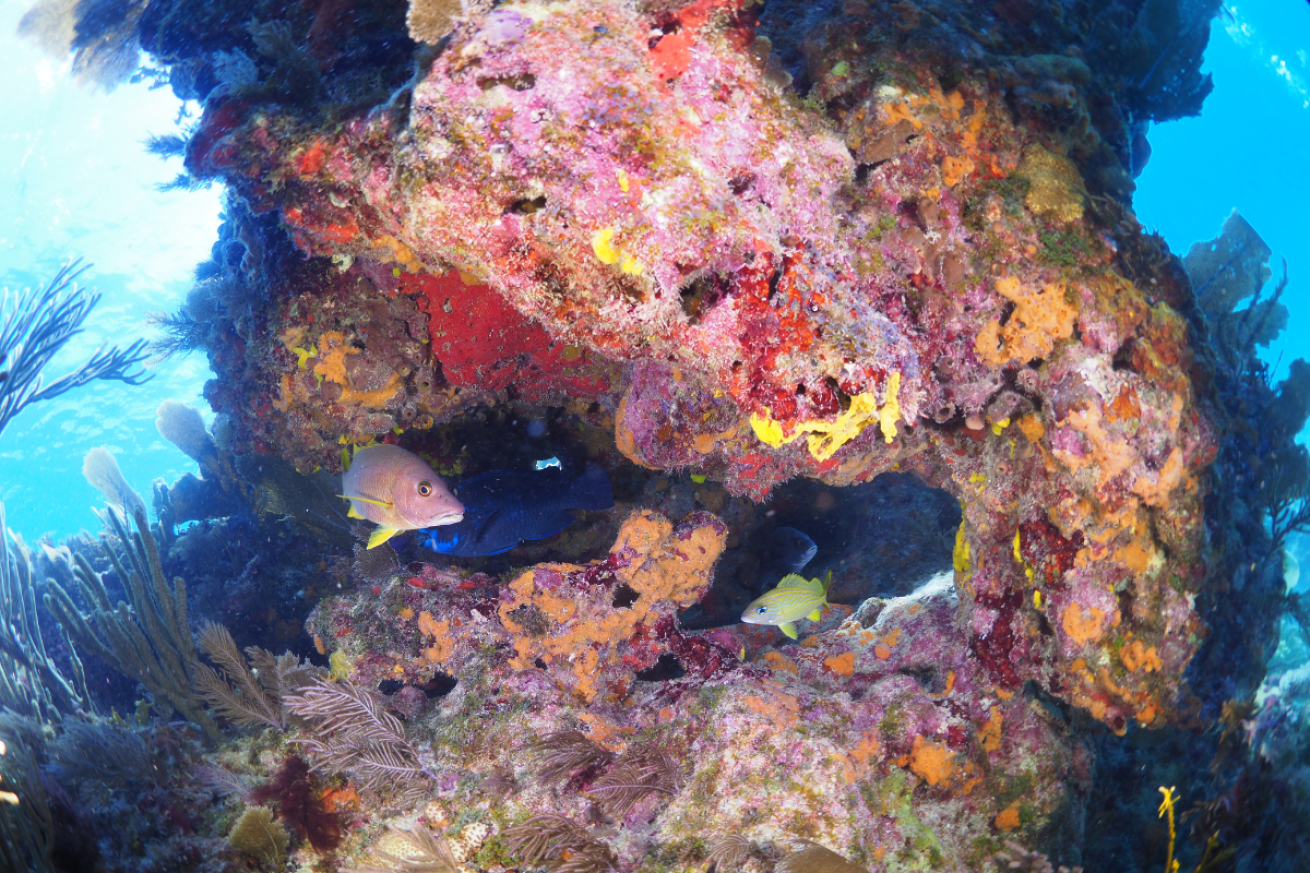 Patch reefs in the Keys are isolated tracts of circular-shaped reef usually found in near-shore shallows.

David Benz
The reef's corals are covered with a thick layer of healthy sponge growth. Diadema–black sea urchins with long spines that consume problematic algae growing atop corals–are abundant at Donut Hole, which only helps maintain the reef's healthy and virgin condition.
The fact that not many dive shops visit Donut Hole mean it's not getting overused, too, Halls says, further enhancing its good looks.
"The Donut is awesome," says Max Ebel of Captain Hook's, a dive shop with outposts in Marathon, Big Pine and Key West. And while it's easy for beginner divers to navigate around Donut Hole's edges to keep track of where they are, Ebel says he prefers to crisscross the reef because there's so much to see. In water this shallow, it's easy to rack up an hour-long dive, too.
"Sharks and turtles are fairly regularly seen here, as well as large schools of yellowtail snapper and grunts," Ebel says. "And keep your eye on the sandy outside border of the reef, where stingrays are often spotted."
The majority of the big schools of fish tend to hang out on the top of the reef at Donut Hole. Your divemaster or instructor can help you spot less commonly seen creatures that dwell at this site, too, including venomous devil scorpionfish and regal angelfish, which tend to be more rarely sighted (look for their bright orange, white and blue stripes) than the more common French angelfish.
"The reef at Donut Hole is really restored because it's away from the places that most dive shops visit," Hall says. "It's a fantastic easy beginner dive and also just a beautiful reef to dive."
Marathon dive sites can be like the assortment of donuts you find in a bakery—so many wonderful choices! But when Donut Hole is on the itinerary, you know you're in for a sweet treat.