Where To Plan Your Next Scuba Vacation
Planning a trip to one of these dive hotspots? Here's what you need to know. Featuring insight from locals, tips for timing seasonal experiences, and the scoop on favorite dive sites, as well as some lesser-known sites you'll want on your radar too.
VANUATU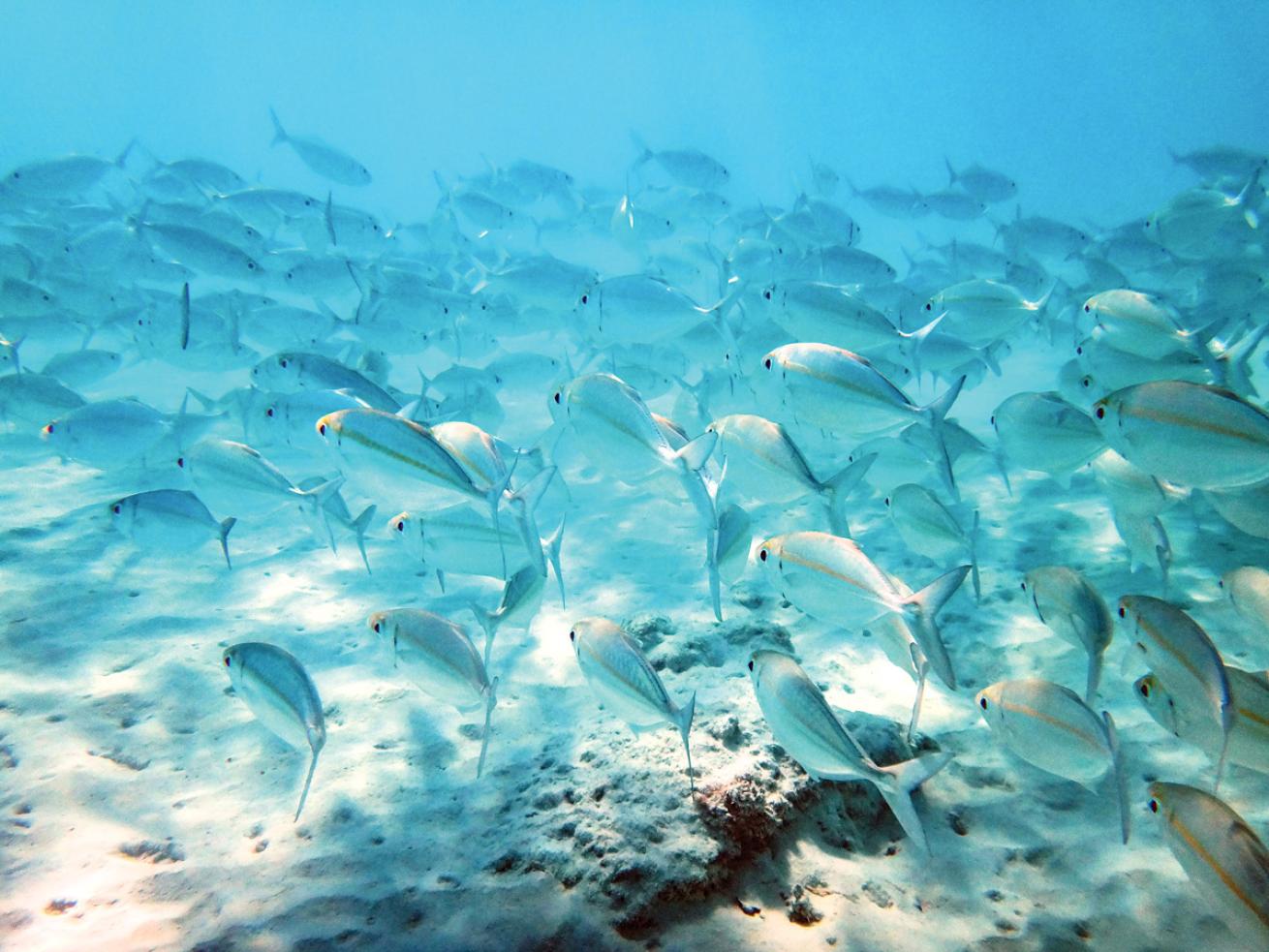 A school of yellowstripe scad on a reef off Espiritu Santo Island.

SHUTTERSTOCK/MARINA RILEY
Under the Radar
This volcanic island chain located more than 1,100 miles off the eastern coast of Australia in the southwestern Pacific Ocean is already pretty darn off the radar for most divers.
But if you're looking to peel back the next layer of dive sites in Vanuatu beyond the famous SS President Coolidge wreck, set your sights on the vibrant coral reefs along Espiritu Santo Island's east coast, says Petter Lambine, of Gone Diving Vanuatu.
Port Vila Bay's marine reserve areas are also teeming with fish. "There are many turtles on the reefs, as well as sharks, stonefish, octopuses, moray eels, and all the beautiful reef fish," Lambine says.
The Classic Dive
Wreck divers who make it to Vanuatu beeline it for the SS President Coolidge, a 615-foot-long former luxury steamship turned troop transport that met its demise after striking a mine offshore Espiritu Santo in 1942 during [World War II.
Related Reading: What It's Like to Dive a WWII Airplane Graveyard
Considered among the most accessible and largest wrecks to dive in the world, the ship rests on its port side, with the bow in around 68 feet of water. It's a veritable playground for divers, with so much opportunity for partial and full penetration in its endless nooks and crannies that you could easily spend a week exploring (and still only scratch the surface).
Dive Report
Recent nautilus sightings have been exciting for guests and staff at South Pacific Memories resort in Port Vila, says Lambine. "They seem to stay around for a couple of weeks, and then they are gone for a few months before they come again," he says. "Luckily, we have been able to share these encounters with several of our dive guests."
Plan a Trip
The winter months in Vanuatu— from April to September— bring migrating humpback whales into the bay of Port Vila. "From March and April, as we come into the cooler months, the visibility of the waters of Vanuatu is incredible too," says Lambine. "And it's also still nice and warm for wetsuit divers."
Second-Time Visitor
The "Land of Smiles" is home to famously friendly people as well as some fascinating local customs.
For just three months of the year, between April and June, you can see "land-diving" ceremonies on the island of Pentecost, north of Port Vila, that are said to have been the inspiration for modern-day bungee jumping. From high atop towers built from wood and vines in the jungle, boys and men fling themselves into the abyss of air below. And it's breathtaking stuff to witness.
ROATAN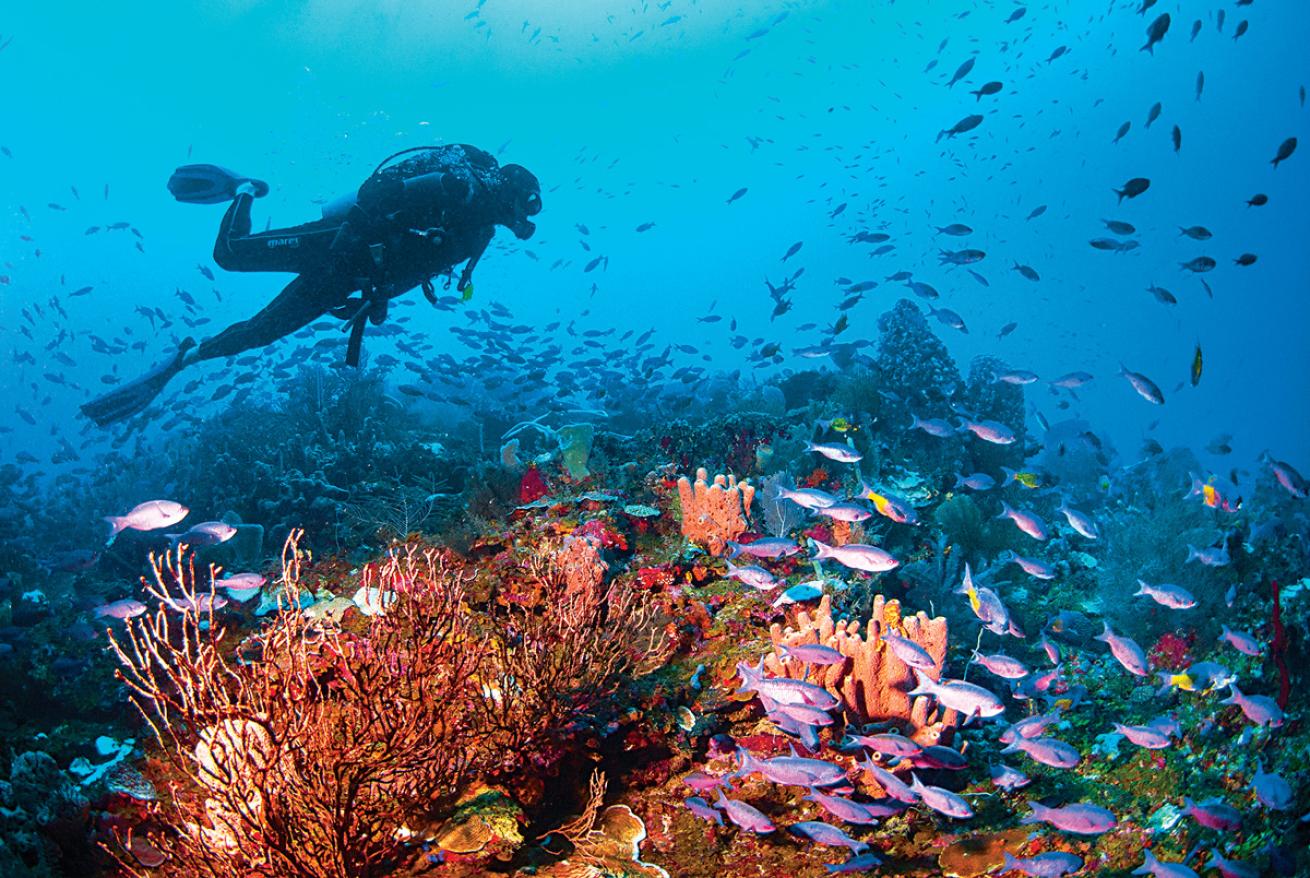 A diver fins among a school of creole wrasse at Cayos Cochinos.

ANTONIO BUSIELLO
Under the Radar
Not many people know about the seamounts of Cayos Cochinos, says Irma Korb, of Reef Gliders Dive Center. Located off western Roatan, this area was formed by the Roatan Banks reef and consists of underwater mountain ranges that make for spectacular diving. Cayos Cochinos consist of two small islands— Cayo Menor and Cayo Grande—and 13 smaller coral cays situated on the northern shores of mainland Honduras. "They're lost in the turquoise Caribbean waters, surrounded by amazing underwater banks and seamounts," Korb says.
The Classic Dive
Considered among the best dives in all of the Caribbean, the site called Mary's Place on the south side of Roatan consists of vertical reef walls surrounding a plateau, and it's teeming with life. The wall is broken apart in places and at around 90 feet forms a canyon that's super interesting to swim through, says Axel Wyngaard, of Duna Divers, which operates out of the Ibagari boutique hotel on Roatan. Look for deep-water gorgonians and black coral in addition to fairy basslets and schools of silversides and horse-eye jacks, among much more marine life.
Dive Report
"You can dive the reef three times a day, every day, and there is always something interesting to see and not get bored on a dive," Korb says. Visibility is also excellent year round. "And thanks to the Roatan Marine Park, the reef is well looked after," she says.
Plan a Trip
You can see whale sharks in the waters of Roatan year round, but between the months of March and October they're particularly prevalent, says Wyngaard. "They're more frequently seen during those months due to the reproduction of blue land crabs," he says. "Later, [the whale sharks] go up north to Mexico with the bonito spawning."
Second-Time Visitor
The fishing community of Oak Ridge, on the south side of Roatan, is a great place to escape the bustle of the island's west side for some peace and quiet, Korb says. "Oak Ridge is a very picturesque spot, where residents build their colorful houses on stilts, and mountains and rainforests present a beautiful backdrop to enjoy as you explore the area."
FLORIDA KEYS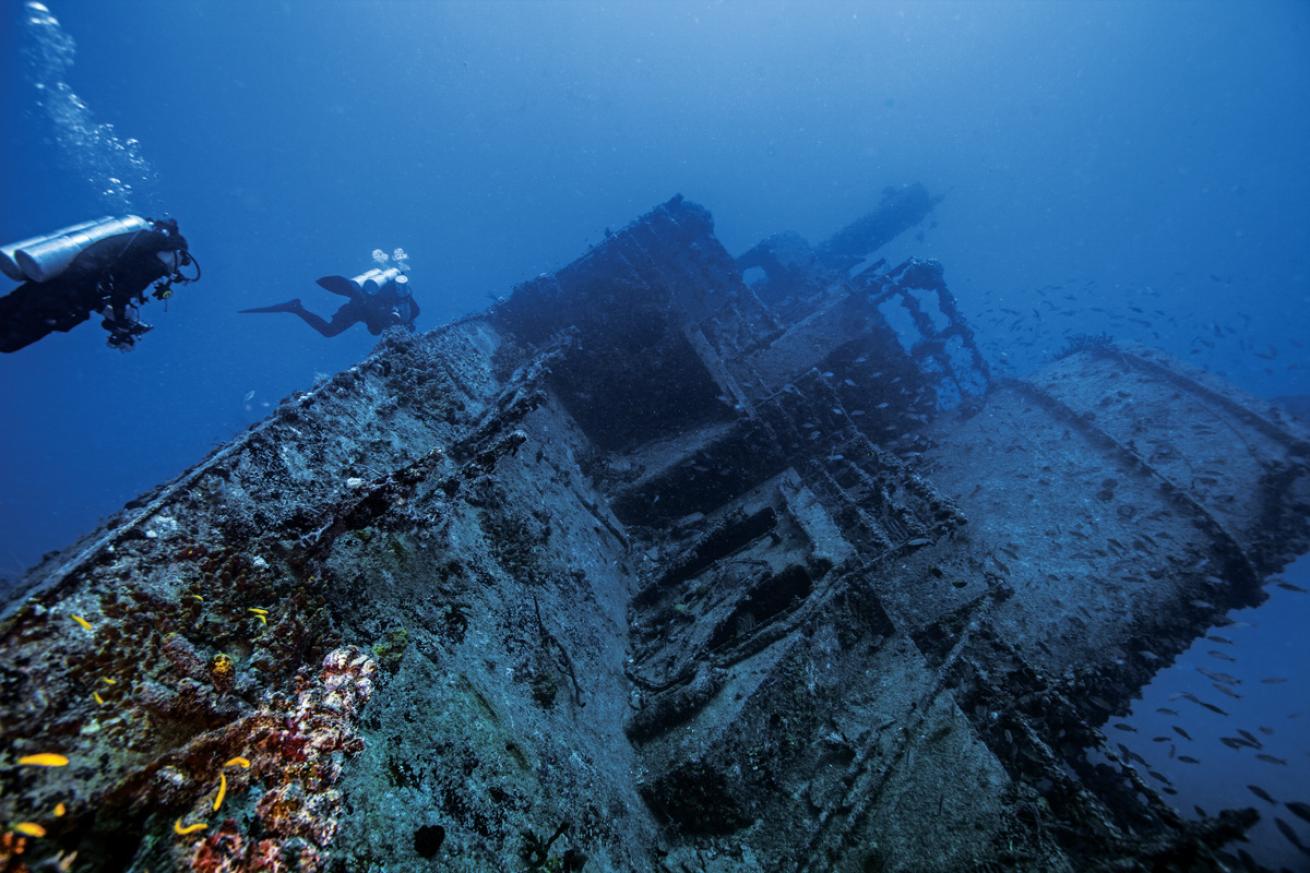 The Eagle wreck rests at a max depth of 110 feet off Islamorada.

SHUTTERSTOCK/OFF AXIS PRODUCTIONS
Under the Radar
Off Key Largo, within the Florida Keys National Marine Sanctuary, Carysfort Reef is an excellent dive site that's often overlooked, says Dan Dawson, of Key Largo dive shop Horizon Divers. "The coral heads are huge, and we see lots of pelagic fish life due to proximity to the deeper water," Dawson says. "Not many shops go up there as it's a longer boat trip, but since our dock is closer it allows us to do so regularly."
The Classic Dive
With nine fascinating and diverse shipwrecks to be dived along the Florida Keys Wreck Trek—from the USNS General Hoyt S. Vandenberg in Key West to the Eagle off Islamorada — you're never far from satisfying a lust for rust in these parts. In Key Largo, it's impossible to miss the USS Spiegel Grove, a 510-foot-long former Navy landing ship reborn as an artificial reef that's absolutely loaded with life and full of cut-outs for divers to explore. "There's tons of stuff to see on the crane arms; they're completely encrusted in coral," says Dawson. "I've done more than 1,200 dives on the wreck and still find things that are just as interesting as day one."
Dive Report
Winter's colder water temperatures have recently brought an influx of bigger creatures to sites off Islamorada and elsewhere in the Keys, says Eric Billips, owner of Islamorada Dive Center and the Florida Keys Dive Center. "Over the course of a recent week, we've encountered a manta ray, tiger shark and many dolphins," he says.
Plan a Trip
Reef Environmental Education Foundation's 14th annual Florida Keys Lionfish Derby & Festival takes place September 7 to 10 at Postcard Inn Beach Resort & Marina in Islamorada. Come for two full days of hunting this invasive species, as well as lionfish tastings and lionfish-inspired games and crafts for kids.
Second-Time Visitor
It's easy for divers to spend most of their time underwater in the Florida Keys, with its many reefs and wrecks. On a return visit, says Dawson, consider renting a kayak to paddle through Key Largo's beautiful, labyrinthine mangrove tunnels.
---