12 Stunning Underwater Images from Scuba Diving Magazine's Photo Contest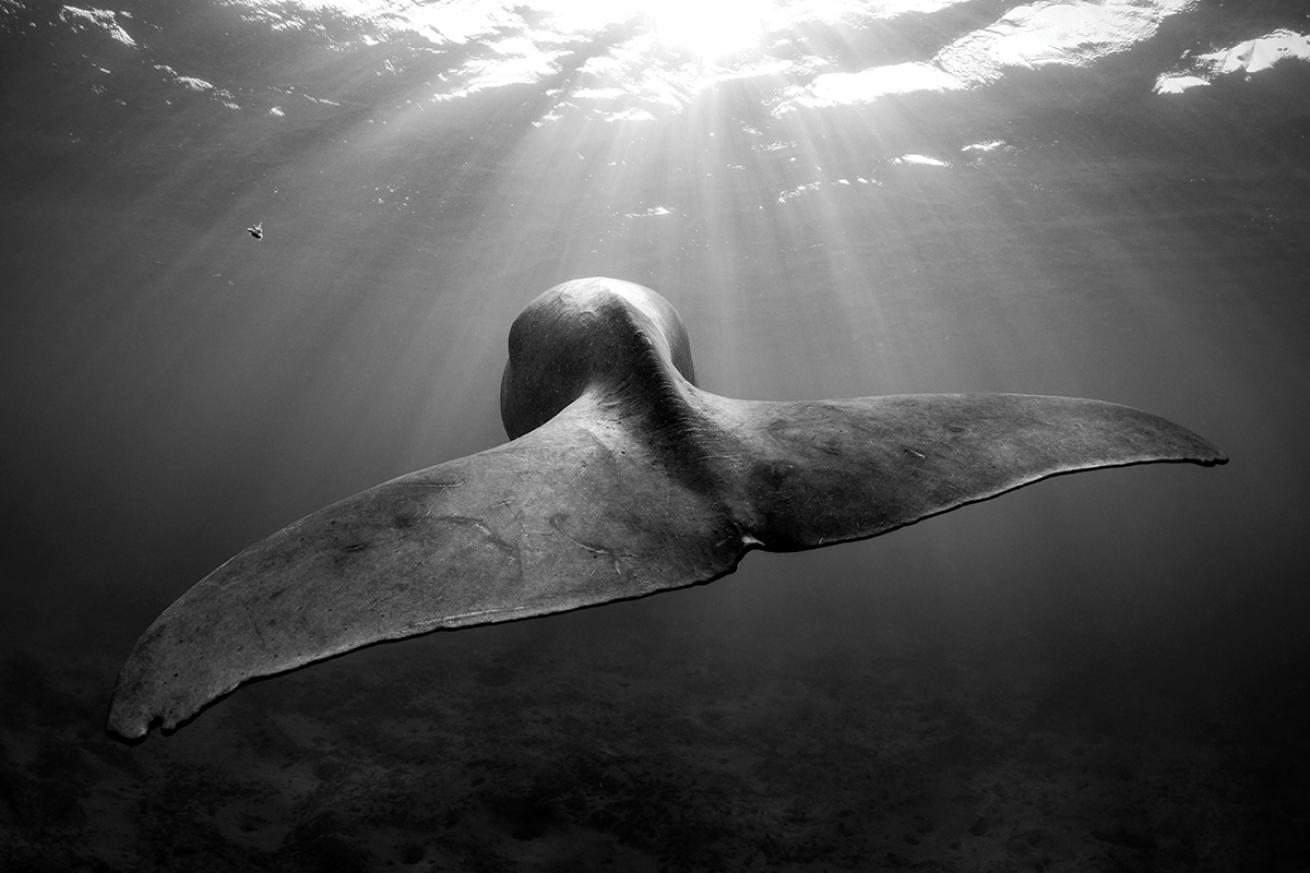 Renata Romeo
Behind the Shot
Last year, during the pandemic, the only activity allowed in the Red Sea was snorkeling. This gave us the opportunity to have this surprising encounter. While snorkeling in Marsa Alam, we met this dugong, resident of Marsa Egla Bay. He was resting in the shallow water in order to come up for a breath from time to time, but he was also very social, playing around with us. I chose black and white for this picture of his caudal fin under the rays at sundown to emphasize its majesty.
Gear
Canon EOS 90D in an Easydive Leo3 housing; Tokina 10-17 lens; no strobes
Settings
f/9; 1/200; ISO 160
Nick Van Riemsdijk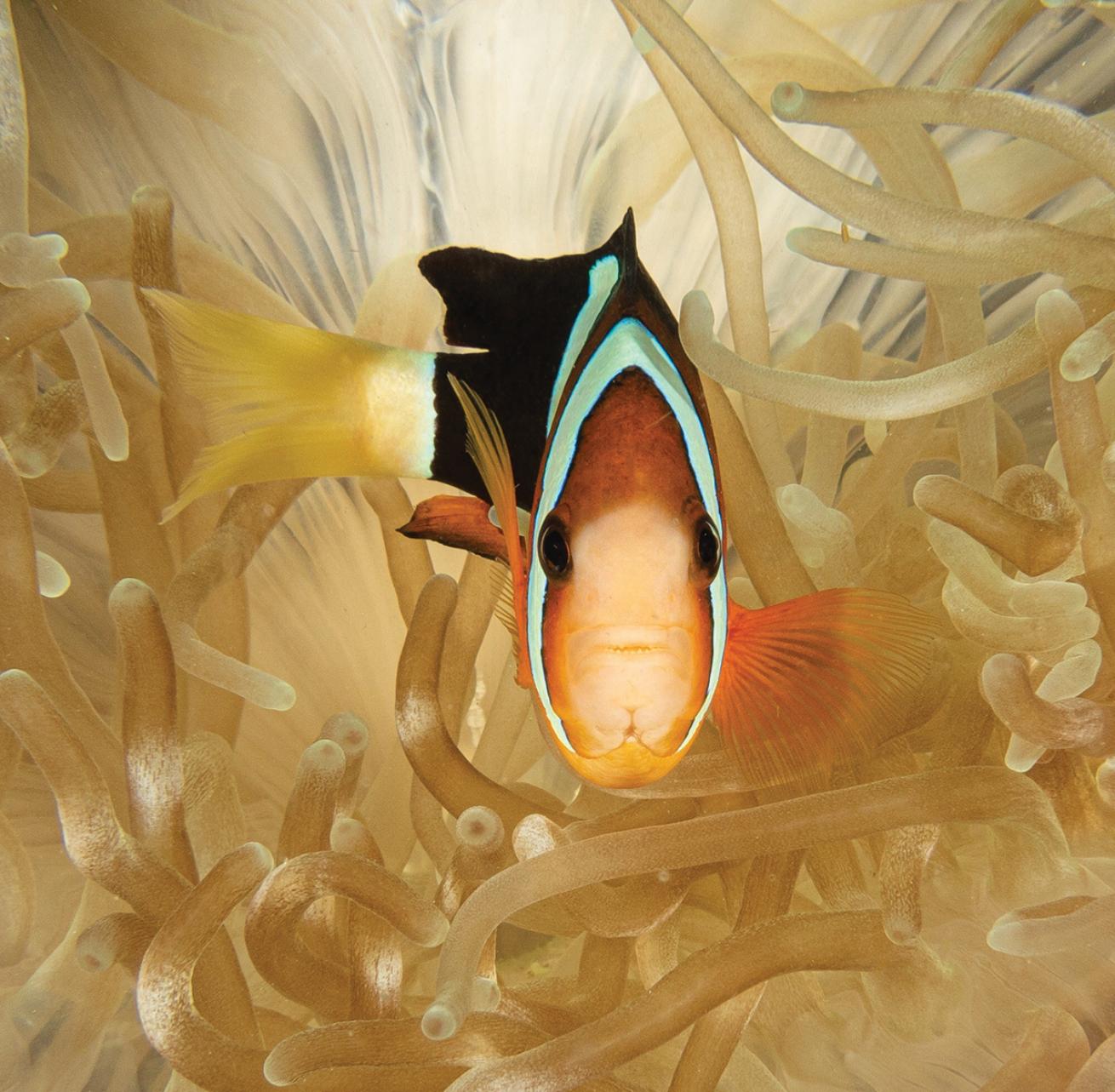 Talima Marine Reserve, Cebu, Philippines

Nick Van Riemsdijk
Behind the Shot
I ventured out from strict quarantine in the city and was amazed at how the Talima Reef had transformed in a good way after a total boat ban for six months in the region. I never pass up the opportunity to try to get an anemone and clownfish shot, and I am always trying to get one where the fish is facing into the lens. This time I got lucky with this Clark's anemonefish.
Gear
Canon G7X MkII in a Fantasea housing; AOI UWL-09 lens; two S2000 Inon strobes
Settings
f/10; 1/125; ISO 125
Richard Condlyffe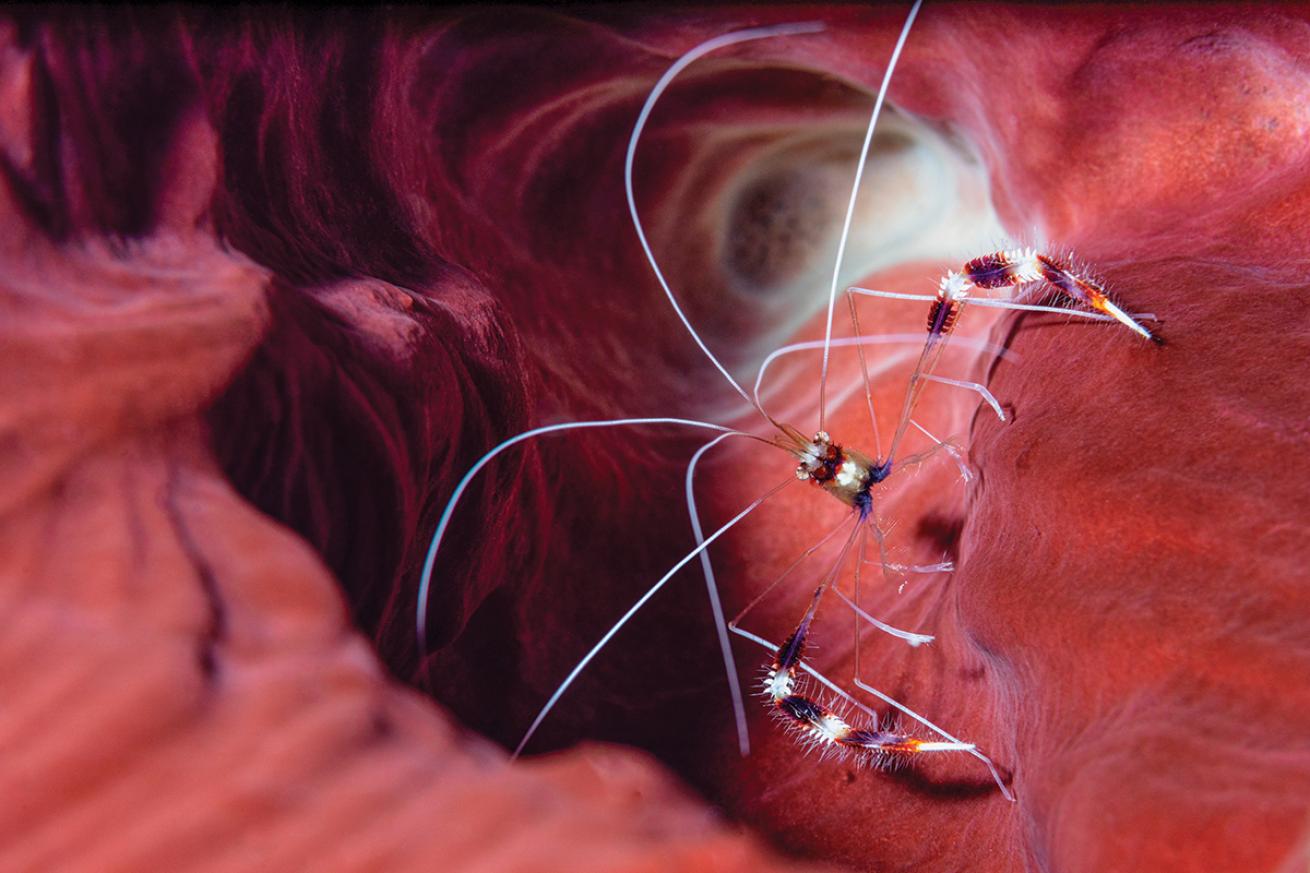 West Caicos, Turks and Caicos

Richard Condlyffe
Behind the Shot
This image of a banded coral shrimp, common to the Caribbean, was taken at West Caicos, one of the Turks and Caicos Islands. I found this one hiding within the recesses of a sponge and was drawn to this composition by the shades of reds, pinks and whites. Fortunately, this often timid subject posed compliantly for long enough to get a sharp image of it, with the shades of pink and red rolling into the depths of the sponge. I enjoy the challenge of creating appealing images of common subjects, so this one was very satisfying.
Gear
Sony a7R IV in a Nauticam housing; Sony 90mm Macro G OSS lens; two Sea&Sea YS-D3 strobes
Settings
f/13; 1/250; ISO 100
Suzan Meldonian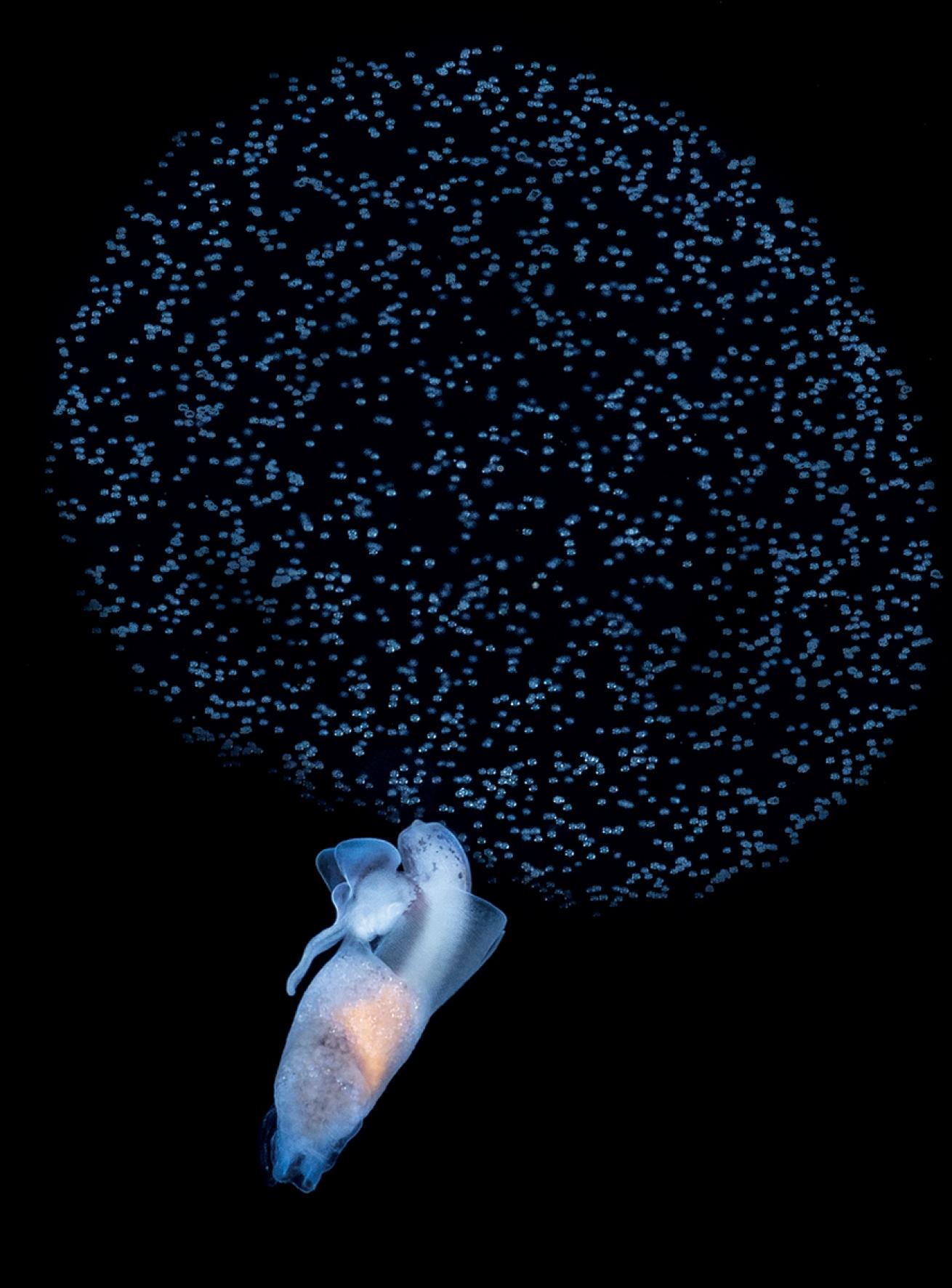 Suzan Meldonian
Behind the Shot
All year long, the world's largest migration occurs in our oceans— every night. It is called the "vertical migration." Plankton, pelagic and holopelagic animals rise to the surface to feed or be fed upon. Many of the critters are larval. This type of imagery is accomplished while black-water diving out in the open ocean, at night, drift diving over depth, within safe recreational limits. The subject was less than one-sixteenth of an inch. This sea angel species is very shy to lights, but it was hovering while dispersing its egg mass, giving me the opportunity to compose the shot.
Gear
Nikon D500 in a Nauticam housing; Nikkor 60mm lens with an Inon 10x diopter; dual Inon Z-240 strobes with two focus lights
Settings
f/13; 1/250; ISO 200
Yury Ivanov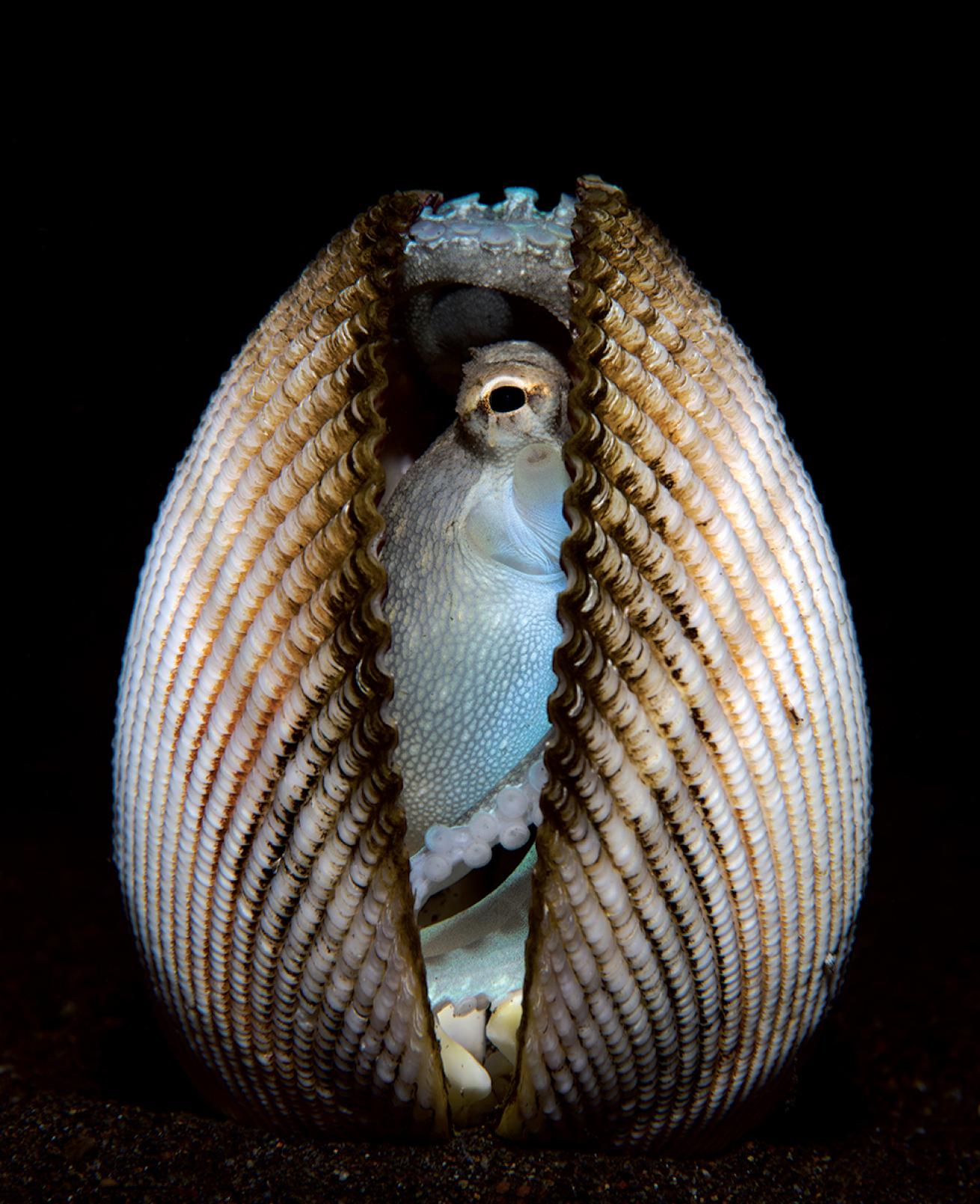 Rye Pier, Victoria, Australia

Yury Ivanov
Behind the Shot
While on a night dive in one of my favorite sites, I found a beautiful shell—and it was moving. Looking closely, I saw a coconut octopus inside it. They are very intelligent animals, and they are always trying to find something out of which to build a house. Often they use empty coconuts, but "my" octopus was luckier, and got a nice shell as a castle. I waited for an interesting moment, and pushed the button. The photo was taken at a depth of 16 feet.
Gear
Nikon D850 in a Nauticam housing; Nikon 105mm macro lens; Inon Z- 330 strobe
Settings
f/16; 1/250; ISO 64
Jay Clue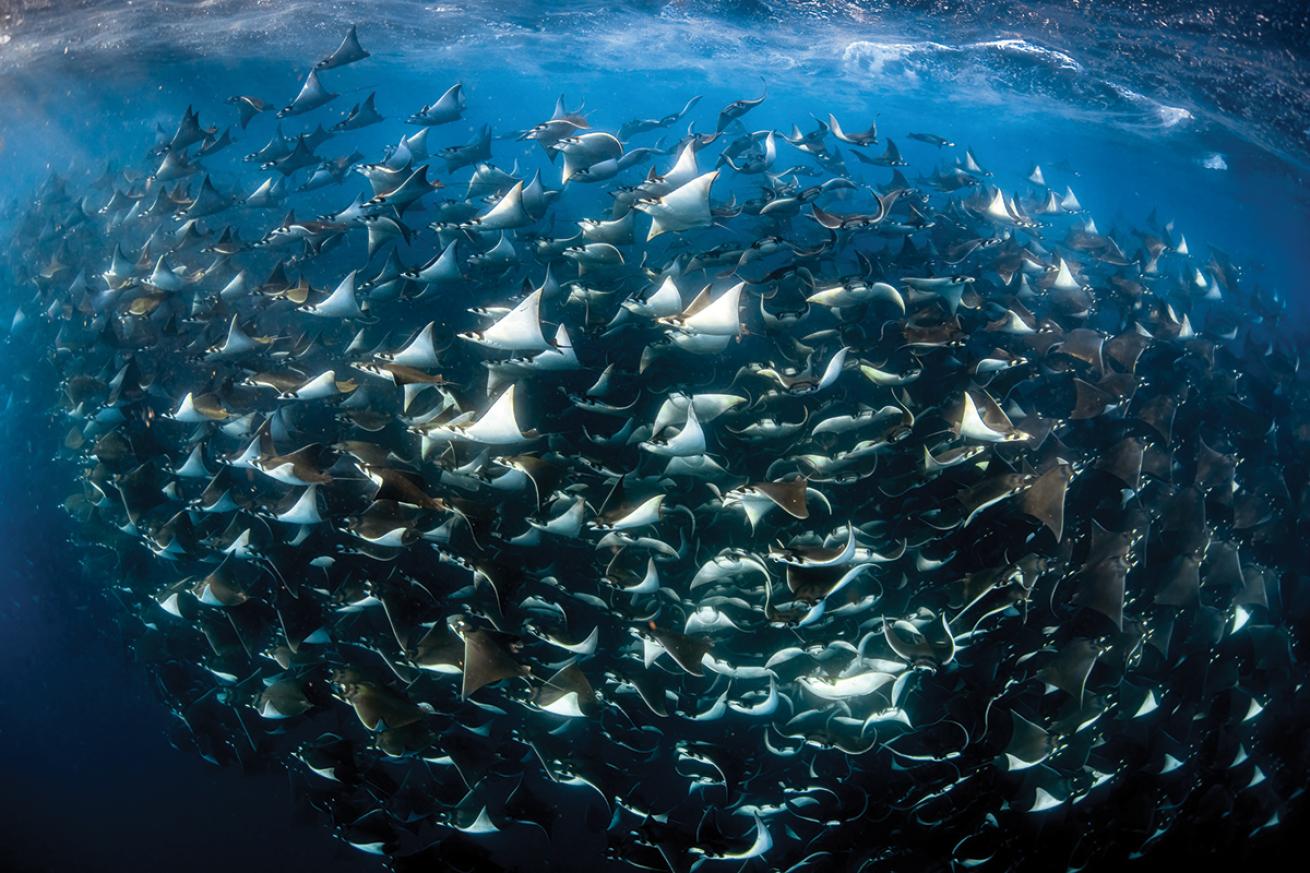 Jay Clue
Behind the Shot
Twice a year in Baja we are blessed with aggregations of Munk's devil rays. They're incredibly gentle creatures. If you're patient and approach them softly, they slowly begin to realize you are not a threat. On certain occasions, like this day, they will welcome you to soar within their schools. Freediving with gigantic aggregations of a creature the IUCN currently lists as Vulnerable to become endangered is bittersweet. While incredibly beautiful, it's a solemn reminder that this mind-blowing spectacle of nature may not exist in a not-so-distant future if more of us aren't inspired to protect them.
Gear
Sony Alpha 7R IV in a Nauticam housing; Sigma 15mm FE lens
Settings
f/8; 1/250; ISO 1250
Scott Portelli
Scott Portelli
Behind the Shot
Green sea turtles devour a giant jellyfish, picking off the remaining morsels as helpless fish watch on while their symbiotic home is slowly reduced to an empty hull. While diving at Julian Rocks in Byron Bay, I came across a number of turtles taking advantage of a slow-moving jellyfish to grab a quick meal. I spotted them close to the surface and watched their behavior before I approached. Oblivious to my presence, they continued to fight for the best position to feast on the soft tentacles of this ocean voyager.
Gear
Canon 5D MKIII in a Seacam housing; 16-35mm lens; two Ikelite DS-161 strobes
Settings
f/10; 1/200; ISO 250
Sam Glenn-Smith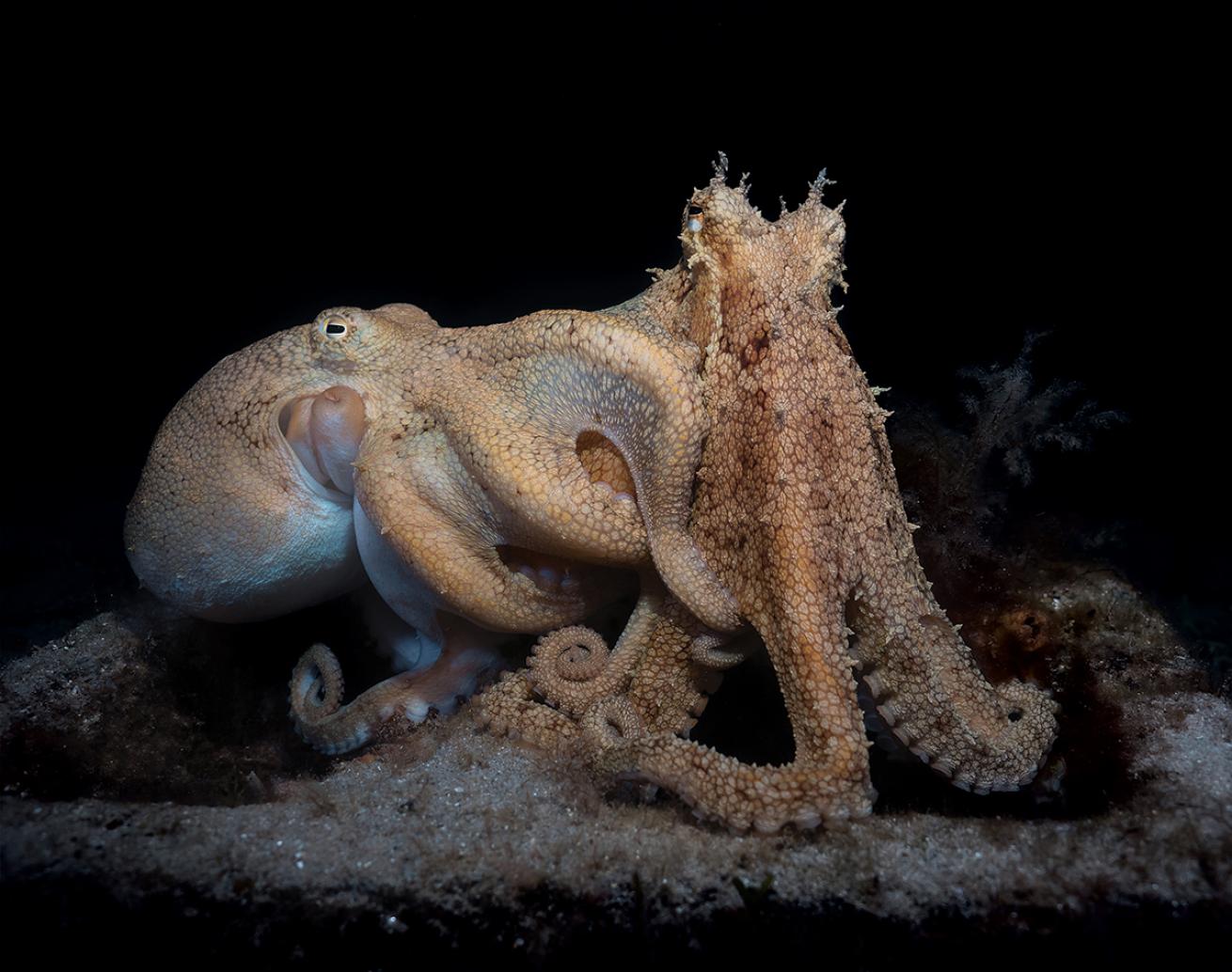 Rye Pier, Victoria, Australia

Sam Glenn-Smith
Behind the Shot
During the cold winter months, pale octopuses emerge from their dens to mate. For two months, local divers were fortunate to witness multiple pale octopuses mating. It was truly breathtaking: 20 minutes of these two gorgeous animals intertwining as they mated. It was a dream come true for me, and to be able to produce a photo of the event that I am proud of is something I will remember for many years to come.
Gear
Olympus OMD EM1 Mk2 with Olympus 12-40mm f2.8 Pro lens in an Isotta housing; two Sea&Sea YS-D2 strobes
Settings
f/2.8; 1/125; ISO 100
Giacomo Marchine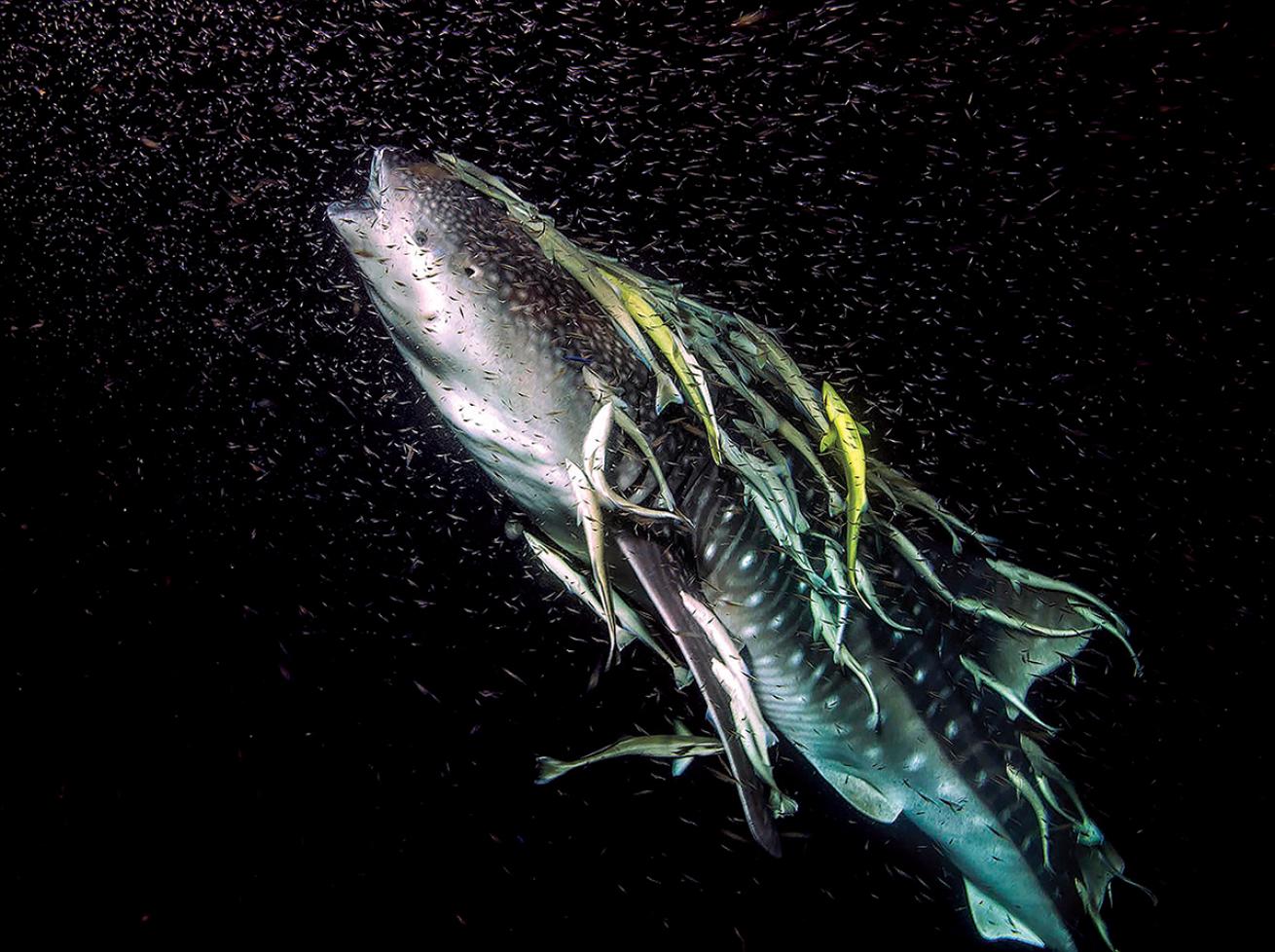 Giacomo Marchine
Behind the Shot
The photograph was taken during a night dive in the Maldives, at Suvadiva Atoll. Usually cruise boats moor in the lagoons inside the atolls for the night and turn on the stern lights. These lights attract clouds of plankton and small shrimp that filter feeders are fond of. Just one evening as we were finishing dinner, a large whale shark began circling under the boat. I didn't think twice. I got ready and dived with my equipment to shoot this wonderful animal. It was exciting, as this giant of the sea stood a few meters from me and filtered large quantities of plankton.
Gear
Nikon D800E in a Seacam housing; Nikon 17-35mm lens; two Sea&Sea YS-120 strobes
Settings
f/8; 1/50; ISO 500
Raffaele Livornese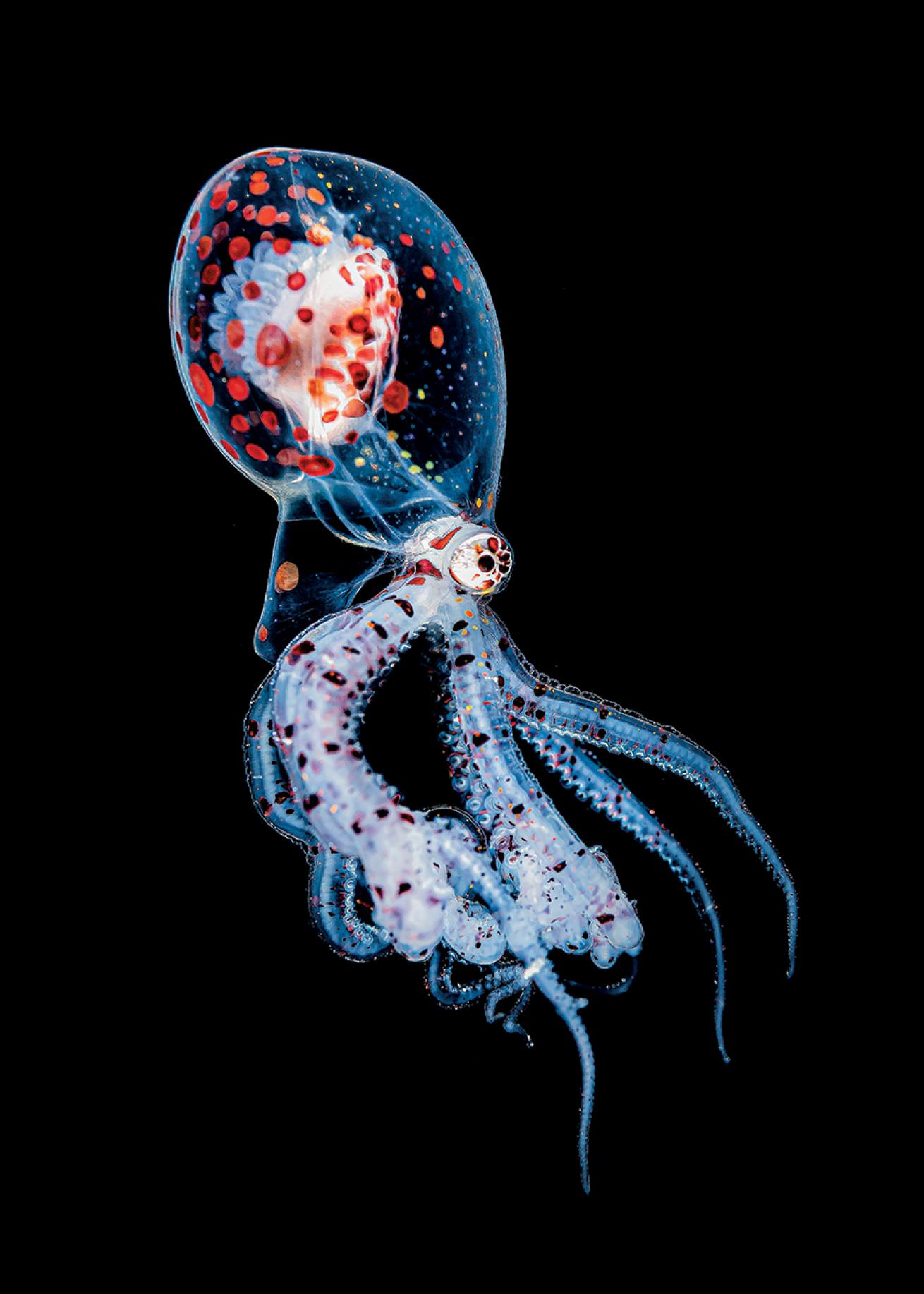 Raffaele Livornese
Behind the Shot
This is a small juvenile wonderpus octopus. At this age, its head is completely transparent and you can see the brain. This shot was taken during a black-water dive above 600 meters of water, while waiting for small critters to come to the surface from below to catch their lunch.
Gear
Nikon D850 in Hugyfot housing; Nikkor 60mm macro lens; two Inon Z330 strobes; Orcatorch D910V focus light
Settings
f/22; 1/250; ISO 320
Thomas Van Puymbroeck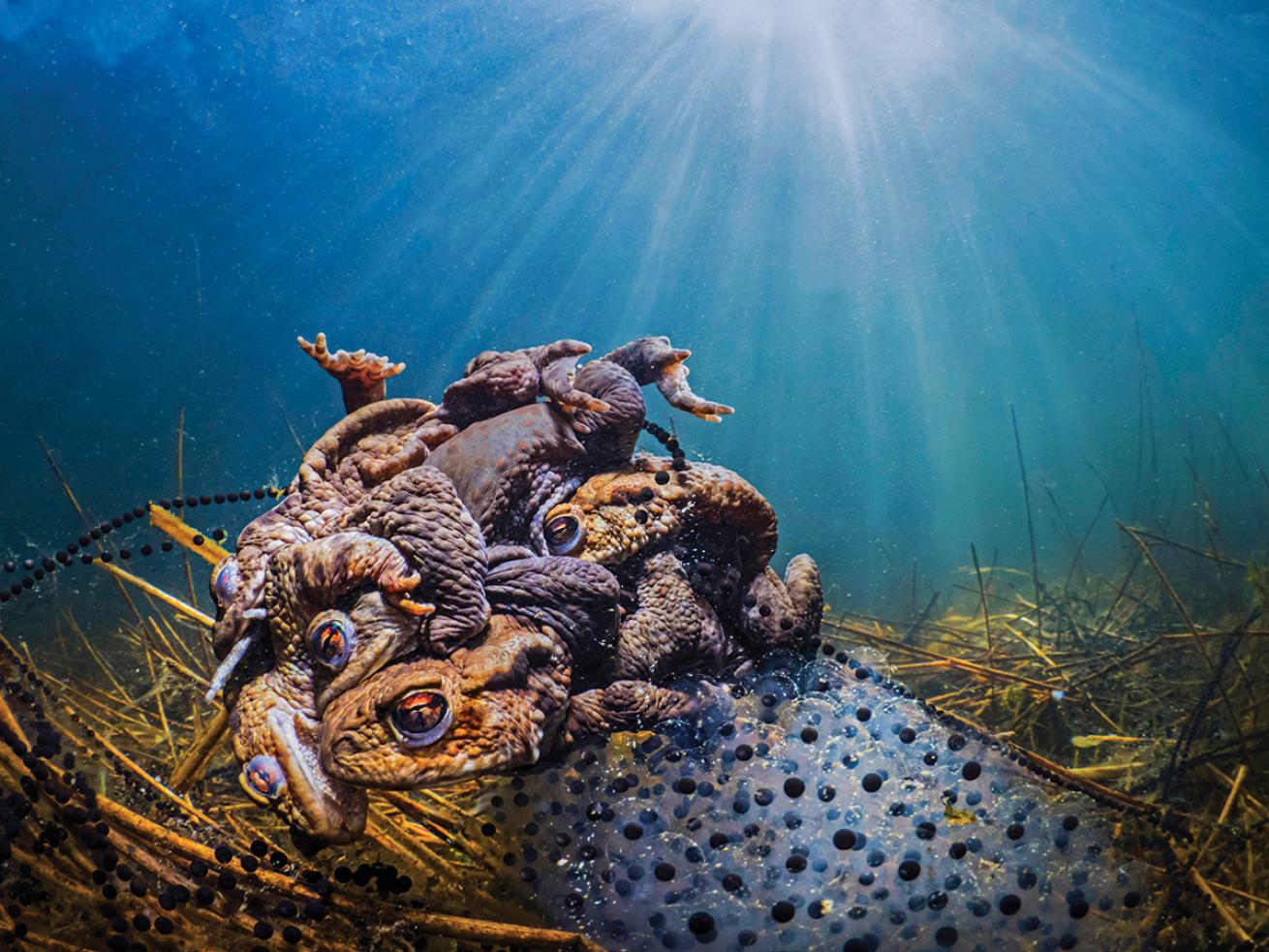 Thomas Van Puymbroeck
Behind the Shot
If the male toad encounters a female, he clasps his partner tightly in an embrace called amplexus, and they piggyback for the rest of their journey. The toads that make it to the breeding ponds join a frenzy of thrashing bodies, as each male tries to fertilize the strings of toad spawn produced by the larger females. I was lucky to find this bunch of toads on a sunny day.
Gear
Olympus E-M1 III; Backscatter mini flash; Olympus 8mm fisheye lens
Settings
f/14; 1/250; ISO 800
Alex Permiakov
Tulamben, Bali, Indonesia

Alex Permiakov
Behind the Shot
There is no thrilling story behind this shot of a Tambja morosa nudibranch. When in macro mode you just scan the sandy bottom hoping to find a gem, and once you get it, do your best to have some good shots!
Gear
Nikon D850; Nikkor 105mm 2.8; Nauticam housing; UCL165 wet lens; Backscatter MF-1 strobe with snoot
Settings
f/22; 1/200; ISO 125
---
---