Thank You Scuba Diving Photo Contest Sponsors
Going for glory is all well and good, but our contest wouldn't be what it is without prizes from these generous donors.
Grand Prize and First Place Sponsor Prizes: Aggressor Adventures Liveaboard Vacations
It's all about the photos on these liveaboard trips led by a pair of shooters with decades of experience.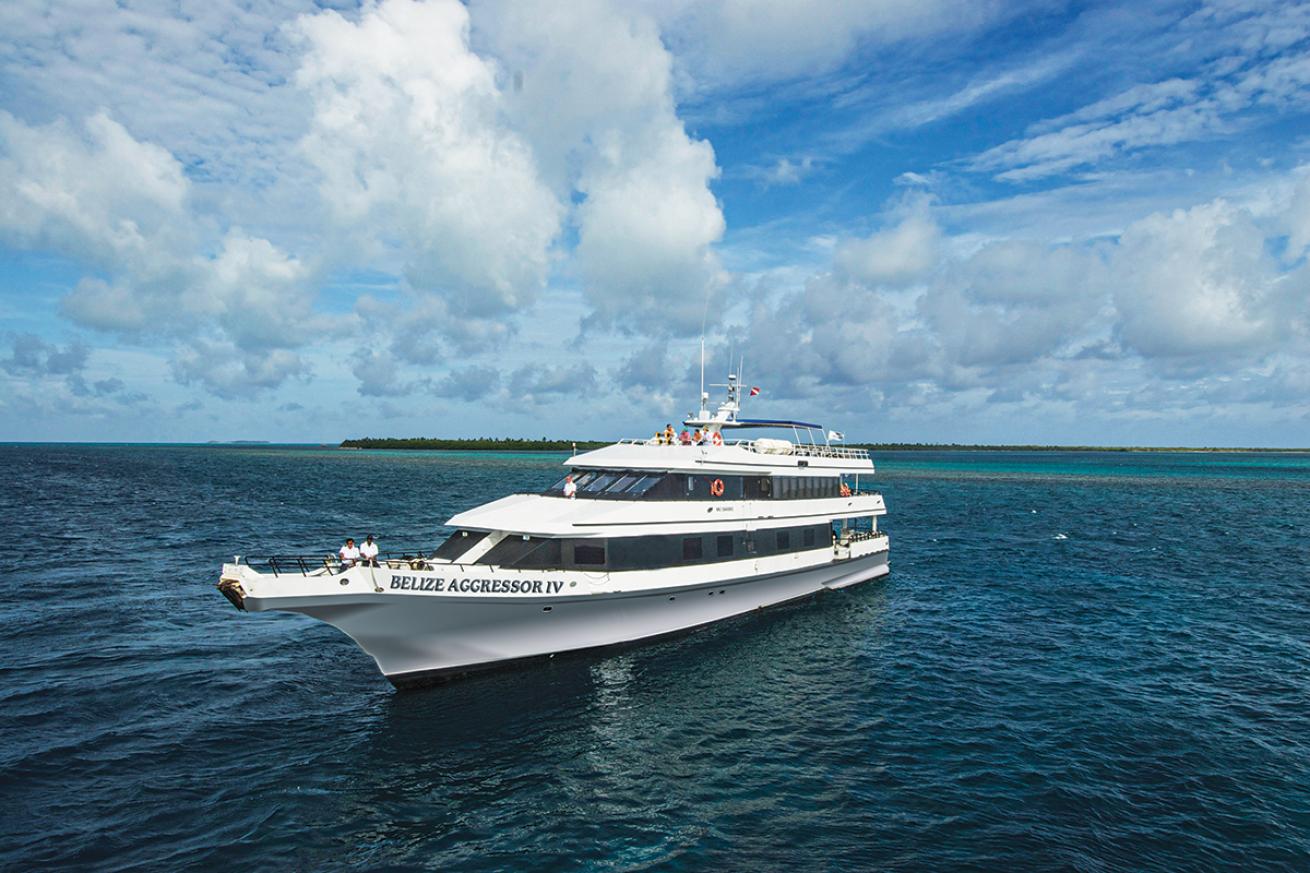 This year's grand prize: a trip on Belize Aggressor IV.

Courtesy Aggressor Adventures
Aggressor delivers professional-photographer-led trips that are unlike any other in the business: Their photo pros aren't there to shoot their own images. "What is important to us is the camera in your hand," says Mike Mesgleski, one half of the Mike & Mike Photography School, offered exclusively aboard Aggressor liveaboard boats.
Mesgleski's co-teacher is Mike Haber; both men have more than 30 years of experience as underwater photographers. Together, they pack each day full of as much instruction as each diver wants. It's like any liveaboard week—you can opt in for the dive or not, and so too can you decide how much one-on-one instruction you want topside and in the water. The Mikes also give talks about everything from metering and strobe positioning to software and post-production.
The school is available to any shooter, regardless of experience level. "We make sure everybody has a good time and takes some good pictures no matter what kind of camera they have," says Mesgleski.
Mesgleski does encourage newer shooters to consider destinations closer to home, which in 2022 include the Bahamas, Belize and Cayman Islands. "In these destinations, you don't have to go to the site in a skiff, so there's more time for teaching," he says of this style of trip, where the dive platform is the stern of the mothership.
The school is offered six to eight times a year, rotating among all the destinations in the Aggressor catalog.
That diversity of destinations, including Galapagos, Red Sea and Palau, is one of the reasons repeat guests have come on as many as 20 trips and counting. "When they are on one of these trips, they know the dives are all going to be photo-focused—you'll never be the only shooter," says Mesgleski.
Second Place Sponsor Prizes: Scubapro Regulators
This industry-leading gear manufacturer leverages its solid reputation among divers to help the oceans.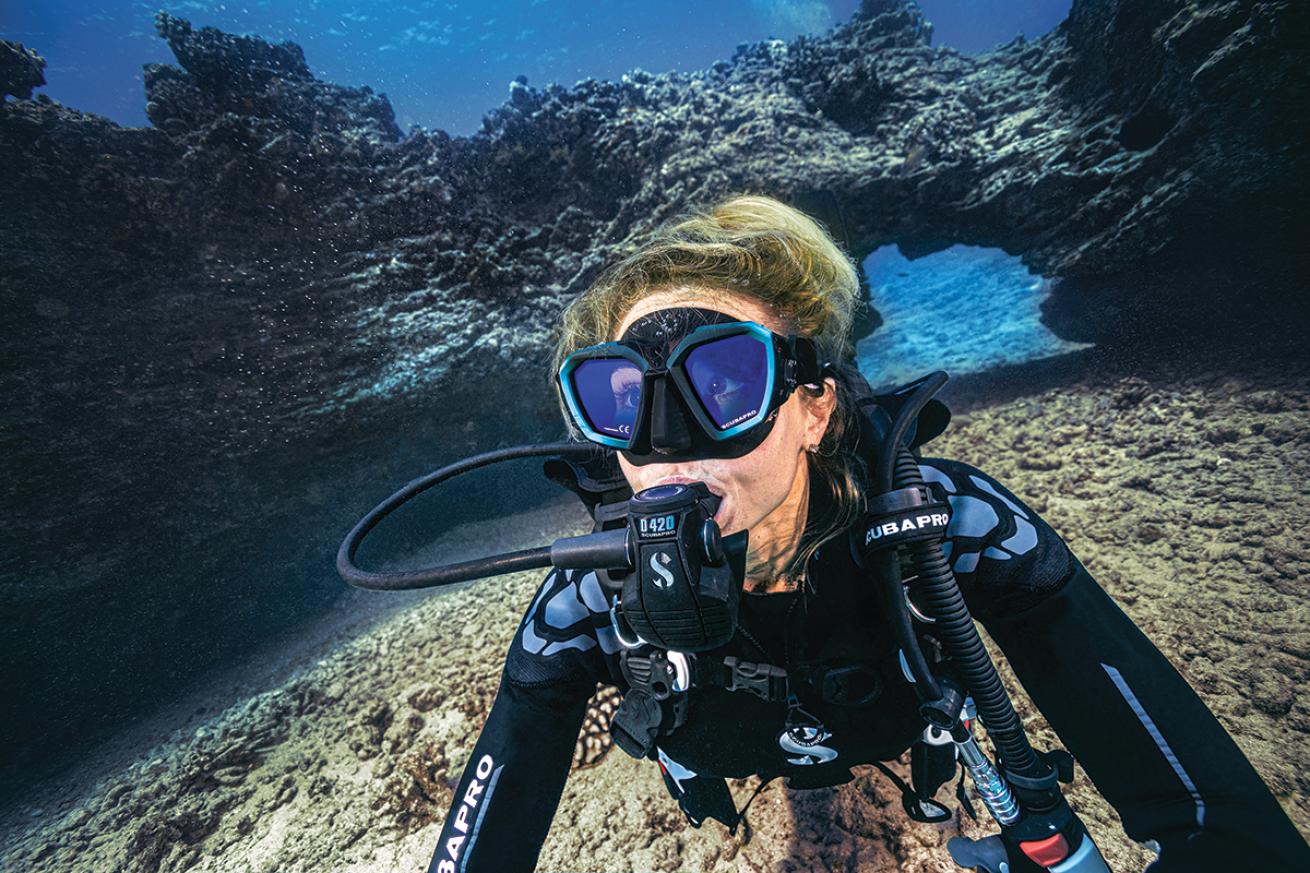 A diver with the D420 reg, part of this year's prize package.

Courtesy SCUBAPRO
Scubapro doesn't want professional underwater photographers—or any diver, for that matter—to think about their gear when in the water. Since 1963, this indus- try leader has stayed on top by allowing divers to focus on the reason they explore under the surface.
"This gear lives up to the expectations of the experts," says Brent Durand, professional underwater shooter and Scubapro Brand Ambassador. "Scubapro makes gear that is trusted by the experts—cinematographers and photographers around the world—because they know it's high quality and will be there for them," he says.
The list of image-makers and other creatives who trust Scubapro is long, including IMAX 3D underwater documentary filmmakers Howard and Michele Hall, oceanographer Dr. Sylvia Earle, Andy Casagrande of Shark Week fame, magazine photojournalist Tobias Friedrich and five-time Emmy Award-winning cinematographer Stan Waterman.
Scubapro is committed to these artists for one big reason: "Supporting them in their missions helps us raise awareness for the ocean," says Durand. Along with raising awareness for ocean causes, Scubapro incorporates technology that helps save the environment, such as the solvent-free Aqua Glue used to reinforce its wetsuits or the special neoprene made from limestone instead of petroleum to have less environmental impact.
Third Place Sponsor Prizes — SeaLife Camera's Photo Video Lights and Underwater Smartphone Housings
Ease of use and affordability allow photographers of all levels to focus on the dive while taking quality pictures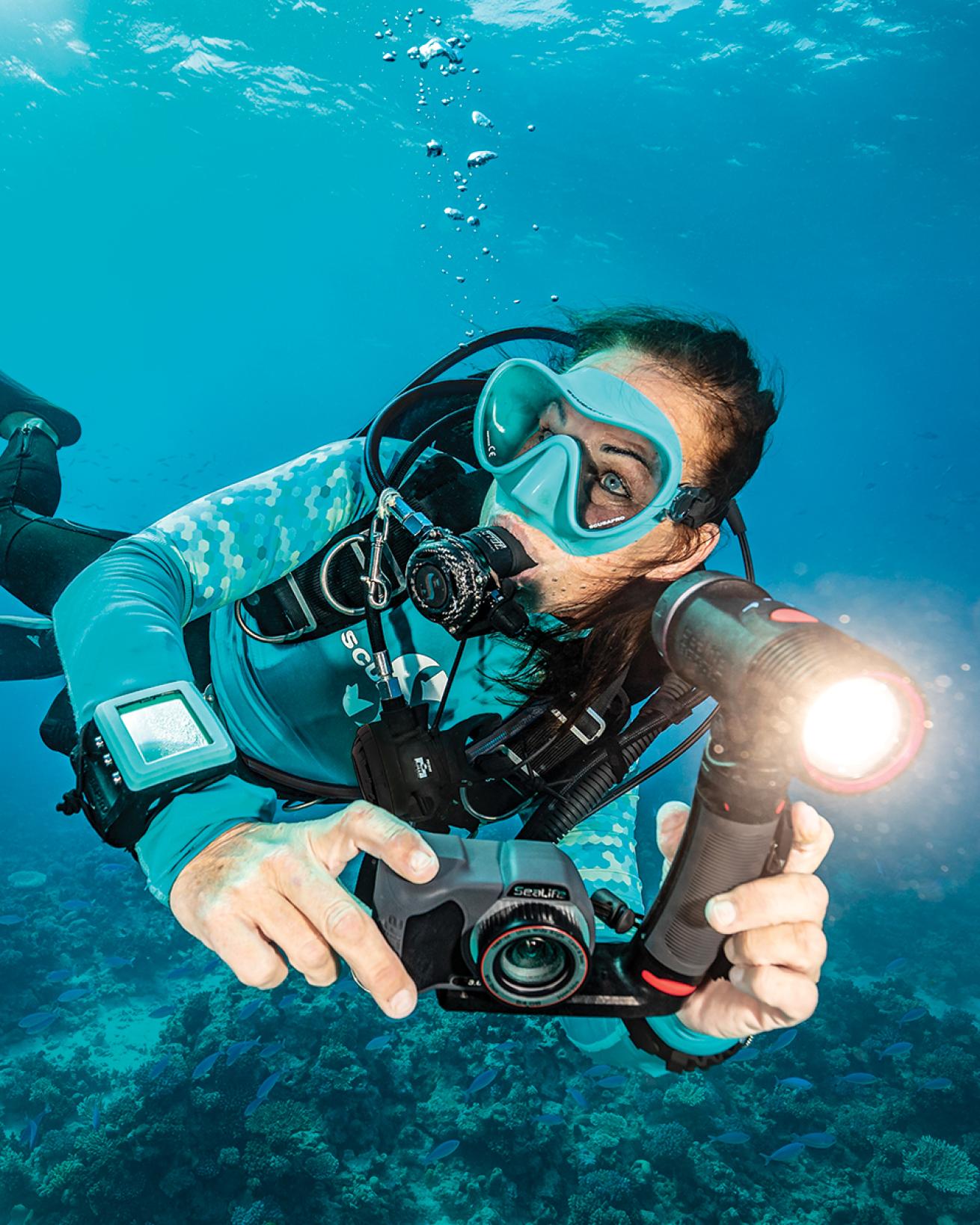 The permanently sealed SeaLife Micro 3.0 camera.

Courtesy SeaLife Cameras
SeaLife has remained a dive industry leader for 25 years thanks to its commitment to a simple and proven concept: delivering easy-to-use, affordable underwater cameras that take wow photos. It launched its first design—the ReefMaster—in 1996, and it's still going strong, recently introducing the new SportDiver smartphone underwater housing.
This family-owned company, makers of binoculars and telescopes, moved into the underwater space after a sailing trip to the Bahamas. Founder Wolfgang Harms wanted to jump in the water to quickly and easily capture the dolphins, angelfish and reef life of the destination. He didn't want to waste time with complicated camera setups.
SeaLife offers a handful of additional camera and housing systems, as well as a full complement of trays, arms, lights, mounts and more, conveniently interchangeable between SeaLife camera setups.
Because the cameras are so accessible, they're a great fit for newer divers and those who are new to underwater shooting—but they're also for experienced divers who want a relaxing in-water experience. "Many of our customers are seasoned divers and shooters who want it simple so they can focus their dive on nature's beauty," says Sven Harms, vice president of SeaLife and son of founder Wolfgang.
---