24 Reasons to Dive the Cayman Islands
This one-stop drop zone clearly covers all the bases.
Reefs, walls, wrecks — the Cayman Islands has it all.

Simon Morley
With best-in-class viz, some 500 fish species, scores of reefs, walls, wrecks and accommodating dive centers, it's no surprise the triplets of Grand Cayman, Little Cayman and Cayman Brac are often cited as the birthplace of recreational diving in the Caribbean. (What other island nation claims 365 named dive sites, one for each day of the year?) And talk about convenience: Shore dives to fishy grottoes are for the taking, while popular drop zones visited by area dive centers are never more than a 10-minute boat ride away. Put it all together, and the Cayman Islands is the diving dream so many other islands can only envy.
The Cayman Islands took home the following 15 accolades in the 2018 Scuba Diving magazine Readers Choice Awards:
FIRST PLACE
Visibility
Photography
Technical
SECOND PLACE
Best Overall
Conservation
Big Animals
Wrecks
Walls
Beginners
Snorkeling
THIRD PLACE
Macro
Cave, Cavern, Grotto
Shore Diving
Advanced
Freediving
VISIBILITY
1 ) 100-PLUS, 24/7
You want big viz anytime, anywhere? Welcome to the Cayman Islands. Its porous limestone geology and flat elevation combine to prevent almost all runoff that clouds water. Add deep oceanic upwellings that recharge the water column with clean, clear H2O, and you've got conditions often described as "unlimited."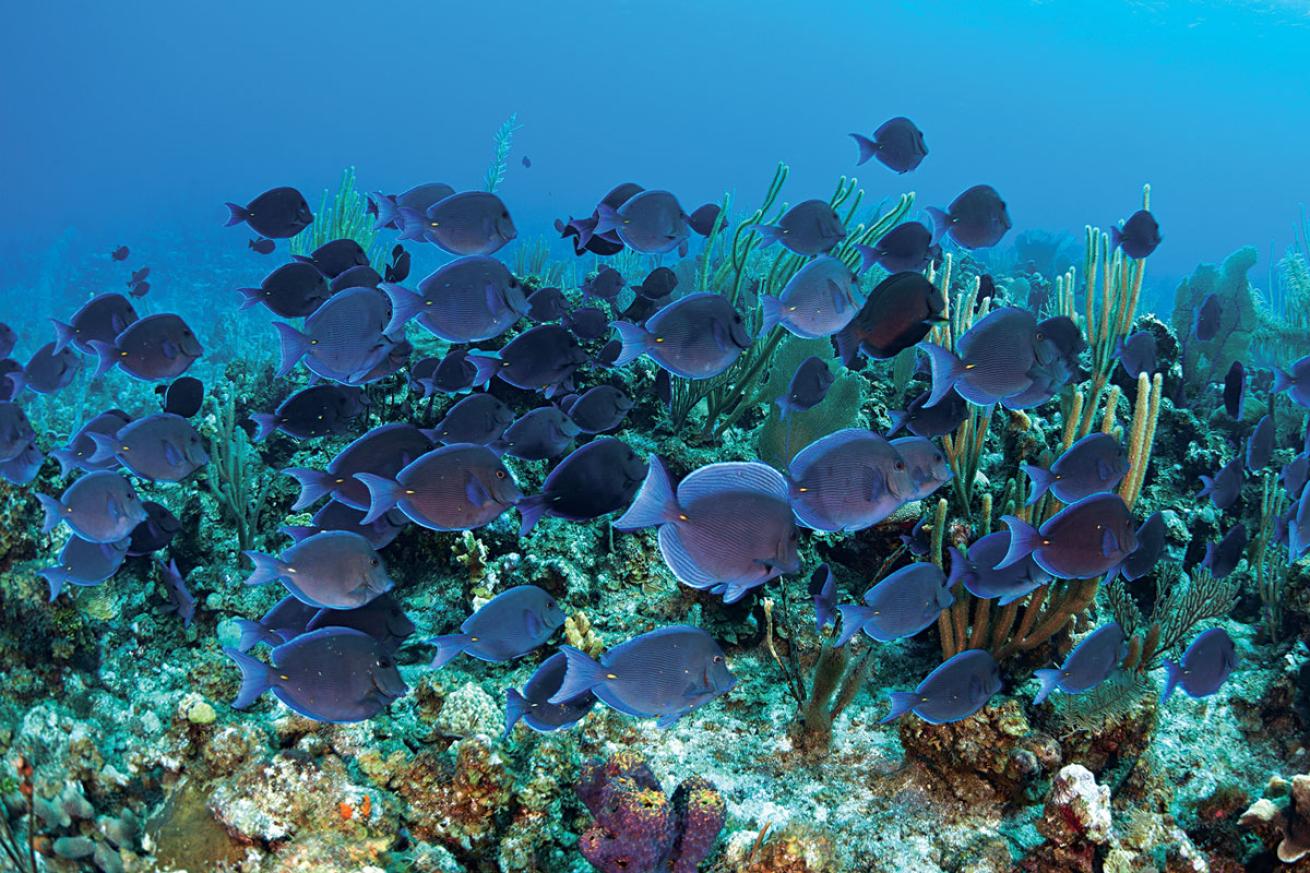 The marine life is abundant in the Cayman Islands.

Shutterstock
2 ) CORAL GLORY
With clear water comes untold wonders at Elkhorn Forest, a shallow site off Cayman Brac's south side. That's a good thing — the exquisite finger coral heads swarming with tiny juvenile reef fish and photogenic stands of elkhorn coral are best appreciated in crystal-clear conditions.
3 ) ALL THAT GLITTERS
Nothing shouts "viz" like the resident schools of platinum-clad tarpon and silverside minnows that shimmer like beacons at Devil's Grotto. This south Grand Cayman shore dive not only gets kudos for clarity, but also for its honeycombed coral formations and interconnecting tunnels ranging from 20 to 50 feet deep.
4 ) UNDER THE BIG TOP
Thank Neptune for the nearly unlimited visibility here; Cumber's Caves off Little Cayman is like an underwater circus — and you don't want to miss the show. We're talking four 50-foot-deep entrances to a cave exiting at 100 feet; a wall covered with an array of corals and sponges; turtles, rays, jacks, snapper, lobsters, sharks — you get the picture.
5 ) INCOMINGS
Drop down 80 feet at Black Hole, turn left, and you'd best keep your eyes peeled at this Little Cayman southside site. If not for the predictably clear water, you might miss the green turtles, reef sharks, eagle rays, barracuda and other wayfarers consistently passing by.
PHOTOGRAPHY
6 ) SAY "CHEESE"
Big Tunnel off Grand Cayman takes you through a coral archway above a sheer wall at 100 feet. As your buddy passes ahead through the arch, snap! And voilà — a diver framed by coral against an endless blue background gets immortalized.
7 ) FLYBYS
Eagle Ray Rock is a gorgeous dive off Grand Cayman that routinely sees flights of eagle rays along the wall section. Beginning at 55 feet, the top ledge is where divers can scout for rays gliding in from the blue. No shows? Train your lens on the colorful sponges, black coral and sea fans.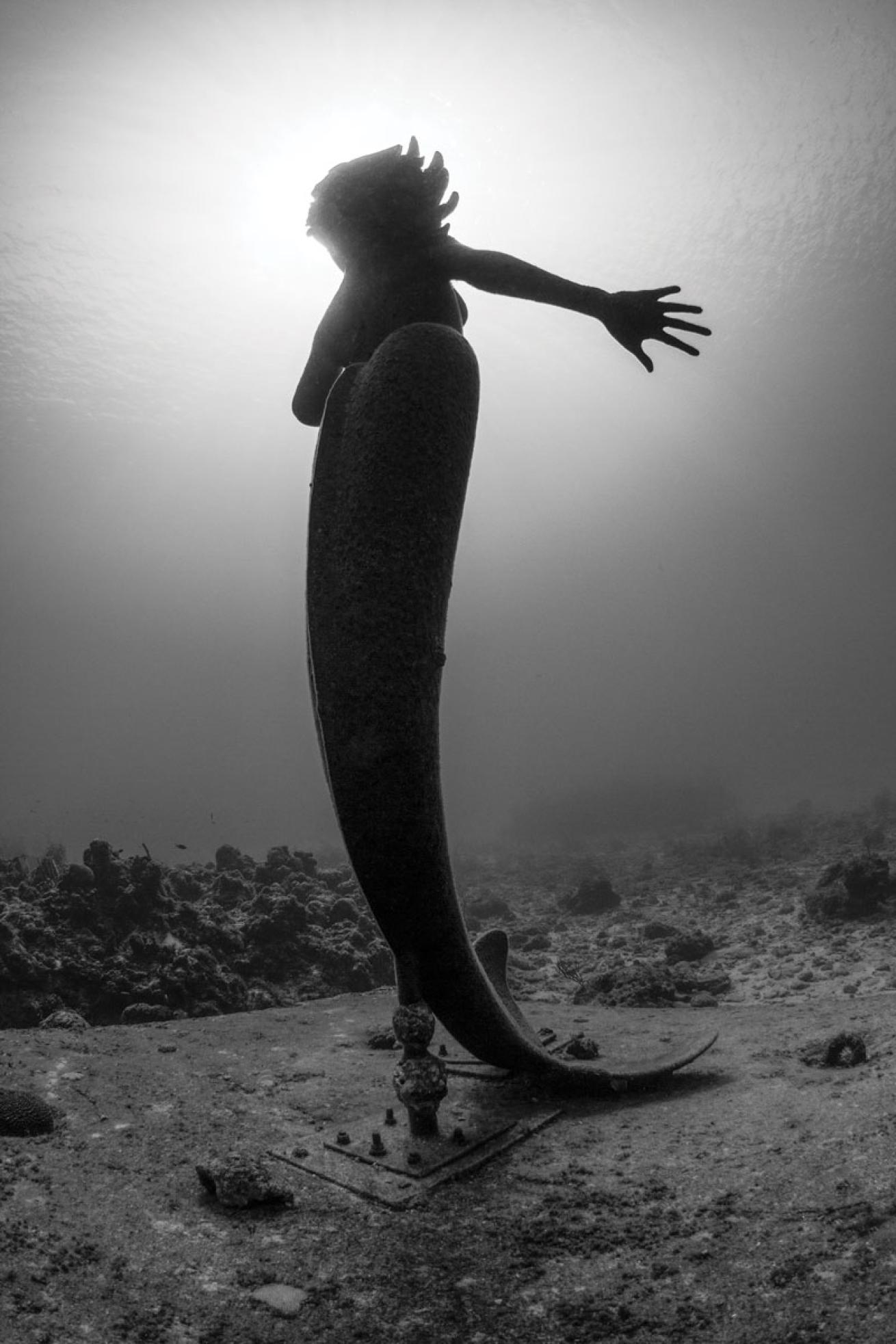 Amphitrite is the name of this underwater mermaid statue that resides about 50 feet underwater, off the beach at Sunset House on Grand Cayman Island.

Shutterstock
8 ) CATHY CHURCH'S PHOTO CENTRE
The grande dame of dive photography offers photo tours, instruction, private charters and photo-equipment rentals from her location at Sunset House on Grand Cayman. A few kicks offshore, the Sunset Reef awaits with subjects like a World War II-era wreck and a 9-foot-tall bronze mermaid.
9 ) GARDEN OF DELIGHTS
Grab a digicam for Dede's Garden, a shallow south Grand Cayman dive where shafts of sunlight cast eerie shadows on swim-throughs, and caverns often fill with wide-eyed squirrelfish. Other surefire scenes are sea fans and reef fish swaying in the surge above shallow ravines home to eels.
10 ) PICTURE PERFECT
Forget the flash and filters at Jackson's Wall. Combine shallow depths, a reflective white sandy bottom, endless viz and a cast of marine life such as coral heads, mini walls and swim-throughs, and this Little Cayman shore dive has all the elements for vivid color- correct photos minus the blues.
TECHNICAL
11 ) COLD WAR RELIC
Off Cayman Brac lies the 330-foot Capt. Keith Tibbetts, one of the only sunken Soviet naval vessels in the Western Hemisphere. Openings on the upper deck allow penetration for peeks at the ship's interior.
12 ) SPONGE BELT
Grand Cayman's legendary sponge belt encircles the island between 200 and 300 feet down, where ginormous barrel, elephant-ear and rope sponges thrive thanks to prime conditions and lack of human activity. The ticket? Divetech's custom 34-foot Ten Ata dive boat accommodates technical charters.
13 ) REBREATHERS
If you're the closed-circuit type or simply curious, Divetech's Innerspace 2018, held May 19 to 26 in Grand Cayman, is your chance to rock rebreather rigs. This weeklong confab for rebreathers of all levels lets new divers build up hours on their units, while experienced divers can dive normoxic or full trimix.
14 ) LIONFISH HUNTING
Invasive lionfish put a major strain on the local marine environment. Cayman's Department of Environment offers a lionfish control program in which participating divers are taught how to remove these pests safely, ethically and without harming the environment. Local restaurants prepare lionfish fillets, so your deed will be doubly appreciated.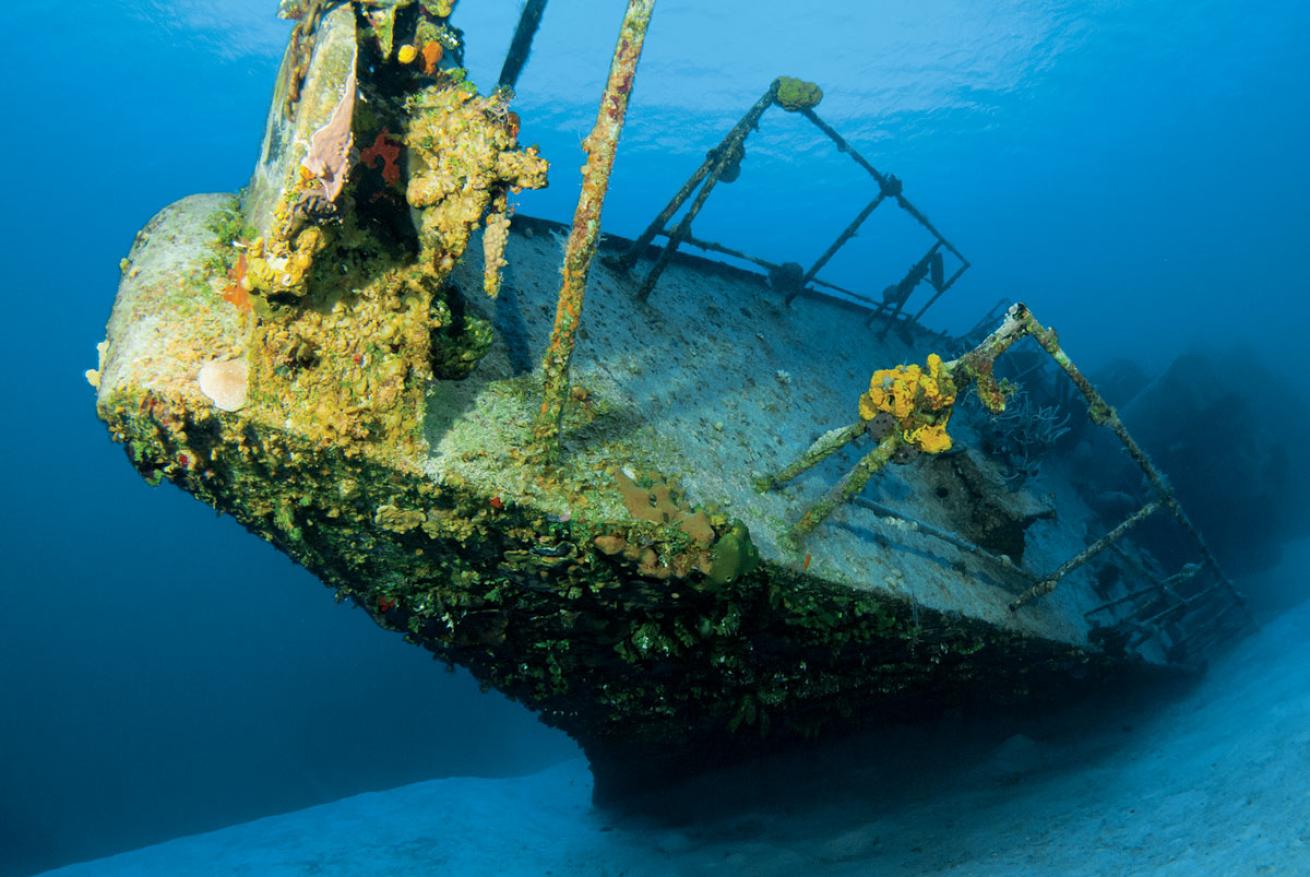 The island freighter Carrie Lee rests at depths of 150-to 240-foot deep.

Shutterstock
15 ) DEEP DIVING
Experienced divers flock to the 100-foot freighter Carrie Lee, which is almost fully intact and resting at 150- to 240- foot depths off Grand Cayman. The deepwater wreck teems with jacks and rays, while florid sponges have taken up residence throughout the deck.
WALLS
16 ) THE ICON
Bloody Bay Wall is the Little Cayman gem you can't miss. The fun begins at 20 feet, then drops quickly to a vertical ledge with caves, corals and sponges of all shapes and colors.
17 ) A WALL TO REMEMBER
Wilderness Wall, a dramatic drop-off hugging Cayman Brac, begins at 50 feet and is a fairyland of sponges, corals, invertebrates and any of the 500 fish species known to the islands. At the immense pinnacle rising to within 100 feet of the surface, pelagics ascend from the deep.
18 ) EDGE OF THE ABYSS
Part of Little C's Bloody Bay Wall complex, Great Wall West drops 35 feet to a seabed sprouting colorful 10-foot coral heads, then descends to a wall plummeting 1,500 feet. Admire magnificent black coral and immense sponges — and keep an eye out for lobsters, octopuses and seahorses tucked into the fissures.
19 ) JACKED UP
A favorite dive named after the famous filmmaker, Jack McKenny's Canyons off Grand Cayman has a dramatic wall cut with deep canyons that triple the vertical surface. Expect tons of reef shark and eagle ray sightings.
BEST OVERALL
Trinity Caves is a favorite dive site on the west side of Grand Cayman.

Shutterstock
20 ) TRINITY CAVES
Even on an island with scores of showstoppers, this swim-through trifecta of converging coral canyons off Grand Cayman's Seven Mile Beach rates as an A-list knockout. Beginning at 60 feet, the elaborate tunnel system slopes to 100 feet and is illuminated by dappled sunlight streaming through overhead portals.
21 ) BEST WRECK EVER
Sure, Tropical Storm Nate knocked the former USS Kittiwake off-keel, but you still won't find a prettier, more-interesting diver prepared wreck in the Caribbean. The five-deck, 251-foot ship sits in transparent 60-foot waters off Seven Mile Beach and comes with multiple sunlit entry points and plenty of jacks and rays.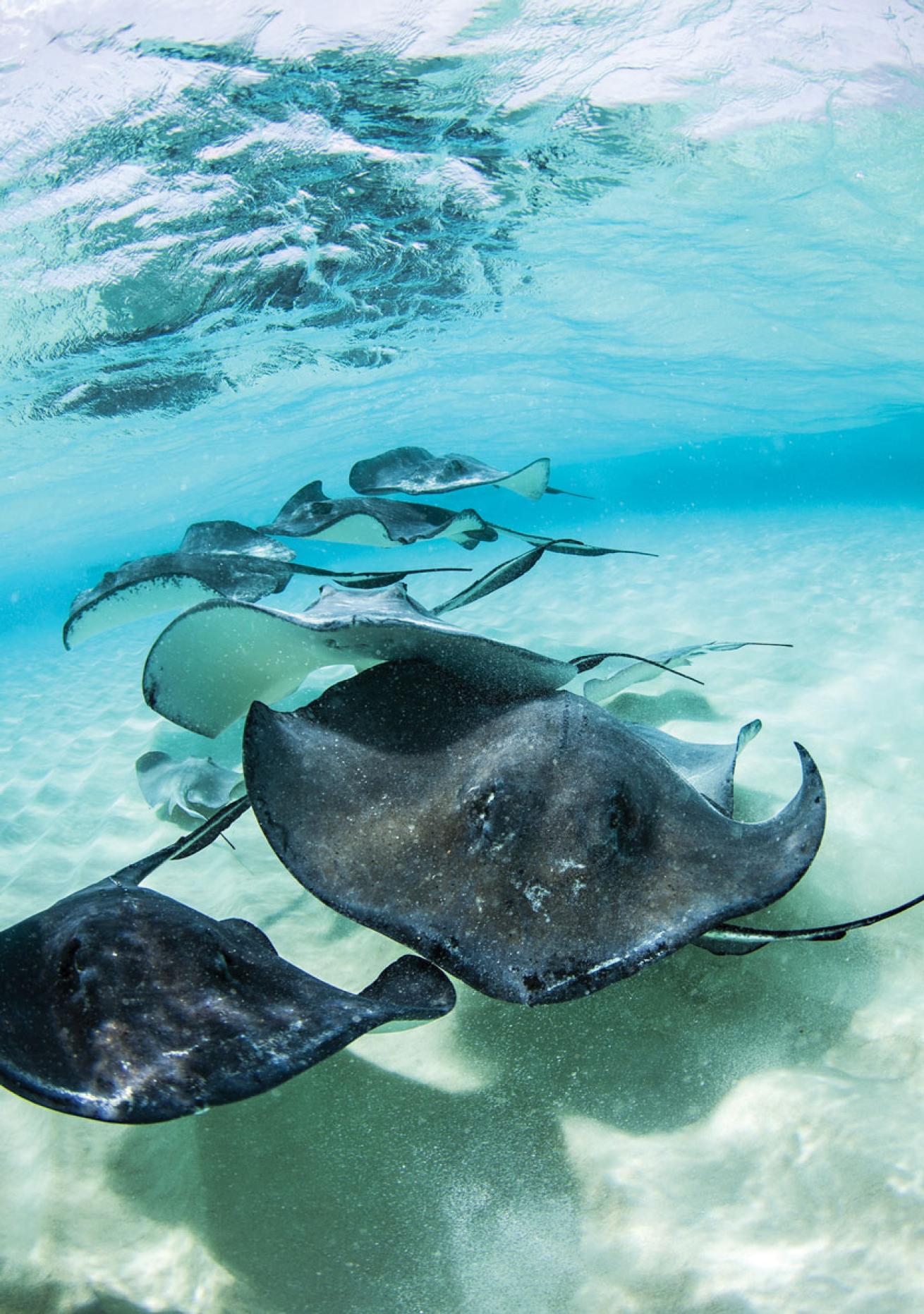 Stingray City can be enjoyed by divers and non-divers alike.

Shutterstock
22 ) STINGRAY CITY
It's OK — encouraged, even — to feed and pet the fleet of southern stingrays that congregates at the shallow sand flats in Grand Cayman's North Sound. This crowd-pleaser lets waders and snorkelers alike interact with rays that decades ago grew accustomed to fishermen providing tidbits of their catch.
23 ) CAYMAN SPIRITS CO.
Is it a surprise the best local hooch is made by divers? Take the free tasting tour at this George Town distillery and go overboard for Seven Fathoms Premium Rum, which is aged in oak bourbon casks gently rocked in the current at 42 feet.
24 ) GOING MOBILE
The original ship in the now-worldwide Aggressor Fleet, Cayman Aggressor IV liveaboard is a diver's delight, with a threefer itinerary that explores the walls and wrecks of the Cayman triplets. You'll drop in on the coral encrusted Doc Poulson wreck, fin the swim throughs of Marilyn's Cut, explore the hanging gardens of Babylon Reef — and that's just for starters.