25 Reasons To Dive The Bahamas
From sharks to walls, blue holes and wrecks, these islands are tailor-made for divers.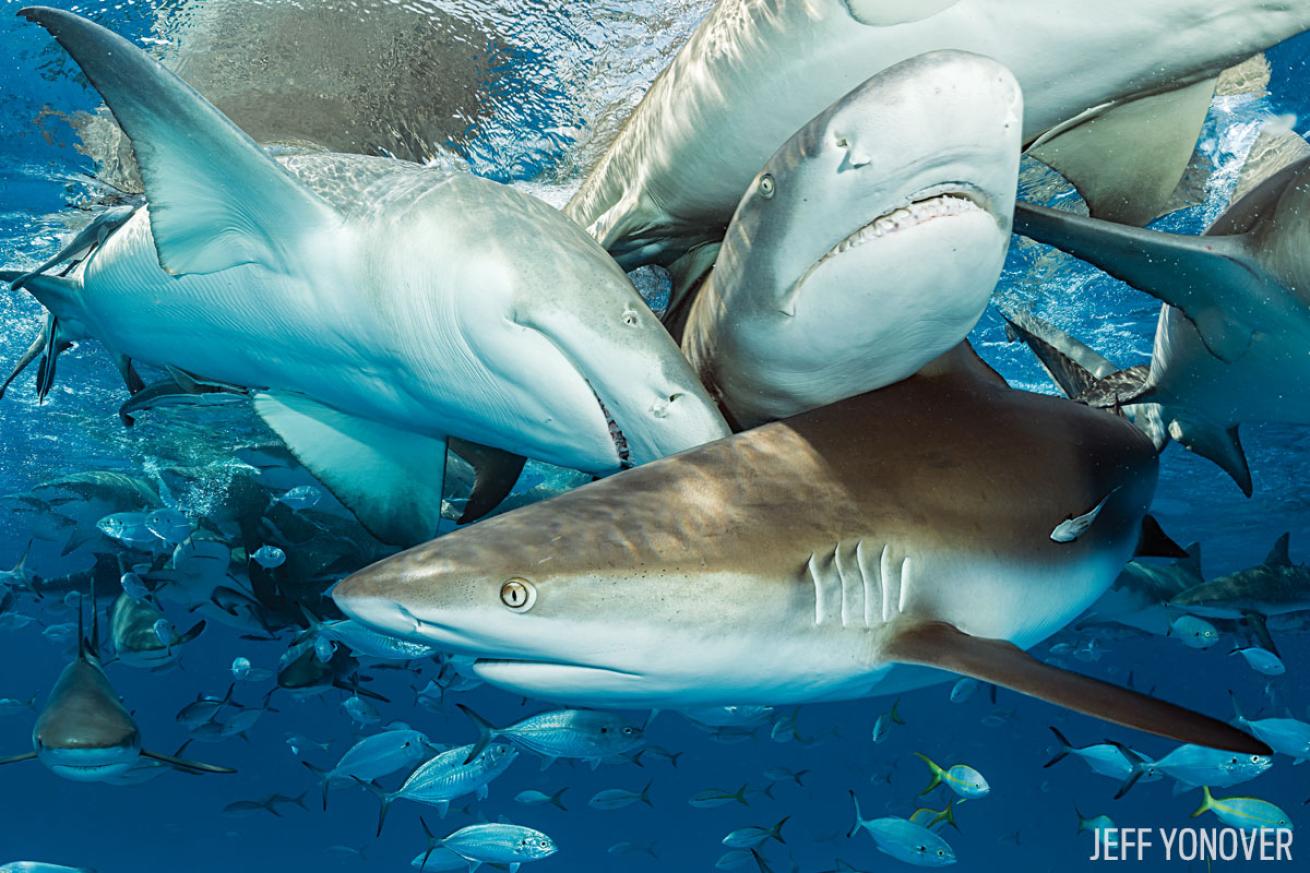 It's possible to encounter oceanic whitetips in the central Bahamas plus dusky, lemon, tiger and silky sharks.

Jeff Yonover
Take a map of the Bahamas and point your finger at any spot in the water — it's a nearly slam-dunk guarantee that you'll find a dive site that's worth exploring. The chain gets its name from Christopher Columbus, who used the Spanish words for shallow sea — baja mar — to describe them. From spectacular drop-offs and caves to pulse-pounding shark and wreck dives, from Grand Bahama at the northern end to Great Inagua at the southernmost tip, the country's 700 islands and cays are the perfect place for divers to blow bubbles — anytime, anywhere.
The Bahamas took home the following seven accolades in the 2018 Scuba Diving magazine Readers Choice Awards:
FIRST PLACE
Big Animal Diving
Wreck Diving
SECOND PLACE
Cave, Cavern, Grotto
Freediving
THIRD PLACE
Beginner Diving
FOURTH PLACE
Photography
Visibility
You can find it all in the Bahamas...
WRECKS
1 ) AIM FOR THE STARS
Vessels that have been purpose sunk off Nassau include the popular wreck props used in James Bond films, starring Sean Connery. The Scottish actor never dived Grand Bahama's Theo's Wreck, but the former cargo freighter is deserving of celebrity status. In 1982, it was the first vessel deliberately scuttled in the Bahamas. Lying on its port side in 100 feet of water, it's plastered in corals and sponges.
2 ) BEGINNER'S LUCK
Sapona is one of many wrecks that are child's play for new divers to explore. Partially submerged in a scant 15 feet of water off Bimini, this former concrete- hulled cargo steamer ran aground in a 1926 hurricane and broke apart; subsequent storms have left skeletal remains.
3 ) INSIDE JOB
Take a step toward tec training on Nassau's Sea Trader. Enroll in a specialty course, and learn to use penetration lines and reels while exploring the interior of this former 250-foot oil tanker.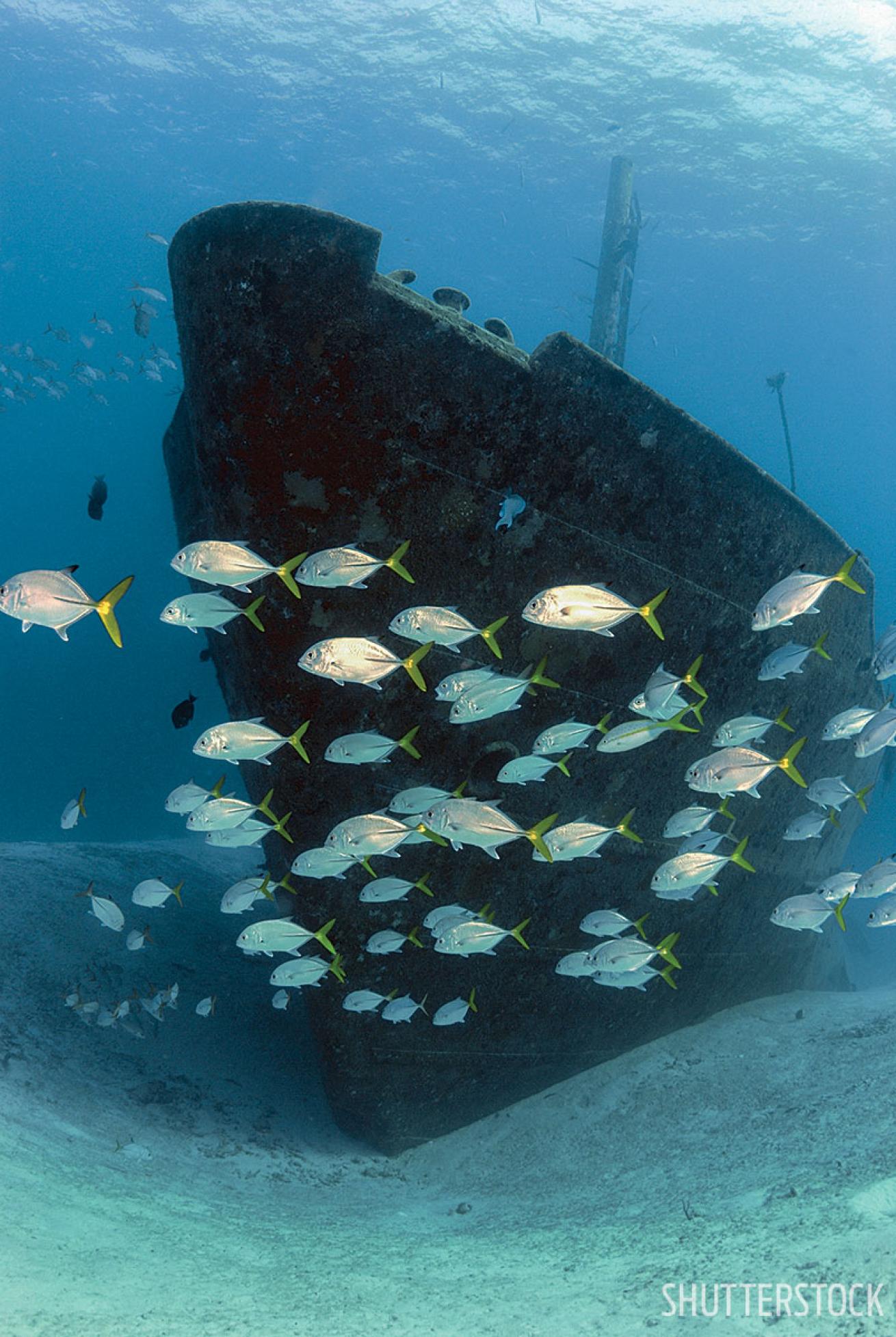 There are more than 40 diveable wrecks throughout the Bahamas.

Shutterstock
4 ) PIRATE FUN
Some of the most notorious pirates in the Caribbean called the Bahamas home. Plan a trip to the Pirates of Nassau museum, just a short walk from Nassau's Straw Market. You'll be transported back to 1716, when the more than 1,000 pirates who lived on the island got boozy in nearby taverns, planned their next raids, and engaged in sword fights.
5 ) PRETTY AS A (WRECK) PICTURE
Advance your underwater wide-angle photo skills by practicing on a wreck (a stationary subject!).
CAVE, CAVERN, GROTTO
6 ) WHAT LIES BENEATH
Want to become cave certified? You've come to the right place. Numerous islands offer intricate cave systems to train in — Dan's Cave on Abaco Island, for example. You'll be taught by some of the world's most experienced cave instructors in environments beloved by some of the world's pre-eminent cavers.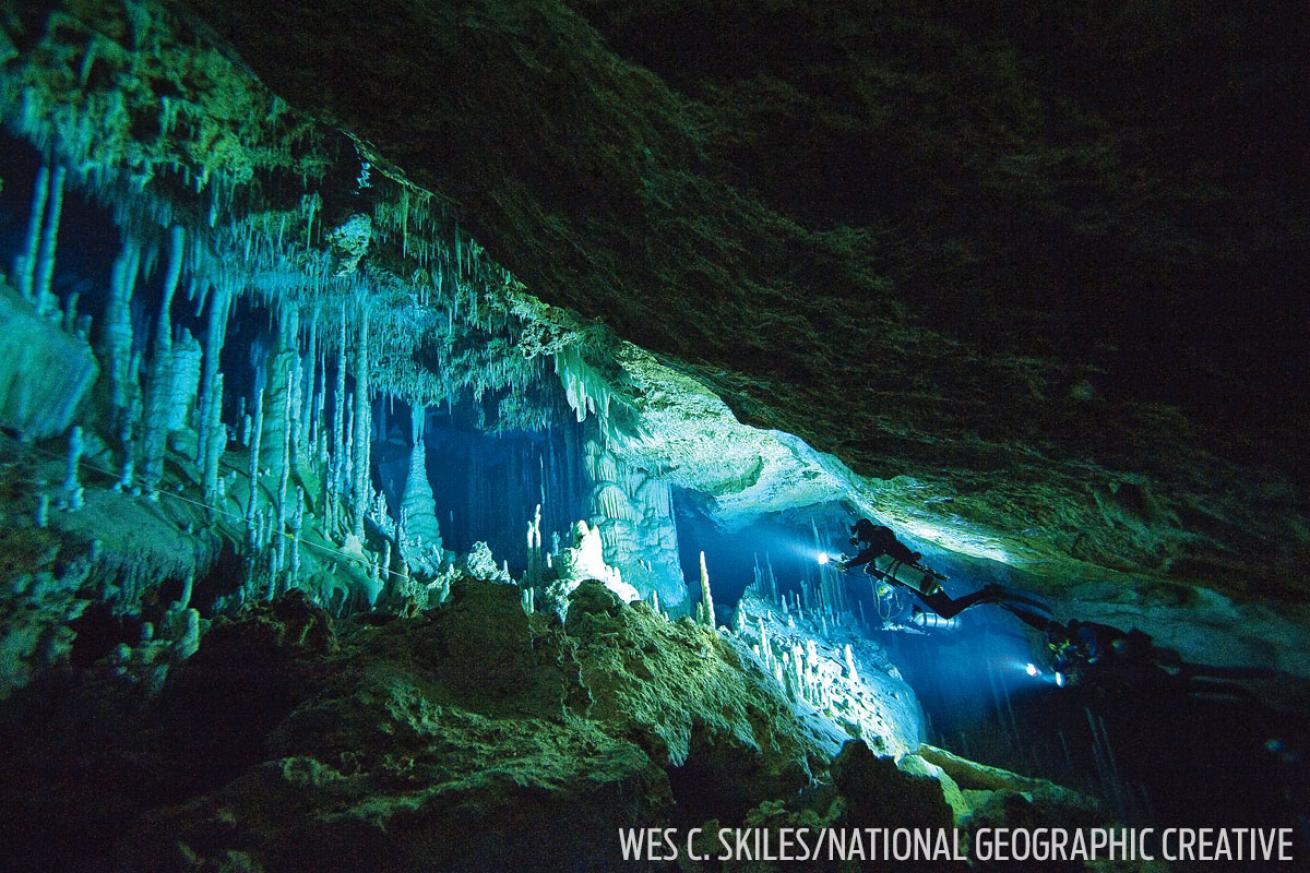 Numerous islands in the Bahamas offer intricate cave systems to train in.

Wes C. Skiles/ National Geographic Creative
7 ) JOURNEY TO THE CENTER OF THE EARTH
For serious cave divers, Grand Bahama has one of the world's longest underwater cave systems in the world, the Lucayan National Park, with more than 32,000 feet of mapped passages. For non certified cavers, sites such as Ben's Cavern are perfect for sampling a bit of this vast realm.
8 ) THUNDERBALL GROTTO
Located just west of Staniel Cay in the Exumas, this hollowed out rock has a natural skylight that's been shaped by erosion. It's teeming with corals and tropical fish. Hollywood location scouts also love this grotto; it was featured in the films Thunderball, Never Say Never Again, Splash and Into the Blue.
9 ) TO THE BATCAVE!
Lucayan Indians are believed to have lived at Hamilton's Cave on Long Island around A.D. 500. Named after a small settlement called Hamilton's, located south of Salt Pond, this cave has delicate stalactites and stalagmites, as well as several species of bats.
10 ) GROTTO BAR
Swim up to this poolside bar at Taino Beach Resort and Clubs on Grand Bahama and enjoy a tropical drink in a cavelike setting.
FREEDIVING
11 ) THE BEST THINGS IN LIFE ARE FREE
In May, Dean's Blue Hole on Long Island hosts the annual Vertical Blue International Free Diving Competition. The world's best certified freedivers compete in three categories: Constant Weight without Fins, Constant Weight, and Free Immersion.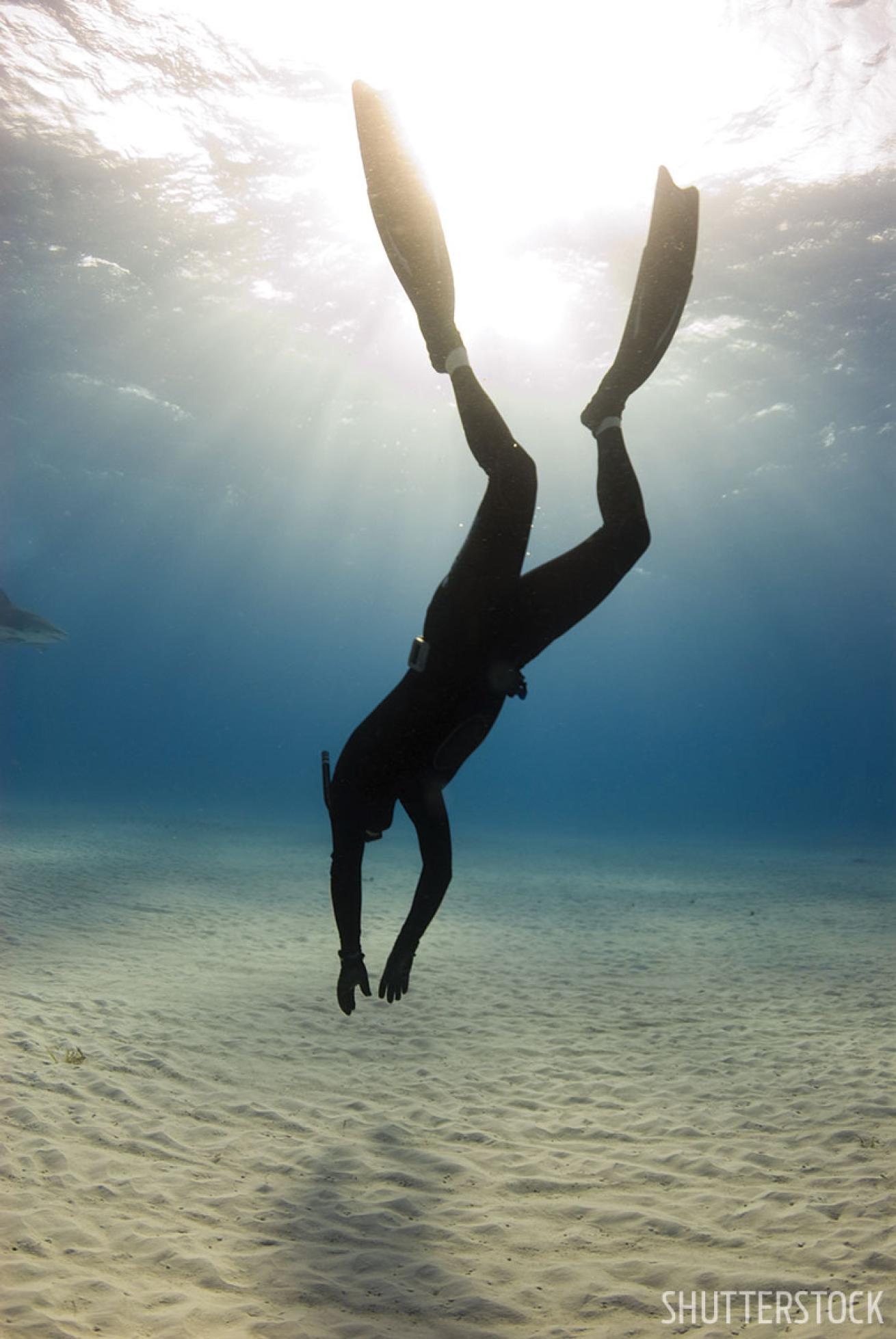 Long Island hosts the annual Vertical Blue International Free Diving Competition.

Shutterstock
12 ) FREE AT LAST
Sign up for a four-day Freediver training course with Stuart Cove's Dive Bahamas on New Providence — you can practice on the Ray of Hope.
13 ) WATLING'S BLUE HOLE
Get away from it all and explore this blue hole in southwestern San Salvador Island. You can also venture to San Sal's famous wall, which starts shallow. If you're dropping down with just a mask, fins and snorkel, make sure you've been trained because current can be present.
14 ) SPEARFISHING FOR LIONFISH
The Bahamas doesn't permit spearing for any fish on scuba, so you'll need decent freediving the nonnative lionfish population in check.
15 ) WILD ATLANTIC SPOTTED DOLPHINS
This species (Stenella frontalis) is known to frequent the waters off Bimini and Grand Bahama. If you want them to engage in playtime, freedive deeper and see whether they'll follow you.
BIG ANIMAL DIVING
16 ) CARIBBEAN REEF SHARKS
There are tons of shark species in Bahamian waters, but a great intro to these magnificent fish are the reef shark dives offered off New Providence and Eleuthera, including the thrilling encounter offered by the Aqua Cat liveaboard.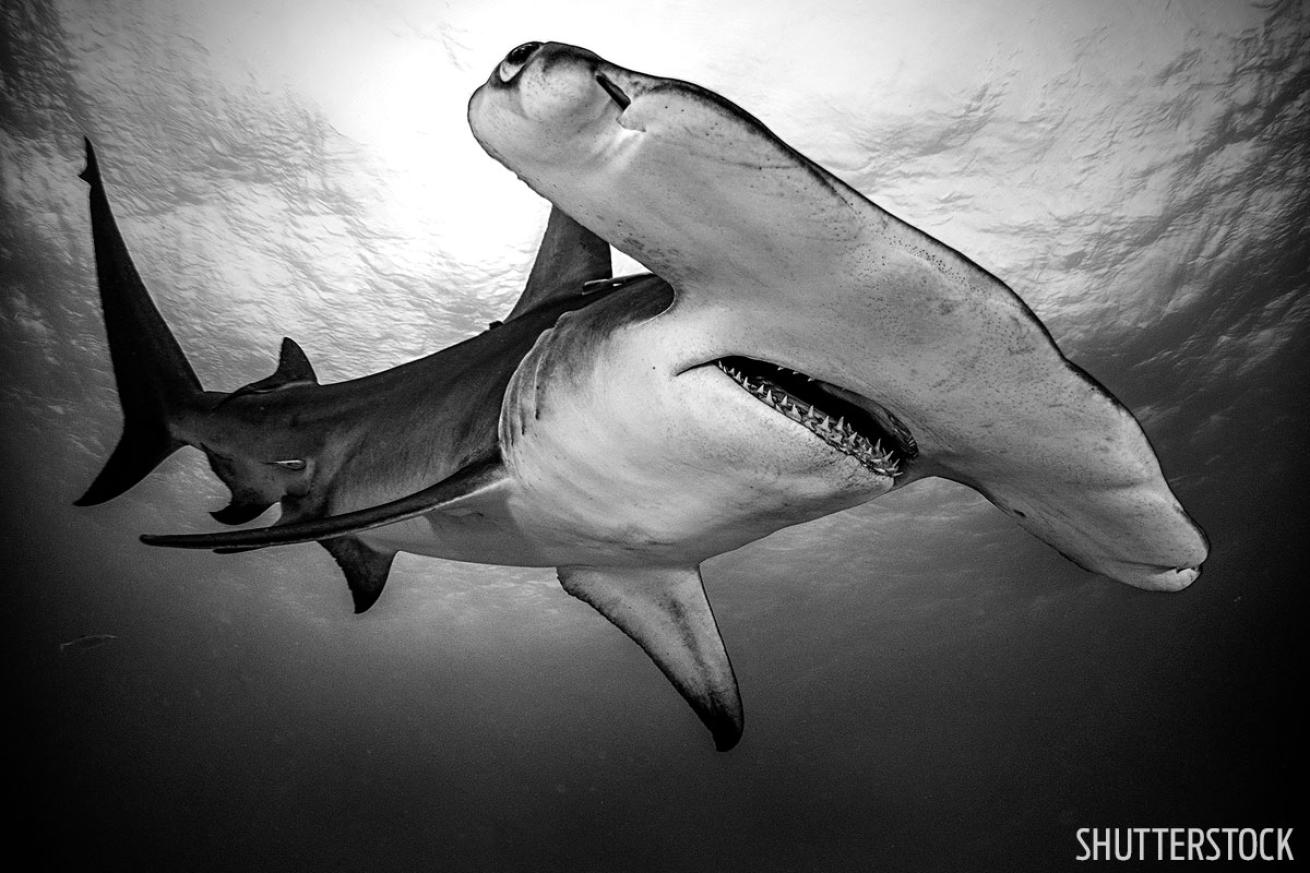 From December to April you can expect to encounter great hammerheads in Bimini.

Shutterstock
17 ) GREAT HAMMERHEADS
December to April, Bimini plays host to endangered Sphyrna mokarran. Once the hammers show up, you'll drop down on a shallow-water sand beach in blue water, perfect for wide-angle photography. Bull sharks often crash the party.
18 ) TIGER BEACH EXCURSION
Sixteen-foot tigers are the main attraction at this shallow site off Grand Bahama's West End, but you've also got a good chance of encountering lemons and Caribbean reefs.
19 ) CAT ISLAND SHARKS
Open-ocean advanced diving is available in the central Bahamas with oceanic whitetips, plus dusky, lemon, tiger and silky sharks — and possible encounters with Atlantic blue marlin, which can measure 16 feet long and weigh up to 1,800 pounds. A clear lake called Boiling Hole on Cat Island is home to rays and baby sharks sheltering in the mangrove nursery.
20 ) CONSERVATION
In 2011, all commercial shark fishing in the approximately 243,244 square miles of the country's waters was banned.
BEGINNER DIVING
21 ) ON A CLEAR CAY YOU CAN SEE FOREVER
The next best thing to a swimming pool is a tropical ocean with freshwater clarity. Average water temp and viz are oft-exaggerated numbers, but not so in the Bahamas. You can depend on at least 80 feet at most sites, and you can dive year-round — in summer, water temps are a toasty 85˚F; at their wintertime coldest, they might dip to the mid-70s but usually hold at 78˚F.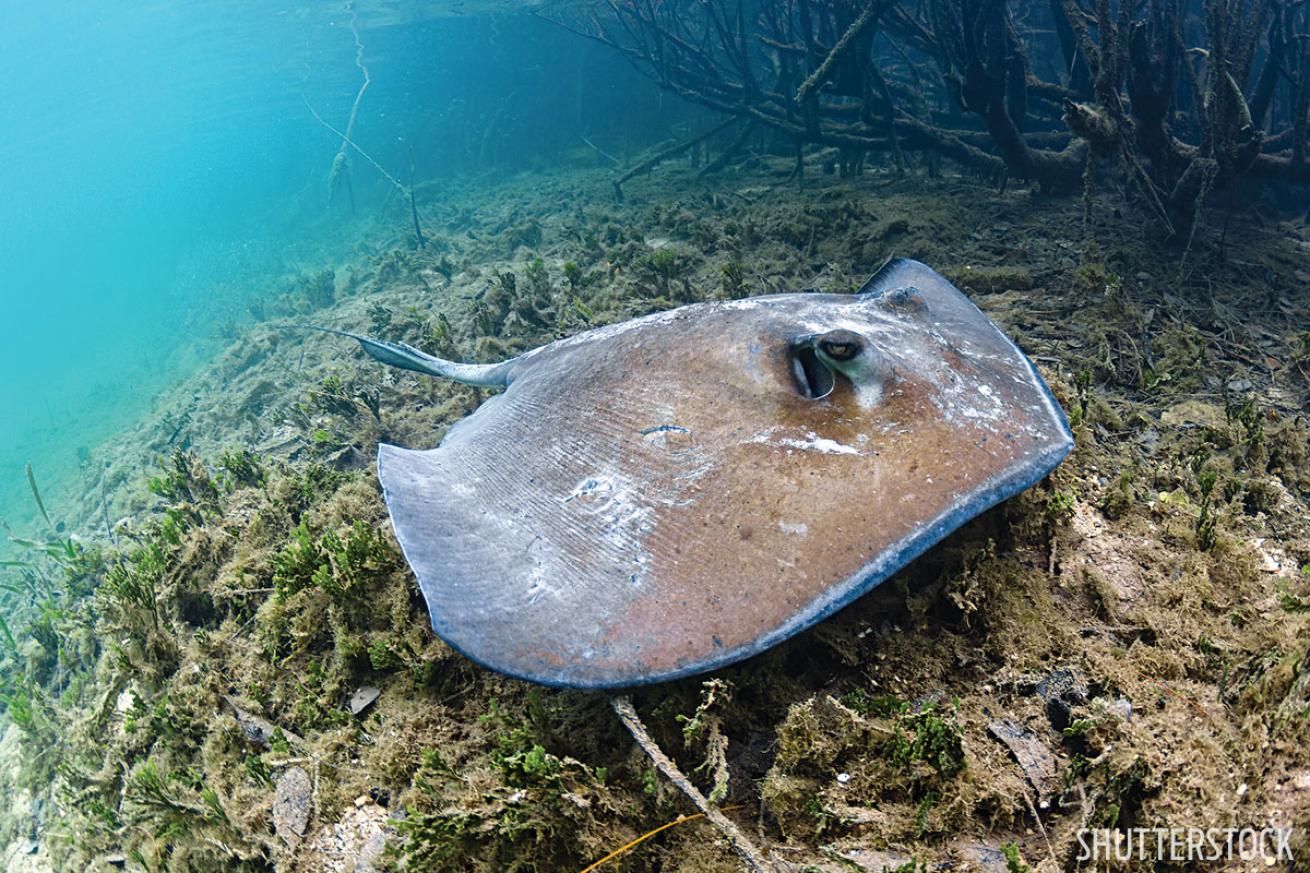 Many factors, like great visibility and an abundance of marine life make the Bahamas a great destination for beginner divers.

Shutterstock
22 ) HERE'S TO GOOD HEALTH
These "rainforests of the sea" are one of the most diverse ecosystems on Earth, and the Bahamas boast some of the healthiest in the world.
23 ) FOLLOW THE LEADER
Some dive destinations permit buddy diving — there's no guide leading the group, so you're free to explore underwater with your buddy. In the Bahamas, there's almost always a divemaster in the water, and he or she is able to give new divers extra attention. You might not need it, but if you've got a newly minted C-card, diving with a guide might help boost your confidence and skills.
24 ) NEW BEGINNINGS
If you're thinking about getting scuba certified, the Bahamas is a fantastic place to complete your open-water certification. The country has an excellent dive infrastructure, calm, warm water to practice skills, and a record of emphasizing safety.
25 ) MAKE A GETAWAY
Just a 90-minute flight from Miami, the Bahamas is perfect for divers who want a short getaway or who don't like spending long hours in airports — you can arrive in the morning and make a dive in the afternoon.