Eight Big Cities with Great Scuba Diving
Some of the world's buzziest cities have overlooked but world-class diving right at their doorsteps. Next time you're soaking up the culture, food and people-watching of a big city before breaking for someplace more remote to dive, consider what might be underwater close by.
Cape Town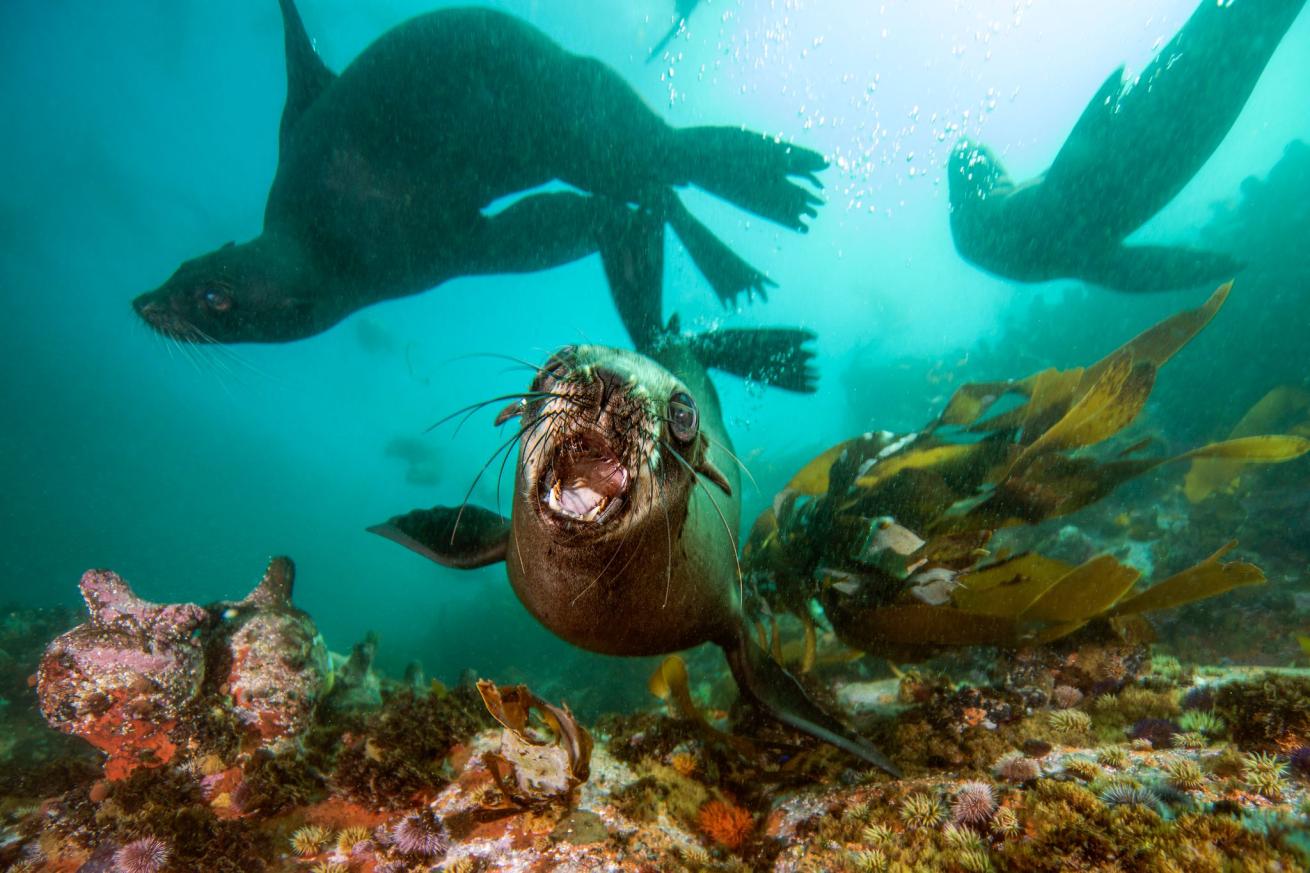 Brown fur seals play among the kelp in the cool waters off the South African coast.

GERALD NOWAK
Most leisure travelers arriving in Cape Town have their sights set on safaris, vineyard visits and the obligatory pilgrimage to Table Mountain National Park.

Savvy divers, however, know to drive about an hour south of the South African capital (less than 30 miles) to reach Simon's Town for epic boat and shore diving in a marine protected area in and around False Bay—a biodiversity hotspot.
"We have five stunning shore-dive sites within a five- to 10-minute drive of us," says Jacqui Mance, of Pisces Divers. "Many folks don't realize how stunning colder-water diving is. This is where the soft corals thrive best and bring all the brilliant colors to our reefs."
During shallow-water shore dives such as A-Frame and Castle Rocks, look for nudibranchs, octopuses and small shark species like pyjama sharks, spotted gully sharks and tiger catsharks.
On the Atlantic coast of the Cape Peninsula, rust lovers dive wrecks such as the 400-foot-long SS Maori, which ran aground in a storm in 1909 during a run from London to New Zealand and fascinates with its steam engines and cargo. There's also much lore and life surrounding the wreck of the SAS Pietermaritzburg in False Bay, a former minesweeper now covered with soft corals that took part in the D-Day invasion at Normandy during World War II.
For a different experience, don't miss a boat dive from Simon's Town to the lush kelp forest at Pyramid Rocks. There are lots of schooling fish and small sharks, and lucky divers sometimes see sevengill sharks in waters around 30 feet deep. And for the best day on the water that "pretty much gives you all the bay has to offer," Mance says, combine the kelp dive with another boat dive to fin among seals at Partridge Point.
How To Dive
When to Go: You can dive year-round near Cape Town. The winter months (June to August) bring colder temperatures and calmer seas.
Dive Conditions: Waters warm up into the low 70s during the summer months and plunge into the upper 50s and 60s during winter. Visibility is best in winter, when it can surpass 80 feet.
Topside Tips:
Road trip just 40 miles south of Cape Town to Cape Point, at the tip of the Cape Peninsula, a nature reserve with great swimming, hiking and tidal pools to explore.
Ride a bike or enjoy an ice cream cone alongside Capetonians during a stroll along the Sea Point Promenade. One of the world's great coastal walkways, it stretches nearly 7 miles along Cape Town's Atlantic seaboard.
Take the new private cable car service offered by Table Mountain Aerial Cableway for the most amazing 360-degree views over the city, ocean and mountains.
Where To Dive: Pisces Divers
Miami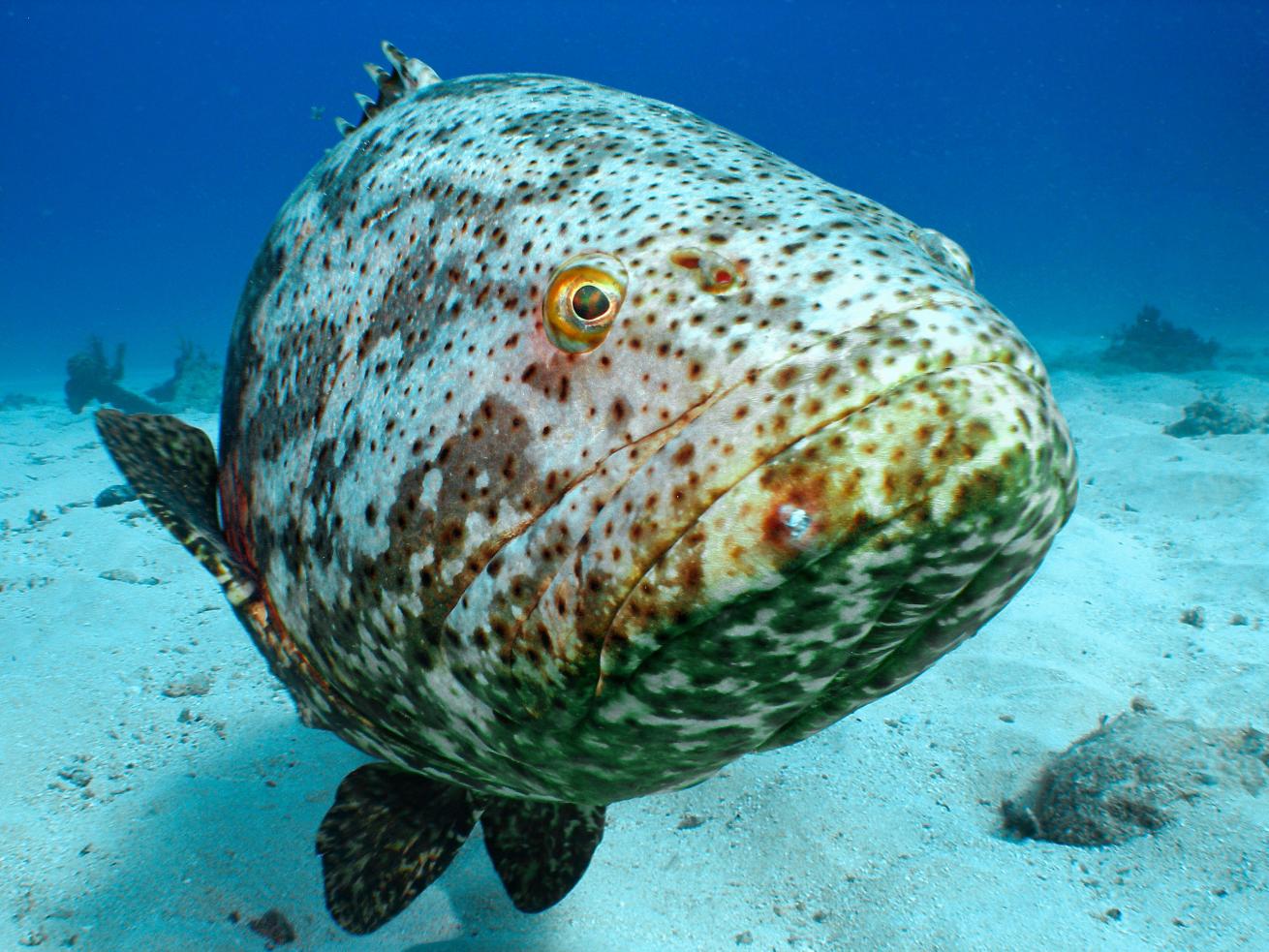 There's excellent diving well within view of Miami Beach's picturesque skyline.

BRENT BARNES/SHUTTERSTOCK.COM
Often overshadowed by the Florida Keys just south, Florida's party and cultural capital offers some of the best diving on the entire East Coast around Biscayne National Park. It is all within easy reach of the hotels, restaurants and endless other creature comforts of South Beach, downtown Miami and Key Biscayne.
"We have 30 reefs in an 8-mile area and 40 shipwrecks, all within recreational dive limits," says Sasha Boulanger, operations manager at South Beach Dive & Surf Center, about Miami's diverse diving.
Within a 30-minute boat ride of the shop on Key Biscayne, he says, divers can head down to wrecks like the Sheri-Lynn. Purpose-sunk in 1987, this 235-foot freighter was broken into pieces by Hurricane Andrew in 1992. It's a magnet for pelagic life, with frequent goliath grouper and barracuda sightings.
At Neptune Memorial Reef—an artificial reef in 40 feet of water built to resemble the Lost City of Atlantis—the cremated remains of hundreds of people are housed in an eerie but peaceful underwater columbarium that bristles with life in the form of colorful reef fish drawn to the structure.
Nearby, mooring balls prevent anchor damage to Emerald Reef's high-profile, pristine formations complete with staghorn coral, soft corals and lots of invertebrates.
Drift dives are common around Miami, Boulanger says, adding that when the conditions are right it's possible to see five wrecks scattered across the ocean floor here on a single dive in about 80 feet of water. "The fact that you can dive 2 to 3 miles off the coast of Miami and have world-class sites and then surface to the backdrop of downtown Miami and South Beach just makes it such a unique location," Boulanger says.
How To Dive
When to go: You can dive year-round in Miami. Hurricane season runs from June to the end of November, which means more rain during this period than in the winter months.
Dive conditions: Water temperatures dip close to 70 during the winter months and rise into the mid-80s in summer. Average visibility sticks around 60 feet year-round.
Topside Tips:
Dine at Versailles for a taste of Cuban food and culture in Miami's historic Little Havana neighborhood, even if all you order is a cortadito from the take-away window.
South Beach is glorious for a swim. But you've never seen a public swimming pool like the 820,000-gallon Venetian Pool in Coral Gables, carved in 1923 from a coral rock quarry.
There are so many sceney, spendy (and worth it) restaurants. But the table everyone is talking about of late is Carbone in Miami Beach, a stylish Italian spot that opened in early 2021.
Where To Dive: South Beach Dive & Surf Center
Singapore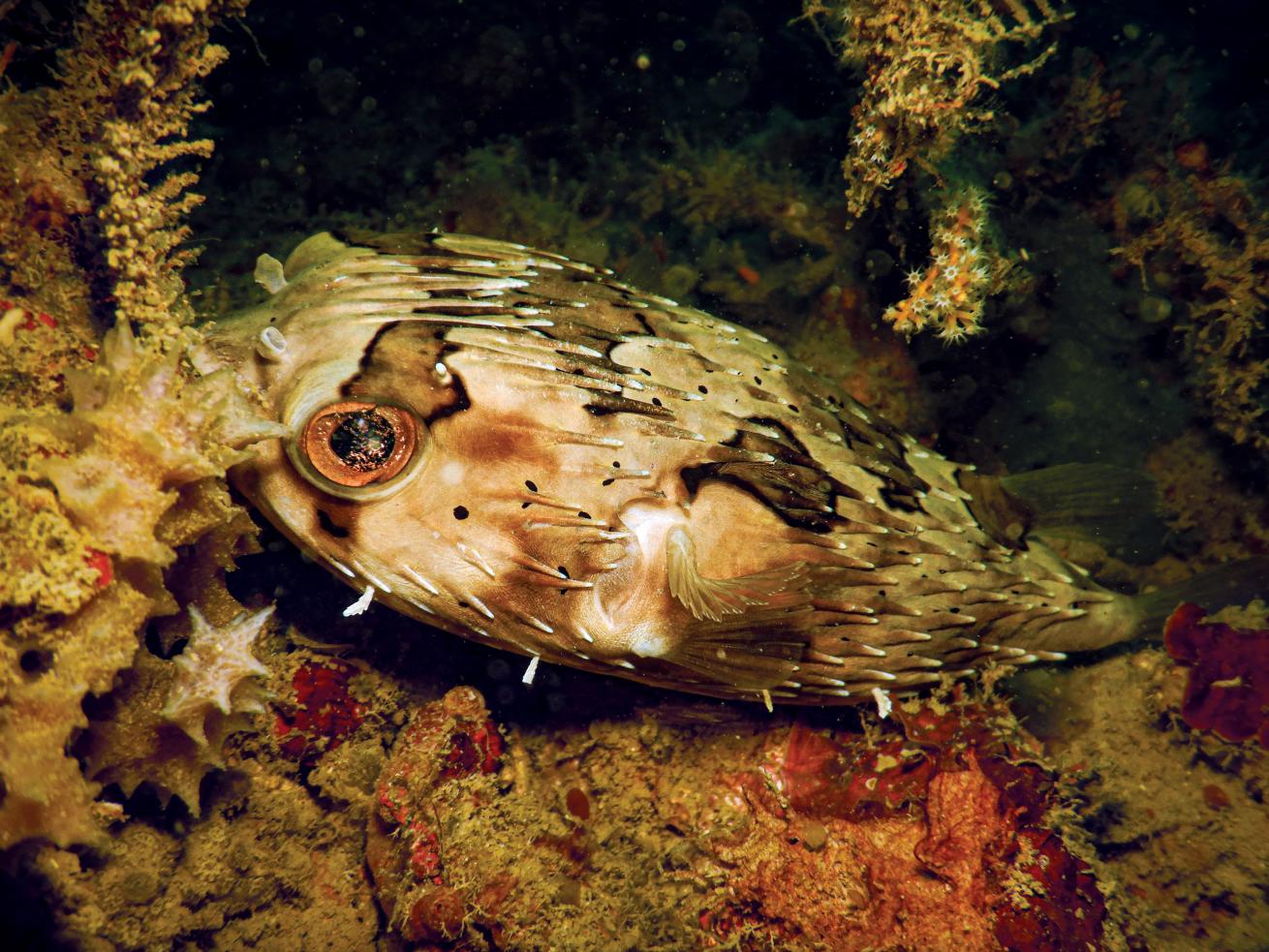 A porcupinefish at Pulau Hantu.

KAPI NG/SHUTTERSTOCK.COM
Singapore is far more than world-class shopping, chewing-gum-free streets (indeed, sales of it are officially banned here) and some of the most legendary street food on earth. Often seen as just an urban stopover en route to someplace more dive-centric, such as Indonesia, the Southeast Asian island city-state offers options for city-based diving and an escape from all the concrete that might surprise you.
About 4 miles off the southern coast of Singapore, the conical island of Pulau Jong is a "damn good place to dive," says PADI Master Instructor Lester Kwok, of Orpheus Dive.
The site offers a combination of boulder formations littered with sea fans and abundant fish life, including schools of jacks and angelfish. Kwok warns that Jong is subject to strong currents, so experience in these conditions and diving with a shop knowledgeable about the tides is of the utmost importance here.
Macro lovers laud Pulau Hantu, a 30-minute boat ride off Singapore's southern coast, to see animals that Kwok says are also common in the famed critter capital of Bunaken Island in North Sulawesi, Indonesia. Seahorses, cuttlefish and nudibranchs can often be spotted at Pulau Hantu, along with brownbanded bamboo sharks, which tend to hide in reef crevices. There was even a recent, if rare, sighting of a blue-ringed octopus, Kwok says.
At dive sites around Hantu's jetty, look for moonfish, a huge resident pufferfish and clouds of blue damsels.
How To Dive
When To Go: You can dive year-round in Singapore.
Dive Conditions: Water temperatures hover in the low to mid-80s around Singapore year-round. Visibility rarely exceeds 30 feet and can be far less, depending on weather conditions.
Topside Tips:
For an extensive selection of Singapore's legendary hawker-style food stalls, head to the Old Airport Road Food Centre for classics like char siew noodles and other spice-tastic specialties touched by Malay, Indian and Chinese influences.
Take advantage of the city's highly efficient public transport system by purchasing the one- to three-day Singapore Tourist Pass for unlimited rides on buses and trains.
Get some fresh air with a bike ride or stroll along a 9-mile stretch of reclaimed waterfront at East Coast Park, which has another great hawker center once you're hungry again.
Where To Dive: Orpheus Dive
Vancouver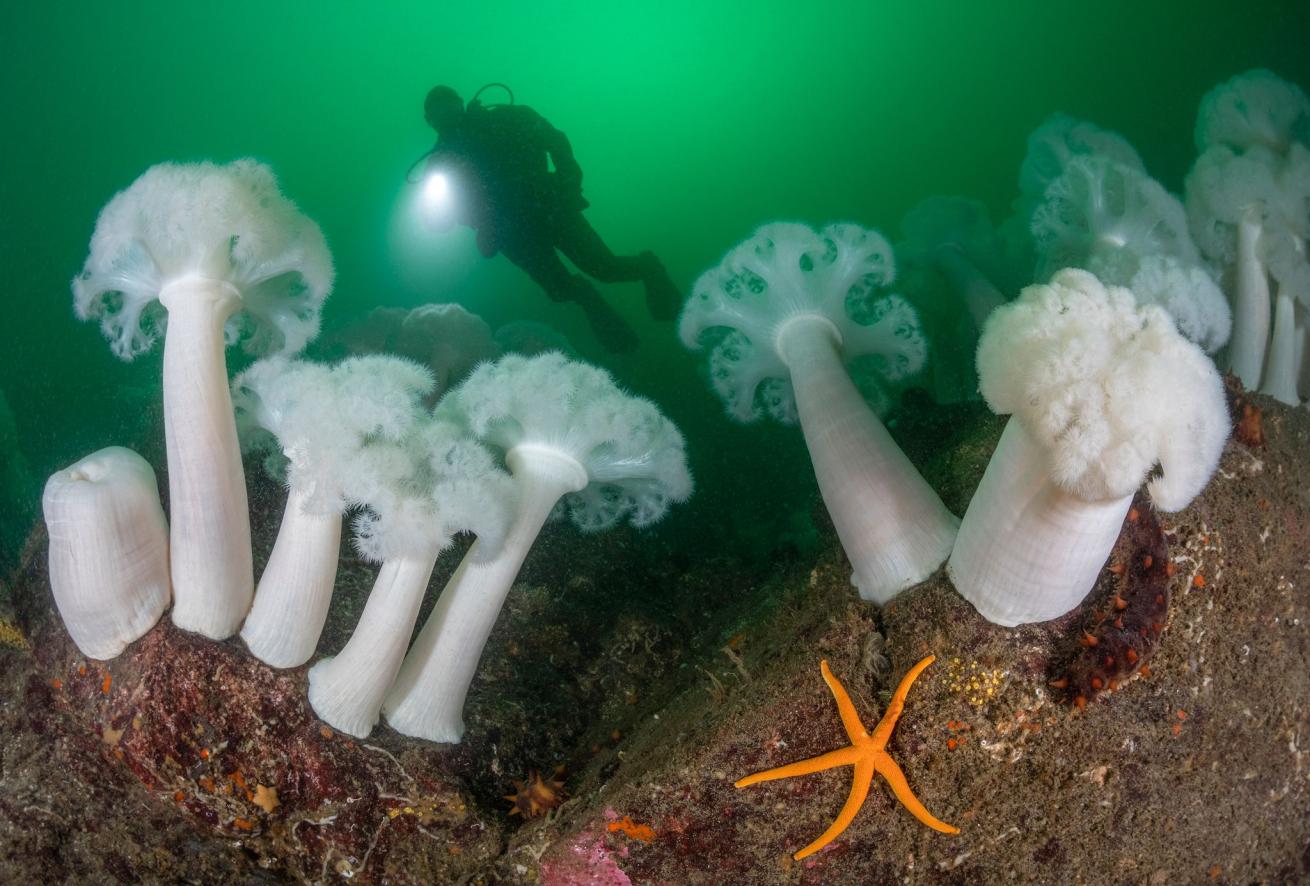 Giant plumose sea anemones.

BRANDON COLE
The cold-water kelp forests and giant Pacific octopuses that attract divers to Vancouver Island likely need no introduction. But did you know it's possible to score some very memorable diving on mainland British Columbia within a 30-minute drive of downtown Vancouver?
At Whytecliff Park, a shore dive less than 15 miles northwest of the city, a sheer wall absolutely carpeted with glowing plumose anemones drops down over 900 feet and is frequented by lingcod, rockfish and nudibranchs.
"We call Whytecliff the Whistler of diving," says PADI instructor Bryce Abraham, of Ocean Quest Dive Centre, referring to the famed Canadian ski resort town. "There are dives for beginners and experts alike here." If you're in the latter group, he says, dive the Cut, which is "like a black-diamond run of diving."
The site features a deep wall washed by currents, thriving with life and accessed by navigating around a point from shore (good buoyancy control is a must).
Another 17 miles up the coast from Whytecliff Park is Porteau Cove Provincial Park, where three small shipwrecks act as artificial reefs and attract giant Pacific octopuses (look for discarded crab shells to find their dens, Abraham says).
Closer to the city, wreck divers can take a 20-minute boat ride from Horseshoe Bay in West Vancouver to get their fix on the 371-foot-long HMCS Annapolis, sunk in 2015 as an artificial reef with some fun penetration options for those with advanced skills and the proper training.
How To Dive
When To Go: You can dive year-round in Vancouver, but winter brings the best visibility.
Dive Conditions: Summertime water temperatures in Vancouver can reach the mid-60s, while winter temps drop into the low 50s. Winter visibility is usually in the 50- to 70-foot range and sometimes even exceeds 100 feet.
Topside Tips:
Warm up after a dive on the HMCS Annapolis with a bowl of clam chowder at the Horseshoe Bay favorite Troll's restaurant.
Stanley Park is a 1,000-acre temperate rainforest that's just a 15-minute walk from downtown. Rent a bike to cruise the seawall leading through the urban park, which is fringed with beaches and crisscrossed with hiking trails.
There's a saying that the best dim sum in Seattle is in Richmond, British Columbia. Head to this Vancouver suburb and try the good stuff proffered from carts at Chef Tony Seafood Restaurant.
Where To Dive: Ocean Quest Dive Centre
Los Angeles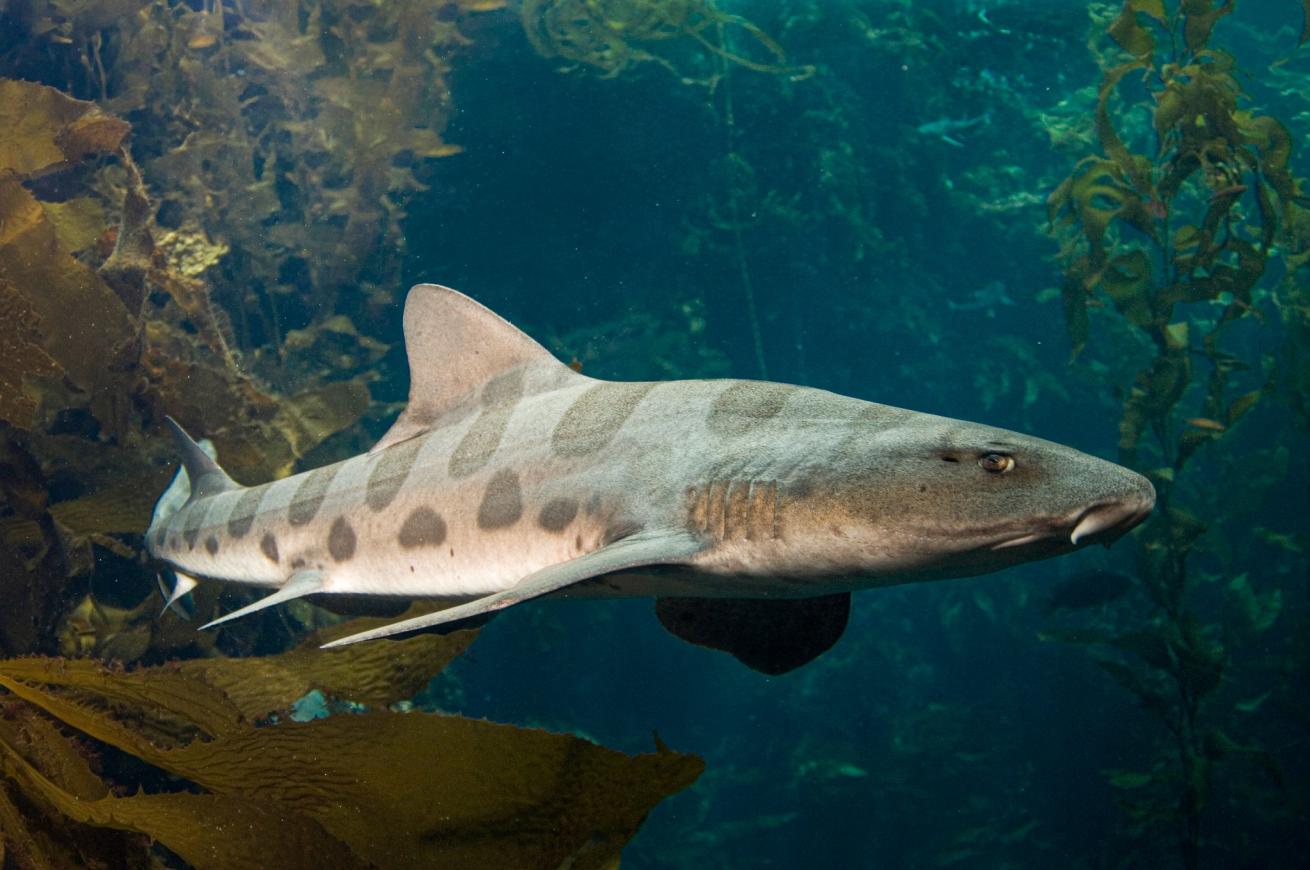 A leopard shark off the California coast.

GERALD NOWAK
It's tempting, upon landing in Los Angeles, to immediately book a boat trip out to Catalina Island to dive the kelp forests thriving just beneath the surface there.
But rewards come to divers who seek out shore-based thrills around LA too, especially south of the city, around Palos Verdes, where healthy kelp forests also abound.
"A lot of people might not know we have these world-class kelp forests right off the coast here that are home to many endemic species," says Elizabeth Beltramo, owner of Eco Dive Center in Culver City.
Palos Verdes' cove-rich shoreline hosts popular shore dives like Christmas Tree Cove, where, Beltramo says, "you've got to eat your Wheaties" to carry your gear down the steep hillside for a dive with a big payoff in the form of leopard shark sightings, patrolling halibut and eels, and kelp.
At Leo Carrillo State Beach, just west of the fancy mansions of Malibu, kelp forests growing just past the surf zone in about 30 feet of water make for a rewarding shore dive where you might spot shovelnose guitarfish, horn sharks, California sheephead and Garibaldis between the waving strands.
South of Redondo Beach at Malaga Cove—an easily accessible site off the Pacific Coast Highway—shallow rocks are home to rich intertidal life, and guitarfish are often spotted by divers.
And some of LA's best advanced boat dives await just off Long Beach at the Eureka and Ellen oil platforms, where permitted boats bring divers out to fin alongside the working rigs' resident sea lions. There are frequent pelagic encounters too. "Divers have seen a gray whale pass by here. And once, I saw a big school of mola molas," says Beltramo about the rigs. "It's a nice, short day on the water, and you get really awesome dives."
How To Dive
When To Go: You can dive year-round in Los Angeles, but springtime brings the largest ocean swells.
Dive Conditions: Water temperatures hover in the 50s and 60s most of the year. Visibility can range anywhere from 10 to 100 feet, depending on weather and other conditions.
Topside Tips:
Culture vultures shouldn't miss the Los Angeles County Museum of Art, with a collection of works spanning 6,000 years of history.
Ditch the concrete jungle for the hiking, mountain biking and rock climbing that await at Malibu Creek State Park, just 35 miles from downtown Los Angeles. 3.LA's traffic is beastly, but you might still need a car to cover as much ground as possible in this sprawling city. Try to book one well in advance (check out car-share site turo.com if traditional rentals are too pricey).
Where To Dive: Eco Dive Center
Lisbon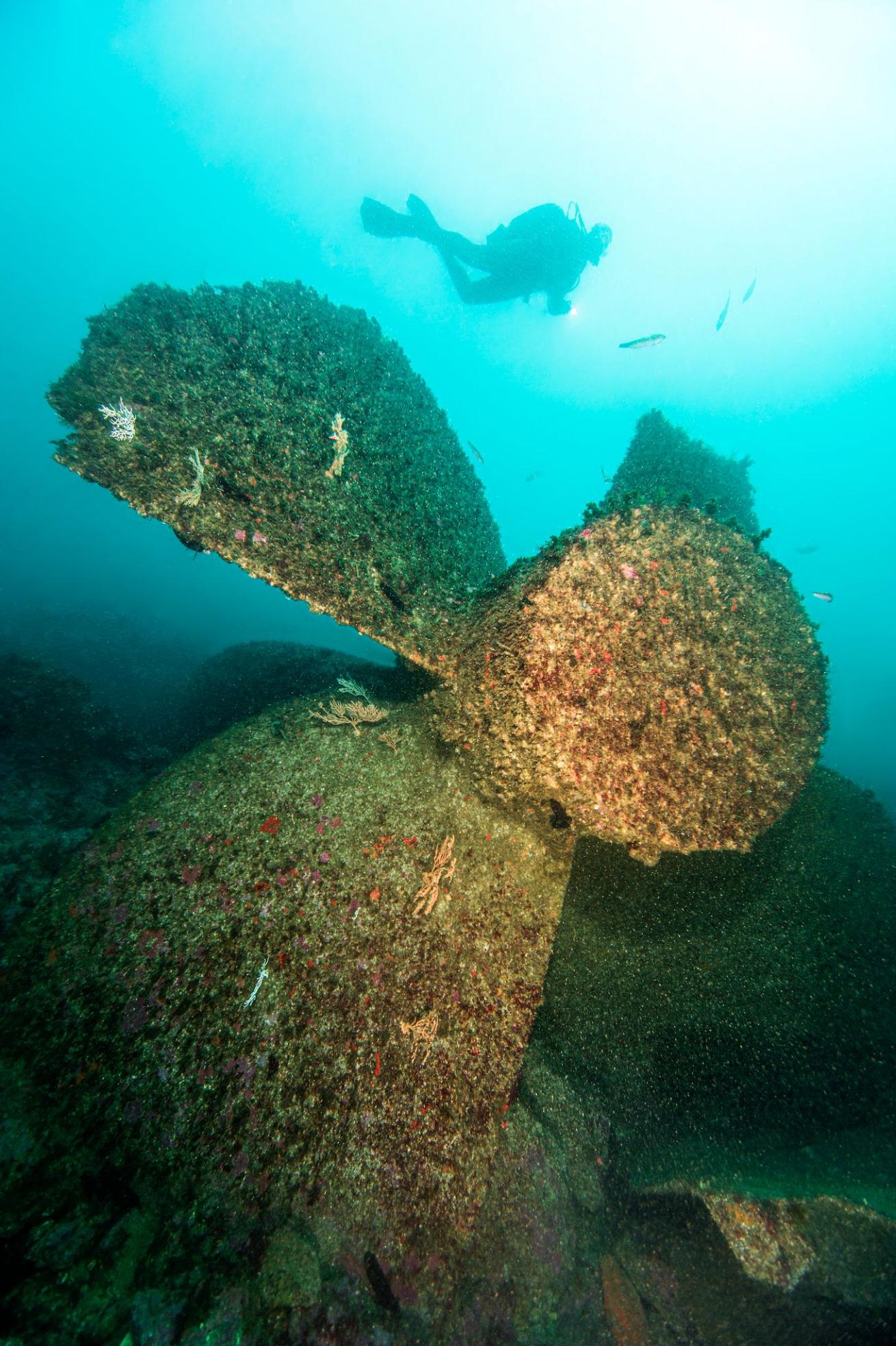 A propeller on the freighter River Gurara, which sank in a storm off nearby Sesimbra in 1989.

JOHANNAZENDER/SHUTTERSTOCK.COM
The Azores, a mid-Atlantic archipelago 850 miles west of the mainland, steals the limelight when it comes to Portugal's most epic diving. So visitors who venture just outside the country's capital Lisbon are often surprised to discover just how fishy and fabulous the dive sites are within a short drive of the mainland coastal city's fado bars and stylish neighborhoods.
"We are fortunate to be able to offer dozens of dive sites within an hour's radius of Lisbon," says Arlindo Serrão, founder of boutique dive concierge Portugal Dive, which arranges seamless diving and topside tours throughout Portugal. "Near the city, there are recreational dives like shipwrecks and reefs. And for tec divers, we have some of Europe's best cave diving."
For experienced cave divers, he points to the Almonda Spring, a "Swiss cheese-like" karst cave system that can only be dived in the dry season (April to October) and into which divers enter near a dam at a working toilet paper factory that dates to the 1960s.
For saltwater thrills, the wreck of the Nigerian freighter River Gurara, which sank in a storm close to the pretty fishing village of Sesimbra, is loaded with spider crabs and conger eels. And the reef at the dive site Pedra da Lagoa—a short boat ride from the sweeping sands of Fonte da Telha Beach, just south of Lisbon—is often so thick with mackerel and sea bream they dim the sun.
About 65 miles north of Lisbon, the UNESCO Berlengas Biosphere Reserve, which encapsulates the Berlengas archipelago, the scenic surf town of Peniche and the waters in between, boasts even more shipwrecks, frequent mola mola sightings and volcanic caverns teeming with schooling triggerfish.
How To Dive
When To Go: You can dive the Lisbon area year-round, but April to October brings the best topside weather and water temperatures.
Dive Conditions: Ocean water temperatures can dip into the 50s during the winter months and reach close to 70 in summer. Visibility hovers in the 10- to 50-foot range year-round.
Topside Tips:
For a fascinating look at the long and storied Portuguese love affair with dried cod, visit the new Centro Interpretativo da História do Bacalhau. A restaurant attached to the museum serves delicious cod dishes.
Enjoy a pasteis de nata (egg custard tart) at the buzzing Pastéis de Belém bakery, which has been churning out the sweet treats since 1837.
If you're looking for upscale accommodations, Lisbon Heritage Hotels offers a range of boutique and historic hotels around town.
Where To Dive: Portugal Dive
Tokyo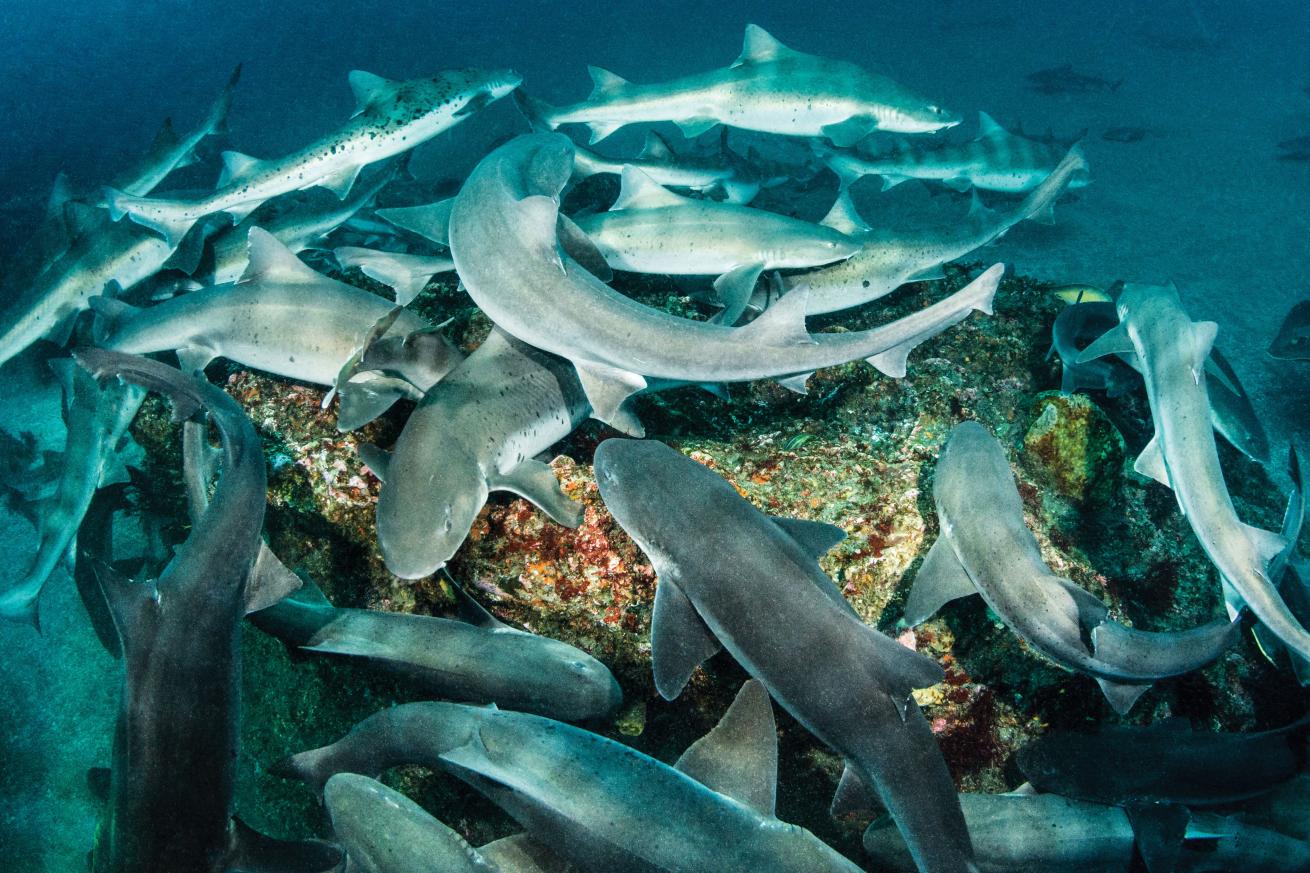 A group of banded houndsharks at a Tateyama dive site.

OGER STEENE/IMAGEQUESTMARINE.COM
Among the bright lights and cultural attractions, it's easy to overlook one of the most underrated things about the world's most populous metropolitan area—the fact that you can hop aboard the Shinkansen (bullet train) to flee the city crowds and submerge at some truly amazing dive sites within just a few hours of this bustling urban hub.
"Everybody knows Tokyo as a concrete jungle, so nobody expects to see so much marine life and such interesting features on dives so close to the city," says Zac Bell, a PADI dive instructor at East Dive, Tokyo's premier English-speaking dive shop.
It takes just 50 minutes by bullet train from central Tokyo to reach Atami Station, where East Dive meets divers for the hourlong transit to Izu Oceanic Park, a dive site popular since the 1960s that lies off the eastern side of the Izu Peninsula.
Here, you can dive down and find large volcanic boulders sloping toward a wall for an underwater reverie that's "much like the diving equivalent of taking a stroll in a scenic park," Bell says. Among the soft corals and cracks in the rock, look for moray eels, spottedtail morwong, lionfish, cherry bass and bulgy-head wrasse, he says.
Farther afield (roughly three hours south of Tokyo by bullet train and express bus), divers out of coastal Tateyama in Chiba Prefecture are lured into the sea by the prospect of hundreds of banded houndsharks and rays. The elasmobranchs are drawn to a sandy bottom here at depths of 60 feet, where fishermen feed them to keep them out of their nets.
How To Dive
When To Go: Shore-dive sites in the Izu Peninsula and Tateyama are accessible year-round, but conditions tend to be most pleasant (unless there's a typhoon) from July to September.
Dive Conditions: Water temperatures hover in the upper 70s during summer and dip into the 60s during the winter months. Visibility is between 30 and 45 feet in summer and around 60 feet in winter.
Topside Tips:
Save money on multiple trips aboard the Shinkansen by purchasing a Japan Rail Pass.
Even if you only see it from the outside, take time to ogle celebrated Japanese architect Kengo Kumo's $1.4 billion Japan National Stadium, built for the Summer Olympic Games originally scheduled for 2020 with wood sourced from Japan's 47 prefectures.
In 2018, the Toyosu Market replaced Tokyo's famous but aging Tsukiji fish market. This is the place to witness wholesale tuna auction halls and feast on fresh sushi at on-site restaurants.
Where To Dive: East Dive
Sydney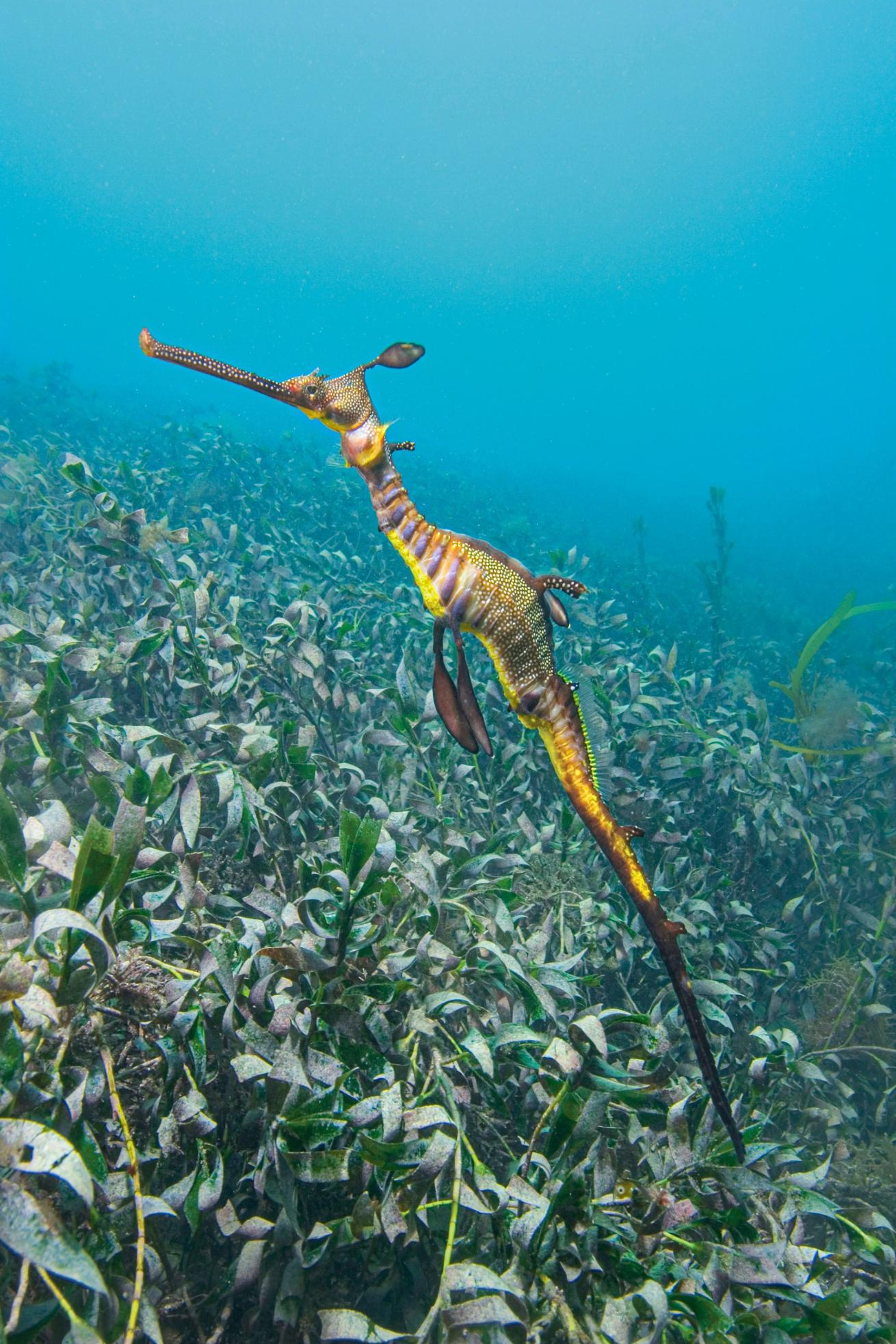 STRUCTURESXX/SHUTTERSTOCK.COM
Divers usually come to Australia with their minds set on seeing the Great Barrier Reef, Exmouth's whale sharks or other famed bucket-list sites.
"They often don't realize that if you're visiting Sydney you can see some really cool stuff too," says Richard Nicholls, owner of Dive Centre Manly, which runs boat and shore dives across the city from its base in the surf-centric Northern Beaches suburb of Manly.
You can take a scenic ferry ride 40 minutes from Circular Quay at the Sydney Opera House and be diving shortly thereafter at a site called Cabbage Tree Bay at Shelly Beach. It's the standout shore dive in Manly and sits within a protected cove. During the winter months here, from June to September, Port Jackson sharks come into the bay's shallows in great numbers to lay their eggs. And near the beach's easy entry site you're likely to spot inquisitive blue groper (a type of wrasse), bottom-dwelling wobbegong sharks, octopuses and much more year-round.
Just outside Sydney Harbour, North Head Sponge Gardens can be reached via boat and offers divers a good shot at seeing weedy sea dragons. Look for these "seahorses on steroids" patrolling areas with kelp between the rock edge and sandy bottom, Nicholls says—that's where they feed on mysis shrimp.
At Long Reef, another boat dive north of the harbor, a site called the Apartments drops to about 70 feet and is a hotspot for ogling gray nurse sharks and cuttlefish. And for macro wonders, Clifton Gardens in Sydney's Mosman suburb (between Manly and the city) is a wondrous shore dive where weird and wonderful critters like frogfish, ghost pipefish, seahorses and nudibranchs abound on a submerged wharf.
How To Dive
When To Go: You can dive Sydney year-round. Visibility tends to be best in April, May and June.
Dive Conditions: Water temps range from the mid-60s during Australia's winter months (June to August) to the mid-70s come summer. Viz averages 30 feet on boat dives, and slightly less within the harbor.
Topside Tips:
One of the world's best waterfront urban hikes is Sydney's 6-mile-long Manly to Spit Bridge Walk, a trail that takes you through the bush and past beautiful beaches, bays and inlets.
Grab a flat white—a coffee drink sometimes described as stronger than a latte but less frothy than a cappuccino—at cafes like the beach-side Boathouse Shelly Beach in Manly.
For a scenic urban swim, try one of the city's many rock pools, built along the shoreline and filled by ocean water on the incoming tide.
Where To Dive: Dive Centre Manly