Andrea Marshall Named Scuba Diving Magazine's Sea Hero of the Year
Andrea Marshall is surprisingly modest, for royalty.
Affectionately dubbed "queen of the mantas" for her championing of the mantas of Mozambique and beyond, Marshall was "speechless and completely humbled" on learning that a panel of judges from Scuba Diving magazine had named her the 2017-18 Sea Hero of the Year, the top honor in a program that shines a light on action-oriented innovation, ­education, conservation and exploration.
"I've lived in the field — in the bush, really — for the past 15 years of my life, so I sometimes hardly even know if people are ­following the work," Marshall says. "Biologists on the front lines sacrifice a lot to try to safeguard threatened species, so we always really appreciate recognition for that work. To be honored by Scuba ­Diving magazine is really incredible."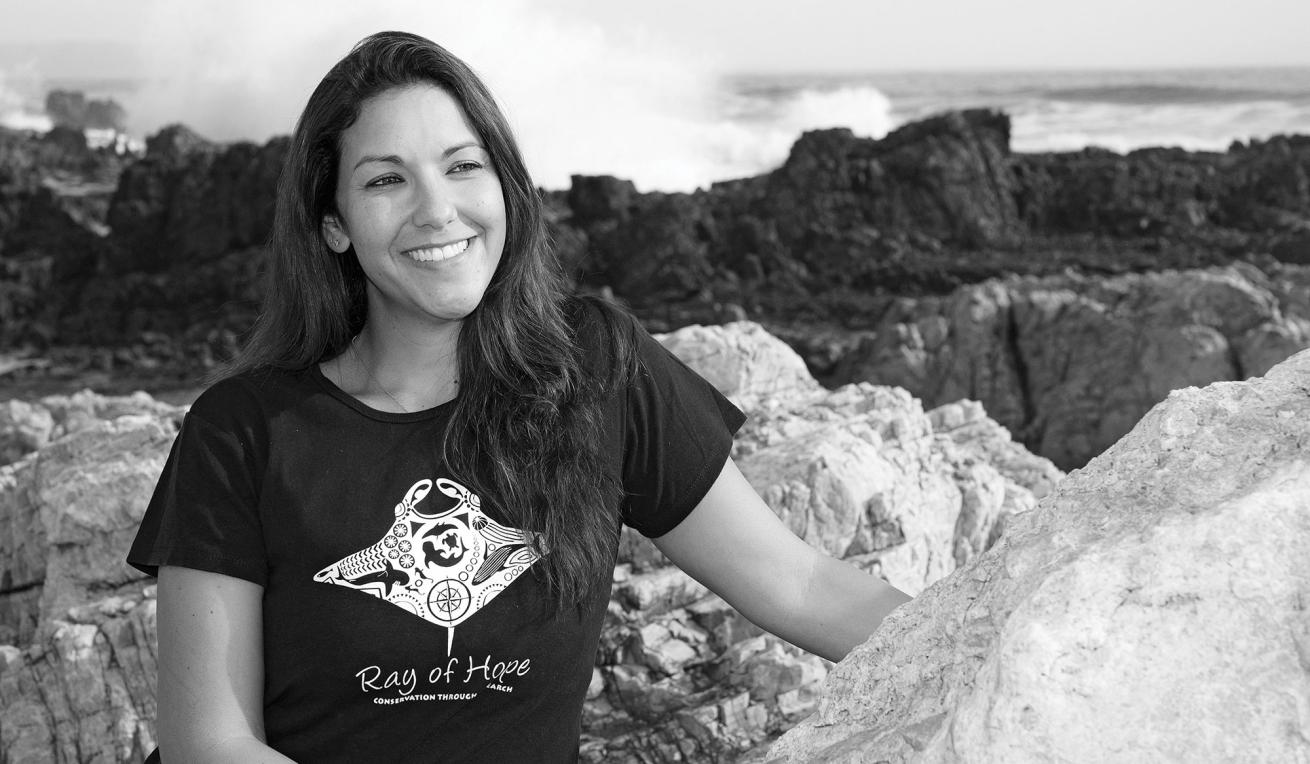 The $5,000 award from Seiko will further her work with mantas.

Janneman Conradie
Sea Heroes is sponsored by ­Seiko, which awards the Sea Hero of the Year $5,000 to continue his or her work. ­Marshall was honored in the September/­October issue for helping to secure a global CITES listing that protects mantas from international trade. The Sea Hero of the Year grant from Seiko will help ­integrate ­artificial-intelligence ­technology and cloud computing into her Manta Matcher database.
"I think my proudest achievement is the creation of the first ­global ­online database for manta rays," Marshall says. "It operates with an ­automated ­algorithm that matches the unique spot patterns of manta rays, like the FBI fingerprint ­database. Manta Matcher stands to revolutionize manta ray research by both centralizing data and tapping into a much broader base of contributors, namely the scuba diving community. This database will ultimately help biologists store, organize and utilize their manta ray data, and facilitate ­much-needed ­international ­collaborations between ­researchers.
"The ultimate scientific goal of this initiative is to track global trends, increase ecological knowledge of manta rays, and gain a broader perspective of the ­species' immediate conservation needs," Marshall says. "Ultimately we want to get to the stage where we can use all of the critical data floating around in cyberspace, and leave notes to the respective photographers about the animals they have encountered and how their photos and video are contributing to research."
"I hope that one day the story of what happened in Mozambique can be a motivator for other governments."
Seiko, which presents each Sea Hero with a Seiko Prospex PADI Special Edition SRPA21 watch, saluted her selection.
"This year we were honored to ­highlight the extraordinary work done by scuba divers making a difference for our world's oceans, reefs and marine life," says Akio Naito, chairman, president and CEO of Seiko Corporation of America. "­Together we were able to bring continued attention and support to divers as they bring awareness to the exploration and ­protection of our marine environment.
"Seiko is proud to support the recipient of Sea Hero of the Year, Andrea Marshall, for her commitment to the manta rays of Mozambique," Naito continues. "We congratulate all the Sea Heroes for their ­selfless dedication to our ocean planet."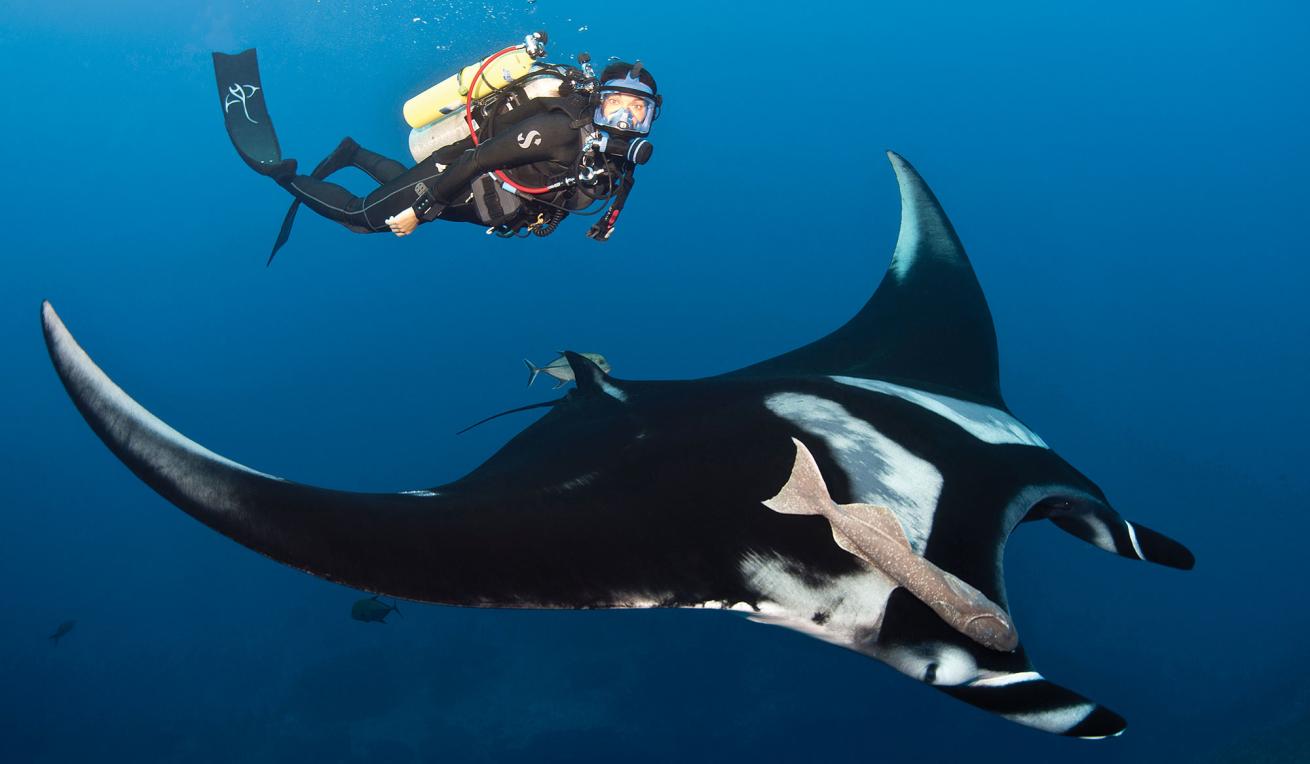 Through her Ray of Hope Expeditions, Sea Hero of the Year Andrea Marshall gives divers a chance to accompany her on field research around the world; a portion of what divers pay to participate funds the work. Go to Queen of Mantas to learn about 2018 and 2019 expeditions. You also can nominate your own Sea Hero; seven individuals selected annually are featured in Scuba Diving magazine and receive a Seiko Prospex PADI Special Edition SRPA21 watch.

Janneman Conradie
While Marshall's work has safeguarded mantas around the globe, it's the mantas of Mozambique that won her heart.
"Our scientific program on ­manta rays in southern Mozambique has been ­underway for the past 15 years," ­Marshall says. "Many conservation programs fail for the simple reason that not enough information was known about the species or local population to develop ­effective management strategies. Only now, a decade and a half since we started in Mozambique, can we really start to ­contribute to the conservation agenda for manta rays there."
Marshall's work isn't just a job — it's personal.
"Some people think I should give up and move on to work where I am likely to experience more success," she admits. "I think they assume that I stay because I have become so connected to this population — and to some degree, that's true. But it's a lot more than that. This is the largest and most important manta population documented in Africa. Saving this population matters. So while all of this may seem like an impossible task, I believe it's one worth fighting for — if we are ­successful, we will not only have documented the decimation of a major population of these rays, but we can also monitor their rebirth.
"Having case studies like these can be powerful models to inspire action in other areas, and I hope that one day the story of what happened in Mozambique can be a motivator for other governments."