Announcing Scuba Diving Magazine's 2023 Underwater Photo Contest Winners
2023 Through Your Lens
As strong as the urge to descend into depths unknown is the desire to share the experience with others. Each year, Scuba Diving's Through Your Lens contest celebrates those divers who dedicate themselves to the craft of bringing what we see under the water to life above the waves. They come from around the world and bring vision to these pages. The competition was fierce, with 3,074 images submit ted this year across five categories. These winners stood out to the panel of judges and left us awe-inspired with jaws dropped to the seafloor.
A very special thanks to our prize donors: Aggressor Adventures, All Star Liveaboards, Scubapro and SeaLife Underwater Cameras. Without your remarkable contributions, we could not continue our support of this contest and the photographers who inspire us.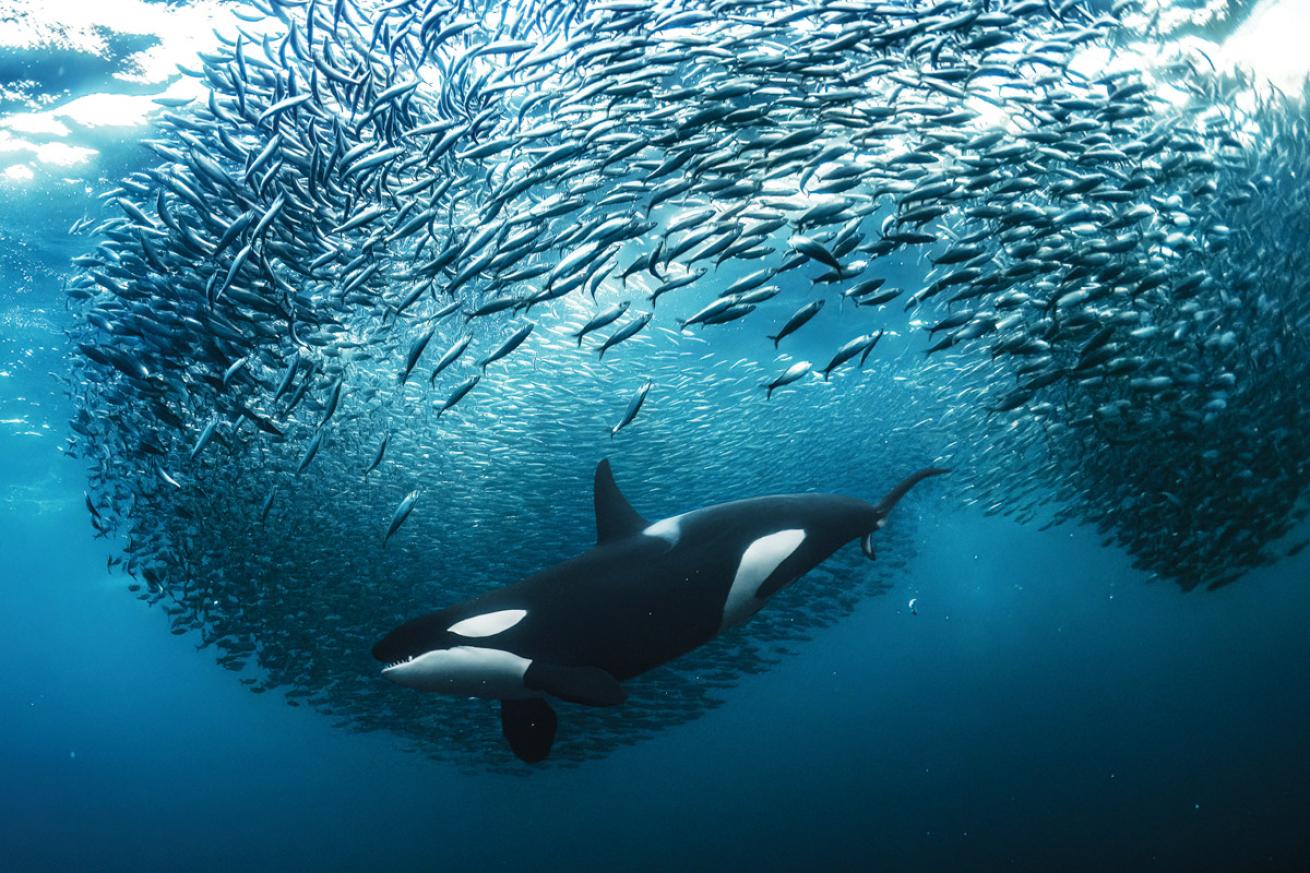 Location: Skjervøy, Norway

Andy Schmid
Behind the Shot Every winter, enormous schools of herring migrate from the open ocean into the fjords of northern Norway and attract large numbers of big predators such as orcas and humpback whales. Witnessing orcas feeding on herring using the so-called carousel feeding technique is very exciting but not easy to capture due to various factors: limited light and visibility, fast-paced action, and cold surface and water temperatures. Being able to freedive and capture the action on an ongoing feeding frenzy in these conditions is difficult, but this winter I managed to create this special photo of a female orca splitting a herring baitball while diving through it to get one fish.
Camera Gear Canon EOS 5D Mark IV; Canon EF 15mm f/2.8 fisheye lens; Nauticam NA-5DMKIV housing
Settings f/2.8; 1/125; ISO 1600
Prize Trip aboard Galapagos Aggressor III plus $1,000
Amateur
There's something to be said for being a beginner. Each year, less experienced competitors bring fresh perspectives, contagious enthusiasm and surprising subject matter to the table—it's about time they got a category of their very own. These winning photos were submitted by photographers who have never won an underwater photo competition before, but that is no longer the case for these awardees. This first-of-its-kind Through Your Lens category was full of compositions, colors and subjects that wowed us—you can't call that beginner's luck.
Meet Scuba Diving Magazine's 2023 Photo Contest Winners
Amateur — David Curry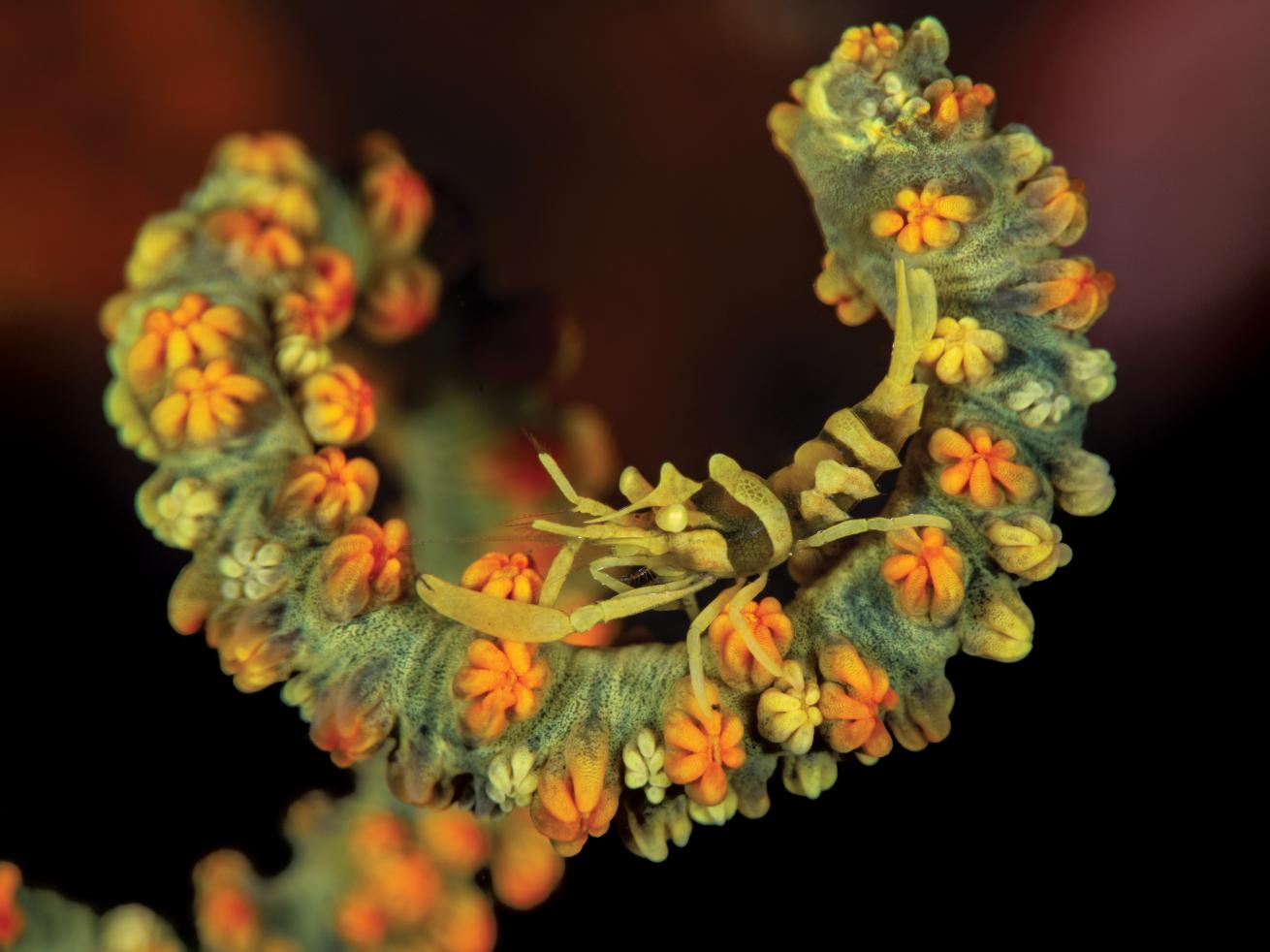 Location: Tulamben, Bali, Indonesia

David Curry
Behind the Shot I spotted this whip coral shrimp sitting on the very tip of the coral on a shore dive in Bali while on holiday with my wife, Ellen. After waiting patiently, the shrimp worked his way down the spiral and I took the shot just as he reached the bottom. This was my first trip using a DSLR—I managed to find a used setup just before setting off.
Camera Gear Nikon D800E; 105mm macro lens; Nauticam housing; two Inon Z-330 strobes
Settings f/22; 1/250; ISO 100
Prize Trip aboard All Star Red Sea liveaboard
Amateur — Lauren Wang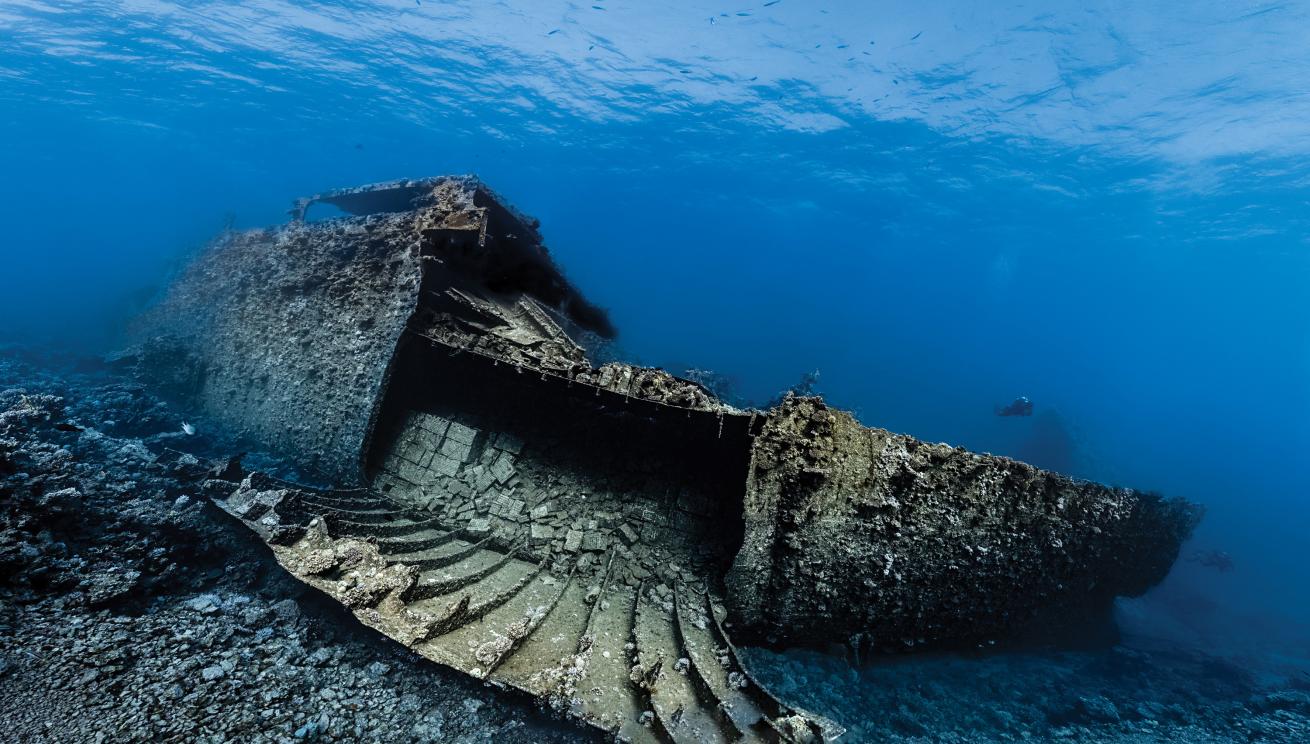 Lauren Wang
Behind the Shot I was heading into a photography workshop with a goal of trying some new techniques. I knew that we would be diving some wrecks, so I thought that I would like to shoot one as a panoramic. It was at the end of the dive at the Chrisoula K wreck, and I was swimming around when I thought, Now would be the perfect time to try this new technique.
Camera Gear Nikon D850; 16-35mm Nikon lens; Nauticam housing
Settings f/10; 1/200; ISO 400
Prize Trip aboard Blackbeard's Cruises
Wide-Angle
Each year, the winners of this category succeed in bringing their larger than-life encounters, jaw-dropping vistas and expansive frames to the judges in surprising new ways. Exhibiting the awesome nature of the underwater realm in such an all-encompassing way is no easy feat. These photographs play with light, motion and underwater models, illustrating perfectly that moment where time stands still, our eyes widen behind our masks and anything seems possible. The end result: epic shots that our judges couldn't stop staring at.
First Place — Jean-Siegfried Louis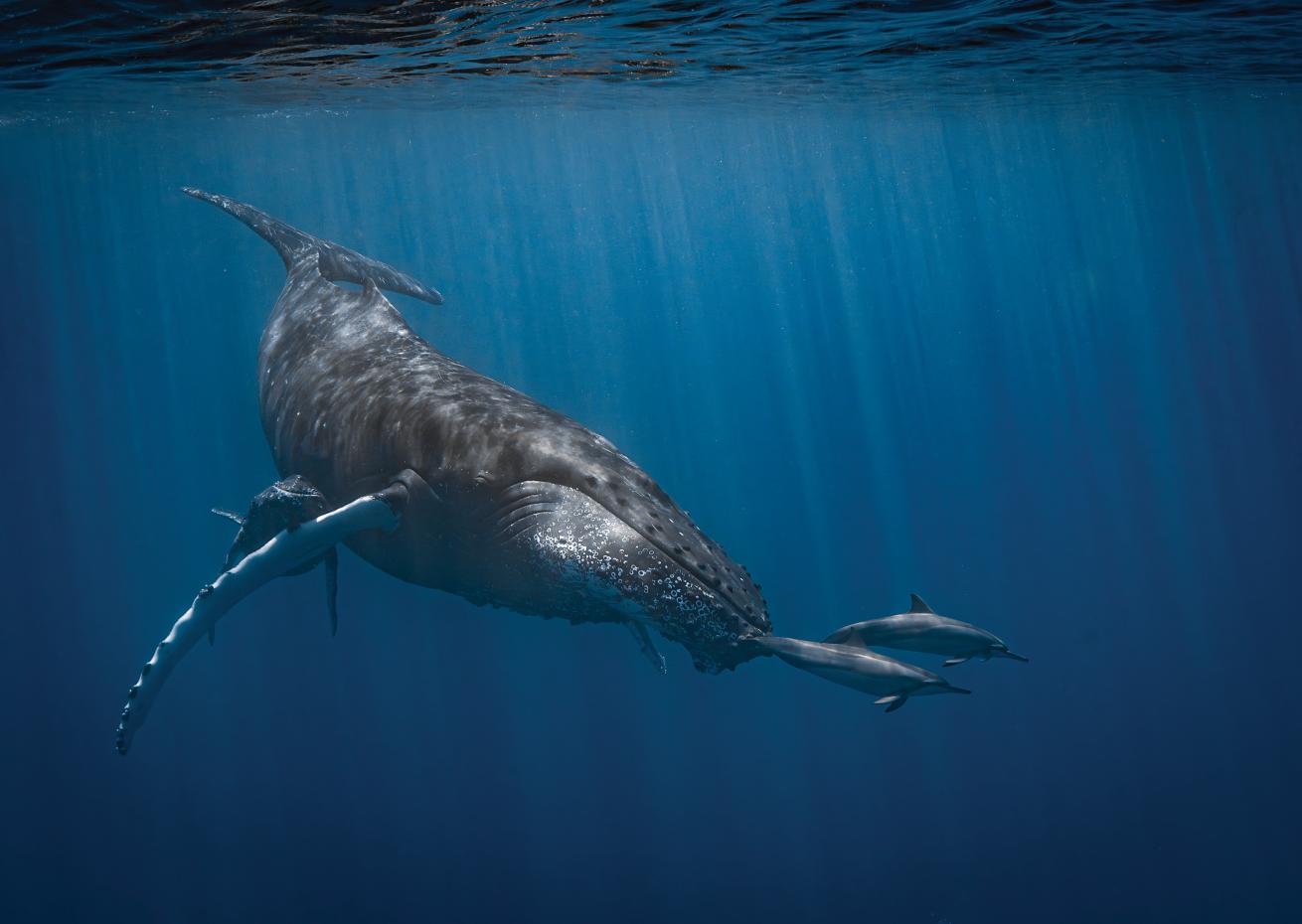 Jean-Siegfried Louis
Behind the Shot In September 2022, toward the end of the humpback whale season on Réunion Island, we went on an outing with photographer friends. After two hours of searching, we came across a large school of dolphins. In the absence of whales, we got in the water to take some pictures. At the end of the school of dolphins, a whale appeared out of the blue with its calf. It provided a few moments of incredible emotion, which I was able to immortalize in this shot.
Camera Gear Sony A74; Nauticam housing
Settings f/10; 1/320; ISO 320
Prize Trip aboard Belize Aggressor III
Second Place — Daniel Nicholson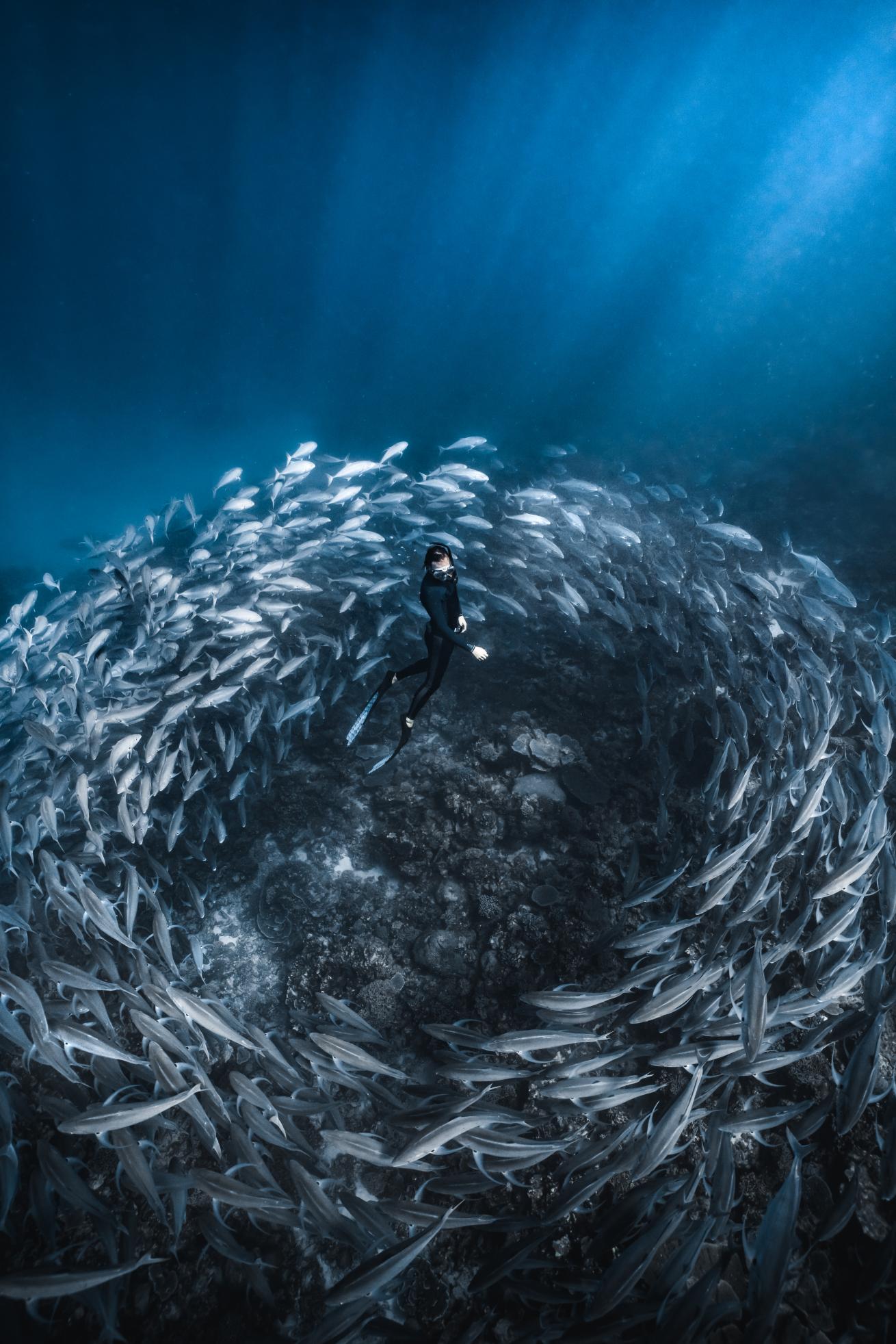 Location: Ningaloo Reef, Western Australia

Daniel Nicholson
Behind the Shot While out freediving one of our local sites, my friend Jackson Stutsel and I came across the biggest school of gold-spot trevally that I've ever seen. As he dived down closer, the trevally began to circle him inquisitively. I was in the perfect spot to capture the scene as it unfolded.
Camera Gear Sony A7RIII; Tamron 17-28mm f/2.8 lens; SeaFrogs housing
Settings f/8; 1/400; ISO 640
Prize Scubapro MK25 EVO/ S620Ti Regulator System
Third Place — Valentina Cucchiara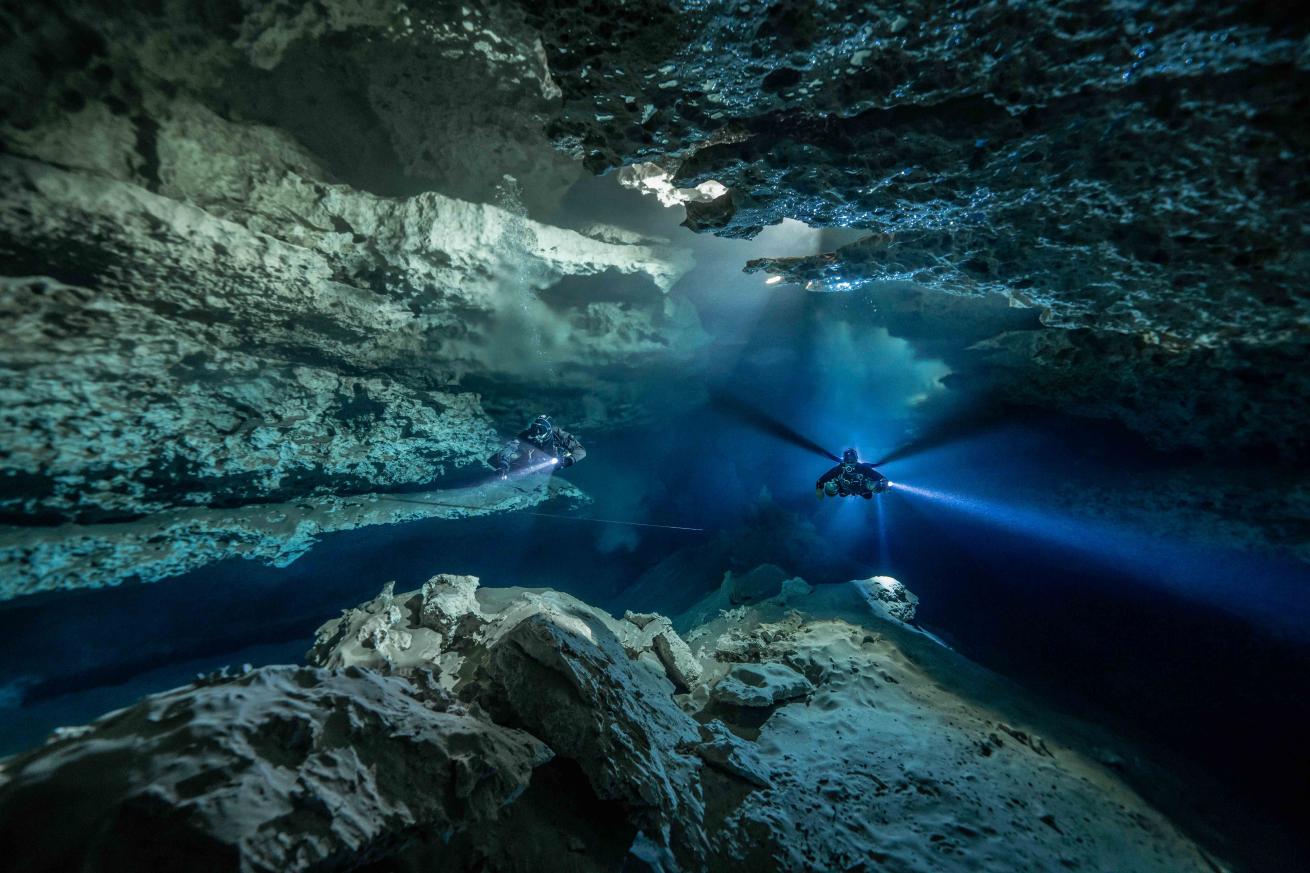 Location: Quintana Roo, Mexico

Valentina Cucchiara
Behind the Shot Mayan Blue is one of the most striking caves for its huge tunnels and crystal-clear waters. On this day, the stars aligned and I could finally dive with Fran Lopez and Chema Sánchez Pérez, of Go Dive Mexico, and Benjamín Ramiro Ríos helping out with lighting—something we had been trying to organize for quite a while. We used DPVs to navigate Mayan Blue A tunnel and reach the Dead Arrow Passage, where this photo was taken. We wanted to have more time to light the tunnel and try a shot with two divers but only one assistant for a backlit shot. It worked out, and a lot of fun was had by all—the main reason we dive.
Camera Gear Sony A1; Nauticam housing; Bigblue 33,000-lumen and 15,000-lumen lights
Settings f/4; 1/60; ISO 3200
Prize SportDiver Underwater Smartphone Housing
Related Reading: Discovering the Wonders of Mexico's Cenotes for the First Time
Blackwater
In the inky blackness of night, surrounded by the endless depths, the water glows with life. However, capturing the tiny marvels that appear on blackwater dives is a skill all its own—one that requires technical prowess combined with an artistic eye. From billowing rainbow appendages and fish sporting string lights to larval creatures hitching rides on each other, the winners of this category encapsulated the weird and otherworldly joy that can be found on blackwater dives and showed us the variety of life that persists where we least expect it.
First Place — Ken Keong Chong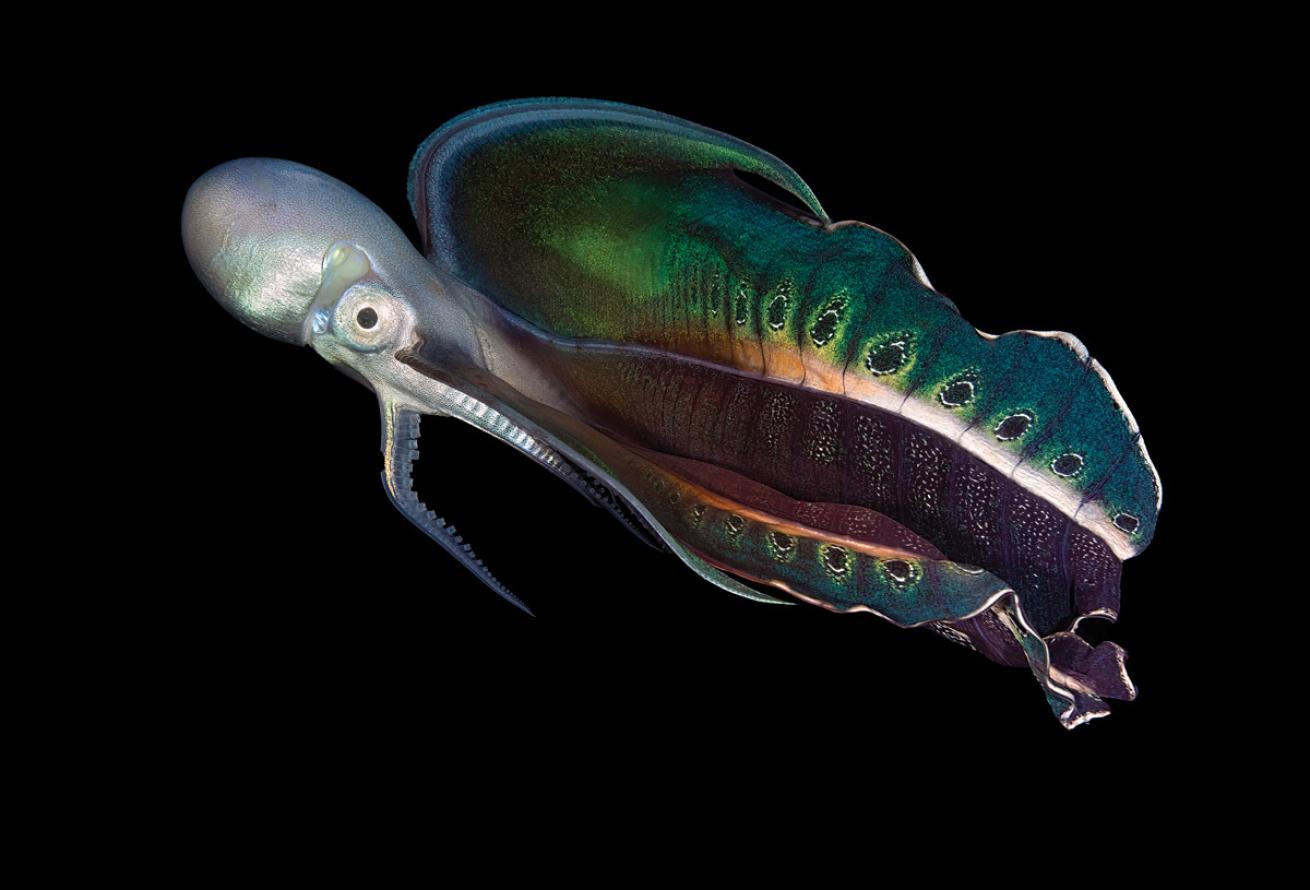 Location: Anilao, Philippines

Ken Keong Chong
Behind the Shot I had never experienced a blackwater dive before and always wanted to try it, so I contacted my dive guide Dennis Corpuz to arrange a dive trip last April. Thanks to him, we finally saw the blanket octopus on our last 10 minutes of the dive. I was so excited and feel lucky to have seen it on my very first blackwater dive. Prior to the dive, Dennis shared his tips on camera settings and told me to position myself to the side of the blanket octopus to capture its side view with its wide-open weblike membrane that resembles a blanket.
Camera Gear Canon R6; 100mm lens; Ikelite housing; two Inon Z-240 strobes
Settings f/13; 1/200; ISO 400
Prize Trip aboard Turks and Caicos Aggressor
Second Place — Marcello Di Francesco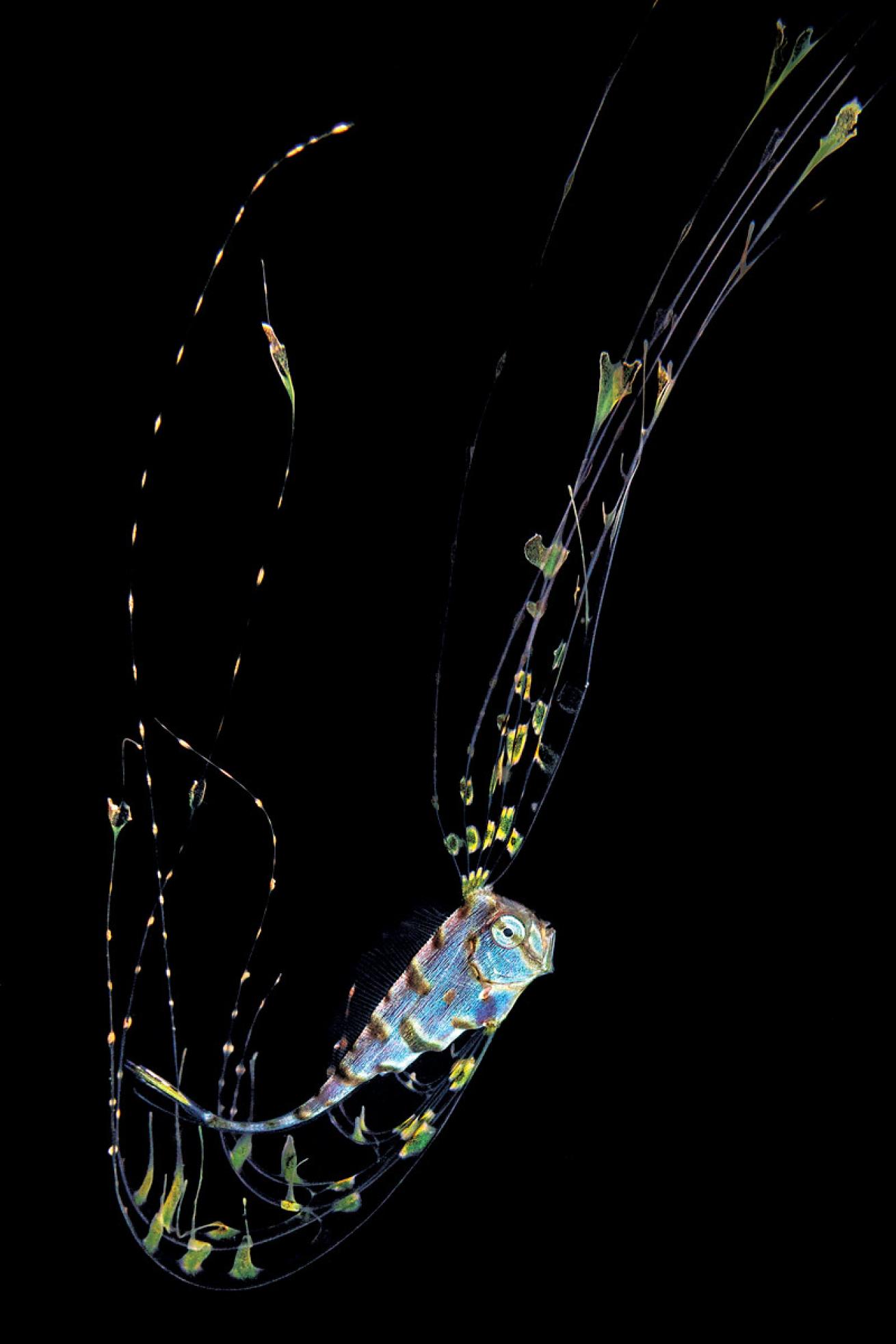 Location: Anilao, Philippines

Marcello Di Francesco
Behind the Shot Blackwater diving is always a fascinating experience. You never know what you might encounter and shoot. I was holding a workshop on macro and blackwater dives in Anilao in the Philippines last March, and during one of the many night dives I found this amazing subject at the end of the dive. Having the 100mm lens to be able to frame the whole subject, I had to move away several centimeters to get a harmonious and complete shot.
Camera Gear Canon R6; Canon EF100mm f/2.8L macro lens; Nauticam housing and port; Scubalamp PV52T and PV22 video lights; Scubalamp D-Pro strobes
Settings f/16; 1/200; ISO 320
Prize Scubapro MK25 EVO/S620Ti Regulator System
Third Place — Boz Johnson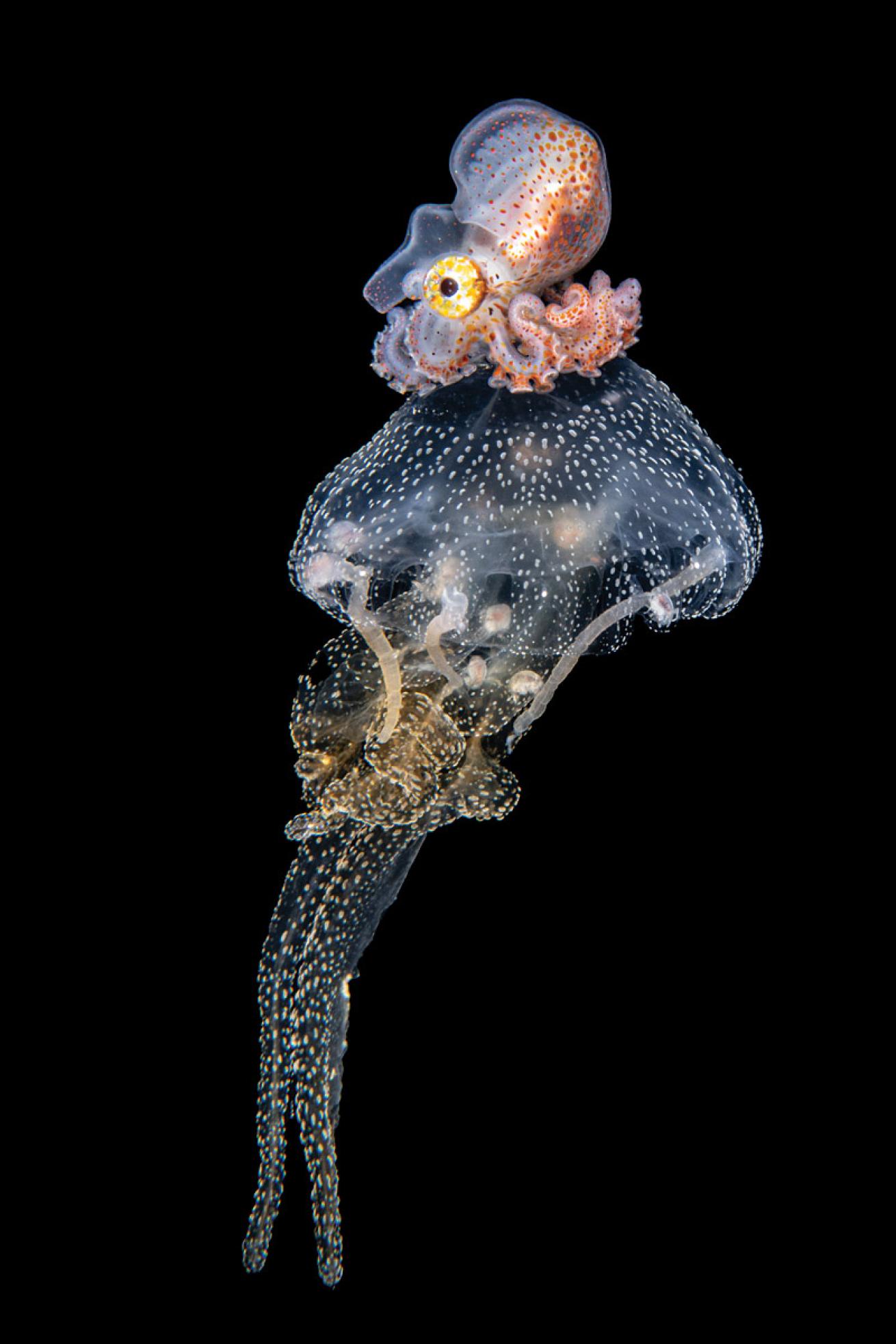 Location: Anilao, Philippines

Boz Johnson
Behind the Shot It is always exciting to see argonauts riding other creatures. This one was about 3 centimeters tall and was scooting around slowly enough for me to turn the camera vertically and get close. They will usually turn away from light and motion, so using a red focus light allowed me to swim alongside the pair to get some good images, even though the strobe firing startled the argonaut each time. There is some discussion on the reason for the behavior here, but it seems to me like when you live in the open water, a ride on a jellyfish would be quite nice.
Camera Gear Nikon D850; Nauticam housing; Nikon 60mm lens; Inon Z-330 strobes; Kraken Sports Hydra 4000 focus light; Kraken Sports NR 2000 spotting torch
Settings f/22; 1/200; ISO 200
Prize SeaLife Micro 3.0 Underwater Camera
Conceptual
With more digital tools at our disposal than ever before, the definition of underwater photography is expanding to include themes of magic, fantasy and imagination. This year's out-of-this-world submissions managed to evoke emotion through movement, humor and metaphor. Our judges were impressed by the amount of quirky creativity found in this category, and the winning photographs had us believing that anything is possible underwater.
First Place — Purwanto Nugroho
Location: Malang, Indonesia

Purwanto Nugroho
Behind the Shot The photo is a conceptual shot of two wushu athletes in the middle of an underwater duel with their swords. It was taken during an underwater photo workshop photoshoot in December 2022, where I was the guest speaker. I directed the two talents to position themselves into offensive and defensive poses. The models were comfortable under the water and had no difficulty understanding and following my directions. I picked this image from a series of my shots because I consider it the best one.
Camera Gear Fujifilm X-T3; Samyang AF 12mm f/2.0 lens; Ikelite 200DL housing with 8-inch dome; Sea&Sea YS-D3 MKII; Bigblue VL2800 as a backlight and above-water light source
Settings f/5.6; 1/125; ISO 1000
Prize Trip aboard Red Sea Aggressor IV
Second Place — Conor Culver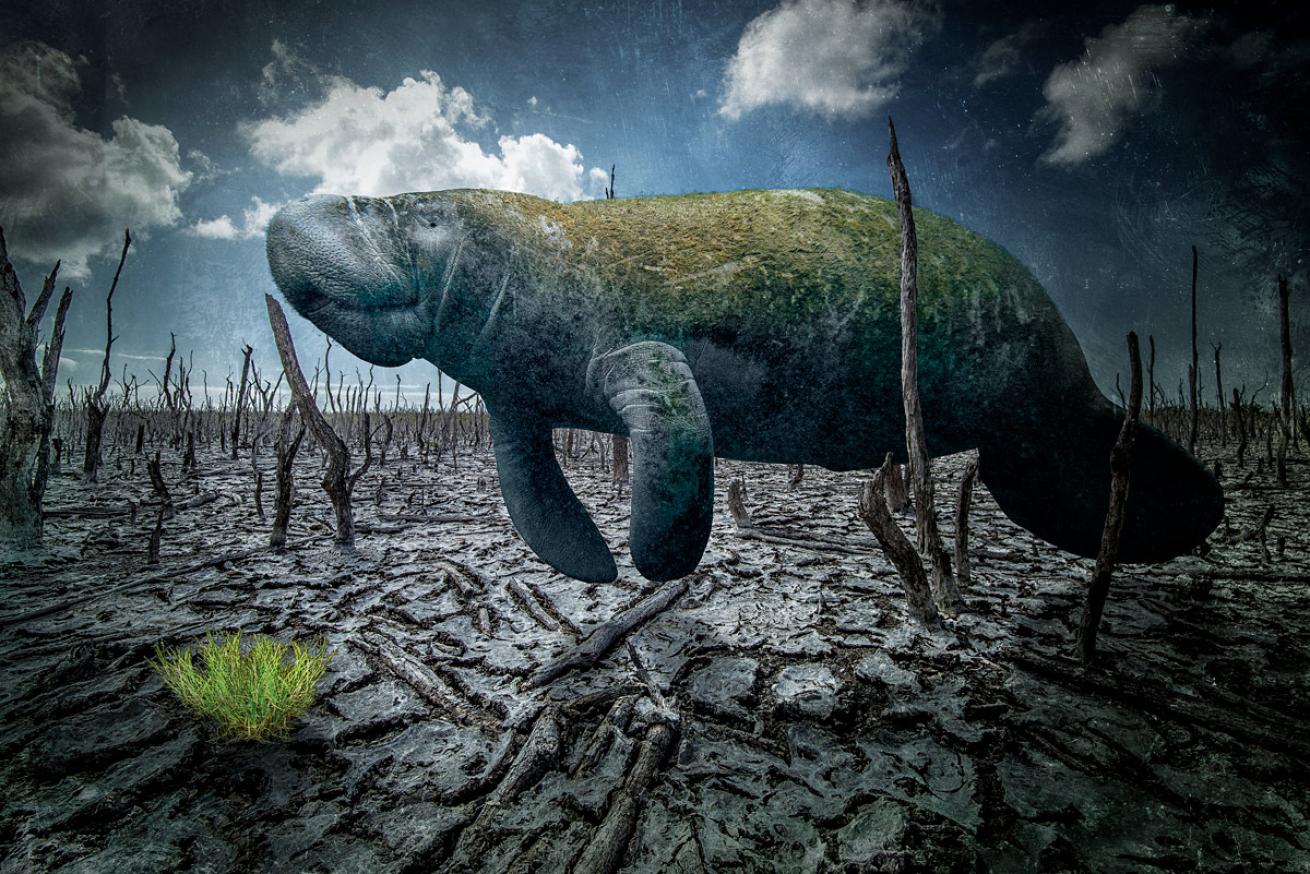 Location: Marco Island and Crystal River, Florida

Conor Culver
Behind the Shot This image is part of my Underwater Surrealism body of work. The manatees in Florida are under a great deal of stress, with their food source disappearing due to dredging, pesticide runoff and climate change. In some areas, seagrass has completely disappeared, leaving these gentle giants to starve. We need action to save them.
Camera Gear Nikon D800E; Nikkor 16-35mm lens; Ikelite housing and natural light
Settings f/8; 1/125; ISO 640
Prize Scubapro MK25 EVO/S620Ti Regulator System
Third Place — Deanne King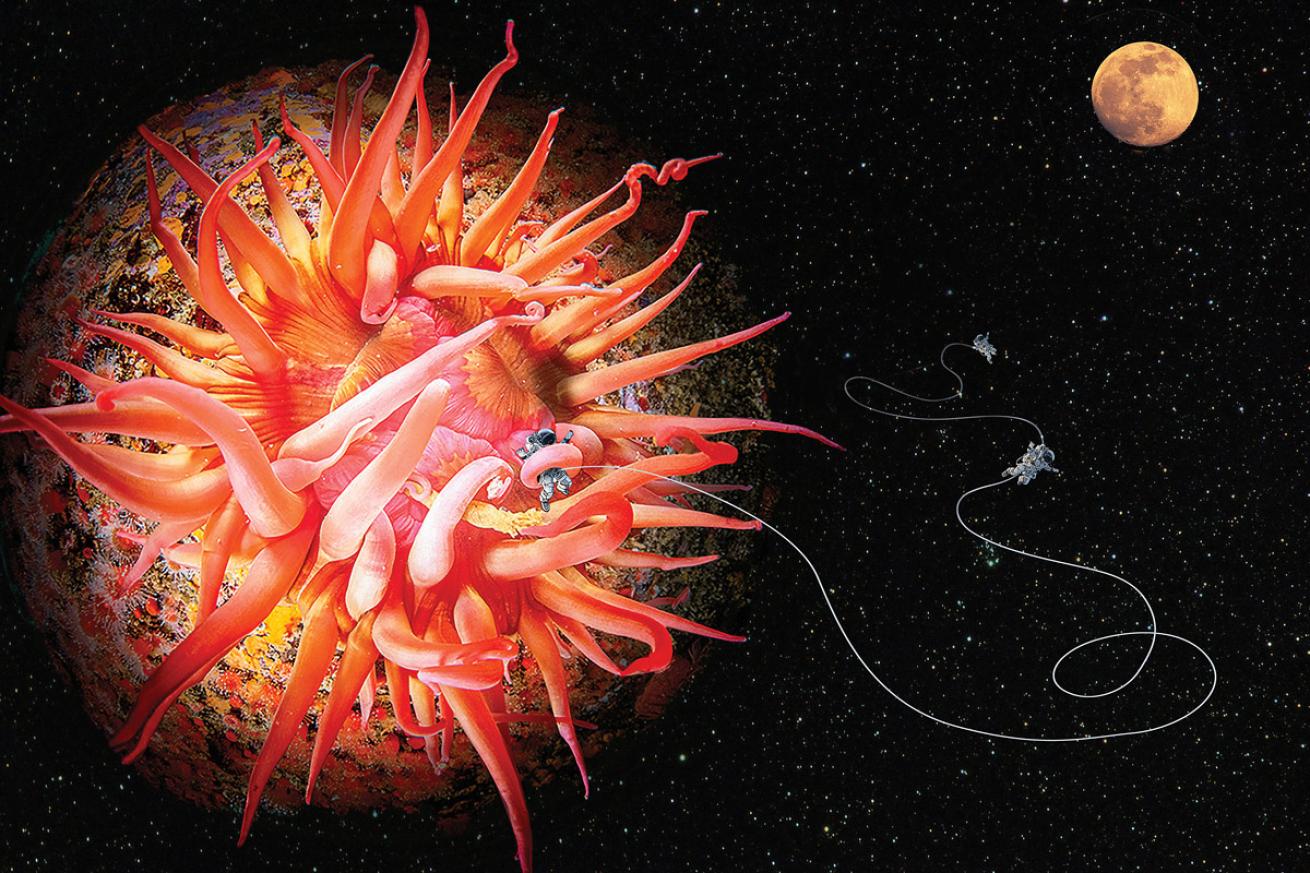 Location: Monterey, California

Deanne King
Behind the Shot I was shooting circular images and I found this anemone. It was on a rock, and it was perfect for a circular image. At 8mm I had to get really close and took several shots. When I returned home and viewed the photo, I thought it looked like an alien planet with tentacles. Astronauts being swallowed up after losing contact with their mothership seems a bit creepy, but in the end a great way to have an alternate view of a common subject.
Camera Nikon D850; Nikon 8-15mm lens; Nauticam housing; Sea&Sea YS-D2 strobes
Settings f/11; 1/100; ISO 640
Prize SeaLife SportDiver Smartphone Housing
Related Reading: Divers Cull the Tide of Urchins to Help Save Kelp
Behavior
There's nothing quite like being in the right place at exactly the right time to witness the unique, wild behaviors exhibited by our favorite denizens of the underwater world. Even better? Capturing the moment on camera for all to see. Whether engaging in unlikely pairings or symbiotic relationships, hunting, hiding, mating or simply displaying anthropomorphic emotions, marine animals offer divers a glimpse into the life and rituals of another being. The resulting images create an instant, deep connection between viewer and subject.
First Place — Yury Ivanov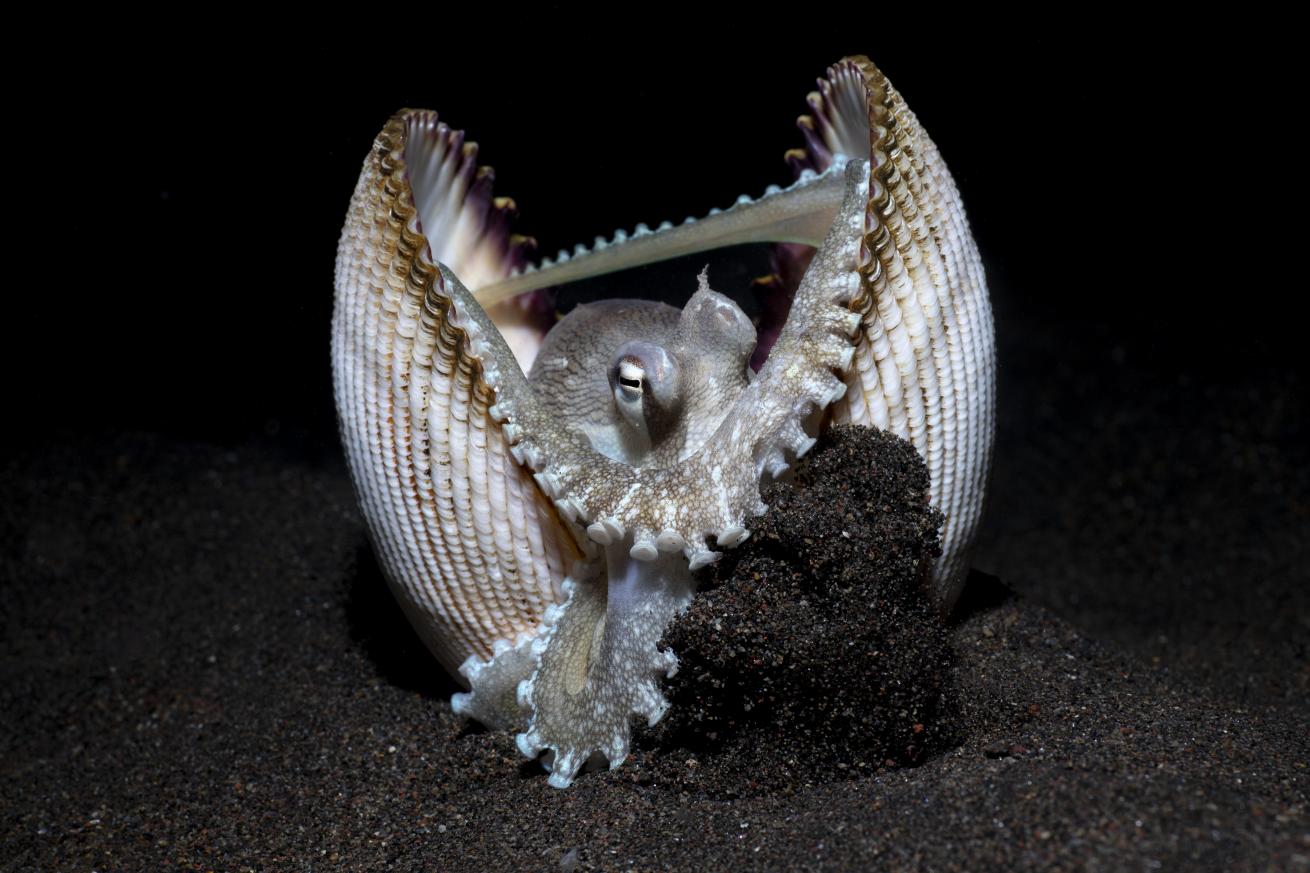 Location: Bali, Indonesia

Yury Ivanov
Behind the Shot A coconut octopus (Amphioctopus marginatus) builds a home. I knew that I could find this species of octopus at one of the dive sites near Tulamben Village. The octopuses there are active only during nighttime, so I dived there after 7 p.m., hoping to photograph something interesting, and was lucky to see one of these amazing creatures building itself a house from shells. The photo was taken at a depth of 5 meters.
Camera Gear Nikon D850; 60mm macro lens; Nauticam housing; Inon Z-330 strobes
Settings f/16; 1/250; ISO 80
Prize Trip aboard BVI Aggressor
Second Place —João Pontes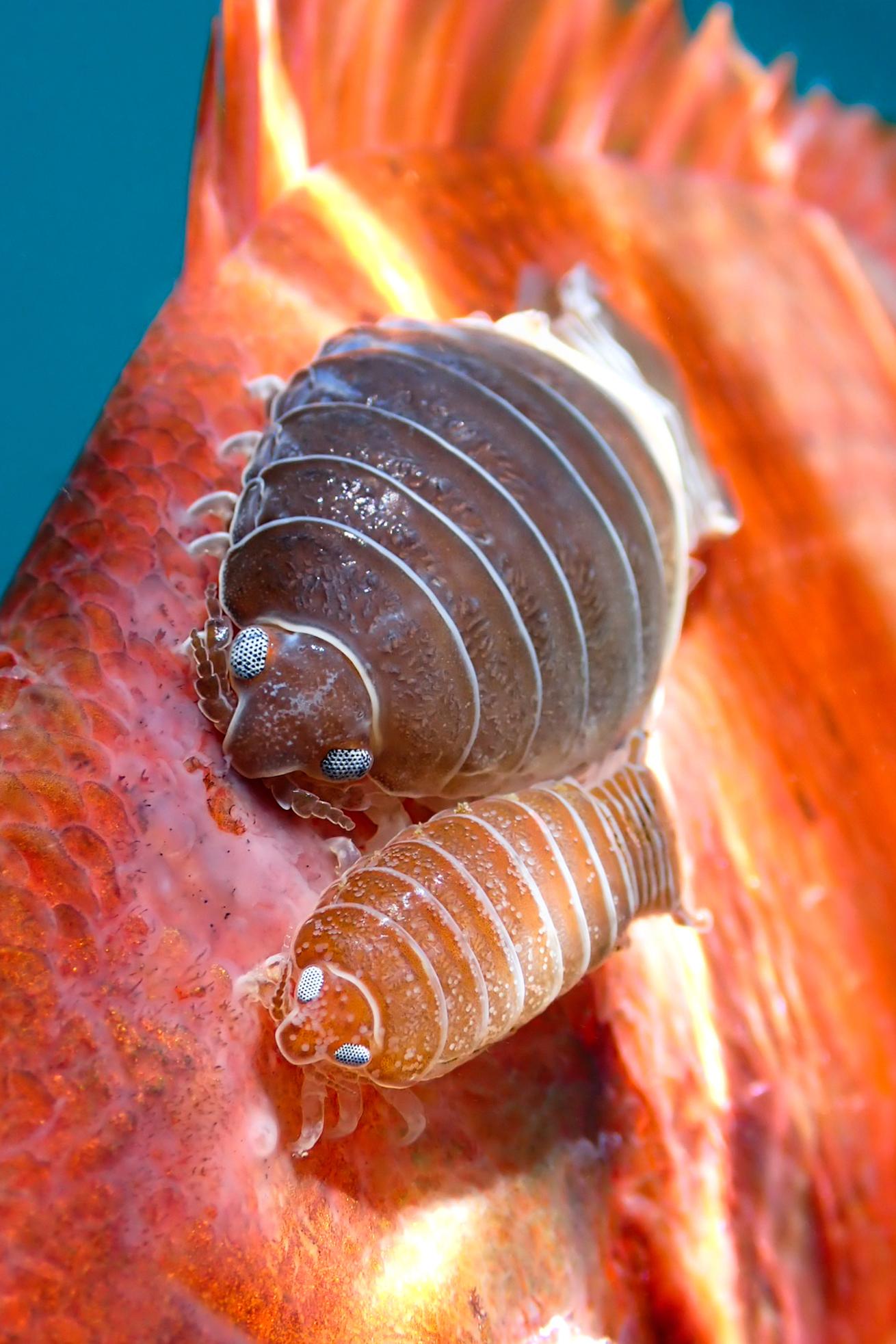 Location: Armação de Pêra, Algarve, Portugal

João Pontes
Behind the Shot During my morning freedive, I was filming an octopus when a fisherman called me from the cliff. His line got stuck in a rock, and he asked if I could release it. At the end of the line, a poor redbanded seabream had entangled itself, so I decided to cut the line. However, I made sure to remove the hook first, and as I carefully grabbed the fish, I saw that it had some company as well. I took some quick shots and it swam away. A happy ending for me and the fish, not so much for the fisherman.
Camera Gear Olympus TG-6; Olympus PT-059 housing
Settings f/4; 1/320; ISO 100
Prize Scubapro MK25 EVO/ S620Ti Regulator System
Third Place — David Pleuvret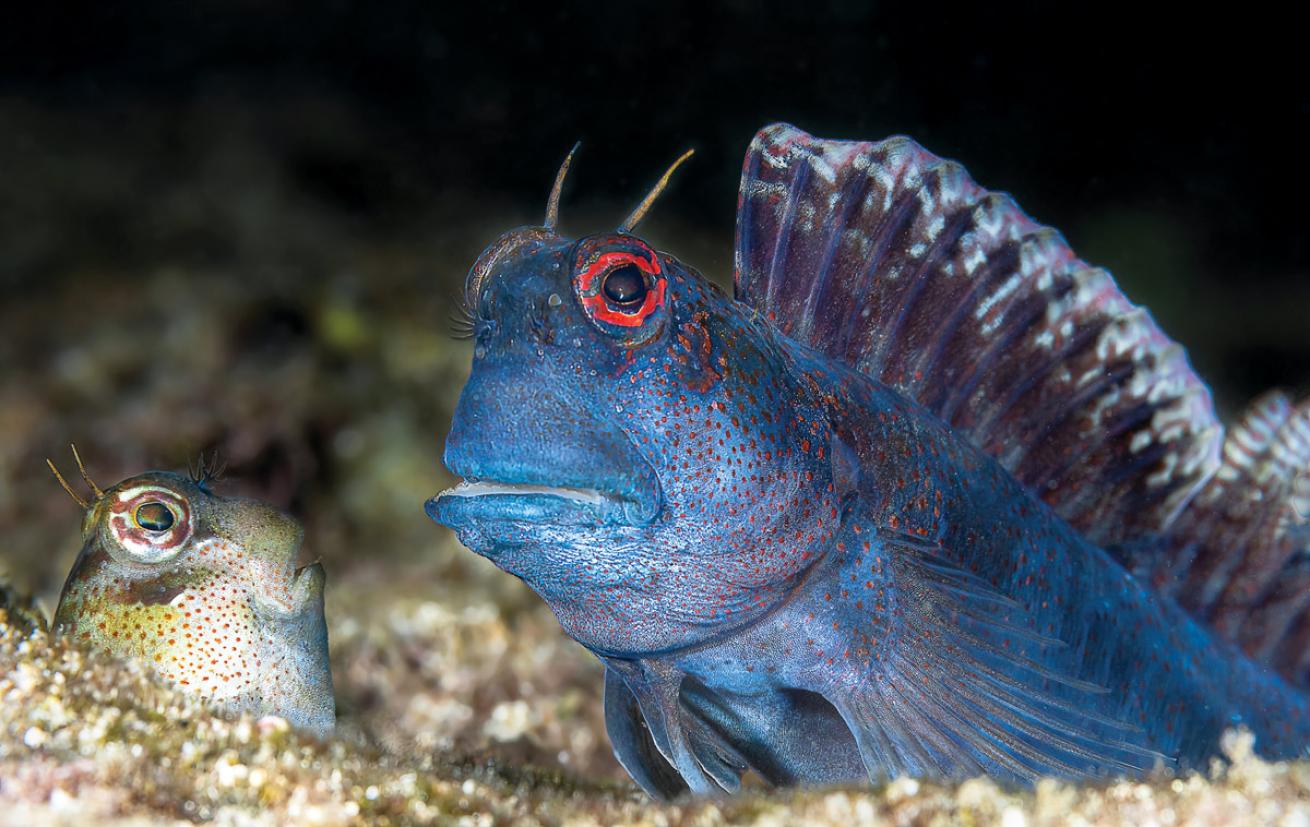 David Pleuvret
Behind the Shot On a sunny morning at low tide, I was snorkeling in the lagoon of St. Pierre when I found this duo of blennies on top of coral rocks. It was the first time I had seen this behavior. They were quick, ducking in and out of the hole. I'm glad to have captured this action between them.
Camera Gear Sony a7rIV; Sony 90mm macro lens; Nauticam housing; two Inon D-200 strobes
Camera Settings f/14; 1/250; ISO 160
Prize SeaLife ReefMaster RM-4K Action Camera
---