The Art of Diving for Shipwrecks and Treasure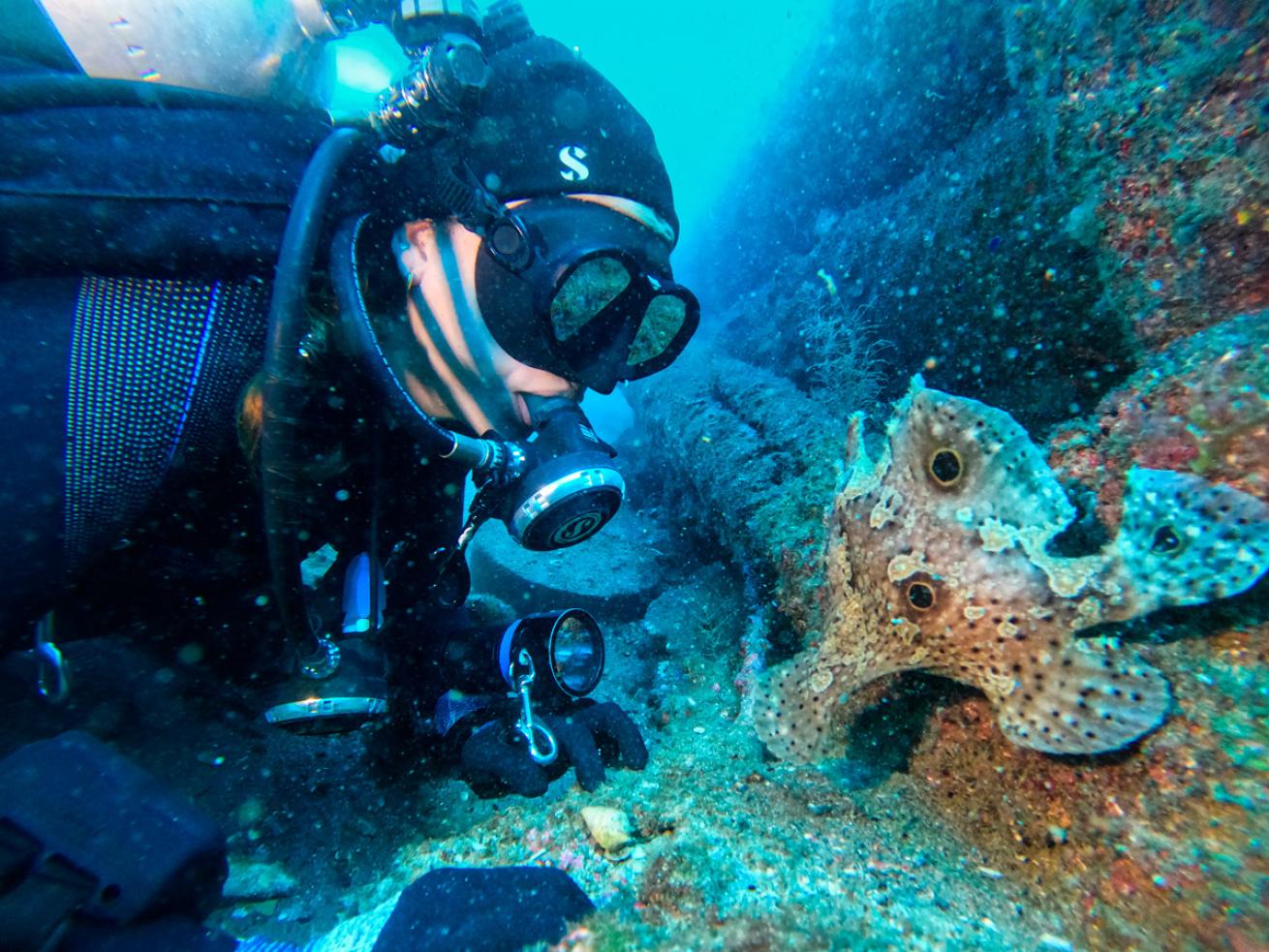 Gadomski encounters a frogfish while working the Pulaski wreck.

Jimmy Gadomski
Jimmy Gadomski never expected his life to take a turn into treasure and shipwreck hunting. He was a technical diving instructor in South Florida when he got a call from a friend working a shipwreck site off the North Carolina coast. The problem? The site was around 115 feet deep, and as recreational divers, they were only getting about 15 minutes of bottom time.
"I told them we could be doing an hour on the bottom all day, with pretty minimal decompression," Gadomski says. "They asked me to help train them, and when we were done, they invited me to come up and try and find treasure with them."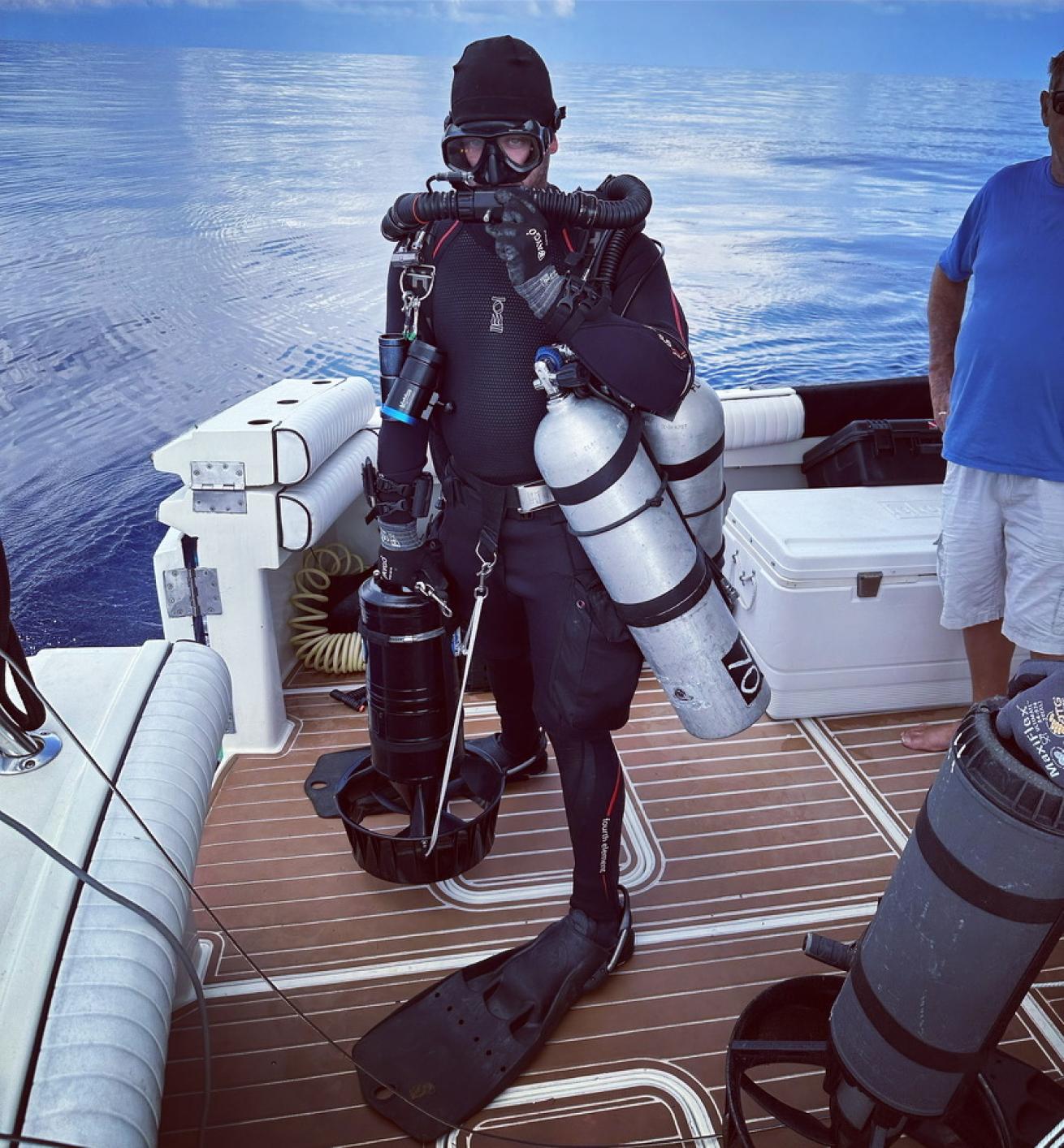 Jimmy Gadomski dropping in for a shipwreck survey of a depth of 210 feet offshore in the Gulf of Mexico. This type of diving takes special equipment and years of training.

Jimmy Gadomski
He took them up on the offer, and during his third dive on the site, about 50 miles off the coast of Wilmington, North Carolina, Gadomski uncovered a candlestick holder bearing the name of the luxury steamship Pulaski, which sank in 1838.
"We came in from that first trip with a table full of plates and coins and gold," he says. "Since then, we've found three different sections of the wreck and millions in gold, silver and artifacts."
Jimmy Gadomski with 3 gold coins he pulled from the Pulaski site as well as forks, silver coins, and some broken China.

Jimmy Gadomski
Most of the coins get sold at auction, and each team member gets a percentage, but Gadomski is a shipwreck and history nerd at heart. "We actually set up an exhibit on the Pulaski at the Ships of the Sea Maritime Museum in Savannah, Georgia, so we can donate the historical artifacts to go on display."
Gadomski grew up snorkeling in South Florida but didn't put a tank on his back until a family trip to the Bahamas when he was 17. He enjoyed it so much that he signed up to get certified a week later. His passion for diving shipwrecks led him to technical diving and eventually becoming a technical diving instructor.
After their initial find on the Pulaski, Gadomski and his partner expanded their treasure-hunting operations to other locations. "We've now worked multiple wreck sites, found gold coins, and identified shipwrecks in other spots as well," he says.
While the treasure-hunting business can seem glamorous, it includes a lot of hard work and frustration as well. "At the Pulaski site, everything is under 5 to 8 feet of sand. If we have a good weather window, we'll sleep on the boat and do three to five dives per day up to five days in a row—it can be exhausting."
Related Reading: Seeing in Depth: What it Takes to Create Underwater Maps
Gadomski's reputation as a shipwreck hunter also led to an opportunity to work as a diver in a Bermuda Triangle-focused episode of History's Greatest Mysteries, which led to a supporting role in a History Channel miniseries called The Bermuda Triangle: Into Cursed Waters.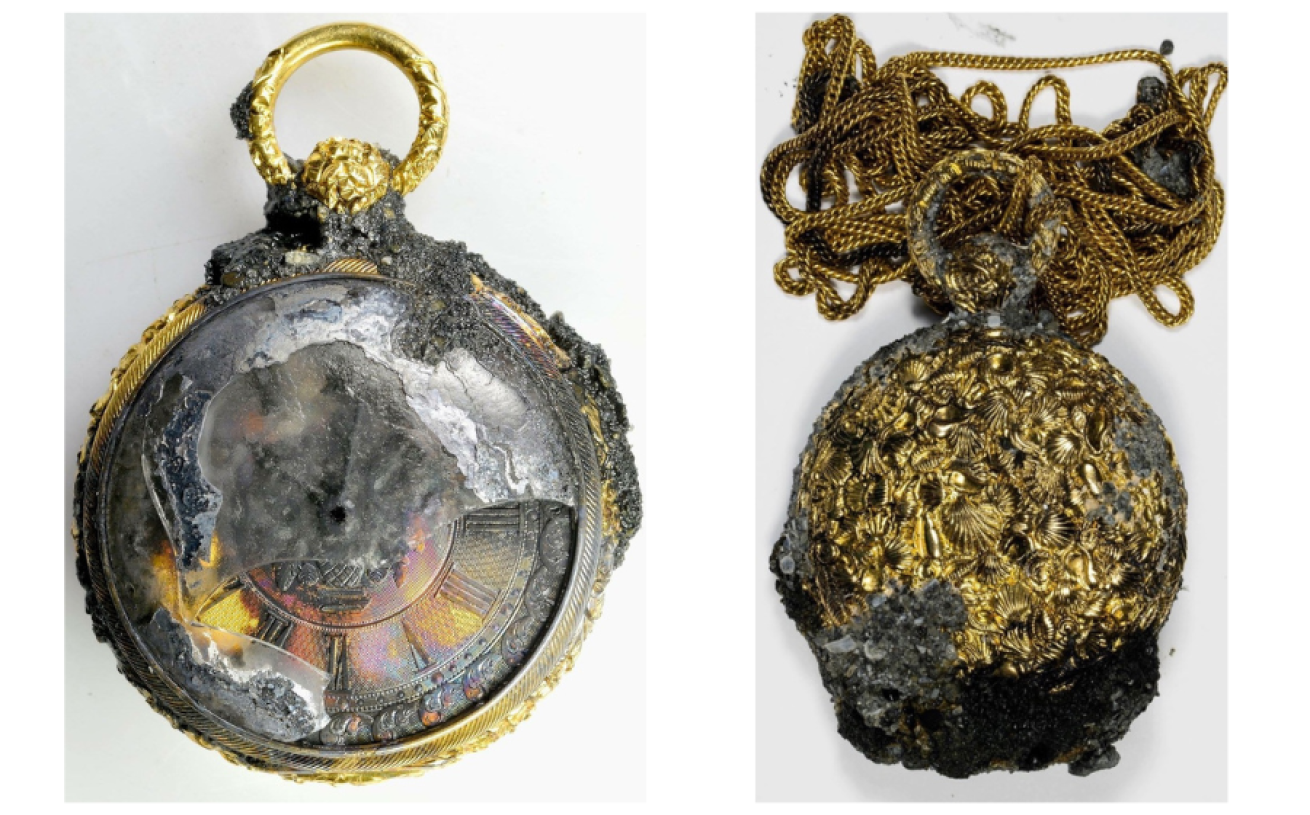 Gold pocket watches from the Pulaski wreck. Watch on the left was found encrusted ontop of an iron bar and was the first pocket watch to come off the Pulaski wreck. Time is stopped just after 11 pm which is when the Pulaski disaster occurred based on eyewitness accounts.

Jimmy Gadomski
In the show, Gadomski and his partner made multiple discoveries, including uncovering a 20-foot section of the Space Shuttle Challenger, which garnered international attention after the discovery was announced by NASA in November 2022.
It's necessary that divers in this line of work have a sense of respect for the wrecks and salvage laws, and that they do not disturb wrecks without the proper training and legal right to do so. But Gadomski explains that anyone can get into treasure hunting if they have the drive and the willingness to work for it.
"There are a lot of different paths, but often you just have to find people and ask to jump on their boat—and you'll likely work for next to nothing," he says. "We're always looking for people in the Carolinas, but because our site is deep, our minimum requirement is basic tec diving knowledge."
"It's not the greatest pay in the world, but food and lodging are covered, and we'll teach you how to use the equipment—you have to start pulling up treasure before we talk percentages, though."
Job Requirements
Degree: None, though prior boating experience is recommended.

Salary: Starting around $120 per day

Certifications: Advanced Nitrox and Decompression Procedures
---