The Best Diving Sites in Flower Garden Banks National Marine Sanctuary
The Flower Garden Banks National Marine Sanctuary is one of the most beautiful dive sites off the eastern coast of the United States. Situated about 100 miles off the coasts of Louisiana and Texas, the national sanctuary is the only one of its kind in the Gulf of Mexico and is a must for divers who want to see spectacular hard and soft corals and myriad of marine life.
The sanctuary protects a remote and fragile reef system made up of three underwater banks: the East Flower Garden Bank, the West Flower Garden Bank and the Stetson Bank. These banks rising from the depths of the Gulf of Mexico form underwater mountains known as salt domes and are home to more than 22 species of coral and hundreds of invertebrate and fish species.
Twelve miles apart with coral caps spanning hundreds of acres, the reefs are the northernmost coral reefs on the North American continental shelf. They are home to some of the healthiest coral reefs and underwater life in the Western Hemisphere.
This is a once-in-a-lifetime diving experience. It takes a bit of effort to get there, but it's well worth the endeavor and if you are an ocean-lover, then this trip should be at the top of your diving bucket list.
Top Dive Sites
The sanctuary's three sites offer amazing dives on incredibly healthy coral reefs teeming with life. The reefs are in the open ocean and fairly exposed with strong currents, so the diving site is best suited for intermediate and advanced divers. It's a good idea to dive with a LifeLine device in the open ocean and remember to test it before your dive.
East and West Flower Garden Banks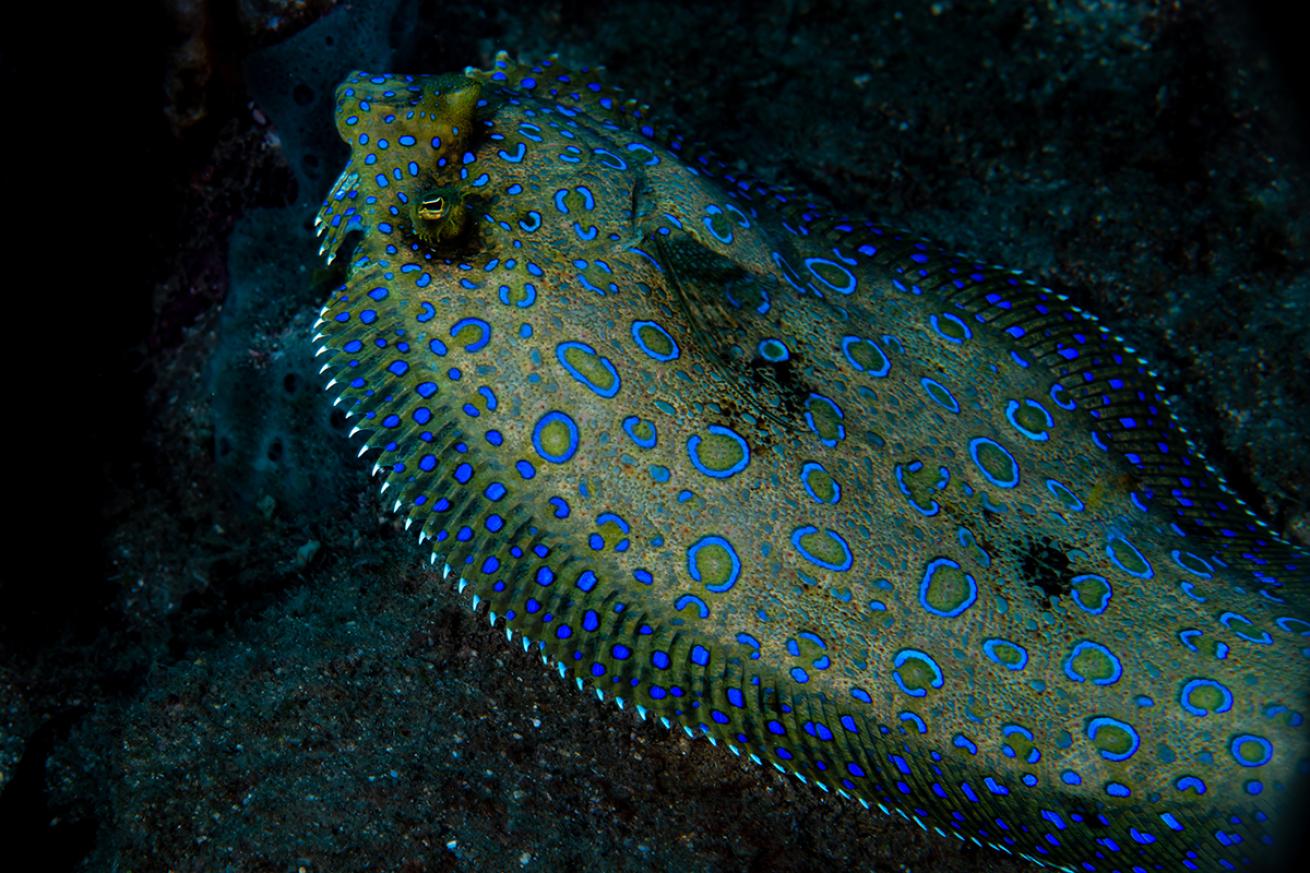 A peacock flounder rests on the sea floor.

Shutterstock.com/bcampbell65
The East and West Flower Garden Banks will have you in awe from the time you descend until you come up. Colossal heads of hard coral formations studded with giant brain corals, orange and yellow sponges and star coral polyps greet you at 65 feet below the surface. Massive green and brown boulders and mounds extend as far as the eye can see and teeming schools of creolefish and chromis hover in the current.
Stetson Bank
Stetson Bank is a 36-acre reef top about 30 miles southeast of the West Flower Garden Bank and the best place to dive if you want to see large pelagics and marine life like sandbar and silky sharks, manta rays, sea turtles and whale sharks (if you are lucky).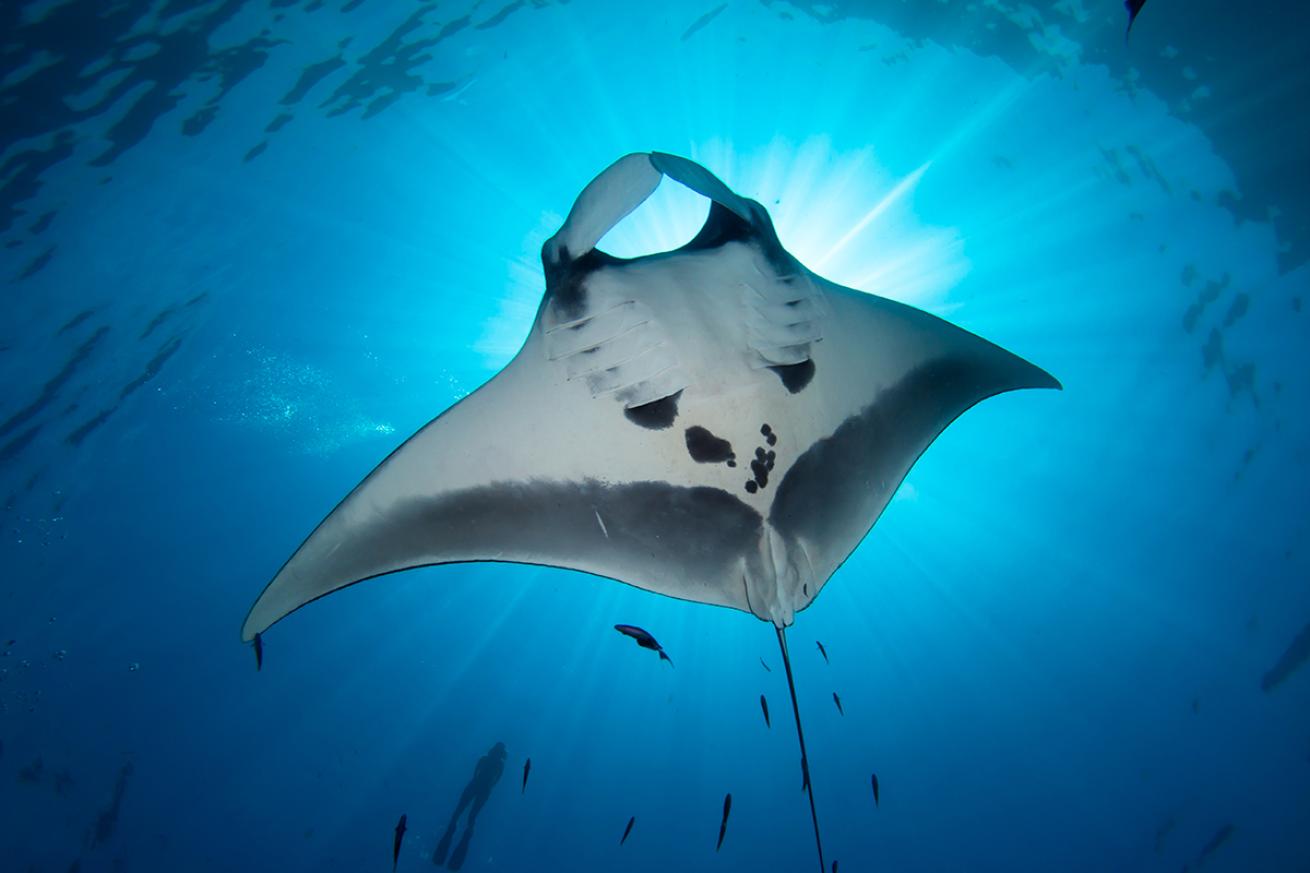 Divers can spot manta rays at Stetson Bank.

Shutterstock.com/magnusdeepbelow
This site is home to one of the most spectacular displays of ten-ray star coral in the sanctuary around which sailfin blennies and crimson creolefish dart, as well as siltstone pinnacles encrusted with feather dusters, fire coral and multi-colored sponges. Watch out for arrow crabs, spiny lobsters,and moray eels hiding in the many crevices and crannies in the coral.
The north side of the bank drops off dramatically to 180 feet and this is a favorite spot for hunting manta rays and sharks. Also keep a lookout for the golden smooth trunkfish, which is found in only two places in the world, this being one of them.
Platform Dive
Platform dives are always interesting as they show the way that life can take over everywhere. The massive steel structures are usually blanketed in a myriad marine life that includes brown and purple tube sponges, waving feather stars, fuzzy white hydroids and colonial anemones. Schools of fish swirl around in the current, while loggerhead turtles and silky sharks are often cruising around looking for a snack.
The Kraken Wreck
The wreck of the Kraken is located outside the sanctuary, but well worth a dive if you are a shipwreck buff. The Texas Parks and Wildlife Department intentionally scuttle the 371-foot cargo vessel as part of the Artificial Reef Program and there are many nooks, crannies and swim-throughs to explore.
What to See
The Flower Garden Banks National Marine Sanctuary is home to 22 species of hard corals, over 800 species of echinoderms, crustaceans, mollusks and sponges and more than 300 species of fish, so you won't be hard pressed to find something to see. The corals are exceptionally healthy due to their distance from shore and there are very few places in the Western Hemisphere where you see such a diverse array of hard and soft corals, sponges and echinoderms.
The sanctuary plays host to one of nature's most spectacular ocean events—the annual phenomenon of coral spawning. Eight to 10 nights after the August full moon, thousands of broadcasting corals simultaneously release their eggs and sperm into the water, creating an awe-inspiring display of Mother Nature at her best.
You'll see plenty of smaller fish species like blennies, jawfish, scorpionfish and hawkfish, as well as the ever-elusive frogfish, several species of moray eels and pufferfish. But it's the big fish that really impress here. Watch out for large schools of silvery barracuda, snapper and jacks, eagle rays and stings rays, manta rays, hawksbill and loggerhead turtles and several species of shark. Keep an eye out for whale sharks in the summer and the odd tiger shark on the hunt.
When to Go
There are two dive seasons at the Flower Garden Banks. The summer season runs from May through October with water temperatures ranging from the low- to mid-80s°F and visibility from 75 to 125 feet. The winter runs from February through April and sees water temperatures in the low- to high-60s°F and visibility up to 75 feet.
Getting There
The Flower Garden Banks National Marine Sanctuary lies between 70 and 115 miles off the coast of Louisiana and Texas, so the best way of getting out there is on a live-aboard dive charter. There are a few companies that offer two- and three-day charters and trips to the banks, departing from Freeport and Galveston.