The Best Places to Dive and Dine on Oahu
What's better than an incredible day of scuba diving in Hawaii? Chowing down on delicious eats and kicking back for a post-dive, happy hour cocktail. Below we pair five dive sites with five must-eat experiences on Oahu. Wreck lovers rejoice —this list includes three wreck dives, mere minutes from shore that you won't want to miss. Oahu might be popular with tourists of all backgrounds but this is also the perfect destination for the diver and foodie who is looking to enjoy more than diving on their next trip.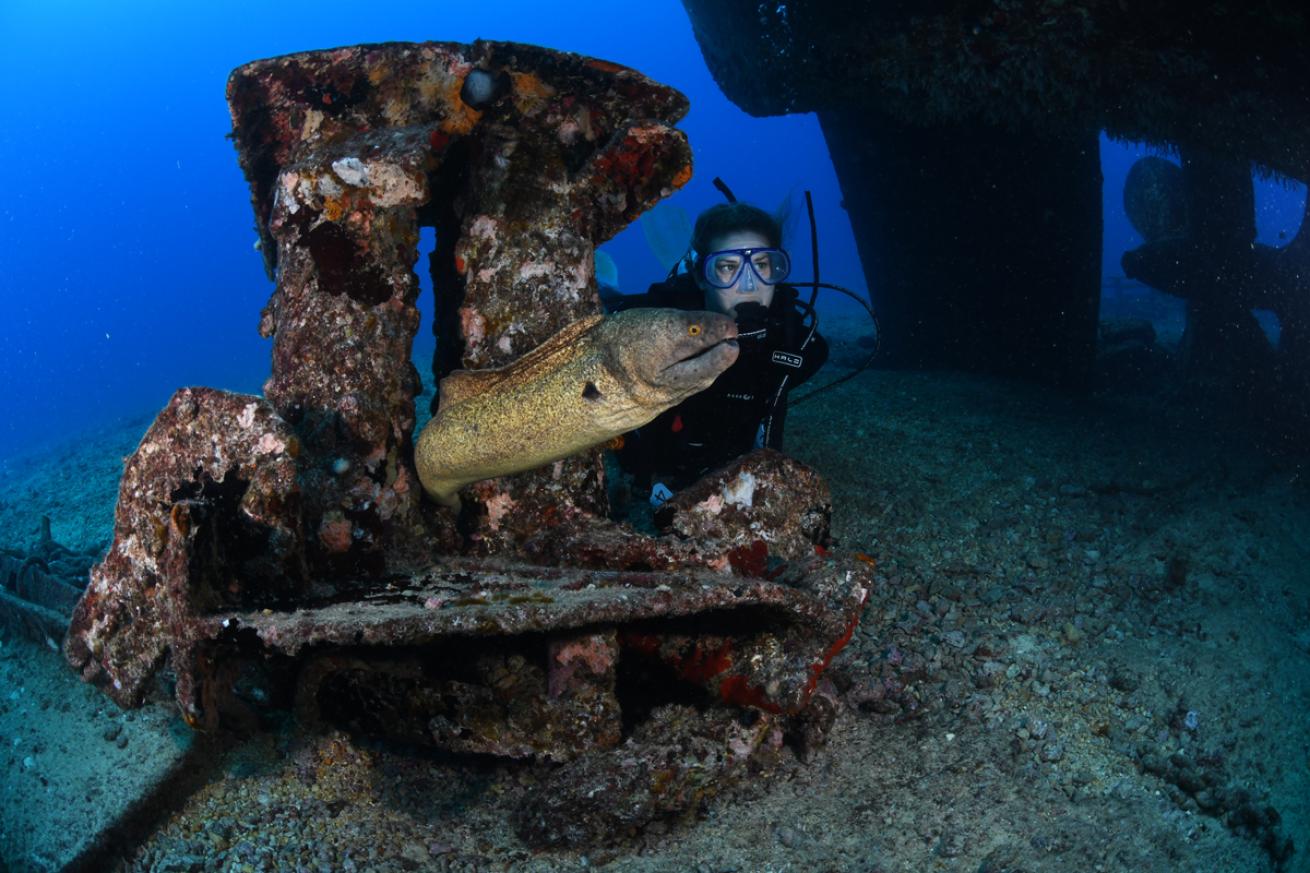 A diver gets up close to an eel at the stern of the Nashua Navy Tug.

Jeff Mondle
Arguably the best dive in South Oahu, the Nashua Navy Tug was purpose-sunk in 2012 to form an artificial reef. A bit longer of a boat ride from Waikiki — around one hour — the tug sits in approximately 65 feet of water and is full of life. Whitetip sharks, a resident eel and schooling fish hide below the stern. This site is not accessible to recreational divers since it doubles as a training site for the U.S. Navy. Be sure to check with Dive Oahu so you can schedule this dive during your trip to the island.
Dine: Uncle Bo's Pupu Bar and Grill
A local spot that serves up a delicious variety of items from pupus to pizza and has an extensive bar selection. The portion sizes are big and will help you to refuel after a day of diving. Make sure to try at least one of Bohana's menu favorites
---
Dive: Ewa Pinnacles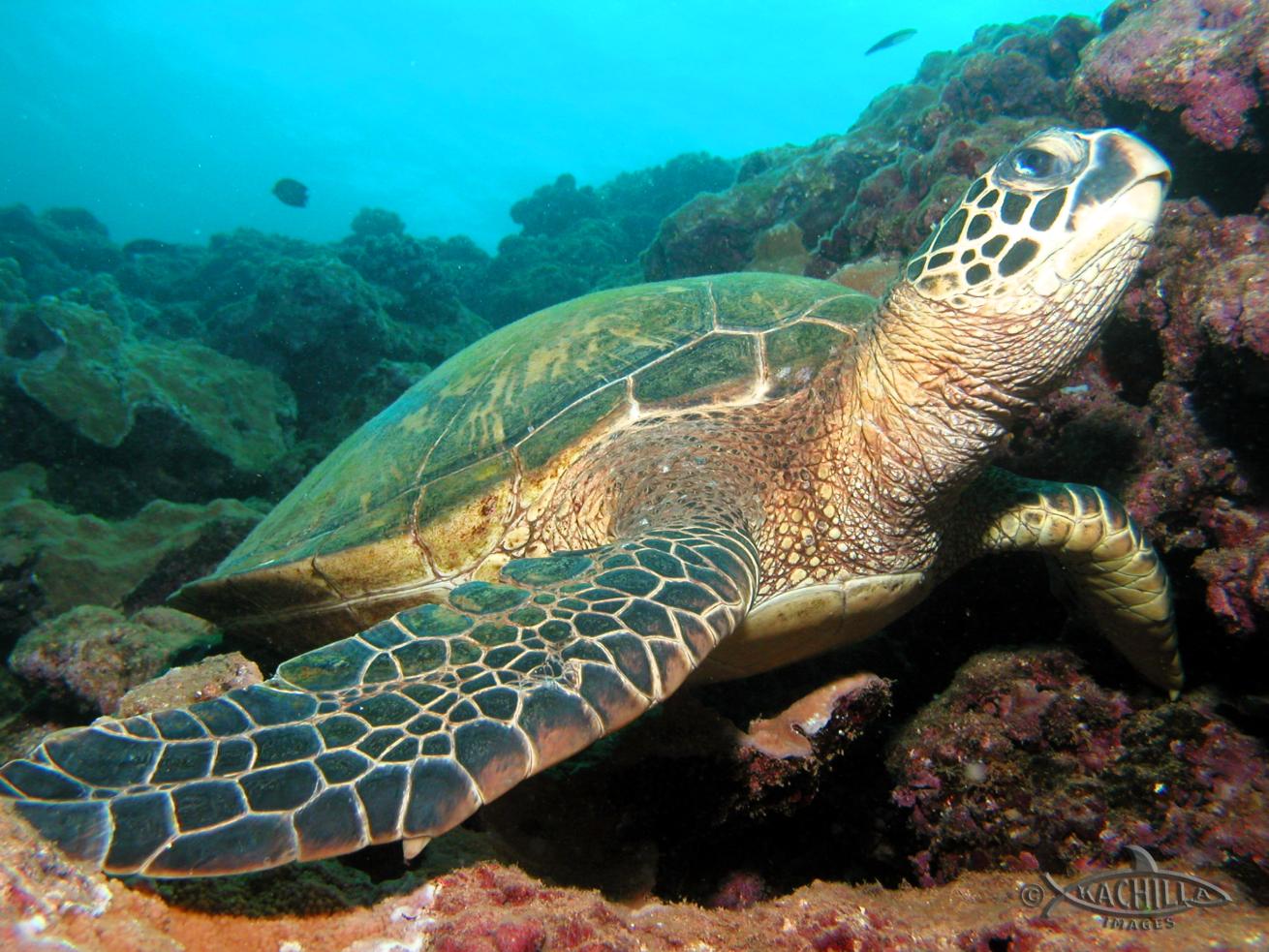 A sea turtle rests on volcanic rock.

Courtesy Dive Oahu
Whitetip reef sharks, puffers and sea turtles galore at this site where you can dive alongside volcanic rock and overhangs. The max depth ranges between 80 and 90 feet and when the viz is good, which is often, you can see straight up to the surface.
Dine: North Shore Food Trucks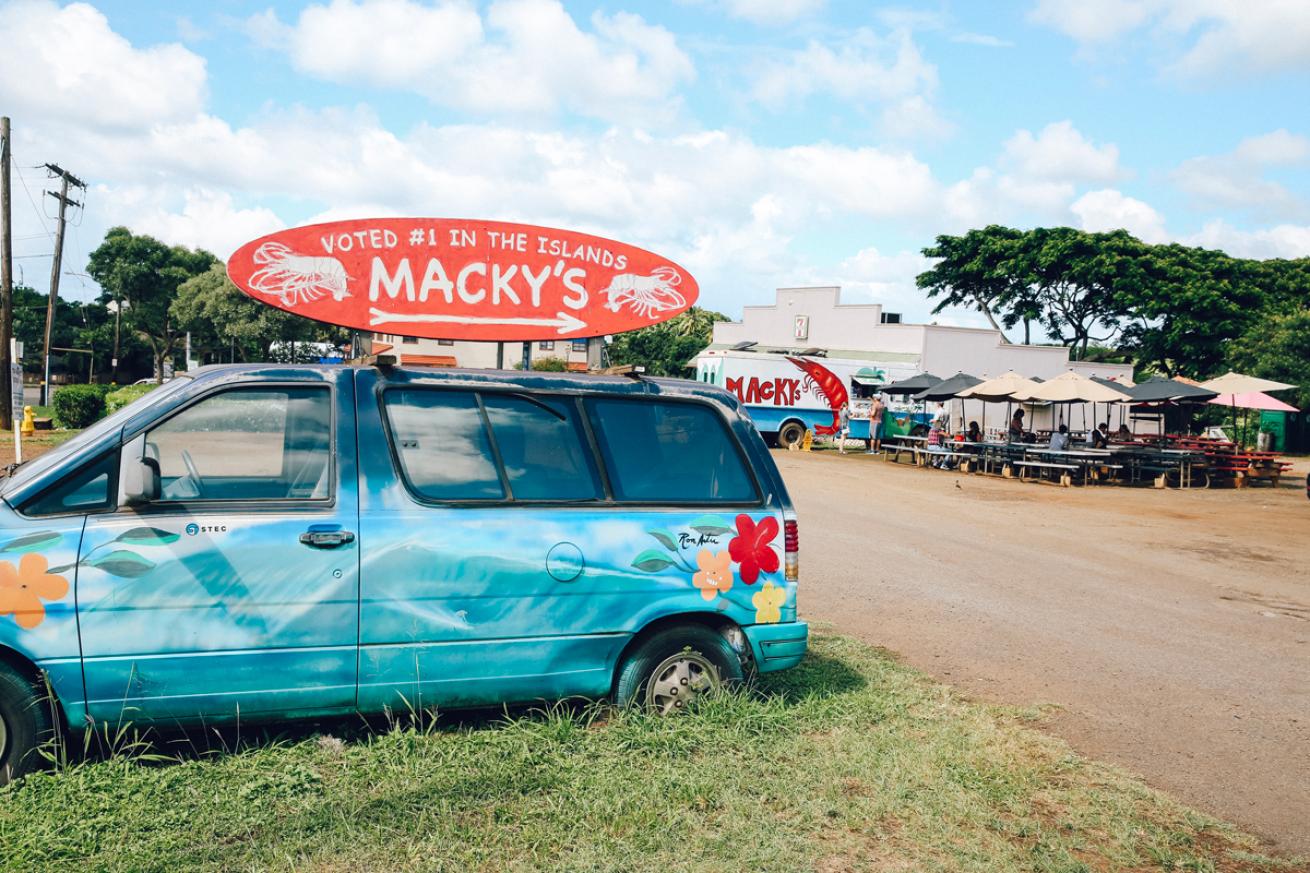 Roadside signs make it easy to spot where food trucks are parked along the Kamehameha Highway.

Becca Hurley
The North Shore is famous for its beautiful beaches and epic surf spots and if you're up for the drive from Waikiki this is the perfect place to spend soaking in the afternoon sun while dining on local favorites. From Thai food to tacos to pizza and the famous Giovanni's Shrimp Truck, there are a plethora of food trucks to choose from. You will find several food truck stops when driving along the Kamehameha Highway anywhere between Haleiwa and Kahuku.
---
Dive: Sea Tiger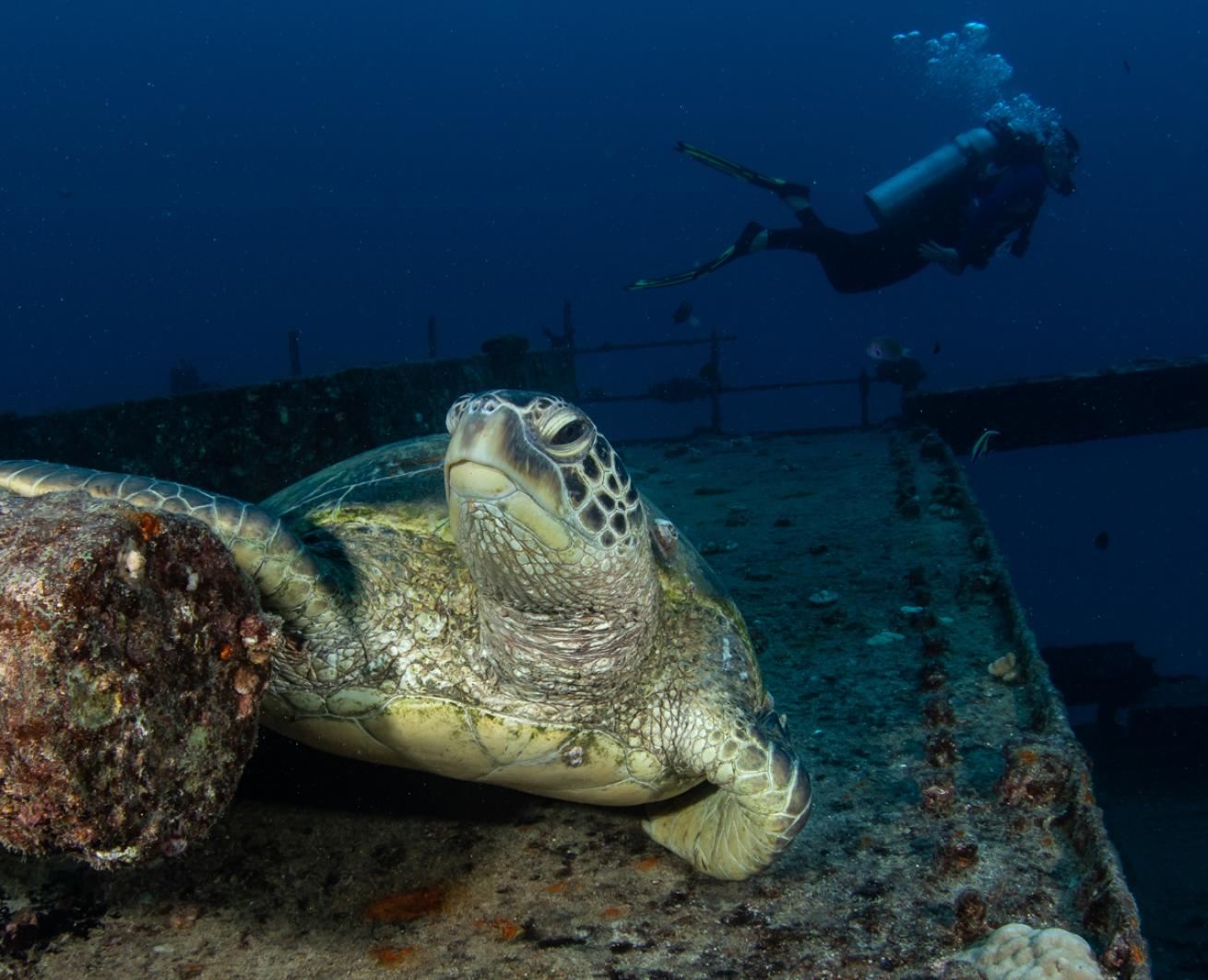 A turtle poses on the Sea Tiger wreck.

Jeff Mondle
The Sea Tiger is another purpose-sunk wreck with an interesting backstory. This wreck lies a little deeper at 125 feet and is recommended for advanced divers as there can be some current. Because of that, pelagics like manta rays have been known to make a pass by the wreck. Eagle rays, pufferfish and the endemic Hawaiian millet seed butterflyfish can also be spotted at this site. There are opportunities to penetrate this wreck if you have the proper certification and guide.
Dine: Hideout at The Laylow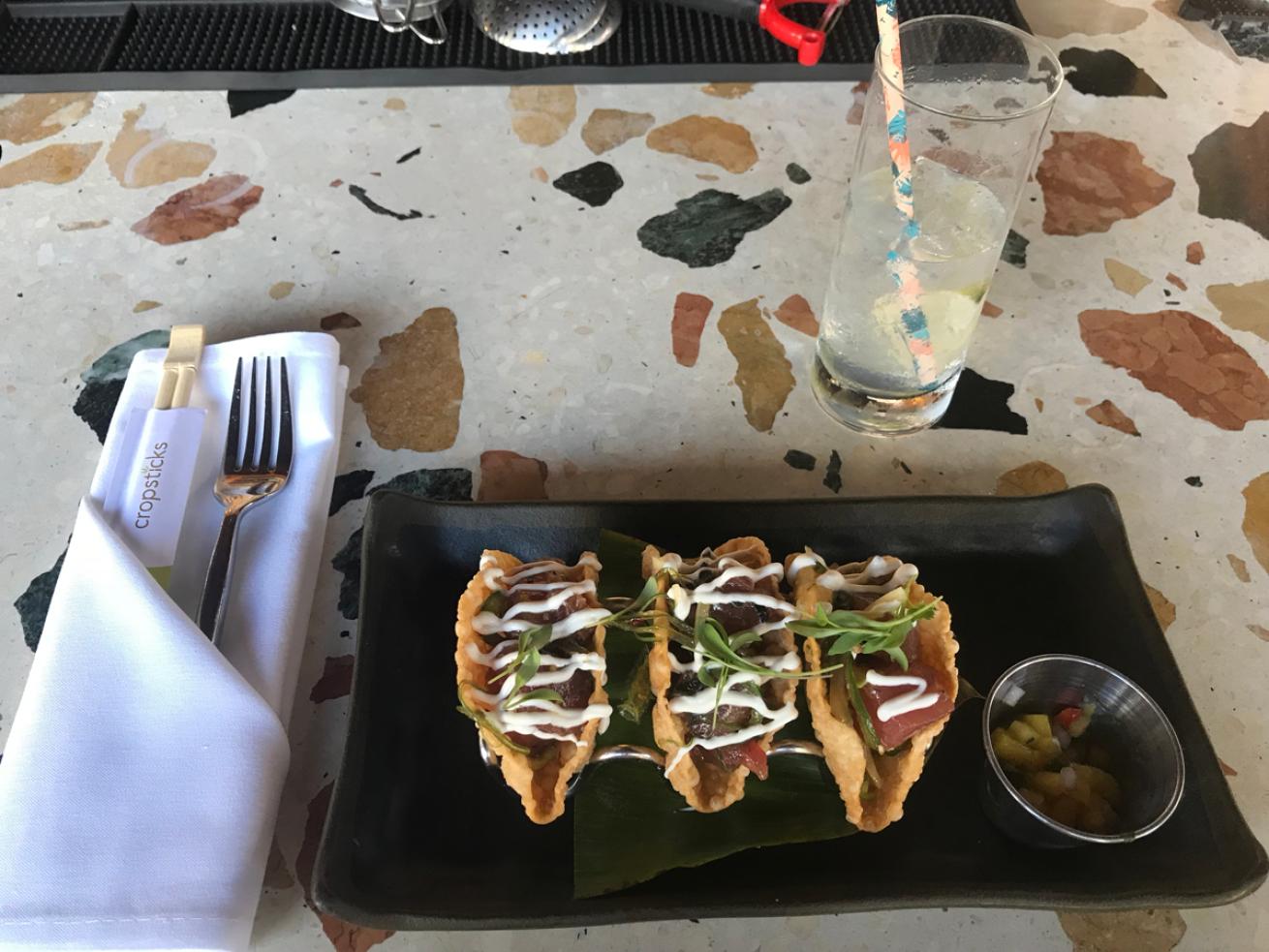 Wonton poke tacos are a hot menu item at the Hideout rooftop restaurant and bar.

Becca Hurley
This hotel's happy hour is one of the best in Waikiki. From 5:00 - 6:00 pm daily, you can score on drink specials and Kalua pork egg rolls, crispy pork belly with mac nuts, wonton poke tacos and more at a significantly reduced rate. The bar staff is friendly and the open-air atmosphere is inviting and plant-filled. Arrive early to score a table overlooking the streets below.
---
Dive: Mario World
Pufferfish, eels, peacock flounders and more — it's no wonder how this dive site got its name. Abundant marine life and the extensive underwater pipe system make this a unique site worth visiting. At a maximum depth of approximately 30-40 feet, Mario World is the perfect site for beginners. Operators like Dive Oahu offer this spot as a location for Open Water students to complete their certification dives.
Dine: Egghead Cafe
This cafe is open through mid-day so it's to fuel up for a delicious post-dive brunch or if you are an early-riser, stop by before your dive boat departs. Mac Nut pancakes, a range of benedicts and pork belly omelettes make deciding what to order the toughest part of your day.
---
Dive: YO-257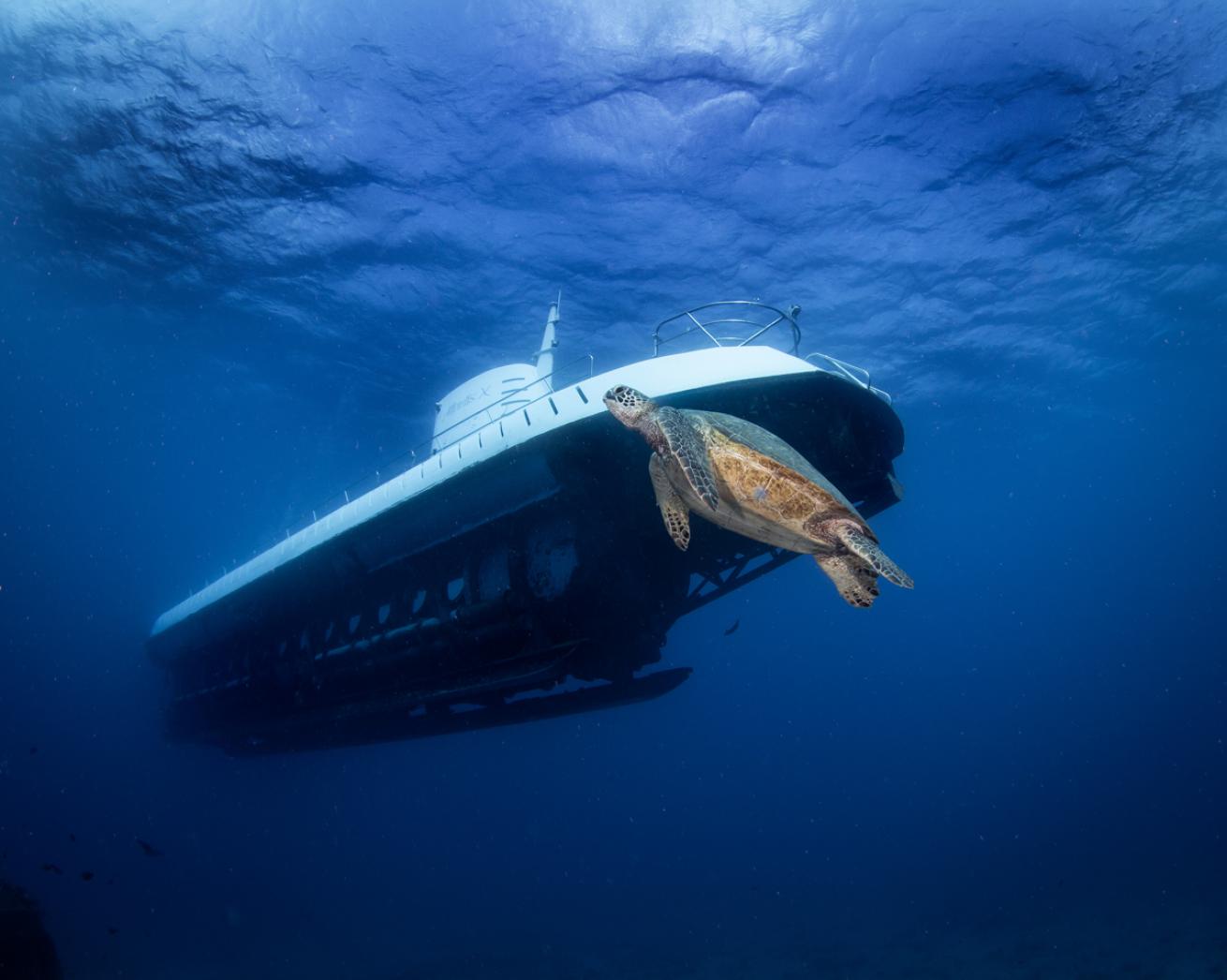 The Atlantis submarine passes by the YO-257 while divers look on from the wreck.

Jeff Mondle
It's the wreck you will want to dive again and again! You're almost-guaranteed to spot a sea turtle resting or drifting by on this purpose-sunk artificial reef. This 174-foot long vessel sits at a depth of approximately 100 feet. The YO-257 and its marine inhabitants are the main attraction, but if you are lucky you may get a glimpse of the Atlantis tourist submarine as it cruises by. Make sure to smile and wave to the non-divers, they will be snapping away with their cameras.
Dine: Moku Kitchen
Delicious menu items that are locally sourced with a focus on supporting sustainable farming, fishing and ranching. Their menus are seasonal and can change frequently but the food is fresh and will fill you up after a dive. We love that they incorporate Hawaiian macadamia nuts in many of their dishes.
---
Not dive certified yet? It's easier than ever to start your PADI Open Water Diver course online. Sign-up for eLearning and complete the practical work on your own time and then book your open water dives with a local shop in your desired destination. Shops like Dive Oahu make it easy to complete your certification in this format, and who wouldn't want to say they were scuba certified in Hawaii?