The Best Scuba Diving in North Carolina
COVID-19 travel restrictions and border closings are constantly evolving. There is no guarantee that the dive sites mentioned within this article will be open at your time of travel.
---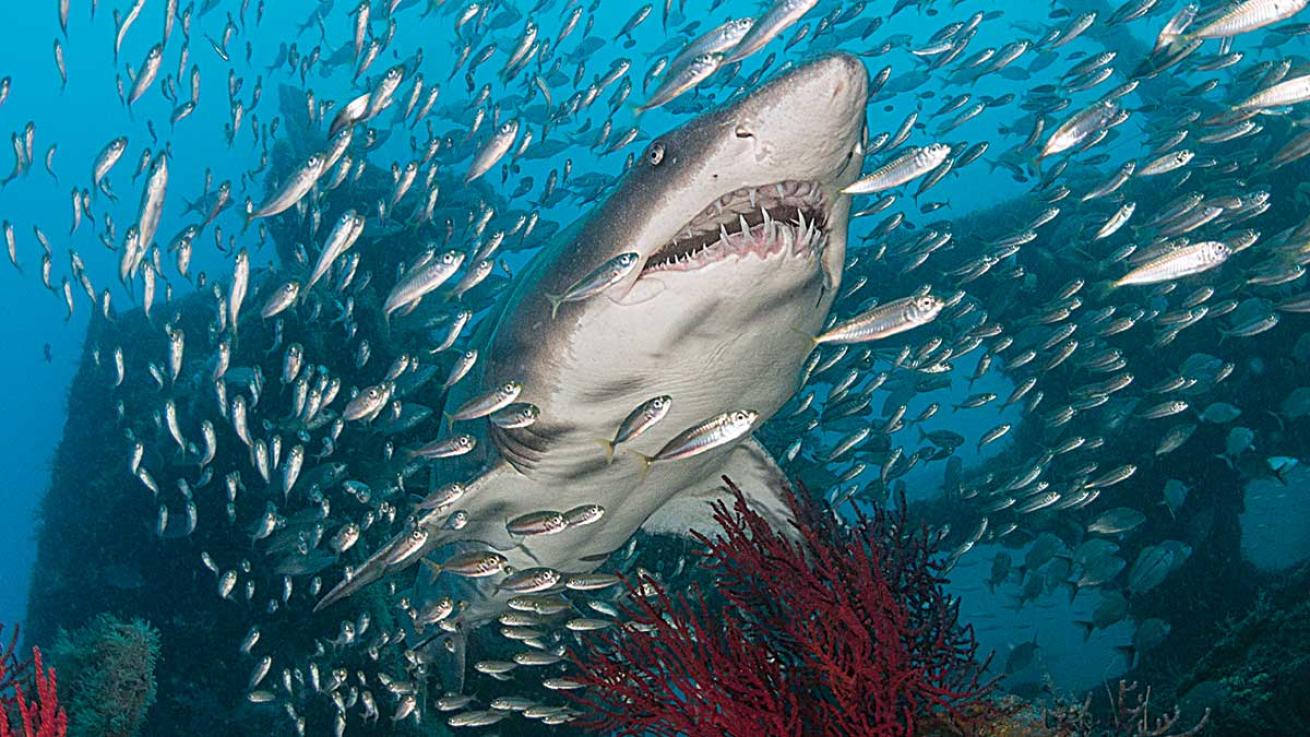 Sand tiger sharks (Carcharias taurus) are well known for their mouthful of ragged teeth; sand tigers are often seen patrolling the Atlas.

Lureen Ferretti
Adventure on the North ­Carolina coast boasts activities for the whole ­family, from lounging on beaches to ­diving with wrecks and sharks. At the center of a coastal vacation ­destination — a five-hour drive from Charlotte — you're ­surrounded by tall trees, sweet tea and good ol' Southern hospitality.
If You Have One Day
If you've yet to dive the sunken fleet off North Carolina's coast — known as the Graveyard of the Atlantic — the U-352 should be the first site on your list. The Nazi U-boat submarine — gunned down by a U.S. Coast Guard cutter during World War II in 1942 — was discovered by George Purifoy, the late founder of ­Olympus Dive Center, in 1975 and sits at 110 feet. Though the entire submarine can be seen on one dive, it takes your breath away when it first appears from the descent line. Conditions vary greatly and depend on rainfall for how good the visibility will be, so operators determine which sites they'll visit in the ­morning. Celebrate your successful dives with ­local beers from the popular Fishtowne Brew House or head to Floyd's 1921 for Southern cuisine.
If You Have Two Days
Though the U-boat is a unique dive, sand tiger sharks can steal the show on some of the area's other wrecks, such as Spar Atlas, Caribsea and Aeolus. Sharks frequent these wrecks, all of which are within recreational depths at 90 to 130 feet, but they can also be enjoyed as technical dives. Other fish, including barracuda, school around the wrecks as well. When you get back to land, get your seafood fix at Amos Mosquito's, where local catch is served on the bay near Atlantic Beach.
If You Have Three Days
If the weather cooperates, book a half-day charter to dive any of the wrecks you missed. The upside-down SS ­Papoose ­completes the U-boat tour; in 1942 it was torpedoed by U-124. Bring jon lines to make these intermediate-­level dives easy on ascent. After ­diving, tour ­historic Cape Lookout, where you can enjoy the beach and climb Cape ­Lookout Lighthouse. Cape Lookout ­National ­Seashore is home to more than 250 birds and wild horses — and it's accessible by ferry from the mainland and other Outer Banks islands. ­Complete your ­culinary tour with fine ­dining at La Perla ­Restaurant in Beaufort.