Biologist Andrea Marshall Joins Scuba Diving's Sea Heroes
DIVING SINCE: 1991
AGE CERTIFIED: 12
CERTIFICATION LEVEL: Divemaster
WORDS TO LIVE BY: "Start where you are, use what you have, do what you can." — Arthur Ashe
Conservation, as biologist Andrea Marshall knows, is a process. Affectionately dubbed "queen of the mantas" for her commitment to the study and preservation of the manta rays of Mozambique, her influence is much broader, helping to secure a global CITES listing that will help protect these majestic creatures for generations to come. For her efforts, Marshall — also a dedicated photographer who depends on imagery in her scientific work — is our September/October Sea Hero.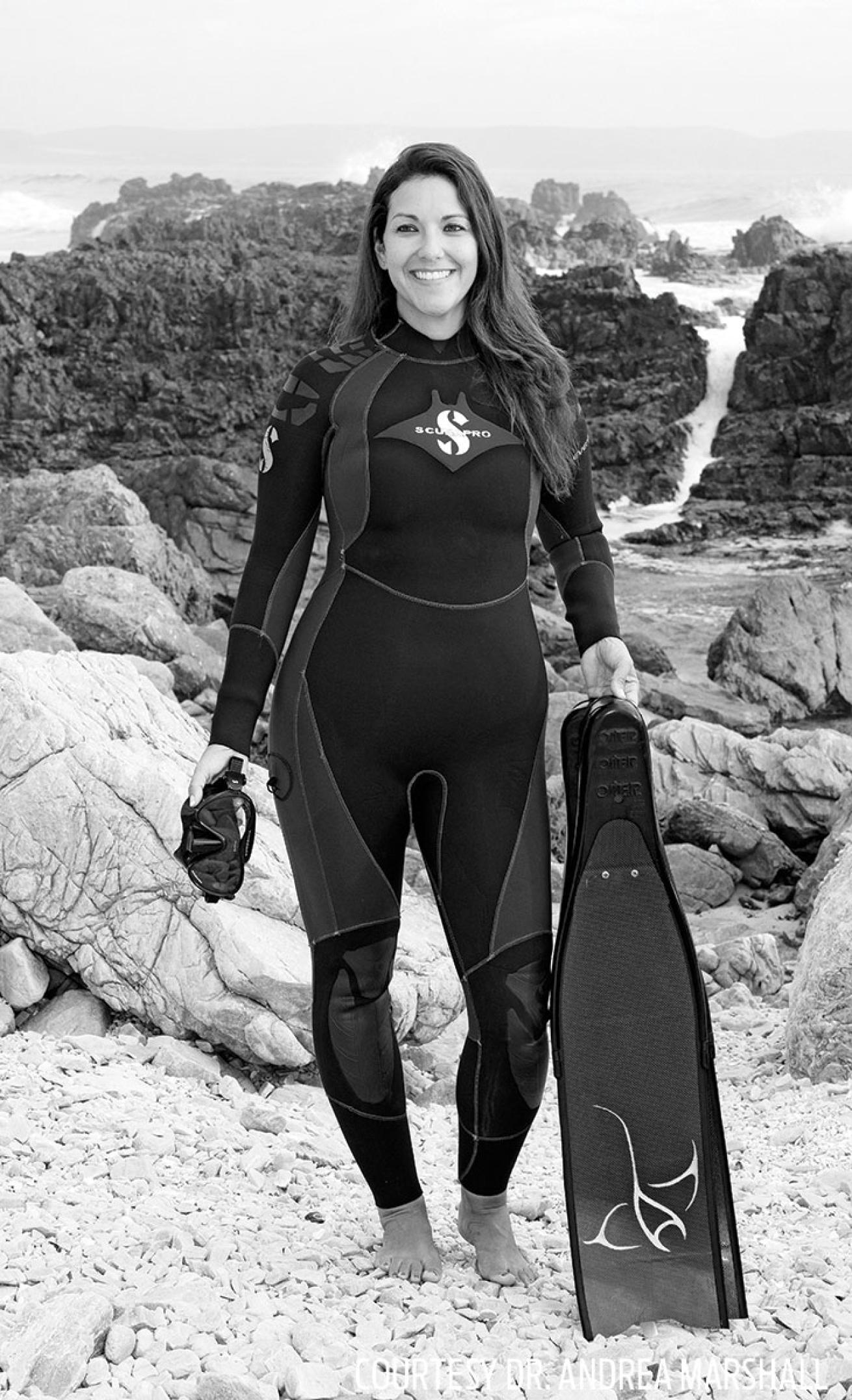 Courtesy Andrea Marshall
Q: HOW THREATENED ARE MANTAS?
A: Globally, manta rays are classified as vulnerable to extinction. This means if current trends continue, there will likely be many local and regional extirpations in the next few decades, working up to a potential global extinction in less than 100 years. So the situation is serious. Luckily, intense public support coupled with key scientific studies were convincing enough to gain the support of several countries that put forward proposals to list mantas on some of the world's most important conservation conventions. Manta rays are now protected from international trade under CITES, and regional conservation is being stimulated by listing on the Convention for Migratory Species Act (CMS). In many countries, they also are protected under national legislation. So things are improving for manta rays — there is indeed a "ray of hope" — but we will have to do a lot more before we turn their fate around.
Q: HOW DOES PHOTOGRAPHY INFORM YOUR SCIENCE?
A: The advancement of digital photography and video over the past couple of decades has changed everything about how we disseminate information and inspire people to take up arms about conservation issues — it might be the single most important conservation tool out there. The foundation of my global research program on manta rays is based on nonintrusive photographic monitoring, which allows us to build an unbiased visual database of information that can support a wide variety of analyses for years to come.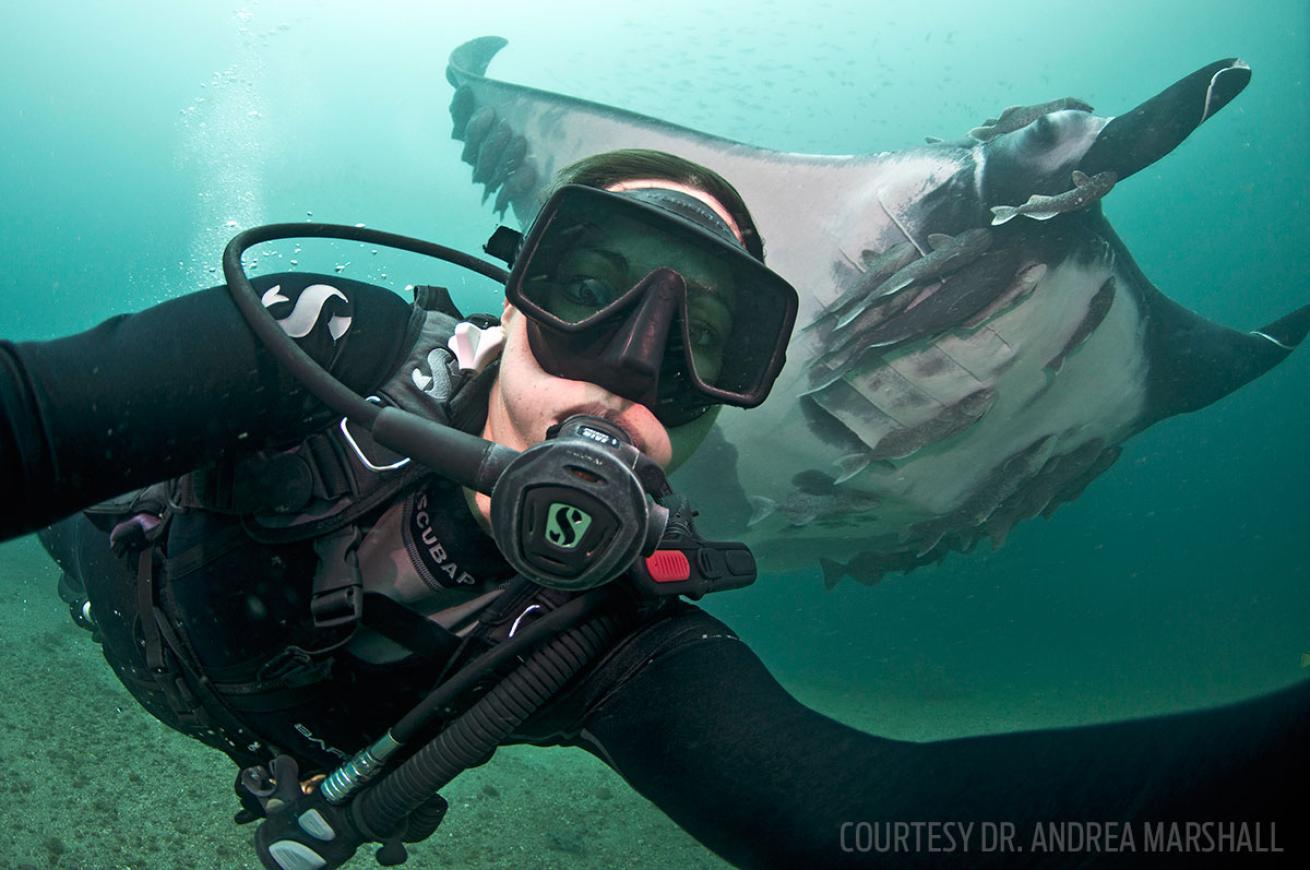 Marshall photographs mantas at a field-study site in Ecuador.

Courtesy Andrea Marshall
Q: TELL US ABOUT YOUR MARINE MEGAFAUNA FOUNDATION AND RAY OF HOPE EXPEDITIONS.
A: In the countries where we work, we target lasting change on small scales. MMF is becoming known for pursuing ambitious case studies in developing nations. We aim to set precedents for the management of marine wildlife and inspire a new breed of conservation biologists to get the job done.
We strongly believe in the empowerment and inclusion of citizens of the regions where we are based. Too often, foreigners spearhead efforts that fall short for the simple reason that they did not include local communities.
Ray of Hope started as a creative way to fund costly international research programs. I had an epiphany when I realized that our supporters wanted to tag along, and could help us pay the charter prices for expedition vessels. Tourism is a really important part of conservation, and tourists, as consumers, are incredibly powerful — influencing the market and ultimately dictating how operators behave. Being able to inspire the next generation of ocean guardians, help them make better and more-informed choices about their travel, and getting them involved as citizen scientists has become a very important and rewarding part of my job.
Q: WHAT DOES IT MEAN TO BE AN AMBASSADOR FOR MANTA RAYS?
A: Knowledge is power. Whether it's a member of a local dive club or a member of Parliament, informing people empowers them to form solid opinions or make decisions that can change the fate of these animals globally.
Q: WHAT'S THE BIGGEST CHALLENGE IN MARINE CONSERVATION?
A: Humans are coming to the realization that we live on a blue planet. Water is what sets us apart. The vastness of our oceans inherently affects the planet as a whole. When they are disturbed or become unhealthy, that affects everything on the planet. Yet I believe strongly in the power of the ocean to heal. To give it that chance, we need to protect between 20 and 40 percent of our oceans, create refuges for vulnerable species, help regenerate depleted fish stocks, safeguard critical habitats, preserve genetic variability, and promote biodiversity. This is the single most important conservation goal for our oceans over the next few decades.
Q: HOW CAN DIVERS HELP?
A: Cast your vote. Voice your opinion. Keep your eye out for petitions or other ways to campaign for protection. Many of the world's sanctuaries and reserves were created off momentum fueled by public outcry. As a conservation biologist, I can argue at the top of my lungs, but a much swifter way to gain visibility and government support for a project is to engage the voting public.
Scuba divers also can help by doing what they love: Go diving. The enormous costs of running protected areas can hamper their establishment. The faster they become self-sustaining, the more likely they are to succeed and serve as models. The surest way for you to voice your approval of protected areas is to support them over areas that are not protected or that are managed poorly. This small act can help facilitate the creation of future protected areas.
Each Sea Hero receives a Seiko Prospex PADI Special Edition SRPA21 watch worth $525. In March 2018, judges will select the Sea Hero of the Year, who will receive a $5,000 cash award from Seiko to further his or her work. Nominate a Sea Hero at /seaheroes.