Black in Marine Science Founder Dr. Tiara Moore Honored as June Sea Hero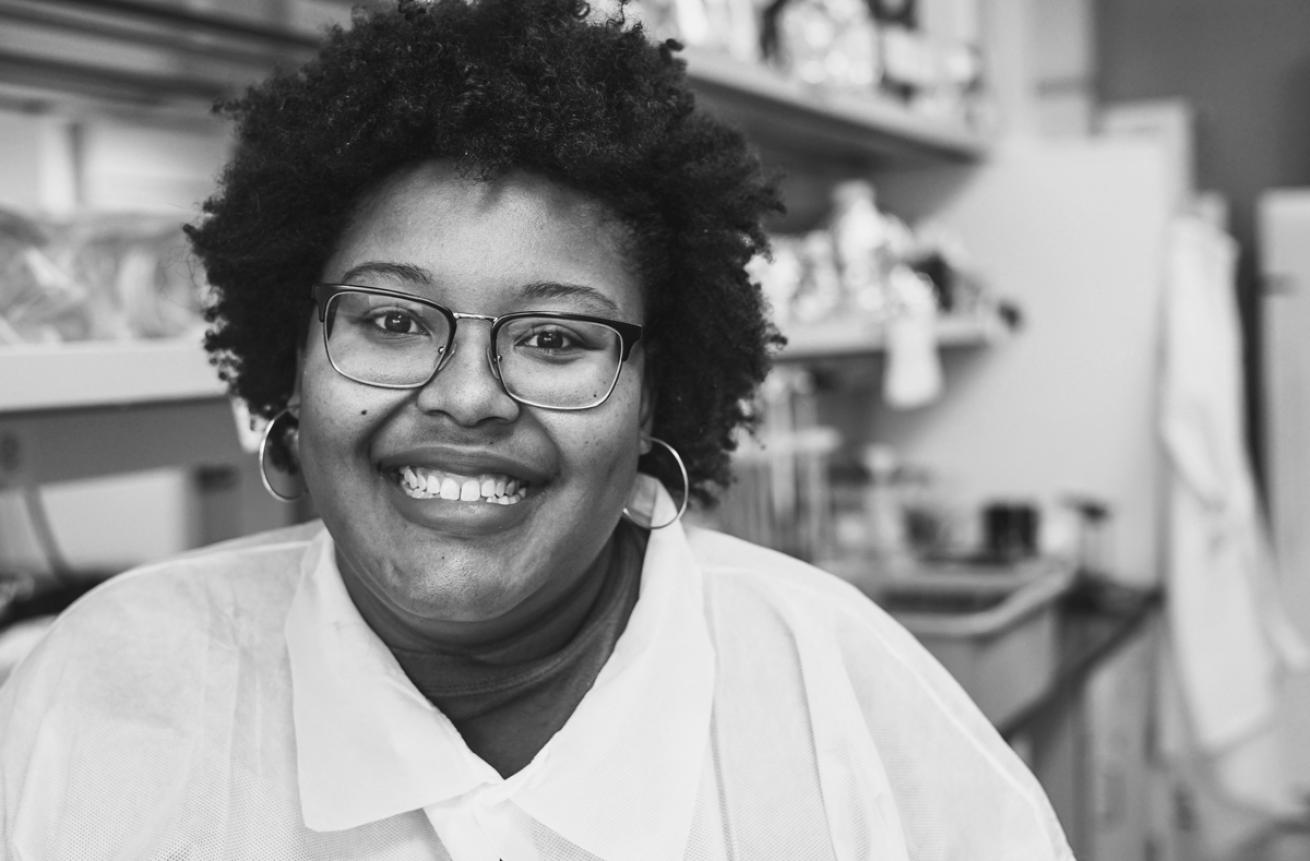 Founder and CEO of Black in Marine Science (BIMS) Dr. Tiara Moore is also the BIMS Program Lead at The Nature Conservancy in Washington.

Courtney Baxter
YEAR DIVE CERTIFIED: 2013
AGE WHEN CERTIFIED: 24
DIVE CERTIFICATION LEVEL: PADI Open Water Diver; AAUS Scientific Diver
WORDS TO LIVE BY: Never give up.
INSTAGRAM: @blackinmarinescience | @curly_scientist
What started as a tweet to shed light on the lack of diversity in the marine science industry led Dr. Tiara Moore to create an online community of Black scientists and a series of events focused on highlighting their work, and to found the nonprofit Black in Marine Science. An environmental ecologist by day, Moore dedicates her life to inclusivity by creating a pipeline for Black aspiring marine scientists to have the opportunity to excel in this industry.
Q: Was there a specific instance that inspired you to create Black in Marine Science?
A: I founded Black in Marine Science after the injustices of 2020 in the world infiltrated the STEM community. We started having conversations about the lack of diversity in marine science. I tweeted one day, "Where is everyone that is Black and in marine science?" and so many people responded. For the first time, I wasn't isolated or alone.
Q: Amid a pandemic, you managed to create a movement and draw much-needed attention to those underrepresented in the industry. Was there something about the pandemic that inspired you to take this on?
A: The pandemic gave me the opportunity to sit and reflect on my experiences, but not be bogged down by the microaggressions that I faced in an office setting. I had time to be on social media to build that community. I believe that BIMS has been able to be successful because I have had the time to fulfill those dreams and really think about what I want to see for not only myself but the community of marine scientists that I have come in contact with.
Q: In addition to amplifying Black voices, are there specific initiatives your organization is focused on in the marine science industry?
A: BIMS is focused mostly on diversifying the whole marine science industry. We received funding to do our BIMS Immersion Program, where we take 10 students to get scuba certified. This is the second time that we are doing this. The first time was during our BIMS Week where we took four students with funding from PADI. We're also doing a lot more youth outreach and engagement. We want to create a pipeline to get them engaged at an early age and provide a different perspective on the industry. We want to bring awareness to communities that are most impacted by climate change, and those happen to be Black and Brown communities.
Q: What is next for Black in Marine Science?
A: We are starting to increase our international outreach by partnering with people in Africa and the United Kingdom who are dedicated to saving the ocean. We want to create an international community of marine scientists who all have the same goal. We need to find the space that we need to now do the research, and that's where I have my ultimate vision for a BIMS Institute—a research and outreach facility dedicated to building inclusivity in science while doing innovative research.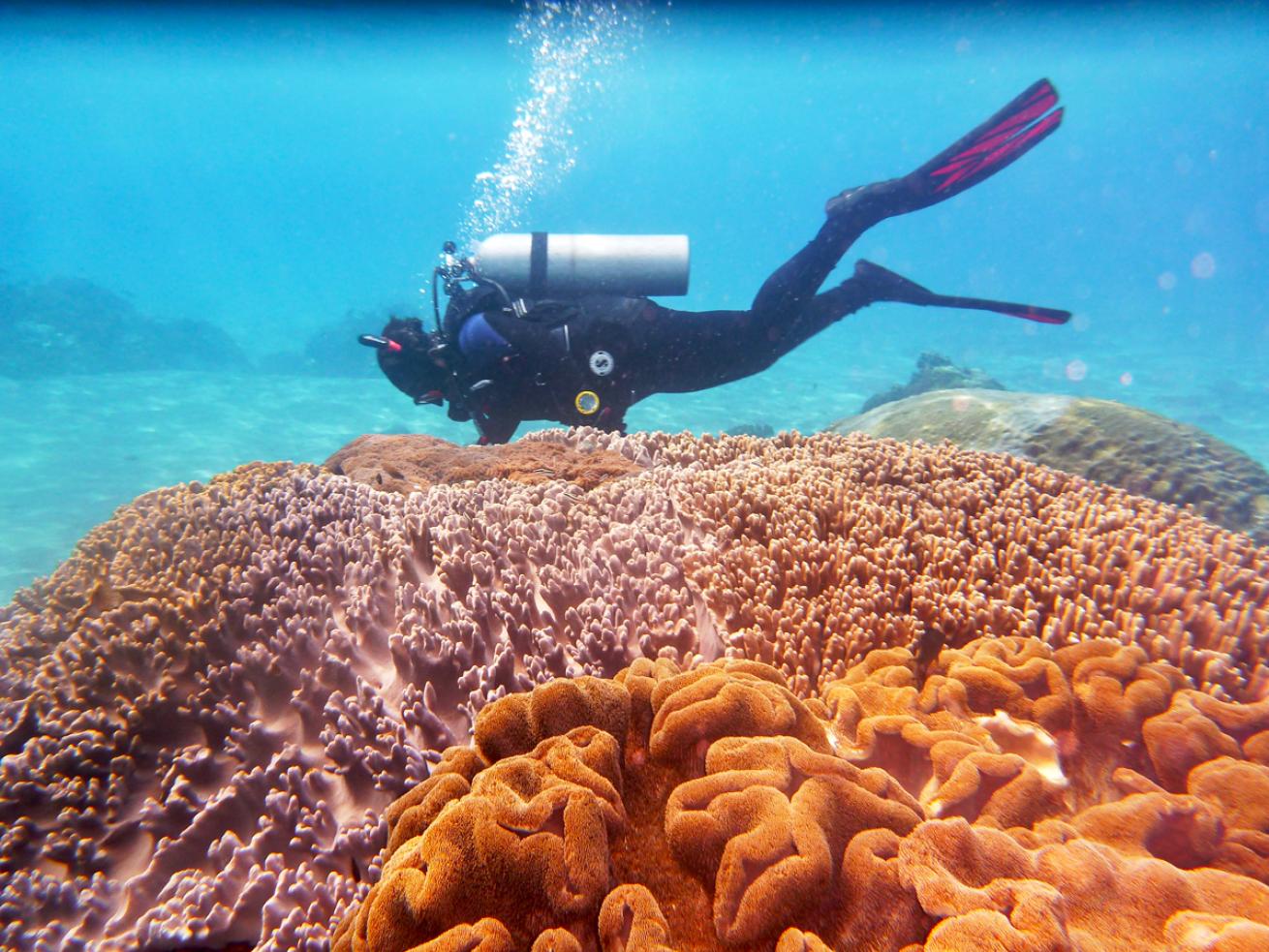 Moore diving in Bali, Indonesia.

Courtesy Image
Q: What do you view as the greatest challenges in marine conservation today? How are these challenges reflected in your own work?
A: The greatest challenges in marine conservation today are definitely climate change, poor water quality, fish kills, and sea-level rising. I think the biggest challenge that we have is that people who have committed such crimes against the environment are now gatekeepers and decision makers on who gets to provide solutions to these problems. When you have a whole population of people who are left out or pushed out, we can never get to the solution we need for marine conservation because those who are most impacted are not a part of the conversation.
These challenges are reflected in my work because I can now do the outreach to these communities and get them involved in the solution through BIMS. We have our BIMS TV series that we use to give people ocean literacy and let them know what is going on in our ocean.
Q: What's been your most satisfying moment?
A: I can't narrow it down to just one, but here are a few: The most satisfying moments for me have been having multiple marine scientists who have left the industry due to them feeling alone saying that because of me they want to come back and they wish that something like BIMS existed when they were younger or just starting out. Also, engaging with the youth and showing them that Black marine scientists exist has been really cool because they see that this is something that they can work toward, and they are looking forward to exploring this as a career. I was also really excited after I found so many other Black marine scientists who were looking for a sense of community within the field.
Q: What's been your most surprising moment?
A: My most surprising moment was how successful our first BIMS Week was due to my one tweet in 2020. Hundreds of people found my tweet and let me know that they were interested in BIMS Week and would be involved.
Once we started the week with #BIMSRollCall, people from all over the world introduced themselves and shared their research. I was no longer the only Black marine scientist but now a part of an international movement that was just beginning!
Q: Who are your sea heroes?
A: Dr. Dawn Wright, Dr. Ayana Elizabeth Johnson, and Dr. Deidre Gibson.
---
Each Sea Hero featured in Scuba Diving receives a Seiko SRPD43 watch valued at $525. For our December issue, judges select a Sea Hero of the Year, who receives a $5,000 cash award from Seiko to further their work. Nominate a sea hero at /seaheroes.
---
---