Blancpain Fifty Fathoms: An Icon Reimagined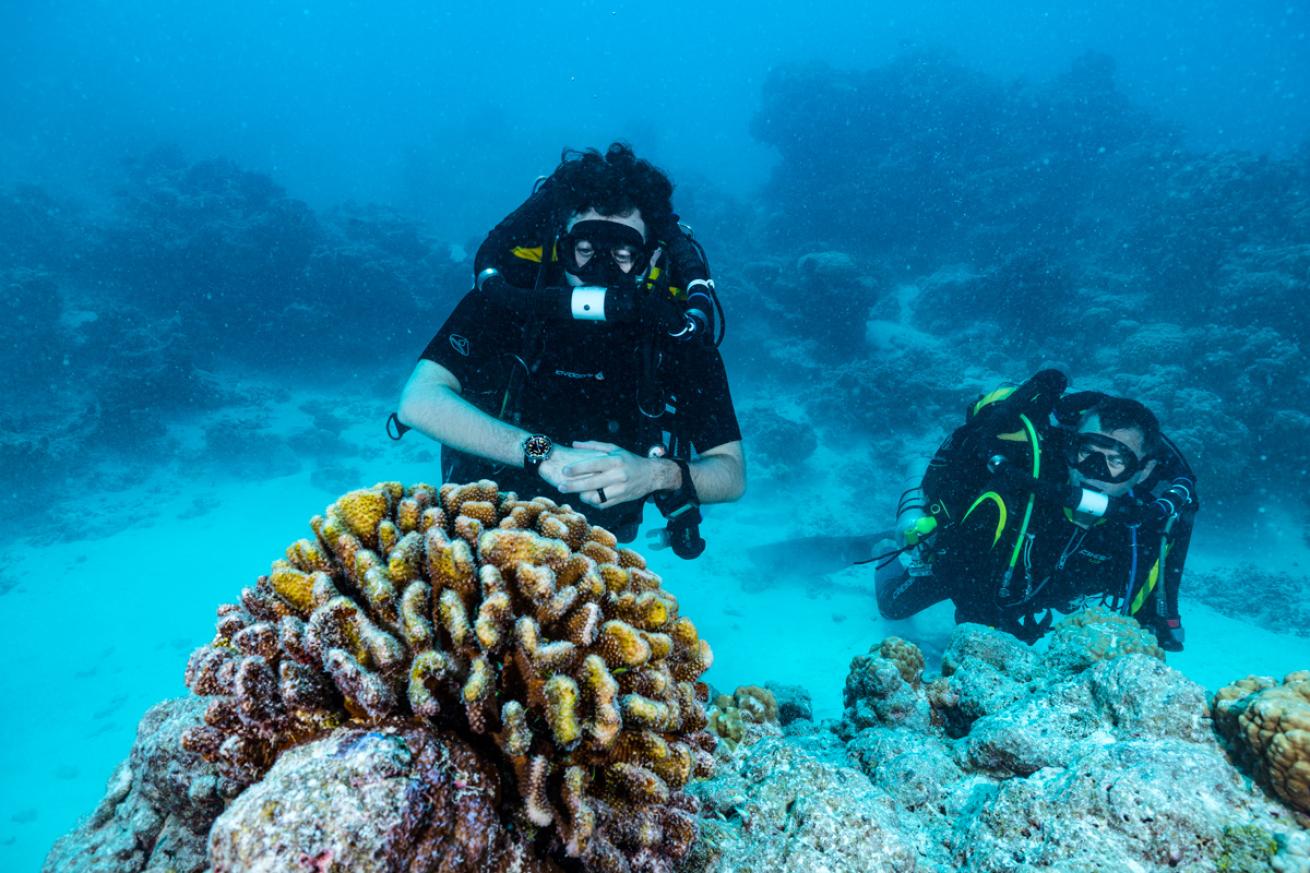 The author diving the Tech Gombessa as it was intended: with an AP Diving closed-circuit rebreather.

ETIENNE MENAGER
This year Blancpain is celebrating the 70th anniversary of its original 1953 Fifty Fathoms watch, the world's first modern dive watch. This year also marks 10 years of collaboration between Blancpain and Laurent Ballesta's Gombessa Expeditions as part of the Blancpain Ocean Commitment, which honors the manufacturer's significant historical links to the ocean by supporting marine conservation projects across the globe. Gombessa studies some of the rarest, most elusive marine animals and phenomena on Earth, using closed circuit rebreathers and cutting-edge techniques to conduct research at extreme depths for extended lengths of time.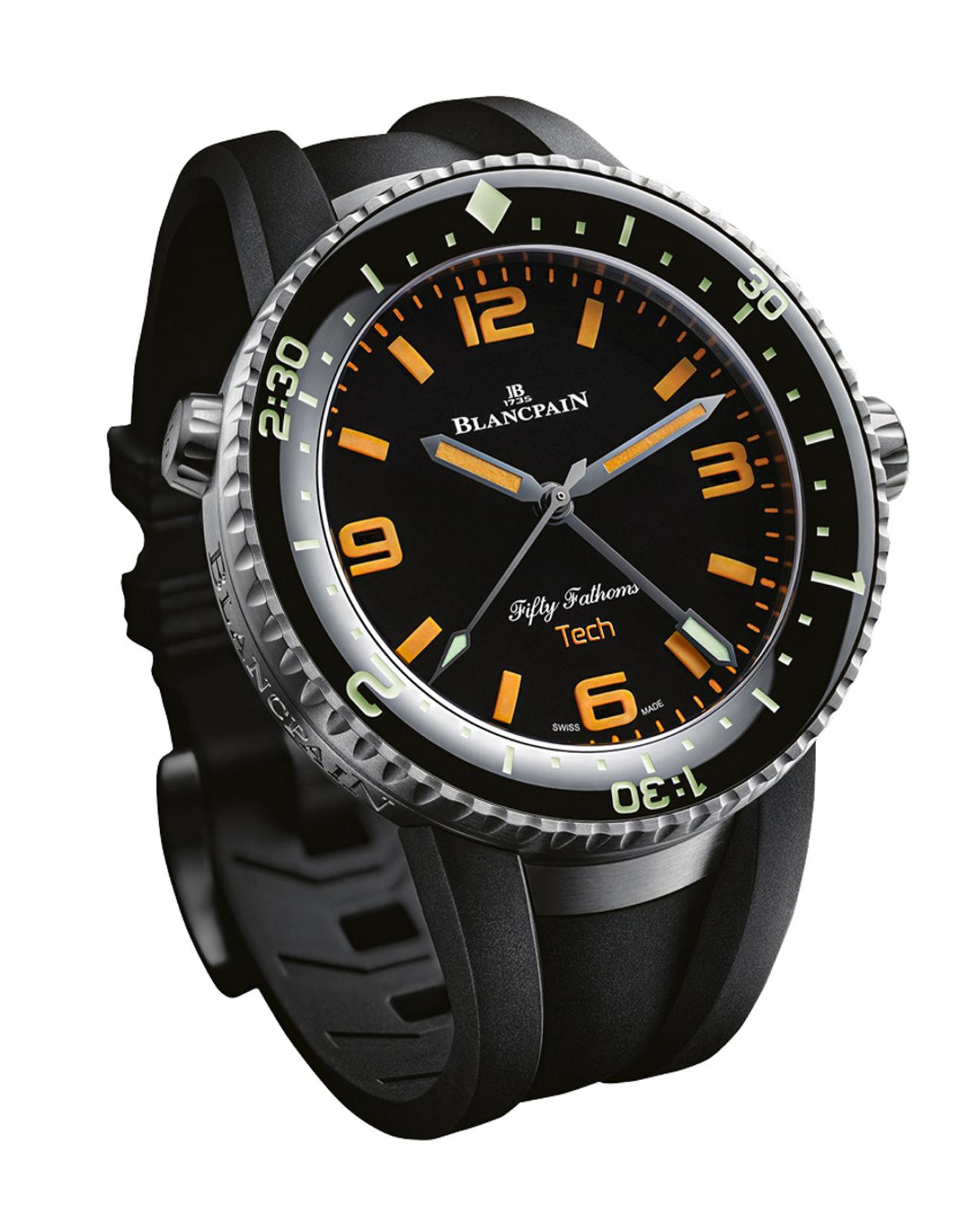 WATCH SPECS

Blancpain Fifty Fathoms 70th Anniversary Act 2: Tech Gombessa

MSRP $28,000

Movement Automatic 13P8

Power Reserve 120 hours

Water Resistance 300 meters/985 feet

Case 47 mm

Material Grade 23 titanium with black rubber strap

Crystal Spherical sapphire

Website blancpain.com

COURTESY BLANCPAIN
In a fitting tribute to both milestones, Blancpain has announced the Fifty Fathoms Tech Gombessa. Conceived in the same spirit as the original Fifty Fathoms, this new technical-diving timepiece was crafted to meet the needs of today's preeminent aquanauts, whose CCR dives greatly exceed the depth and duration imagined by divers back in the 1950s.
The Tech Gombessa features a brandnew dive complication designed and patented in collaboration between experienced rebreather divers Marc A. Hayek (president and CEO of Blancpain) and Laurent Ballesta (founder and leader of Gombessa Expeditions). The traditional 60-minute timing bezels ubiquitous to dive watches—a design that debuted on the original Fifty Fathoms—are inadequate for tracking long CCR dives. The graduated bezel of the Tech Gombessa features a three-hour time scale that is measured not with the minute hand but with a specially developed hand that makes a full rotation in three hours. This exclusive three-hour timing complication and many other purposeful details were honed over several prototypes and countless hours of real-world test dives.
I had the opportunity to dive with the Tech Gombessa at Tiputa Pass in French Polynesia, where Gombessa Expeditions is currently engaged in a multiyear study of the great hammerhead shark.
The 47 mm case felt light as a feather thanks to its titanium construction and clever, centrally located lugs, which let the Tech sit very close to the wrist. The blocky orange numerals stood out against the Absolute Black dial, which uses a combo of color and texture to absorb ambient light. During descent, the matching green glow of the bezel and three-hour hand stood out even more clearly.
En route to the pass, a curious pod of dolphins paraded confidently into the midst of our group. To our mutual delight, they spent over 15 minutes with us. The impression will last a lifetime, but hardly registered as a blip on the Tech's threehour scale.
By the end of our 45-minute dive it was clear the Tech wasn't done. It seemed to come alive on the way back to shore, still wet and glistening on my wrist, the colors more vivid. It was as if the Tech was trying to tell me it still yearned for the depths.
Related Reading: Red Sea Research Indicates Dolphins Use Corals for Skincare
Birth Of An Icon
In 1953, Blancpain's CEO Jean-Jacques Fiechter was approached by the French navy to create a diving watch. Fiechter, a passionate diver himself, had already begun designing a suitable watch guided by his own experiences as a diver and watchmaker. Fiechter ensured the watch would be waterproof down to at least 50 fathoms—about 300 feet, which was considered the deepest divers could go at the time. He did this by developing a patented case back seal and a patented double sealed crown. He used an automatic movement to minimize wear on the crown, and large white luminous markings that contrasted against a black dial for easy readability. To track time underwater, Fiechter developed a locking rotating bezel that could track time using the minute hand. The Fifty Fathoms combined these features into a single timepiece for the fi rst time. It soon became the standard for the French navy and divers around the world, including Jacques Cousteau.
---