10 Reasons Divers Love the British Virgin Islands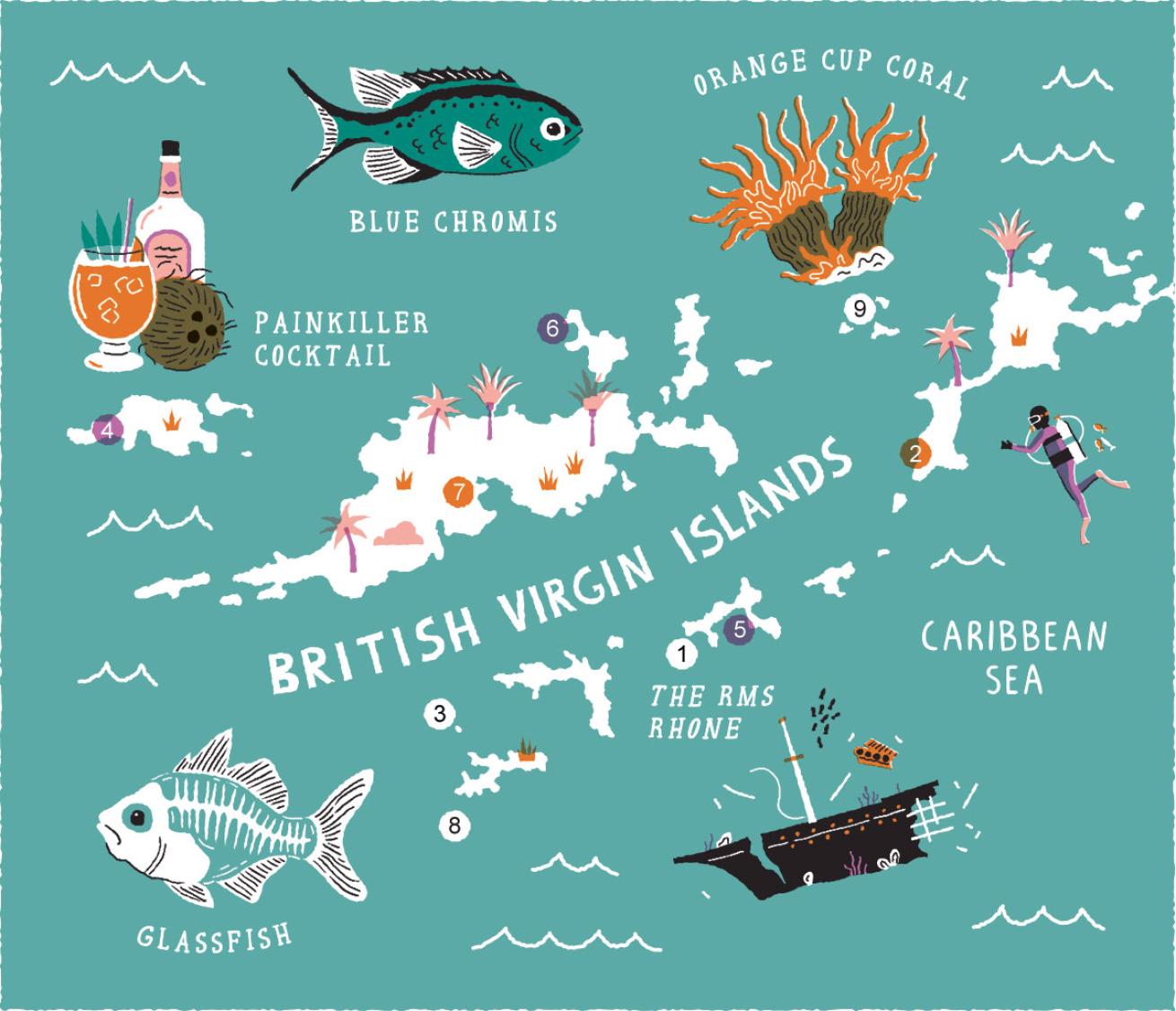 Stuart Hill
1. The RMS Rhone
Among the most legendary wrecks of the Caribbean, this former U.K. Royal Mail Ship sank off Salt Island during an 1867 hurricane and split in two. Most of the dive takes place between 30 and 90 feet, with part of the rigging, engine and propeller among the intact visual wonders.
2. Bathe at The Baths National Park
The huge boulders—deposited by an ancient volcanic event—that line the white sand beach on the southwestern tip of Virgin Gorda are at the heart of this park. Follow a series of boardwalks through the boulders to bathe in sheltered coves where ethereal light streams down.
3. The Indians
The dizzying amount of fish life swarming the four pinnacles rising from a seabed near Norman Island attracts snorkelers and divers in equal measure. Dive guides can lead you to a cave that shimmers with legions of glass sweepers and blue chromis, and angelfish and creole wrasse are every which way you turn.
4. Sip a Painkiller Where it Was Born
People from all over step ashore at White Bay on Jost Van Dyke to tip back a Painkiller cocktail—made with pineapple juice, orange juice, cream of ­coconut and dark rum, with fresh nutmeg on top. The legendary Soggy Dollar Bar was ­rebuilt after the 2017 hurricanes and is thriving. As bartender Leon Miller likes to say: "The water is beautiful here, the drinks are cold, and the sun is still hot."
---
Our Readers Vote on the Best Diving in the World
---
5. Wreck Alley
The four wrecks (including a cargo boat and tug boats) that make up this Cooper Island site can be seen on one tank. Look for rays cruising the sandy bottom, and a huge patch of garden eels.
6. Grand Central Station
The trimaran liveaboard Cuan Law ­often visits this exciting site near Muskmelon Bay, where a corkscrewing exit through a tunnel to the surface makes for a dramatic finish with the right conditions. Shine a light into the tunnels snaking off the cavern to see the eyes of banded coral shrimp and lobsters.
7. Zip-Line from High Up on Tortola
On a clear day, you can see all the way south to St. Croix in the U.S. Virgin Islands (not to mention Road Harbour, below you) as you fly along seven thrilling traverses.
8. Santa Monica Rock
Off Norman Island, this underwater pinnacle is cut through with grottoes and canyons. Bigger marine life is often spotted here, including nurse sharks, turtles, tarpon and the occasional eagle ray.
9. Bronco Billy
In the Dog Islands, this rollicking site rumored to be a favorite BVI dive of Jacques Cousteau is named for the surge that pushes divers through a canyon when seas are rough. Orange cup coral and pillar coral can be seen on the rocks, along with colorful sponges.
10. Plan a Bareboat or Charted Sailboat Vacation
Gather some friends, load up the tanks and head out for a week of bareboat or crewed sailing (and plenty of bar hopping) around these storied islands. ­Bookings can be made through the Moorings.