Buddy Dive Resort Bonaire: 10 Reasons to Go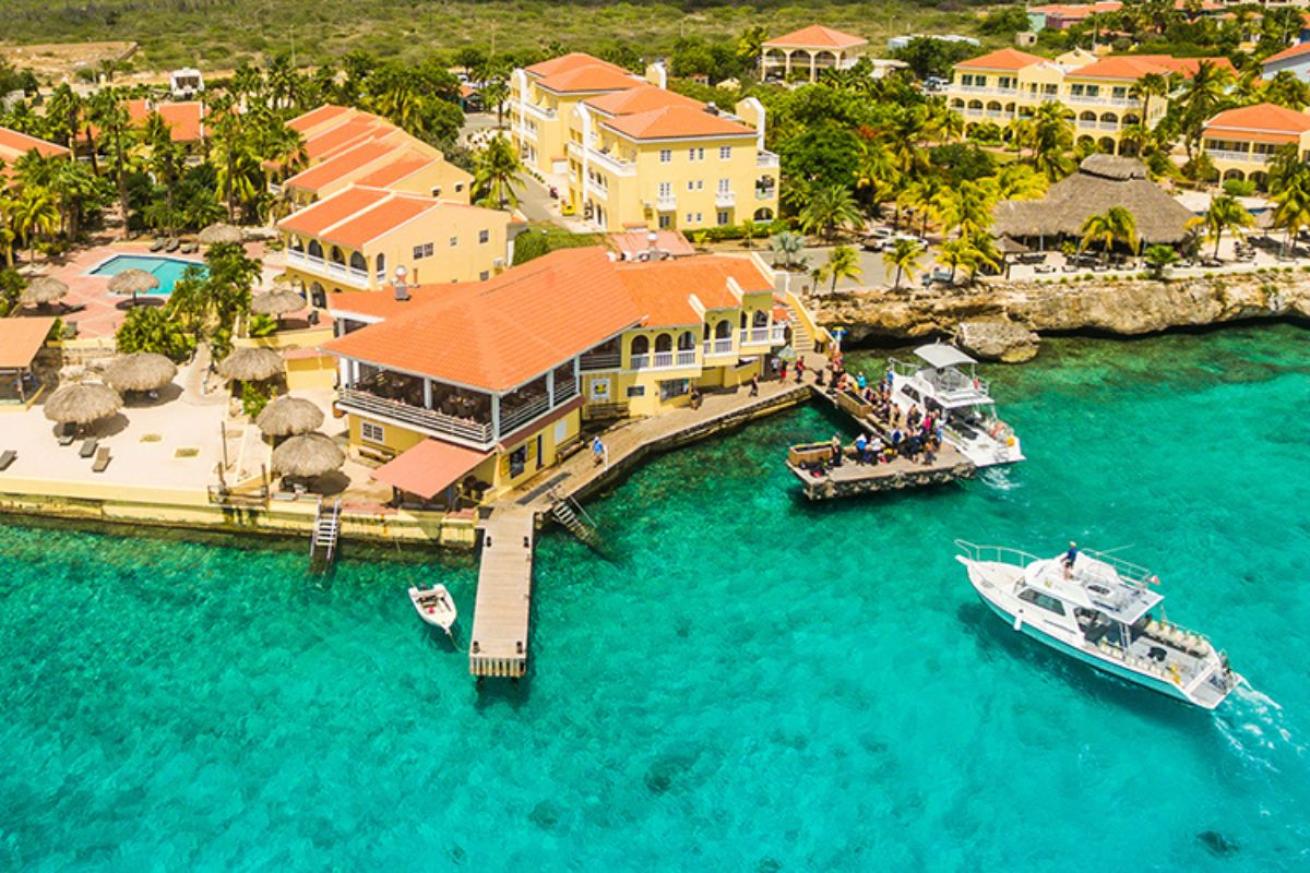 An unhurried, unspoiled natural paradise with spectacular sunsets, gentle breezes and crystal clear, turquoise waters.

Courtesy of Buddy Dive Resort
There are no shortage of adjectives to describe a dive vacation on the island of Bonaire or a stay at Buddy Dive Resort Bonaire. The resort has long been a favorite place to stay for divers of all levels, offering a vacation on an island that's designed to stand out from anything you've ever experienced before.
Buddy Dive Resort is beloved for its casual atmosphere, friendly, knowledgeable staff, spacious accommodations, house reef, and a dive operation that has something for every diver: comfortable boats, complete rental and retail center, and exceptional staff. It has a unique "Drive Thru," an air/nitrox fill station that offers divers the chance to dive 24/7. Over the years, Buddy Dive and Bonaire have become synonymous with a perfect dive vacation, just as other famous duos go together — like popcorn and movies, Romeo and Juliet, and peanut butter and jelly. These are our favorite "combo" reasons for loving a dive vacation in Bonaire with Buddy Dive Resort.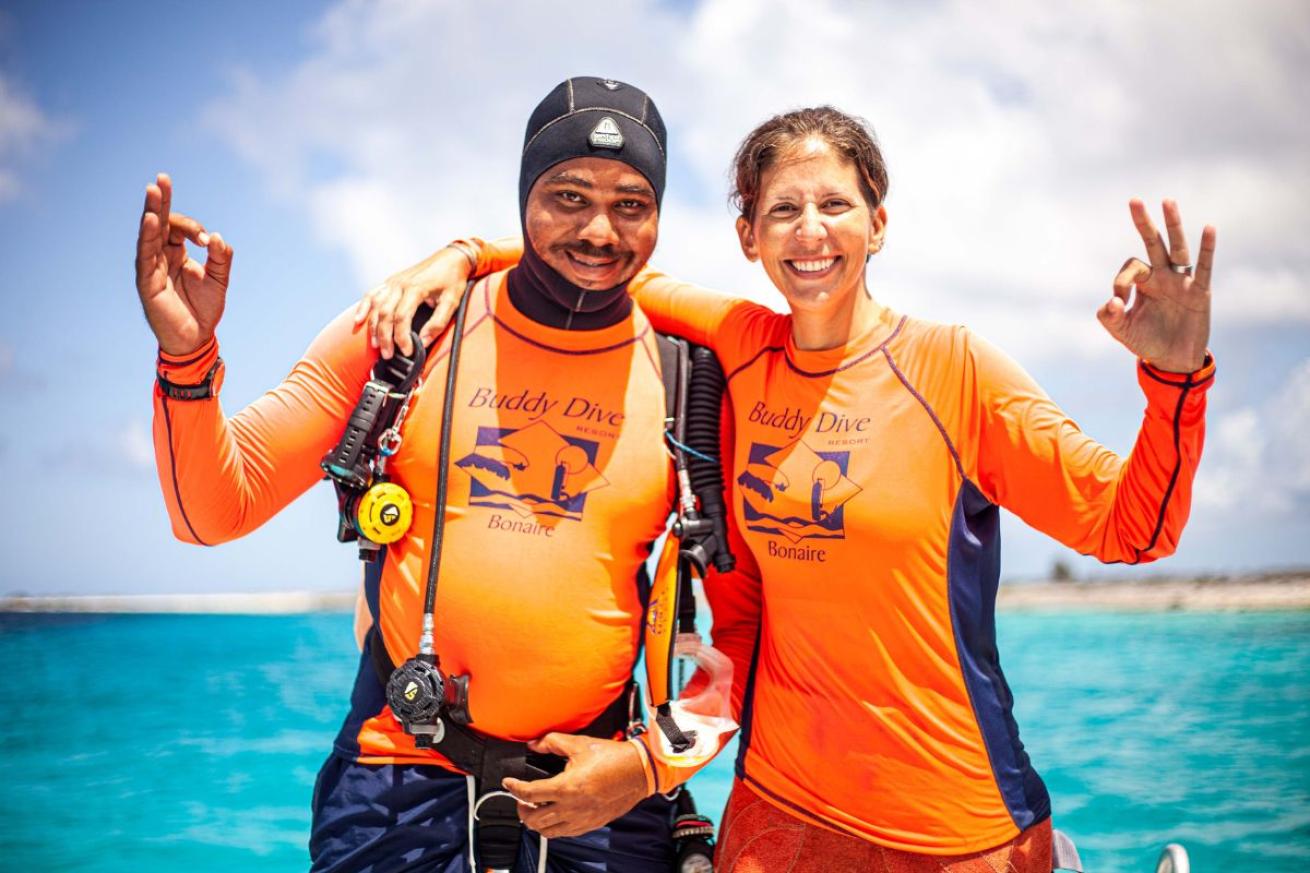 Buddy's personable staff, spacious accommodations, and dive operation has something to make every divers holiday worry-free.

Courtesy of Buddy Dive Resort
1. Unspoiled Beauty and Diving Delights
Part of the Southern Caribbean's Leeward Antilles, Bonaire is an unspoiled island beloved by divers for its protected, crystal-clear waters, pristine coral reefs, temperate weather and friendly residents. With scuba diving available year-round, it's no surprise that Bonaire is known as a "Divers Paradise," with a number of dive resorts to choose from. So why choose Buddy Dive Resort? Since welcoming its first guests in 1980, Buddy Dive has perfected the all-inclusive diving vacation (just ask the divers who return here year after year). The staff takes care of everything you need or want. If you want a little peek at the resort's version of paradise, watch the Buddy Dive 360 video. You'll see how the resort reflects all the natural beauty of its island home.
2. Accommodations and Attention to Detail
From the reservations team to the onsite staff, Buddy Dive is focused on connecting with their guests to provide each one with the vacation of their dreams. Buddy Dive will treat you as if you are part of the Buddy Dive family, and the hospitality begins with accommodations. The resort has 11 modern buildings housing spacious one-, two- and three-bedroom apartments and studios that all have ocean or garden views. The apartments are comfortably furnished to accommodate family or friends. Each apartment has a fully equipped kitchen, spacious living area with cable TV, patio or balcony, air-conditioned bedrooms that each have their own bathroom with shower. The studios have a small kitchen, separate bedroom with air-conditioning and a bathroom/shower. The studios also have cable TV, telephone and a small patio. You can check the website for the resort's special deals and customized packages.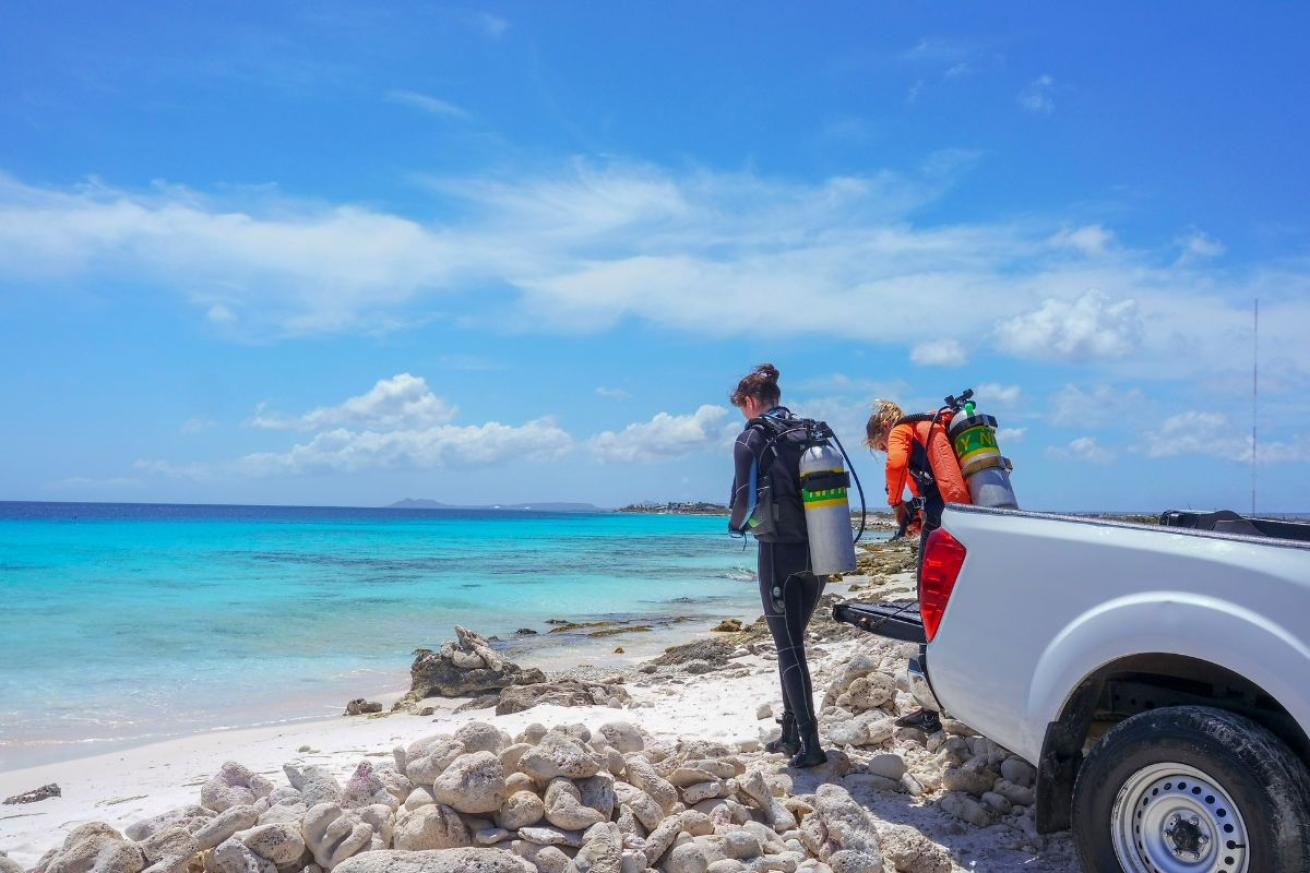 With a fleet of custom dive boats and a well-stocked 'Drive Thru' offering air and nitrox tanks, every diver's needs can be satisfied.

Courtesy of Buddy Dive Resort
3. Surface Intervals and Laid-Back Activities
Casually elegant, Buddy Dive Resort has amenities galore. There's an activity desk where staff can help you plan nondiving activities and two swimming pools (one with a walk-up pool bar). The two onsite restaurants, Ingridients and Blennies, offer varied menu options and fun themed nights, such as Steak Night, Sunday Pizza Fun Day and their famous All You Can Eat BBQ buffet that features fun food and live music. Some favorite activities on Bonaire include snorkeling, windsurfing at Sorobon Beach, kitesurfing, feeding the donkeys at the Donkey Sanctuary, and exploring the rugged beauty of Washington-Slagbaai National Park.
4. Shore Diving and Boat Diving
The full-service dive center allows you to explore the sites on island as either self-guided shore dives or from one of Buddy Dive's custom dive boats. The Buddy Dive crew will load your gear onto the boat and set it up for you. After the dive, the crew hands out dry towels, fresh fruit, snacks and refreshments. Back at the resort, the crew will unload, rinse and store your dive gear.
Of course, the island is known for its easy shore diving where you decide the schedule and dive site. Buddy Dive's famous Drive-Thru filling station makes picking up tanks a cinch. All you have to do is drive your rental vehicle — included as part of the package — to the filling station and load your tanks. The sites that can be accessed from the island's coastal road are indicated by yellow painted stones, with the dive-site name printed in black — it is a charming system that is unique to Bonaire. Bonaire boasts over 60 marked shore dives, stretching from Karpata in the north to Red Slave in the south. The island's available diving also includes all of the sites off Klein Bonaire, a 2-square-mile island off Bonaire's leeward western shore.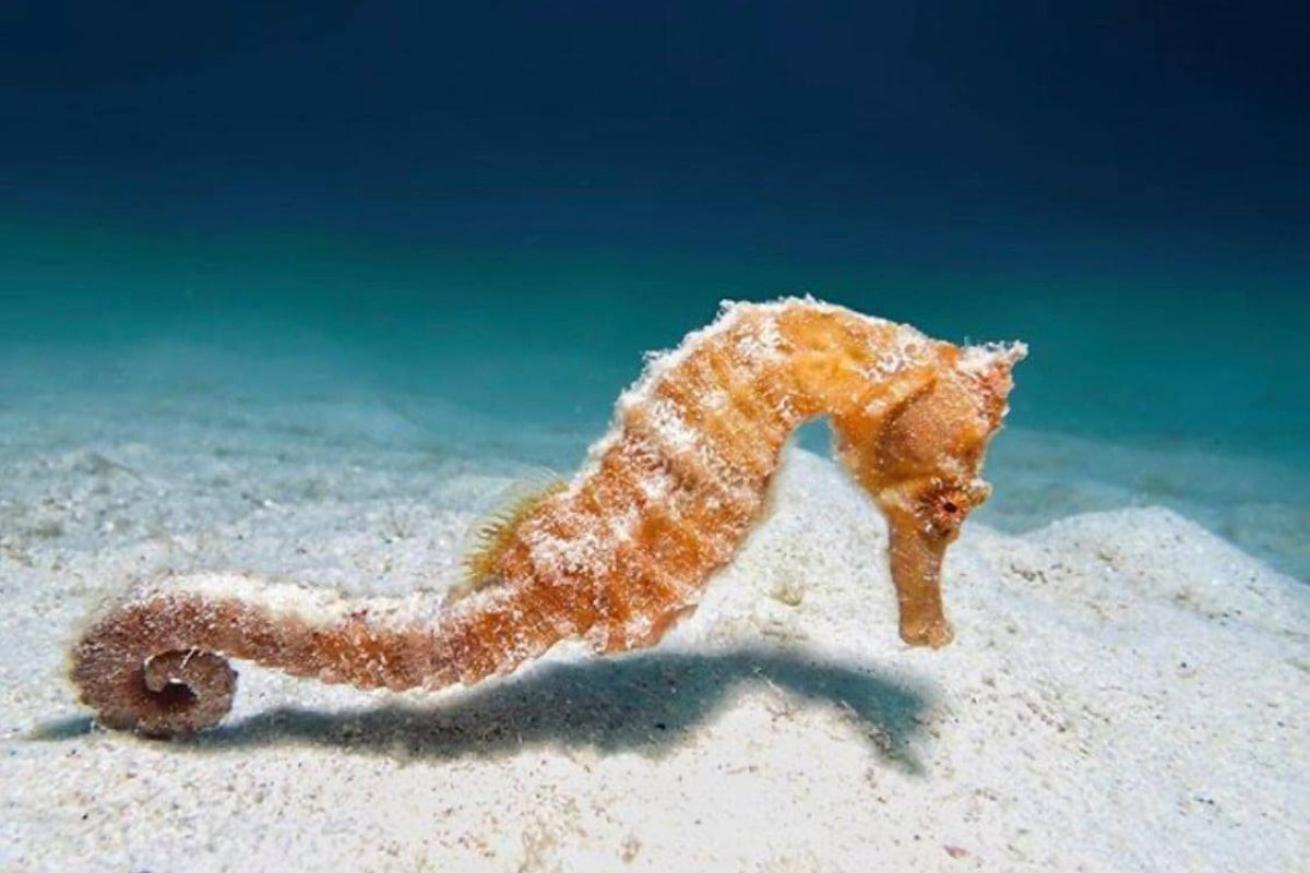 Bonaire and its perfect photographic conditions make the island one of the top 5 macro life destinations.

Courtesy of Buddy Dive Resort
5. Macro Haven and Underwater Photography
If you love macro creatures, you're in for a treat. From frogfish to seahorses, blennies, gobies, shrimp, worms, sea slugs and healthy corals, Bonaire's reefs are home to some of the Caribbean's most beloved marine critters. And if you're an underwater photographer or videographer who hates when a legion of divers crowd around the same subject, you will love how much ocean "space" you'll have in Bonaire. The freedom of shore diving means you can choose a site where you and your buddy are the only ones diving. Even if you're diving from one of Buddy Dive's boats, dive guides will help ensure that divers are able to spread out. If you want to try underwater photography, Buddy Dive offers digital camera equipment for rent or sale and photo coaching sessions.
6. Beginner Diving and Advanced Options
Whether you're a new diver or an experienced pro, you will discover one of the best places in the world for all levels of diving. If you want to take a course, Buddy Dive Academy is a PADI Five-Star Career Development Center that offers a full range of scuba instruction (including Buddy Dive's exceptional tec diving instruction).
7. House Reefs and Flexible Schedules
Buddy Dive guests can choose diving on any of the island's dozens of shore dives at any time of the day or night, but there are some guests who never leave the property, content to explore the lively house reef just a few fin kicks from the dock. If you are truly a laid-back kind of diver, you'll love the resort's house reef, known as Buddy's Reef, available to dive 24/7/365 and located just a few fin kicks away from Buddy Dive's waterfront dive center. Personal gear lockers are located on the dock, and both air and nitrox tanks are readily available, as well as rinse tanks and a freshwater shower.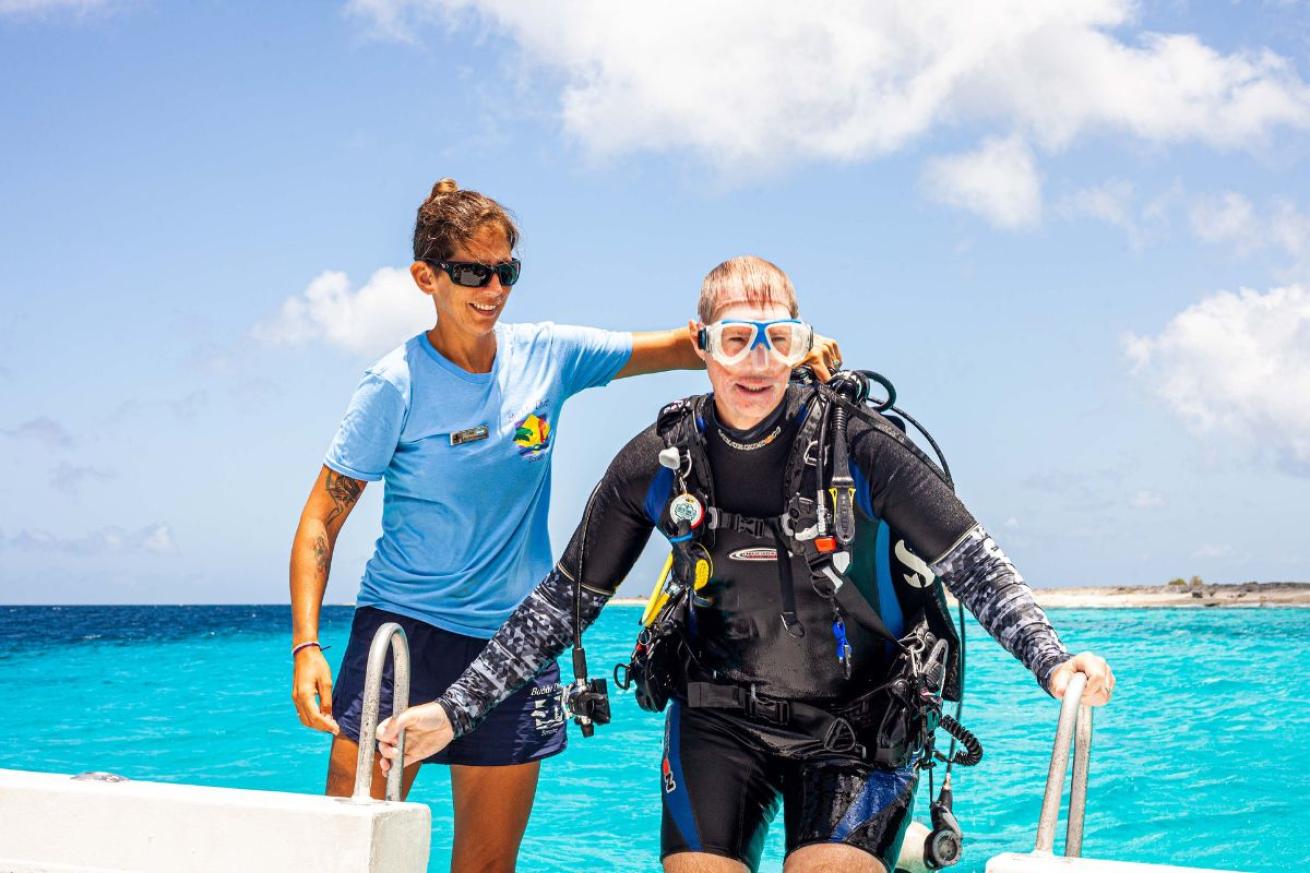 Join Buddy's experienced, friendly dive staff on morning and afternoon boat dives.

Courtesy of Buddy Dive Resort
8. Commitment to Conservation and Sustainability
The island of Bonaire has long been a leader in nature conservation and environmental responsibility, and Buddy Dive shares that mission. Stichting Nationale Parken foundation — better known as STINAPA — actively protects nature on the island, including its reefs. The Bonaire National Marine Park was the first of its kind in the Caribbean. Read about Buddy Dive's sustainability efforts, including being the founding partner of Reef Renewal Foundation Bonaire, to learn more.
9. Island Culture and Adventure
During your surface intervals, take time to discover the island, which is truly special. Bonaire's capital city Kralendijk is a quaint town with waterfront eateries, art galleries and unique shops.
In addition to overseeing the marine park, STINAPA also manages Washington Slagbaai National Park, on the northern end of Bonaire. This is a bird-watcher's paradise and a desert-type habitat where you'll find parrots, iguanas, goats and donkeys.
10. Everything and Nothing
You're totally drained. Tired. Exhausted. Ready for a vacation. We've got the solution and one last reason to come to Bonaire and stay at Buddy Dive Resort. Whatever helps to restore you — a vacation filled with fun and adventure or one that allows you to forget the cares of the world, you will find the with a dive vacation at Buddy Dive Resort and Bonaire. The resort and island is perfect for all kinds of vacationing divers.
We promise you that if you book a dive vacation at Buddy Dive Resort on Bonaire, you will discover a winning combination!
Contact
1-866- GO-BUDDY
---