Chogogo Dive & Beach Resort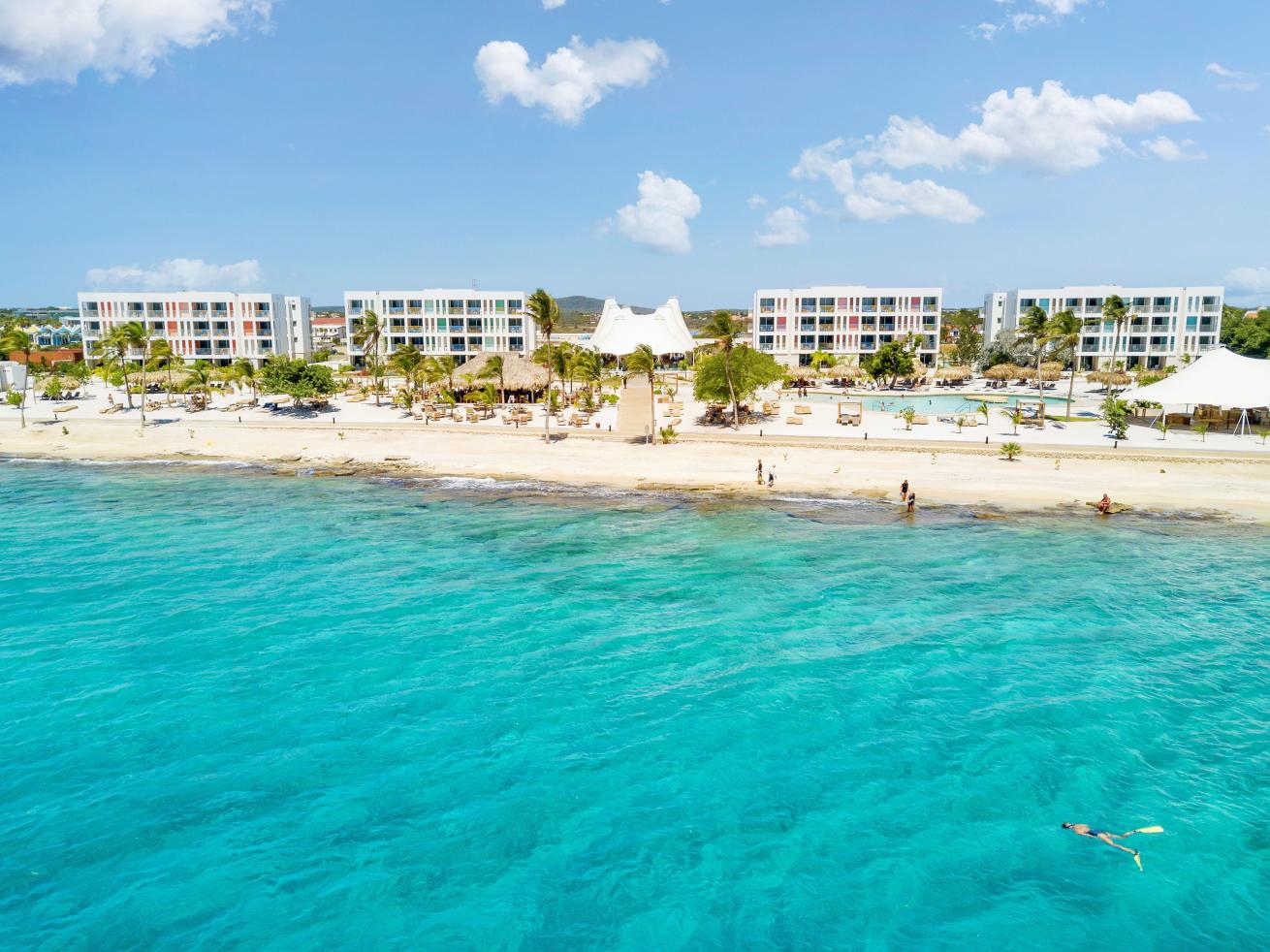 Chogogo enjoys a prime spot within walking distance of the main town and has a wide beachfront located along two house reefs.

Chogogo Dive & Beach Resort
The Papiamento word for the greater flamingo is "chogogo." These striking birds are found in Bonaire's Pekelmeer Flamingo Sanctuary, one of only four areas in the world where they breed. It seems appropriate that the newest and most unique dive resort on the island, Chogogo Dive & Beach Resort, shares the same name as these extraordinary birds.
The resort was designed with both scuba divers and nondivers in mind. It has partnered with one of the region's most experienced dive centers, Scuba Do Bonaire, to provide boat diving, gear rental and dive instruction, including PADI Seal instruction for kids as young as 8 years old, and it can help arrange a number of activities for nondivers, too.
Chogogo enjoys a prime spot within walking distance of the main town of Kralendijk and has a wide beachfront located along two house reefs, Front Porch and Bari Reef — the latter is famous as the spot where the Caribbean's highest count of fish diversity was recorded.
The resort is set up for lounging, with drinks and lunch service available on the beach. The meandering lazy river gives guests the chance to enjoy the sun while gently floating and taking in views of the Caribbean Sea and gardens. Chogogo's lazy river is the only one on the island.
All brand-new as of December 2021, Chogogo offers five room categories to accommodate solo travelers, couples, families and groups. Choose from studio, studio plus, studio deluxe, a two-studio apartment or a three-bedroom villa. All room categories include a kitchenette, two induction plates, a mini fridge, Nespresso machine and eat-in kitchen.
On an island known for its foodie scene, the resort's three onsite restaurants are convenient and comfortable. Sunset, open from 7 a.m. until 11 a.m., offers an expansive breakfast menu, from pumpkin pancakes to scrambled eggs with smoked salmon toast with serrano ham, dried figs and walnuts. Biña, serving international food, gives guests the option of three-, four- and five-course chef's menu dinners, in addition to the regular menu. The beach bar Bari, open from 8 a.m. until midnight, dishes up smoothie bowls, yogurt parfaits, salads, fish tacos, burgers, nachos, pizza, snacks and desserts. A full bar serves fresh juices, smoothies, espresso drinks, espresso martinis, margaritas, wine, whiskey and more.
As for diving, Scuba Do Bonaire, the onsite PADI 5-Star Dive Center, helps guests arrange their week, whether they want to enjoy boat dives on Klein Bonaire, or shore dives at the island's 60 well-marked shore dives — or choose a mix of both. Truck rental and dive gear rental are both available at the resort, making it easy to get everything you need in one place.
Guests can rent a truck and dive gear from the resort making it easy for endless shore diving adventures.

Chogogo Dive & Beach Resort
If there is someone in your group curious to try scuba — perhaps a partner, friend, child or teen — they may want to try scuba with a Discover Scuba Diving course. The hotel pool, which is wheelchair accessible, is the ideal place for new divers to get comfortable underwater before joining the instructor for a shallow dive on the house reef. Adults, as well as kids ages 10 and older, can continue instruction and complete their Open Water Dive certification, as long as their vacation schedule permits.
Whether they're looking for a little assistance refamiliarizing themselves with the gear or they want to join a pro with first-hand knowledge of the reefs, certified divers can opt for guided dives. Guides also point out the best entry and exits at each dive site, as well as good spots to find some of the critters Bonaire is best known for, such as frogfish, seahorses, octopus and more.
On Bonaire, the dive day doesn't have to end — with shore diving, reefs are open 24/7, so you choose the schedule that works best for you. Of course, back at Chogogo, which hosts live music several nights a week and offers a beach bar just steps from the sand, the perfect way to end the day may be kicking back and enjoying all that the resort has to offer.
Contact
+599-71700717
---