COVID Trapped Me On a Remote Island. Learning to Scuba Dive Saved My Sanity.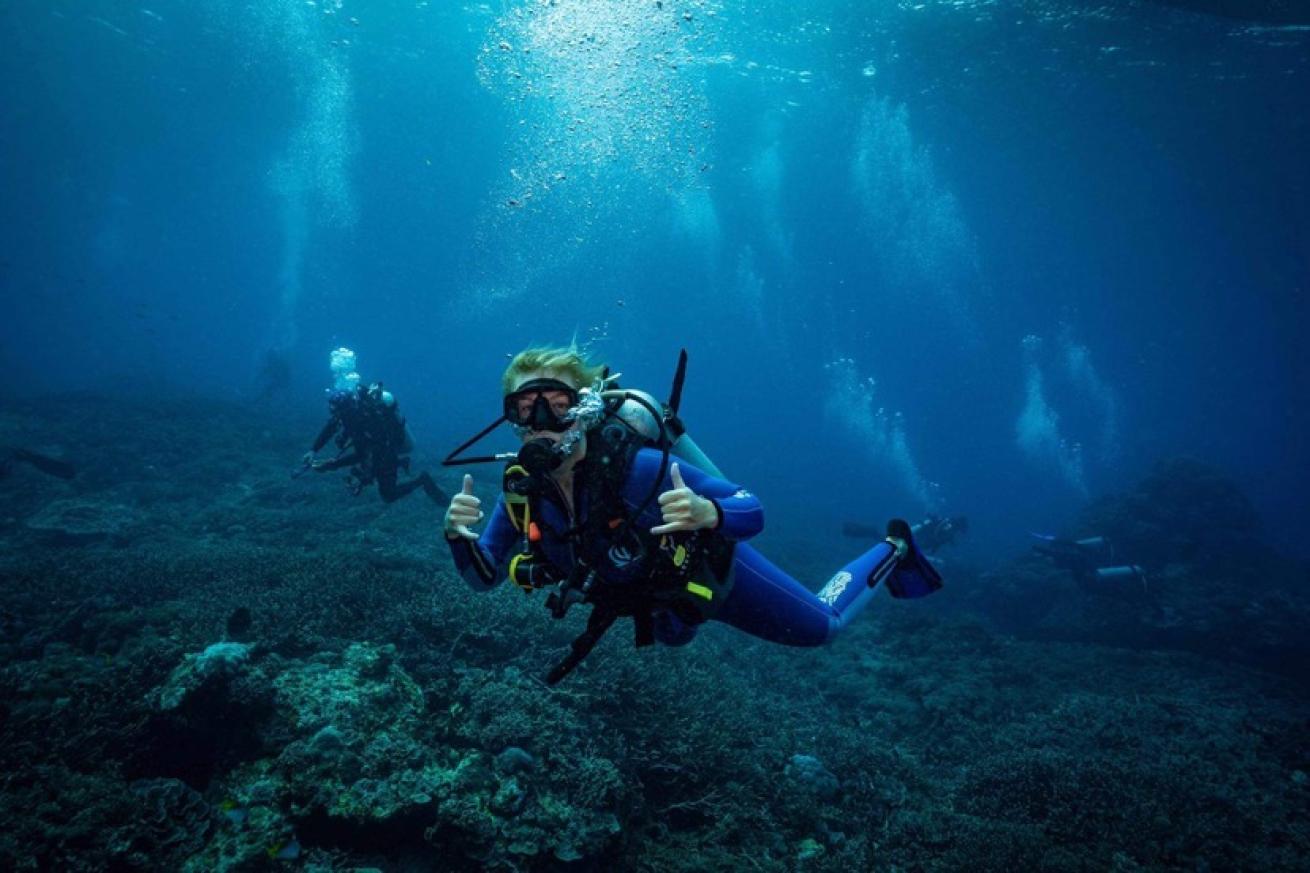 Darling floats near the seafloor in Indonesia.

Charlie Fenwick
"It's just a big fish," I thought, rolling my eyes as excited friends sent a stream of mola mola photos to our group chat.
It was early in 2020, and I'd just relocated from my hometown of London to Indonesia for a six-month social media internship. I'd settled on the minute island of Gili Trawangan, about three square miles between Bali and Mataram without motorized vehicles, a supermarket or hospital.
The first few weeks passed in a blur of partying, tanning and meeting new people, but you know what comes next: a global pandemic. Within an abrupt 24 hours, the island emptied—hostel occupancy dropped from hundreds to a handful, luxury resorts closed entirely, and the main street fell nearly silent. I'd moved here to socialize, but was left with cycling circles around the tiny island, swimming on the same beach and endless card games. I needed a new distraction.
Before this, I hadn't spent much time thinking about life below the water. Sure, I knew Indonesia is famed for its incredible marine life. But given my slight fear of the ocean and an unenjoyable snorkel experience as a kid, I figured my time here would be spent above sea level.
But, on the hunt for something to do, my friends kept suggesting scuba.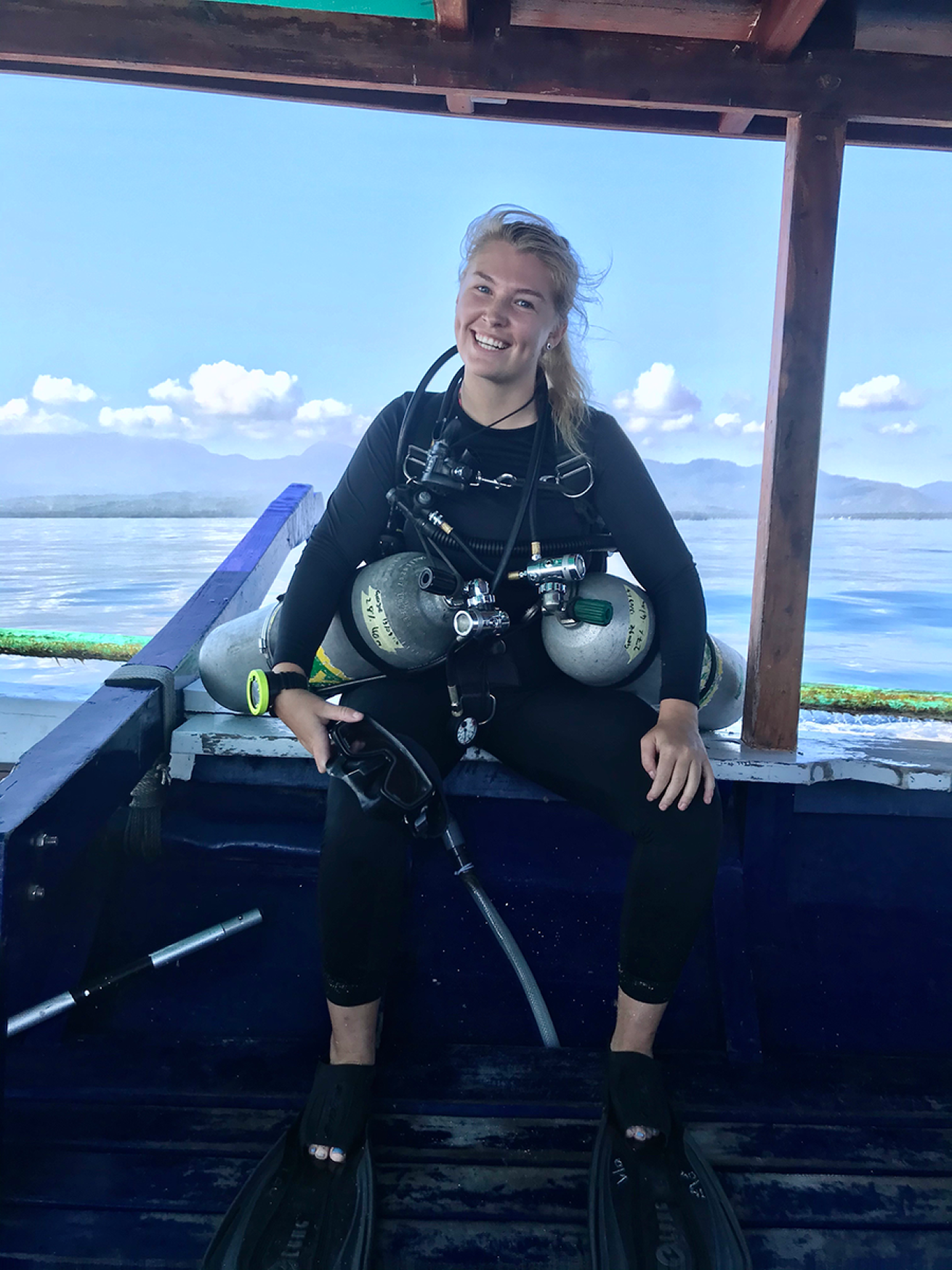 Darling holds onto her sidemount set up before a dive.

Courtesy Image
"I'll give it a go eventually," I told them, thinking it would be another activity I'd talk about without actually trying. Then an island friend needed a student for her Divemaster certification, and I found myself strongly encouraged to sign up for my Open Water.
First thoughts? Dive gear is seriously heavy. And bulky. And difficult to put on. Fiddling with my buoyancy in the pool made me question why I was doing this. With no previous interest or knowledge of diving, the words "BCD" and "negative buoyancy" were entirely foreign to me. I nearly cried after my first terrified backroll entry.
Yet I threw myself (quite literally) into this new world. And I got it. My first 40-foot dive was eye-opening. My fear completely dissipated amid the trevally, angelfish, fusiliers and parrotfish.
When I first made the choice to ride out whatever came on Gili T instead of returning to the U.K., I'd been warned that Indonesia would collapse, that I'd be taking up a hospital bed, that international flights would cost thousands of dollars or might just stop completely.
Instead, I searched for families of reef sharks hiding under rocks and gloriously vibrant coral reefs. I passed hours learning the ins and outs of Nitrox diving and figured out the sums to calculate my SAC. I worked beyond my Open Water, ticking off specialties and dipping my toe into the world of Tec and deep diving. I learned the differences between green and hawksbill turtles, flew alongside walls of rainbow coral reefs during drift dives and waved at moray eels as they poked their cheerful faces out. I practiced my buoyancy looking for nudibranchs and watched in awe as huge manta rays flapped past.
Put simply, I fell in love with diving. In the seven months without public transit to or from the island, it was my haven. Instead of panicking about the future, I researched dive computers. Rather than worrying about getting home, I spent my mornings configuring my sidemount set up.
Living only a five minute cycle from my dive shop, I could easily go from my bed to my favorite dive site in less than 30 minutes. And once underwater, I'd forget about anything else.
I followed this rhythm for months until I moved to Bali. Since then, I've been lucky enough to continue diving, visiting world famous spots like Komodo National Park and finally spotting my first mola mola just off of Nusa Penida. You can bet that I, too, shared plenty of photos of it with my friends.
---
Are you ready to step up, help save the ocean, and #LiveUnfiltered at the same time? Sign up for a PADI Open Water Diver course now.
---