Dive Travel Now: A Look at Panama, St. Lucia and Vancouver Island
Planning a trip to one of these dive hotspots? Here's what you need to know. Featuring insight from locals, tips for timing seasonal experiences, and the scoop on popular dive sites, as well as some lesser-known dives you'll want on your radar too.
A school of fish in the blue waters of Coiba Island.

KRISTINA VACKOVA/SHUTTERSTOCK
Panama
Under the Radar
Conservation-minded divers looking to get off the beaten path (but less than two hours by car from Panama City) love to discover the topside and underwater wonders of Portobelo National Park in the province of Colón. You can put a citizen science spin on your dives when you visit coral nurseries and other sites with dive center Scuba Panama and Reef2Reef Foundation, an organization that partners with marine biologists, universities and institutions from around the world to restore coral growth in the marine park. On land, head out on night hikes with Portobelo Adventures to spot endemic glass frogs with skin so clear you can watch their hearts beating inside their tiny, translucent chests.
The Classic Dive
In Bocas del Toro, one of Panama's most beautiful and touristic destinations for divers and backpackers, La Buga Dive & Surf visits famed sites like Tiger Rock, a seamount washed with current and loaded with marine life, including hammerhead sharks and bull sharks.
Dive Report
On recent multiday dive trips in Coiba National Park, instructor Cory Coates, of Scuba Coiba, says there were almost too many incredible animal sightings to count. "We saw whitetip reef sharks, nurse sharks, hammerheads on three dives, a bull shark, devil rays, schooling pelagic stingrays, turtles, dolphins, schools of barracuda, jacks, spadefish—you name it," he says.
Plan a Trip
Humpback whales arrive in the waters of the Gulf of Chiriqui and Coiba National Park from July through October. "These big mammals bring their calves to our warm waters, migrating from north to south, where they spend some time fattening up and learning survival skills in preparation for the cold waters of Antarctica," says Sabina Schreck, of Panama Dive Center. "We regularly see them from the boats, often hear them underwater and, with a lot of luck, see them on a dive." Pau Sills, of marine conservation center Ankay Conservation, says one of the best times to dive Bocas del Toro is in September and October, when waters are at their flattest with the best visibility. "This opens up the opportunity to dive in caverns and outside the bay and experience an ecosystem very different from our classic coral reefs," she says.
Second-Time Visitor
The northern islands of Contreras in Coiba National Park, including Brincanco and Uvas, offer exciting pinnacle sites frequently visited by hammerhead sharks and pelagic stingrays, says Julie Berry, of Coiba Dive Center in Santa Catalina.
Related Reading: Inside An Action-Packed Family Dive Trip in Panama's Coiba National Park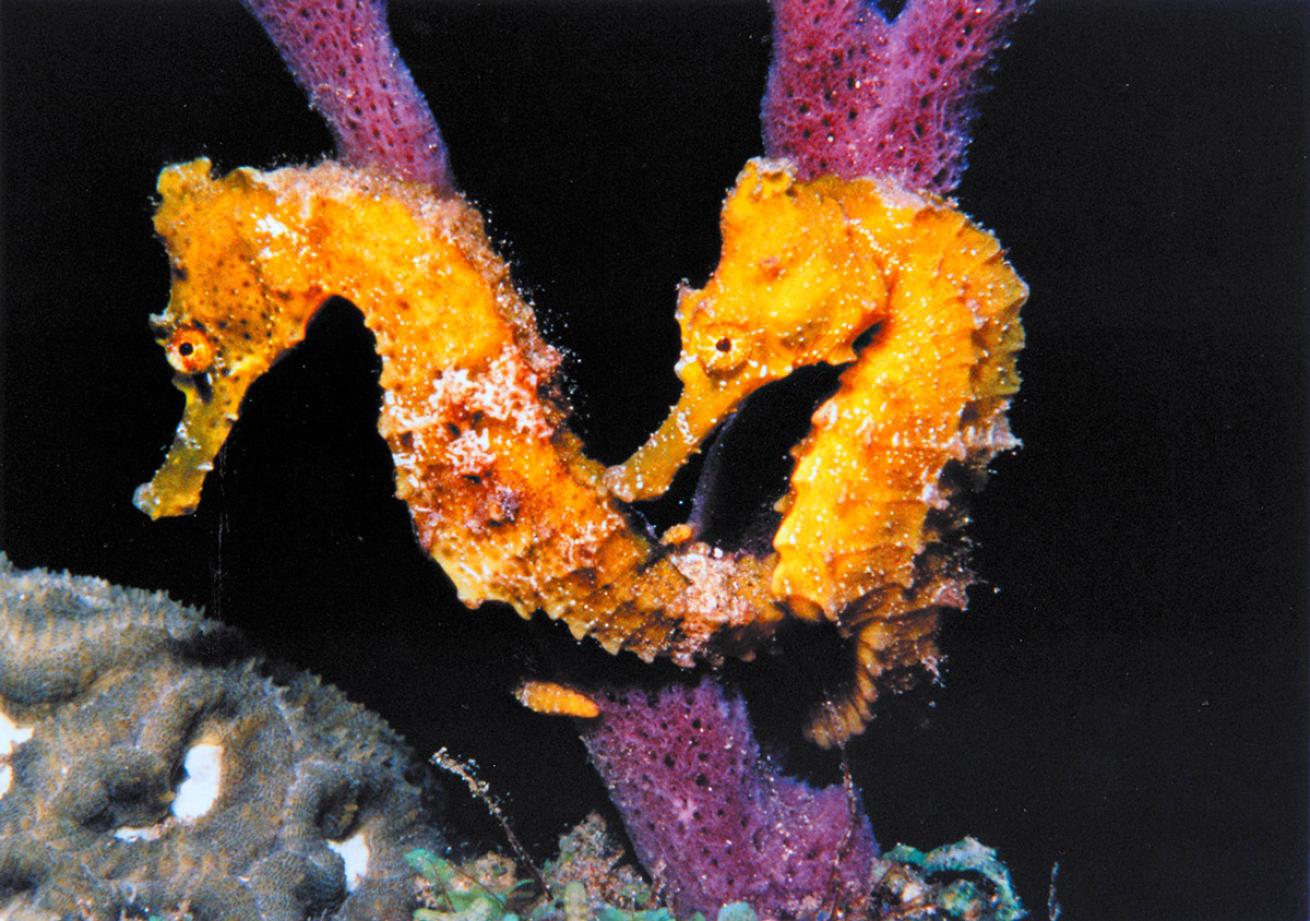 A pair of seahorses on Anse Chastanet Resort's house reef.

COURTESY ANSE CHASTANET
St. Lucia
Under the Radar
For advanced divers, the Daini Koyomaru—a 244-foot-long Japanese dredger purposesunk in 1996 in 108 feet of water— makes for a magical dive. "Everything there seems to be overgrown," says Eget Martyr, of Eastern Caribbean Diving, referring to the size and proliferation of life occupying the wreck, including lush corals as well as supersize lobster, eels, turtles, barracudas, and sometimes sharks. "Due to frequent strong surface currents and/ or fishermen who want to keep their fishing gold mine a secret, the marker for this wreck often gets torn away, making this dive site a true under-the-radar point," she says.
The Classic Dive
The wreck of the Lesleen M, a 165-foot-long freighter purpose-sunk in the late '80s, makes for "an absolutely gorgeous underwater aquarium," Martyr says. The wreck sits upright in 65 feet of water near Anse Cochon. Make your second tank Anse Cochon South, which is nicknamed the "nursery" and has an array of soft corals that look like an underwater forest. "It's one of the best spots for sightings of elusive critters such as seahorses, frogfish, pipefish, octopuses, jack knives and juvenile spotted drums, to name a few."
Dive Report
"In St. Lucia we don't see so much of the big stuff you see in other parts of the world, but we have loads of small, colorful fish and a vast variety of critters," says Mervin Ceromain, an instructor with Eastern Caribbean Diving.
Plan a Trip
For the best shot at encountering cetaceans, plan your dive trip for January to April, when humpback whales migrate through St. Lucia's waters. While it's unlikely you'll spot whales on dives, their song can often be heard while diving, says Martyr. "And a planned whale- and dolphin-watching trip will definitely increase your chances of sightings."
Second-Time Visitor
The two uniquely shaped volcanic plugs called the Pitons are St. Lucia's defining geographical feature, but there's plenty more natural beauty to admire here. Martyr recommends checking out the island's hiking trails that lead to less-visited waterfalls, such as Enbas Saut Falls in the Edmund Forest Reserve and Belle Vue Waterfall.
Related Reading: Going Green: How to Improve Your Turtle Photography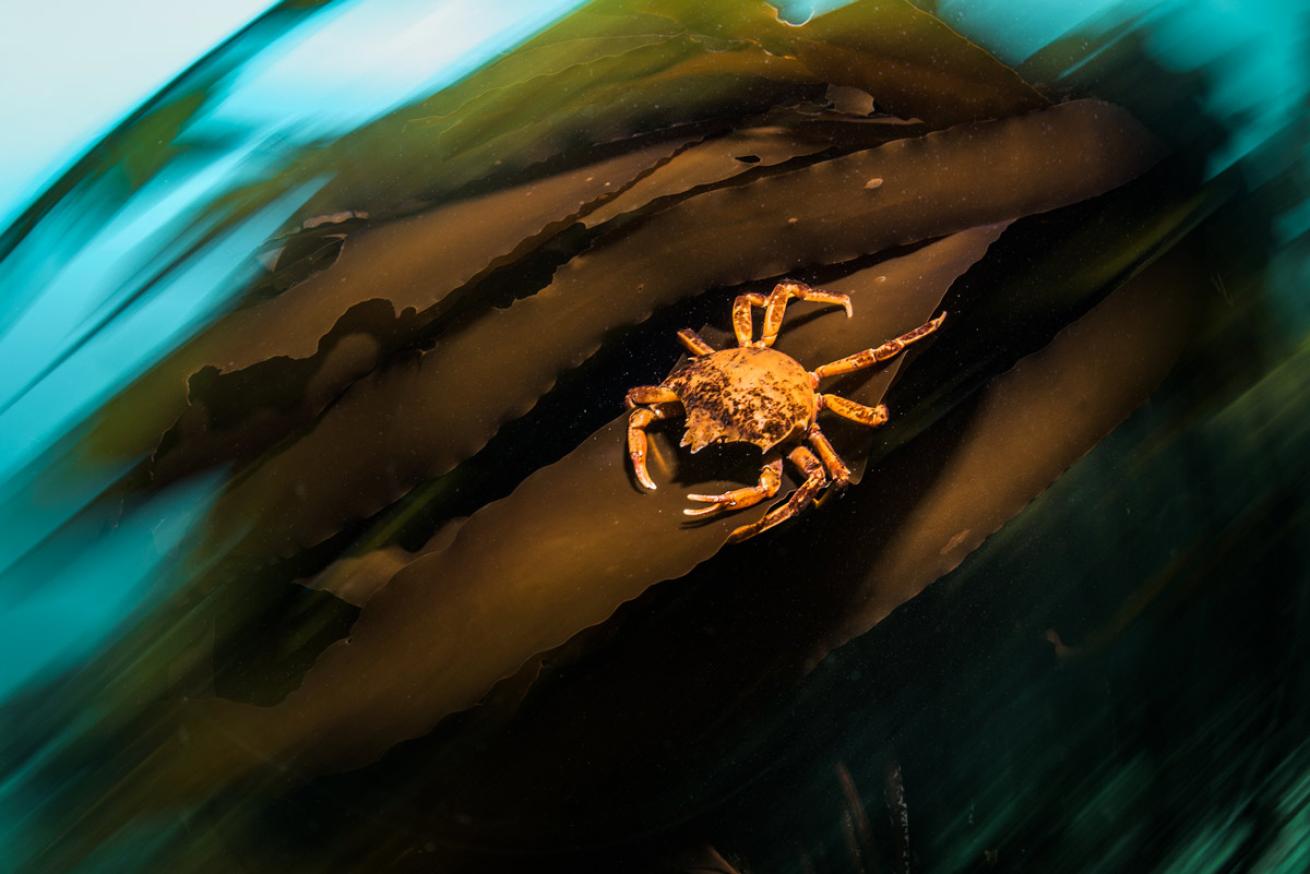 A kelp crab at Browning Pass in northern Vancouver Island.

JASON BRADLEY
Vancouver Island
Under the Radar
The site called Race Rocks at the southernmost point of Vancouver Island makes for a challenging dive with strong currents that's for experienced divers only—and it's loaded with rewards and surprises, says Chris Blondeau, of Wilson Diving in Victoria. Here, an underwater mountain is bathed in currents from the Salish Sea that bring in nutrients and wildlife. "The result is an extremely rich and productive marine environment that attracts creatures large and small, up and down the food web," Blondeau says.
The Classic Dive
Many dive sites around Vancouver Island are home to two classic denizens that offer big thrills for divers who come here to seek them out: the resident giant Pacific octopus and the wolf eel. The incredible shore dive at Madrona Point in Nanoose Bay offers divers a good shot at spotting both on a single tank.
Dive Report
The proximity to diving for people living on Vancouver Island is a year-round thrill, says Blondeau. "We often take it for granted here, but for many of us the underwater world is but a few minutes away," he says. "Going for a dive here is not an expedition but something we will do in the spur of the moment or after work—and then go for dinner, a beer and storytelling."
Related Reading: How Intelligent Are Octopuses? Your Octopus Questions, Answered.
Plan a Trip
During dives in summer and fall, one of the main attractions for divers around Vancouver Island is its kelp forests, at peak lushness that time of the year. "They offer great opportunities to swim through the canopy and witness the play of lights and shadows, as well as all the marine life they attract for food and shelter," Blondeau says of the kelp forests. Mid-July through October also tends to bring the best visibility in the waters around Vancouver Island, he says.
Second-Time Visitor
It's worth ditching the dive gear to witness one of Earth's signature migration spectacles: the salmon run. Rivers on Vancouver Island run thick with thousands of spawning salmon, and you can watch it all while snorkeling, says Ed Singer, of Sundown Diving in Nanaimo.
---