Does Your Dive Gear Matter?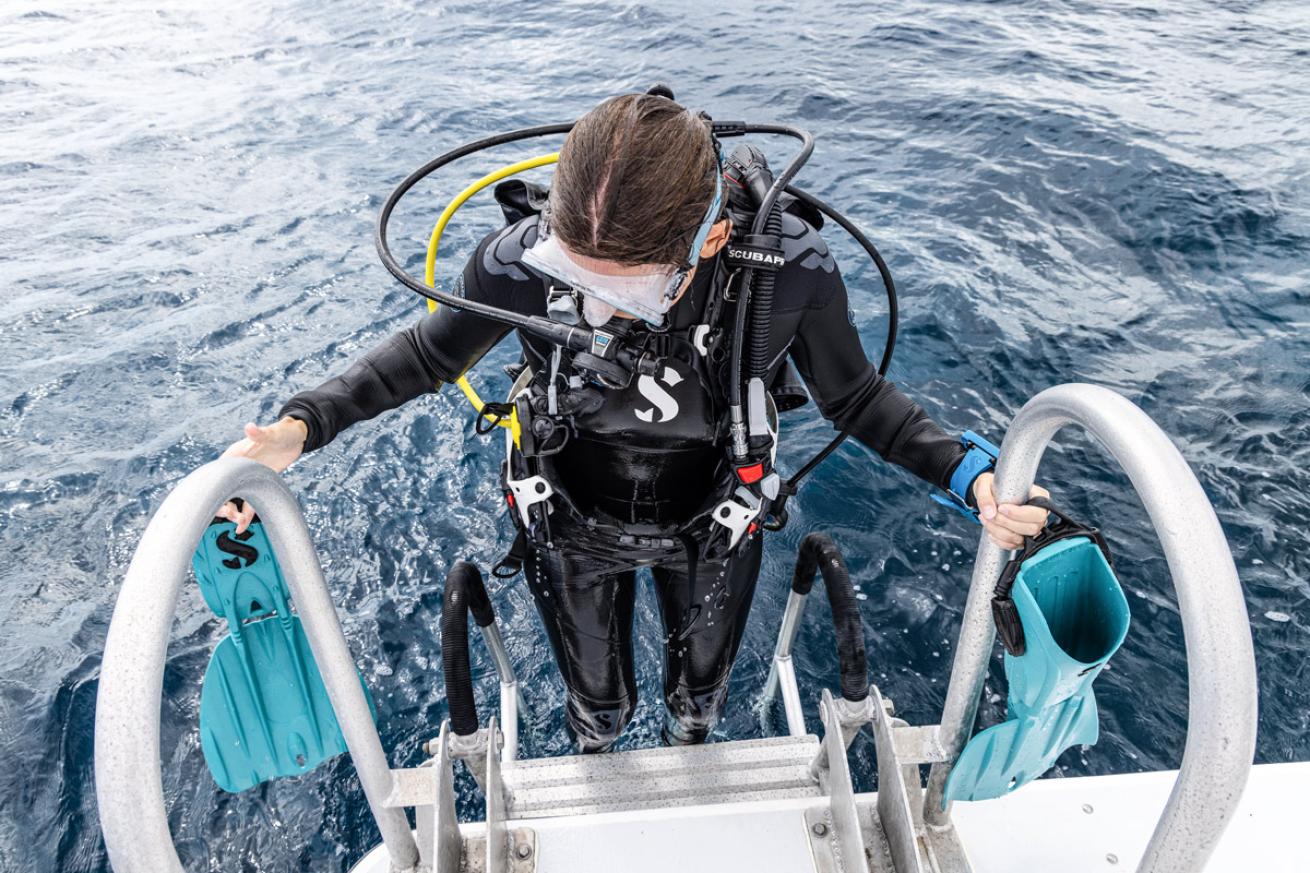 Dialed-in gear is an essential component to your diving safety, comfort and enjoyment.

BRENT DURAND
If you walk into the ocean often enough, you can tell you're wearing a new wetsuit by the time your legs are submerged.
I have a propensity to push wetsuits a few dives or a few surfs too long, and I always notice the difference between an old and a new wetsuit in these first few steps. Water doesn't find its way inside, and the wetsuit materials feels soft and springy as the ocean presses your legs. I've bought several new wetsuits and found myself thinking, Why did I wait so long?
New divers don't always understand the scuba equipment choices they have at their disposal. They're not familiar with the brands or why one version of gear is better than another. If you're purchasing gear, your best choice is usually to listen to the recommendation of an instructor or point of contact at the dive shop.
This approach is perfect when buying your first scuba kit. Over time, you gain more experience and log more hours in your gear. You learn what type of diving you prefer and develop more personal preferences. You also develop the ability to feel the difference between gear features.
Related Reading: How to Dive Flower Garden Banks National Marine Sanctuary
This is the time to start evaluating your gear to decide if you will be more comfortable, more effective, or simply have more fun by changing some of the elements.
Your mask is a great place to start. You might have made a quick decision or focused on budget more than comfort, but as an avid diver it's worth evaluating your options once again. A little increase in comfort can bring new joy to diving.
BCDs have various air cell and trim weight configurations that can dramatically change your orientation underwater and how you float on the surface. Simply put, the right BCD should hold you in your preferred position in the water without any effort, which will help you achieve expert buoyancy control.
Wetsuits are made with a range of materials combined with seam and panel design that deliver warmth, flexibility and ease of donning or doffing. Seriously, did you compare your first wetsuits based on the effort it took to get in and out of them, or on whether you can (or care to) zip your wetsuit yourself? It's the little things that make each dive that much more fun.
Fins are easy to overlook since they last a long time, but have you considered whether your fins are best suited to your diving style? Experienced divers can write a thesis on fin preferences and might own several pairs of fins for different conditions.
Related Reading: Best Dive Gear for 2023
Some key considerations are whether your legs fatigue during dives and whether you feel efficient when kicking, whether on the surface, during the dive or using specialized techniques like the frog kick. If you have doubts about any of the above, start asking your dive buddies to swap fins for a dive during your next trip so that you can start to feel the differences. After that, bring this feedback to your dive shop so they can guide you toward fins best suited to your preferences.
Have I convinced you to start thinking critically about your gear yet? I haven't even mentioned color coordination and affordable accents like mask straps that let you change fashion midtrip.
A little effort spent configuring your gear will make it feel second nature so you can focus on the dive, your buddies, and being truly present during those wild marine life encounters.
---