Eight LGBTQ-Friendly Dive Destinations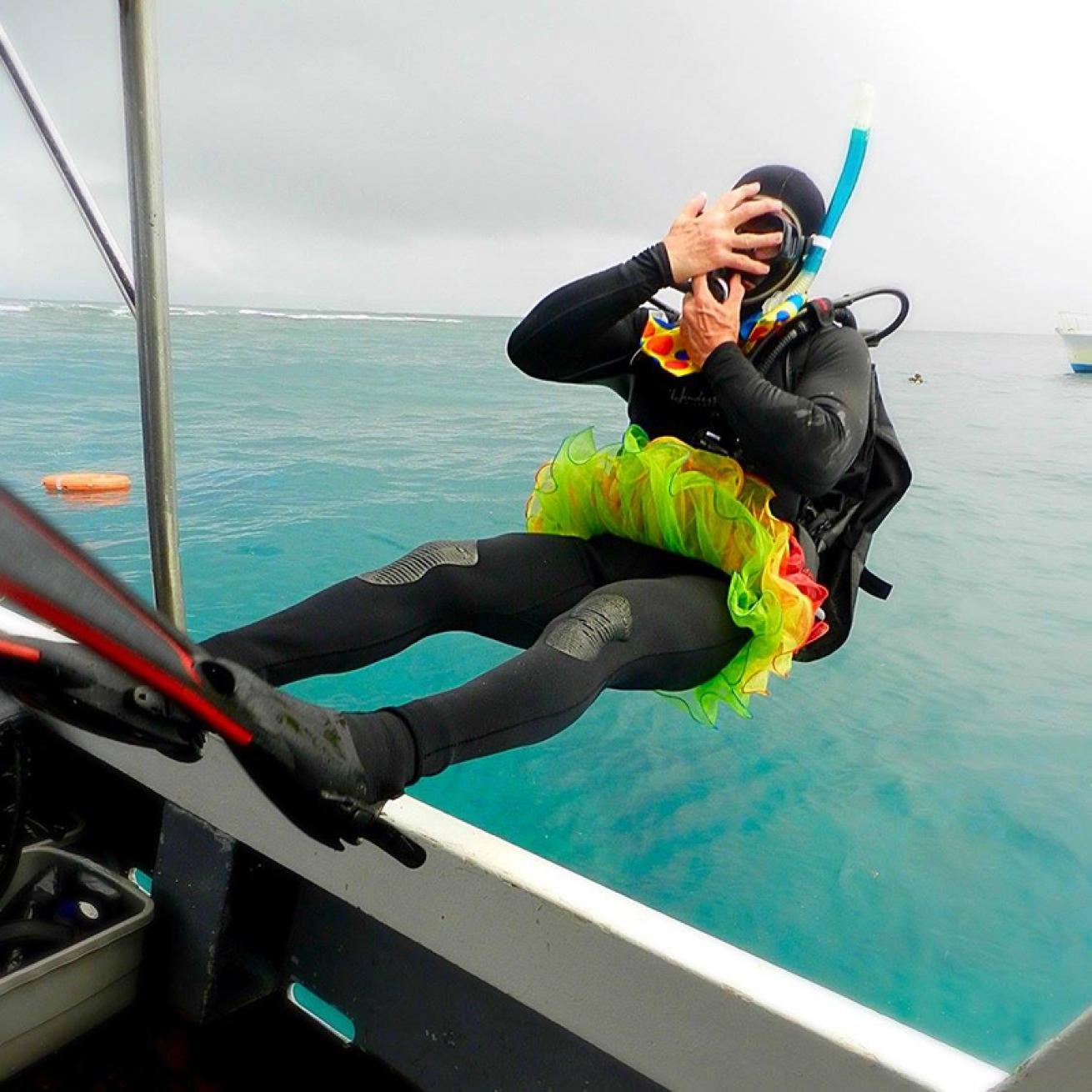 Richard Lear completes a perfect backroll during the "tutu dive" of a Gay Scuba Week trip to Fiji.

Courtesy Richard Lear
From Curaçao to Cape Town, these dive destinations offer rich diversity and relaxed attitudes above and below the water.
Cape Town, Africa
South Africa is famous for cage diving encounters with white sharks, but you can also dive with blues and makos. In the kelp forests, swim among Cape fur seals, pyjama sharks and ancient-looking sevengill sharks. If you like wrecks, the SS Maori and the SAS Pietermaritzburg have as much marine life as history; the latter was a minesweeper that took part in the D-Day invasion at Normandy during World War II.
Cape Town, often regarded as the gay capital of Africa, offers eclectic cuisine, high-energy music, world-class restaurants and art everywhere. Pride is a week-long affair, and there are several other LGBTQIA-themed festivals each year. The chic De Waterkant and Green Point districts — known together by locals as the rainbow district — are home to over 100 of the city's gay and lesbian venues. South Africa protects full and equal rights for LGBT people and, in 2006, became the first African country to legalize same-sex marriages.
Puerto Vallarta, Mexico
Puerto Vallarta is Mexico's queer capital. It's somewhere you can feel safe going on dates, celebrating pride and kissing in public, says indigenous, Latina and pan-sexual journalist Lola Méndez (she/her).
The beachside haven boasts an award-winning gayborhood as well as some incredible marine life, she says. Depending on the time of year, you could have a close encounter with giant mantas, whale sharks, humpback whales, sailfish, eagle rays or hammerhead sharks. Offshore, there are several shipwrecks and caves, which are suitable for any level diver.
Cocos Island, Costa Rica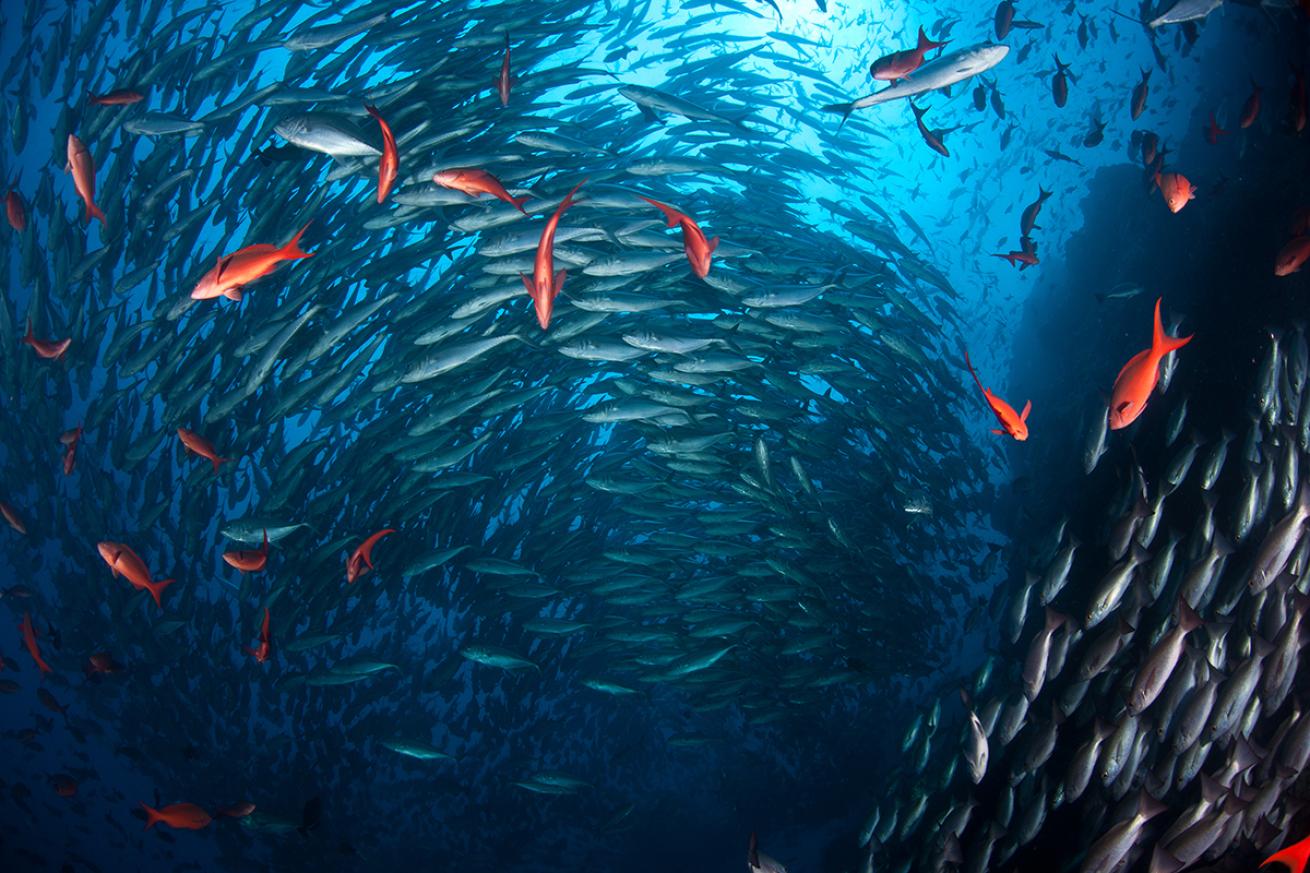 Schools of fish like these draw divers to Cocos Island, nearly 350 miles off the Costa Rican mainland.

Shutterstock.com/Ethan Daniels
Cocos Island is a remote island off the coast of Costa Rica. It's nutrient-rich waters attract everything from billfish to whale sharks to six different species of shark. Perhaps the most famous are the schooling hammerheads, which can be seen dotting the open ocean above you when you're 100 feet down at Alcyone or Dirty Rock. More recently, tiger sharks have taken up residence.
Topside, the "pura vida" mindset and way of life carry through. It's about inclusivity and enjoyment. LGBTQIA+ people are protected from discrimination in many ways, including the right to marry and to adopt.
The Florida Keys, Florida
The Florida Keys are well-known for housing the continental United States' only barrier reef and a heavy-hitting shipwreck lineup. Start with the "Big Three:" Spiegel Grove in Key Largo, the Thunderbolt in Marathon, and the Vandenberg in Key West.
On the surface, the country's southernmost city is famous for its genuine inclusivity, with a large local LGBTQ population, many gay-friendly businesses and a city motto of "One Human Family."
Grand Canaria, Canary Islands
The weather in the Canary Islands, an archipelago in the North Atlantic, allows for year-round diving. El Cabron, a marine reserve off of Grand Canaria, is one of the top ten dive sites in Europe. Giant stingrays and angel sharks can often be found. On Lanzarote, you can dive in Europe's only underwater sculpture museum. The environmentally-friendly installations appear as 300 life-sized human figures sitting in around 40 feet of water, making them accessible to all levels of certified divers and even Discover Scuba participants.
Although a part of Spain, the islands have their own laws, which protect LGBTQIA+ people's rights to marry, adopt, serve in the military and more. Grand Canaria, in particular, is known as one of the greatest gay tourist centres in Europe. There is an epic Drag Queen festival during Carnival, when the gay social scene turns a four-story mega shopping center into party headquarters.
Caribbean Netherlands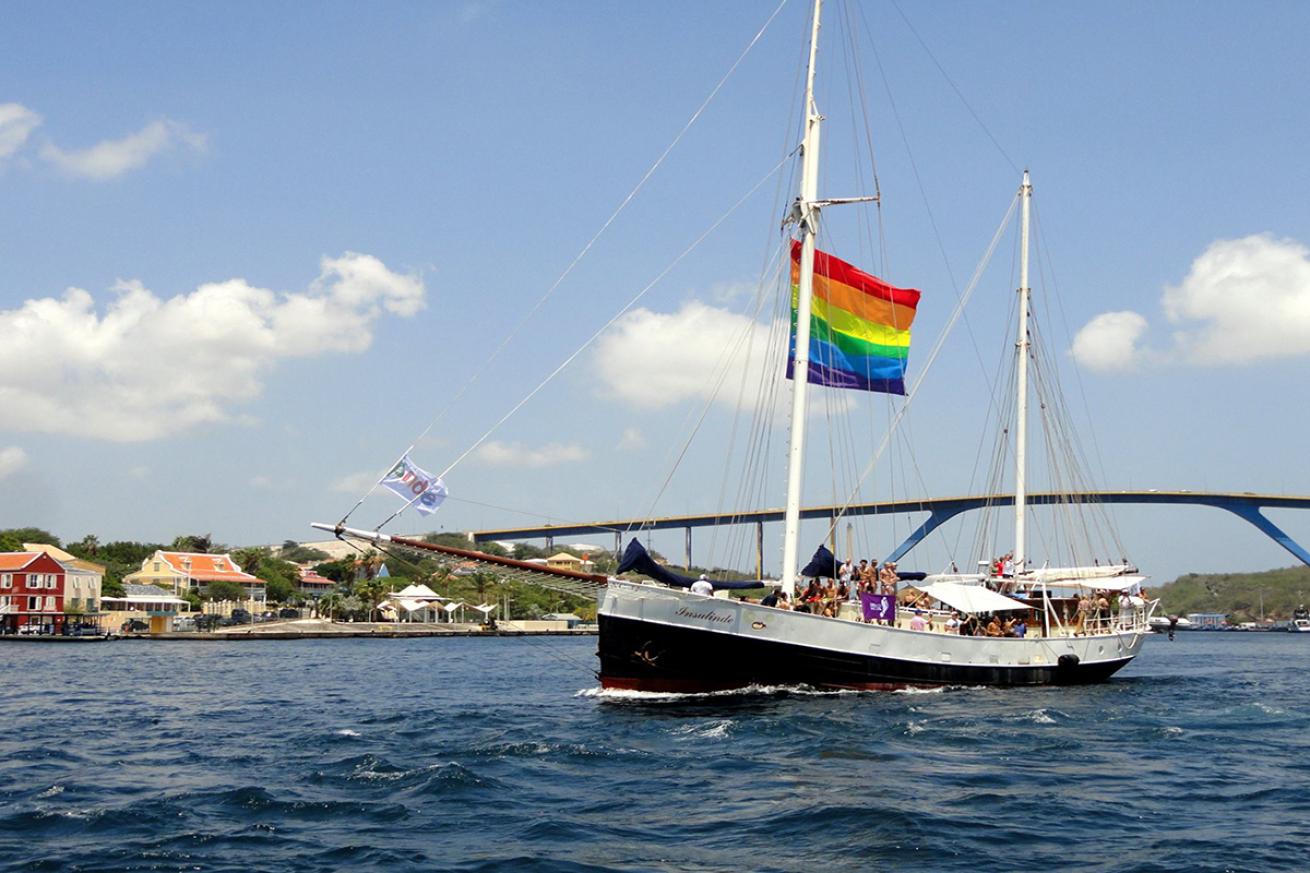 Many businesses, dive shops and hotels are LGBTQ+ friendly on welcoming Curaçao.

Courtesy Curaçao Tourist Board
The "ABCs" of the Caribbean Netherlands — Aruba, Bonaire, Curaçao — and sister island Saba all have crystal clear waters, rich reefs, amazing visibility with queer-friendly culture.
Aruba is known for its stellar reefs and wrecks, like the Antilla, and Bonaire makes it "stunningly easy" to dive 24/7, said Les Addison (they/them), a non-binary, transmasculine, second generation queer diver from California. With abundant and easy shore dives, you can choose when and where to go anywhere on the island.
Around Curaçao you can see manta rays, sharks, seahorses and more. Easy shore diving and reef access makes this a perfect spot for divers of every experience level, said Peter Bot (he/him), Chairman of Chata Dive Task Force. Check out Beacon Point, with a vertical wall that drops 100 feet and coral formations. Klein Curaçao, a tiny, uninhabited island, is a perfect day trip from the main island, full of "shark caves" where divers can come face-to-face with these incredible animals.
Further North, Saba's underwater seamounts and structures offer pinnacles covered in marine life and "bottomless" drop offs invite bigger animals. Exhilarating drift dives are popular.
Taiwan
Taiwan was the first country in Asia to legalize gay marriage. It is a mecca for LGBTQIA+ artists and expression, hosting the largest Pride parade on the continent.
Underwater, Taiwan has five distinct regions for diving, and you can see different animals in each. Schooling hammerheads and manta rays circle the waters, while nudibranchs and pygmy seahorses can be found on the reef. If you're lucky, you might spot a humpback or sperm whale. Warm water supports healthy hard and soft coral growth, and, in Green Island, you can even send yourself a waterproof postcard at a submerged postal drop.
Iceland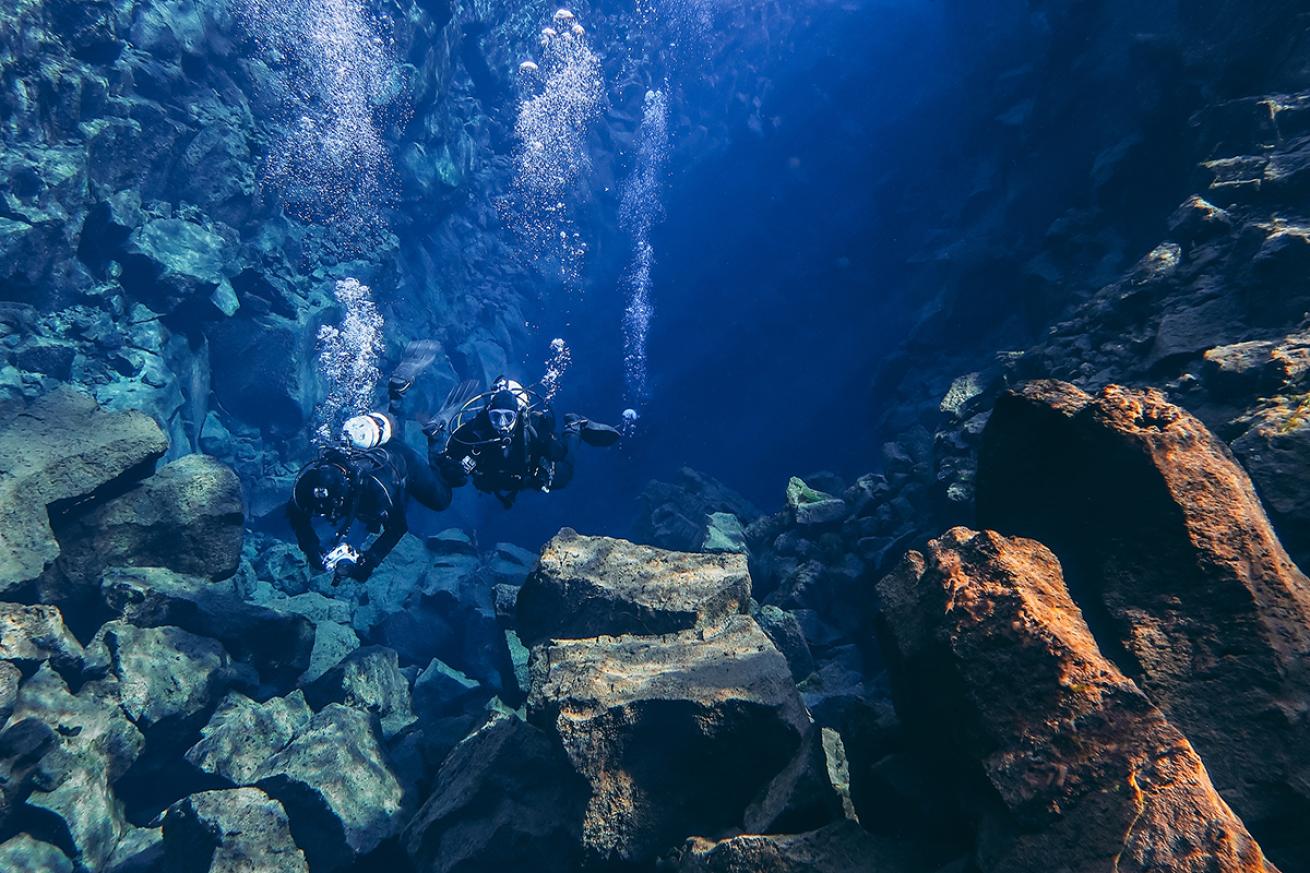 The Silfra Fissure is one of the world's most famous cold water dive sites.

Shutterstock.com/VicPhotoria
Iceland's freshwater dives are unparalleled. Visibility tops 300 feet in places like the Silfra Fissure, which is open to divers all year round and offers divers the chance to touch two different tectonic plates at the same time. Clear, cold glacial waters feed the split, so a dry suit is required.
Iceland consistently ranks among the most LGBTQIA-friendly countries in the world. Since 2006, same-sex couples have enjoyed equal access to adoption and IVF. In 2009, the world's first openly gay head of government took office. An annual Pride parade coincides with the Rainbow Festival, a week-long celebration of LGBTQIA+ communities, and the local drag scene is growing.
---