Emerald in the Rough: Hidden Gems of Canada
Cool critters and hot colors are signatures of British Columbia's superlative scuba diving. Hundreds of dive sites await in the emerald seas surrounding 300-mile-long Vancouver Island, promising an impressive diversity of scuba experiences for those donning drysuits and taking the plunge. When so spoiled for choice from north to south and east to west, where do you begin? Honestly, you cannot go wrong no matter how your compass spins, but a proper round-the-island tour of the top spots is sure to include Barkley Sound on Vancouver Island's wild west coast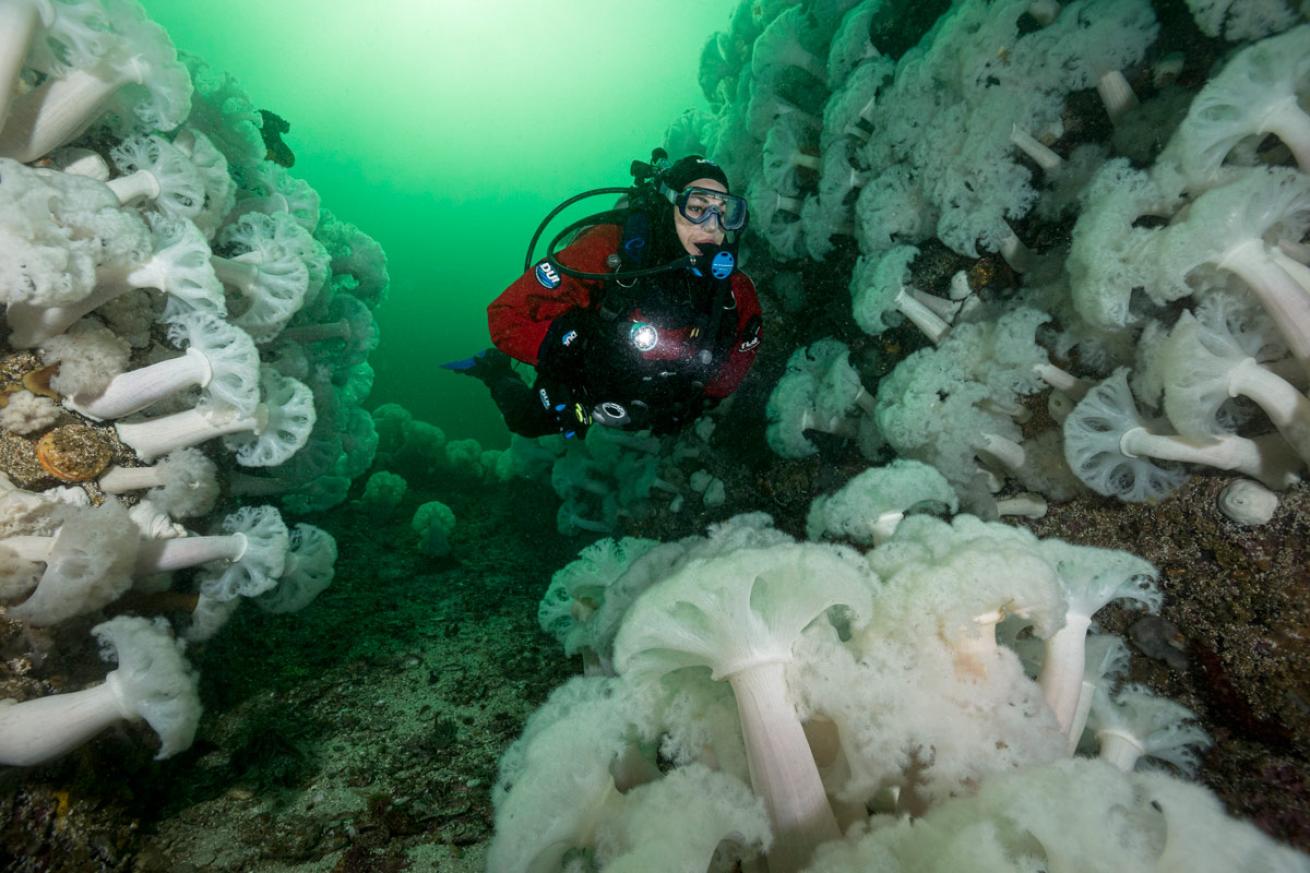 Melissa Cole amdist plumose anemones.

Brandon Cole
Follow the Sea Road
Unless you have a line on diving via floatplane, access to this remote region's storied seamounts, pinnacles and walls must involve a boat. Most Barkley-bound divers begin their journey in Nanaimo and first drive an hour westward to the town of Port Alberni. Then comes the 25-mile sea voyage down Alberni Inlet by watercraft, at which point one enters Barkley Sound proper. Bordered by mountains on three sides and open to the vast Pacific Ocean on the fourth, the sound is 308 square miles in size and contains a maze of islands including the Broken Group islands, part of the Pacific Rim National Park Reserve and long popular with kayakers, salmon fishermen, yachties and, yes, diver-kind. Two scuba sites in the far eastern corner of Barkley Sound are critter-rich Chup Point and classic Tyler Rock (above), where Melissa Cole was photographed swimming through a canyon carpeted in glowing, powder-white plumose sea anemones.
See also: Jill Heinerth takes us on an underwater tour of Canada's four coasts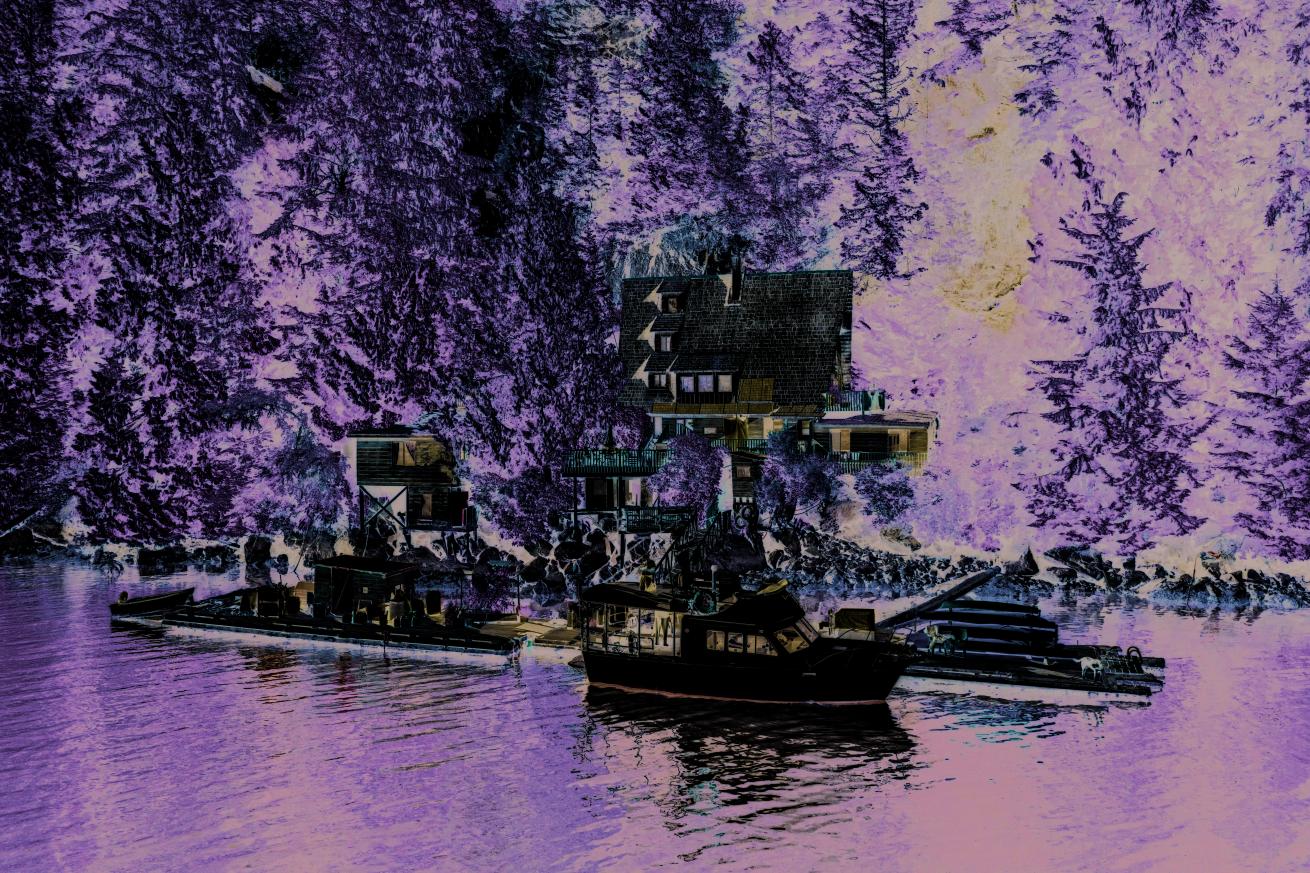 Rendezvous I in Barkley Sound, British Columbia.

Brandon Cole
Lodge with a Legacy
Rendezvous Dive Adventures is synonymous with Barkley Sound diving. A keystone figure in the very foundation of British Columbia scuba culture, this pioneering lodge and dive charter operator put down roots on a cliffside tucked away among cedar trees in Rainy Bay in 1973. The cozy, hand-built A-frame lodge guarantees complete immersion in the wild, a unique off-grid experience in which you're linked directly to nature but disconnected from big-city bustle. Days unfold at a civilized pace. Promise-filled sunrises and glorious sunsets frame unrushed quality time underwater with the fishes and around the dinner table with friends. Peter Mieras and Kathy Johnson are the dynamic, do-everything duo who have been running the show for the past 20 years, dishing up fantastic diving, scrumptious home-cooked meals, and Euro-Canadian hospitality for visitors from around the world. Most guests stay two to seven days and enjoy two to three dives per day from the 36-foot Rendezvous I, which carries 12 people.
See also: Scuba Diving Canada's Great Lakes and St. Lawrence River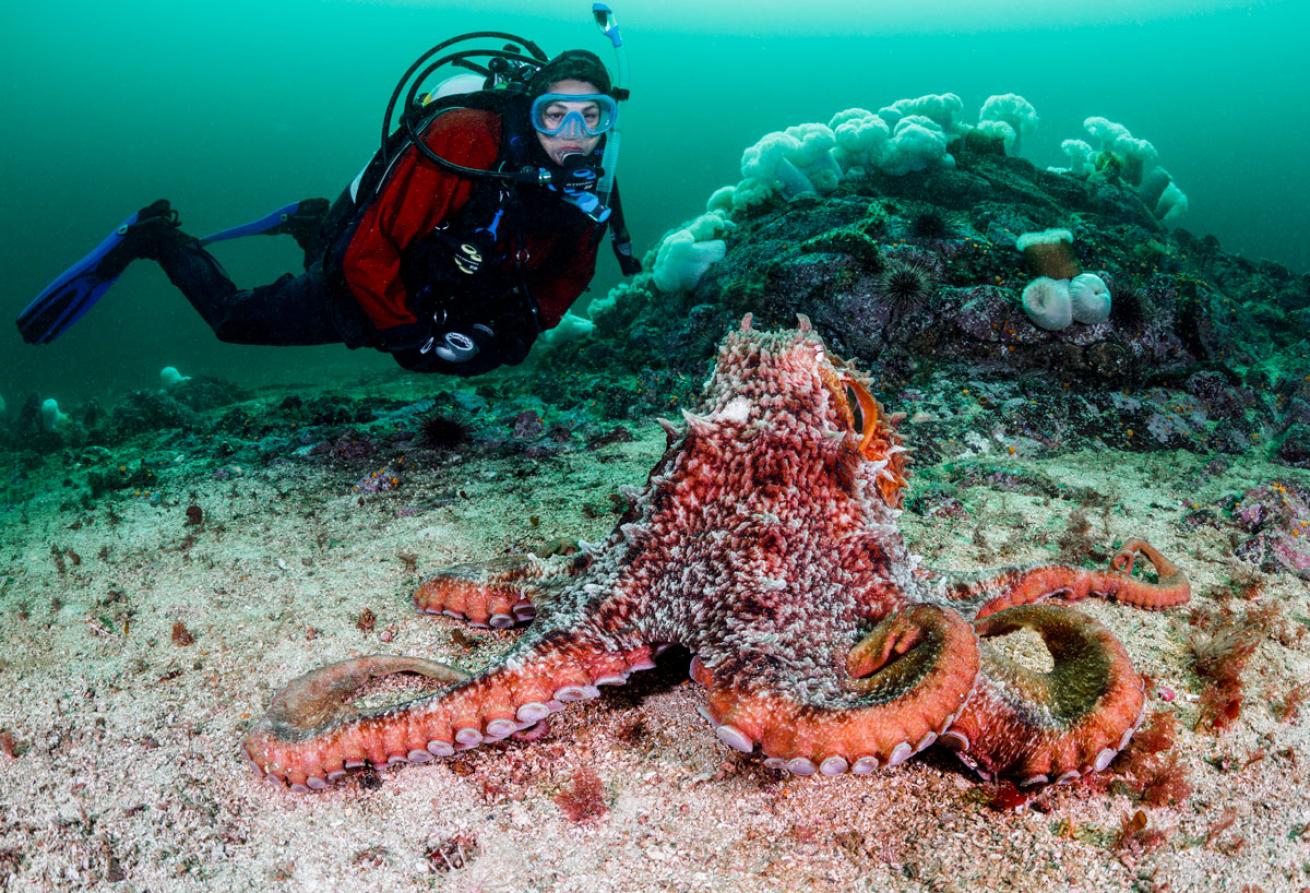 Melissa Cole swims behind a Giant Pacific Octopus in Barkley Sound, British Columbia.

Brandon Cole
Marquee Marine Life
Pacific Northwest underwater celebrities such as sea lions, wolf eels and octopuses are regularly encountered in Barkley Sound. Be sure to bring your wide-angle photo and video gear. Sea lions have photo-bombed me at Pill Point Wall while I was focusing on macro beasties, and wolfies and octos are consistently seen at many stellar sites, including Renate Reef, Kyen Point and Mahk Reef. Peter and Kathy at Rendezvous will happily share intel on exactly where the latest sightings occurred.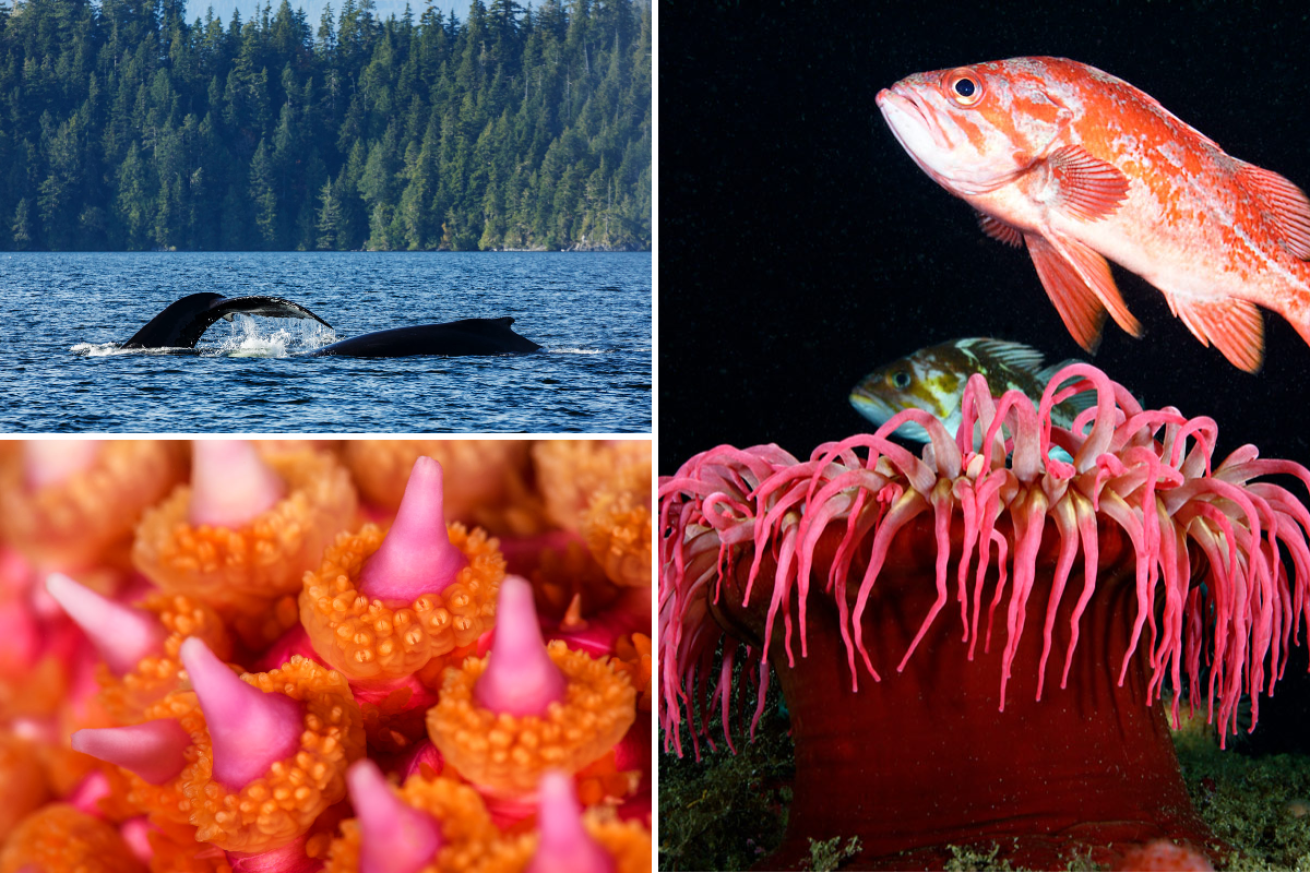 Humpback whales, vermillion rockfish and other sights from the Sound.

Brandon Cole
Powerful Portfolio
Compelling visuals are yours for the taking thanks to the full spectrum of animal species above and below the waterline. There are whales and snails, red Irish lords and Puget Sound king crabs, bald eagles and bears. A telephoto lens excels in capturing topside wildlife; a macro lens is key for intimate underwater portraits of charismatic fishes and abstract art courtesy of colorful invertebrates. If rust and wreckage rock your boat, history and mystery await your discovery on the Vanlene and Thiepval shipwrecks. Or do you yearn to be introduced to both mosshead and decorated varieties of warbonnets, those charming, eel-like fish with spiky headdresses and googly eyes that frequent Seddall Wall? All can be accomplished here, and much more besides. Every time I dive Barkley Sound I have a new shot list. Sometimes my targets are ultra specific: "lingcod fighting; salmon swimming over reef; giant octopus interacting with diver; orange-peel nudi eating sea pen." Other times my previsualizations are open to interpretation: "beautiful reef scenic showcasing life in abundance."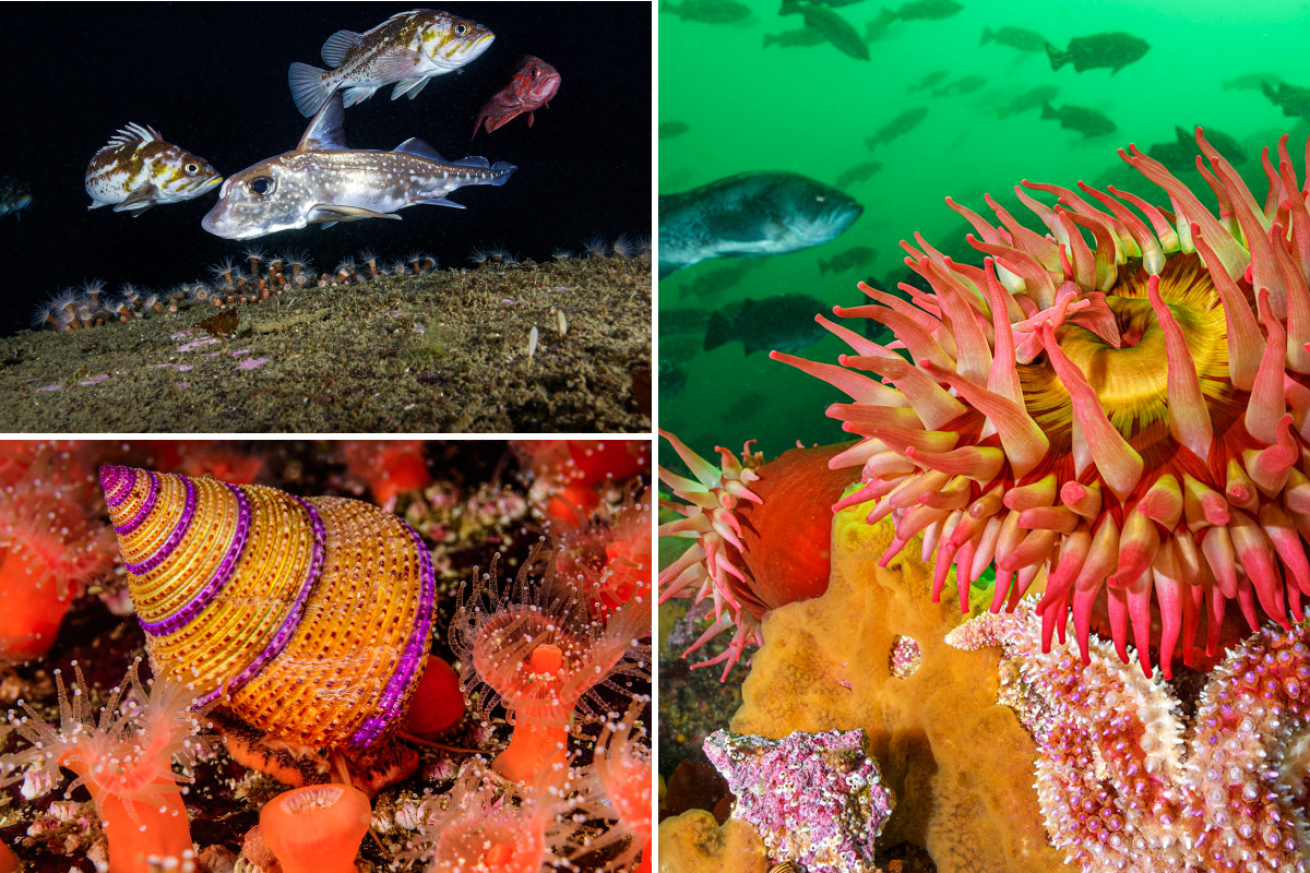 A spotted ratfish, a purple-ringed topsnail, and an anemone with rockfish in the background.

Brandon Cole
A Look All It's Own
Many of the critters commonly found at the dozens of dive sites in Barkley Sound, such as certain species of bryozoans, algaes, and reef fish, as well as the white-spotted rose anemone, giant mussel, giant kelp, and the stunning purple-ringed topsnail (right), are rarely seen in abundance along the eastern, inner coastline of Vancouver Island. The sound's geography, located as it is on the doorstep of the open Pacific, influences its biology. Barkley's biota is subtly different from other British Columbia scuba hotspots, and consequently there's a distinct flavor to the diving here. Curious side note: Those with experience diving Northern California might spot some similarities in the flora and fauna thriving in Barkley Sound, hundreds of miles north of the Golden State.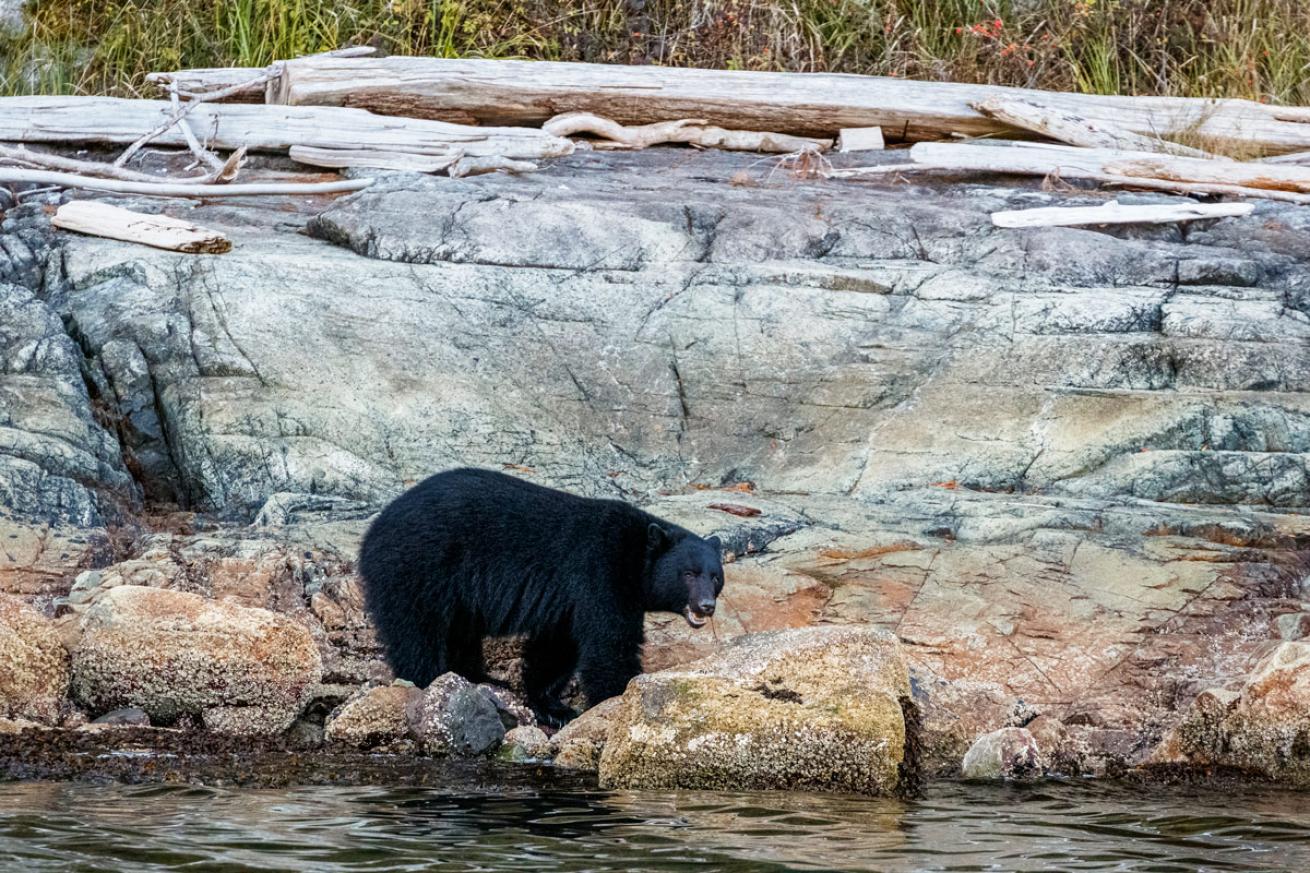 A black bear forages for crabs in the intertidal near the Rendezvous lodge.

Brandon Cole
Until Next Time
More than three decades ago I first visited Vancouver Island, sparking an infatuation that to this day constantly compels me to return for more. Memories from past dives draw me back under again and again. Two of the most memorable from Barkley Sound—a veritable outpost of awesome—are my personal record of 10 different rockfish species counted on one tank at Renate Reef, and the time I frog-kicked backward for 30 minutes at Mahk Reef to stay out of tentacle reach of an overly friendly octopus hellbent on giving me (or maybe just my camera) a squeeze. And I'll never forget my first encounter with a prehistoric sixgill shark at Tyler Rock in 1994, way back in the film era. And the list goes on and on...
See also: Wreck Diving in Tobermory, Canada - Fathom Five National Marine Park
---
Need to Know
When to go: Barkley Sound is a year-round destination. Summer and fall usually provide the best weather above the waves. Air temperatures range from about 40 degrees in winter to 85 in summer. Rain and wind are more common in winter than summer. The author's personal prime time to dive Barkley is fall, before winter storms threaten.
Dive Conditions: Water temperatures at depth range from approximately 48 to 56 degrees. A full 7 mm wetsuit, semidry wetsuit or drysuit is required. Visibility varies from 10 to 60 feet, depending on the site and season. It is common, especially during summer, for plankton blooms to reduce viz near the surface. Strong currents are rare at most spots. Surge can be experienced while diving closer to the mouth of Barkley Sound. Diving depths vary from just under the surface down to below recreational depths, but there's really no need to go below 100 feet.
Operators: Rendezvous Dive Adventures
Travel Tips: If traveling to Vancouver Island by car, it's wise to make a reservation for the ferry crossing in advance, especially during summer and fall. Binoculars are handy for topside wildlife viewing. Bring any special food, drinks or snacks that you cannot live without—there's no convenience store nearby.
---