Five Great Dive Sites in Sudan's Red Sea
The Northern Red Sea draws scores of divers for its famed wrecks and reefs, but don't be fooled by its dominance over the southern seas. There are sites just as inspiring in Sudan's Red Sea as those ringing Egypt. After dozens of dives in nearly two weeks aboard Red Sea RE Aggressor, these are my favorites.
1. SS Umbria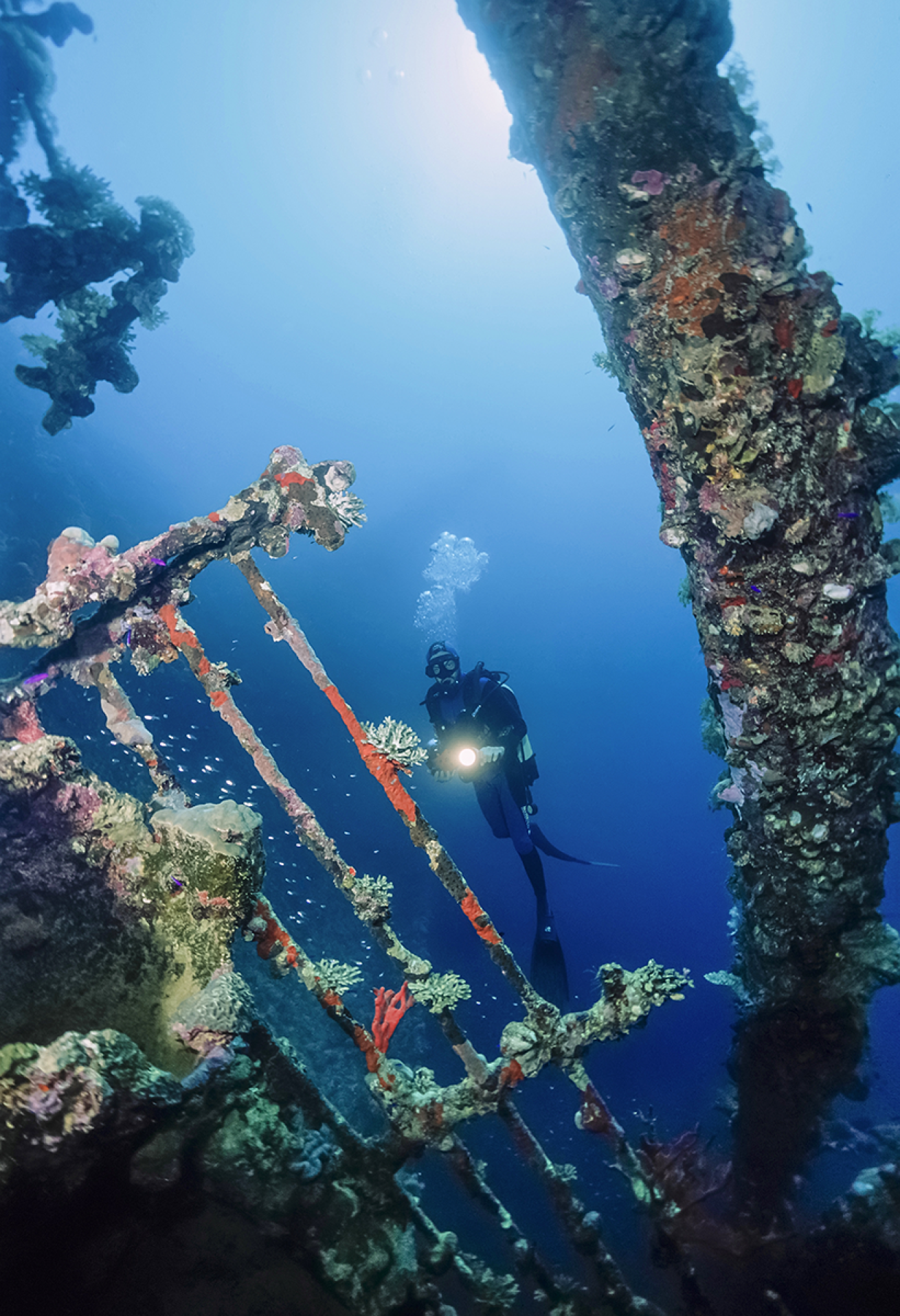 A diver explores the US Umbria.

Shutterstock.com/Angelo Giampiccolo
The captain and crew intentionally scuttled this 508-foot Italian cargo ship outside of Port Sudan at the start of World War II to prevent the British from gaining control over its load of contraband bombs. Umbria's stern plunged to about 125 feet, but its bow rests just below the surface. The wreck is in wonderful condition, resting on its port side. Divers can explore the superstructure or, with a PADI Wreck Diver certification, penetrate the bridge. Plenty of fun can be had on the lively outside, from swimming through exposed hallways to finding eels tucked in crevices. In addition to the piles of bombs and several bathtubs you can find on board, keep an eye out for the three rusted Fiats and scores of wine bottles—it's an Italian ship, after all!
2. Sha'ab Rumi's South Shelf
"This is a highlight, one of the best dive spots in the Red Sea," says our dive guide, Sven, a 22-year Red Sea diving veteran.
The site lives up to his praise as soon as we hit the water. Three minutes into the dive, I spot a gray reef shark in the distance, and less than 10 minutes in I am surrounded in the first of two barracuda tornadoes interspersed with black-barred surgeonfish. Other great spots boast blackspotted sweetlips, remoras, unicornfish, pipefish, hammerheads and a shark cage abandoned by a Cousteau research expedition. (Fittingly, a gray reef shark circled nearby while I hovered around it.)
This is an advanced site with a current. You enter via back roll from a Zodiac, and wavy days require a negative entry. A reef hook is useful, but not mandatory.
3. Cousteau's Conshelf II
Jacques Cousteau built the first underwater "village" in 1963. Continental Shelf Station II, better known as Conshelf II, included a main house for aquanaut researchers, a garage for the team's saucerlike submarine, and an equipment hangar. Both the equipment hangar and saucer garage remain standing at about 25 feet deep, plastered in marine life. Divers can enter the now mostly flooded submarine hangar, where small fish can be seen darting in the light of the portholes. If you do swim inside, make sure to (slowly) make your way to the top—there's an air bubble trapped up there you can stick your head in! The sound of other diver's bubbles and fish clicking are surprisingly loud once you do. This habitat starred in Cousteau's 1964 film "World Without Sun," making this the dive of a lifetime for anyone who grew up marveling at his underwater adventures.
4. Angarosh
Hovering 120 feet down, a gray figure materializes in the distance. Then comes another, and another. Could it be? It is—a school of hammerheads! There must be at least a dozen swimming out of the blue en masse. As we watch, they swim past before looping around to meet us on the edge of the reef. Their famous eyes are all around me, tails flitting below my fins as I stare up at the soft underbelly of another above. On our second dip later that same day, several hammerheads shoot out of the deep to inspect us as another lucky group encounters a thresher shark on the other side of the reef. Keep your head on swivel here! Entry is from a Zodiac.
5. Abu Sheif
An Aggressor guest admires the shallows of Abu Sheif.

Alexandra Gillespie
In a list dominated by deep dives, this site makes the cut for its shallows. "You could spend hours exploring the cracks and crevices" sprawling mere feet below the surface, says Sven during our dive briefing. The relaxed nature of the site is apparent even as we enter—getting in is as easy as falling off the boat.
Underwater, heavenly sun beams filter through the waves, turning fish into stained glass in motion. Near the surface, sea goldies prance and, a bit deeper, meadows of anemones dance in the current with their clownfish partners. I surfaced after an hour here wishing I had hours more of bottom time to join their routine.
---