Francesca Virdis Earns Sea Hero Honors for Coral Restoration work in Bonaire
Year Dive Certified: 1994
Age When Certified: 16
Dive Certification Level: PADI Master and Tec Instructor, GUE Tec2, Cave 2, CCR
Words to Live By: "Be brave and take risks.m If you win, you can lead. If you lose, you can guide." -Swami Vivekananda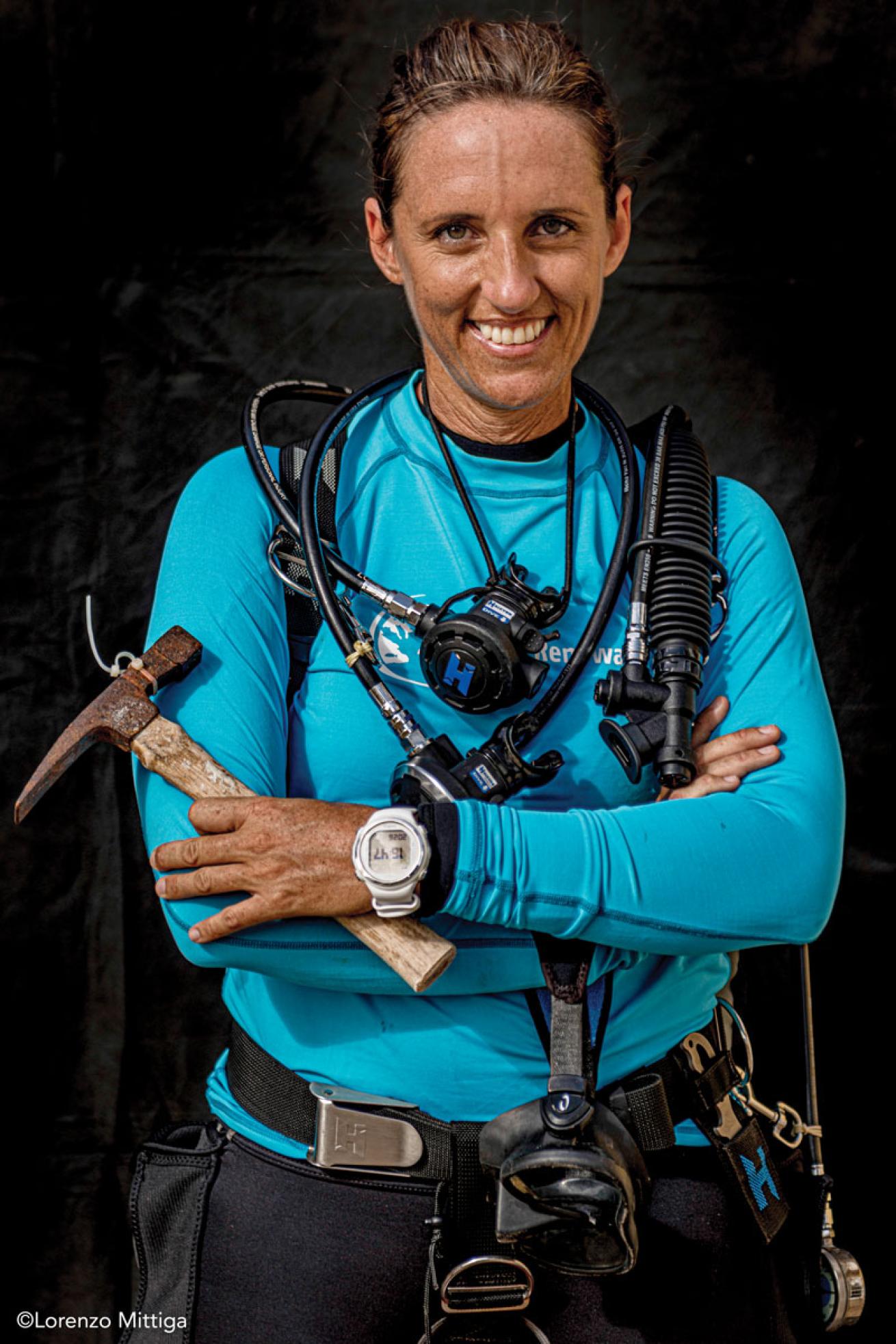 Courtesy Lorenzo Mittiga
When Francesca Virdis was introduced to coral farming, she was skeptical. Assisting a restoration project, she was convinced she had just watched divers cut up healthy coral for no good reason. Fast-forward six months, and Virdis was a believer: None of the harvested coral nubs had died, and all had shown substantial growth. That was 2012; today Virdis leads Reef Renewal Foundation Bonaire, a nonprofit supported by local dive operators dedicated to protecting and restoring coral reefs in Bonaire. Virdis oversees everything from field work to training volunteers—more than 1,200 visiting divers, instructors and locals—data collection and monitoring. Bonaire today counts more than 15,000 corals grown in eight nurseries; more than 25,000 have been outplanted to reefs. For her efforts, Virdis is our May Sea Hero.
Q: Elkhorn and staghorn nurseries have thrived off Bonaire; now you are expanding to different species. Why?
A: Last year, we started working on three boulder coral species—star corals—and I am very excited about the techniques we recently adopted. Together with [Reef Renewal founder and 2014 Sea Hero of the Year] Ken Nedimyer, we have been working on a new nursery design to host these species, which grow in a completely different way than branching corals.
Within the next two years, we are planning to produce at least 6,000 of these types of corals per year. We've also established a partnership with coral conservators Secore International that allows us to bring an innovative technique known as larval propagation to Bonaire. This is based on collecting reproductive material during coral spawning, fertilizing the eggs on land, and outplanting recently settled larvae back to the reef. The technique potentially offers us the ability to dramatically scale up the number of coral outplants, work with numerous coral species and morphologies, and increase the genetic diversity of corals on reefs.
Q: Why is genetic diversity important?
A: Different coral strains have different strengths—some can better withstand diseases, be more heat tolerant, or grow faster. To assist the recovery of degraded reef, it's important to promote diversity, adding different species and strains to wild stocks. Environmental conditions are changing, and they will change even more in the near future, so to give reefs a chance and increase their resilience, it's critical to work on diversity as well.
Q: What are the greatest challenges in marine conservation?
A: Working together across different industries, disciplines, cultures and scales. Whether saving coral reefs or saving whales, marine conservation requires a multifaceted approach to reduce threats at a global and local level.
In our case, reducing stressors is paramount. The Bonaire National Marine Park, together with the government and stakeholders, is working toward improving water quality, educating tourists and protecting the reefs. We have been successful in the majority of our sites; having a long-term water-quality monitoring program could help us to better understand why corals are affected more in some areas than in others.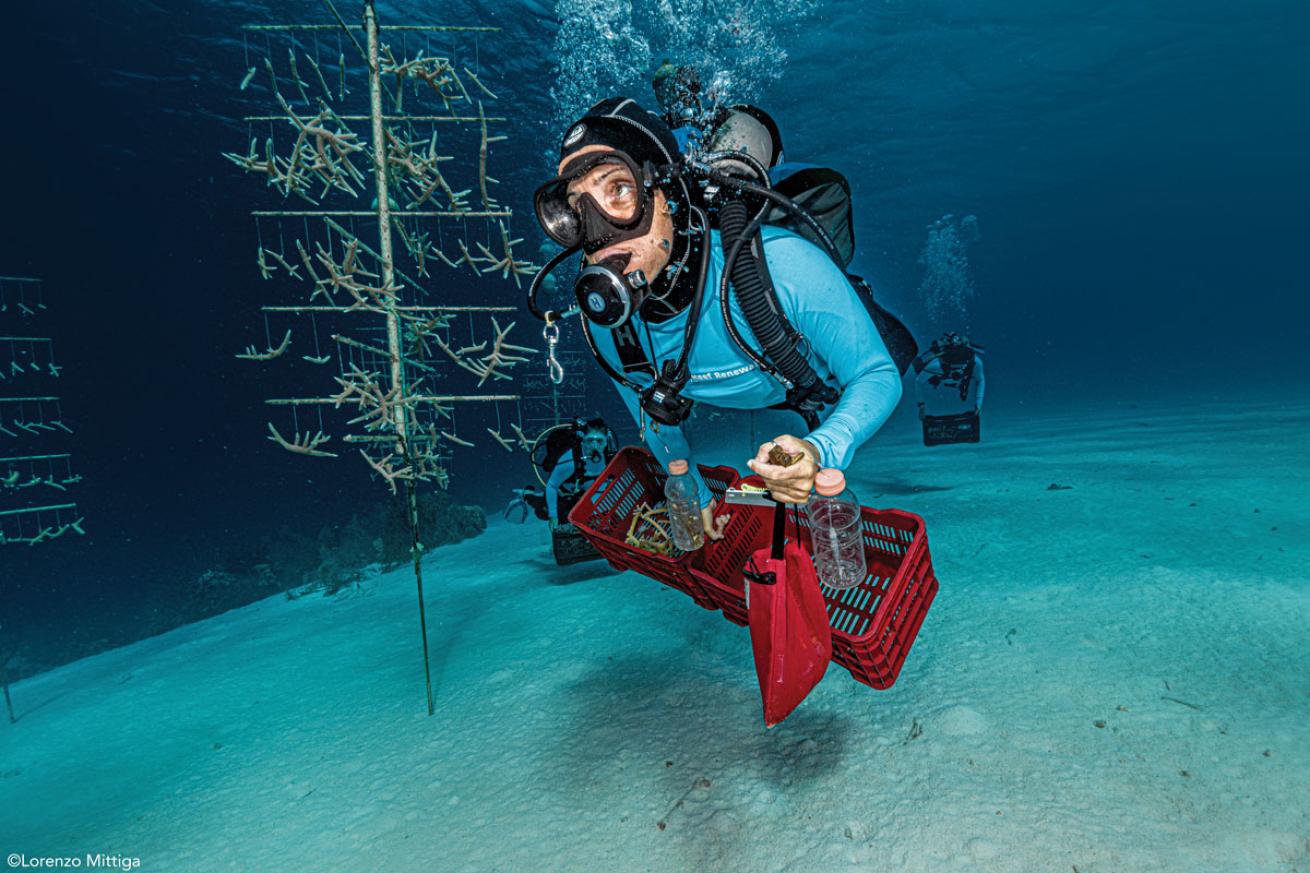 "People from all over the world want to be part of this effort," says Francesca Virdis

Courtesy Lorenzo Mittiga
Q: Tell us a little bit about diver involvement.
A: People from all over the world want to be part of this effort. The dive shops that support the foundation— Buddy Dive, Great Adventures Bonaire, Wanna Dive, Tropical Divers and Beyond The Corals— are responsible for training both tourists and local divers.
With their help, we have trained more than 1,200 people as coral restoration divers. Among the participants are local kids and many students from abroad who see it as an opportunity to learn something new while giving back at the same time.
Q: What's been your most satisfying moment?
A: To witness the spawning of our outplanted corals in the wild. Mass spawning is one of the most elusive natural wonders; it happens only a few nights of the year. When our outplants spawn, it means that they are healthy, have reached sexual maturity, and have started colonizing adjacent areas on their own. When I saw this for the first time, I felt that we truly have accomplished our goal, to give the reef a helping hand.
Q: How can readers help?
A: We want to scale up the effort in Bonaire and help other locations develop restoration projects. To do that, we need support, now more than ever. Due to recent travel bans, Bonaire has been left without tourists, creating a heavy burden for the local economy. As a nonprofit that relies on donations from visitors, RRFB has begun to be negatively affected.
People can help with direct donations, making it possible for us to continue actively restoring Bonaire's coral reefs. When people get together with a common goal, they really can make a difference.
---
Each Sea Hero featured in Scuba Diving receives a Seiko Prospex SRPE05 watch valued at $595. For our December issue, judges select a Sea Hero of the Year, who receives a $5,000 cash award from Seiko to further his or her work. Nominate a sea hero at /seaheroes.