Freedivers Discover Europe's Largest Collection of Gold Roman Coins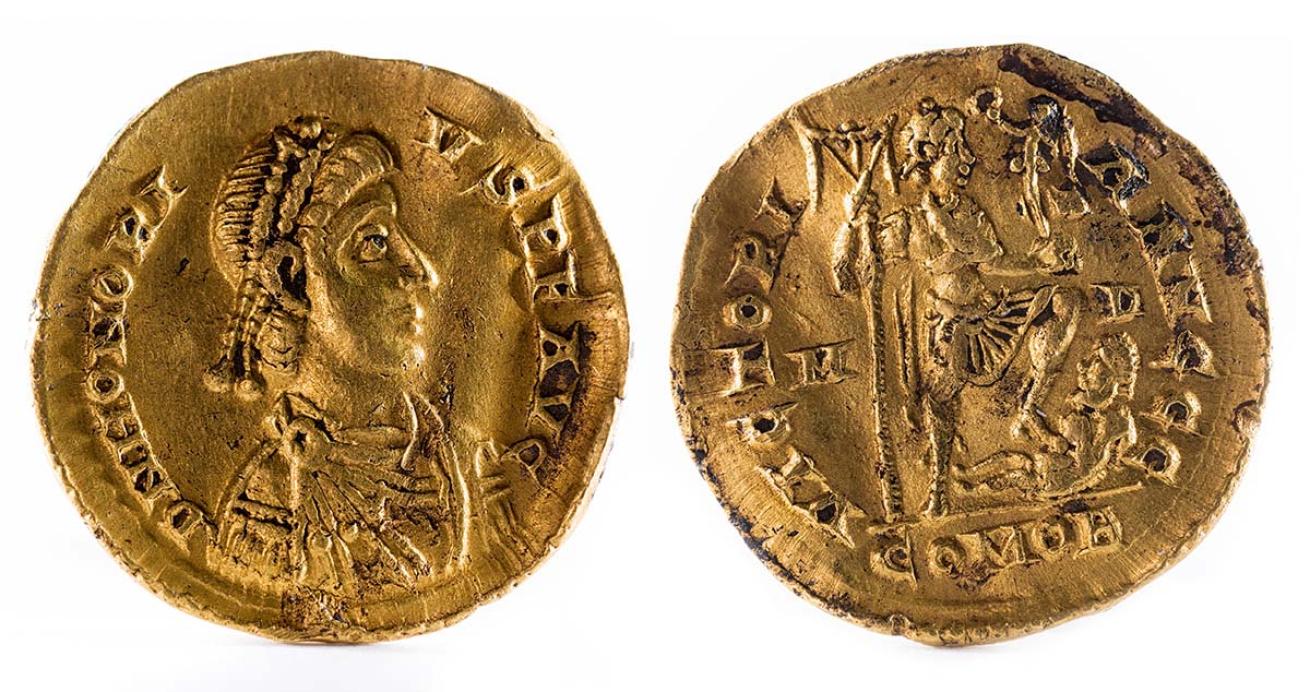 Ten of the coins depicts Emperor Honorius, who is represented on the coins above.

Shutterstock.com/Eduardo Estellez
Two freediving brothers-in-law found a collection of 53 gold coins dating back to the fourth and fifth centuries on a recent family vacation to Spain's Mediterranean coast — the largest collection of its kind in Europe.
Luis Lens and César Gimeno vacation with their families every year at a popular resort in Xàbia on the Bay of Portitxol. The duo always spends time snorkeling and freediving to explore marine life and clean up trash "with technical equipment worth €10, consisting of swimsuits, masks, snorkels and flippers," Lens jokes to the local newspaper El Pais.
This year, Lens saw a shiny object on a rock about 23 feet below the surface. At first, he thought it was a 10-cent coin, but after returning to their boat, he noticed it had what looked like an ancient image of a Greek or Roman face. He assumed it had come off a piece of jewelry but decided they should go back and check out the area just in case.
Using the corkscrew of a Swiss Army Knife they found aboard the boat, Lens and Gimeno spent two hours unearthing seven more gold coins from a rocky crevice.
"It [was] incredible," Lens says of the discovery. "It's every child's dream to find a treasure."
The next day, they took the coins to local authorities, sparking an area excavation in which Lens and Gimeno remained heavily involved. They returned to the site three times with underwater archaeologists from the city of Xàbia, the University of Alicante (UA) and the Spanish Civil Guard.
All in all, 53 coins, three nails and what seems to be the remains of a chest were recovered from the site. The coins date back to the fourth and fifth centuries, when the Western Roman Empire was in decline.
"Sets of gold coins are not common," Jaime Molina, head of the excavation and a professor of ancient history at UA, tells El Pais. The quality preservation makes them rarer still. Archeologists were even to identify which emperors were associated with all but one of the coins: Valentinian I (three coins), Valentinian II (seven), Theodosius I (15), Arcadius (17) and Honorius (10).
Molina has been surveying Portitxol for three years, as it was a popular stopover for ancinet travelers making their way from the Balearic Islands to Rome.
"There are no remains of sunken ships in the area where they were found," Molina says. "So it was probably a voluntary act of concealment from advancing Barbarians, in this case, the Alans. The find speaks to us of a context of fear, of a world that is ending – that of the Roman Empire."
The coins will be restored and housed in the Soler Blasco Archaeological and Ethnographic Museum in Xàbia.
---