From the Skies to the Seas, Abandoned Airplane Becomes New Red Sea Dive Site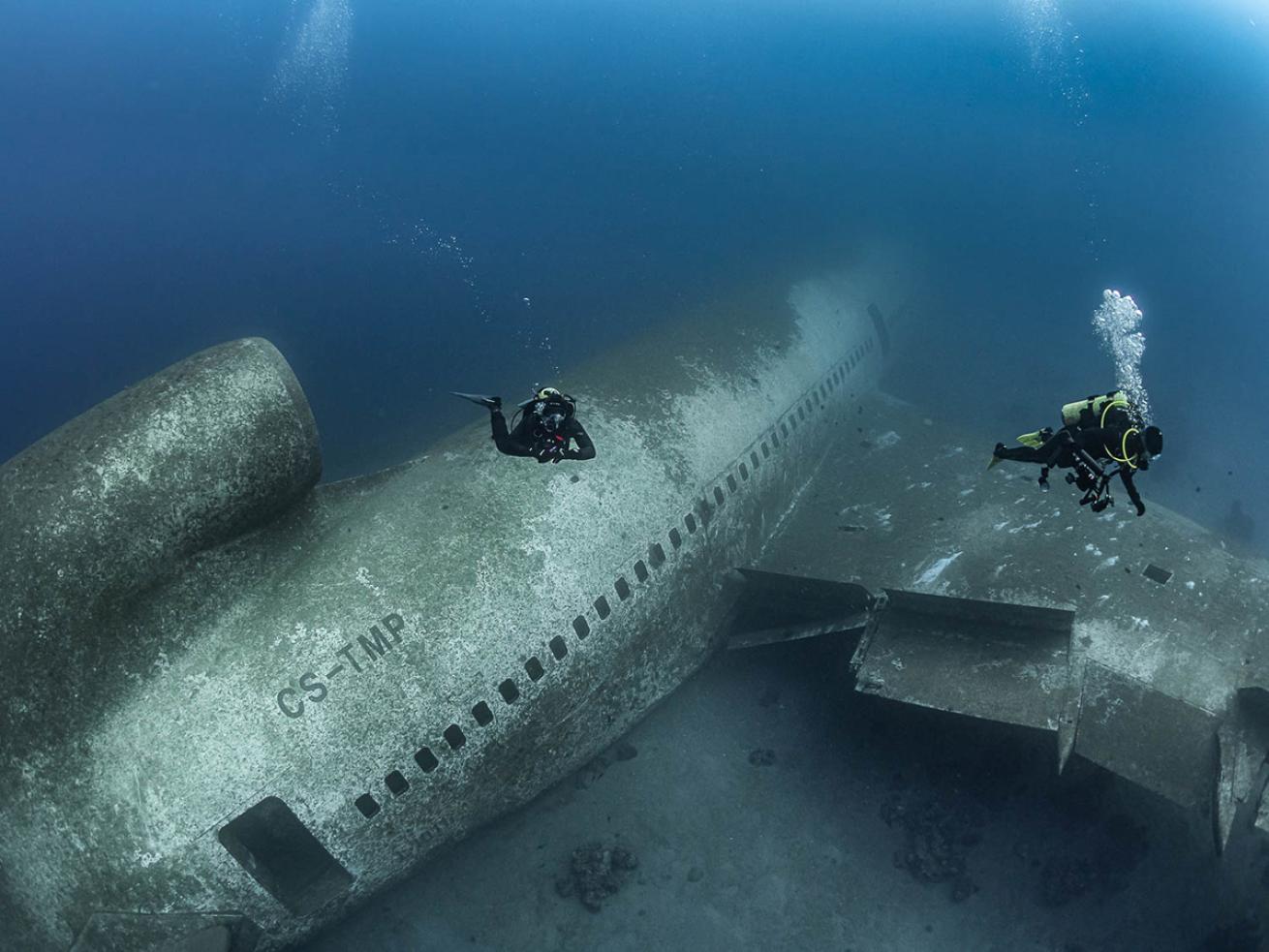 Divers hover over the Tristar, an airplane sunk in the Red Sea in 2019.

Brett Hoelzer
Scuba divers travel to the Red Sea to see things they can't find elsewhere in the world, including hundreds of species of coral and megafauna. Now, that list also includes an abandoned passenger airplane – on the seafloor.
Sunk in 2019, the old Lockheed Martin L1011 Tristar airplane has become an artificial reef and a world-class dive site. The wreck is mostly intact, with three engines still mounted on its wings and tail fin, cockpit seats and even toilets, all accessible to divers.
American underwater photographer Brett Hoelzer immortalized the airliner in a series of photographs that are making it quite popular with wreck divers and underwater photographers.
"This adventure gives a realistic diving experience inside a real commercial aircraft," Hoelzer said.
The plane sits at a depth of 50 - 92 feet (15 to 28 meters), with the tail being the deepest. The cockpit is the shallowest part of the wreck and faces the beach at around 13 meters, Hoelzer said.
The Tristar was first registered in the 1980s and flew for several commercial airlines, including Royal Jordanian, Portugal's TAP Air, Sweden's Novair, and Portugal's Luzair. In the early 2000s, it was parked at King Hussein International Airport near the Red Sea, abandoned and forgotten about. It gained new life after being sunk in Jordan's Gulf of Aqaba to encourage dive tourism and coral growth.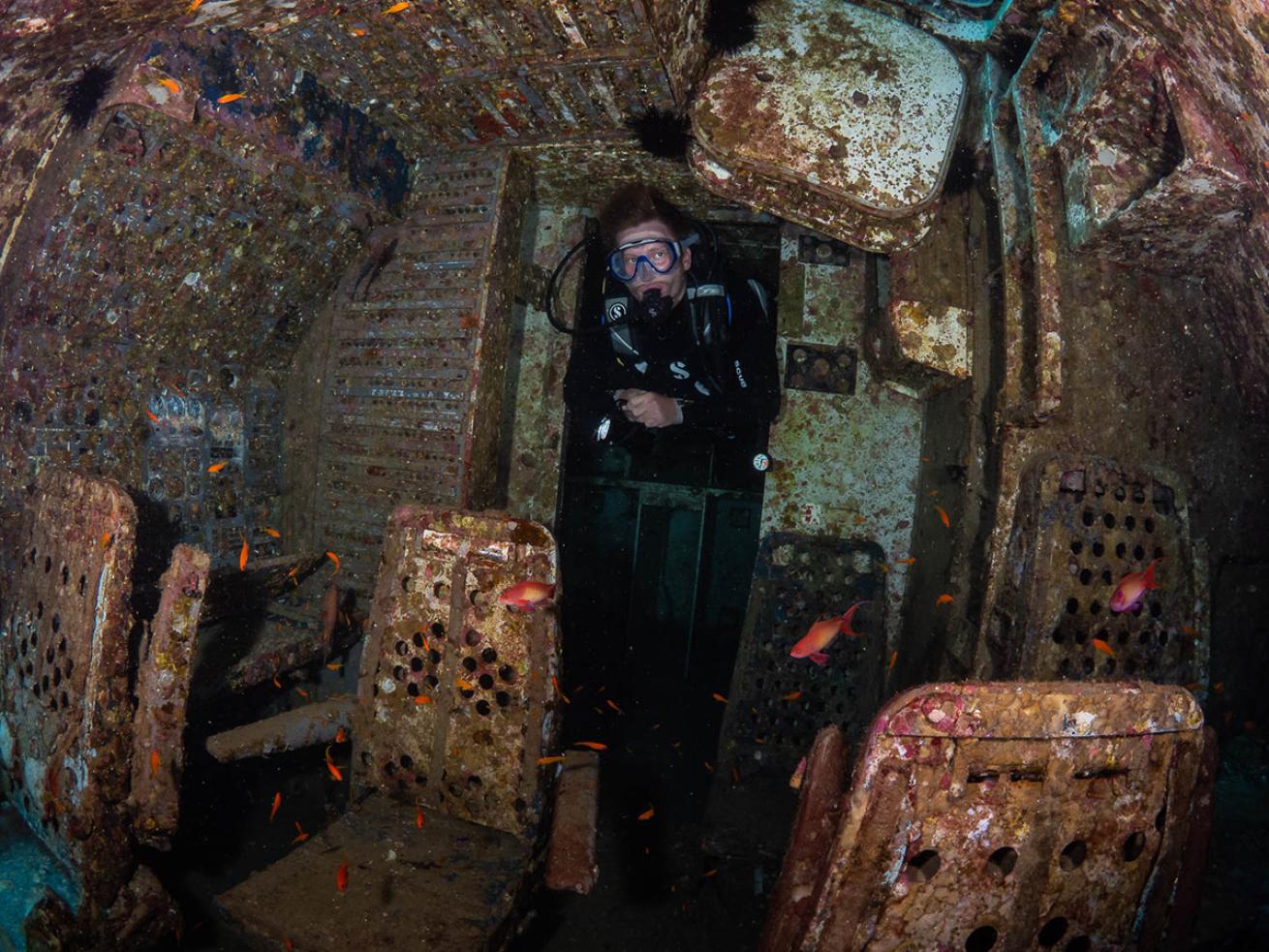 Diver explores inside the Tristar

Brett Hoelzer
Divers can explore the wreck starting at two doors located behind the cockpit. They can also enter the cabin and cockpit area, which still has its pilots' seats. Middle row seats have been removed to allow for better diver access, but the jet otherwise appears largely as it did when it flew the skies. Divers going through the fuselage will see seat rows on both sides, toilets and galleys still in place.
"Scuba divers can go to the back to the last two exit doors, which are at a depth of 28 meters," Hoelzer said. "Or they can exit from the middle doors at a depth of about 20 meters."
The Lockhead Martin L1011 Tristar plane rests on the seafloor, a slow artificial reef in the making.

Brett Hoelzer
Marine life has started to inhabit the wreck, with soft corals attached to the wings, huge sponges encircling the fuselage, and even octopuses and pufferfish near the coral heads, Hoelzer said.
The real thrill, he added, is the uniqueness of exploring a passenger plane on the sea bed. Should you want to visit, make an early reservation as the trip requires a boat, he recommended.
---