Great Destinations for Wreck Divers Traveling with Non-Divers
Not every wreck diver has a travel buddy that's also avid about their destination's sunken wonders. This can make selecting a vacation destination complicated, because some wreck diving hubs offer little on land. As a non-diver married to a wreck dive devotee, trust me—I know.
Fortunately there are some places that fit the bill for both holiday styles, offering incredible underwater history and onland fun. Here are three of our favorite destinations in or accessible from Europe that are sure to please both wreck divers and topside travelers.
1. Larnaca, Cyprus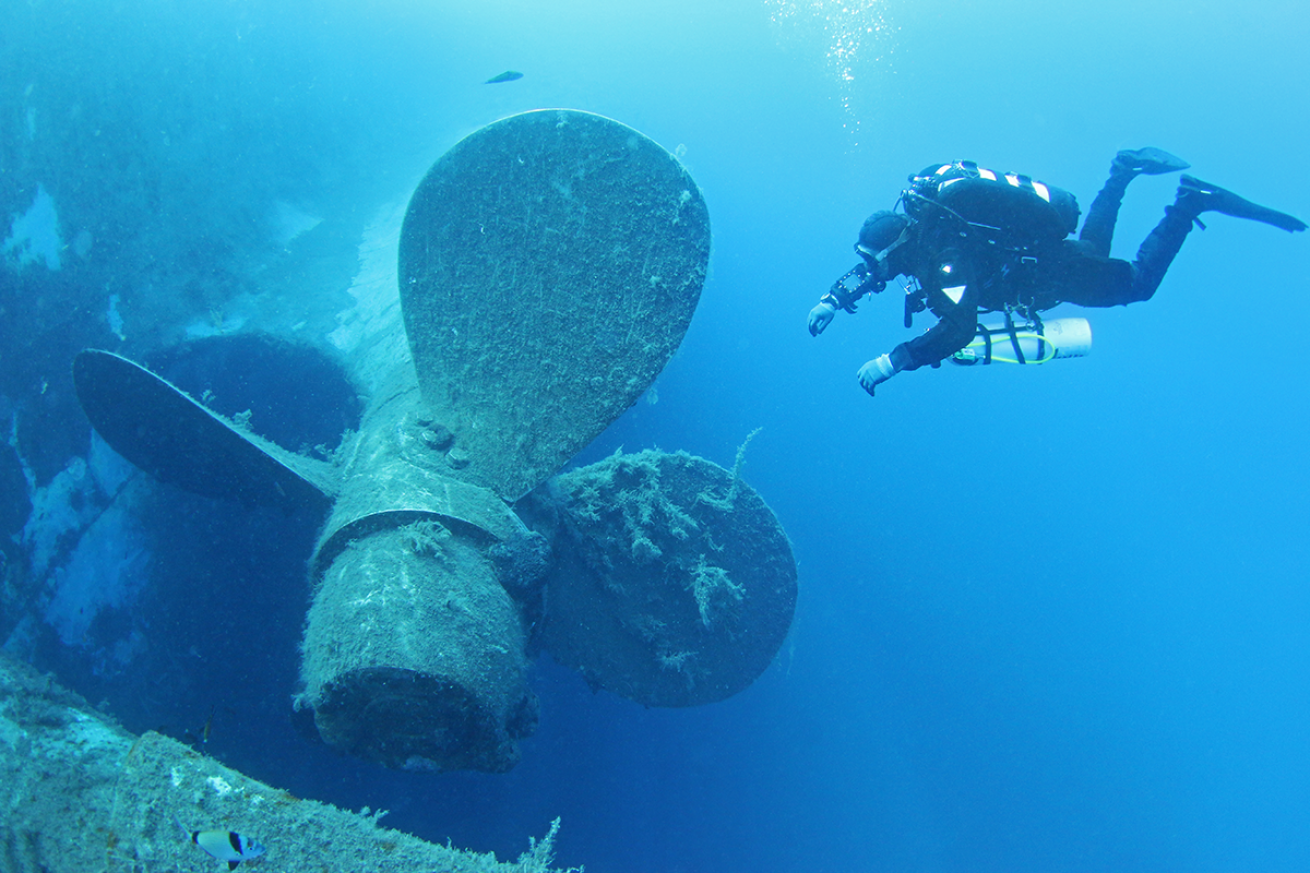 A diver approaches the propeller of the Zenobia, which is widely considered one of the best wreck dives in the world.

Shutterstock.com/Nikolay Hristakiev
Divers
The Challenger-class RO-RO ferry MS Zenobia sank in 1980 just off the coast of Cyprus on her maiden voyage. She went down without loss of life, fully loaded with 104 trucks and trailers of various cargo en route from Sweden to the Middle East.
The Zenobia now lies fully intact on her port side in about 140 feet of water. Considered by The Times of London and others as one of the best recreational dive sites in the world, divers can explore the outside and superstructure of the wreck beginning at around 55 feet, taking in the bridge, funnels, winches and lifeboats. More adventurous divers can penetrate the wreck to see the trucks and cargo in the lorry decks, the engine room, cafeteria and chain locker. The Zenobia is a protected marine reserve, so she has been thoroughly colonized by a mass of marine life including groupers, barracuda, moray eels, lionfish and sea turtles.
Non-Divers
The southern Cypriot town of Larnaca has a wealth of attractions: traditional architecture, historic churches, old ruins and bustling tavernas. Walk around the lovely old town with its colorful shops and cafes, and pause at Saint Lazarus Byzantine church, built in 900 AD in an attractive open square. Spot flamingos at Larnaka Saltlake, one of Cyprus' most important wetlands areas, and relax at Foinikoudes Beach, Larnaca's famous palm-lined promenade that's a prime place for sipping cocktails, sunbathing, swimming and people-watching.
2. Sharm El-Sheikh, Egypt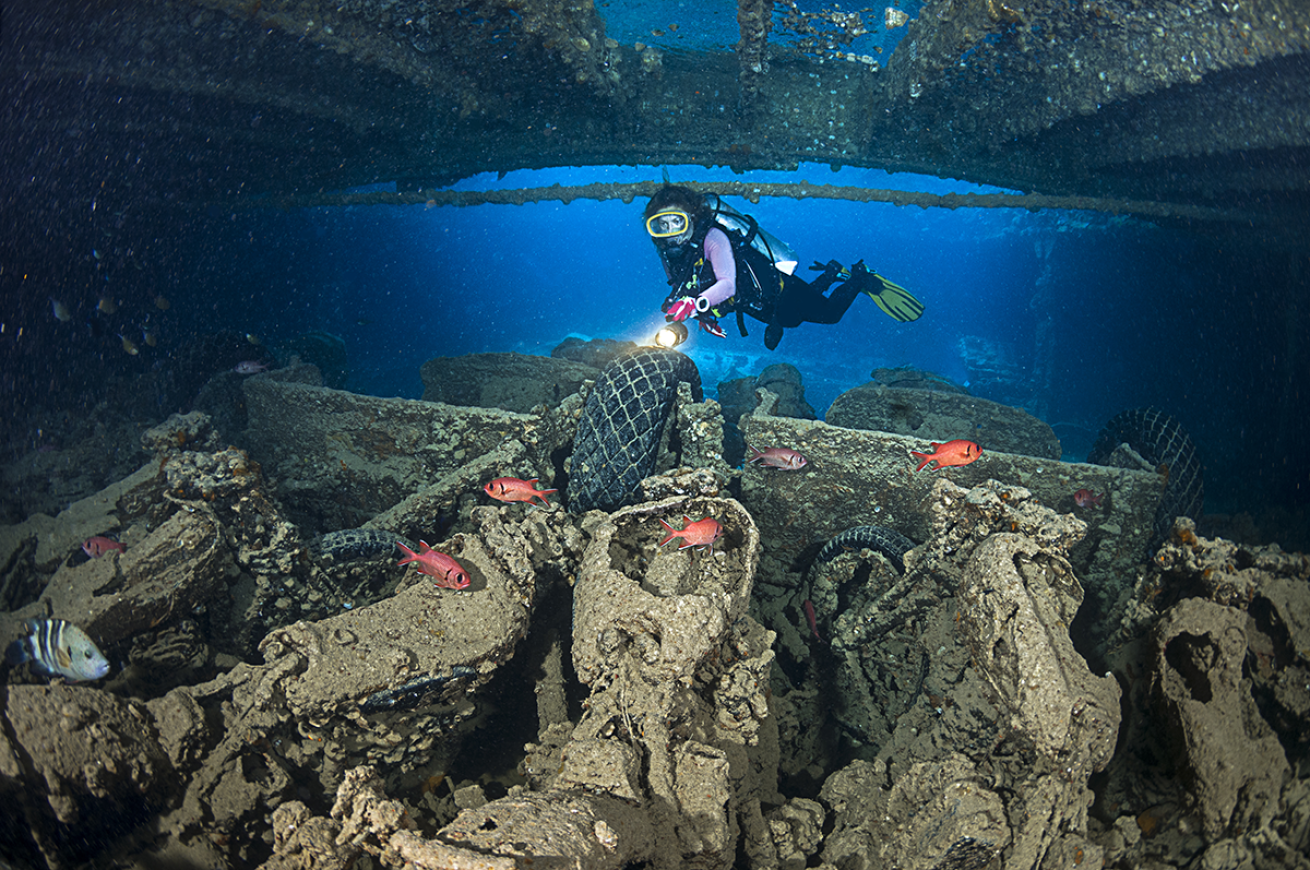 A diver inspects the motorcycles aboard the Thistelgorm, one of the unique cargo attractions that makes the wreck one of the most popular worldwide.

Shutterstock.com/Levent Konuk
Divers
Sharm El Sheikh is the center of Red Sea diving and many great wrecks can be reached easily from via day boat. It's home to the best-known wreck in the entire Red Sea: the SS Thistlegorm, a British Navy ship sunk in 1941 while transporting goods and supplies to the British Army in Alexandra. The Thistlegorm now rests in 100 feet of water and is easily accessible to the experienced diver who will want to explore the decks and cargo. Notable sites aboard include ammunition, trucks, armored cars, motorbikes, locomotive parts, rifles and Bren guns—all preserved as if in an underwater museum.
Other must-see wrecks nearby include the SS Dunraven, a British Steamer that hit rocks and sank between 60 and 90 feet in 1876; the Rosalie Moller, another British cargo ship sunk by a German bomber during WWII resting in parts down to 115 feet; and the cargo of the Yolanda, which famously scattered its load of toilets bowls and washbasins across the seabed at around 60 feet deep as she went down.
Non-Divers
On-land activities abound in Sharm. Take a camel ride through the desert and pass weird and wonderful rock formations, watching the changing colors of the mountains at sunset. Afterwards you can tan on one of numerous area beaches or head to a Bedouin tent for tea. Tours from Sharm El Sheikh include stargazing evenings and jeep safaris. You can also get a taste of authentic Egypt at a bazaar in Old Sharm. The streets here are one giant curio cabinet, overflowing with souvenirs and sunglasses, bags and sandals.
3. Orkney, Scotland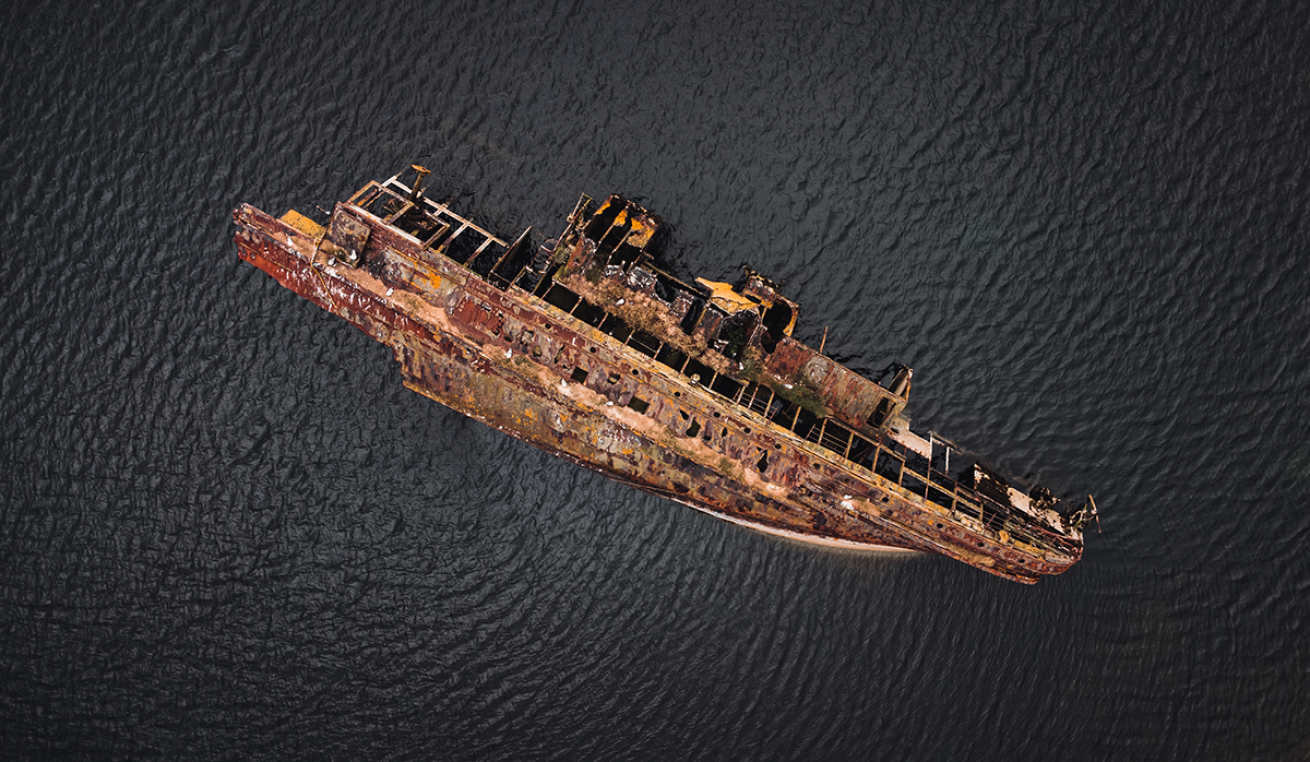 In addition to the deep wrecks, Scapa Flow has shallow wreck diving around the blockships, those that were deliberately sunk in small channels by the British to block German ships from accessing Scapa Flow during WWI.

Shutterstock.com/Keeble1337
Divers
On June 21, 1919, 74 Imperial German Navy warships interned by the British Navy at the end of WWI were scuttled at Scapa Flow in the Orkney Islands. While many were later salvaged from these waters north of the Scottish mainland, many remain at the bottom in various depths accessible to experienced divers.
The three largest are König class battleships—the König, Kronprinz Wilhelm and Markgraf—and lie between 40 to 150 feet of water and are a highlight of the site. Three light cruisers—the Dresden, Cöln and Karlsruhe—rest about 80 to 125 feet, and the minelaying cruiser Brummer sits 118 feet. This same depth is the final resting palace of four 1,020 ton, 15-inch gun turrets of Bayern, a salvaged battleship. Conditions here can be challenging, but together these and many other wrecks mean Scapa Flow is always a fascinating dive.
Non-Divers:
The breathtaking archipelago of Orkney has 500 years of fascinating history. Visit Skara Brae, a preserved Neolithic village, and the ancient stone circles of Brogdar. The area's rich wartime history can be viewed at The Italian Chapel, built by Italian prisoners of war during WWII on the island of Lamb Holm. Island hopping between the 70 islands by boat is also an option, where you can observe marine life like seals, whales and otters.
---
Are you ready to step up, help save the ocean, and #LiveUnfiltered at the same time? Sign up for a PADI Open Water Diver course now.
---