Great Island Getaways for Scuba Divers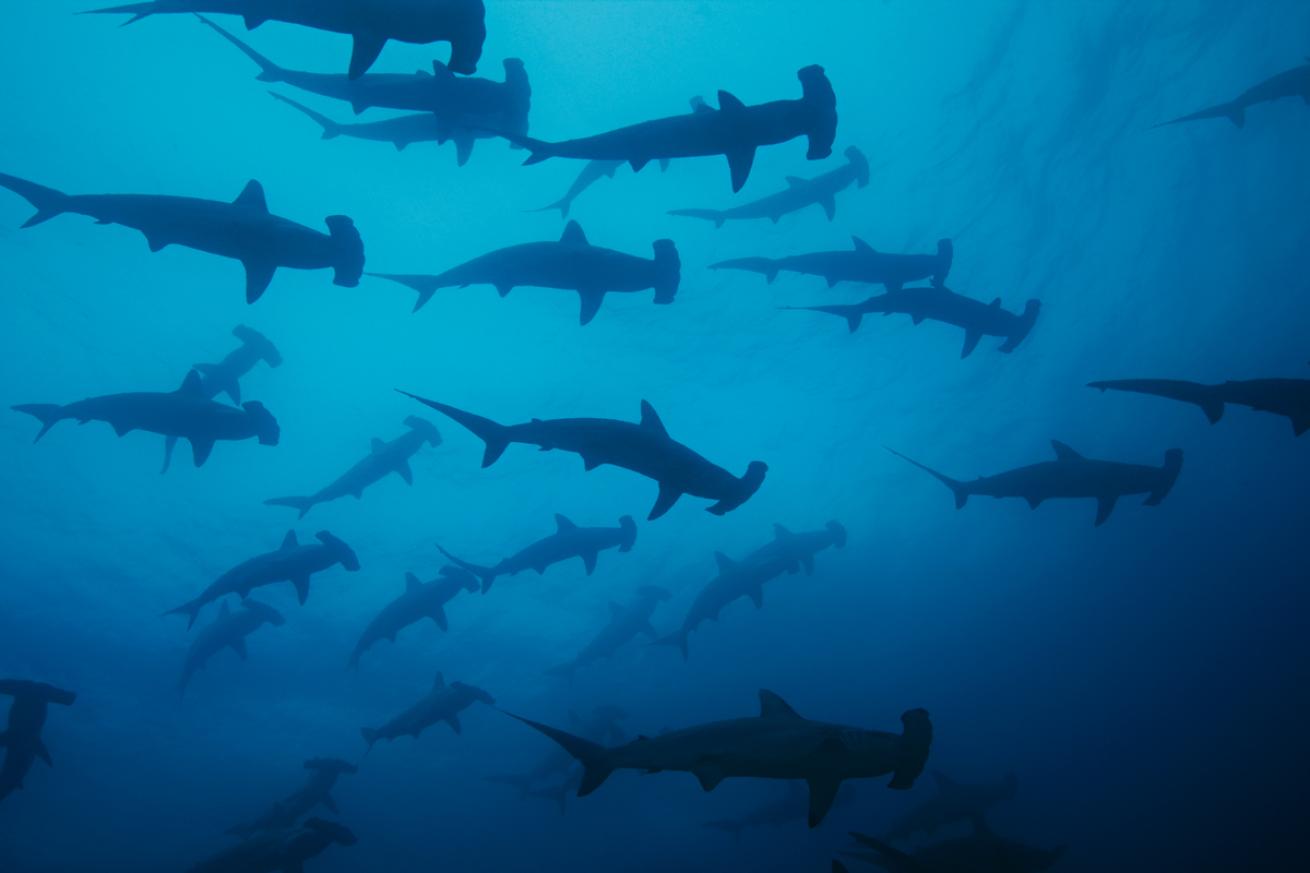 A school of scalloped hammerheads in Galapagos.

Brandon Cole
Planning a trip to one of these dive hotspots? Here's what you need to know. Featuring insight from locals, tips for timing seasonal experiences, and the scoop on favorite dive sites, as well as some lesser-known sites you'll want on your radar too.
Galapagos
Under the Radar
While sharks and other large pelagic species thrill divers during Galapagos dives, Jenny Waack, founder of Galapagos Shark Diving, says the chance to dive with marine iguanas at Cape Douglas on the western side of Isabela Island is truly unique (Galapagos is the only place in the world where you can do this). "To see them underwater, feeding on the algae, with the little fish protecting their algae and fighting against them, it's just incredible," she says. Amy Lionetti, of the Galapagos Sky liveaboard, says the site is also excellent for seeing Galapagos penguins, red-lipped batfish, small horn sharks and flightless Galapagos cormorants.
The Classic Dive
Darwin's Arch partially collapsed in 2021, changing the view of this iconic landmark topside, but underwater this dive site is still the most epic in all of Galapagos. Divers regularly see schooling hammer- heads by the hundreds, silky sharks, Galapagos sharks, eagle rays, dolphins and more— often on a single tank. "It's just a diver's dream," says Waack. "I've finished a safety stop there with a group of dolphins and boobies staring down from the surface.
Dive Report
Recent months have seen weather cooler than typical years due to a La Niña weather pattern, says Waack, and productivity at dive sites around the island has been particularly high. "There are more nutrients right now, which means more wildlife in the sea, more fish and more big things too," Waack says, pointing to schools of over 500 hammerheads, dolphins in high numbers and frequent whale shark sightings as of late. "The islands have been exploding with wildlife."
Plan a Trip
You can dive year-round in Galapagos, but June through October and even into November bring the best conditions, with currents washing in abundant nutrients and, in turn, attracting lots of marine life. This is also the best time to see whale sharks mi- grating through. "There are certain differences in water temperatures and historic dive conditions throughout whale shark season," says Lionetti. "So it's always good to work with someone who has firsthand knowledge and experience diving in Galapagos to pick when it is best for a diver's specific experience and water temperature comfort level."
Second-Time Visitor
As a diver, it's tempting to stay on a liveaboard for your entire trip to the Galapagos. Take some time on land, though, if you can. On the island of Santa Cruz, the fabulous eco-resort Finch Bay Galapagos Hotel is right near the Charles Darwin Research Station. And you can hike through lava tunnels near the El Chato Tortoise Reserve.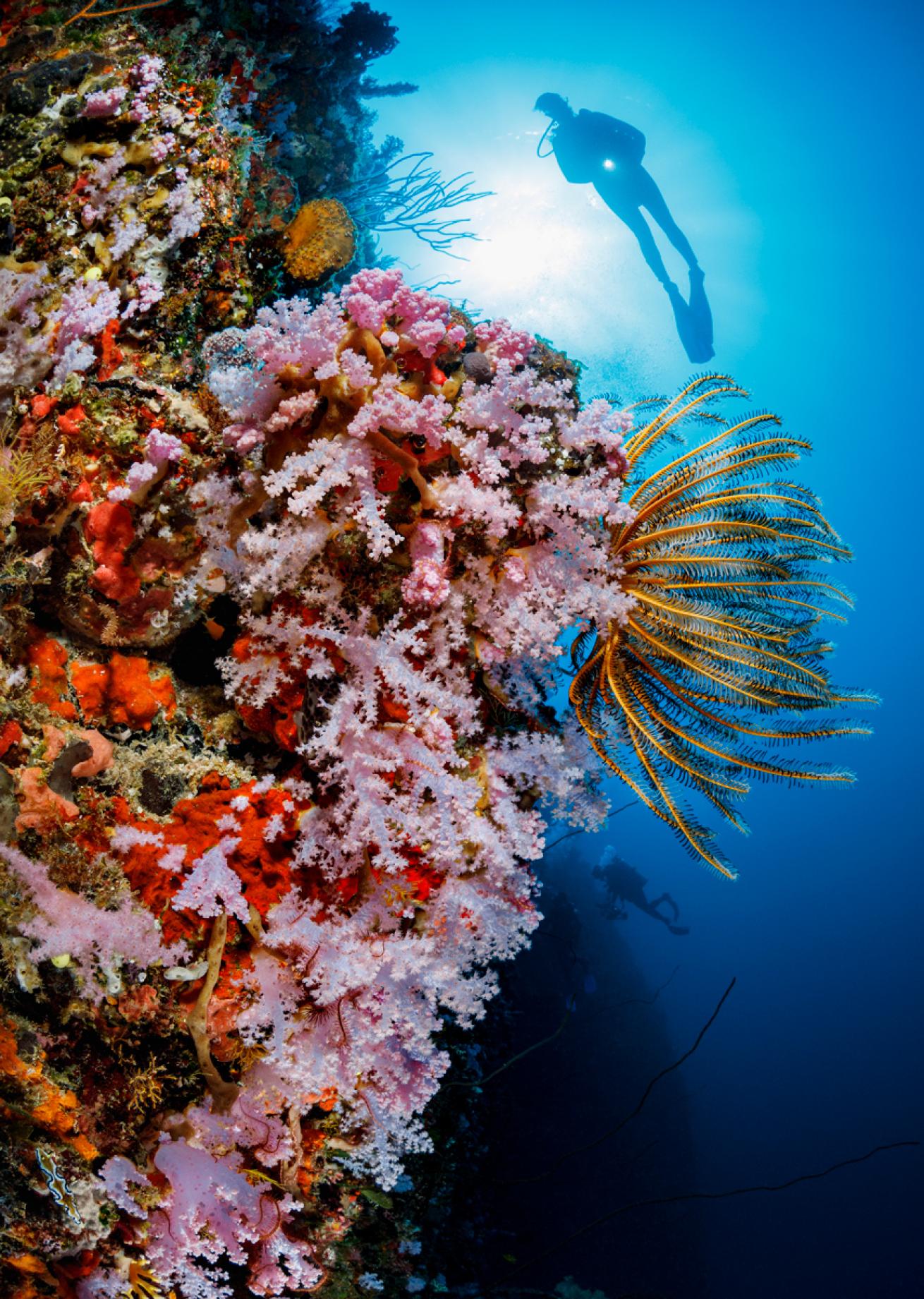 Colorful corals abound on Fiji's Great White Wall.

Brandon Cole
Fiji
Under the Radar
Divers come to Jean-Michel Cousteau Resort Fiji, overlooking Savusavu Bay on Vanua Levu, to dive the storied reefs of the Namena Marine Reserve. Whatever you do, don't miss the lesser-known site Manta Mount, says the resort's dive center manager, Danny Koyamaibole. Oceanic mantas arrive at a cleaning station here and put on a "precious display of symbiotic behavior, reminding us that we are all connected to one another," he says.
The Classic Dive
Taveuni's Great White Wall, prolific with fish life and covered in soft and hard corals, is deservedly famous, says dive instructor Owen Whippy, of Hauraki Adventures Fiji, who also points to Grand Central Station within the Namena Marine Reserve as a classic dive. Guests at the Six Senses Fiji head out with Whippy's team to dive at Kuata Island, where bull sharks are the main attraction.
Dive Report
Whippy says recent winter-season diving in the Mamanuca and Yasawa islands has delivered reliable manta ray sightings thanks to an abundance of nutrients in the water. Koyamaibole points to a site called Dream House off Savusavu as being particularly productive of late, with huge schools of hammerheads as well as barracudas and batfish in the mix.
Plan a Trip
"If you want to see the bull sharks of Beqa Lagoon, you must come before November, as after that the big girls will be away mating and gone for about six weeks," says Brandon Paige, of Beqa Lagoon Resort. In September, humpbacks and their calves migrate from Antarctica through Fiji and Tonga. For colorful celebrations on land, mark your calendar for October's Diwali festival, celebrated here by Hindus and non-Hindus alike.
Second-Time Visitor
The southern island of Kadavu is less trafficked than other islands in the archipelago, and has rainforests, waterfalls and excellent diving along the Great Astrolabe Reef. Koyamaibole says the Southern Hemisphere's largest bay, Natewa Bay on the east side of Vanua Levu, is worth seeking out for pristine hard corals you can see with just a snorkel.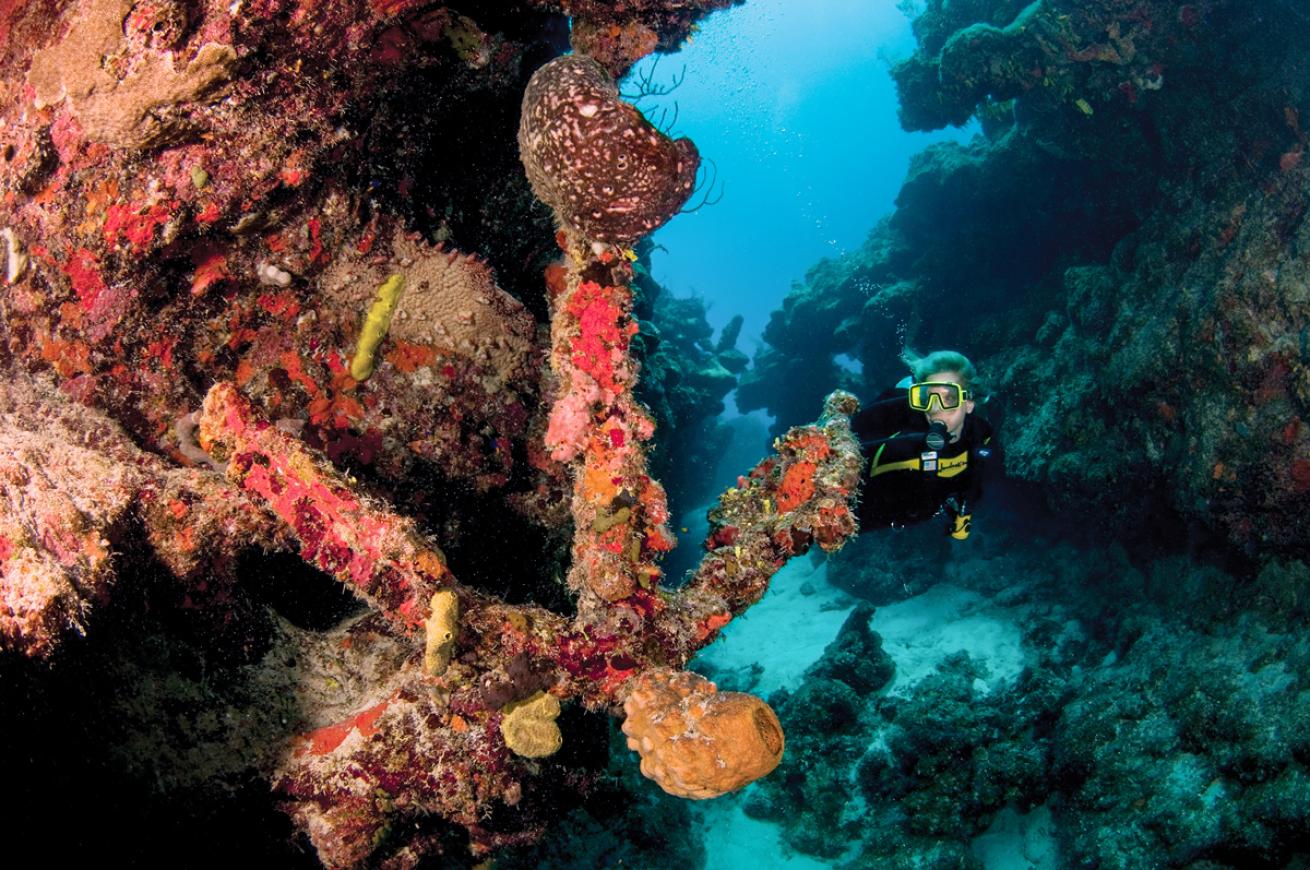 The Spanish Anchor dive site in West Caicos.

Walt Stearns
Turks and Caicos
Under the Radar

While most of the dive operators in Turks and Caicos are in Providenciales and Grand Turk, South Caicos has some fabulous sites too, says Jason Belport, of Reef Divers South Caicos at East Bay Resort. He points to the dramatic wall dive called the Grotto, where you might see sea turtles, reef sharks, schooling eagle rays and perhaps even the occasional great hammerhead.
The Classic Dive
The site Spanish Anchor, in West Caicos, is named for an anchor from the 1700s that's said to be from a Spanish galleon and is now covered in orange and red coral and sponges. It's pretty amazing to come upon the sight of it, embedded in the coral wall, after an approach via swim-through.
Dive Report
Sunshine-filled days, smooth boat rides, good visibility and good marine life have typified East Caicos dives of late, says Mateo Arias, of Reef Divers South Caicos. "On a recent morning dive, we saw a great hammerhead at the wall of the Grotto. Some dolphins passed by some of our dive sites some days ago, and turtles and reef sharks have been spotted on most dives."
Plan a Trip
To see humpback whales migrating through, Belport says mark your calendar for December through April, when they pass through Turks and Caicos and South Caicos waters on their way to calving and mating grounds between here and the Dominican Republic and are often sighted from dive boats. Ben Jardine, of Dive Provo, says eagle rays start to make more frequent appearances in Turks and Caicos waters after September, as waters start to cool down.
Second-Time Visitor
Turks and Caicos Reef Fund has a coral nursery at a dive site called Thunderdome off Provo, where staghorn and elkhorn corals proliferate everywhere. Diving under the lines of coral feels like staring up at the stars, says Jardine. On a return visit to the archipelago, he says, make sure you see some of the less developed sister islands of North and Middle Caicos for quieter beaches and plantation ruins to explore.