A Guide to Scuba Diving in Triton Bay, Indonesia
Many of yesteryear's scuba frontiers are now mainstream. But Triton Bay, in far eastern Indonesia, still lies under the radar of the bucket-list copycat crowd. The fish-to-human ratio here overwhelmingly favors those with gills. The biodiversity is extraordinary, and the rainbowed reefs are positively thrumming with life.
Taking the Bait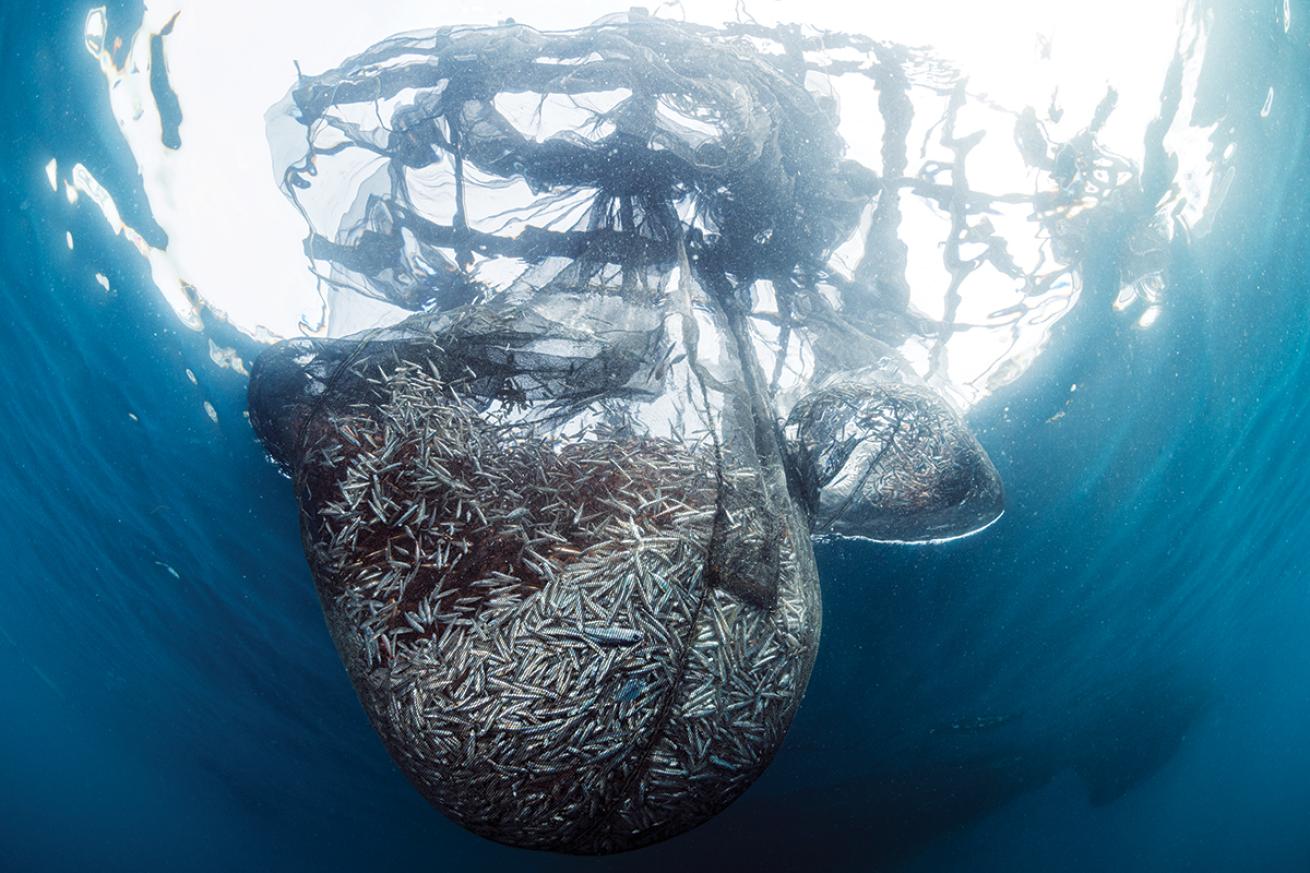 Ikan puri batifish fill the net of a bagan.

Brandon Cole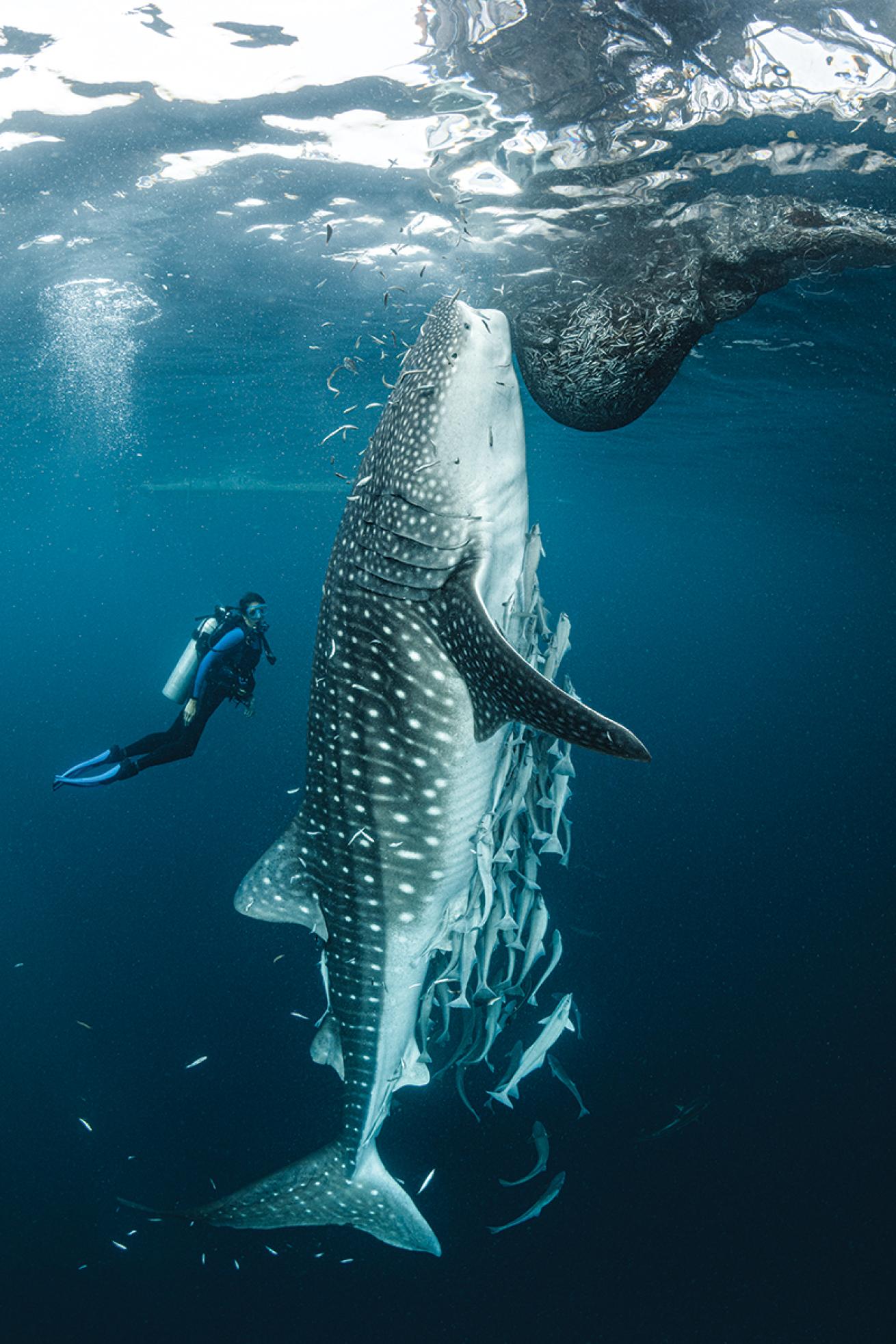 A whale shark seizes the opportunity for an easy meal presented by local fishermen.

Brandon Cole
Whale sharks stop by the waters of Triton Bay for anchovy snacks at floating drive-thrus. It may come as a surprise that in addition to over 200 types of nudibranch and thousands of fish species, bus-size whale sharks regularly steal the show in this corner of West Papua. Near Namatota Island, fishermen on bagans—fishing platforms made from bamboo scaffolding extending out from a boat—drop nets each night, and the oily, smelly ikan puri baitfish captured are an irresistible breakfast bell for spotted giants. When the nets are hauled in each morning, a 15- to 30-foot-long whale shark—or three—is often circling just below. Greedy ones may already be sucking at the net. The fishermen share a portion of their catch, dropping handfuls of anchovies into the sharks' cavernous maws. As thanks for allowing tourists to dive with the sharks, dive operators pay the bagan fishermen a stipend. It's a win-win-win scenario for all involved. Scientists also take advantage of this fortuitous partnership, having established a monitoring and tagging program to study the charismatic megafauna.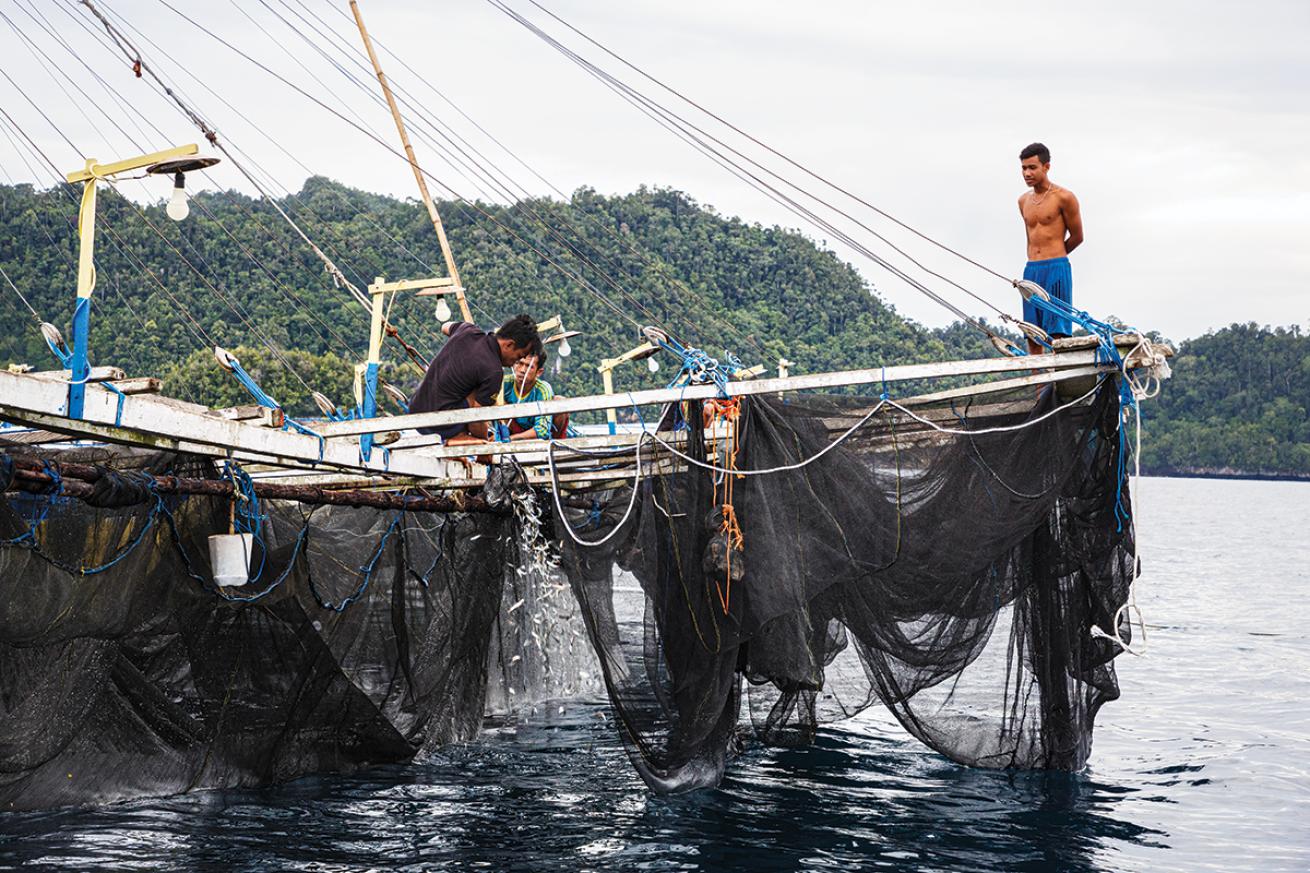 The fish collected by fishermen on bagans like these draw whale sharks.

Brandon Cole
It's Alive!
Snappers contribute to the region's incredible biodiversity.

Brandon Cole
Lively currents course through Iris Strait, which separates Triton Bay and the West Papua mainland from Aiduma Island. These currents are a conveyor belt delivering nutrient-rich planktonic soup that nourishes the entire marine ecosystem. Here pinjalo snapper flow overtop the colorful shelving reef at Batu Dramai in Iris Strait's southern opening. These snapper, which change color between red and silver depending on their mood, sometimes join fusiliers, surgeonfish, bumphead parrotfish, tuna, jacks, rabbitfish and more, mixing into a chaotic, swirling tornado of fish flesh feeding with abandon. It's beyond exhilarating to float in the middle of them all. Because it's exposed to the elements, it's not always possible to dive this fantastic site, so be sure to carpe diem when conditions permit. Batu Dramai, and Christmas Rock to the northwest, are staggeringly fishy, fishy places exploding with life. Everyone knows Indonesia is at the heart of the Coral Triangle, but only a lucky few come to this outpost to actually feel Triton Bay's pulse.
The Little Things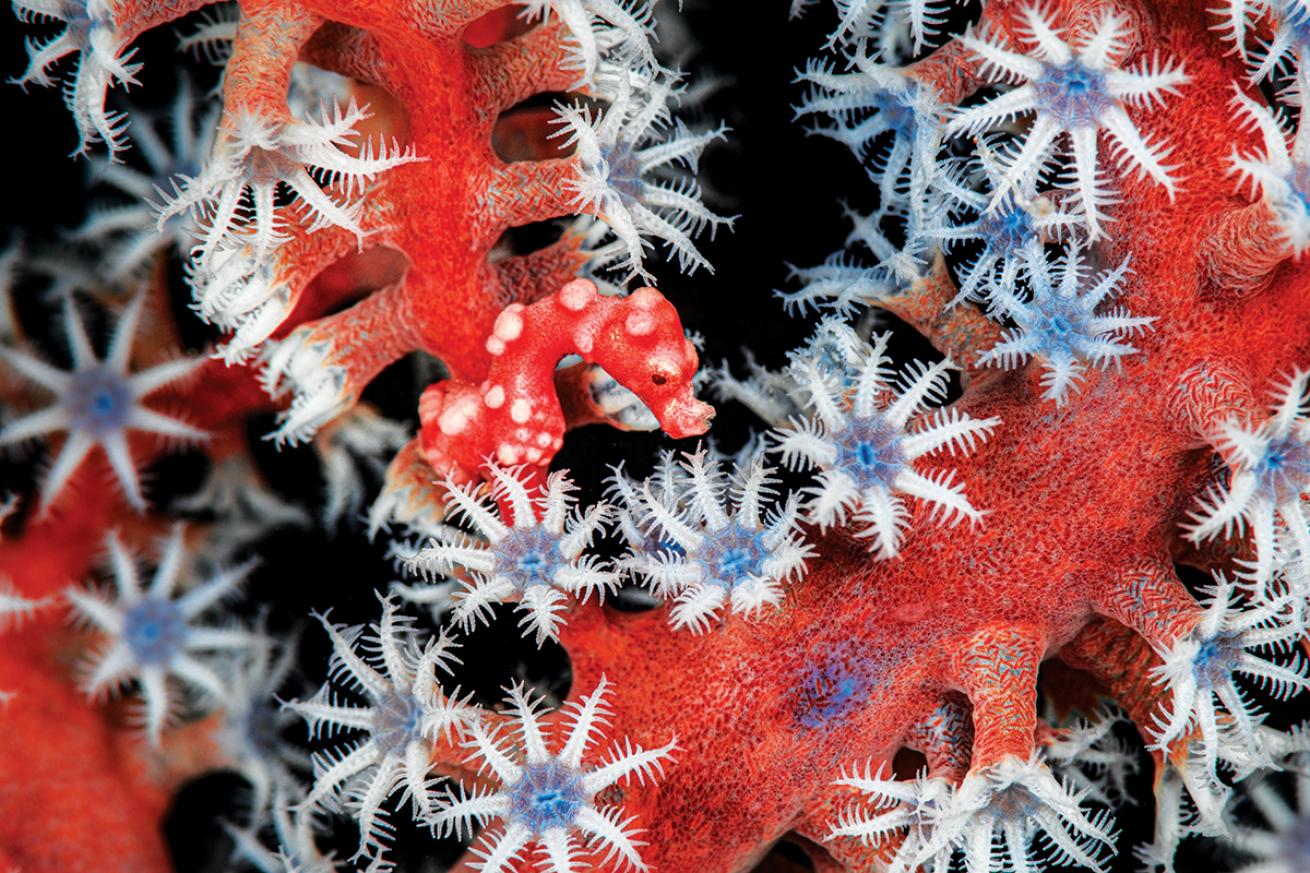 A "Santa Claus" morph of Denise's pygmy seahorse at Tangga, aka Pygmy Point, home to five species of pygmies and a million other micro wonders.

Brandon Cole
Hardcore critter hunters will travel 10,000 miles to experience Triton Bay's "species factory." I did. Isolation, a wide variety of micro habitats, an advantageous location at a crossroads for drifting larvae, and undoubtedly some other forces at work have contributed to unmatched marine biodiversity. These waters are a biological machine, working overtime to create endemic species, including the cute little walking shark—which does indeed ambulate over shallow reefs—and the Nursalim flasher wrasse, an ultra-speedy 3-inch trophy fish for the macro photographer willing to endure torture in pursuit of the picture.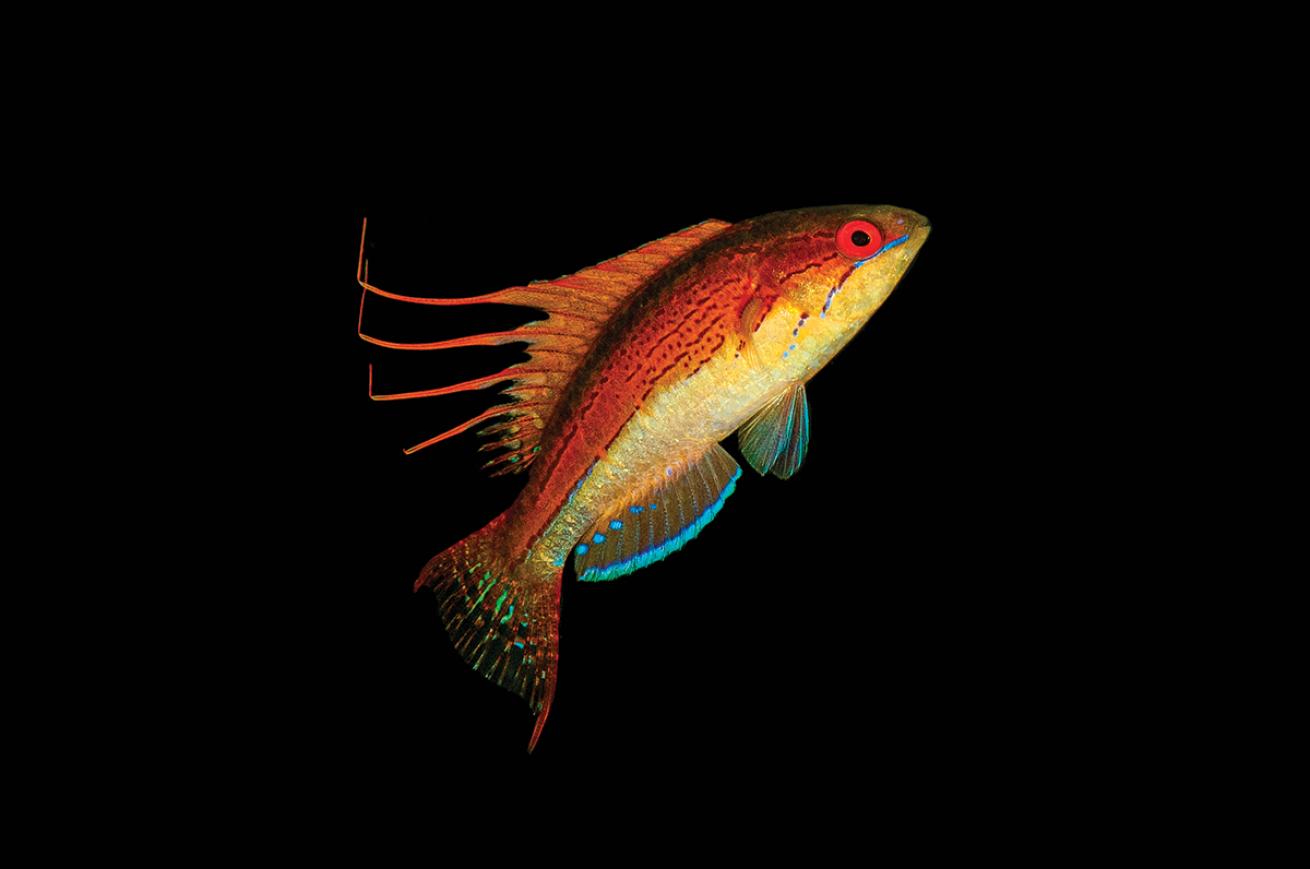 A male flasher wrasse proudly displays near the house reef.

Brandon Cole
Coralscapes to Dive For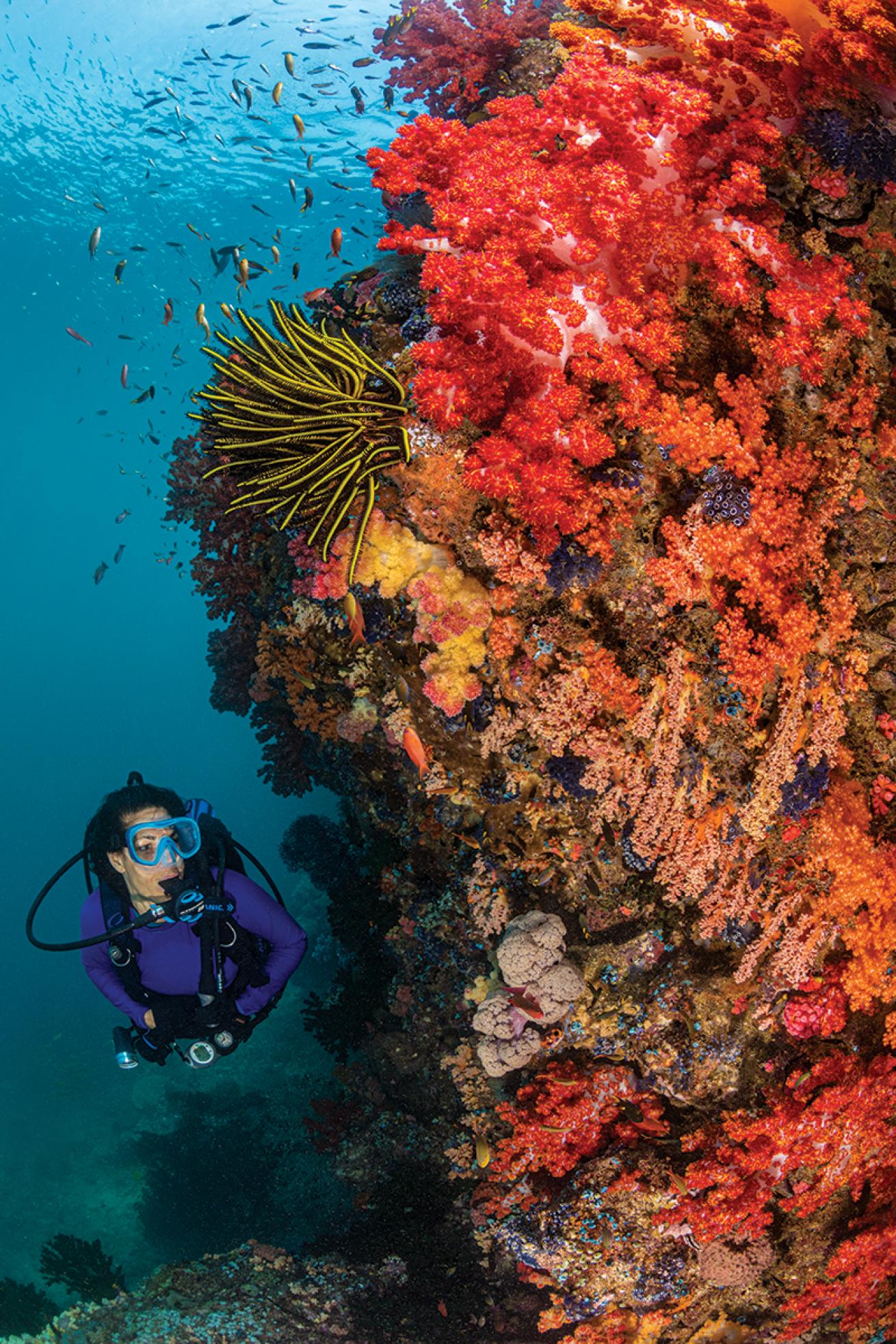 A diver at just 15 feet at Aquarium.

Brandon Cole
Triton Bay, Aiduma Island, Iris Strait and the many smaller islands, islets and pinnacles in the 2,300-square-mile Kaimana Marine Protected Area offer unlimited coral eye candy for the underwater photographer. Work your wide-angle camera magic among fields of black coral glowing white-green, tiered wedding cake constructions of plate corals, and boulders slathered in vibrant soft corals. While dozens of liveaboards jockey for position in Raja Ampat, you'll have infinite elbow room at primo Triton sites of your choosing, such as Little Komodo, Pintu Arus and Bo's Rainbow. No human hordes here, just untrampled reefs with an overwhelming abundance of marine life.
Need to Know
When to Go: Triton Bay's diving season is October through early June.
Dive Conditions: Water temperatures range from 79 to 84 degrees Fahrenheit. Visibility averages 30 to 40 feet but varies from 15 to 60 feet depending on wind, river runoff and localized upwelling. Air temperatures average 85 degrees Fahrenheit. Rain is likely. There are strong currents at some dive sites. Most of Triton Bay's diving is shallow, just 15 to 60 feet deep. Even so, dive very safely and conservatively. The nearest hyperbaric chambers are in Manado and Ambon—both far away—and local medical care is basic at best. Dive insurance is mandatory.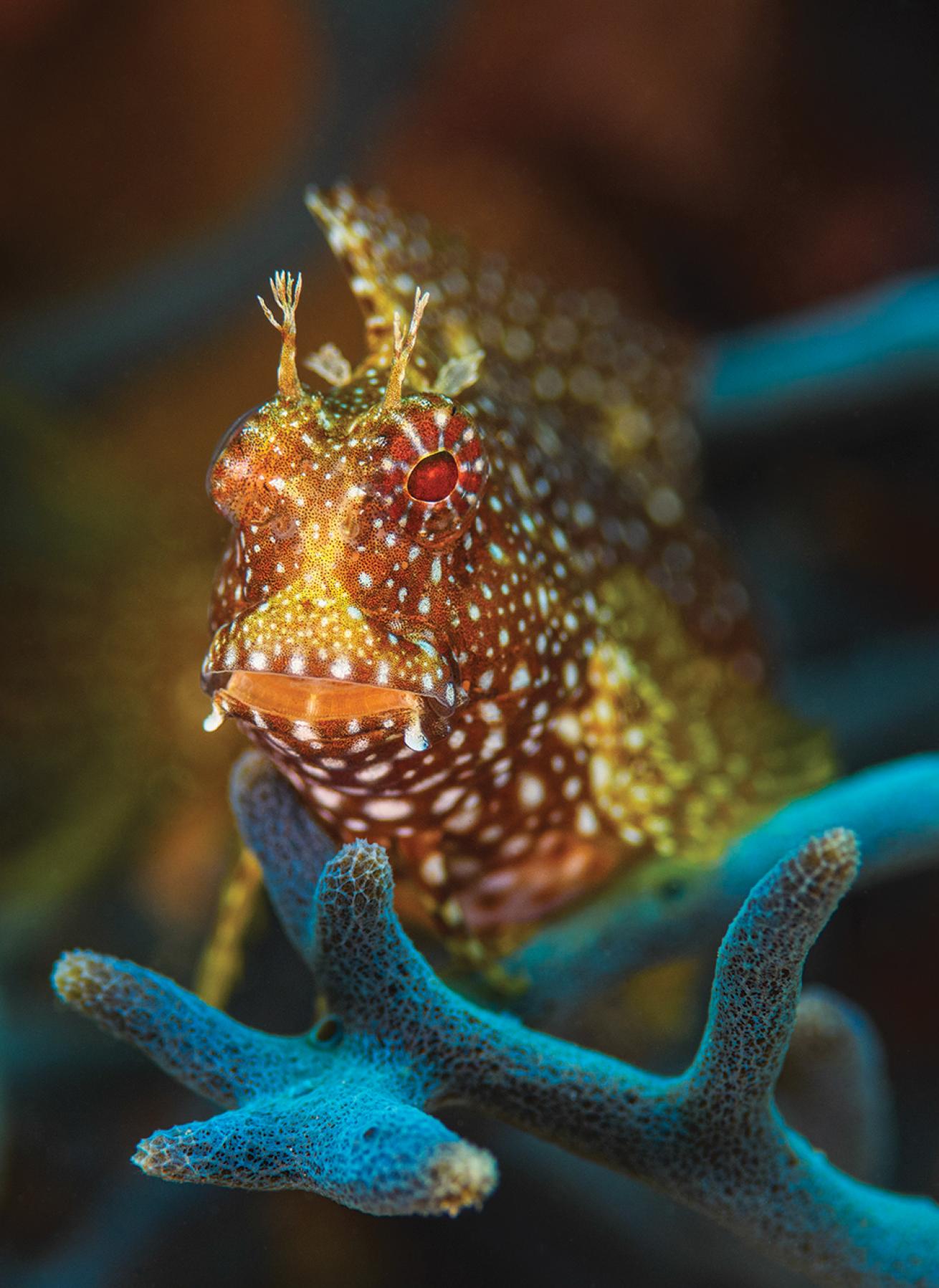 A starry blenny perches in blue sponge at the killer muck site Froggies.

Brandon Cole
Operator: The author dived with land-based Triton Bay Divers on Aiduma Island. The first and only resort in the area, Triton Bay Divers knows the sites very well and offers seven- to 14-night complete packages. A handful of liveaboards, including Seven Seas, Damai I and Seahorse, occasionally visit Triton Bay.
Travel Tips: This destination is extremely remote, so arranging travel can be tricky. Getting here from North America takes at least two, but usually three, days. Ask your dive operator for guidance as domestic airline service can change unexpectedly. Diving with Triton Bay Divers begins with a flight to Kaimana (airport code KNG) in West Papua and then requires a transfer by boat. Live­aboards may utilize different ports. Bring local cash currency (Indonesian rupiah) for domestic flight excess baggage fees, resort/boat staff gratuities, marine park fees, etc. Use an ATM in Bali or Jakarta before flying onward to Kaimana. Malaria exists in West Papua, so pack mosquito repellent and a long-sleeve shirt and pants. Discuss anti-malarial prophylaxis options (e.g., doxycycline) with your doctor. Triton Bay Divers' bungalows have 220-230v/50Hz electricity with round two-pin type C/F plug sockets. There is no phone signal at the resort. Free Wi-Fi is available in the restaurant, but it's very slow and should be used for text email only—wait to post your magnificent photos to social media until you're back in civilization. Enjoy your time off the grid!
---