How to Be a Good Dive Buddy — Topside and Underwater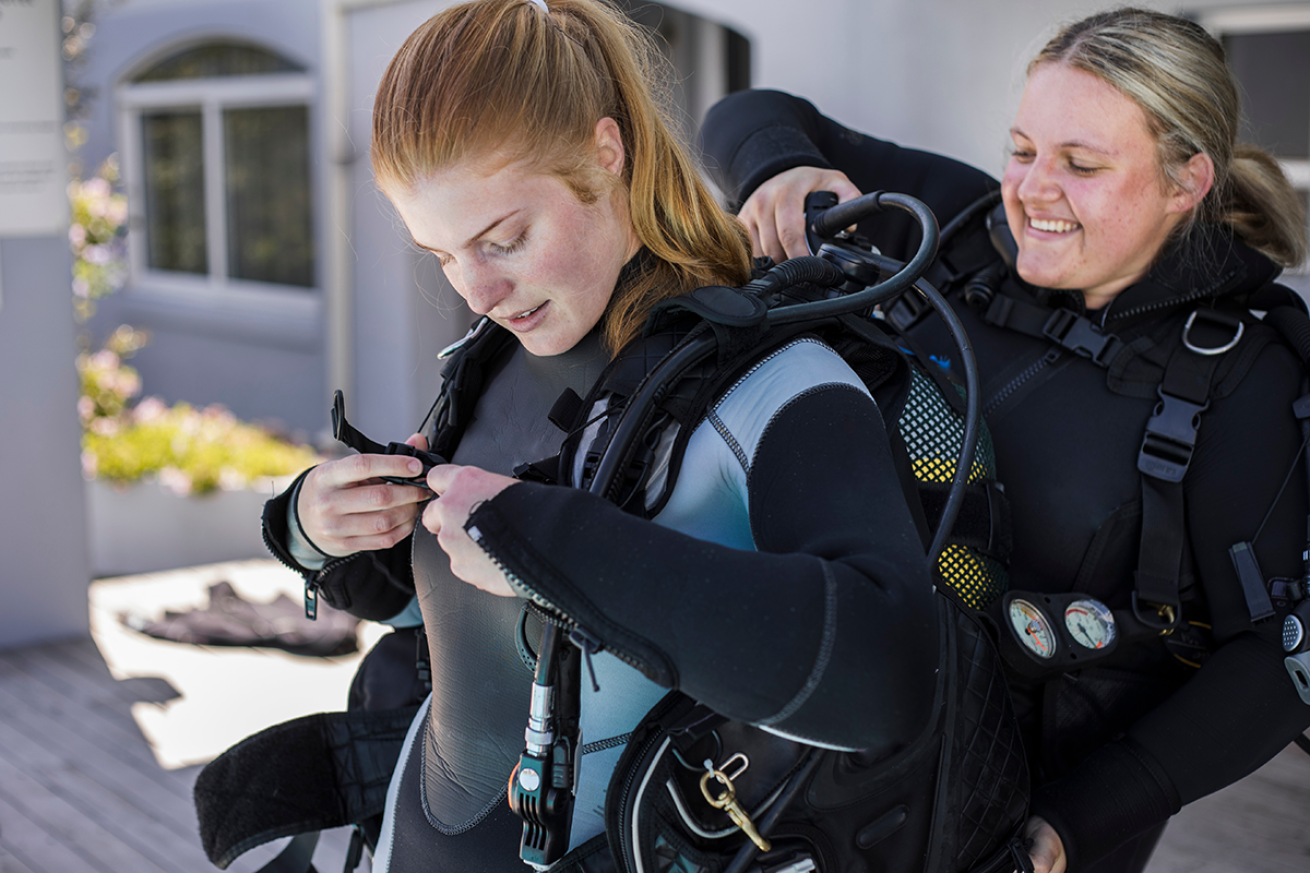 A good buddy improves the dive's safety and comfort.

Shutterstock.com/Madelein Wolfaardt
A good buddy is vital to the success of any dive. Diving in duos dramatically reduces the risk of an accident, according to DAN safety statistics, and we all know safety stops go by much faster when there's someone to play paper, rock, scissors with you.
Ask yourself the five questions below to assess how well you're holding up your end of the buddy bargain. If you answer 'no' to any of the below, consider tweaking your habits to become the best buddy you can be!
1. Can you see each other the entire dive?
It's not 'same ocean, same dive' when you are in a pair. Situational awareness is essential from start to finish. Keep an eye on each other when descending and ascending. As a general rule, try to be no more than two seconds, or one breath, apart.
2. Do you help each other out?
This question may feel like a no-brainer, but supporting your dive buddy goes further than the pre-dive check. Do you help them carry tanks, wait while they take pictures, or have some beer ready for a post-dive social? As a good dive buddy, you are an extra set of hands and the other memory-maker in the duo. Try to encourage a shared and supportive experience. Going above and beyond means making even better memories. Your buddy will hopefully return the favor!
3. Can your buddy understand you?
Is that a dead fish or are you out of air? It's imperative to understand each other's communication underwater. Always know how your buddy is doing by communicating clearly and often. Before the dive, take the time to decide on the hand or torch signals you will use. Don't be afraid to get your whole body into it and add sounds to grab attention. Signals can be as flamboyant as you'd like, as long as you both understand what is being said. Your buddy won't forgive you if they miss the whale shark behind them because they can't understand you.
4. Are you cool under pressure?
The best dive buddies are dependable and relaxed. If you get panicky underwater, take a few deep breaths to clear your mind and focus your attention. This will help regain a sense of calm, so you won't get caught off guard if something goes awry or something big swims by. It will keep your attention open enough to notice if your buddy needs assistance, and to problem solve as needed. Advancing your dive training will also help make you more comfortable, shifting your attention away from worries and towards the tasks at hand.
5. Do you know who to call in an emergency?
You don't need to have your buddy's mom on speed dial, but it is vital to know how to respond to who to call in an emergency. Have an emergency plan ready, and add phone numbers to your phone for local emergency response and DAN Emergency Assistance Hotline (+1 919-684-9111). Consider becoming a PADI Rescue Diver so you have the basic skills required to help your buddy in an emergency, at least until the medical professionals arrive. This all will make you a safer duo.
Once you can answer 'yes' to all the questions above, you are well on your way to enjoying the ocean with friends!
Additional Resources for Being a Better Buddy:
---