How To Plan Your Dive Travel as an Underwater Photographer
It's a great time to be an underwater photographer. Underwater cameras are hugely reliable and capable. And most excitingly, as long as we're prepared for the costs and discomfort of long-haul travel, there's a whole world of diving adventures on which we can focus our lenses. But with so many options, it's more important than ever to make the right selection to maximize your chance of standout shots.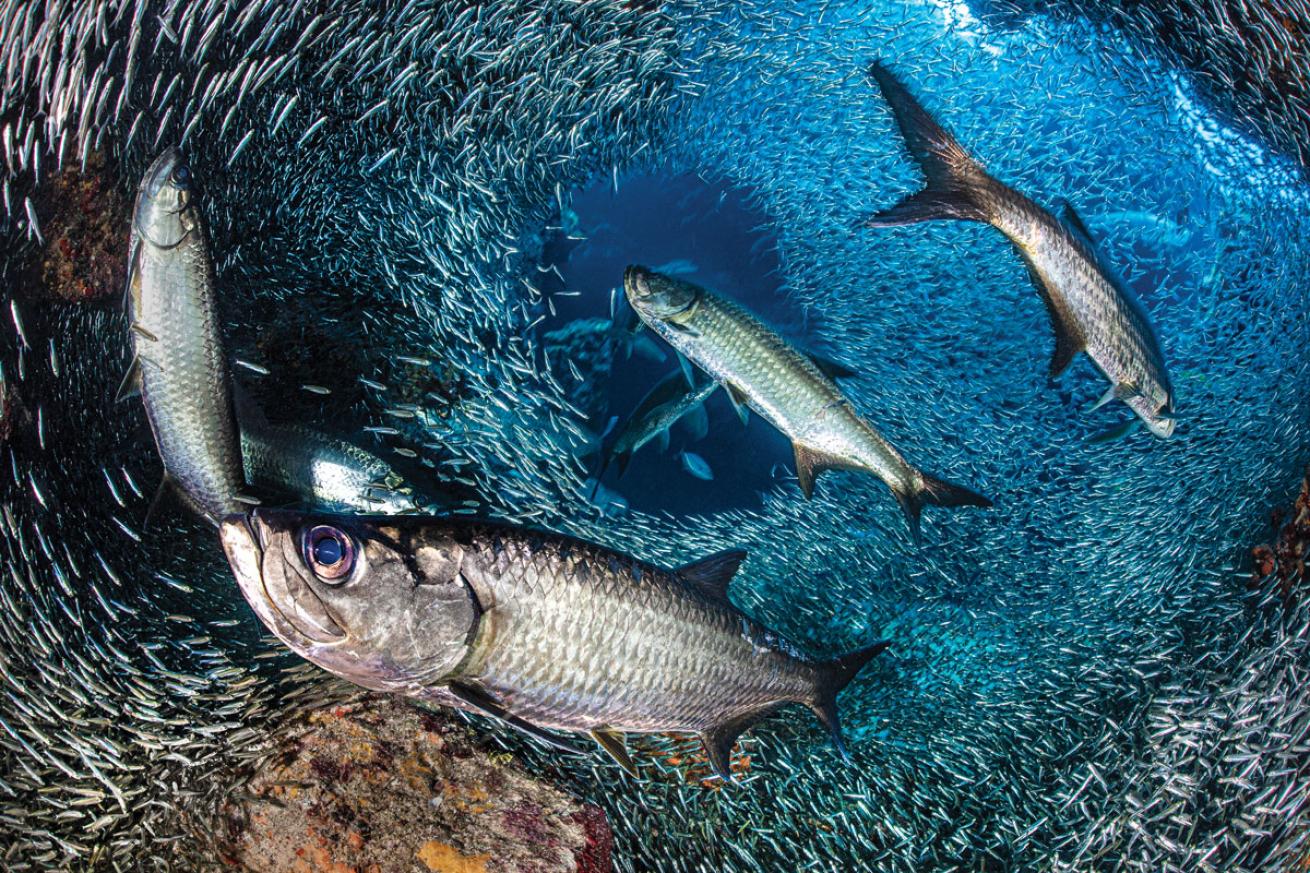 Research lets us time trips to specific marine life events, such as these tarpon feasting on summer silversides in Grand Cayman.

Alex Mustard
These are the key factors that every photographer should consider when planning travel.
TIP1: 'TIS THE SEASON
Underwater photography may be a niche discipline, but it is also a very diverse one. Some underwater photographers love macro and are critter-diving addicts, while others book shark trip after shark trip. A major part of my addiction comes from the different challenges and skills I have to master to produce a diverse portfolio, so I plan my travel to include as many types of diving and photography as possible.
Before booking a trip you must decide on the type of photos you want to take and note the destinations where other photographers have produced similar shots by looking through magazines and searching social media, especially Instagram.
While the majority of dive vacations are booked in the tropics, where diving is possible year-round, almost every location will have good and better seasons for taking photos. For stunning reef scenery, we're typically chasing clear water and sunny conditions, so it is best to avoid the clouds of the rainy season for more than just your tan. However, there are often specific marine life events that will override this. This year I have chosen to visit Grand Cayman in July and Raja Ampat in October to catch the reef scenery super-charged with millions of silverside fish.
One of the most exciting aspects of the past decade in diving has been the ever-increasing list of times and locations where we can have predictable encounters with ocean megafauna. But these big-animal trips are often the most tightly confined on dates, because lots of creatures only show up reliably during a narrow window. For example, the astonishing whale shark aggregation near Isla Mujeres off the Caribbean coast of Mexico occurs in July and August, when the sharks are attracted by the eggs produced by spawning skipjack tuna.
The Indian Ocean is dominated by the two monsoon seasons, which greatly influence marine life. Perhaps the greatest attraction of the Maldives are mantas, but the locations where they aggregate switch with the monsoons. The famous Hanifaru Bay is best in summer and fall, while the classic manta dives off western Ari Atoll go off in winter and spring. Macro diving is less seasonal, but colder water usually brings a greater richness of critters. I find Indonesia's Lembeh Strait particularly packed with subjects through the second half of the year, while key locations in the Philippines, such as Anilao and Dauin, are better in the first half.
In cold-water destinations the seasons are more pronounced, and it is wise to book a trip to avoid winter storms or spring plankton blooms that impair visibility. The prime temperate times are usually early spring, when the water is cold and clear, and then mid-to late summer, when the water is warmest and fish life is booming.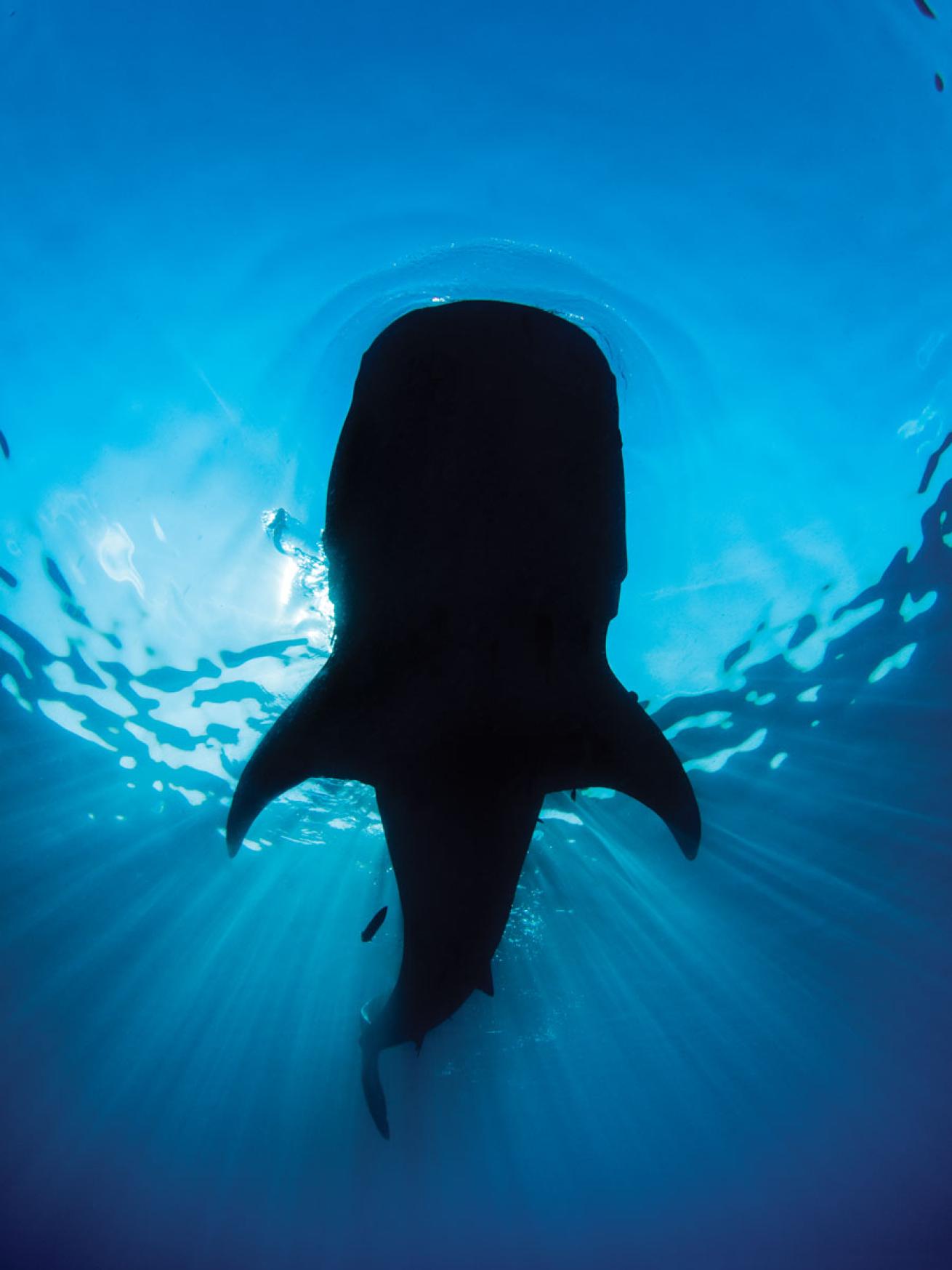 Many spectacular marine life aggregations have been discovered in recent years, such as the gathering of hundreds of whale sharks off Mexico.

Alex Mustard
TIP 2: OCEAN RHYTHMS
As terrestrial beings we clearly understand how sea- sons affect the natural world, but we tend to underappreciate the importance of the monthly tidal cycle, which has a dramatic impact underwater—both on marine life events and diving conditions. I always have the lunar cycle overlaid on my calendar for reference when planning trips.
The largest tides, known as spring tides, generate the strongest currents twice each month around the full and new moons. Shooters generally like to avoid powerful currents because they make photography more challenging. I certainly plan my fjord-based cold-water diving and wreck photography over the weaker neap tides, when the slack water windows are longest. I also prefer my critter photography trips to be mid-moon to minimize currents on the exposed slopes, as the richness of almost all these destinations comes from strong currents that flow over the sand. However, when shooting reef scenery, I like taking on the stronger flows around the moons, because they bring the reefs alive, puffing up soft corals and lining up teeming schools of anthias.
These strong spring tidal currents also help disperse eggs. Many species spawn at this time, creating opportunities for photographers—from frogfish sitting as pairs on a muck dive to spectacular aggregations of reef predators such as grouper and snapper. In Palau bumphead parrotfish aggregate at new moons, while bohar snapper gather on full moons. Perhaps the most extreme example of planning your travel to the ocean's rhythm is to photograph coral spawning. Most reef corals spawn for only a few seconds each year, precisely timed to the lunar cycle on just one night of the year. Careful planning is required to be in the right place at exactly the right time.
TIP 3 : DIVE SCHEDULE
Finally, choosing the right dive operation, liveaboard or trip makes a huge difference with photographic productivity. Many divers have a frustrating story about being buddied with an underwater photographer who was stationary the whole dive. But the reverse is also true: Having the freedom to dive to the pace of your subjects is essential for success. This is why underwater photographers increasingly choose to join trips and workshops planned specifically for photographers. These trips give you the opportunity to repeat the most productive sites and to dive specifically for your shots.
When traveling alone, I look for operations that are regularly used by well-known photographers or for workshops, where I know I will find staff accustomed to helping underwater photographers in and out of the water. Others might also look to go out of season or to a less-known operator who will have spare capacity to cater to your needs.