How to Scuba Dive Lake Tahoe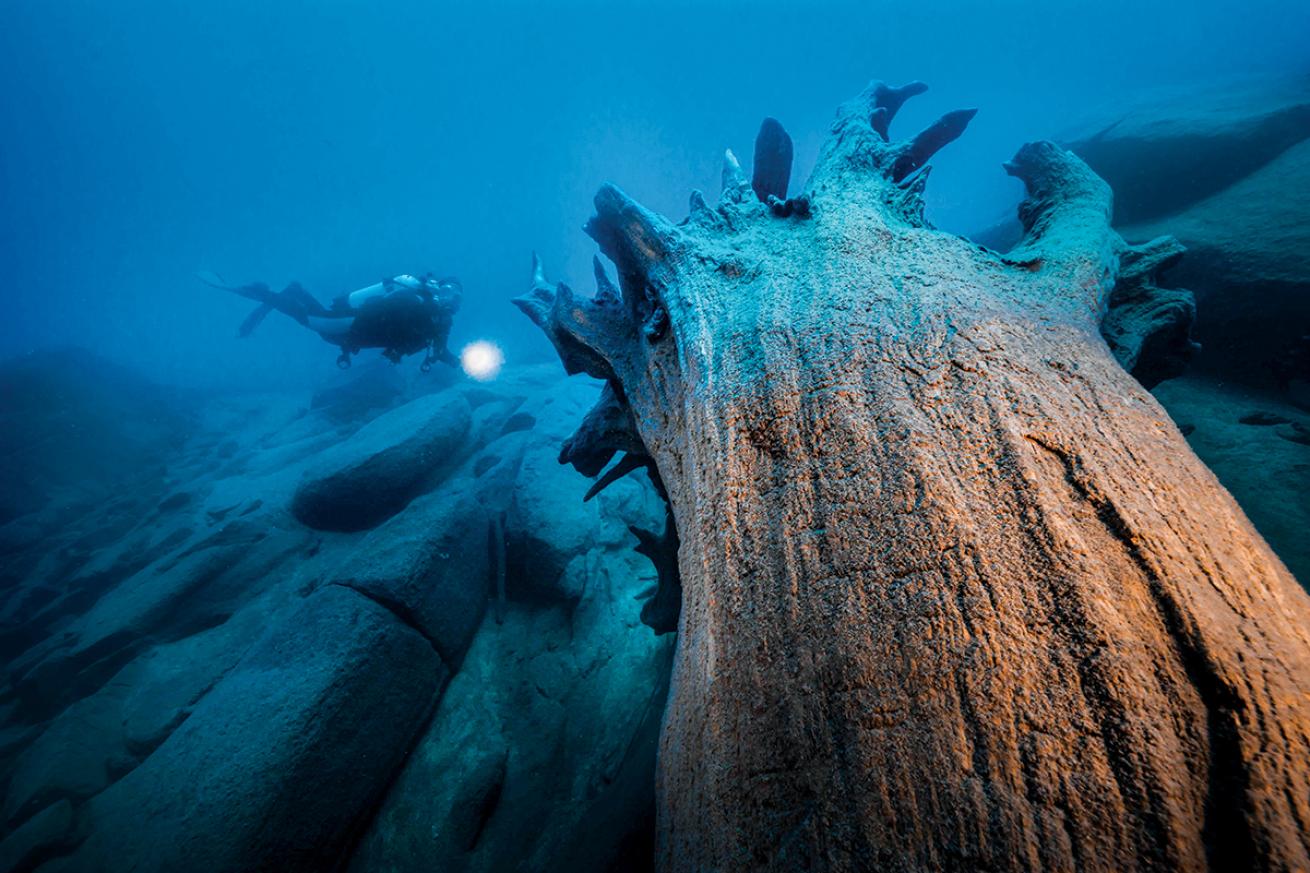 Sunken trees and rocks at Sand Harbor make for intriguing landmarks and fun swim-throughs.

Jennifer Idol
Lake Tahoe is a resort destination known for clear water and forested trails at an elevation of 6,225 feet. The largest alpine lake in North America, it straddles the border between California and Nevada, and hosts abundant outdoor activities such as skiing, hiking and altitude scuba diving.
Although fault and state lines in Lake Tahoe Basin separate the lake into east and west, locals divide the region into North and South Lake Tahoe. Overlooks on the north end from Mount Rose Highway give perspective on this vast lake. Among U.S. lakes, Tahoe is second only to Crater Lake in depth, reaching as deep as 1,645 feet, with most of the lake area around 1,000 feet. Jacques Cousteau once visited with a submersible.
Tahoe is busy year-round, with skiing in winter, and hiking and watersports in summer. Diving is most common March through October, but for those equipped with drysuits, visibility is best in winter, when boat traffic dies down. Regardless of season, plan dives for early morning to avoid crowds and enjoy calm water.
Dive sites surround the lake and include Sand Harbor, the beaches in front of Meeks Bay Resort, Carnelian West Beach, and Rubicon Wall. Sand Harbor is the most popular destination, full of interesting sites for all dive levels. Keep in mind dive flags are required on Lake Tahoe. Private boats and charters for hire visit four partial wrecks on the Emerald Bay Maritime Heritage Trail. Gear and tanks can be rented from the few dive shops that operate on Lake Tahoe, but many shops from the surrounding area also organize trips, leading shore dives and training outings on the vast lake.
Several invasive species pose threats to the lake's ecosystem and water clarity. All watercraft are required to be inspected before entering the lake. Dive gear should be cleaned to prevent contamination. Although zebra and quagga mussels haven't reached the lake, Asian clams have been introduced. Smoke from California fires has affected the area during fire season, but the Tahoe area has been largely protected from fire damage.
All in all, Lake Tahoe is a rich natural habitat with clear blue water and delightful dive sites.
Dive Sites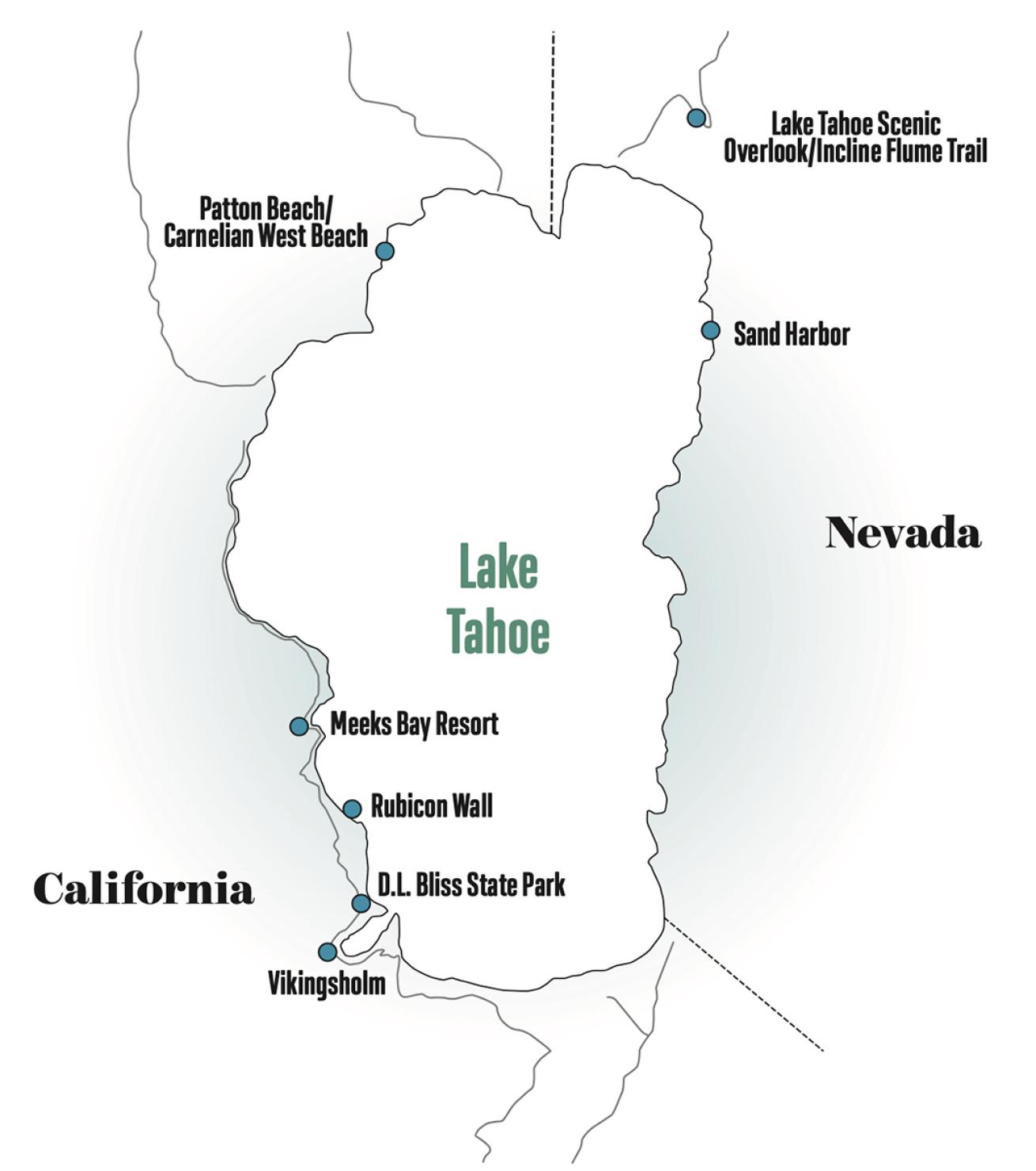 One lake, lots of adventure.

PADI Staff
Sand Harbor This beautiful and easy shore dive site is extremely popular not only with divers but also swimmers and kayakers, so show up very early in the morning. A shallow entrance brings you to giant round boulders that create fun swim-throughs. Pass a flat, sandy landscape to reach an underwater cliff lined with rocks and sunken trees.
Patton Beach Avoid crowds, and drop off your equipment at Patton Beach near Waterman's Landing before parking your car. Few divers know about this location, so it's easily accessible and a good entry-level dive with flat landscape. Be sure to park on the street and not in the coffee shop parking lot.
Rubicon Wall This shore dive begins from easily accessible Lester Beach in D.L. Bliss State Park with a 1,200-foot surface swim to the point where a dramatic cliff drops to 1,000 feet. Good buoyancy is needed to maintain depth. Calawee Cove Beach is technically closer to the descent point for this site, but stairs and a good walk make it a more difficult entry.
Trip Tips
1. Incline Flume Trail
In addition to enjoying dramatic views from Lake Tahoe Scenic Overlook at the lake's northern point, take time to hike or bike this easy out-and-back trail that starts from nearby Mount Rose Highway in the shadow of Mount Rose, one of the tallest peaks in the area. Parking for the trailhead is on the pullout just north of the overlook.
2. Dining with Views Make a reservation and splurge on dinner with a lake view at Edgewood Restaurant or Brooks' Bar and Deck on the south end. For northern vistas, visit Lone Eagle Grille in the Hyatt Regency or Gar Woods Grill and Pier near Carnelian West Beach.
3. Rubicon Trail Enjoy an overhead view of the south side on this 16.4-mile trail from D.L. Bliss State Park to Vikingsholm mansion. The historic Scandinavian building should reopen for guided tours in summer 2021. You can also take a short hike north to Rubicon Point for a quick look at the dive site there.
Need to Know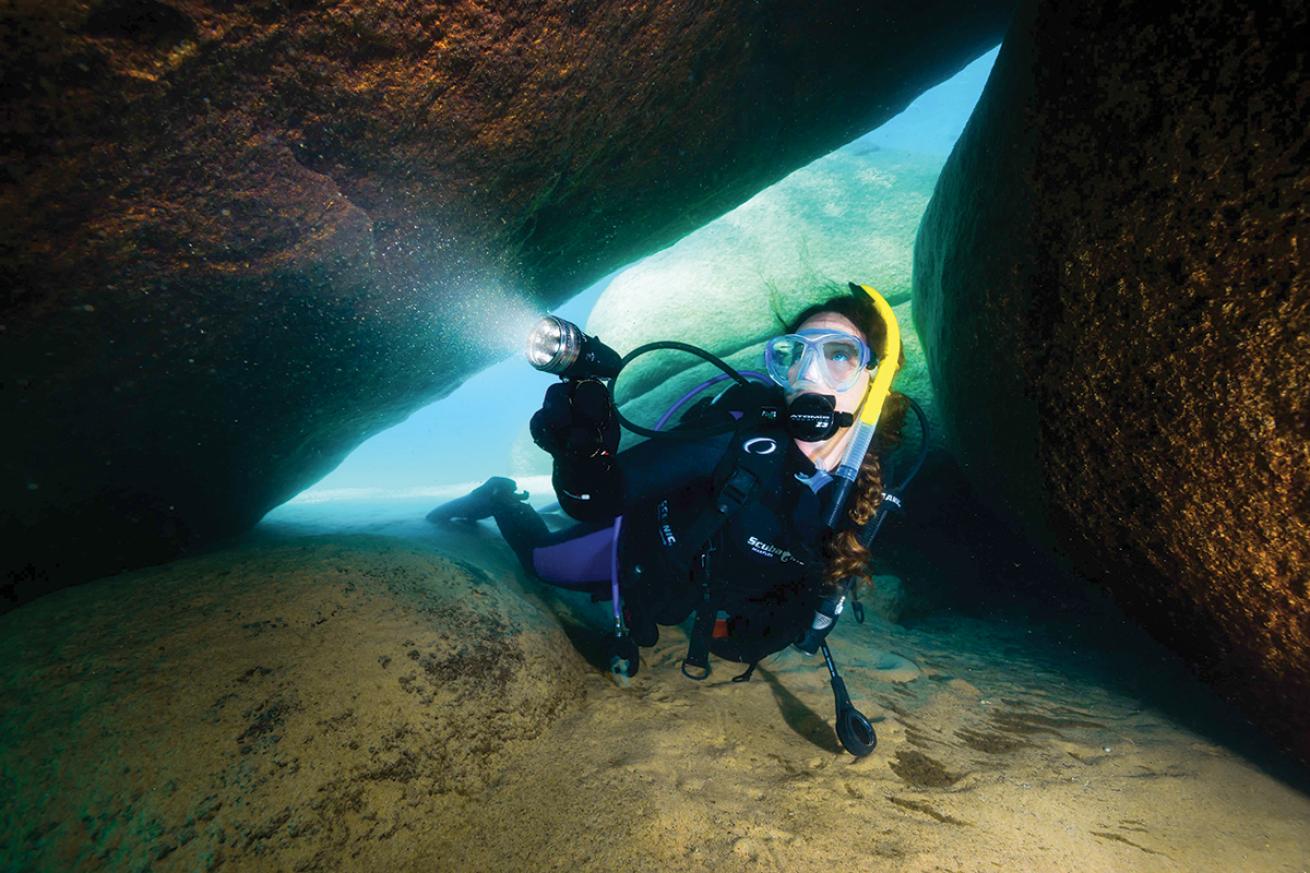 A diver shines her light to illuminate a submerged rock enclosure.

Jennifer Idol
Conditions
Viz typically averages 60 feet; water temperatures range from about 40 degrees at depth to 63 degrees at the surface.
What to Wear
Drysuit preferred.
Dive Shops Recommended by PADI
Sierra Diving Center, Reno, Nevada
---