How to Spend a Long Weekend Scuba Diving Florida's Southeast Coast
With ample sunshine, white-sand beaches, vibrant nightlife and cheap flights from most parts of the country, the Southeast Coast of Florida is the ideal destination for a long weekend getaway. For divers, the region had the added dual draws of reefs in Fort Lauderdale and wrecks in Palm Beach County. This itinerary that gives you the best of both worlds.
Day 1: Wrecks and Reefs in Fort Lauderdale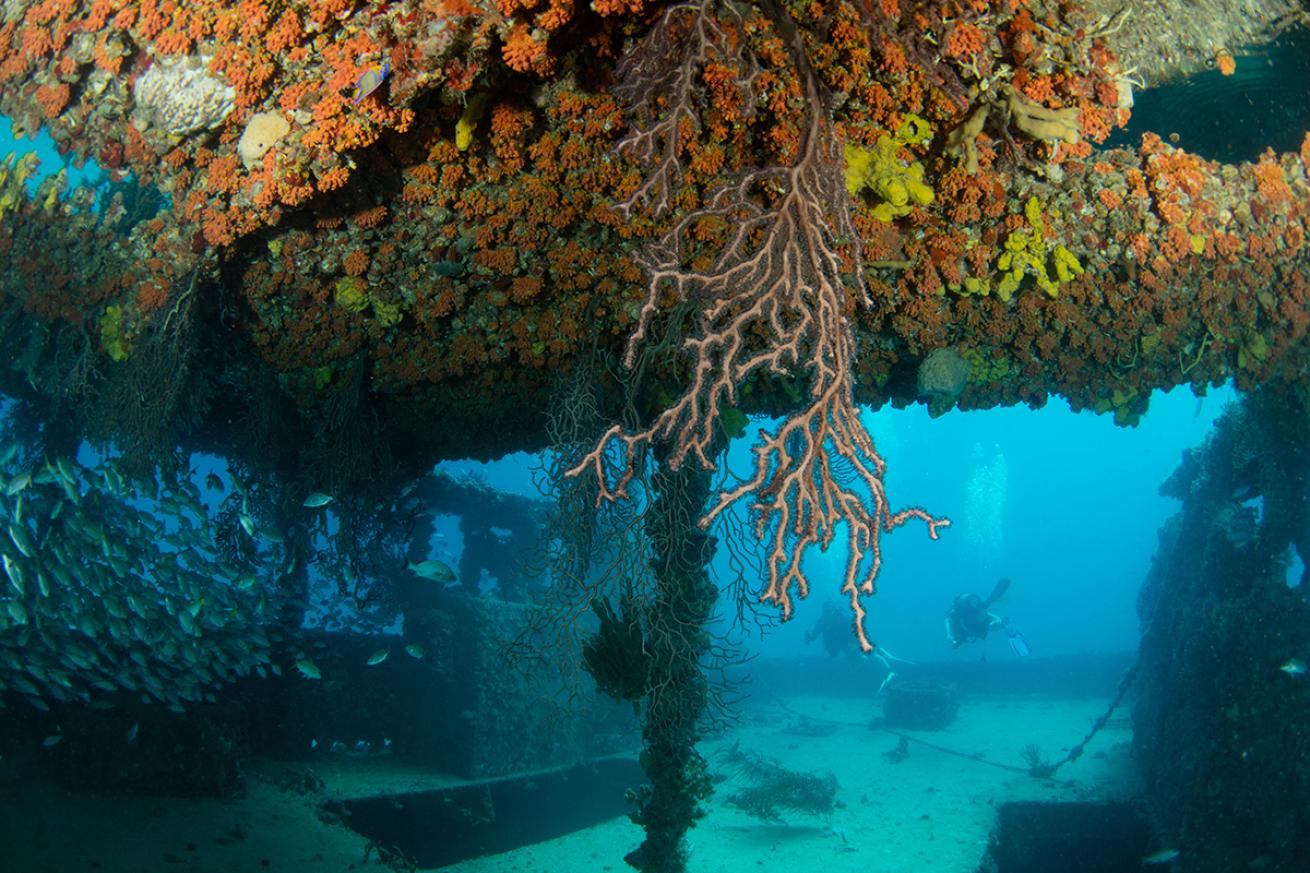 Divers wreck dive off the coast of Fort Lauderdale.

Shutterstock.com/Fine Art Photos
Whether you're flying or driving down, start your weekend in Fort Lauderdale. Sea Experience's double-feature charters, which include both a wreck and a reef site, lets you take advantage of The Florida Reef Tract and its hundreds of wrecks.
First, you'll visit a deeper wreck like the Miss Dania Beach, Donald G. McAllister, Ebenezer II or Merci Jesus. Each of these sites — and over 150 additional wrecks in the area — was sunk as part of the Broward County Artificial Reef Program. Since 1982, the program has speckled the county's 24-mile coastline with shipwrecks that now provide a substrate base for corals and sponges to grow on. This, in turn, attracts a wide variety of ocean life — and divers.
Spend your second tank exploring one of Fort Lauderdale's shallow reefs, like Barracuda Reef. This healthy coral ledge is an excellent place for spotting marine life from moray eels to nurse sharks to, of course, barracuda.
Early August through mid-March is also lobster season in Florida, so licensed divers with a lobster tag can keep an eye out for bugs holed up in the reef. After you get back to the dock, you clean your bagged lobsters and take them to be cooked for dinner at Quarterdeck Restaurant.
Day 2: Macro Magic in Riviera Beach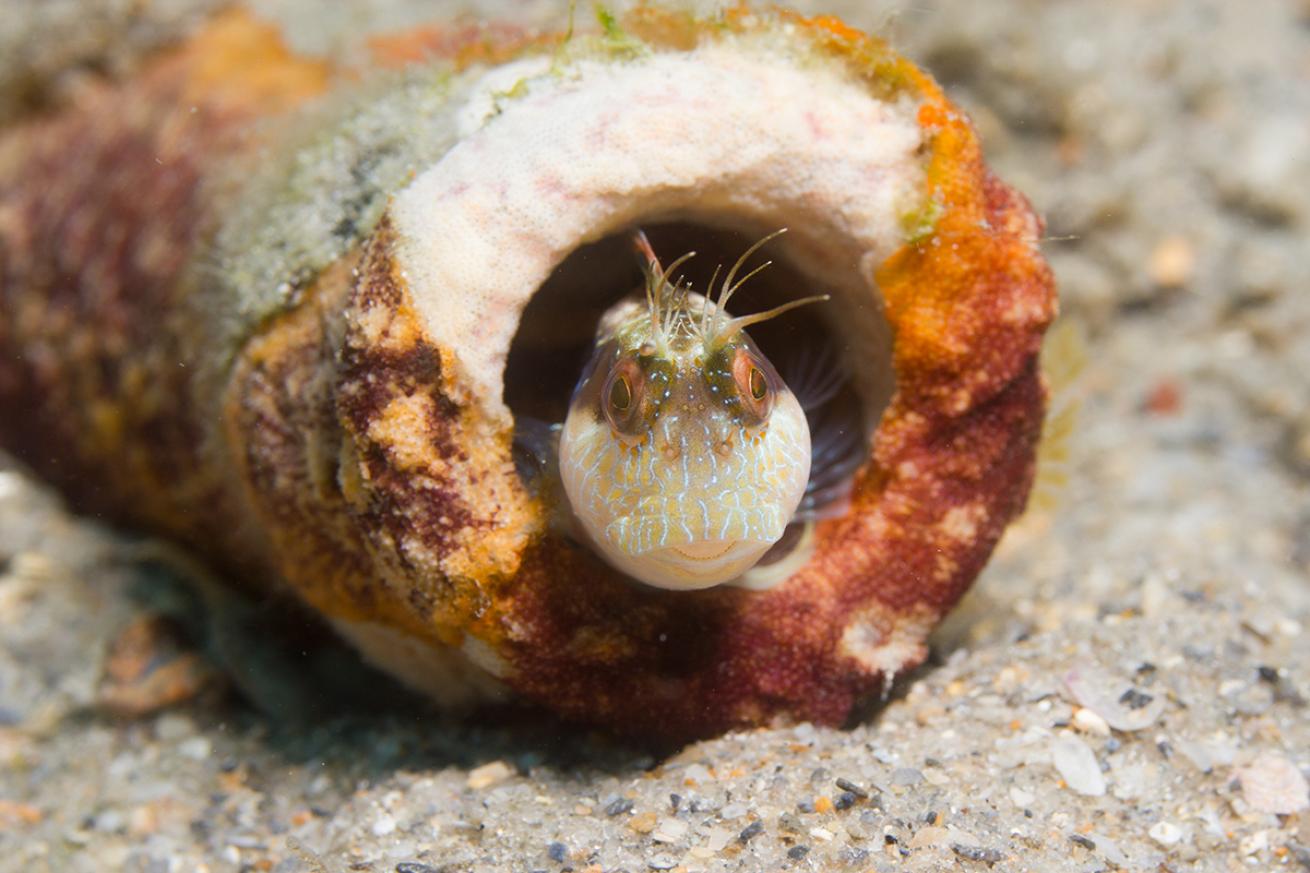 A blenny nestles near the seafloor at the Blue Heron Bridge.

Shutterstock.com/matt9122
In the morning, head north into Palm Beach County. One of the can't-miss dives in a region the size of Delaware chock-full of underwater experiences is the Blue Heron Bridge.
Enter from the shore of from Phil Foster Park, where you can swim out to a series of artificial reefs known as the Phil Foster Snorkel Trail. Purpose-sunk structures like small boats, statues of hammerhead sharks and concrete forts are spread out about 200 feet from the shore to attract coral growth and reef-dwelling creatures. You never know what marine life you'll see here. Southern and spotted eagle rays use the channels around the bridge while navigating the Intracoastal Waterway, and even manatees and bull sharks occasionally cruise by. But make sure to mind the small stuff, too. Octopuses, frogfishes, seahorses, cowfishes, batfishes, flying gurnards, tiny crustaceans, schools of juvenile fish — all can be seen on a one-hour dive.
(Check out the tide charts when planning your trip. You want to get in half-an-hour before high tide and surface half-an-hour after high tide to maximize visibility and marine life activity.)
If you have time between this and your upcoming night dive, spend it checking out Loggerhead Marinelife Center in Juno Beach. This sea turtle conservation and rehabilitation center treats hosts educational tours of its facilities. From adult turtles that have been hit by boat propellers to hatchlings that couldn't make it out to sea on their own, the Center can care for over a dozen turtles at a time, which you can meet while there.
Gear up for a unique night dive to end the day: Diving after dark is anything but typical with Pura Vida Divers' blackwater drifts. Suspended 40 feet deep in about 400 to 600 feet of water, you have a front-row seat to the diurnal migration, which is when when small, deep-water creatures come up to the surface to feed under the cover of darkness.
Use the beam of your dive light to illuminate a galaxy of tiny copepods, squid, jellyfish and other larval stage sea creatures that you likely won't be able to identify unless you're an expert marine biologist. Your alien-like encounters are sure to give you a renewed sense of wonder about the big blue world.
Day 3: Wreck Trek and Topside Fun in Palm Beach County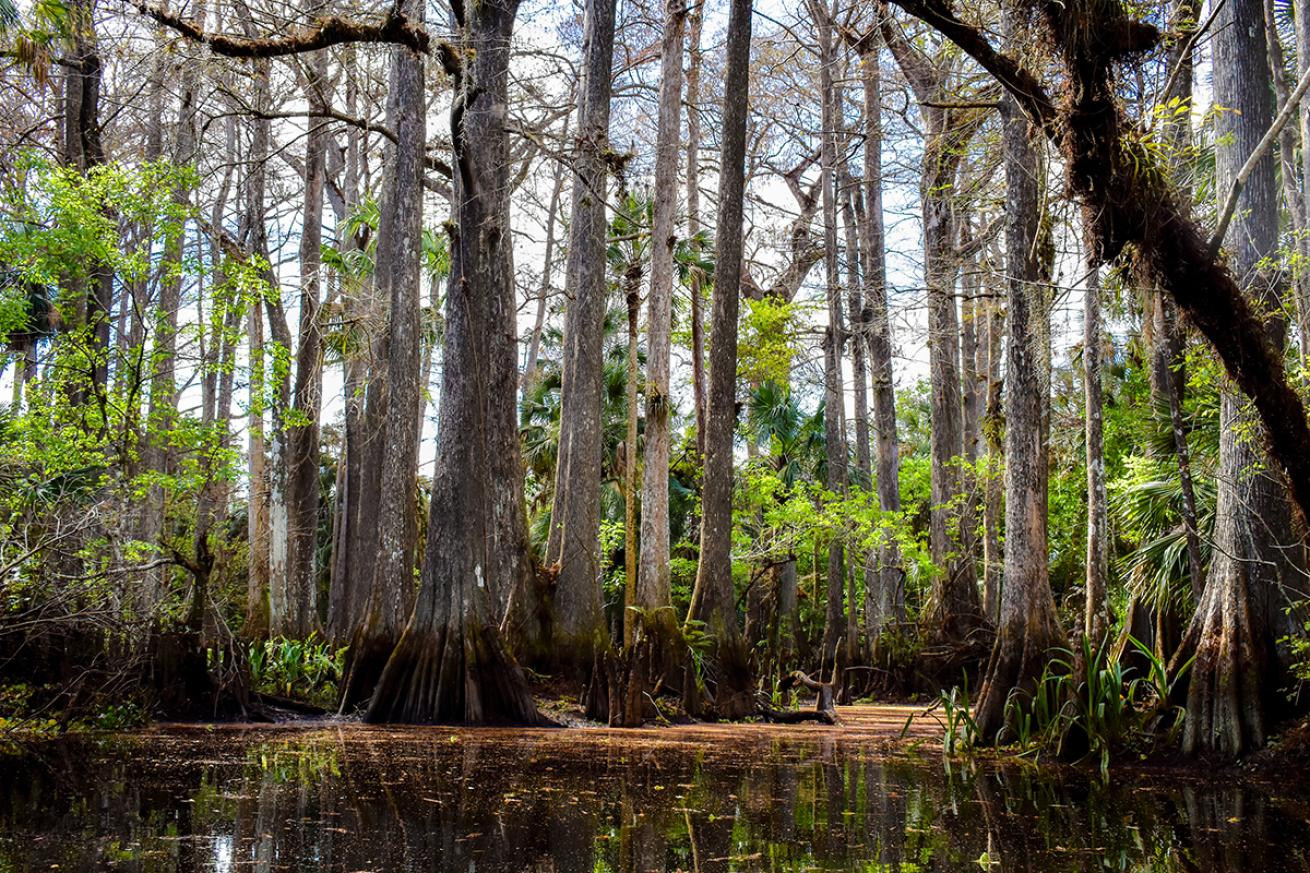 The Loxahatchee River winds through the Florida Everglades.

Shutterstock.com/Craig Cooper
Palm Beach County is home to about 20 designated, diveable shipwrecks (and untold numbers of unmarked ones). Many of the offshore wrecks are situated in close proximity, so it's possible drop down on multiple separate sites on a two-tank boat dive. Some are so close that you can even tour multiple on a single tank.
The Ana Cecilia and Corridor Wreck Trek, for example, is a group of five shipwrecks that can be explored as a drift dive. It includes the Ana Cecilia, Mizpah, PC-1174, Amaryllis and China Barge. Aside from the Ana Cecilia, which was purpose-sunk in 2016, the wrecks went down on their own between the years 1968 and 1993. With decades of time beneath the waves, they've grown thick crusts of corals that serve as habitats for all kinds of marine life. When visiting the sites, divers typically descend on the Ana C and drift northbound with the current. If you visit in late summer, you can find at least half a dozen goliath grouper aggregating to mate around each of the submerged ships.
It'll likely take a full two tanks to see all five wrecks, and the adventure doesn't have to stop once you surface. Take a short drive to Jupiter Outdoor Center, ending your South Florida getaway with an early evening paddle on the Loxahatchee River. Rent kayaks and spend a few hours savoring the freshwater gems of the Sunshine State. In the coffee-colored, tannic waters of the Lox — as locals call it — you'll find turtles, alligators and great blue herons soaking up the last few hours of sunlight before night falls on the weekend.
---