How to Use the ScubaLab Mask Filter on Instagram and Facebook
We've created a new camera filter to help you do a little diving while you're stuck at home. Using Facebook or Instagram, you can wear the Testers Choice masks from our most recent ScubaLab review. Tapping on the mask will swap between three different masks, the Apeks VX1, Atomic Aquatics Subframe and Seac M70. When you open your mouth, bubbles will blow out of the regulator. Here's how to access the filter on your smartphone or tablet (note you must use the smartphone apps to access the filter):
Facebook
1. You must first add the filter to your camera. You can access it here.
2. This will open an invitation in your internet browser to try out the effect.
a. If you are on your mobile device, you should have the option to open the Facebook camera and use the effect.
b. If you are on a desktop computer you can send a notification to your account. Once you log into the mobile app you can click the notification to access the effect.
3. If nothing seems to be happening, make sure your camera is set to selfie mode.
4. Upon exiting the camera, you should now be able to access the filter through the photo option in the status menu or by creating a Facebook story.
Instagram
1. Open the Instagram app and go to our profile, @scubadivingmag
2. Click on the face icon to see our filters.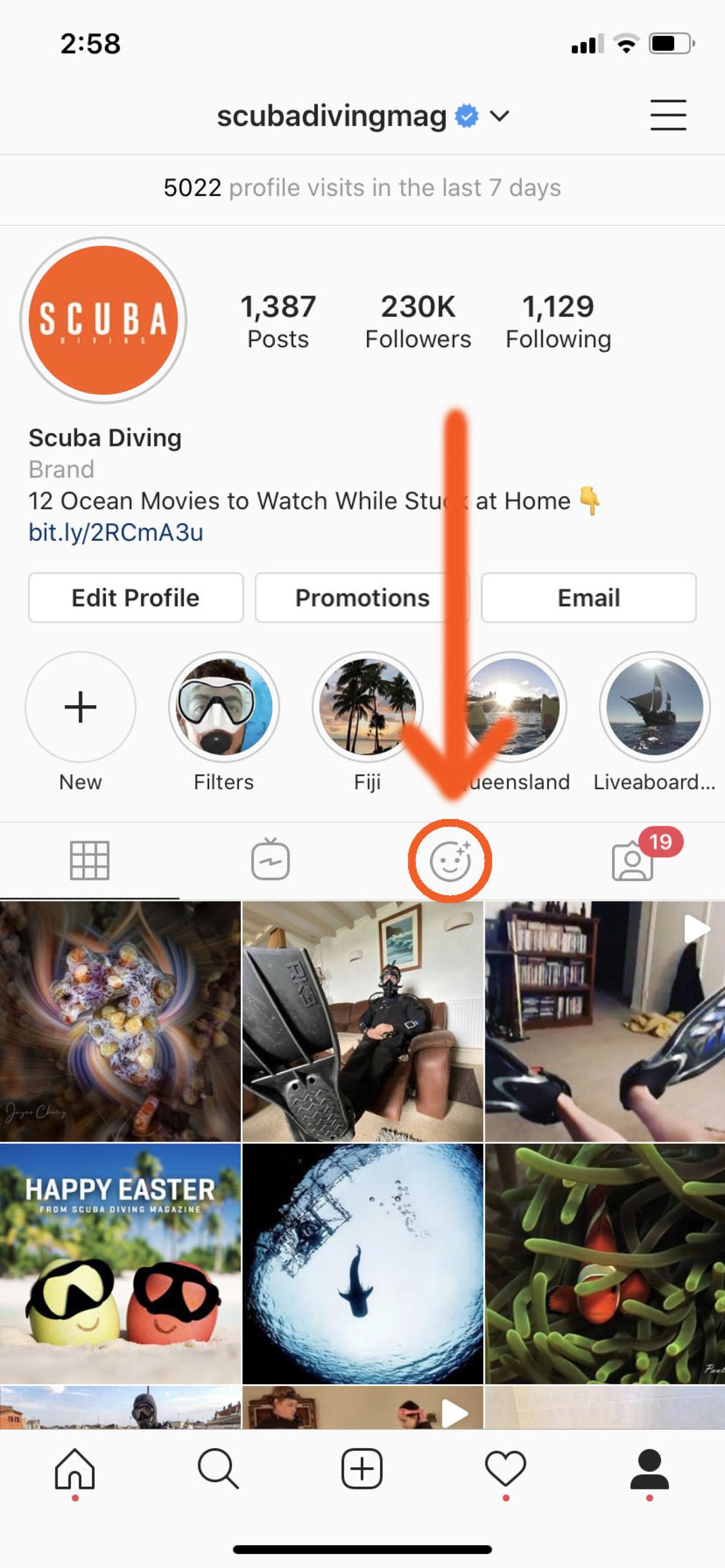 You can click on the face icon by visiting the @scubadivingmag profile on Instagram.

Robby Myers
3. Click on the filter to display a demo video of the effect in action.
4. From this page, you can try it out on your camera or save the effect to your camera.
5. After saving the effect, you will be able to select the effect when you access the camera icon in the top left corner of the main page.
6. Take a picture and video using the effect and then add it to your story to make your land-locked buddies jealous!
7. Don't forget to hashtag #scubadivingmag for a chance to be featured on our Instagram story!